The 8 Things About Millennial Women and Millennial Moms You May Be Missing
By far, the most coveted demographic for those selling consumer goods has to be Millennial women. This magical segment of the global population has been responsible for sweeping changes in how we tell stories, how we use family photos, how we use digital, what a founder looks like and even how we think of motherhood. Magical is the right word, right?
They are primed to be the most financially independent generation of women in history. They are the most educated cohort of women in history. They are the most ethnically diverse generation in American history (67 percent of Millennial Moms are multi-cultural, according to research from Carat; they and their children are part of the two most ethnically diverse generations currently living in the US). And they are a vocal bunch.
On the heels on Gen X women, many of whom rebelled against societal norms, Millennial women are using the shattered pieces left by the generation that brought us Grunge and Gangsta Rap to build a modern woman who is progressive, active and powerful… whether she thinks she has it all or not.
Full disclosure: I just watched gangsta rap pioneer Ice Cube in Fist Fight (#teacherfight) last night, so the concept of Gangsta Rap doing the middle age thing is like, "Whaaaa…?"
As part of our What Makes Them Buy series, we looked at Millennial Men and Baby Boomers already. In this post, we're going to look at two more distinct segments of the Millennial population – Millennial Women and Millennial Moms – and talk about the traits brands need to know about them to roll out targeted, authentic, effective influencer campaigns.
Trait #1: Millennial Women Are Hustlers
We're going to go ahead and give Gary Vaynerchuk his due propers for making a hard-core value like work ethic trendy again by calling it hustling. The hustle culture is nothing new. A few years ago, hustling was used almost exclusively to refer to urban dwellers who created multiple streams of income for themselves by finding opportunities and capitalizing on them.
Of course now, conversations around hustle culture are social media fodder. And Millennial women are hustlers.
Millennial women are driving the $20 billion resale apparel market that's making sites like Poshmark and ThredUP a household name.
Millennial women and minorities are launching new businesses at a faster rate than any other segment of the population.
According to Worldbank.org, young women in the Middle East and some North African countries are outpacing men with regard to launching and heading up organizations. Young women are 60 percent more likely than men to dream up innovative solutions, and it's 30 percent more likely for their innovations will have international reach compared to men.
Young women also lead the charge for social change, venturing into social entrepreneurship and even rolling out programs in conflict-affected areas… fearlessly.
And outside of business, 48 percent of Millennial women surveyed by Bustle say they volunteer, while 63 percent say they plan to volunteer in the future.
Trait #2: Millennial Women Plan Their Purchases
Millennial women plan their purchases. They will spend more than intended if they find a product that better suits their needs. Still, one characteristic that is consistent throughout their holiday prep is planning.
This is a big one, especially this time of year because you really have to get those influencer strategies rolled out well ahead of when your customer will be buying, if your customer is a Millennial woman.
For all the fabulous living being depicted in Instagram feeds, by and large, Millennial women are a frugal bunch, in large part because of the current economic climate. Consider this:
Generally speaking, Millennials have more debt and less wealth than their parents did at the same age. Millennials are, however, making more money than their parents did at their age. One of the main culprits driving the disparity between the net wealth of Millennials and the net wealth of their parents at the same age is student loan debt. Student debt has taken a heavy financial toll on this generation, causing them to delay wealth-building activities like buying their first home.
These are some of the factors which contribute to the tendency for Millennial women to be more mindful about their spending, saving and financial well-being. It also helps fuel their drive to hustle.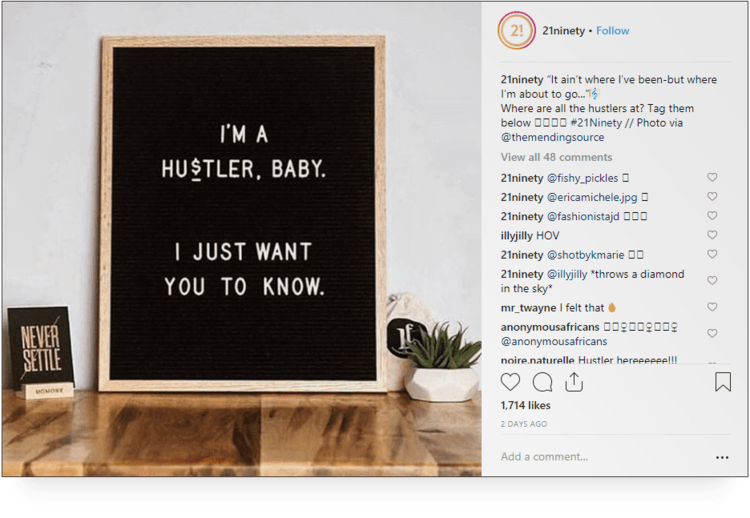 Source: From @21Ninety on Instagram
Here's another thing about the planning: Millennials prioritize differently than did their parents. Unlike previous generations that had cut-and-dry lists of what grown-ups should buy (house, car, then vacations and luxuries… in that order)… Millennials instead plan their purchases to suit their lifestyles. They cut back drastically on non-essential items (which can INCLUDE an actual house or car) so that they can spend freely on items they believe will have the greatest impact on their emotional well-being and social lives.
Whereas Boomers would place a priority on buying a home, a car and getting their financial houses in order, Millennials are far more likely than previous generations to get their financial houses in order by renting instead of buying and participating in the sharing economy instead of buying (or leasing) a car.
Doing this frees them up to, say spend the money from a recent raise at work taking more trips abroad, or boosting their budget for dining out (or ordering in).
Trait #3: Millennial Moms Rely on Social Media to Inspire Planned Purchases
Millennial women use social media to source ideas for gifts, holiday travel, and entertaining for the holidays. Often, final purchasing decisions are made after months of collecting ideas and bookmarking images spotted on platforms like Instagram, Facebook, Pinterest, and even blogs.
According to Popsugar 34 percent of moms between the ages of 18 and 34 get gift inspiration for their kids from lifestyle blogs, and 43 percent of Millennial women go to Pinterest to get food and drink inspiration for holiday entertaining.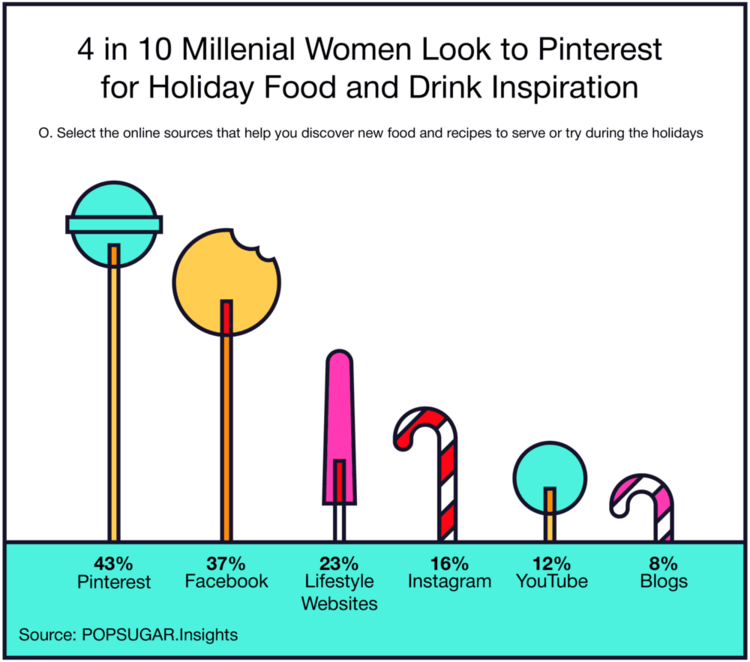 What may be of interest to marketers is that Millennial women expect brands to use social as a way to introduce products. Eighty-one percent of Millennial women surveyed by Bustle say social media is the best way to reach them, and 57 percent expect to see sponsored content from brands – that's an important part of product discovery.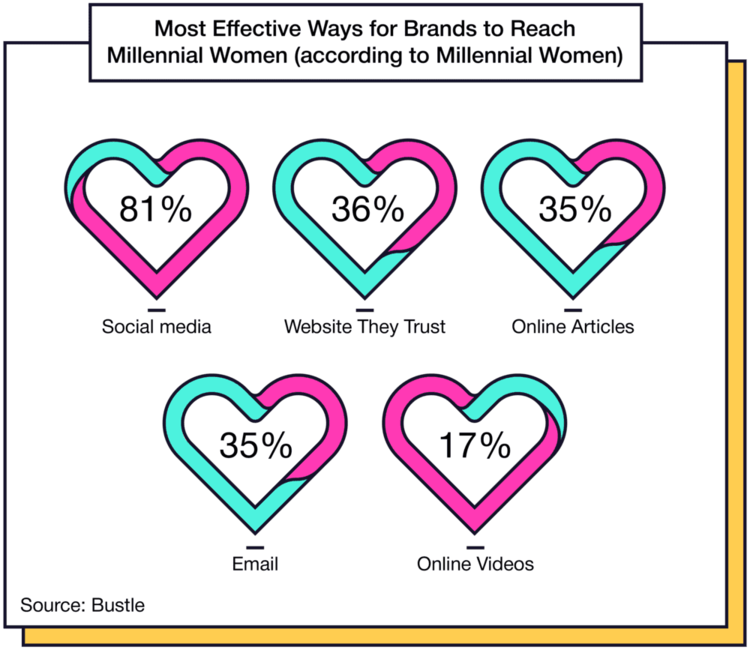 As well, Millennial women have preferences when it comes to the type of sponsored content and advertisements they see. Fifty-seven percent of readers chose humor and social good as their preferred themes for branded content. Thirty-six percent preferred cause-related spots, followed by motivational spots (33 percent) and real-life scenarios (30 percent). We'll talk more about why these are the top categories of ad content in the next section.
Nevertheless, Millennial women rely on visual content to help them gather information and opinions more efficiently and evaluate purchases. You know the old saying "a picture is worth a thousand words"? Yeah, well… That's because it takes 4 minutes to read 1,000 words and it takes less than 100 milliseconds to process an image.
Trait #4: For Millennial Moms, Adulting and Momming Are Part of Their Identities, Not Just Something They Do
More than a million Millennial women become moms each year. In 2016, there were 17.3 million Millennial moms, according to Pew Research. Today, I would estimate that number to be between 19.5 million and 20 million Millennial moms.
With nearly 90 percent of new mothers being Millennials who are members of the world's first "Always-On Generation", you can image motherhood is crucial to their identities. In fact, with so many "social" eyes watching, being a perfect mom is a goal to which many Millennial Moms aspire.
Research from BabyCentre's well-known 2015 State of Modern Motherhood report said 64 percent of Millennial women feel enormous pressure to be the perfect mom.
In the previous section, I talked about the types of sponsored content Millennial women prefer to see. Millennial women favor inspirational or funny ads, content that shows a person (or better a brand) doing good in the world. But Millennial women also want to see ads with regular women doing regular things and having real-life challenges.
Millennial women aren't looking for perfection, even though some may feel that's what the world expects of them. Whereas Millennial men respond to ads of regular men doing amazing things, Millennial women are okay with taking a break from amazing just to see someone else finding ways to deal with an over-packed schedule, work pressures, and the perpetual dance to juggle all of life's social, familial and professional obligations.
Like Gen X and Boomer moms, most Millennial Moms work out of necessity. Only 35 percent of Millennial Moms call themselves homemakers. Interestingly, about the same percentage of Millennial Moms are the primary breadwinners in their households, and a third of those are either unmarried, or not co-habitating with a partner. In a world where two-thirds of Millennial Moms MUST work, 21 percent of Millennial Dads are now stay-at-home dads.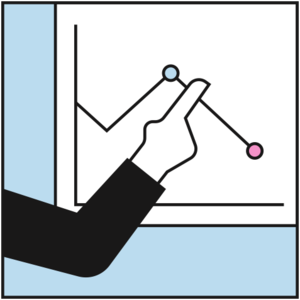 Related Post
How to Set Goals (Real Ones) for Your Influencer Marketing Campaigns [Downloadable Guide]
Trait #5: Millennial Women Are More Confident About Money
Unlike mothers of generations before them, Millennial Moms are, by and large, more confident with and more savvy about finances and products that protect their family's financial well-being. Forbes recently reported that Millennial women are poised to become some of the most financially independent women in history. Not only that, but Millennial women are also some of THE MOST educated women in history.
Millennial women are more likely than men to have finished at least a bachelor's degree, and 29 percent of Millennial wives between the ages of 25 and 34 earn more than their husbands.
For many Millennial women, money equates to independence, power, success and happiness. The majority of Millennial women (like, 7 in 10) are going into the workforce and marrying later than did women of previous generations.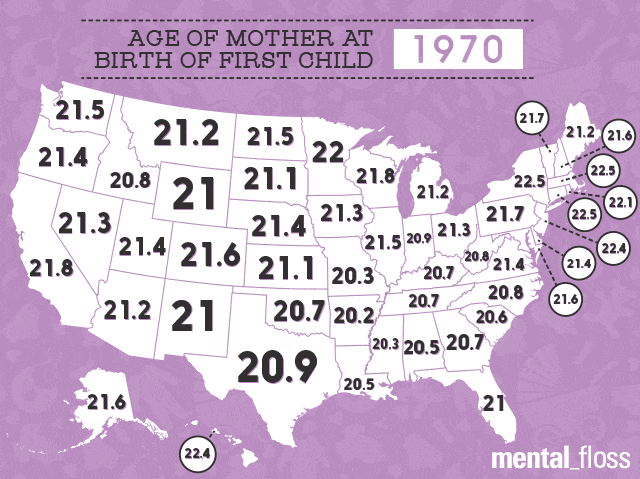 Source: Mental Floss
They're focusing on growing their careers and building financial stability ahead of walking down the aisle. So, by the time they marry, many Millennial women have already successfully managed their own households, budgets, bills, income and even investments.
Granted, Millennial women are thrifty spenders. They heavily research and prepare for purchases well ahead of making them. Not only that, but they are also couponers. Seventy-four percent of these consumers compare prices online and 55 percent download coupons from couponing sites.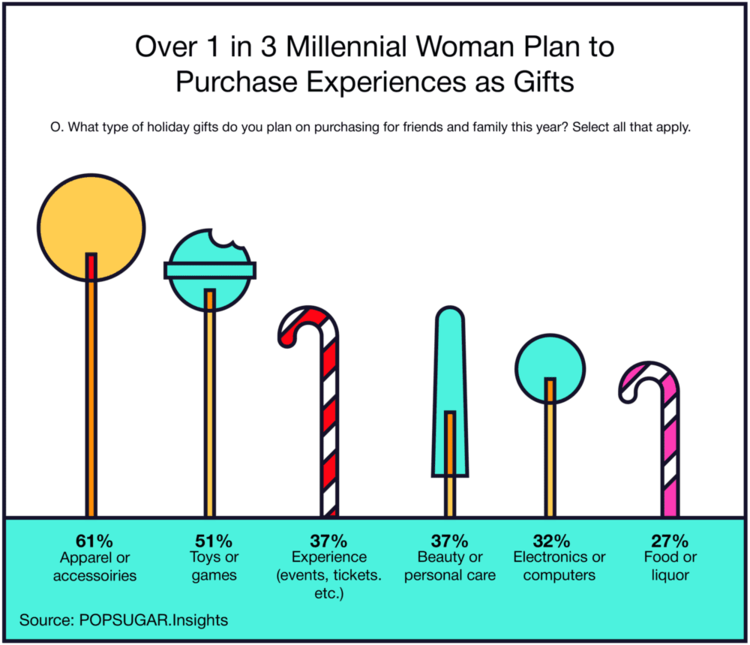 Source: PopSugar
Trait #6: Millennial Moms Are Willing to Pay Extra for Convenience
Life is busy. For Millennial moms, the work to balance life as a spouse, partner, parent, professional, influencer and agent for social change comes with a hefty price – time. As a result, Millennial moms – more than any previous generation of moms – are willing to pay a premium for convenience.
We've talked about their earning power and their education. We talked about how they're starting families later than did women of previous generations. We talked about how thrifty and money-conscious Millennial women are. Now, bundle all of those insights together and digest this: Millennial moms will pay extra if you can make their lives a little easier.
According to Trybe:
83 percent of Millennial Moms shop online to hunt for the best price, as opposed to going from store to store
79 percent of Millennial Moms use e-commerce to get a better selection of products
62 percent of Millennial Moms shop online because of the good shipping options
The work-life balance for Millennial Moms is an ongoing struggle. So, it makes sense that 25 percent of Millennial Moms are willing to pay at least $50 a month to have someone step in and help them keep their home lives organized, and to keep their family from partaking in the one in five family meals that are now being eaten in a car.
Millennial Moms are also far more likely to have necessities like diapers and beauty products delivered to their homes rather than spend hours shopping for them in-store.
Trait #7: Millennial Women Are Loyal to Brands Who Are Loyal to Good
Millennial women aren't brand loyal, not in the traditional sense. I remember my mom buying the same brands with every shopping trip, even down to the type of breakfast cereal she bought. All raisin bran were not created equal. Some, she thought, outranked others based strictly on the manufacturer. My grandma was the same way.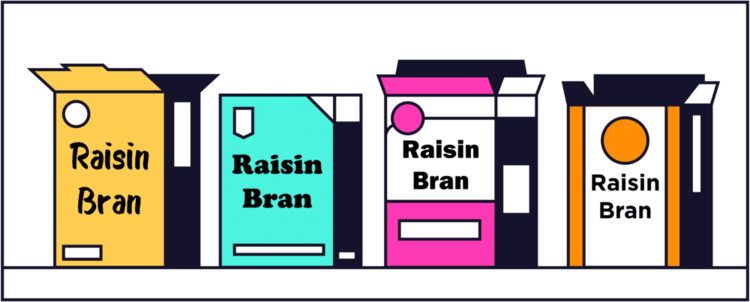 I agree that not all raisin bran are created equal. But I don't base that idea on the logo at the top of the box, because I know formulas change. I base it on things like the presence of GMOs, sugar content, number of ingredients I mistake for another language, and whether or not a particular mixture of whole grain goodness makes my kids go nuts after they eat it.
Millennial moms are loyal to quality – whether it's the quality of the product or the quality of the brand itself. By that I mean, Millennials in general are willing to pay a premium for a better quality product. They are also willing to pay a premium to buy from a brand that incorporates social good as one of its core values.
Fifty-one percent of Millennial women expect brands to give back to society, and 34 percent said they would be willing to spend more money on products that are environmentally-friendly. To give you an idea of what kinds of social good matter most to Millennial women, the Women 2020 report (which you can download here) identified six key areas Millennials women think are the primary issues facing women today.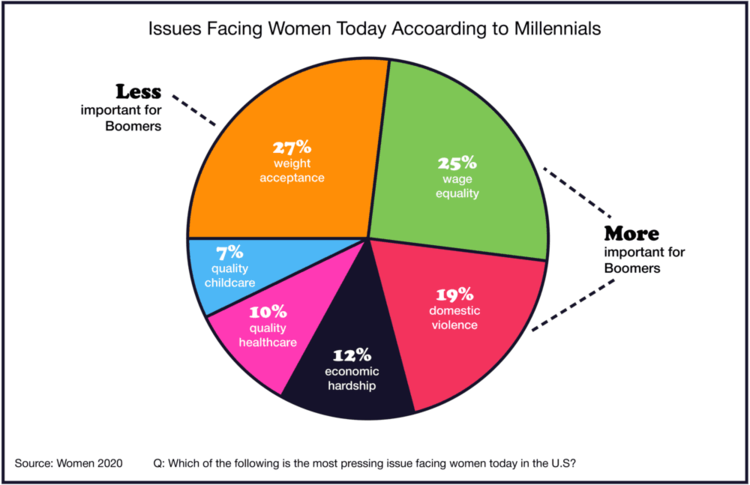 Trait #8: When Millennial Moms Talk (and they do a lot of talking), the World Listens
Millennial Moms are social creatures indeed, significantly more social than Gen X Moms. For them, social media is more than just a place to chat about current events. It's where Millennial moms show their communities who they are and what they're about.
Eighty-five percent of Millennial women post pictures of their past experiences to social media and 80 percent post in real time. Seventy-two percent of Millennial women share from other sites to social media. This includes opinions about products.
Millennial Moms are totally okay with offering their opinions online about products – any products at all. They talk openly about clothes, cosmetics, motherhood, brands, retailers, experience-based services, even financial products.
What's more, in addition to giving advice, 46 percent of Millennial Moms look to the recommendations of their network when it comes time for making decisions on acquiring goods and services, or making purchases.
While Millennial Moms favor Facebook (with an average of 500 Facebook friends) and Instagram, the average Millennial Mom has at least three social media accounts, according to a Weber Shandwick study.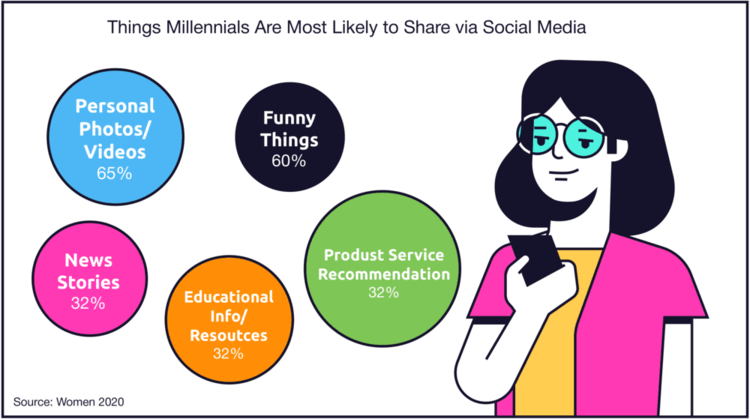 Millennial Moms prefer smartphones to laptops. More than half of the Millennial Moms surveyed said they spend most or all of their time online on their phones, and spend more than 17 hours on social networks every week. That's 30 percent more time than the average mom spends on social sites.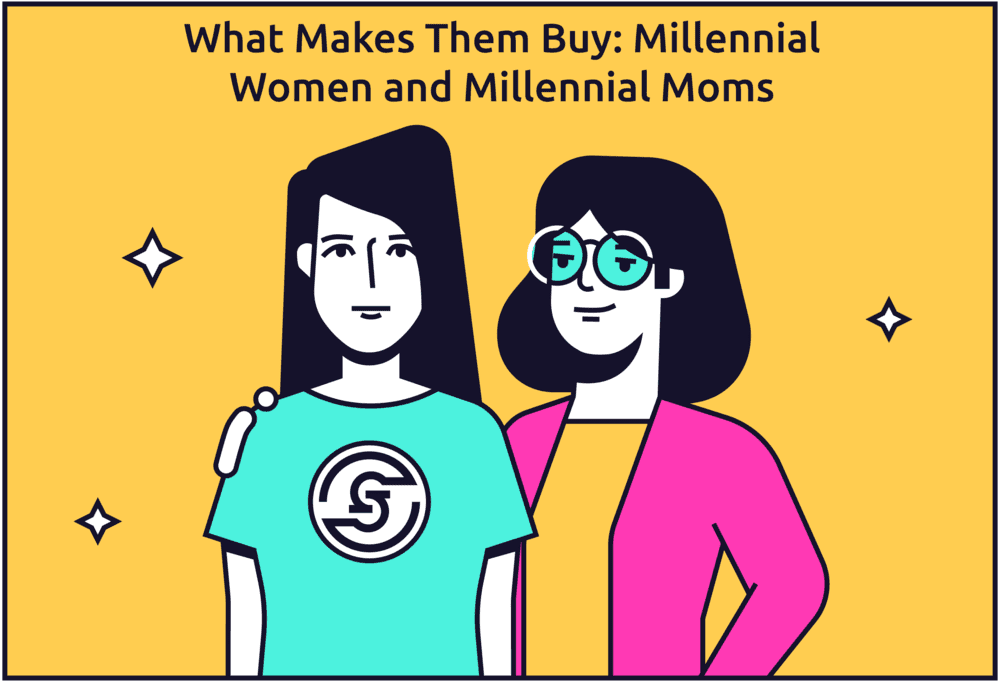 The Finish Line
Millennial women are an interesting and an influential bunch. More than any other demographic, they are actively spearheading societal and economic changes that impact how brands reach and engage them. This post was the tip of a very large iceberg, but it should definitely provide you with insights that can guide your marketing efforts this holiday season.
Of course, if you're ready to roll out your influencer marketing campaign, we're the best in the business. Give us a call to schedule a demo.