The Social Media Strategies Big Brands Like Lord Jones Are Using to Reach the Baby Boomer CBD Market
The CBD crowd is a motley bunch. Entrepreneurs, young moms, less-young moms, grandmas, dads, veterans… just about anyone can find a good use for something in the growing catalog of products that contain cannabidiol. And because of CBD's wide appeal, it can be tough for CBD brands to figure out precisely how to target different buyers on social media.
I know. I know. You're like, "If people want the stuff, they'll be drawn to anything we post about it, right?"
You would think… But nah.
People like what they like, and the meanings of different words and images vary from person to person. So, for time-pressed CBD brands (most of which I would bet have tiny marketing teams), hyper-targeting your social media marketing efforts can be tough.
As promised, we're going to get down to the nitty-gritty of how to run CBD campaigns that target very specific demographics. And we're starting with Baby Boomers. Full disclosure, I'm really looking forward to the post on targeting Gen X dads. Not sure why.
First, A Little Info About Baby Boomers
In case you missed our CBD Industry Overview or our 10,000-foot view on marketing CBD, you should know that the buyer personas we're working from were presented by High Yield Insights. This particular article is going to lay out strategies for targeting the buyer persona known as Senior Susan.
Senior Susan is an over-55 CBD buyer whose kids are already adults (even if they haven't yet moved out of the house). As an older shopper, Susan values insights and having access to good, reliable information over the opinions of other social media users. Susan isn't alone here. Only 12 percent of Baby Boomers prefer having the help of others to make buying decisions.
Boomers can be a lucrative demographic for marketers. The over-55 crowd represents 14 percent of all CBD buyers. That's about 1 in 7 users. Plus, they spend A LOT of time online (on average, Boomers spend 27 hours a week online), and they spend A LOT of money. Boomers control about half the money that gets spent in the US, according to Visa. They outspend millennials. So, you definitely want to be creating content around the strategies that are going to work with this demographics.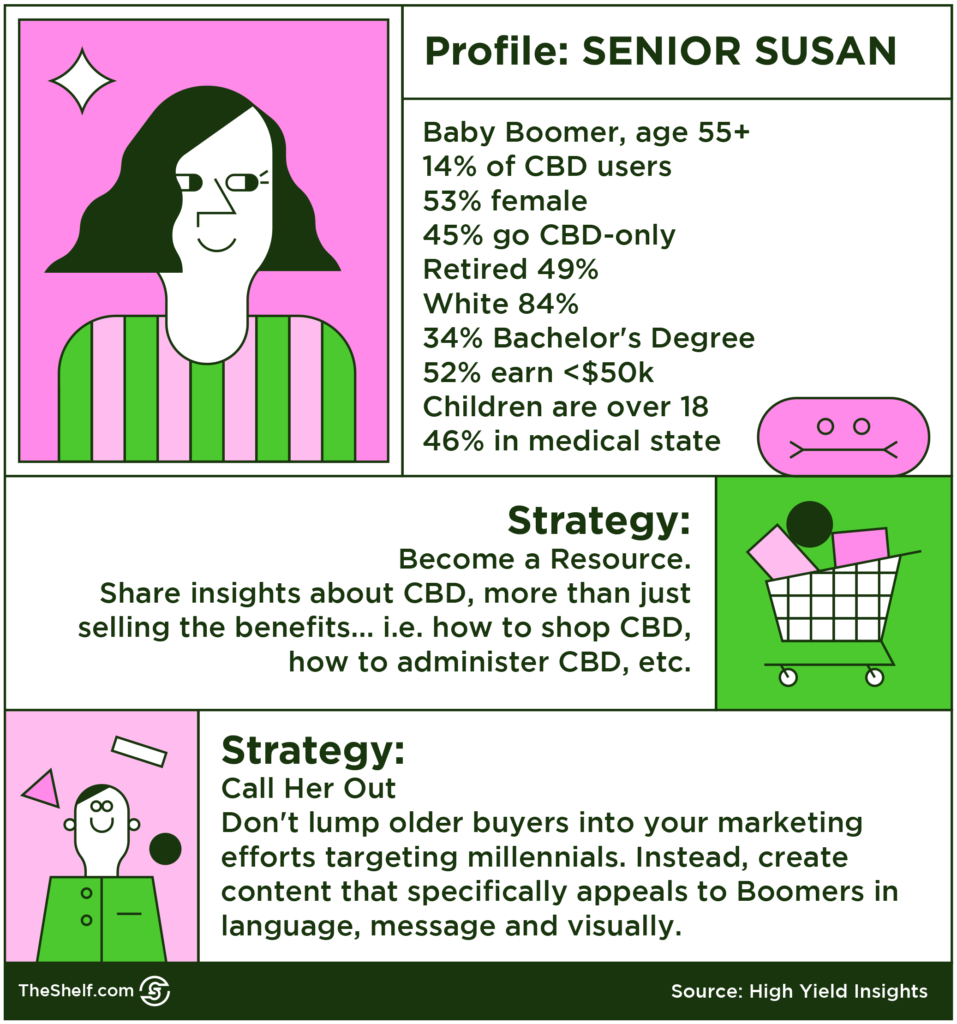 Courtesy of: The Shelf Full-Funnel Influencer Marketing
COPY AND PASTE THIS 👇 CODE TO EMBED THIS ☝️GRAPHIC.
<Embedded Code>
Strategy #1: Become THE Resource
A good way to get Senior Susan to start engaging with your brand is to be a consistent source of reliable, objective CBD information for her. Point her in the direction of great interviews, documentaries and videos. Post objective statistics about CBD use and CBD users.
Basically, you're trying to help her figure out how to navigate this space by giving her the tools she needs to make the best decisions for her own health.
@CBDEDUCATE
Take a look at this Instagram post from @cbdeducate. This particular account is connected to a promoter account for the brand Liv Labs, a direct sales company that says it creates certified THC-free CBD products.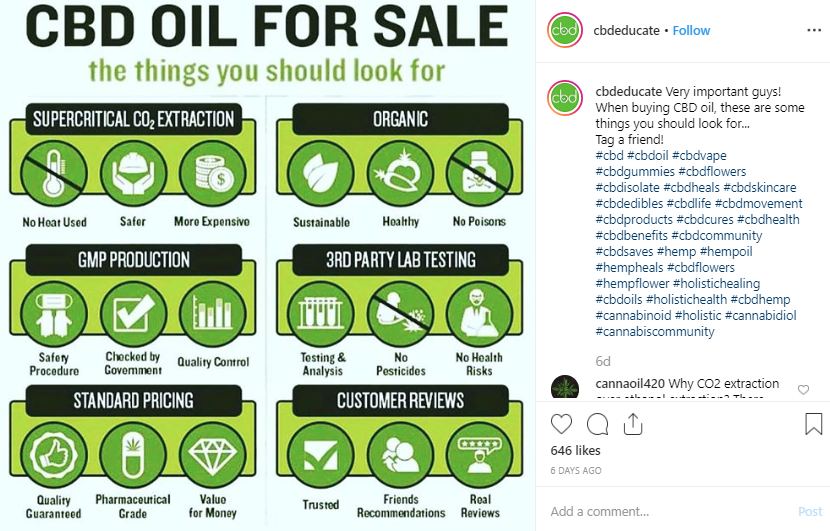 Source: On Instagram
Following the link in the bio took me to the Liv Labs page which contains contact info for a specific distributor. But I never would have known about him if I hadn't clicked the link in his bio. And I never would have clicked that link in his bio if the info he posted to Instagram hadn't been so helpful and so valuable to me.
Part of what makes this account so valuable is that it's helping me to clarify things WITHOUT having to navigate away from Instagram to get that value.
In under a minute, I got some really good tips for figuring out the difference between pure, full-spectrum and broad-spectrum CBD, which I was wondering about a few hours ago…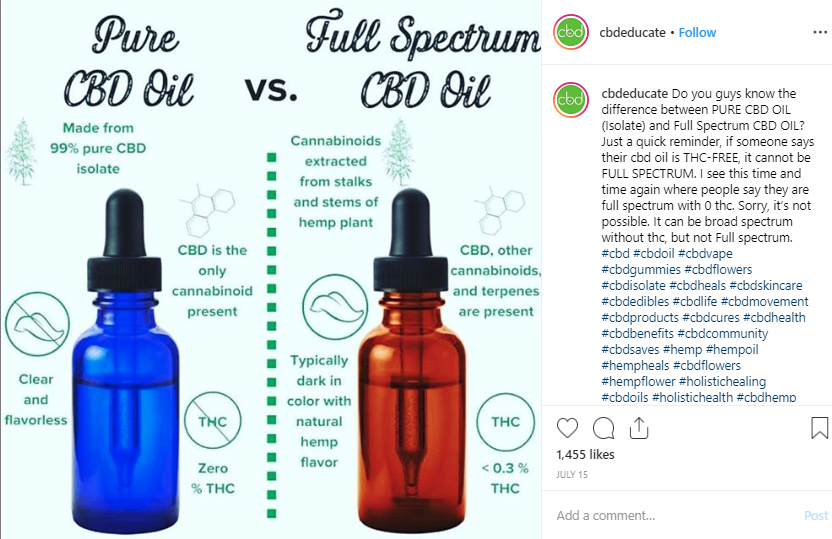 Source: On Instagram
Strategy #2: Personalize. Personalize. Personalize.
If you don't want to always be the educator, another type of content that works really well on social is relevant, pop culture references. Here's the cool thing, though: For Boomers, pop culture references can literally start as early as the 1940s… which means you have 70 years worth of trends, ideas, jokes, icons, and mainstays you can tap into. Here are a couple of good examples of what I mean…
@THELORDJONES
Luxury cannabis brand Lord Jones handles cross-generational targeting MASTERFULLY. Check out the company's post around King Day. Dr. King is, of course, an icon and an American hero. It's politically incorrect and damn near un-American to throw any shade his way.
For Boomers, he represents a time of national and international change, equality and empowerment. For younger generations he can represent the power of one person to change the world and do a lot of good.
When I saw this post, I was like, "Just when I thought I had given Dr. King all the respect I could…"
…. Because I know him from books, history lessons, monuments, national holidays, and TV movies. He preached sermons. He led marches. What I didn't know is that when they handed Dr. King a pool cue, he could spank that butt.
And the way Lord Jones captions this post is GOLD.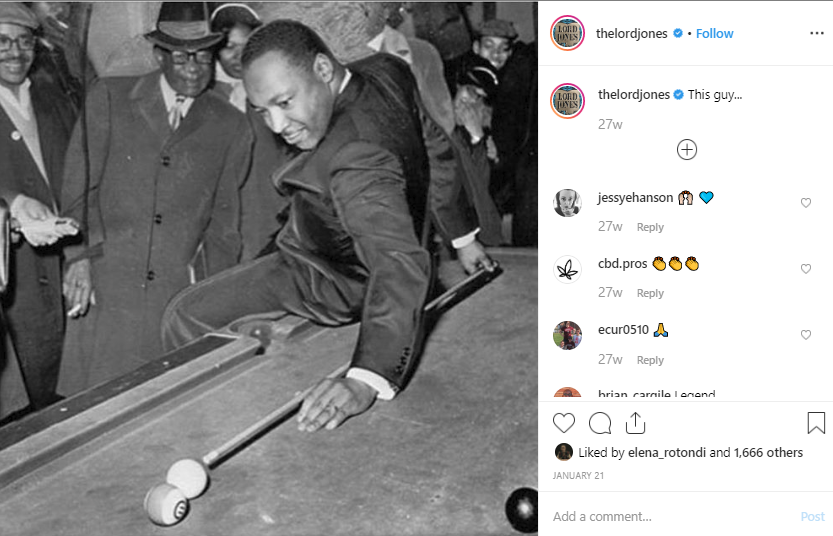 Shows up for a life-changing event. Gets schooled by the reverend. #NoBible #AllGame (Source: On Instagram)
Check out THIS super-dope pic of Jim Morrison working his magic on his famed bae, Pam Courson, whom I had to look up after reading multiple comments referencing her.
I know Jim Morrison fronted The Doors. Their music still plays on classic rock stations. Plus, I'm old enough to remember Ian Astbury's reincarnated version of Jim Morrison (big ups to my girl, Emilie who LOVED The Cult, and to anyone else who gets my obscure-ass, college radio, post-punk rock music references).
And I've seen a ton of Oliver Stone movies, so…

Anyway, Lord Jones followers LOVED and appreciated this one pic of Morrison. No mention of CBD and sales. Just a really great image that made me literally stop like, "Is that… is that JIM MORRISON?"
He's sort of perfect for Instagram. Who does that? Geniuses. That's who.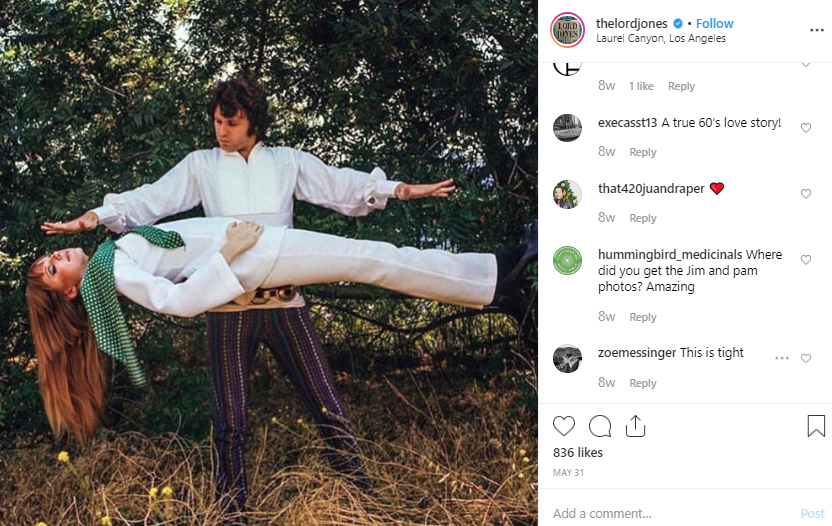 Source: Bro, is that Jim Morrison…? On Instagram
The point is when you know your audience and you understand what makes them tick, you can create content specifically for them.
Strategy #3: Smart Targeting
I think the next two examples pretty much capture how great Lord Jones is at targeting both younger and older audiences… with the same friggin' message.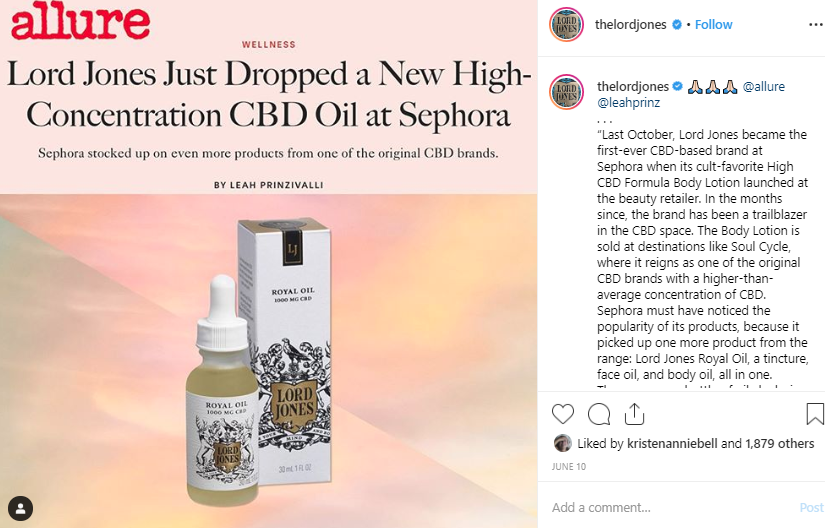 Source: On Instagram
The post above targets the young women who read Allure Magazine. Notice the youthful, slang headline of this post and how the caption focuses on the growing popularity of the product (tugging on those social proof and FOMO threads). The product is set against a millennial pink background, no doubt.
Source : Instagram
Now, take a look at the no-nonsense way the SAME ANNOUNCEMENT is this Instagram post featuring HuffPost INSTEAD of Allure. Look how the benefits get mentioned in this caption (because FOMO isn't a huge driver for older audiences since they've already been there and done that). The caption talks about how Lord Jones can deliver pain relief for sore muscles and menstrual cramps, AND help you keep your feet from aching when you're breaking in new heels.
Whereas, the first post was all about fitting in and doing the big, new thing, the second post is all about practicality. Lord Jones is proving its own usefulness.
Same announcement.
Same product.
Different (smart) targeting.
What About Using CBD Influencers?
If older shoppers aren't impressed by the opinions of others, why would influencers be incorporated into a social media marketing campaign? A couple of reasons, actually…
Reason #1: Influencers can help CBD brands get way more reach.
One key goal of any social media campaign is boosting brand awareness. Boomers don't rely on the recommendations of others to make purchasing decisions, so yes, brands would need to fine-tune the messaging included in the caption as part of the influencer's post. But it's really just a matter of getting your influencers to focus less on what they THINK about a product and focus more on education and product info.
I'll admit, the difference in the messaging can really be a fine line. It's more about nuances and wording than anythikng else. While a typical influencer post may showcase your CBD product and the influencer's real-life experience using the product, a post targeting Boomers would focus more on the product's features and the reasoning behind WHY an influencer would use the product – what issue he or she is addressing. More insight. Less opinion.
Showcasing the product vs Highlighting product features
Tapping into an influencer's own feeling and experience vs Explaining the actual utility of the product
Fine line.
Take a look at a post from Instagrammer @thenurtureblog. I actually came across her feed after finding one of her posts included in a group of other Instagrammers who tagged Leef Organics in their posts. Leef is a popular CBD brand. In an effort to inspect the quality of the comments left on her post (featured here)…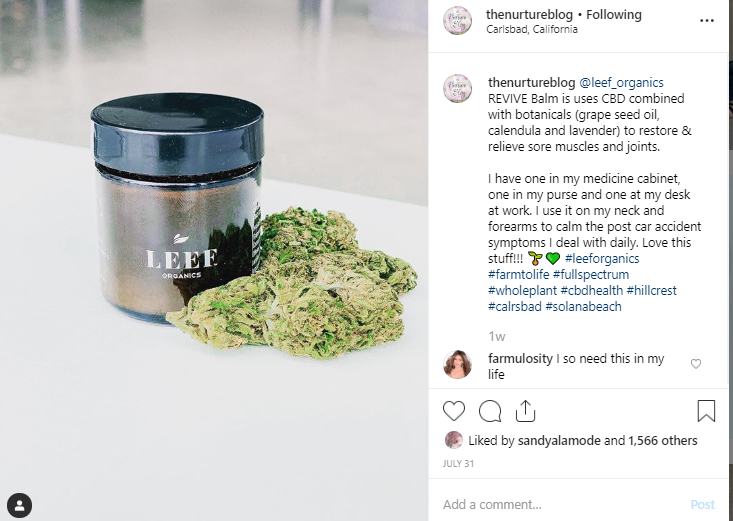 Source: On Instagram
…. I went to her feed to look at her other posts and just do a cursory review of the engagement and conversations sparked by some of her other posts. I wanted to make sure she wasn't just peddling and reviewing products.
Dr. Kristy Swanson (not the actress) owns the IG feed for @thenurtureblog. She's a mobile chiropractor and health influencer. In the post below, Dr. Kristy talks about the quality of the cannabis grown on Tweedle Farms in Northwest Oregon, which definitely sounds like a pitch.
BUT even if it is a pitch, she goes into much more detail about how CBD oil is sourced…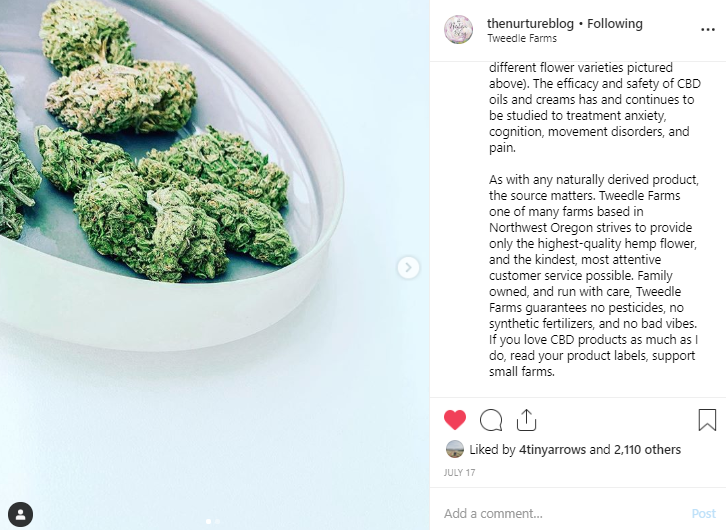 Source: On Instagram
…. Which delivers value to me as a reader AND sparks conversations around how to use CBD oil. Look at this inquiry left in the comments below the caption of the Tweedle Farms post about using it to alleviate the pain from a hysterectomy.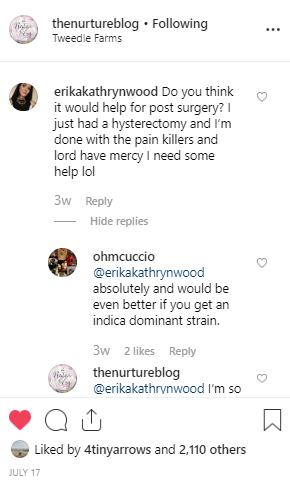 A few comments after this one, another follower talks about using CBD for fibromyalgia pain and inflammation. Dr. Kristy talks about post-surgical use of CBD oil and the importance getting a recommendation from your doctor before starting medical-grade CBD if you're already taking meds for something else.
Another person chimes in about using it for her pet. Dr. Kristy talks about treating anxiety with CBD and the best form of CBD to use for managing pain.
Someone else chimes in on Oregon cannabis…
The right influencer can turn a single picture of cannabis leaves into a mini-forum. And that's what you want.
Just a little note about choosing influencers…
It's not always about the quantity of followers, but the quality of the followers. With 18k followers, Dr. Kristy is on the low-end of micro-influence, but her audience is made up of highly-engaged CBD enthusiasts.
She is knowledgeable, trustworthy, and engaging. She posts good, crisp pictures. But more than anything, she's a great resource for the 40 percent of Americans who are interested in trying CBD, and the half of current CBD users who have only been using CBD for a year or less.
Reason #2: People want to see elder Americans represented on social media
Our biggest post EVER is our roundup of influencers and bloggers over 50. And social media has communities emerging that are pushing for greater representation of senior Americans AND senior cannabis users.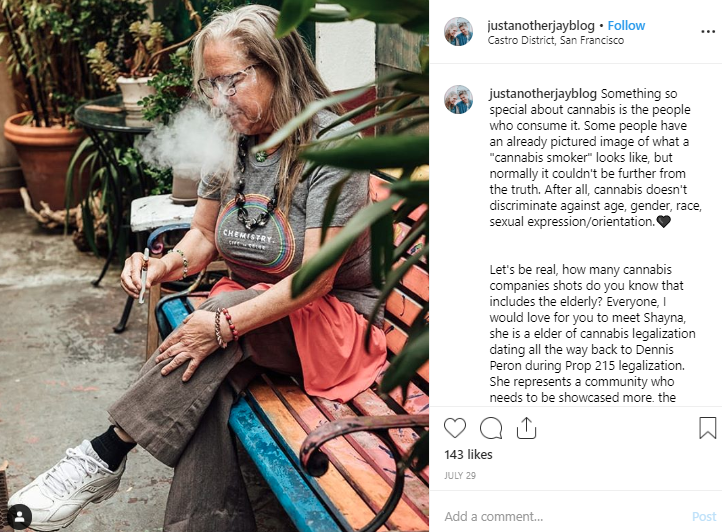 From Just Another Jay on Instagram
You can find micro-conversations all over social pushing for inclusion of senior cannabis users in CBD-related content and marketing.
This is interesting, as well… I've also seen posts and comments that reference the importance of using the right language when addressing seniors. Language? What do you mean language? Well, remember the Lord Jones Allure post vs the HuffPost one? That.
(As I spent my fair share of Saturday afternoons last month driving a beloved older relative (born in the late-1940s) from store to store in search of things like a new Queen Ann chair (new??) and a better flip phone, I'm keen on the importance of clear language when trying to connect with elders.)
And that's part of what makes it difficult for CBD brands to successfully execute cross-generational targeting strategies.
Reason #3: A mature influencer will have a better idea of the factors affecting decision-making beyond just product features.
If the key is to create content that meets customers wherever they may happen to be in your funnel, you have to know what kind of content to make, and that means going beyond just the product benefits. Take a look at this post.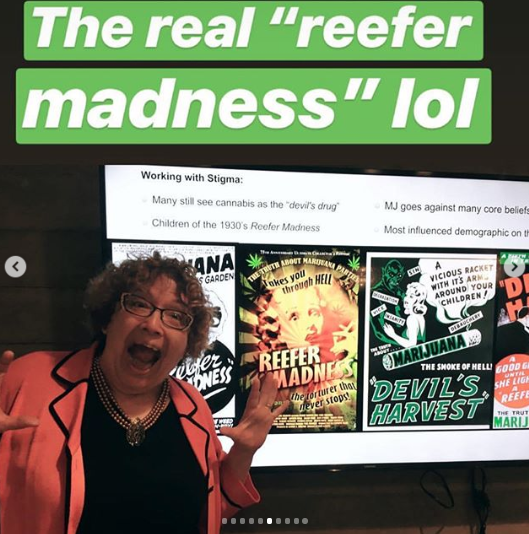 Source: From Tali Eisenberg on Instagram
Consider this is an official "Know Thy History" moment. Reefer Madness was an American propaganda film from the mid-1930s aimed at helping parents and high school kids become aware of the dangers of "marihuana".
(FYI, I actually think I prefer this spelling.)
I've only watched parts of the film (as I have a severe aversion to black and white films) but Reefer Madness still carries a pretty hefty emotional punch, and no doubt still lingers in the minds of Boomers as well as members of the Silent Generation.
And, of course, there were a slew of ominous posters that you can still buy if you happen to be a fan of Americana like I am.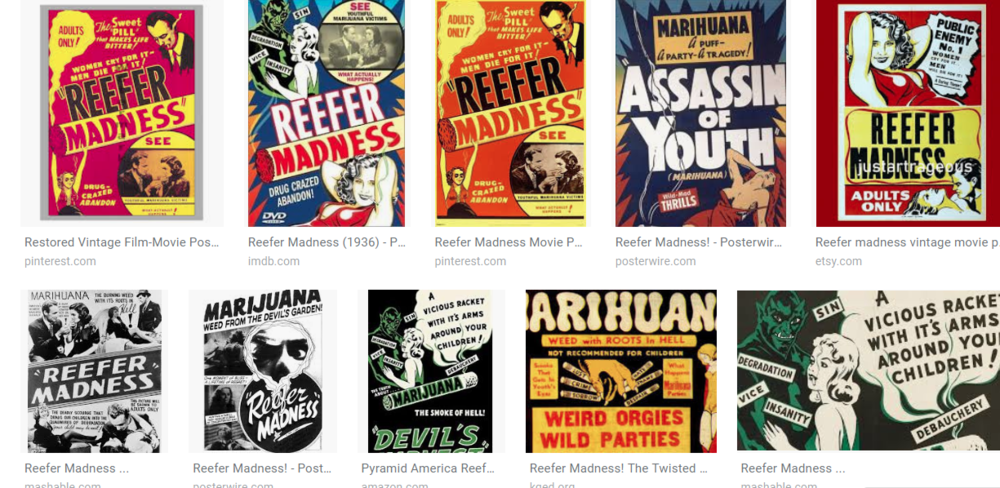 The point here is an older influencer is more likely to keep this kind of past programming (that's actually the right word for it) in mind when creating sponsored content because while it may just be a quirky poster in my Etsy cart, this propaganda is the kind of lingering history that an over-50 blogger would be aware of as an issue that needs to be addressed.
Conclusion
Anytime you're marketing across generational lines – thick ones, like from Millennials to Boomers – you're going to need to do some thoughtful planning. And it always helps to have people on your team who are members of your target demographic. That's where influencers can really help move the needle on your CBD marketing. They have experiential wisdom about the aspects of your product that should be highlighted and the pain points that need to be addressed.
Of course, if you need help finding the best CBD influencers for your campaign, our AI-powered platform will help you do everything from finding influencers to managing product shipments to providing meaning metrics that help you figure out what's working and what needs to be tweaked.
We can help.