5 Simple Tips for Getting Better Results with Your Influencer Campaign This Holiday Season
One of the big questions brands and marketers have about the effectiveness of an influencer marketing campaign is how to achieve a high enough return on investment to justify the expense of running the campaign. It can be tough to tell a traditional marketers how effective influencer marketing can be. Many brands are coming into influencer marketing without knowing how to quantify the results they get.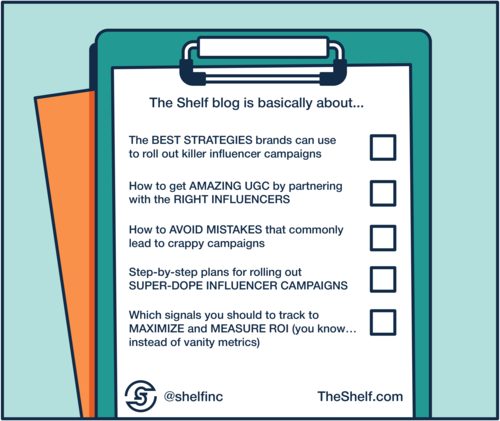 Now that influencer marketing is becoming more and more popular, more brands are using it to reach their target audience and boosting their online sales. According to Bloglovin's Marketers Survey 2017, six in 10 marketers surveyed planned to increase their influencer marketing budgets. That figure has only grown over the past year. And it's grown for one reason and one reason only: Influencer campaigns work.
In 2017, brands saw an ROI of $6.78 for every $1 spent on influencer marketing. That number climbs to more than $11 for every $1 spent for beauty brands. Of course, not every brand sees those kinds of results.
The Shelf blog is basically about…
The BEST STRATEGIES brands can use to roll out killer influencer campaigns
How to get AMAZING UGC by partnering with the RIGHT INFLUENCERS
How to AVOID MISTAKES that commonly lead to crappy campaigns
Step-by-step plans for rolling out SUPER COOL INFLUENCER CAMPAIGNS
Which signals you should to track to MAXIMIZE and MEASURE ROI (you know… instead of vanity metrics)
Fact is, if you run your campaign effectively, you'll see the results you really want. And, we're here to help you do just that. So let's take a look at how you can maximize the ROI of your next influencer marketing campaign.
The 3 Benefits of Influencer Marketing
#1 BETTER TARGETING FOR BETTER CUSTOMERS
With influencer marketing, you're working with an audience that has already been targeted by your chosen influencer. By working with the right person, you're able to tap into an existing community that already cares about the kind of product you're trying to market.
With traditional digital marketing, you're hoping that the right people see your posts, open your emails, and eventually make it to your website. But, with influencer marketing, you know that they'll be listening, and you know that they're likely to be interested.
#2 TRUST AND CREDIBILITY BY ASSOCIATION
Word-of-mouth still works. Getting a recommendation from a real person is the best way to establish instant credibility (via social proof) with potential customers. Ninety-two percent of people will trust personal recommendations over brand messages – even if they don't actually know the person making the recommendation. Having an influencer talk about why they love your product is a great way to utilise this for your own business.
#3 ACCESSIBILITY
Around the world, most Internet users are also social media users. In fact, the majority of users on platforms like Facebook, Twitter and LinkedIn are outside the U.S. It's not always easy to build a dedicated following on social media, but that's the value of partnering with an influencer – many of them have mastered the art of creating and curating content that moves people to take an action. The right influencer partnership will give you access to thousands, and possibly even millions of new buyers.
5 Tips for Seamless, Profitable Influencer Campaigns
#1 FIND THE PERFECT INFLUENCER
As effective as influencer marketing can be, if you're working with the wrong influencer you'll know it by your results. The biggest benefit that comes from working with an influencer is being able to tap into his or her dedicated audience, an audience the influencer has worked to grow and cultivate. So it benefits you to work with influencer who have built the kind of niche following that matters to you and your brand.
Following Size
More followers means that more people will see your product on their feeds. The influencer will likely have a bigger reputation, and will be able to introduce thousands, or even millions of people to your brand. But, bigger isn't always better. Having a larger following often means an influencer's demographic is more diverse. Not everyone will be as into your product as you'd like.
Instead, you might want to consider working with influencers will slightly smaller followings – enough to make an impact, but not so many that your message gets lost. These micro-influencers create a connected community who really listen when they speak. You'll also see some much higher engagement rates here – how many of their followers are actually engaging with the content they put out there. And tracking engagement rates is often a better indicator of influencer quality than follower size.
Niche Audiences
Niched-down audiences can, in many cases, convert better than larger audiences. So, finding an influencer who has sway in a niched-down version of a wider audience (like Muslim mom influencer of school-aged kids or a body-positive, plus-sized fashion influencer) allows you to narrow your product targeting and refine your message so it resonates better with your influencer's audience.
A growing trend in the influencer space in partnering with who VaynerMedia calls unfluencers – social media users who have fewer than 3,000 followers to reach lots of smaller audiences with more targeted messages.
Previous Partnerships
A pretty good indicator of an influencer's future success with your campaign is their past success in campaigns similar to yours if an influencer has them. If you can see their past successes, you know that they're an influencer brands like to work with – especially if they've worked with the same brand more than once.
On the other hand, you can also spot which influencers to avoid if their previous attempts at paid partnerships have fallen flat. Not everyone who wants to make it as an influencer has the skills and abilities to do so, and it's important to remember that when searching for the right person for your campaign.
#2 SET CLEAR GOALS AND OBJECTIVES
Possibly the most important factor for any marketing campaign, influencer or otherwise, is making sure you set clear goals and objectives before launching. Your campaign goals determine almost of every other aspect of your campaign, from the types of influencers you enlist to the types of content they create for you.
Remember: Influencers are influencers because they've figured out what kind of content moves people to take actions. By telling your influencer partners what you hope to achieve with your campaign, you enable them to craft content that will help you meet your goals.
Use SMART Goals
If you've read any of our other posts, then you'll know how much we love SMART goals – these are goals that are Specific, Measurable, Actionable, Realistic, and Time-sensitive. Take a look at these two example goals, and you'll soon see why we love them:
"I want to get more followers"
"I want to increase our following to 5,000 through a targeted influencer marketing campaign, using three micro-influencers over a period of 1 month."
With the first goal, there's no real way to measure the success of your campaign. You might attract 100 new followers, or you might attract 1000 – either way, you have no benchmark to measure your success against.
In the second example, you've set out exactly what you want to achieve, by when, and how you're going to do it. Goals like this allow you to track your results with much more accuracy.
#3 LOCK DOWN YOUR BUDGET
Something that many brands and businesses struggle with when they first dive into the world of influencer marketing is setting and sticking to a budget. Knowing how much a partnership with a specific influencer is worth can be hard to lock down when you're just starting out. There isn't specifically an industry standard yet for influencer pricing, and individual quotes can vary wildly, even in the same industry and with the same following.
It's a tricky game to get right for both sides of the negotiations. Influencers know just how valuable their content can be for businesses nowadays, and they feel that they deserve to be compensated accordingly. Forty-four percent of influencers don't think they're getting a fair shake when it comes time to negotiate their service rates with brands.
Working with micro-influencers instead of macro- and mega-influencers tends to cost less per influencer, but you'll probably need to work with more than one micro-influencer at a time. Fair warning, though: Their rates aren't as low as you would expect.
There are mega-influencers who are charging $250K for a single YouTube video (not kidding – this was a real quote from an influencer we contacted for a campaign recently – and that rate didn't include UGC rights), and you have micro-influencers who will do a single blog post for a few hundred bucks. It depends on the influencer there are several important factors that affect influencer rates.
What about free products? Well, you may be able to negotiate free products for small influencers, but… usually, you won't be able to guarantee positive UGC without monetary compensation.
#4 COMMUNICATE
A "set it and forget it" mentality doesn't work in this business. The landscape changes to quickly. So, you need to maintain open lines of communication before and during your campaign. In the build-up to the campaign launch, you should be constantly checking in with them to make sure everything is in place, and that they fully understand their position in the partnership. They need to feel comfortable enough to ask you any questions, or bring up concerns as they arise. If you keep the lines of communication open, you can watch your campaign to make sure you can address issues before they become problems.
Another thing many brands are considering is building long-term relationships with influencers. Keep influencers in the loop to let them know the results of their campaigns and get feedback from them about their side of the campaign as well. Influencers are full of good ideas. It's also good to gather feedback on your process… Was everything laid out clearly for them? Did they feel valued as an influencer? Would they work with you again? All these things can help to inform future campaigns, and can help maintain a good relationship with the influencer if you decide to work with them again.
#5 TRACK AND MEASURE
As with any form of marketing, not every campaign and idea that you run with will bring you the same level of success. Some ideas will tank, and so will some influencer marketing campaigns – that's just the way that life goes. But, a failed campaign isn't a complete waste. There is so much to learn from it, more so than a successful one.
By tracking and measuring your results throughout your campaign, and diving into a deep analysis after the fact, you'll have a wealth of information right at your fingertips. You'll be able to figure out exactly how and why your campaign tanked, and how you can change your methods in the future to stop it from happening again.
And, by tracking as the campaign is running, you'll also be able to sidestep a lot of these issues as they are happening. Keeping a close eye on the analytics throughout the run can help you spot any problems the second they arise, and resolve them before they have a bigger impact on your campaign.
Conclusion
The effectiveness of a marketing campaign is everything. It's true for TV ads and it's true for influencer campaigns. In this post, we laid out an abbreviated version of a solid influencer campaign, along with links to some content you can use to roll out a more sophisticated campaign for better results.