A Look at 3 Holiday Campaign Strategies from Sephora, eos and Benefit Cosmetics UK: What They Did, Why It Worked, and How You Can Model Their Success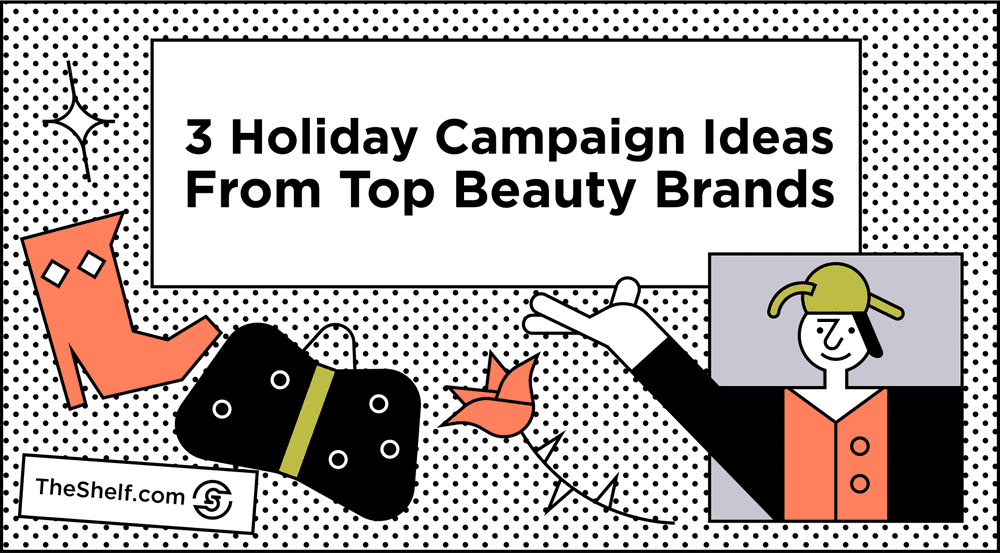 Every year, when the festive holiday season rolls around, we see a boost in digital marketing campaigns across all industries. But, more than many others, there is usually a noticeable rise in content from beauty brands. And, it's no surprise, either. The health and beauty industry tops $80 billion in annual revenue in the US alone, and is set to rise even higher in the next few years.
Thanks to the rise of social media – and the "selfie generation" – beauty stays top-of-mind for most people. Filters aside, most people are still very conscious of their appearance and, whether actively or inactively, constantly on the lookout for products we think can help us in that area.
During the holiday season, beauty manufacturers pull out all the stops – holiday packaging, limited edition products, holiday-themed colors (and flavors) line store shelves for the sole purpose of enticing buyers to make holiday purchases. That means holiday marketing campaigns, and some of them are pretty awesome.
So today, we're cataloging some of our favorite campaigns and providing that all important play-by-play analysis of why each campaign worked and some tips for how you can roll out similar campaigns for your own products.
Benefits Cosmetics UK
In 2015, Benefit Cosmetics UK launched a Twitter marketing campaign called #12DaysOfTweetmas. Taking inspiration from the famous Christmas carol, "The 12 Days of Christmas", this beauty brand partnered with other industry names to hold exclusive giveaways everyday throughout the lead-up to Christmas. Each new day of "Tweetmas" they would announce the latest giveaway, and tell followers to RT the prize tweet, as well as follow Benefit on Twitter, and whichever company they had partnered up with.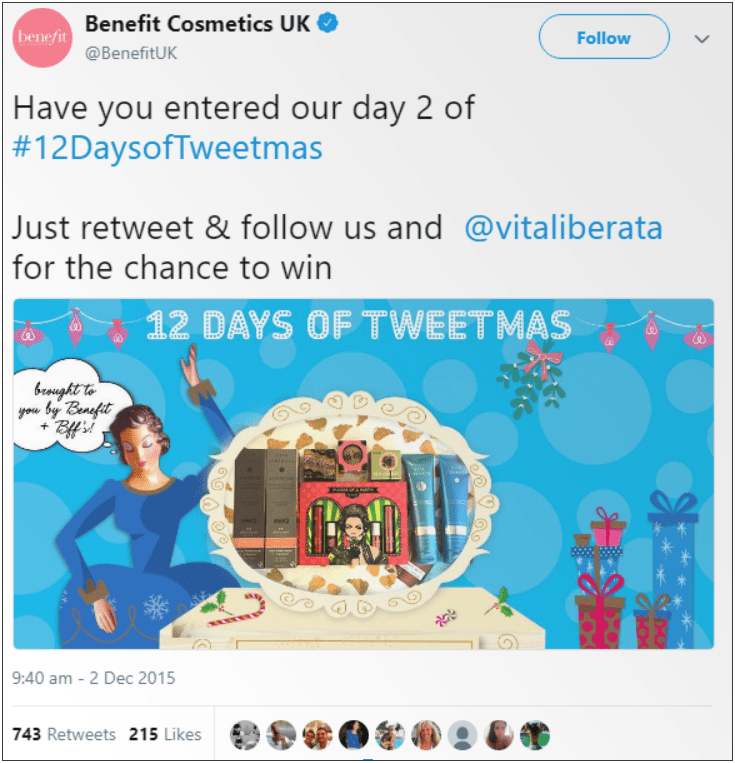 A common giveaway tactic, the retweet chain helps to boost your account's following, as well as get your tweets seen by more people thanks to the re-tweets. And, by partnering with other big name brands in the beauty world, they managed to extend their reach even further.
They saw some pretty impressive results for this campaign as well. As we can see from the tweet above, any given prize tweet was received hundreds, if not thousands of retweets in the hopes of winning the prize. Sure, some of the entrants were probably already following Benefit on Twitter, the brand undoubtedly attracted a good number more followers over the course of the campaign.
The most successful tweet in this campaign was on their 5th day of Tweetmas when Benefit partnered with hair care brand GHD to give away some of GHD's incredibly popular hair care appliances. This tweet gained 3k retweets, 600 comments and 800 likes. Even for a brand as big as Benefit, this is a pretty impressive haul on Twitter. Benefit revved-up engagement of around two percent, which is good for a brand with such a large following (220K at the time).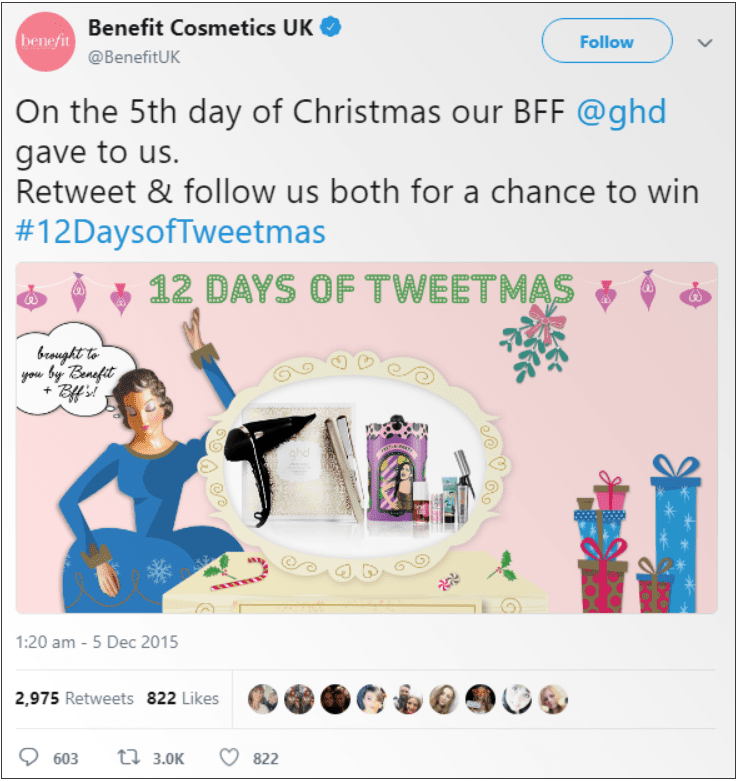 Why Did It Work?
Everything about Benefit's campaign was totally on-brand for the company. As a business, Benefit has such a distinct brand voice. Followers will immediately recognize a post from the brand as it moves through their social feeds. These guys have truly managed to capture the perfect synergy of carrying their branding through every single aspect of their marketing. Having such a clear brand voice like this, makes it much easier for them to stand out in the incredibly busy world of Christmas campaigns on social media.
Their target market is young, fashion-forward women with a cool sense of style. This information has clearly influenced the brands they choose as partners, as well as the wording they use in their posts. Referring to their partners as "BFFs" keeps the messaging young and fresh, without sounding like they're trying too hard.
The graphics they use in this campaign also perfectly balance on the line between clear branding and festive cheer. They manage to keep the images true-to-brand and easy to recognize, while still gracing us all with that warm, Christmas-y feeling.
Using the Benefit Cosmetics Campaign As a Model
First thing: You have to know your audience. This goes for marketing in general, really. If you don't know who you're addressing, your message is only going to fall on deaf ears.
Next, when you start designing your festive campaign, do your best to stay on-brand while mixing in some holiday style. If you usually use a muted color palette, don't suddenly switch to super bright reds and greens – stay true to your brand. You can still include festive elements – snowflakes, candy canes, reindeer, in a way that works with your brand, not against it.
Finally, don't be afraid to partner with other brands. Of course, the business world is competitive, but working with other brands, instead of against them, can boost your reach, expand your audience, and help you bring in new customers. This is especially true when you work with other brands in the same niche as yours. A partnership between a company pushing its influencer-endorsed eye shadow palette may be a fantastic match for a brand with a eyebrow gel that's currently trending. Work together to reach mutually-beneficial goals.