Whether or not you happen to be a Halloween buff, Halloween is a pretty important event for retailers, both online and offline. Not only is Halloween 2023 gearing up to be a $12.2 billion retail event, but the increase in online searches around Halloween trends and Halloween-related stuff coincides with an increase in searches for ideas around the other fall and winter retail events.
That means people are looking for ideas for Halloween, Thanksgiving, and the winter holidays during the same period of time. So, let's talk about some of this year's Halloween trends and how you can get in on those trends to drum up last-minute Halloween sales, AND stay top-of-mind for the year-end holiday push.
Halloween Has Officially Made a Comeback and Is More Popular Than It Was Pre-Pandemic
Question it if you want, but people LOVE Halloween. The U.S. is one of only three countries where Halloween festivities are a big deal. The other two are Canada and Ireland. And there's a whole lotta Halloween fun brewing in the Middle East and North Africa, as well.
Halloween is celebrated in countries around the world… but it's a bona fide retail event in the US… which is why we tend to focus our Halloween marketing content on American buyers. In the US 73 percent of adults are planning to celebrate Halloween.
So, you can rest assured, this is not the Sweetest Day of the world, where your neighbor has never heard of it because he only moved here from Tennessee a few months ago. Halloween is different from place to place, but it's still Halloween. And whether festive and cartoonish or dark and menacing, people all over the world take part in their annual Halloween celebrations.
PEOPLE START THEIR HALLOWEEN PLANNING REALLY EARLY!
The yearly uptick in Halloween-themed content usually hits Pinterest starting in June. Yes, June. That's when people really start planning for Halloween (and Thanksgiving and Christmas).
You may have noticed that right around Independence Day, the Halloween-themed stores started showing up. Not long after, pumpkins and jack-o-lanterns start lining store shelves and the sidewalks in front of stores. That's because 45 percent of those celebrating the holiday plan to start shopping before October. And for at least half of consumers between the ages of 25 – 44, both the planning and shopping happen in the days and weeks leading up to October 1st.
HALLOWEEN SPENDING PICKS UP IN SEPTEMBER
Actual Halloween spending really starts to pick up in September (or even a little earlier). The average American celebrant plan to spend $108 and some change on Halloween stuff this year. Not bad.
To put this in perspective, the average family spends $5 per person celebrating Thanksgiving Day and about $75 per household to celebrate the Fourth of July. As far as spending goes, Halloween is a mid-tier retail holiday.
By the time September 1st rolls around every year, shoppers have already spent about $500M on Halloween-related purchases. That means, Back-to-School, Labor Day, Halloween spending, and holiday shopping now officially overlap every year. But most Halloween spending (55 percent of it) happens in October.
WHICH MEANS…
Right now, they're planning, Pinning, bookmarking, saving, Liking, Following, "tutorialing" and budgeting. So, it's the perfect time to roll out your Halloween marketing campaign on social media to help you sell a lot now and sell even more over the next few months
---
Halloween Trends for 2023
The world's spookiest retail event is growing, but it's also evolving in some really important ways. We've put together a list of the things we see in the data that are shifting in this space. Plus, tips on how you can leverage this info to help you better target your Halloween marketing campaigns. And of course, each one of these ideas provides a seamless opportunity for you to incorporate influencer marketing, even if you're not necessarily working with Halloween influencers.
Halloween Trend #1: TikTok and Instagram are the top social platforms for Halloween inspo.
According to Statista, Instagram and TikTok top the list of social media platforms consumers rely on for ideas, with 32 percent of those surveyed saying they used those platforms to get inspired.
Other popular platforms including YouTube and Pinterest are named among the top sources of Halloween inspiration for both decorations and costume ideas.

According to the Statista:
30 percent of Gen Zers and 26 percent of all adults turn to YouTube – FYI, men are more likely than women to default to YouTube
29 percent of Gen Zers and 21 percent of adults turn to Pinterest for ideas and shopping, and women are more than twice as likely to go to Pinterest than men
17 of Gen Zers and 29 percent of all adults turn to Facebook
It's interesting to note that in 2021, Facebook reigned supreme as the top social channel for inspo, but as Gen Z ages up, visual platforms become the most important channels for brands trying to reach Gen Zers, after search and in-store displays.
According to everyone's favorite idea engine (Pinterest), consumers start their Halloween-related searches as early as May. From May to October, Halloween-related search volume on the platform consistently increases month over month.
How to Use This In Your Marketing Strategy
It's always a good bet to know where your audience is spending time online. We know that younger consumers a skewing toward platforms that display content based on interest not relationship, namely TikTok, Instagram, YouTube, and Pinterest. These could be pretty keen signals that this group searches for Halloween-related content topically (i.e. "Stranger Things costume ideas" or "funny Halloween costumes for couples"). That means you need to lean into creating content that focuses on a single topic and that the content is optimized for that topic. By that, we mean optimize posts with hashtags and the words you use in your caption, and optimize your rich media so it's searchable online.
---
Halloween Trend #2: Pop Culture Is In, Cultural Appropriation Is Out
Now, if you recall, in 2020, Pinterest was the go-to spot for politically correct Halloween ideas. The platform actually launched the Cultures Aren't Costumes campaign to provide cultural context for costume ideas to minimize the likelihood that searchers would choose costumes that could offend. Good Housekeeping published a really great article on cultural appropriation and Halloween just last week.
What Is Cultural Appropriation?
According to the Oxford Dictionary, cultural appropriation is the "unacknowledged or inappropriate adoption of the customs, practices, ideas, etc. of one people or society by members of another and typically more dominant people or society."
To keep it simple: we don't poke fun at groups of people, conditions, cultures, lifestyles, ideologies, or circumstances.
Cultural Appropriation is a sticky topic right now because many of us are unlearning colloquialisms, behaviors, and practices that we didn't even realize were harmful.
Case in point: we recently published a statement on why we were moving away from the terms "whitelisting" and "blacklisting" and instead using "allow listing" and "deny listing." Truth is, you can't really do better until you know better. And it's the responsibility of every individual to be ever on the search to know more and to know better.
Pop Culture Is a Yes
I have two words for you: Wednesday Addams.
Over the weekend, we shared a bit of family fun at Six Flags Over Georgia, trying our darnedest to get out of the park by 6pm so my little kids wouldn't have to face the park's hired ghouls. We failed. Kids got scared. Tears were shed. But let me tell you – we saw our fair share of elementary school-aged girls decked out in Wednesday Addams costumes. (I honestly didn't even realize that show was for kids. So, my kids aren't oblivious, but they have very little first-hand experience with any of the Addams Family titles.)
While the most popular costumes still include the typical stuff – superheroes, princesses, and witches – Wednesday Addams made its debut at #10 on the list of the top children's while Barbiecore landed a bit higher debuting in the top 3 Halloween costumes for adults, and #7 for kids.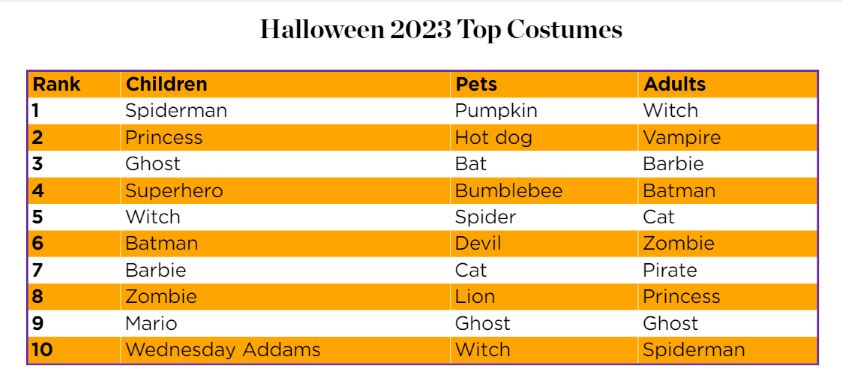 How to Use This In Your Marketing Strategy
Tap into what's hot culturally, whether that's Wednesday Addams or the Kelce x Swift combo. You can hop on Google Trends and Pinterest to see what's hot.
What about a costume tool? Google FrightGeist is an interactive tool that can show what's trending in different parts of the country. Plus, it has a Costume Wizard, which is a recommender tool that allows users to input a few parameters and then recommends a costume based on the user inputs.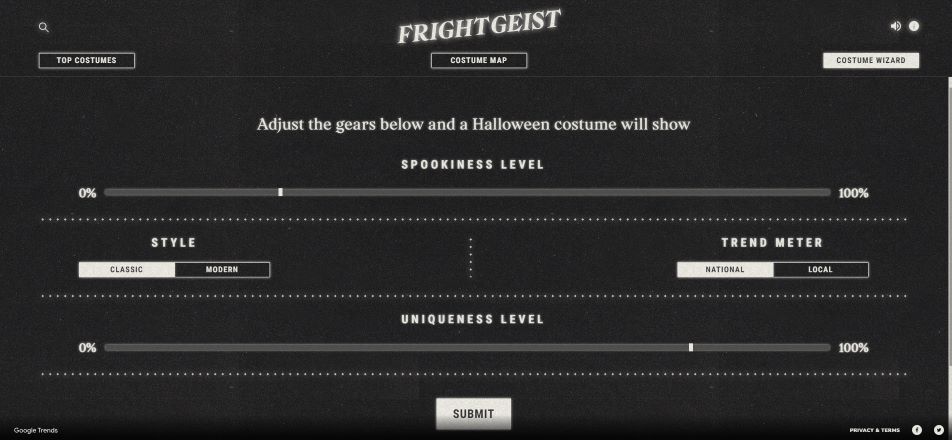 It's fun, actually – told me Pikachu would be the best costume for me.
---
Halloween Trend #3: Halloween Experiences
Experiences are a BIG part of Halloween celebrations. This year, nearly 1 in 3 Halloween celebrants are heading to a party or an event.
Among Halloween celebrants, 68 percent plan to hand out candy, 50 percent will decorate their home or yard, 50 percent will wear costumes, 46 percent will carve a pumpkin, 32 percent will throw or attend a party.
Haunted Attractions
Hey. remember when haunted houses were literally a 4-person cart zigzagging on a rickety track through the detached container of an 18-wheeler? I do.
Today, the haunted house industry is… well, an industry. I want to tread lightly here, as the haunted attraction industry is still formalizing despite its explosive growth, and it's not easy to find up-to-date stats.
Back in 2013, NBC News reported Americans spent around $7 billion celebrating Halloween. At that time, there were 2,500 haunted attractions around the world, most of which were in the United States. The haunted house industry was generating $300 million a year in revenue then.
Since then, overall Halloween sales have grown by 30 percent, and Halloween participation is up 11 percent. It makes sense to assume the haunted attraction market has experienced growth as well. What used to be a six-week season leading up to Halloween extends through the year as Spring Screams events during spring break, and escape rooms housed in malls (we have an escape room in the small town in which I live as well as the local mall, Sugarloaf Mills, which is packed with all kinds of attractions, a handful of whom are designed to at least creep you out, even if you won't admit to being scared.
The Detroit Free Press recently reported the arrival of Nightmare on Bagley, a pop-up horror restaurant that's slated to serve customers from 5pm to 11pm through November 5th.
There are now 4000 haunted attractions in the U.S, not including the haunts you can check out in the local amusement park. In the U.S., about 20 percent of the 240 million+ people planning to celebrate Halloween are also planning to visit a haunted attraction. That's 48 million people. The average haunted attraction costs between $15 and $20 per person, with theme parks charging as much as $100 per person. I would estimate today, the haunted industry rakes in close to $1 billion a year, which HauntWorld.com backs up. Here's a great quote I grabbed from Listverse: There are more haunted houses in the United States than Targets.
How to Use This Info in Your Marketing Strategy
Experiences are the bee's knees, man. And the popularity of attractions is proof-positive that adults – not kids – are the target audience this Halloween. Haunted attractions have been labeled a 100 percent American export. The fastest-growing market for haunted attractions outside the U.S is the Asian market.
As well, the rise of computer-generated graphics in Hollywood movies has created an opportunity for makeup artists who specialize in film makeup and horror makeup to offer their services – at least on a part-time basis – to haunted attractions to help create different looks.
Lastly, the emergence of year-round extreme haunts and offshoots of haunted attractions like haunted hayrides, zombie paintball, escape rooms, and virtual haunted houses are on the rise, and making their post-pandemic comeback.
The science behind haunted attractions is that they provide a way for people to be downright terrified and to legitimately feel threatened but have an "out" so to speak. Haunted attractions are a great way to be afraid and in a safe place at the same time.
Corporate backing and sponsorships of haunted attractions are on the rise. Melissa Cardone's Ten Thirty-One Productions creates spooky hayrides and other haunted events in both Los Angeles and New York. Cardone got a $2 million investment (for a 20 percent stake in her company) from Mark Cuban during her "Shark Tank" pitch in 2013.
Consolidation among producers of larger haunted attractions is becoming the norm in the haunt industry, due in part to the fact that this generation simply doesn't scare as easily. And it's getting more and more expensive for smaller attractions to acquire the type of equipment needed to compete with the larger haunts.
I get it – you may not be ready to drop two rocks on a haunted attraction like Mark Cuban can, but partnerships may make sense for you business. For instance, drink startups may consider striking a deal with haunt production companies to provide energy drinks, soda, water, or novelty foods. Smaller brands could target local haunts to provide novelty items, screen-printed apparel, or partner programs that provide discounts for haunted house patrons who visit their establishment within the same day.
---
Halloween Trend #4: Candy Sales Are Up; Trick-or-treating is Making a Comeback.
As you would probably expect, two of the most popular categories for Halloween spending are candy and costumes, both of which are fueled, in large part by trick-or-treaters. When Taboola analyzed searches around the term "candy bar" in the fall of 2021, it reported searches were 2495 percent higher in the 90 days leading up to October than they were for all of 2021.
According to the National Retail Federation, in 2023, 96 percent of Halloween celebrants are planning to buy candy to celebrate, while 77 percent plan to spend money on decorations. Sixty-nine percent are planning to buy costumes (for themselves, their kids, and/or their pets), and 39 percent of Halloweeners plan to pick out Halloween cards.
While candy is definitely the most popular item people will buy for Halloween, it doesn't account for most of the Halloween spending. The 96 percent of people who will buy candy will spend about $3.6 billion, while the 69 percent of people planning to buy Halloween costumes will be responsible for $4.1 billion in Halloween spending.
First, fewer families are venturing out for trick-or-treating than they have historically. In 2016, fewer than 1 in 3 Halloweeners planned to go trick-or-treating, which, until then, was the lowest participation rate in recent history. Throw in a global pandemic and the number of people who planned to take their kids out to hunt for candy by 2021 was fewer than 1 in 4, but that numbers inching up as we get back to pre-pandemic Halloween activities.
Another key contributing factor may be something we talked about in our back-to-school post and that's that there are fewer school-aged kids in the neighborhoods these days. America's aging up.
Family-friendly alternatives to trick-or-treating are cropping up all over the place. More community-focused Halloween activities are on the rise. So, while going door-to-door to get candy doesn't seem to be as popular anymore, attending fall or Halloween events sponsored by local businesses or community organizations is gaining traction.
Older Halloweeners are further solidifying the "experiences" trend for Halloween by throwing costume parties and participating in fashion shows to display their costumes. More people are planning to throw or attend a Halloween party this year than go trick or treating – 25 percent compared to 24 percent. For young adults between the ages of 18 and 24 years old, 43 percent of them have set their sights on a Halloween party.
And let's face it – experiences like fashion shows and parties make for more engaging social media posts than trick-or-treating. These are also events that would work well as part of an event-based influencer marketing strategy.
Here's a Halloween marketing idea for ya: Host a community event (online or offline)
In our post on Halloween marketing ideas for local small businesses, one of the ways we recommended brands boost their visibility and stay top-of-mind as we roll into the winter holiday season is to get involved in local Halloween festivities by sponsoring or hosting events like trunk-or-treat, drive-thru trick-or-treating for families, and even sponsoring costume contests.
This tactic employs Robert Cialdini's rule of reciprocity, encouraging people (in this instance, it would probably be parents of the trick-or-treaters) to remember and patronize businesses that have offered something of value to their kids. Your good will won't be lost on your customers.
Here are some ways this can shake out in an influencer marketing campaign…
Makeup brands can work with Halloween influencers or MUAs who specialize in horror and special effects makeup looks to teach parents and teens how to add gore or whimsy to the costumes of older kids using regular drugstore makeup. In high school, I went trick-or-treating as 1982 Carrie (the way she looked after that kiss from The Greatest American Hero made John Travolta and the blond dump pig blood all over her). We could never nail any makeup looks, so we had to go for themes.
L'Oreal has a specific Halloween Makeup Looks board on Pinterest where you can grab ideas and purchase products to create the different looks. Once you've chosen one, you can click on the pins to get the full tutorial and information on the products used.
Side note: The board repopulates its results when you sign in based on your previous searches around skin tone, hair texture, other content you've engaged with in the past.
Skincare brands can distribute samples of wipes and cleansing scrubs at costume parties, fashion shows, and dance clubs where local radio stations may be having costume contests on or before the big day. Costume makeup is no joke to get off.
If you're interested in getting to kids and parents, publicize the event on social media by partnering with local influencers on Facebook and TikTok. You can supply local stores with branded, reusable canvas bags strong enough to hold treats on the big night then be reused after Halloween can get your name in front of parents. The goal is to go where the party is and find creative ways to get your products in front of partygoers.
---
Halloween Trend #5: Large Outdoor Decorations – We're Doing It Big!!
Both the Halloween and Christmas seasons saw jumps in decoration sales as people sought safe ways to drum up holiday spirit while maintaining social distance. So, if you're wondering if you've just been ignoring all the giant scarecrows and metal pumpkin yard stakes all these years, you haven't. Super-sizing our fall decor is just one of the ways we're trying to keep the melancholy away and solidify our new normal.
And these high-tech Halloween decorations present great photo opps for passersby.
Per-household spending on Halloween decorations is up more than 50 percent over the last ten years from $20.99 per household to $34.76 per household this year. Not a bunch, right? Doesn't seem like a huge shift in Halloween spending. But we're talking a jump from $2.4 billion spent on decorations in 2016 and $2.6 billion spent in 2019 and 2020 to $3.9 billion in 2023. And it's worth noting that 32 percent of Halloweeners are planning to reuse at least some of their decorations.
In 2017, decorations tied with candy for second place in the top four Halloween spending categories. By 2018, people were spending more on their streamers, ghoulish cardboard cutouts, plastic cauldrons, dangling skeletons, perpetually hissing black cats and other creepily creative Halloween home decor than they were on candy. In 2023, 77 percent of Halloweeners are planning to buy decorations, totaling $3.9 billion.
How to use this info in your marketing strategy
Halloween decorators aren't limited to the stuff you find in the discount stores. And people aren't always so thrilled to throw purple and orange into their home decor. Both good news because it provides brands with an opportunity to help Halloween shoppers dream up Halloween decorating ideas that won't ruin their decor.
Share Halloween Accent Ideas
For companies that sell home goods, crafts, used items, furniture, or interior design services the goal should be generating and sharing ideas that include your products. Think about coming up with ideas that will allow customers to transition their interior design from Halloween to Thanksgiving without completing revamping their home.
In the post below, I spy with my little eye… a chic white ottoman, what looks like a vintage clock – similar to something you'd grab from a resale shop and paint black, bats made from construction paper (hello, crafting with the kids!), an oversized mug I can make myself or pick up from my local discount store, a comfy-looking couch, decorative pillows that can be store-bought or made with a little bit of fabric.
Bonus: When it's time for Thanksgiving, one would only have to swap out the pillows and the blanket, remove or replace the bats, and add warmer colors to the existing collection of knickknacks to make the Halloween-to-Harvest transition simple.
Know what would be cool? A post that shows how a shopper can double-down on seasonal decor by telling them how to use $57 to decorate for both Halloween and Thanksgiving. Something like…
Spend up to $7 at your favorite Goodwill or local resale shop on an accent piece (clock, oversized plate, creepy painting (resale shops are BRIMMING with horrible, homemade artwork that can easily be rebranded as kitschy.
Buy 3 yards of the z-pattern fabric from Joann Fabric (on clearance this week for $3.97/yd)
Buy 5 yards of orange fabric from Walmart (regular price $1.99/yd)
Buy 3-piece floating shelves from Walmart $10.99
And so on and so on…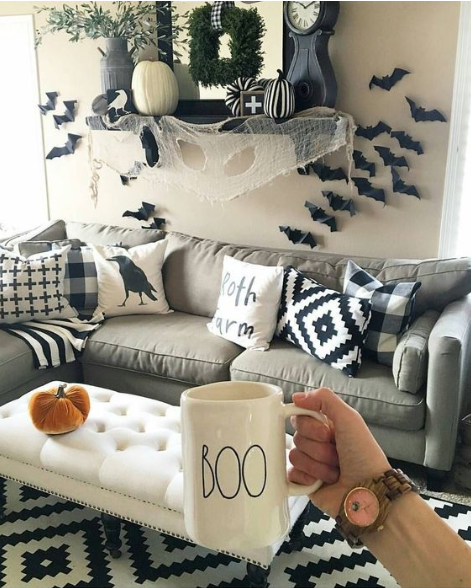 Craft-related brands already know how to make the most of this holiday. To go a step further, think about decorations that can easily transition to Thanksgiving. You can find a lot of ideas on lifestyle blogs, like this one.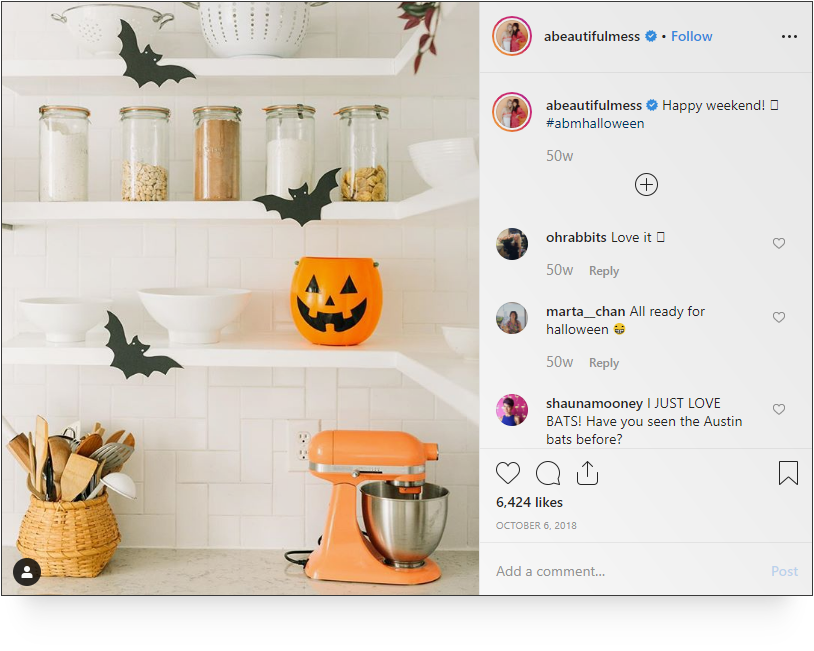 This is a cute idea for DIY ghost candles from @kailochic that I just saw in my IG feed. Inspo is everywhere.
Create Transformation Videos
Another smart idea for creating Halloween marketing campaigns or themed content is to show and not just tell. This strategy translates really well on social media.
Take this example from Lowe's Home Improvement. They created a campaign where they showed, through Instagram stories, how to transform a vertical space from drag to fab.

Another Halloween marketing idea: Mis En Scene the HECK out of your office or store
So, this Halloween is going to have a lot to do with setting the mood, and getting people in the holiday spirit without necessarily having to get them into the store to do it. People are shopping earlier. Even as we write this article, we're only a few days out from the second Prime Day of the year. And this is the perfect time to focus on boosting your visibility with some fun decorating ideas.
Update your window displays, storefront or facade with over-the-top holiday-inspired decorations.
Add offbeat Halloween elements to offices, conference rooms, and break rooms in parts of your office or building that are okay to post on social.
Sponsor a local haunt or a crawl of the 10 best Halloween decorations (with the owners' permission and some fanfare, of course)
This may seem like a small thing, but it isn't. You want your audience to like, trust, and support you. And that starts by being a brand that is actively engaged in your community – whether online or offline.
Consumers are looking to spend money with companies whose culture and values they can support. According to The 2020 Zeno Strength of Purpose research, when it comes to patronizing purposeful brands, consumers are:
4 times more likely to purchase from the company 
6 times more likely to protect the company in the event of a misstep or public criticism 
4.5 times more likely to champion the company and recommend it to friends and family 
4.1 times more likely to trust the company 
---
Halloween Trend #6: DIY Halloween Costumes Are Inflation-Proof
Interestingly enough, even though more people are planning to spend money on decorations than on costumes, Halloween costume expenditures make up the largest share of Halloween spending.
Come on… don't you remember how excited you were to dress up in your not-so-ridiculous pumpkin suit, Ghostbusters outfit or a witch with the most awesome pointy hat and magical wand?
Of all the moms and dads who get dragged out on Halloween to beg strangers for sweets, Millennials are one group of adults who may be doing it willingly… without the kids.
How to use this info in your Halloween marketing strategy
A great Halloween costume is worth its weight in Likes, shares, and retweets. But for Millennials and Gen Z partiers, there's likely to be a little innovation as well. That usually means planning well in advance and sourcing ideas on social media instead of store racks.
More than 30 percent of Halloween shoppers will source inspiration from online searches, compared to the 26 percent that will go in-store to find ideas. That means your content strategy has to get you found in searches for popular search terms like…
Halloween costume ideas (enormous number of monthly searches for this one with very little competition, comparatively)
Halloween costume ideas for couples (another big one)
DIY Halloween costume ideas
Creative Halloween costume ideas
Halloween costume ideas for groups (another surprisingly big one)
That said, creating visual content that ties your brand into Halloween-related themes is key. Pinterest is an invaluable tool for sourcing inspiration for looks of all kinds. Even if your team does most of its targeting on Facebook and Instagram, it will only help you to partner with influencers who can help you repurpose your content for Pinterest, YouTube, and IGTV.
But you're certainly not limited to just costumes and Halloween looks.
LUSH COSMETICS HALLOWEEN SKINCARE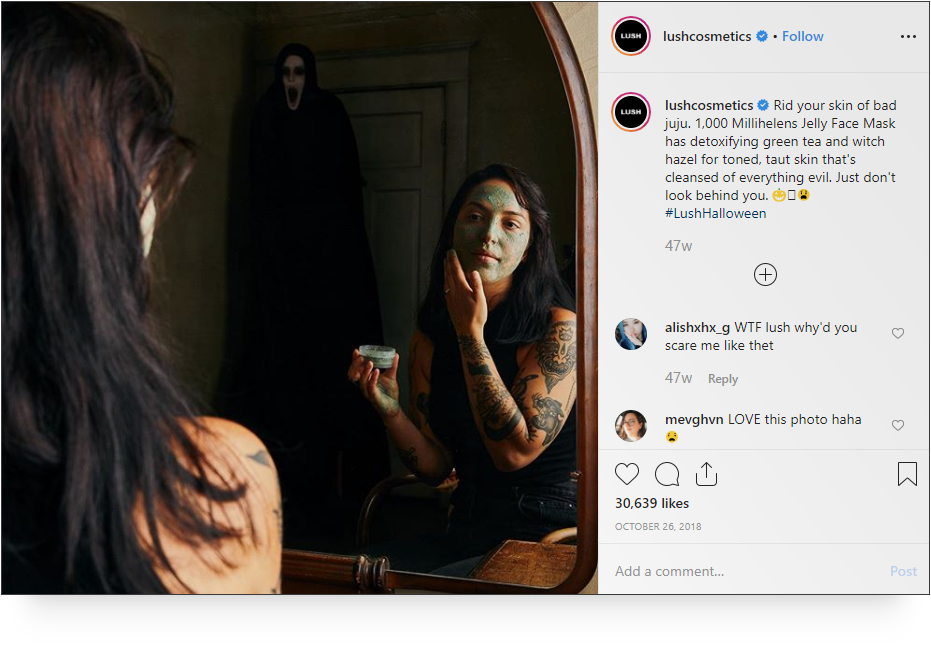 We're pretty fond of Lush Cosmetics. Lush has run some pretty eye-catching social campaigns (there was even one where everybody was naked!), and this one is actually pretty cool because it's a branded Halloween post (#LushHalloween) that isn't the typical Halloween promo post.
The post is promoting a detoxifying green tea face mask. But there's no CTA. No coupon code. No talk about the mask being great for Halloween or for restoring skin after piling on horror makeup. And that's part of what makes it effective as a Halloween marketing post.
---
Halloween Trend #7: Millennials Are Aging Up, But Refusing to Age Out of Halloween
That's it. That's the whole trend. Halloween is more popular than it's ever been, and the most active cohort is those ages 25 to 44 years old. The oldest millennials are 43 years old this year, and the youngest are around 27 years old, and they've gone from trick-or-treating to haunted attractions and spooky bar crawls.
Much of this continued ctivity can probably be attributed to parenthood – taking their kids out for Halloween – and homeownership – really going big on the decorations.
---
Halloween Trend#8: Halloween At Work
A significant part of our most recent post on Halloween marketing had to do with the concept of bringing Halloween to life at work by doing things like creating Halloween pop-ups that were gram-worthy, holding costume contests for employees, sponsoring a Halloween event for the local kids, and a few other really cool ideas that work for brands whether or not they sell Halloween-related products.
How to Use This Info in Your Marketing Strategy
Fun fact: 1 in every 10 Halloween searches on Pinterest is related to office decor. So, the opportunity is there for you to suggest cool items for people to use to add a splash of Halloween spirit to their workspaces or even to transform entire office into haunted rooms.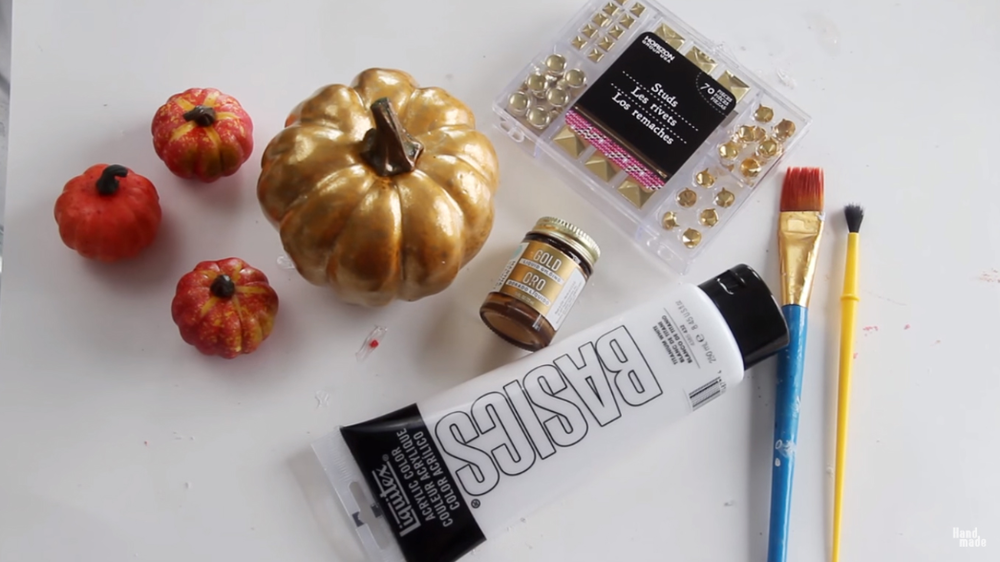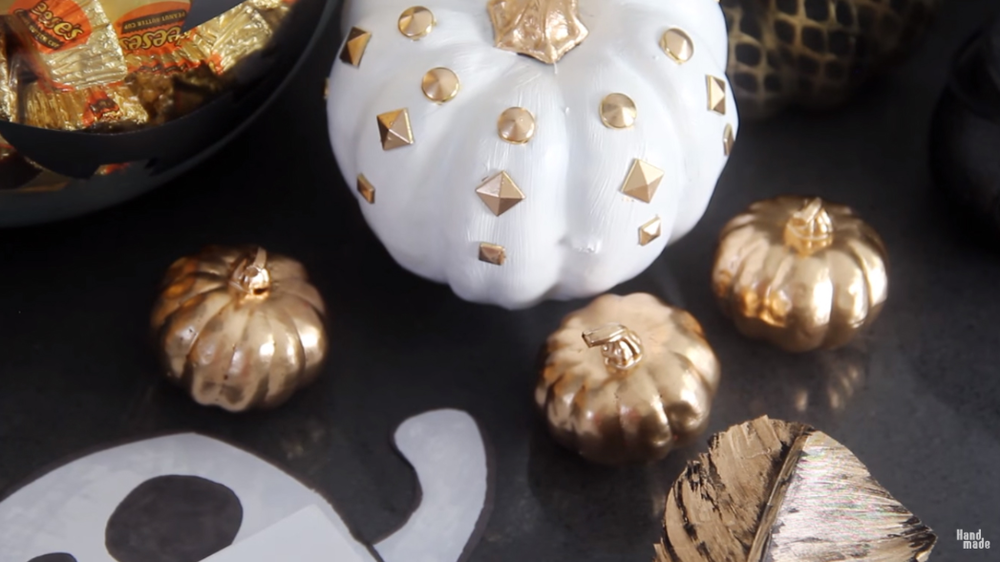 Halloween Trend #9: Pet Costumes
Pet costumes account for 10 percent of total spending on Halloween costumes. In 2016, owners spent $420 million on Halloween costumes for their pets. A year later, that number was $440 million. That's because 1 in 5 Halloween celebrants plan to dress up their pets for Halloween. This year, $700 million is being spent on Halloween costumes for pets.
How to Use This Info in Your Marketing Strategy
The pet industry is notoriously bulletproof. In 2020, 70 percent of U.S. households had pets. Heck, we've had a pig, hamster, three dogs, and for a short while, an orphaned squirrel just in the last two years. #lifeinthecountry
There is an opportunity here for marketers to zero in the focus for this Halloween on the furry friends who are considered members of every 7 in 10 households in America.
Marketers can do that by sponsoring live or virtual pet costume contests or fashion shows, or pet-person costume contests, and do it by creating a branded hashtag or using an existing one like #doghalloween (103,351 posts currently) or #doghalloweencostume (111,728 posts currently).
An easy voting system would be having users comment or double-tap. The comments and double taps will help you to boost engagement and provide one metric for determining the success of your campaign.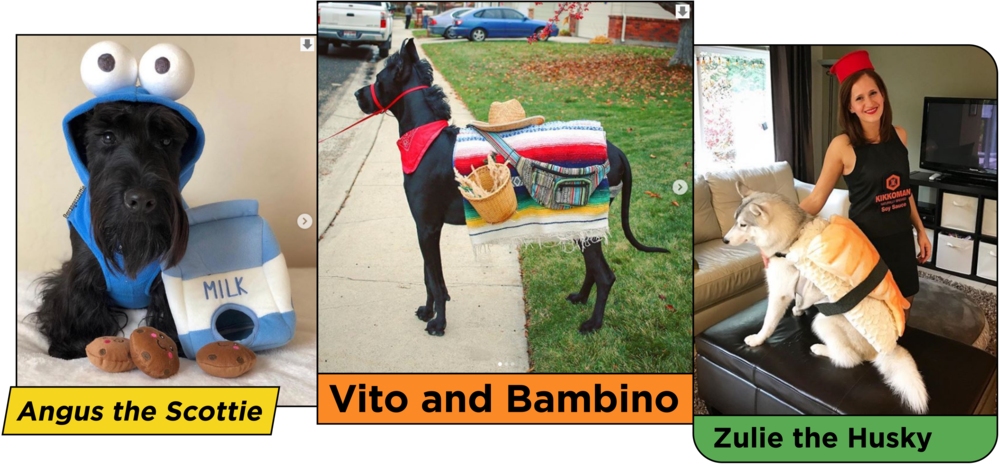 Halloween Trend #10: Pop Culture Costumes
Coincident with Millennials taking ownership of Halloween is a trend toward sourcing costume inspiration from pop culture. TV character costumes, Halloween meme costumes, and celebrity costumes are on the rise. Overall, 11 percent of those polled said pop culture would inspire their costumes. For older Gen Zers and younger Millennials who fall in the age range of 18 – 24, that number was 34 percent – one in three.
How to Use This Info in Your Marketing Strategy
The first tip is to stay relevant by keeping up on trends. And a simple way to do this is with Twitter and Instagram. A 10-minute cursory view of both platforms once a day will do wonders for you marketing strategies. If your team is able to push out content in hours instead of days, you can capitalize on trends in real time.
The next tip is to help people use what they may already have in their house. The Internet went sorta nuts a couple years ago when a 2016 lecture at Getty Museum entitled Designing the Middle Ages: The Costumes of Game of Thrones was mentioned in an article on Apartment Therapy that revealed Ikea rugs are used as capes on the popular HBO show Game of Thrones. The news increased online searches of Ikea's SKOLD rug by 775 percent. Of course, Ikea released its own official instructions for recreating the GoT look with a pretty funny sketch.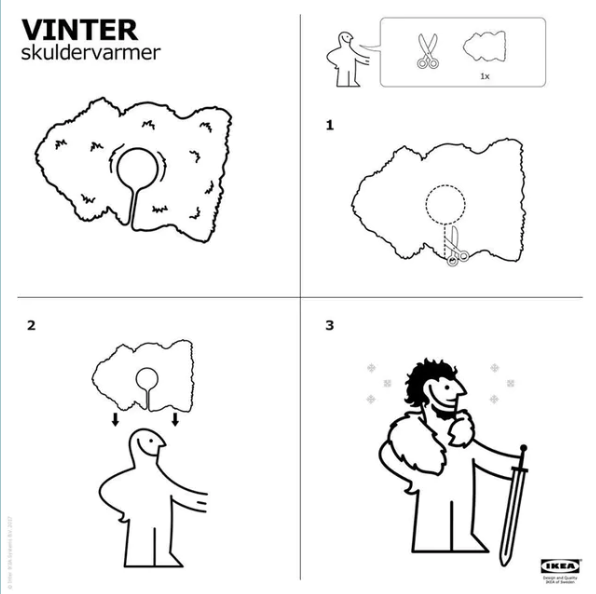 Halloween Trend #11: Grocery Stores are the New Front Porch
So, did anyone else have to take their candy to the police station to be scanned by the officers growing up, or was it just me? I remember the fun I had as a kid dressing up and trick-or-treating. I also remember CAREFULLY EATING candies that cleared the scan (not all did) hoping Daddy and his cop buddies got all the bad ones out.
Local businesses and community organizations have been taking an active role in reimagining Halloween without all the risks I had to take as a child. As a parent, this is one of my favorite Halloween trends. The idea of handing my little girls a piece of "some guy's candy" is… umm… not really optimal.
Two years ago, I was in no hurry to get home and spend all evening denying the neighborhood kids treats, so my kids and I stopped off for a few groceries before heading home. I was surprised to discover Halloween had been moved inside the grocery store – in the produce section.
So, in addition to picking up groceries, we spent more than two hours at my local Kroger playing in a bouncy house, decorating cookies, collecting treats, and playing games. My older daughter hung out with friends from school who were working as ghosts and operating games. My toddlers – though not in costumes like the other kids – got to "go fish" in the produce section… unfortunately, they traded the fruit they fished out for candy.
Weird choice, Kroger. Then again… probably much cheaper choice.
The point is my desire to avoid Halloween unwittingly put me smack dab in the middle of a community Halloween party.
And it's not just my neighborhood. More and more, retailers are becoming the community Halloween hubs because yeah… COVID.
Plus, it's hard to uphold the "stranger danger" message when Halloween is so awesome for kids.
How to Use This Info in Your Marketing Strategy
Create family-friendly experiences that parents (like me) can use to distract their kids from the fact that their friends are trick-or-treating. Usually, it's not that kids want so badly to go; it's more FOMO – they don't want to miss out on all the fun their friends are having.
Your Halloween festivities can be the fun thing they look forward to this year. Marketers can use this time to not only build goodwill in their communities, but to introduce parents to new products like gummy vitamins (please, please, please somebody make more nutritious gummies for kids!), sauces, salad mixes, hand wipes, and snack ideas. Let them test the products for free at your event and you will get parents who are happy to add your product to their weekly or monthly shopping lists.
About half the things on my shopping list landed there because I got to try it for free first. Speaking of…
The fine folks at La Colombe can thank Ibotta for the thousands I'll likely spend on draft lattes (genius idea). I literally have to go out of my way to get them, but… I get 'em.
---
Halloween Trend #12: Gender Neutral Costumes
Of the $3.2 billion spent on Halloween costumes last year, $1.17 billion of that was specifically for children's costumes. But for the past few years, the focus for both boys and girls has been on superhero costumes, relegating the former top costume choice of a princess to second place on the list of kids' costumes.
The trend toward gender-neutral costumes pushes against the idea of traditional girl or boy costumes. And it's not really about girls wearing costumes intended for boys. It's more about there being more female heroes from which to choose.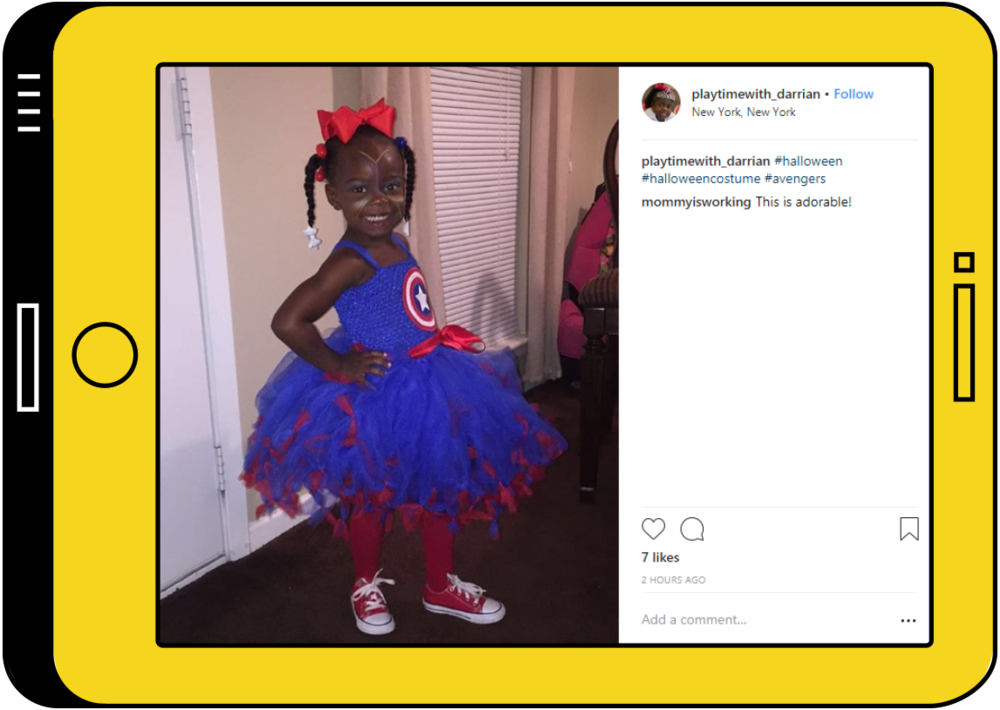 Were I to venture a best guess at the costume my preschooler would pick in a perfect world, I would say Colonel Nick Fury (not sure why she likes him so much), Megamind (again, what?), Thanos (she sees his point), Hawekeye (full disclosure: her older sister teaches archery), and Captain America's shield.
Yeah. Just the shield. So…
She's no unicorn. For the past few years, it's been superhero costumes that have been the top sellers for kids regardless of age or gender.
How to Use This Info in Your Marketing Strategy
You can win loyal fans and generate content that gets shared with parents who support gender neutral costumes (and who often can't find what they're looking for) by helping parents source the right suppliers (which you can do by repinning Pinterest pins) or by creating content that gives parents simple DIY instructions for customizing their outfits for the best fit, look, and experience for the kids.
Halloween Trend #13: Halloween Has Officially Become a Thing in Some MENA Countries
Time to expand your ad targeting. Think With Google reports a 26 percent increase in Halloween-related searches in MENA countries this year after the holiday made its debut in in Saudi Arabia last year.
Much like what's happening here, many of the costume-related searches are being fueled by the content people are watching on Netflix and other streaming services. For instance, Google reports that "search interest for 'Squid Game costume' and 'Cruella costume' crept up 900% and 215% respectively year-on-year."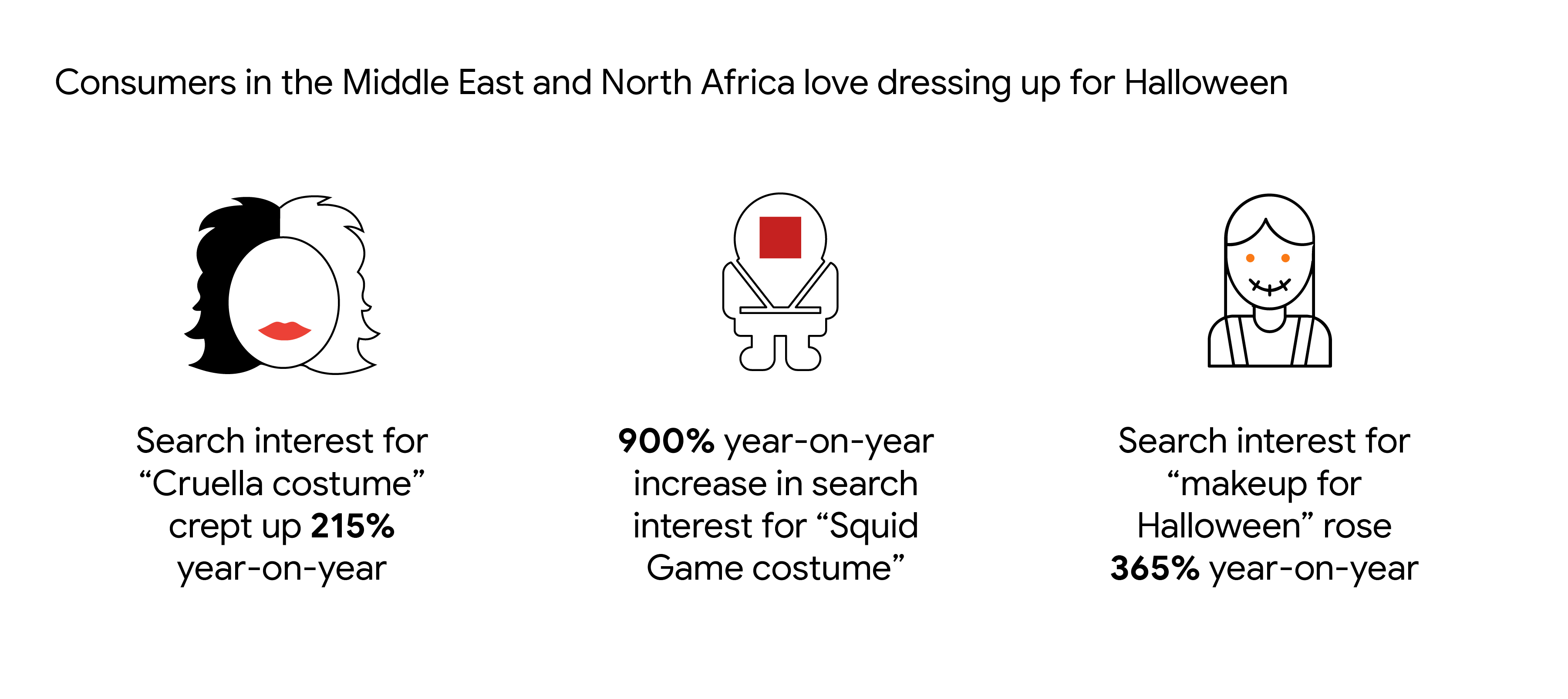 Candy searches are also up in the region with searches for "candy corn" being up 150 percent and searches for Halloween candy up 165 percent year-over-year.
---
This Year's Big Wrap-Up Isn't Really That Scary
The big takeaway here is that people are loosening their hold on candy and trick-or-treating as the be all end all of Halloween. This current evolution of Halloween trends means there's room for brands to dream up family friend experiences… or horrifying ones. Depends on your brand and your demographic.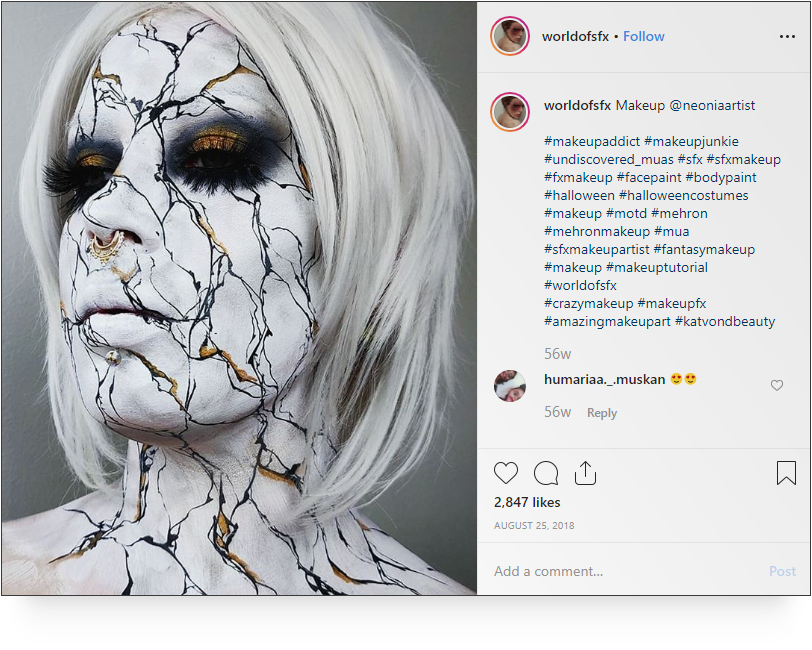 Is anyone else thinking this is an amazing eyeshadow color? Source: Instagram @worldofsfx
But the one thing that is consistent throughout all eight of the trends we talked about here is that the experience you create has to be grand enough, interesting enough, and unique enough to make it into your customer's Instagram feed. That's the ultimate goal.
---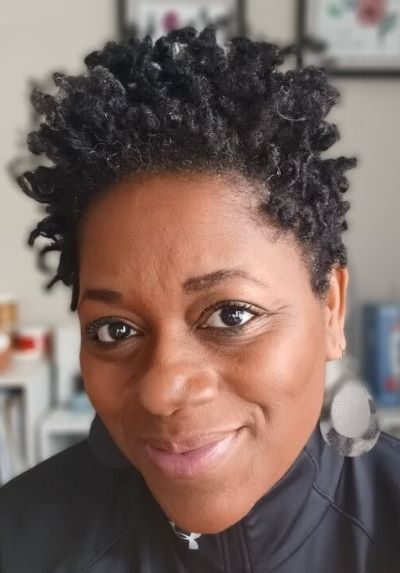 About This Author
Sorilbran Stone | Content Strategist
I serve as the resident content strategist and the official Head of Content Marketing at The Shelf. Marketing is my happy place. I'm as happy looking at analytics as I am actually creating a thing. I focus a lot on dreaming up and implementing the best ways to create, publish, and distribute content that will build your brand and get your audience to do a thing.
---