A Look at Halloween Campaigns (and Some Pretty Cool UGC) from Starbucks, Fanta, Burger King, and Svedka Vodka
Every holiday throughout the year presents us with awesome opportunities for cool and compelling marketing campaigns. But my absolute, hands-down favorite holiday has to be Halloween. All those spooky limited edition designs of my favorite products, and strange and interesting flavors of my favorite foods and drinks makes this a time of year that I constantly look forward to.
Brands know that I'm not the only one who loves Halloween, so they make sure to keep up with Halloween trends and put some serious effort into their Halloween marketing every year.
In this post, I want to take a look at some of last year's Halloween marketing campaigns. We're doing what we like to call a deep dive to see how brands are using social to roll out Halloween marketing campaigns that effective boost sales, expand their brands, and spook us all silly.
---
Starbucks
The home of the pumpkin spice latte, Starbucks is the master of holiday-specific marketing. It almost seems like they have a new flavor every month for some holiday or another – not that we're complaining! The popularity of a lot of these limited edition drinks has given them the freedom to try out new combinations every time a holiday rolls around, and Halloween 2017 was no different.
In the past, they had treated us all to drinks like the Franken Frappuccino based on Frankenstein's monster, and the Frappula Frappuccino based on Dracula. Both were kitschy and fun and had limited runs leading up to the holiday.
For 2017, they gifted us with the Zombie Frappuccino. Riding on the success of TV shows like The Walking Dead, they tapped into our fascination with these brain-munching monsters to create a drink concoction that was Instagram gold.
This is another way that Starbucks uses holiday-based marketing – they are UGC masters online. We've talked about their mad UGC skillz in previous posts. Everything they do seems to open a door for their customers to create product-focused content, and by creating a drink that looks as good (or better) than it tastes, they are once again giving their customers something they just have to share across social media.
Instagram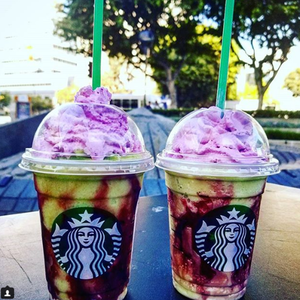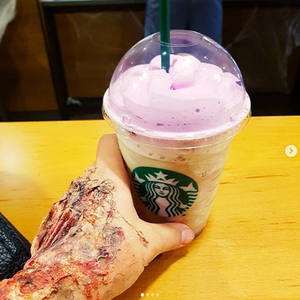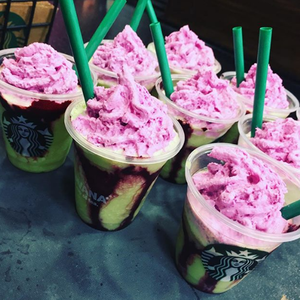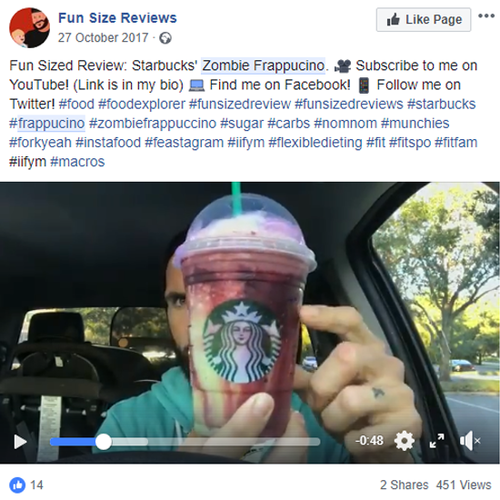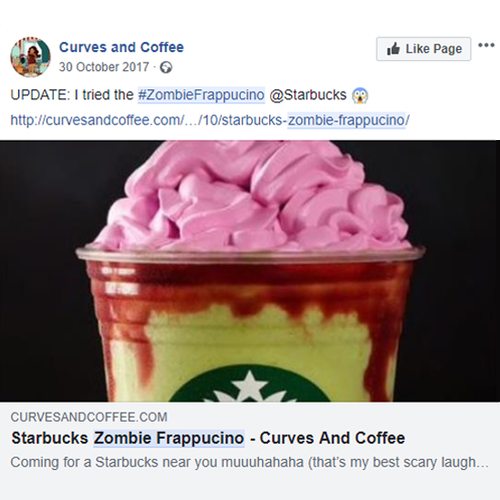 Starbucks' biggest target market – especially on social media – is Millennials, a demographic that has no problem dreaming up, snapping and posting Insta-worthy pics of their meals and drinks whenever necessary (and "necessary" is a matter of opinion). Drinking Starbucks is cool.
The brand's own Instagram post announcing their Zombie Frappuccino garnered nearly 1.5 million likes. This is a big step up from their usual figures (between 250k – 350k likes per post on average). And, by introducing the hashtag #ZombieFrappuccino they saw over 35k user-generated posts created for them as well.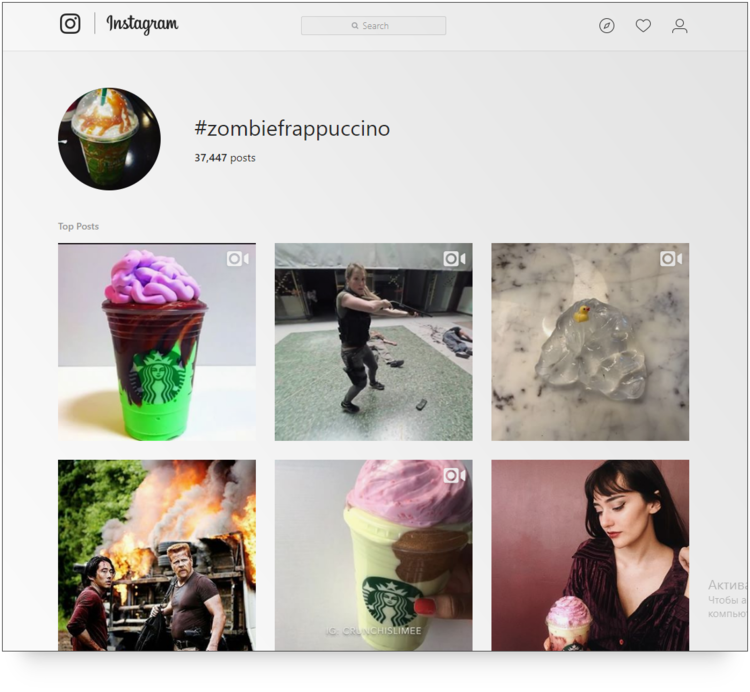 Source: Instagram at #Zombiefrappuccino
Still, for all its apparent popularity on social media, it would seem that consumers are starting to grow bored of the over the top novelty drinks they churn out throughout the year. Does this mean they'll take a new tactic this Halloween? Doubtful. While they may not be as popular as they have been in the past – it's not as if the drinks won't sell (especially since Starbucks app users / rewards members are likely to receive discounts and BOGO offers during the holiday season).
The real question is what Halloween concoction will they come up with this year?
TAKEAWAYS
Seasonal and – dare I say gimmicky – versions of popular products are a great way to dive into the Halloween spirit. This doesn't have to be limited to just food and drinks though. Simply changing up your packaging for a limited run (think the Christmas Cups that Starbucks love to do) is a great way to implement it no matter what your brand.
The challenge here is to walk the fine line between being kitschy and corny (fine line… very fine line). If people are getting bored with a big name like Starbucks, a brand that is downright iconic for their ability to rally their customers around their theme products, you're going to have to up your game a bit to get your finger on the pulse of your audience attention and desires.
---
Burger King
Another brand that really embraced the scarier side of Halloween last year was Burger King (as if that creepy king they use in their ads isn't horrifying enough).
In previous years, the fast food chain released a Halloween Whopper – which brought in some interesting reviews. But, this year, their campaign was much more share worthy.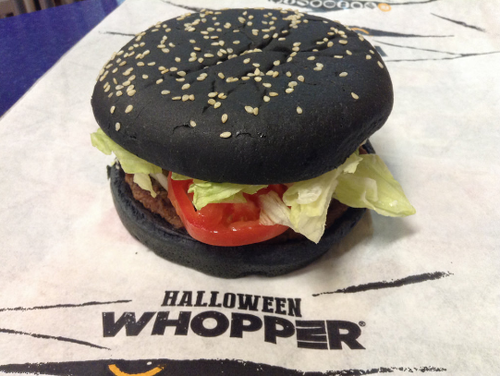 Source: Mike Mozart
In what seems to be becoming a tradition for the burger chain, they used Halloween as a way to make some light-hearted fun of their biggest fast food rivals – McDonalds. Back in 2016, they dressed up an entire store as the ghost version of a McDonalds, and the year after, they came up with a hilariously spooky way to troll their competition.
During their Come as a Clown, Eat Like a King campaign, the franchise promised to give a free Whopper to anyone who visited their stores in the days leading up to Halloween dressed as a clown. And, while this may not seem a very obvious way to make fun of the guys over at the golden arches – their commercial really drives the point home. Just take a look:
Now, if that first scary clown looked familiar, that's because it's a direct spoof of Mr. Ronald McDonald himself – not quite so subtle anymore, right?
This was a great year to run this particular campaign as well. Thanks to the release of the Stephen King movie remake "IT" there were bound to be plenty of Pennywise the clown costumes popping up over Halloween 2017. Burger King expertly managed to pair an awesome campaign for their brand, without making people go too far out of their way in order to take advantage.
The promotion was pretty limited though – only five stores in the US participated, and the free burgers were only for the first 500 visitors dressed as clowns that day. But, whether you went in for your free burger or not, the campaign attracted a lot of attention online, with more than a million views of the promo online and features on People.com, Fox News, AdAge, Business Insider and Adweek. Genius.
Only time will tell if they decide to go the same route again this year and make a another marketing campaign to make fun of McDonalds or not. Maybe McDonalds will step up to the plate and launch their own retort?
TAKEAWAYS
Don't be afraid to push boundaries and try something daring this Halloween. Burger King took a real risk when they decided to troll their competition, especially when their competition is as big as McDonalds. But, it paid off in a great way for them.
The key to doing this right is finding that perfect balance between daring and fun, and between poking fun and friendly competition. Even though Burger King's campaign was clearly going against McDonald's, it was done in a way that was tasteful, not slanderous. Burger King kept it lighthearted and fun. That's the key to a daring marketing campaign.
Svedka Vodka
How many times have you been scrolling through Facebook and seen an advert pop up for something you were just talking about? Or been watching a video on YouTube and a commercial comes on for that product you've been thinking about all day?
It's kind of spooky when you start to get the sense that Big Brother really is watching, but the science behind it is a lot less sinister. It's called ad retargeting, and Svedka Vodka's retargeting campaign last Halloween bordered on cyber stalking.
The campaign begins with a force-view in-video ad that tells viewers they have been cursed in a suitably creepy fashion. Their expert retargeting then continues to pop up all around the web with stalker-like messages to the user. Things like "Why are you up so late?" and "I heart following you around New York" really show how much information these internet bots like to capture.
Svedka knows its target audience spends huge chunks of time online, and managed to use that knowledge to their advantage in an incredibly creative way. And, the only way to break free from the "curse"? Sharing their articles with your friends. Once your friend clicks on one of their links the cookies kick in and the cycle begins again.
Not only did they manage to convince people to share their content, they made sure they remembered the brands name, and gave it a certain edge for the Halloween season.
TAKEAWAYS
You have to know your audience. We write quite a bit on how to identify your target audience. When you know your audience, you can create content specifically for them that will elicit a response. The reason this campaign had such a viral success was because it pandered to its Millennial audience.
Granted, relying on retargeting for your Halloween campaign can be risky as 63 percent of Millennials reportedly use ad blocking software, especially on mobile devices. But trust that the Millennials who saw the ad remembered it.
By creating an ongoing Halloween-themed campaign with personalized targeting, Svedka Vodka really made its ads stand out from the crowd and generate a buzz around their product.
For retargeting to work, you have to know where your audience is hanging out and go where they are.
Fanta
One of the most immersive and inventive digital marketing campaigns was run by the soft drinks company Fanta. Riding the success of social media giant Snapchat in 2017, Fanta's campaign combined real-world events, social media synergy, and influencer marketing.
In the UK, Fanta held events across the country where members of the public had the chance to ride an elevator from the 13th floor in a terrifying virtual reality experience. Every floor had a different spooky scene to enjoy, and the "ride" itself lasted around 4 minutes.
The entire campaign was all about the experience. One of the emerging trends we talked about in our recent Halloween post was the move away from traditional trick-or-treating toward family-friendly experiences like festivals, Halloween parties and activities inside grocery stores and scary fashion shows. Millennials want to capture experiences.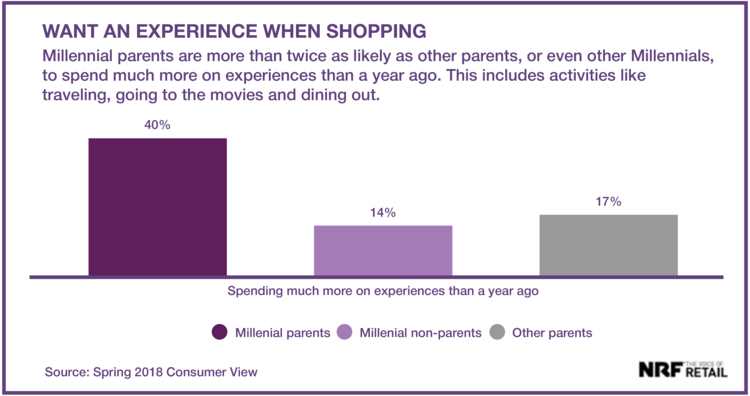 Fanta sold an experience that attendees could capture and promote to their social media followers. Then, triggered by a fear of missing out (FOMO) more people participated in the event, shared it with their followers, and provided Fanta some great UGC and brand mentions across social media.
SPEAKING OF SOCIAL MEDIA…
If your target market is 16-19 year olds, then there are really only two platforms to focus on (YouTube aside) – Instagram and Snapchat. Don't let the controversy fool ya. Snapchat is neck-and-neck with Instagram for teen usage and attention. Snapchat remains the preferred platform for teens to connect with one another, and Instagram is their preferred platform for connecting with brands.
Fanta created limited edition cans and bottles displaying their very own Snapcodes on them, allowing buyers to use exclusive filters and stickers in their own Snapchat stories.
Having these exclusive filters meant that it was easy for the public to share their experience at this "13th floor" event while keeping on-brand as much as possible. It also opened the door for some exceptional influencer partnerships.
The elevator VR experience was fairly limited to just a handful of locations, so they made sure to reach a wider audience by utilising YouTube footage of the experience itself as well. The event itself was a roaring success with people standing in line for over 2 hours to have their turn to experience the ride.
TAKEAWAYS
Halloween is the perfect opportunity to open your marketing to a wider audience or a new demographic. It's a universal celebration of freedom and fun, and people from across socio-economic categories celebrate the event with equal amounts of vigor. Plus, it's smackdab between back-to-school buying and holiday shopping, a time when people are actually looking forward to spending money.
If you are planning to switch gears in your advertising strategy, do your research and make sure it's up to date. Things change fast in the social media landscape. You want to make sure you're building a strategy based on accurate intel.
Find out where your new target audience is hanging out online, and make sure any efforts you make to reach them actually do reach them. Snapchat is a good way to do that if you're targeting Gen Z.
Halloween Marketing Tips
So, these are the campaigns we LOVED last year, but what about this year? Your brand could be topping this list when we look back at Halloween 2018. If you're still scrambling for ideas though, just remember these few tips and tricks to help your campaign run smoothly.
SPOOKY VS. CUTE
There's no right answer to this – it all depends on your campaign idea and target audience. Both are very valid options when it comes to Halloween marketing. Around this time of year, people love a good scare – so don't be afraid to frighten if you think it will work for your campaign.
But, taking a "cute" approach can work wonders, too. Creating special products or designs around Halloween without being scary can be ideal for brands looking to target children and families.
PLAY TO YOUR AUDIENCE
As with any campaign, no matter what wacky ideas you have swimming around your head, you need to be sure they will work for your target market. Marketing teams can sometimes get carried away this time of year creating campaigns that would be awesome – for another brand. The number one rule in marketing – keep your audience in mind.
COLOR CRAZY
If you want to simply dip your toe into some Halloween marketing, the easiest way to do this is by embracing the traditional color combinations of the holiday. Throw in some green, orange and black color combos and your product will be instantly recognisable.
Whether you redesign your product's packaging or just use the colors in some social graphics, they will help you cash in on the holiday without too much commitment.
That's a Wrap
It's good to have info. It's good to have strategies, on deck ready to execute. But isn't it super helpful to see examples of well-executed campaigns. Not just to steal their ideas (I mean, yeah… use what works, because who wants to spend every campaign seeing if the square or the triangle wheels work?) but to spark creativity and expand on core strategies that already work.
So, what's good and fun out there in the world of Halloween marketing campaigns? Let us know in the comments!