The growing cadre of digital personalities known as virtual influencers presents both opportunities and challenges for brands and marketers that are considering using virtual storytellers as brand ambassadors.
In this post, we're digging up the goods on the rising popularity of virtual influencers, and answering the one question you really want answered: Can virtual influencers drive marketing outcomes, or are they a gimmick?
TL;DR… The 5 Key Takeaways
The first big CGI influencer debuted on Instagram in 2016. Since then, about a dozen other humanoid influencers have also cropped up, with the five most popular being connected to the others in one way or another.
Interest in CG influencers is growing. Fashion brands are jumping at the chance to work with virtual celebrities. Last year, French luxury brand Balmain even announced the creation of an army of virtual models. KFC has done the same thing. Expect more of these designer influencers.
Virtual influencers are able to gain followers because the story worlds created around them are highly-developed, consistent, and intriguing. These are extremely engaging online personas who act like real people.
The lives created for virtual influencers are aspirational – we're talking song releases, billboards in Time Square, interviewing pop stars at Coachella, hanging out at The Savoy London, starting clothing lines… But here's the thing- this is a Sims family. The fictional ideas that originate in curated story worlds end up taking shape in the real world. Miquela really has three songs out. She also has apparel and merchandise you can actually buy. The pics of Time Square billboards Miquela posted to Time Square were in the REAL Time Square. Blawko is really on the cover of Esquire magazine – that's beyond captivating, and it blurs the line between reality and fantasy.
Virtual influencers aren't for every brand. Unlike real influencers, there aren't enough of them yet to come in all shapes, sizes, and backgrounds. That said, technology, entertainment and fashion are the verticals that have gotten the most use out of toeing the line between trendy and fringe by working with virtual influencers.
---
CGI Influencers Are Modern, But They Aren't Really New
Gen Xers and older Millennials may have dim memories of a non-cartoony, animated character by the name of Max Headroom who had a TV show back in the mid-1980s. Well, Max Headroom and the virtual talent that has arisen since he went off the air (think Gorillaz ) lay the foundation for a pretty solid argument – and that is virtual celebrities, virtual influencers aren't a new phenomenon.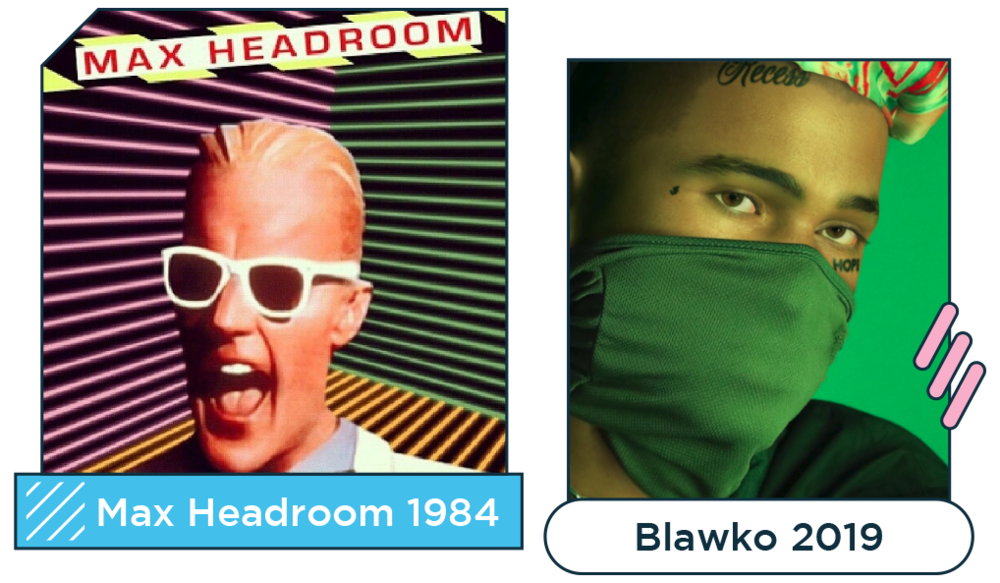 But what has made digital personalities like American-Brazilian model and musician Miquela Sousa (on Instagram @lilmiquela) so intriguing and so popular is that she (and many of the other virtual influencers carving out "lives" for themselves on social networks) looks and behaves like real, live person.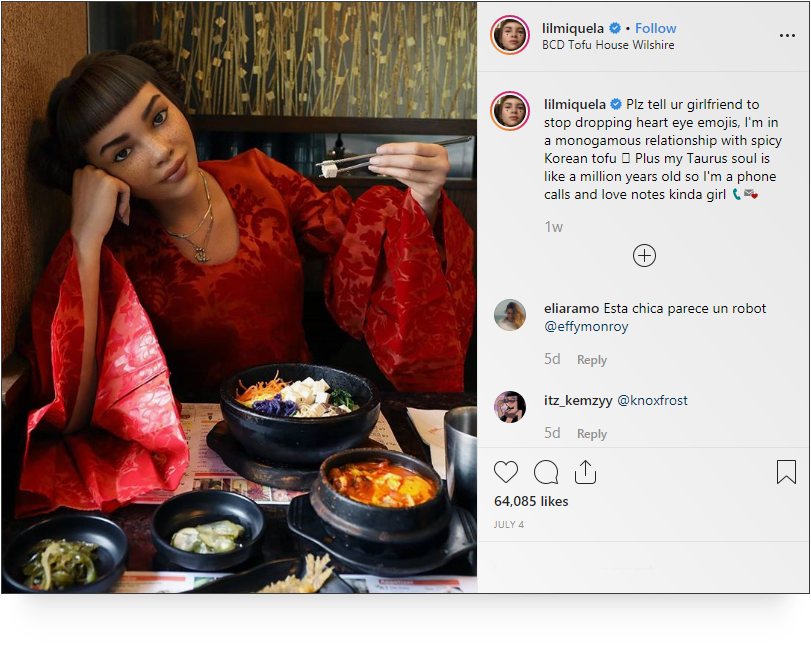 Source: On Instagram
Make no mistake about it: Max Headroom was a legit phenomenon during his time. He even landed a brand ambassador deal with Coca-Cola. But visually, he was nothing like the humanoids out now (sorry for such a geeky term, but it's a spot-on way to describe these types of virtual influencers). And Instagrammers are following them in droves.
Welcome to the Fabulously Elite World of Designer Virtual Influencers
In the three years since Lil Miquela debuted, there has been growing interest in the idea of virtual creators. The most well-known virtual influencers are powered by companies, and presumably, the content they create – along with the posts they publish – are carefully curated behind the scenes by individuals and teams, no doubt adhering closely to content manuals that govern when and what they post.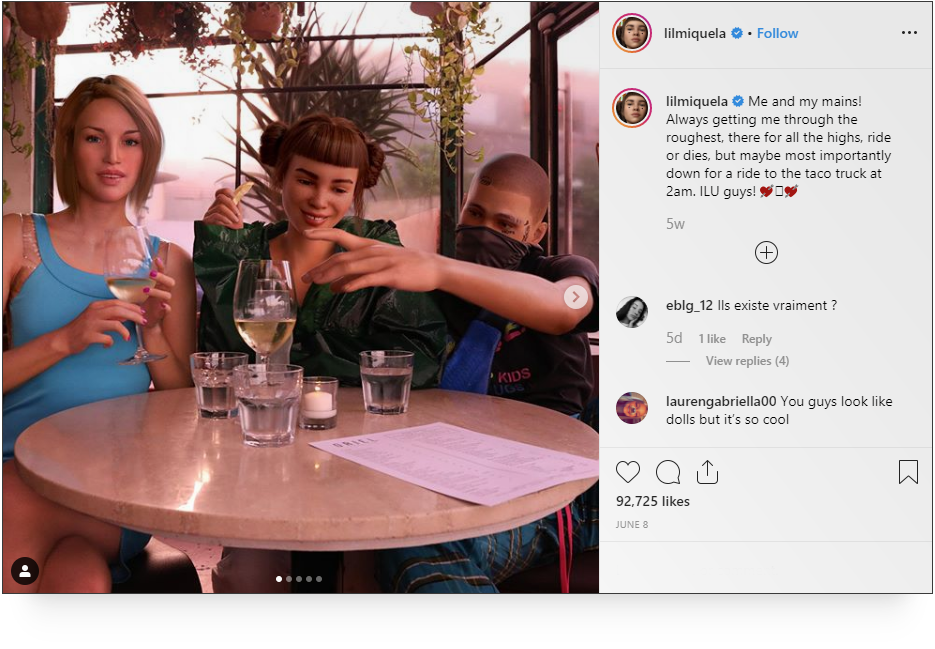 Brud (the company that created Miquela) has dreamed up other virtual storytellers who similar to Lil Miquela, including her best friends, Ronnie Blawko (on Instagram @Blawko22) and his on-again, off-again girlfriend, Bermuda (on Instagram @Bermudaisbae).
Source: This post of Miquela and her two BFFs drummed up 5.7% engagement just in Instagram likes.
But Brud is one of a growing number of companies getting into the business of building virtual creators. And not every company in the business of virtual personalities is considered a digital design or tech company.
BALMAIN ASSEMBLES AN ARMY OF VIRTUAL MODELS

With stores in New York, Los Angeles and Miami, French luxury fashion brand Balmain has been in the high-end apparel business for 75 years.
It's a red carpet brand. You can find the biggest stars and style icons in the world wearing Balmain. We're talking Jane Fonda, Jennifer Lopez, Lupita, Neymar, Bad Girl RiRi… the list goes on and on and on.
Honestly, there are enough pictures of A-listers dripping in Balmain luxe to supply the brand with a lifetime of UGC that will keep the rest of us both awestruck and starstruck. But last fall, Balmain's edgy, young director, Olivier Rousteing unveiled the first three members of Balmain's new army of "virtual models", Margot, Shudu and Zhi.
The three models are the creation of photographer Cameron-James Wilson. For Balmain campaigns, their outfits are "styled" by CLO Virtual Fashion, a company that specializes in creating realistic 3D garment simulations (yes, that's also a real thing). Earlier this year, the photographer posted the first pick of Koffi on Instagram, who some say bears a striking resemblance to Shudu.
You may recognize Shudu (in the middle). Dubbed, the world's first digital supermodel, Shudu is popular on Instagram and has been used in content promoting brands like Fenty Beauty and The Savoy London.
Margo and Zhi, on the other hand, don't actually have Instagram accounts. They are used exclusively as virtual models for Balmain.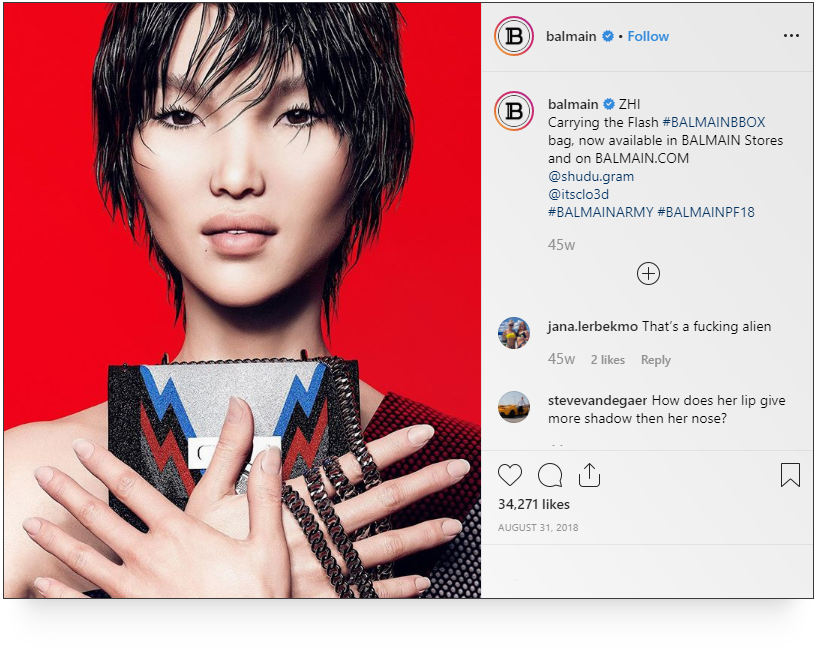 The fashion industry has made quick work of using virtual influencers in their campaigns. Lil Miquela, for instance, has worked with some of the biggest fashion brands in the world, including Prada and Chanel.
KFC'S COLONEL 2.0 (VIRTUAL, LIKE HIS PREDECESSOR… BUT HUMANOID)
Balmain isn't the only company to dabble in working with these types of designer/branded influencers. KFC made the news earlier this year when a youngish, hipster Colonel Sanders took over the company's Instagram feed, bringing new life to a feed that was becoming a scrapbook for kitschy, chicken- and Colonel-related posts.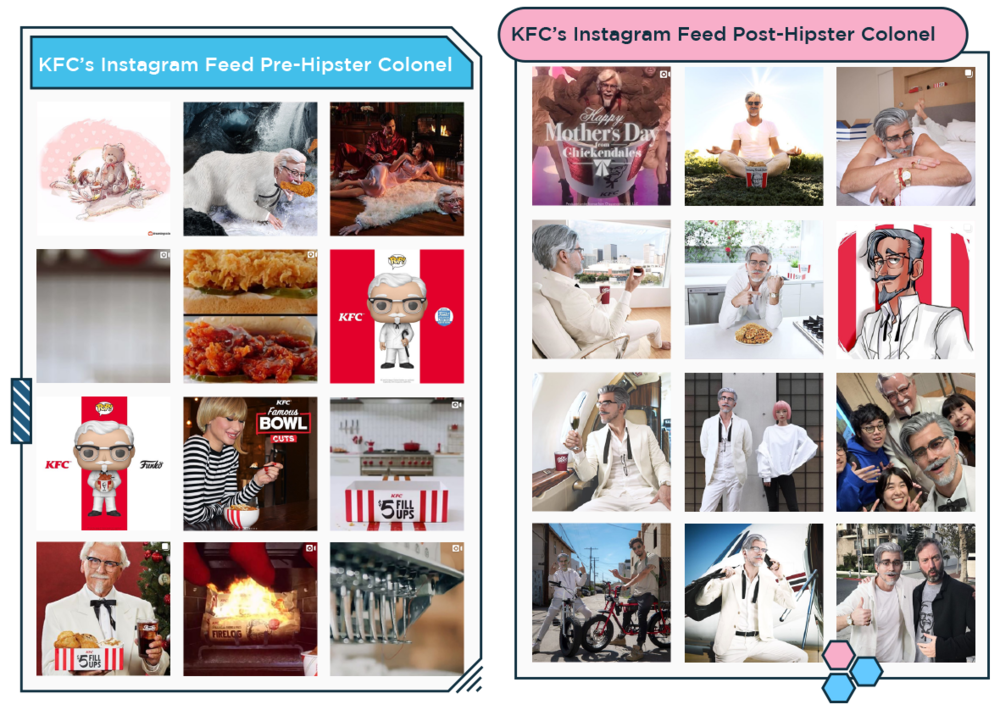 The new Colonel was featured in 31 of KFC's Instagram posts in April, including this IG post with The Diigitals-represented virtual model Dagny. The Diigitals is actually the agency created by Cameron-James Wilson to represent his digital works. (Brilliant.) FYI, I also spotted Colonel 2.0 in a pic with Imma.Gram.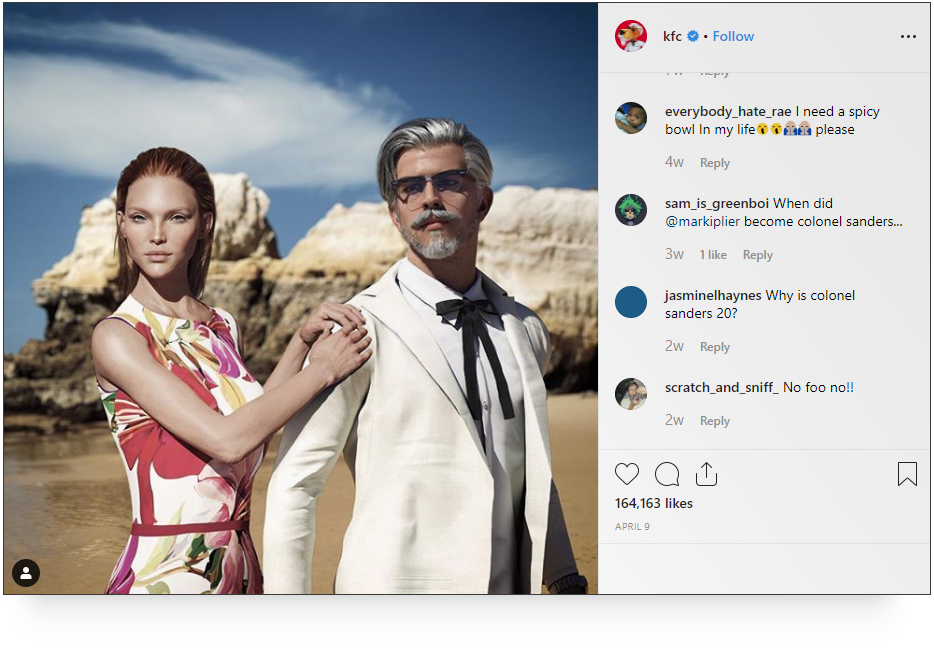 COKE SPONSORS EA SPORTS FOOTBALLER ALEX HUNTER
In 2017, Coke actually announced its sponsorship of Fifa 18 virtual footballer, Alex Hunter. Yes, he's virtual, and no, he's not a real person. The spot (you can watch it here) was two minutes long, heart-warming and pretty much captivating to watch, even if you're not a big EA Sports fan.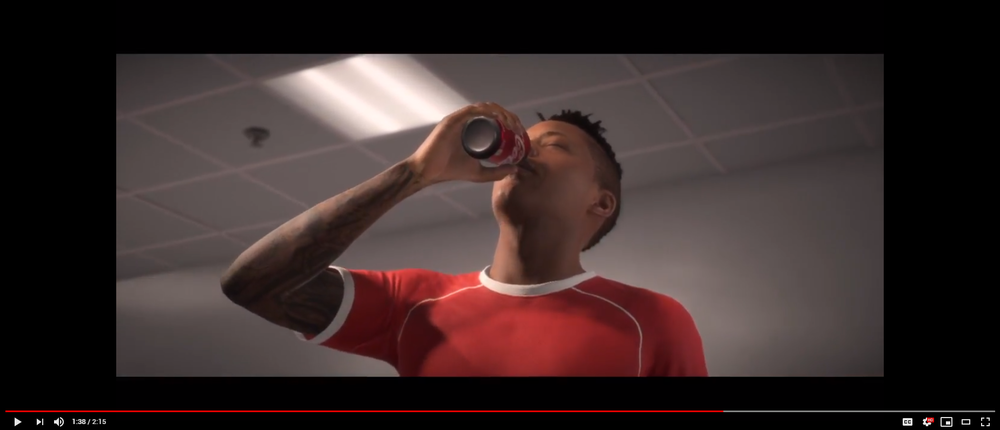 Source: On YouTube
Meet the Players in Close-Knit Community of Virtual Celebrities
Lil Miquela, Shudu, Bermuda, Blawko and Imma have more than 2.1 million Instagram followers altogether. Miquela is the sole macro-influencer amidst a diverse group of intriguing micro-influencers. These five are the most popular computer-generated influencers and each of them is connected to at least one of the other members of this elite group in one way or another.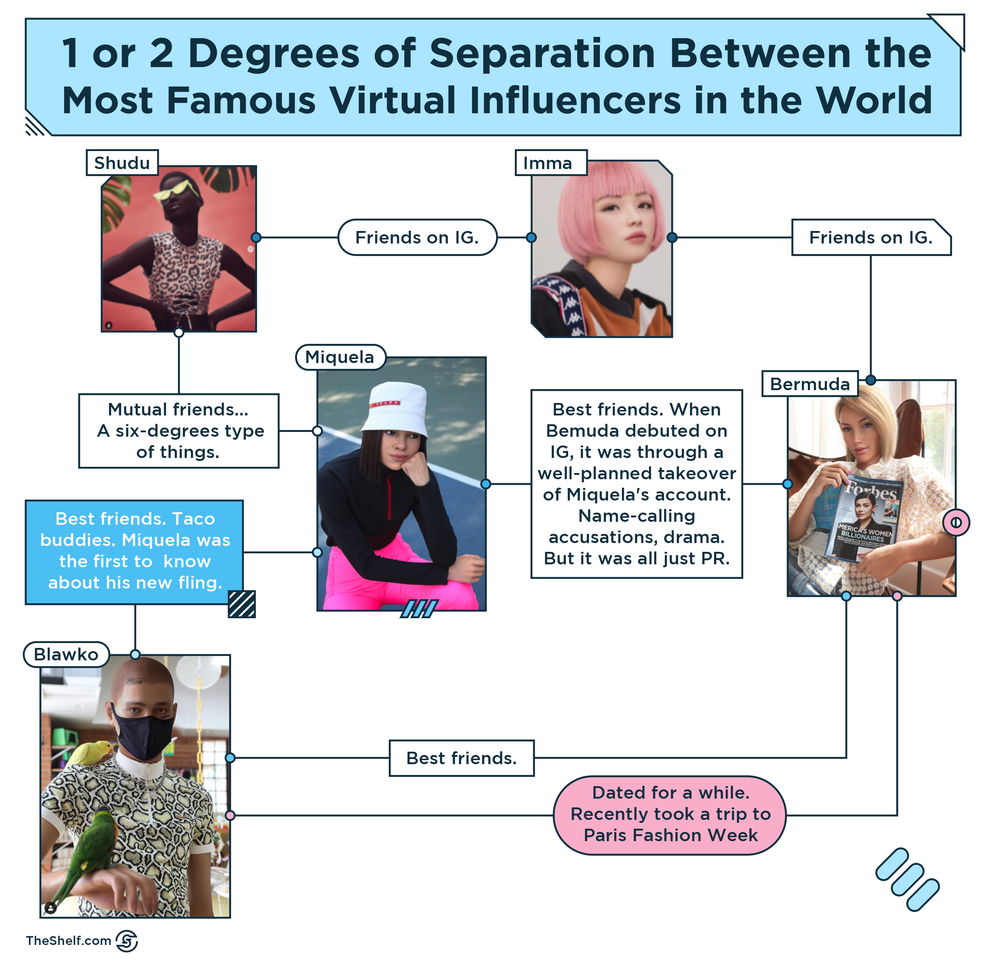 Courtesy of: The Shelf Full-Funnel Influencer Marketing
COPY AND PASTE THIS 👇 CODE TO EMBED THIS ☝️GRAPHIC.
<Embedded Code>
Part of what makes virtual influencers so popular isn't really the fact that they're CG (though that's fascinating), It's just that their creators are following the rules of growing a social media audience:
They post to social media regularly
They have personas that people can relate to
They conduct themselves like Gen Zers, not like Gen Xers trying to create content for teenagers
Their digital lives – though manufactured (and whose digital life isn't?) – are either inspirational, aspirational, or packed with FOMO moments.
In short, the people behind the digital lives of the top virtual influencers have mastered the art of being absolutely captivating.
I took a look at who our top 5 virtual influencers are following on Instagram and discovered that even the accounts they follow are on-brand… meaning, these are probably the accounts these personalities would follow if they were real people.
With the exception of Shudu, four of the most popular virtual influencers are fully-formed online personalities, which is compelling enough in itself.
There's also a solid content creation strategy in place for many of these personalities. They're at trending events like Fashion Week. Bermuda has a series running on Stories called Crush of the Week. In recent weeks, her crush list has included Elon Musk, guys named Luke, herself, ATMs, and Thanos (I can totally see that).
THE GOLDEN GIRL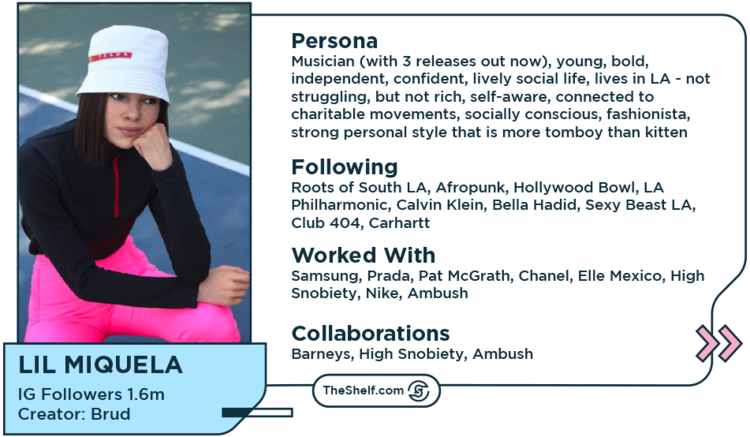 ---
THE SUPERMODEL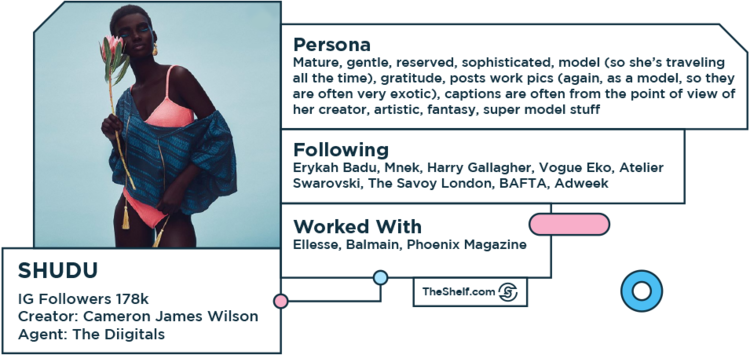 ---
THE FUTURE MOGUL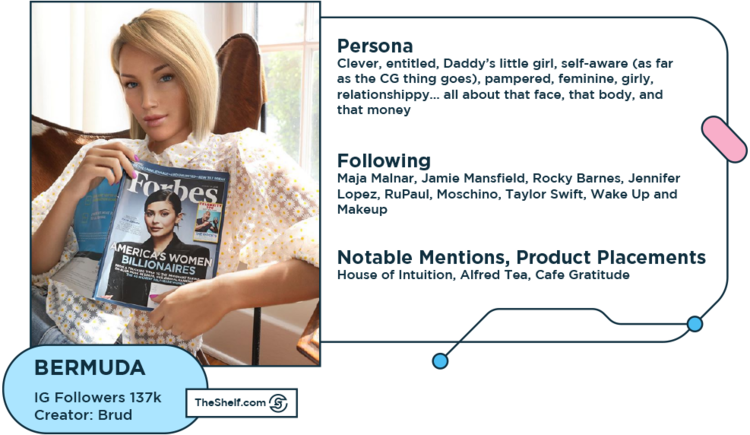 ---
THE PINK ONE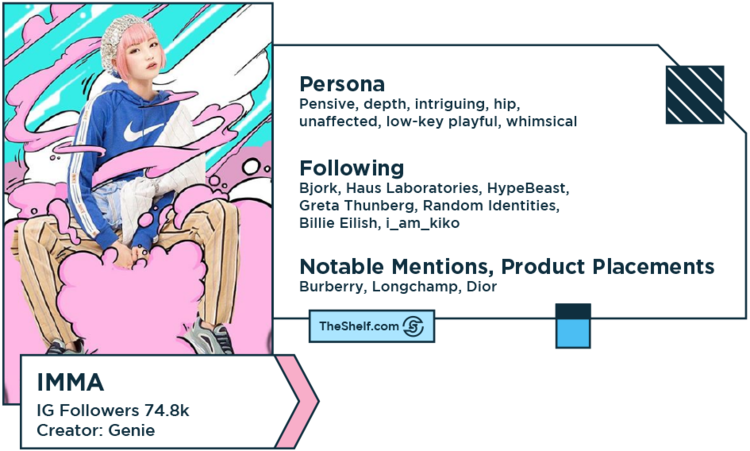 ---
THE REBEL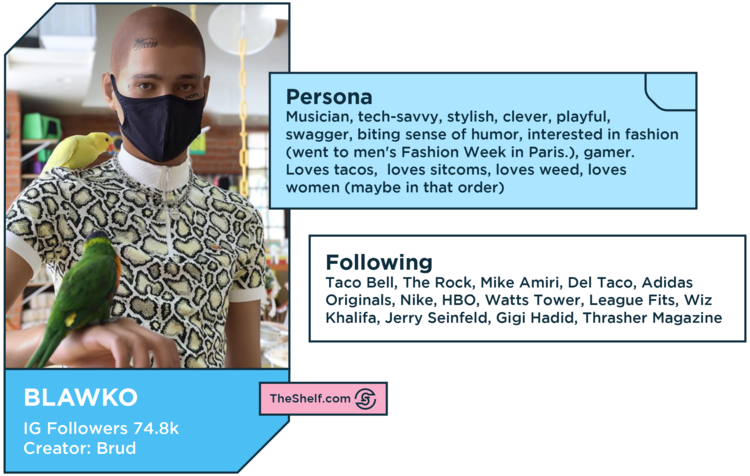 Should You Use Virtual Influencers?
That's the real question, isn't it? If you've read this far, you're probably way more interested in figuring out how to work with virtual influencers, or finally decide if you even should. No doubt, there are tons of folks online who aren't really into the virtual influencer vibe. Lots of people out there thinking they're robots.
They're not, by the way. Not yet, at least. Lil Miquela and the other virtual influencers we're talking about are computer-generated… like the dinosaurs in Jurassic Park… like Rocket from Guardians of the Galaxy… like The Lion King 2019. No actual bodies. The images you see of them out and about have been created using computers. In fact, Cameron James Davis says each of Shudu's looks take a few days to create… On his computer.
Now, there's a use case for incorporating actual robots into a campaign, which makes sense in the often-fringe, color-outside-the-lines world of luxury fashion and luxury goods.
Last year, Gucci included Erica the Robot in a WeChat campaign titled, 'Why Are You Scared of Me?" Erica is a robot. She has like 26 sensors to follow movement. She can detect who is talking to her and respond with mimicked attention. It's very cool, very next-level. Check out her outfit. She may be "Gucci down to the socks", but she can't actually move around.
<Youtube Link>
THERE ARE BENEFITS TO USING CG INFLUENCERS
If you have reservations about using virtual influencers, there are some benefits.Predictability Is Good for Brand Safety
One of the key challenges brands face with regard to using human influencers is brand safety. You simply can't predict what human influencers will do or say when they are not working on your campaign. So, using virtual influencers in lieu of human influencers is often viewed as a safer alternative because it eliminates the bad behavior / poor judgment factor that inherently comes with working with people.No Stringent Regulations
We're not at a place where there has to be transparency disclaimer on posts from virtual influencers. Imagine something like every sponsored post having a little blurb at the bottom that reads: "Jen.Gram is a virtual influencer operated by Bodie Wilson of Lexington, KY." Nothing kills the illusion quite like seeing the wizard behind the curtain.
Virtual influencers aren't directly regulated by the FTC like human influencers are. Not sure why.The FTC has yet to carve out specific guidelines defining how AI, virtual influencers (or the human teams behind them) are to conduct themselves online when partnering with brands. You can surely expect legislation will be coming, but we're still waiting.
There are a few important things to consider before you decide it's time to locate a human who can help you partner with one of these virtual influencers.
THE CHALLENGES WITH USING VIRTUAL INFLUENCERS
Authenticity
Call us old-fashioned. Despite the fact that 45 percent of Millennials rely on smart assistants like Alexa and Google Home to make purchasing decisions, people still get a little weirded-out by things that look human, but aren't. This specific response is referred to as the uncanny valley, where a computer-generated figure looks almost identical to a human, but there's still enough of a nuance where you can't tell for sure. Something seems… not quite right. The result is an unsettling feeling for the person viewing it. For brands, this can be avoided simply by working with virtual influencers whose "virtualness" is known.
First #1: Be Up front.
Take a look at a few captions from Shudu's Instagram feed. You'll notice that the Instagram interactions aren't between Shudu and her audience. Instead, they're between Cameron-James Wilson (her creator) or his team and Shudu's audience.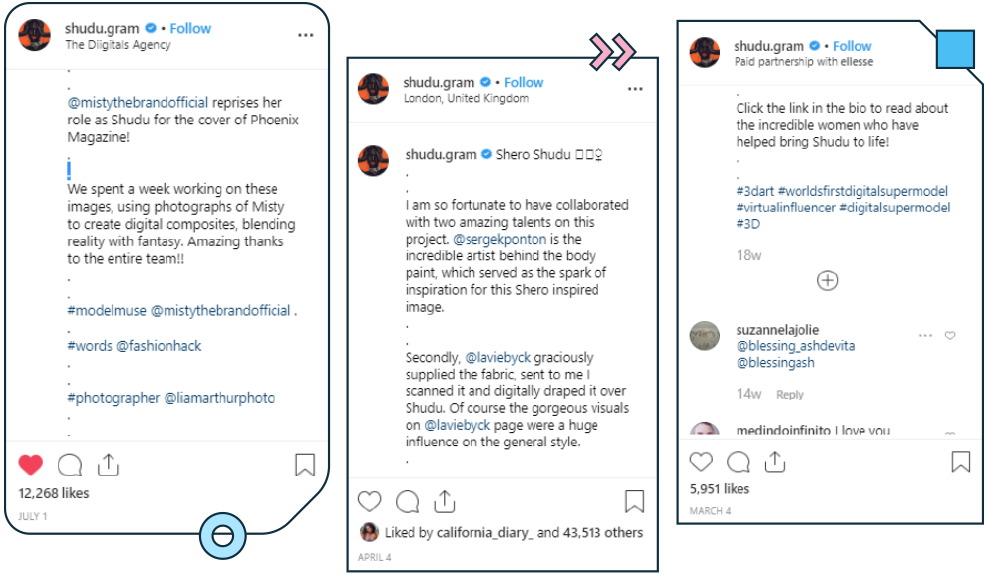 This approach makes it pretty clear right from the start that Shudu isn't a real person, but rather the artistic expression of Wilson in collaboration with the brands and artists he works with on any one of Shudu's looks.
Fix #2: Target a Younger Audience
Surprise! Surprise! Gen Zers are way more lax about an AI-powered influencer than those of us who remember the first couple of Terminator movies. And I know I'm not the only one who's still slightly suspect of actor Robert Patrick (regardless of what role he's playing), just like I'm not the only one who honestly believes Linda Hamilton is a badass.
For younger audiences, a virtual influencer like Miquela paints a rather aspirational picture of young adulthood. She works at a tech company (granted it's Brud where she's a piece of intellectual property), and she divides her time between work at that California startup, modeling gigs, and hanging out with her hot friends. Those of us who have already had our "first real job" being out on our own aren't as inspired. Representation
Here's where things can get sticky. Representation problems can arise when people take offense to a brand using a virtual influencer to play a role a human could play. This is especially true where social issues come into play.
For instance, Calvin Klein's recent ad featuring Bella Hadid and Lil Miquela sparked controversy when the two shared a kiss and critics called it "queer-baiting" because Hadid is heterosexual and Miquela is virtual. The argument made was two-fold:
On the one hand, Bella Hadid isn't lesbian and the argument was that a lesbian woman should have been in that role.
Flipside was the ad was part of Calvin Klein's #MYTRUTH campaign, promoting freedom of expression and a wider spectrum of gender identities. A heterosexual woman kissing air (she was actually pretending to kiss Miquela) may not be a valid representation of LGBTQ+ people.
Cultural Appropriation
When the news first broke that the classic beauty featured in Fenty's Instagram account was a CG black woman, people had mixed responses. Some thought Wilson's creation of Shudu was a beautiful work of art. Others said if he wanted to create images using a black woman, he take pictures of a real one, not one he – a white man – created.
That was then. Fast forward a year, and people aren't even talking about it anymore. I think the lesson there had more to do with transparency than anything else. It wasn't long after that the captions for Shudu's Insta posts went from being a series of art-related hashtags to a full-blown "I would like to thank…" list for each post.
FIT MAY MATTER EVEN MORE WITH VIRTUAL INFLUENCERS
I will say this: IF your brand aligns with a strong personality like Miquela's she would actually be a good fit for displaying looks and outfit inspo. And I say IF because she toes a definite line.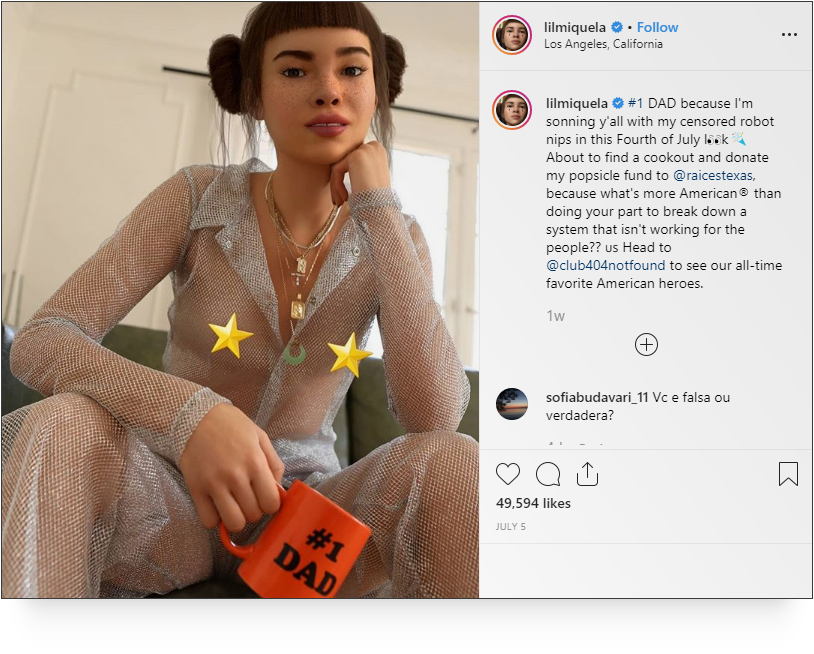 For those in the cheap seats who didn't read the caption, she says she's #1 Dad because she's "sonning y'all with my censored robot nips" for the Fourth of July.
Coincidentally, "sonning" is a concept I first heard used by Nikki Minaj in a song called "Did it On Them." Don't find a link. If you don't already know that song verbatim, you probably won't like it.
When Bermuda first debuted on Instagram, she really rubbed people the wrong. Her story world involved her taking over Miquela's IG account and causing all kinds of turmoil for the well-liked personality. And Miquela's followers responded emotionally. The result? Despite the fact that Bermuda and Miquela mad peace and are friends, many of those who follow virtual celebrities still can't stand Bermuda and her perceived negative vibe… and are glad she and Blawko broke up.
Let me refer back to the Fenty/Shudu mashup for a sec. If you happen to be one of the people who learned about the world's first digital supermodel when she made headlines as Fenty Beauty's new fake model, you're not alone. You were either outraged or mesmerized – pick a side. But using Shudu to feature a new shade of Fenty lipstick got people talking about both Fenty and Shudu. The headline on Harper's Bazaar was, "People Can't Tell if This Fenty Model is Real or Fake".
(In reality, Fenty wasn't working with Shudu – the company simply reposted a picture of what they thought was a striking woman wearing Fenty lip color.)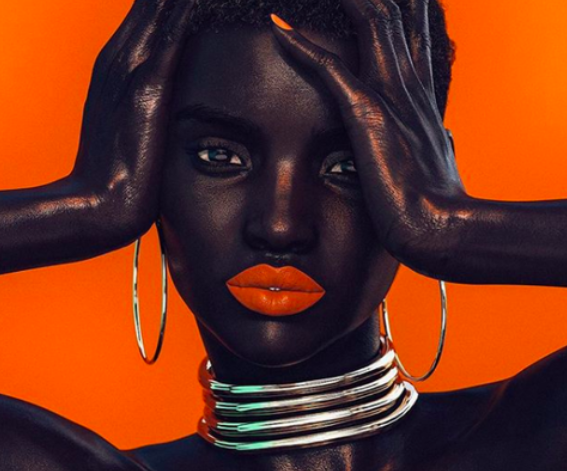 Shudu comes across as young, beautiful, elegant and mature. This post from Shudu's camp about a stay at five-star luxury hotel The Savoy London drummed up more than 13,000 interactions, garning nearly 8 percent engagement. But for a [virtual] woman like Shudu, The Savoy is spot-on. We'd expect nothing less from her brand.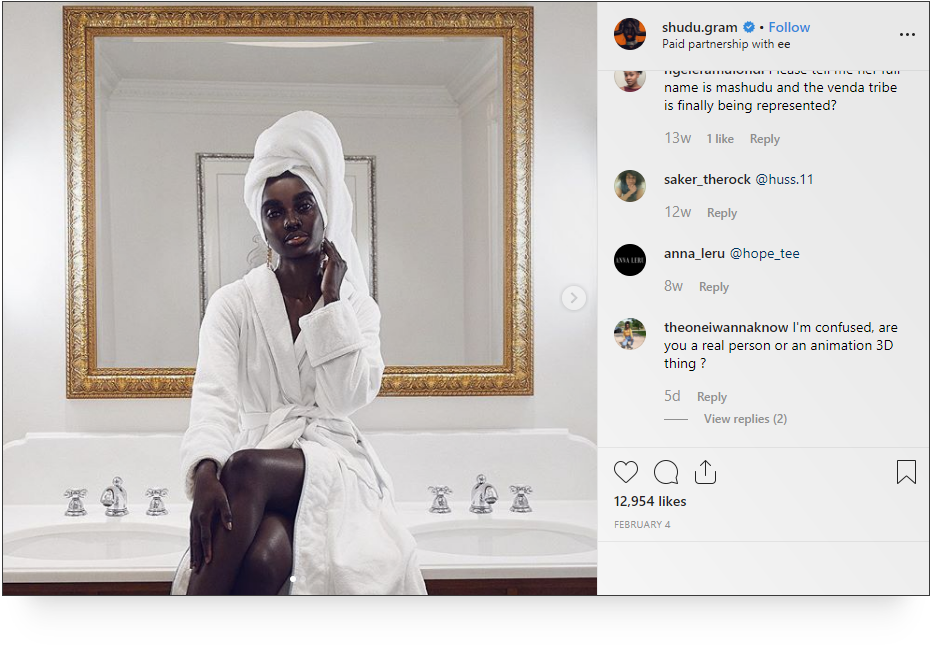 Suffice it to say, like human influencers, virtual influencers need to be a good fit for your brand.
WHAT ABOUT HECKLERS, SHADE, AND NAYSAYERS?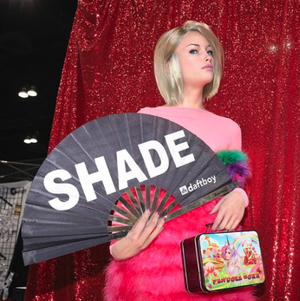 Virtual influencers get more neutral and negative comments than most other influencers. That's true. Best guess: That will be the case for the near future as people get used to this new type of synthetic media.
Miquela actually claps back at (responds to) some critics with her own brand of sass.
She's self-aware and really owns the irony of, say, "an android using an Android" (paraphrasing a comment a follower left in her feed when she did a sponsored post for Samsung).
That's a good thing.
Finding a way to answer hecklers with witty content that silences critics while adding another layer of depth and likability to the influencer is the best response.
With all the publicity surrounding virtual influencers, I would venture a bet that most of Miquela's followers know she's not real. BUT her style is undeniably hip, and something a high school girl can easily replicate.
So, don't worry. It's not as Black Mirror as you may think.
The main takeaway with this whole thing is this: Whether you're a car salesman or a digital artist, just remember that people don't like to feel duped.
Do People Really Care About Virtual Influencers?
The short answer is yes. People care, so this space is actually gaining traction. Juniper Research estimates that the global fashion industry will invest $3.6 billion in artificial intelligence technology this year.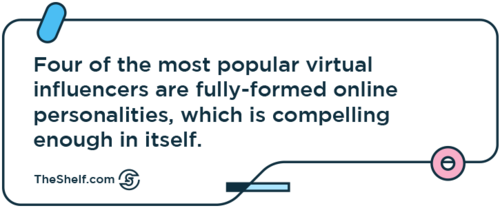 For brands, having access to AI-powered influencers that can serve as ambassadors and generate tons of content creates a sub-industry within the influencer marketing space for companies like Brud to come in with photorealistic avatars to build "story worlds" (their term) that are native to specific social media platforms.
Last year, Brud, the company that created Miquela secured $6 million in funding. This year, that number went to $125 million. Brud has been notoriously tight-lipped about its plans and technology, only revealing last year that Lil Miquela wasn't a real person. Interestingly enough, Brud's official company website is a publicly shared Google Doc… speaking of coloring outside the lines and being fringe.
WE PULLED AUDIENCE INSIGHTS FOR THE MOST POPULAR VIRTUAL INFLUENCER IN THE WORLD (YOU KNOW US)
We took a look at the data for Miquela since she's the most popular and accomplished virtual influencer.
Let me first say that I don't doubt for one second that every single virtual influencer started with bought followers. I can't say for sure, but they're not people with past relationships to tap into, so it makes sense that accounts were jumpstarted by using a service that grows accounts fast.
With 1.67 million followers across Facebook, Twitter, and Instagram, Miquela's engagement is pretty high.
Facebook is .30% when the average engagement on the platform is .17%
Twitter is .13% when the average engagement falls below .009% engagement
Instagram is 4.67% when the average engagement for an influencer with an audience over 1 million is around 1% (and falling)
While Miquela is supposed to be around 19 years old, nearly half her followers (47.8 percent) are between the ages of 20 and 24 years old, which means 69 percent of her 1.6 million Instagram followers are Gen Zers. The remaining 30 percent… Millennials.
Transparency… I think Miquela has always been 19 years old, so it's possible some of them have been following her since they were 19ish themselves. It's just that her audience is aging up even though she isn't.
Equally as important as who is posting is what they talk about in their posts. I mentioned earlier that Miquela has worked with some of the biggest brands in the world. Well, add to that list Calvin Klein, Coachella, YouTube, and Samsung.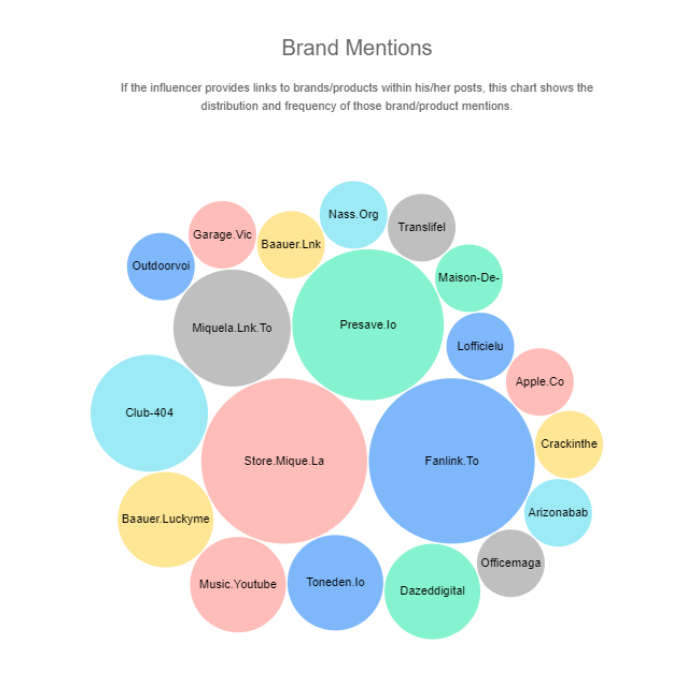 The Calvin Klein ad (the one with Bella Hadid) caused a bit of controversy, but the commercial also drummed up 1.3 million views on Instagram, 400k views on YouTube (between Calvin Klein's channel and Miquela's channel), and more than 353k likes on Insta.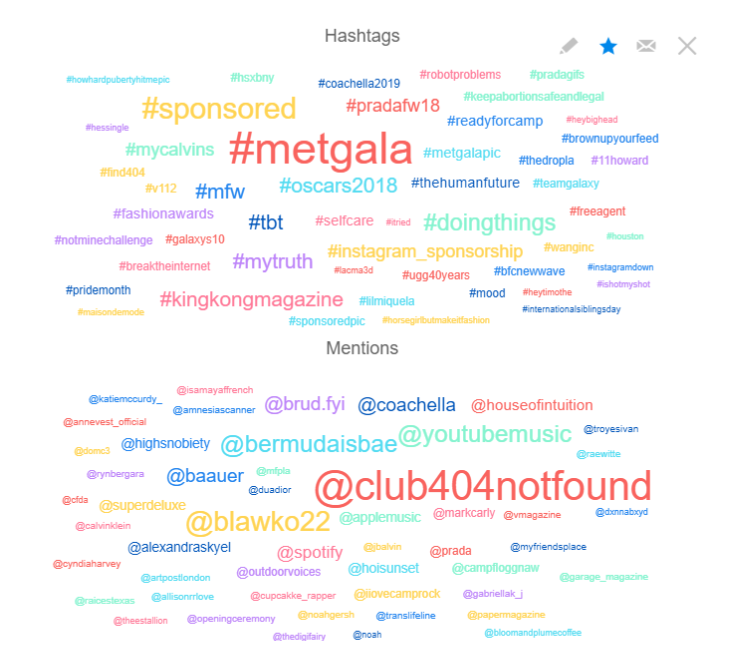 Even if we manage to zero-out every single comment (you know – to make sure no haters are counted as positive engagement), Miquela's posts on Instagram – whether sponsored or not – still bring in tons of eyes, lots of attention, and tens of thousands of instances of positive engagement per image and more than 100k instances of engagement for every video she posts.
BERMUDA AND BLAWKO DRUM UP SOME PRETTY STRONG ENGAGEMENT, TO0
I also took a look at the engagement numbers and mentions for Bermuda and Blawko. There's probably a lot of overlap between the audiences of Miquela, Blawko, and Bermuda, in part because their story worlds are deliberately intertwined. You can see in the hashtags that each virtual influencer mentions the other two in the trio often enough for their names to show up as top-used hashtags.
BERMUDA
Instagram Engagement 4.22%
Average Likes Per Post 5730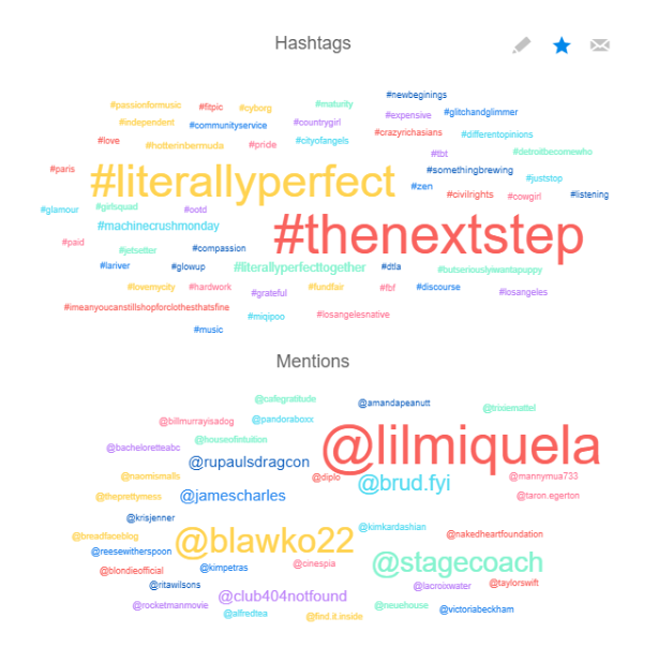 BLAWKO
Instagram Engagement: 3.34%
Average Likes Per Post: 4376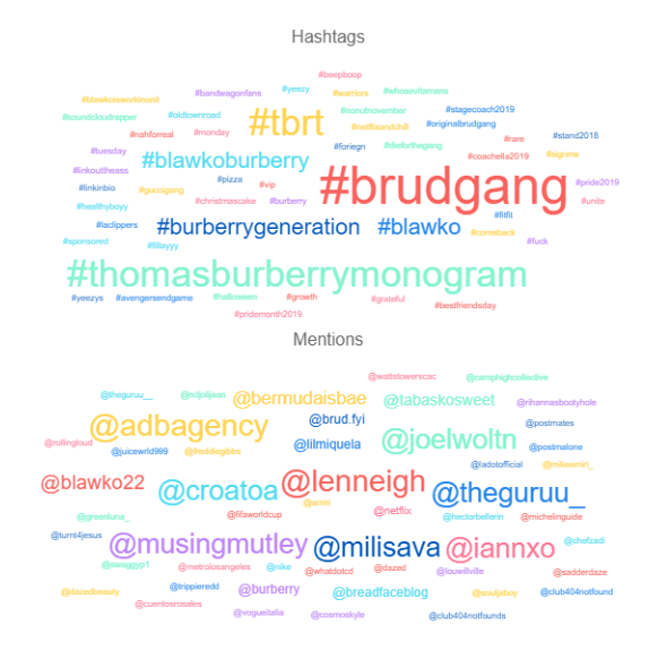 The Wrap-Up
I'm going to stop here. This is one of those topics where you can just keep going and going and going. I haven't even gotten into Liam Nikura, who is an influencer with a CG face transposed on a live action body.
Dude…
The world of the designer influencer is as captivating as their online lives. Right now, in mid-2019, they're not quite everywhere yet – they're showing up in the coolest places, doing unique things. So, now is the time to think about how to partner with virtual influencers, BEFORE they're everywhere. In our next post, I'll share a few ideas for how to use virtual influencers to drive brand awareness and get clicks on social media.
Our platform can help you gather the insights you need to determine if it's a good fit… then our team of geeks, cool kids, and social media savants can help you put together a memorable campaign that will drive real results for you.