Virtual influencers are a phenomenon that is getting lots of attention in the social media marketing space. More importantly, the idea of virtual influencers is growing on people. We haven't reached the point yet where virtuals are considered the norm, but it's not just completely weird like it was a year ago when Miquela, the most popular virtual celebrity, announced to the world that she isn't a real person.
Of course, she went on to create a clothing line about it, too, so…
If you missed our industry deep dive on virtual influencers, we really went in-depth on the whole sub-category of key opinion leaders called virtual celebrities. If you don't have time to read that post now, not to worry, we have a tidy, little recap right here for you.
Recap of Our Deep Dive on Virtual Influencers
Before I get into some ideas for working with virtual celebrities, let me recap the main takeaways of that last post:
The first big CGI influencer debuted on Instagram in 2016. Since then, about a dozen other humanoid influencers have also cropped up, with the five most popular being connected to the others in one way or another.
Interest in CG influencers is growing. Fashion brands have jumped at the chance to work with virtual celebrities. Last year, French luxury brand Balmain even announced the creation of an army of virtual models. KFC has done the same thing with its hipster-inspired Colonel, which did a full-on takeover of KFC's Instagram account this past April. Expect more of these designer influencers. 
Virtual influencers are able to gain followers because the story worlds created around them are highly-developed, consistent, and intriguing. These are extremely engaging online personas with real people pulling the strings, so they act like real people. 
The lives created for virtual influencers are aspirational – we're talking song releases, billboards in Time Square, conducting interviews at Coachella, hanging out at The Savoy London, going to Fashion Week Paris, starting clothing lines… But here's the thing – the fictional ideas that originate in curated story worlds end up taking shape in the real world. Miquela really has three songs out. She also has a clothing line. The Time Square billboards were in the REAL Time Square. Blawko is really on the cover of Esquire magazine. Shudu is a real Ellesse model – that's beyond captivating, and it blurs the line between reality and fantasy.
Virtual influencers aren't for every brand. Unlike real influencers, there aren't enough of them yet to come in all shapes, sizes, and backgrounds. That said, technology, entertainment and fashion are the verticals that have gotten the most use out of toeing the line between trending and fringe by working with virtual influencers.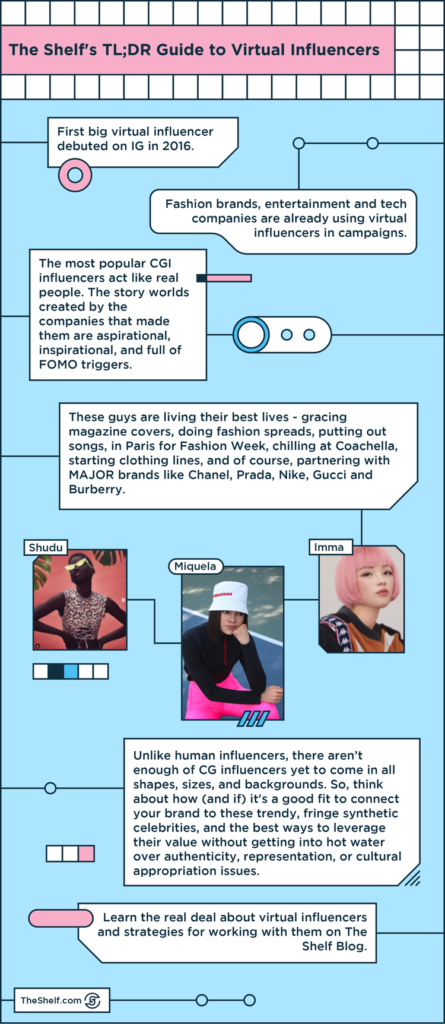 Courtesy of: The Shelf Full-Funnel Influencer Marketing
COPY AND PASTE THIS 👇 CODE TO EMBED THIS ☝️GRAPHIC.
8 Tactics from Big Brands You Can Copy to Work with Virtuals Like Miquela
Let me start by saying that virtual influencers aren't your run-of-the-mill bloggers. And there's a reason you typically find them working with premium/luxury brands and technology companies. Tech, entertainment and fashion are a natural fit for anything new, curious, and unusual. 
The story worlds that have been created around these avatars provide brands with an "in" to do some interesting things conceptually. 
#1. To Stoke the Fire
COACHELLA
Virtual influencers are ideal for compelling people to spread the word about an event. Plus, people love an opportunity to see what virtual celebrities are doing (and to secretly judge their humanness). 
I mentioned in the last post that Miquela worked with YouTube. That's true. YouTube brought Miquela in for Coachella to interview some pretty big stars. The media immediately got hold of the news.
In the days leading up to the first weekend of Coachella 2019, publications like Paper and L'Officiel were spreading the news that Miquela would be "attending" Coachella and interviewing King Princess, J Balvin and JPEGMAFIA. And, of course, Miquela talked about the opportunity in her own Instagram feed to help get the word out.
I watched the interview. It's pretty cool how spot-on Miquela's facial expressions were… People's reactions (as chronicled in the Comments under the video) were mixed. I didn't see many that were downright hateful. A LOT of the comments were about a previous interaction in which Miquela said she'd interview Shane Dawson first, but didn't.
Let's talk about the engagement, though because I want to draw attention to the viewership boost these videos got by featuring Miquela. There were actually three videos in the interview series.
Miquela x J Balvin currently has:
472k views on Miquela's YouTube channel
47k views on Coachella's YouTube channel
1m views on Miquela's Instagram
Miquela x King Princess currently has
186k views on Miquela's YouTube channel
4.7k views on Coachella's YouTube channel
676k views on Miquela's Instagram
Miquela x JPEGMAFIA current has:
187k views on Miquela's YouTube channel
3.8k views on Coachella's YouTube channel
597k views on Miquela's Instagram
Look at the differences between what Coachella delivered as far as video views compared to what Miquela's network delivered.
That's how you stoke a fire.
#2. Include Them In a Cast of Phenomenal People
UGG
Last year Ugg launched a month-long campaign to celebrate 40 years of success. As part of that #UGG40Years campaign, the company went the living legends route. The campaign was colorful, stylish, and featured a handful of fashion's most elite style makers – designer Heron Preston, model/actress Adwoa Aboah, and actor/model/designer Luka Sabbat.

Working with virtual influencers often offers a "cool by association" benefit for brands, but in this case, I think it was Miquela who was able to up her own cool factor being in a lineup with such fashion and style icons. 
#3. Take Them from Celebrity to Icon
SPOTIFY
I've actually come across a couple of pics of billboards of Miquela being up in Time Square. She's become/becoming iconic, and while a virtual celebrity becoming an icon may be something people ponder, I think that's the point – it will stay top-of-mind for a day or two.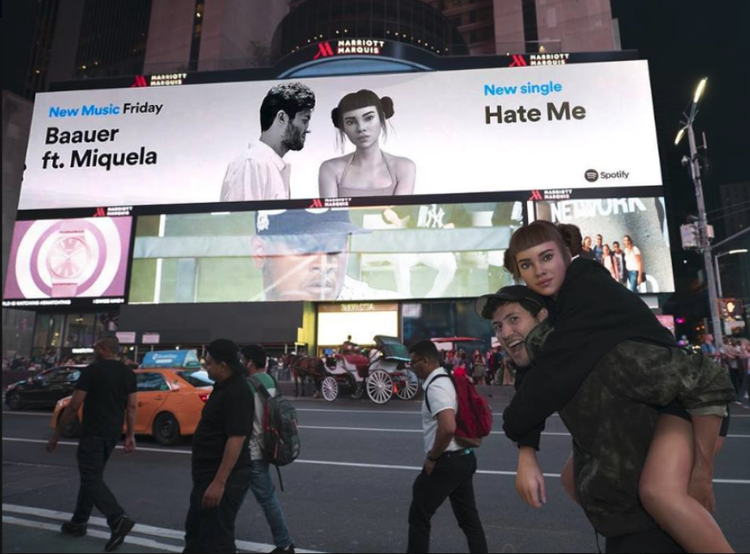 Source: Billboard in Time Square of Baauer and Miquela in the background, and an actual picture of the two in the foreground Facebook.
ESQUIRE
When I first saw this image of Blawko on the cover of Esquire, I couldn't make a connection between Esquire's brand and the image Blawko is building online. I had to know how he got on the cover, so I did some digging.
Blawko was featured on an alternate cover for Esquire Singapore to promote an AI edition of the magazine (content was selected and curated using AI). 
Ah.
Now, that makes sense, because otherwise…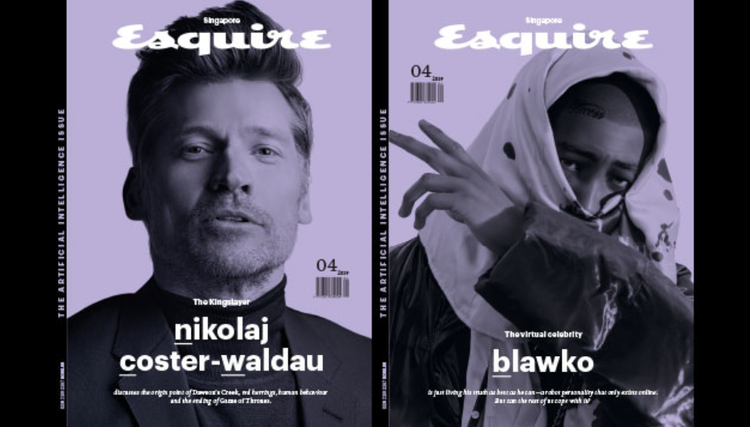 #4. Make Them One More Awesome, Fringe Thing That's Happening
BE@RBRICK
Imma, who is by far the most realistic-looking virtual Influencer (she looks SO real) has a great feed. Super cool pics, lots of interesting people, high-end brands. One such luxury brand (in case you didn't know) is Bearbrick.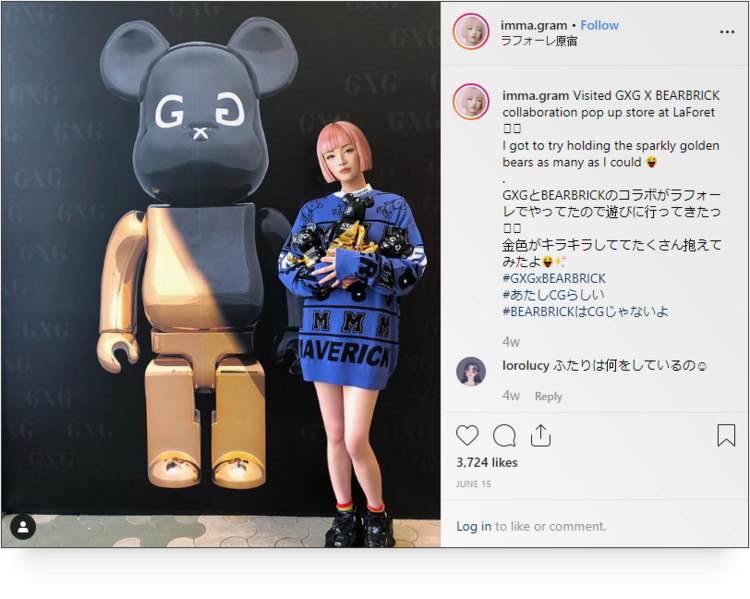 Source: On Instagram
Be@arbrick is a cross between a simplified toy bear and those block-style Kubrick toys created by Japanese toy company MediCom. The draw of these bears is that they have to be designed… and designed they are.
These bears are actually considered collectibles because collaborations have included designs by Viviene Westwood, Ivana Helsinki, illustrator Pushead, graffiti artist Stash, and the late, great Karl Lagerfeld, . 
"Okay. Cool. That's kinda neat… I guess, if you're into collecting plastic bears." That's what I was thinking, too. Until I saw this…
A Chanel x Bearbrick collab that was dressed by Lagerfeld. Eight thousand bucks. This was a listing on luxury resale platform The RealReal that already sold.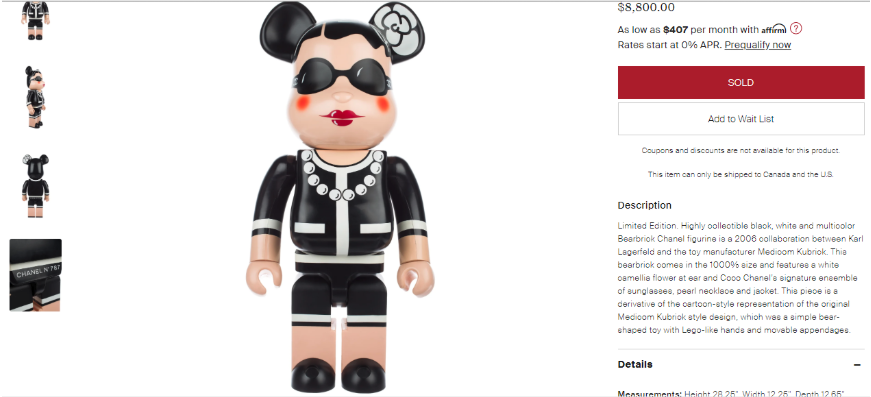 #5. To Introduce or Promote New Apps and Tech
PRADA
Virtual influencers are MADE for the fashion industry, and fashion – more than any other category – does A LOT of work with virtual celebrities. 
Last year, Prada partnered with GIPHY and Instagram to create an exclusive sticker pack to promote its neon collection for Prada Fashion Week 2018. The stickers were available through Stories. Prada had Miquela debut the feature, which made an already cool concept grow legs.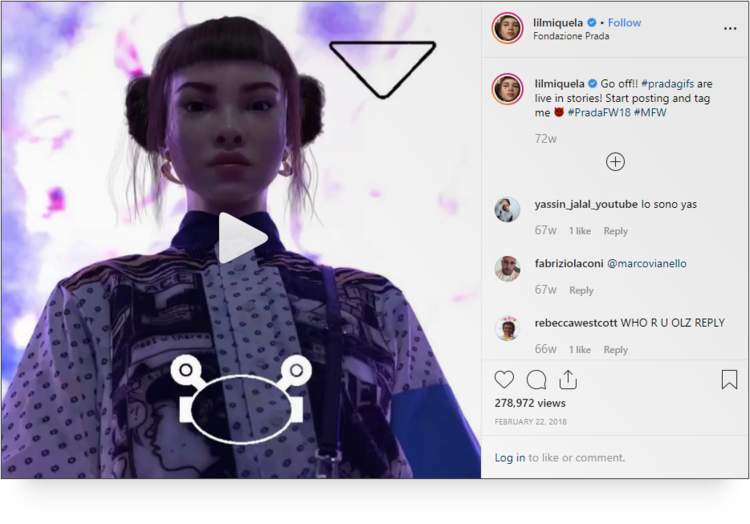 Source: On Instagram
SAMSUNG MOBILE
For the last month, Miquela's been posting sponsored content from Samsung Mobile to her Instagram feed. The first was a low-key pic of her using a Samsung.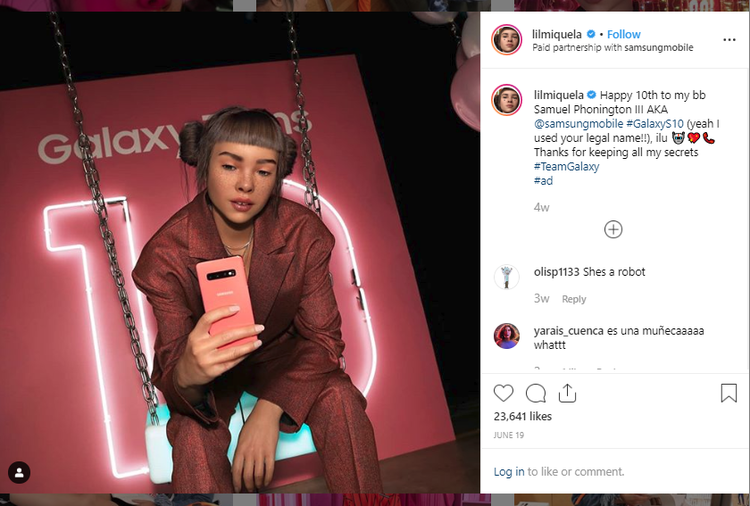 Source Instagram
One of the more recent spots for Samsung's #DoWhatYouCant campaign is an 84-second ad featuring EDM musician/DJ Steve Aoki, actress Millie Bobby Brown, gamer Tyler Blevins, and Miquela. But a more interesting ad features Miquela alone and starts with the line, "Everything seemed unimaginable when I was just a few lines of code".
#6. Dress Them
BURBERRY X HYPEBEAST
Imma.gram joined models Park Sung Jin (@teriyakipapi) and Kiwi Lee (@kiwileehan) in a spread for Burberry and HypeBeast. Seriously, look at her. You can't tell she's CGI.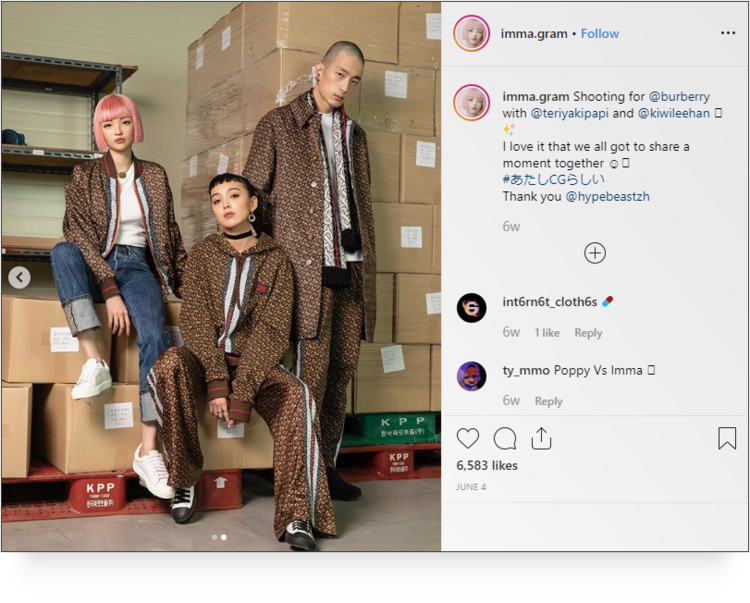 Source: On Instagram
ELLESSE
The world's first digital supermodel posted a number of cool and colorful summer looks for Ellesse this past spring. The most popular concept garnered five percent engagement (counting just the Likes, as quite a discourse of cultural appropriation broke out in the comments under this post).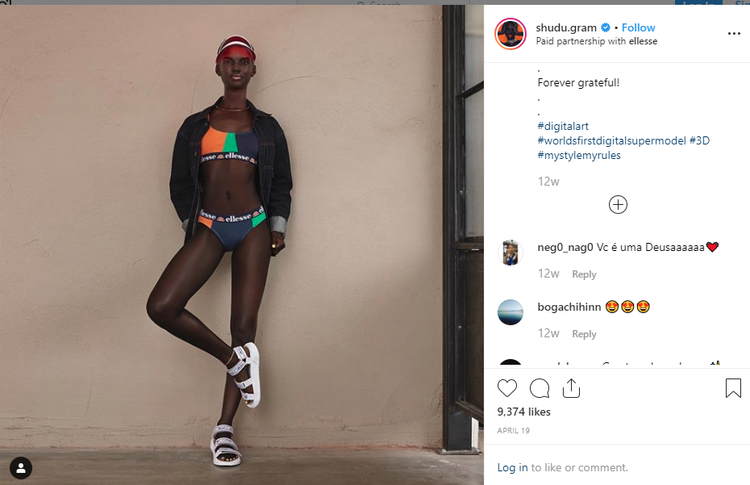 In Shudu's most popular image on Instagram, she wasn't dressed by a global brand. The post, which currently has close to 30 percent engagement, is the work of several named artists who collaborated to create a striking ethnic look for the digital model. Artist Serge Kponton created the body paint. The fabric was provided by celebrity designer Claude Lavie Kameni and digitally scanned by Shudu's creator, Cameron-James Wilson to be used in the image. And of course, everyone who worked on this particular spread was named and tagged.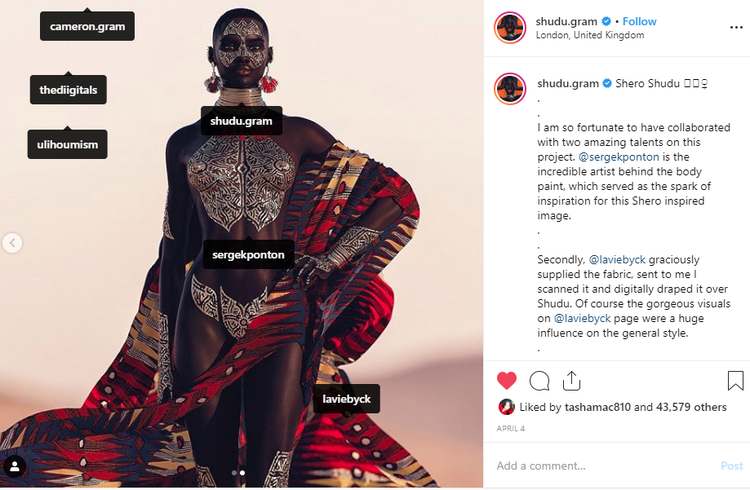 #7. Create a Collaboration
YOU X THEM
Collaborations are social media fodder. Can you really collaborate on a product with a virtual influencer? Absolutely. Miquela's been leveraging her IG audience to sell merchandise since she first started out. And her clothing line, Club 404 is set to launch some time in the near future.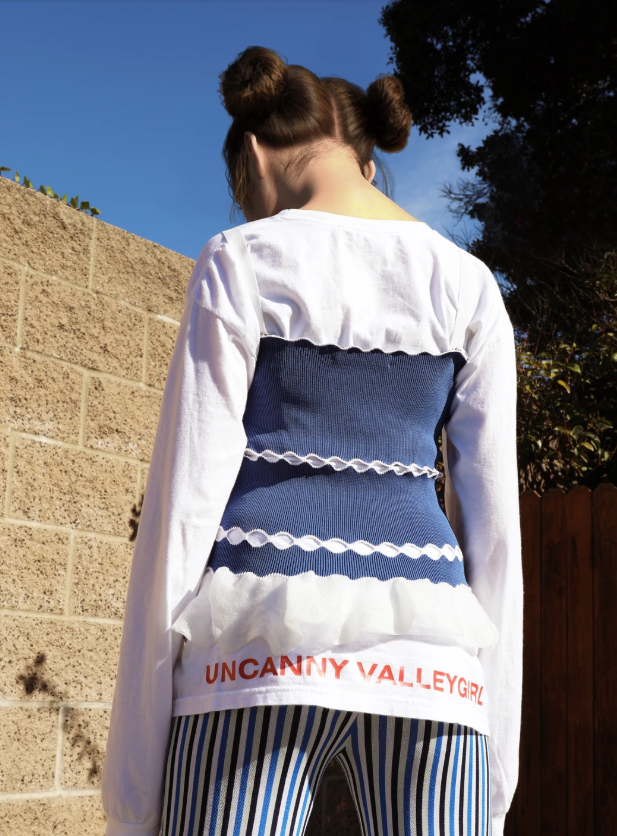 Source: I-D Vice
In 2017, Miquela's first two graphic tees came out, but that wasn't her only product. She also collaborated with Barneys as well as Japanese streetwear label Ambush. In the world of graphic tees, anything goes (I remember the "Crack is wack" tees that Wet Seal sold back in the day). But there are a variety of different paths to take with virtual influencers because, as we talked about earlier in this post, the most popular ones have these intricate backstories that have already laid the groundwork for innumerable campaign concepts.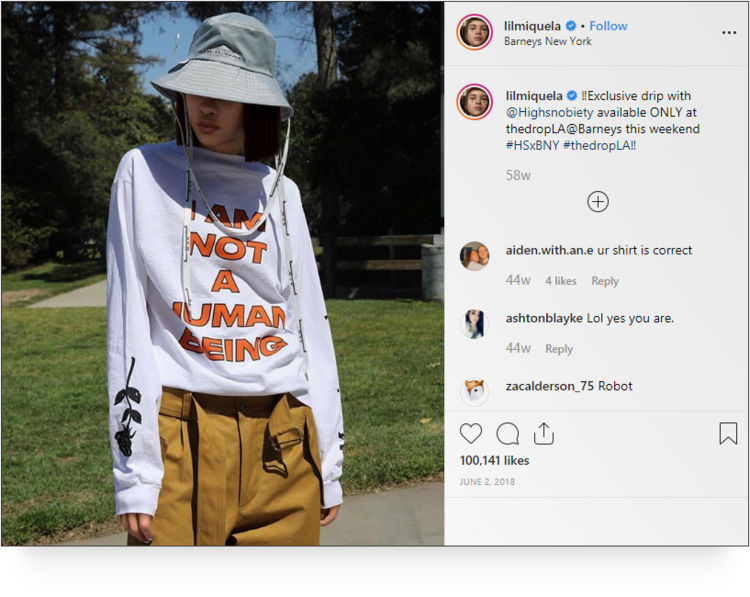 Source: On Instagram
#8. Play on the Obvious
RHIZOME
The Miquela x Rhizome partnership was the perfect marriage of brand and virtual personality. According to its website, "Rhizome champions born-digital art and culture through commissions, exhibitions, digital preservation, and software development".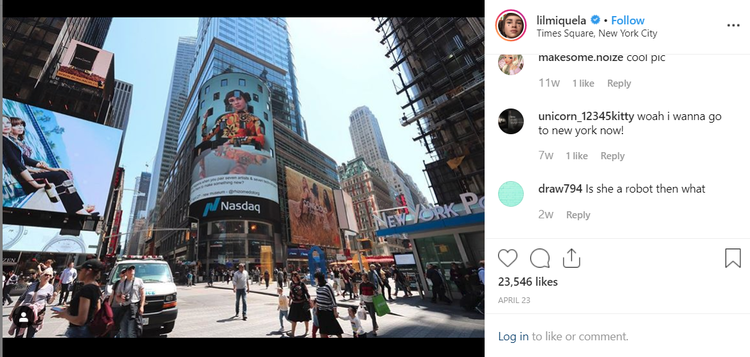 Source: On Instagram
Every year, Rhizome puts on the Seven on Seven event to celebrate the marriage of art and technology and bring together thought leaders in those spaces.
This year's event included Matthew Angelo and Trevor McFedries, cofounders at Brud. To promote the event, everybody's favorite virtual star, Miquela went up in Time Square.
Final Thoughts About Virtuals
Virtuals are Internet personalities. And based on some pretty well-known stats about the popularity of Instagram travel destinations, bought followers, and the advent of interactive pop-ups that exist solely for the sake of grammers getting great photos, I think the virtuals may be so popular because they're like the rest of us. They're pictured doing cool things.
These aren't robots or AI-powered personalities. They're digital avatars being used online by actual people. So, their humanness, so it speak, is easily identifiable, even if it's not by looking at their pictures.`
The real challenge for brands is determining fit. When we looked at the audience makeup of Miquela's Instagram followers in our previous post on virtual influencers, we saw that two in three of her followers are Gen Zers. So, the key for successfully partnering with this influencer – as it is for any influencer – is targeting, making sure Miquela's audience and your audience overlap somewhere, and that your product being in her digital hands looks authentic.
Welcome to the future.