By now, we all know just how powerful a tool Instagram can be to help boost a brand online. But one thing that still often manages to elude many of us is how to achieve consistent engagement. After all, the proof of real influence is being able to move people to actually take an action in response to your posts.
There are influencers who are absolutely crushing it with engagement, and we know our clients and other brands use the quality of an influencer's engagement as criteria during the influencer selection process.
11 Powerful Strategies Anyone Can Use to Boost Engagement on Instagram
Truth bomb: It takes hard work to drum up that kind of engagement consistently. Both brands and emerging influencers are always on the hunt for strategies that will help boost their own visibility and influence on Instagram, Facebook and Snapchat. But it's not impossible. Work? Yes. Rocket science? No.
There are a handful of simple strategies that anyone can apply to their own account to help boost engagement, and we're here to show you just how to do that. With these strategies, you'll be able to improve your engagement rate, boost customer interaction, and see your brand grow on Instagram.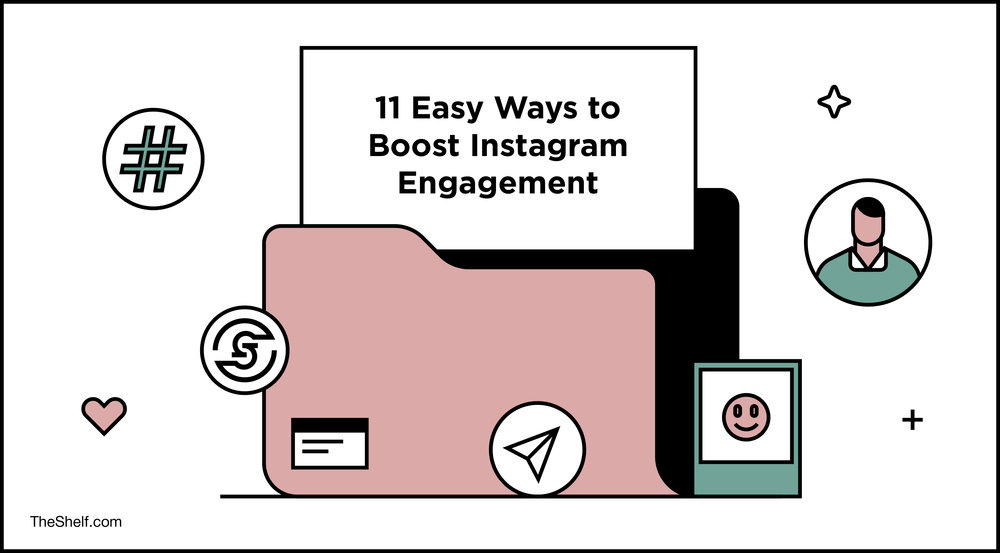 Why is Your Engagement Ratio Important?
Remember back in the day (like, two years ago), follower count was everything. The more followers a social media user had, the better he or she looked to brands, and the more they could charge for sponsored posts. So, it makes sense that people were doing whatever was necessary to achieve the status of influencer… even if that meant paying to artificially boost follower numbers.
Whereas brands formerly mistook high follower numbers for influence, they quickly learned through failed influencer campaign after failed influencer campaign that follower count is not a primary predictor of influence. Instead, since influence is the ability to have an effect on another person's thinking and/or behavior, it made more sense that the ability to create content that consistently moves people to Like, comment, share or save is a better indicator of influence than just having the numbers.
Engagement ratios gauge how effective a person is at reaching and communicating with an audience. By tracking the percentage of audience members who engage with posts, how often they engage, and the types of content with which they engage, brands and marketers can see how influential someone really is on social media.
Take these two example accounts as a comparison: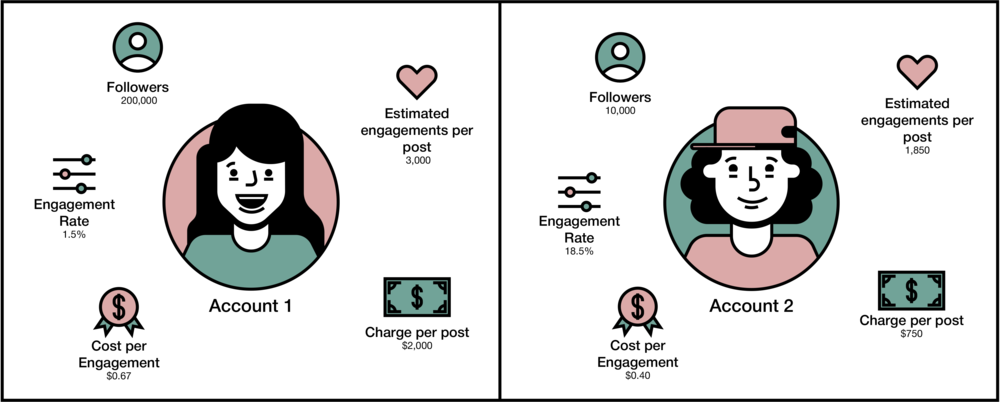 If you notice, the first account actually reaches more people with every post. But the lower engagement ratio will drive up the cost a brand pays per engagement to use this influencer in a campaign. their cost per engagement is much higher than the smaller influencer. So, really, you're getting less for your money, instead of more. And, if we're being honest here, we all like anything that helps to keep these costs down.
"But, Account 1 reached more people, that has to be better for our campaign!" That's true. But social reach is just one part of the puzzle, and how big or small that piece is depends entirely on the campaign you have planned.
The reach of your post tells you how many unique users have seen your content – not be to confused with impressions, which tells how many times your content has been seen… by ANY user. For example, one user might keep coming back for more, leaving you with a higher number of impressions than reach.
So, the bottom line? Even if awareness is your primary goal and your goal is to get your brand in front of as many people as possible, without engagement – the ability to influence their behavior – converting that audience will be difficult.
Now that we know how important engagement rates are, it's time to get to the good stuff. Some actual implementable strategies that you can use to boost engagement on your own account – whether you're a business, a blogger, or both.
11 Ways to Maximize Your Engagement on Instagram
All of these strategies are fairly easy to implement, and should all help you to see a boost in your engagement rates. While all of these strategies apply to any account on Instagram, some will help businesses more, and some will help influencers more. That doesn't mean that should just scroll past them though, every strategy on here is useful, and will boost your performance. Pinky swear.
1. DEVELOP YOUR INSTAGRAM BRAND LOOK
We recently published a post (this one) on developing a cohesive Instagram brand look. Instagram is, first and foremost, a visual platform. So, for brands and bloggers, it's important to create a visual Instagram identity that mirrors your actual brand identity.
One of our all-time favorite influencers is Amy Roiland (on Instagram @afashionnerd) – one of the coolest IG feeds you'll ever see. Amy is a Los Angeles blogger and designer of fresh, feminine, fun custom eyewear.
A couple of things you will notice about Amy's feed…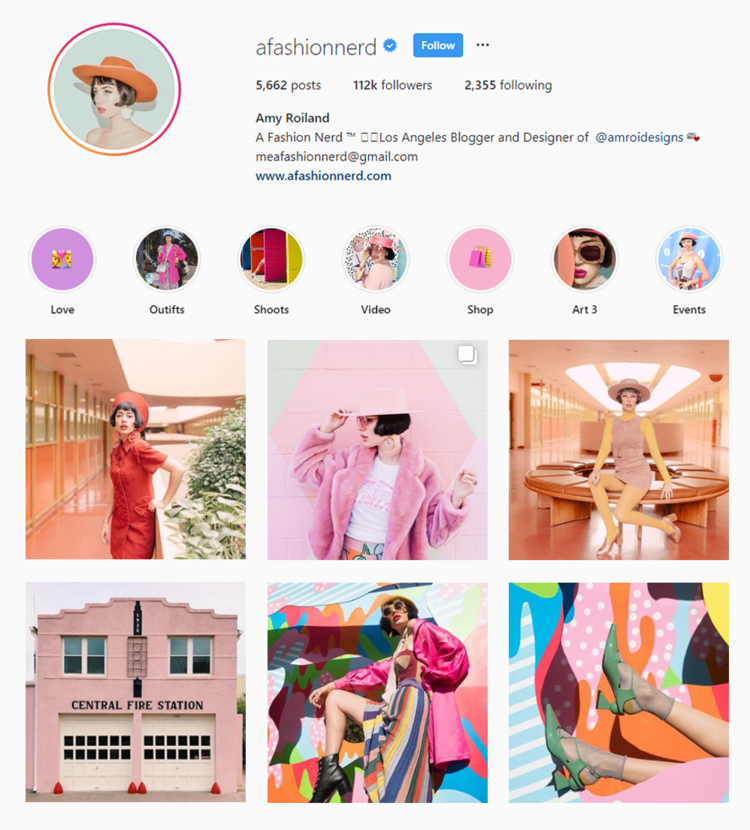 She's often photographed or filmed sporting different pairs of glasses or sunglasses with her colorful outfits of the day. And whether she's doing a close-up headshot or a full body shot, her pics are playful, pink, and just a bit offbeat.
By looking at Amy's pictures, you can tell a lot about Amy. More, the consistent use of natural light (and lighting that makes it look like she's in natural light) and shades of pink thread the pics in her Instagram profile together in a way that makes her feed interesting and aesthetically pleasing.
2. USE THE RIGHT HASHTAGS
This seems basic enough. Use the right hashtags. Posts with at least one hashtag generally see 12.6 percent more engagements than those without hashtags.
We're not just talking about sticking a hashtag in front of a witty phrase. Here, we mean use the right hashtags for your audience and peers to find you, and for your content to get catalogued under the most relevant categories.
Choosing which hashtags to use… and how many hashtags to use on each of your posts has a bit of a learning curve at first. You'll often find macro-influencers stop using them or only use a few of them while smaller accounts use the maximum amount of 30. When you're just starting out, it can be tempting to cover all your bases and flood your posts with every hashtag imaginable. But, 10 to 12 targeted hashtags.
A popular hashtag like #sorrynotsorry (currently showing up in 12.5 million posts) is relatable, and helps your audience to get a better idea of what you're about… but it's not topical.
By that I mean #sorrynotsorry is a hashtag that Instagrammers use to punctuate posts about everything from binge watching Game of Thrones to landing the biggest client your firm has ever had. Using a hashtag like that to express a sentiment that many people can relate to is smart, but it's only part of a good strategy AS LONG AS you couple it with topical hashtags that will help your target audience find you.Relatable pop culture hashtags (like #sorrynotsorry or #crushingit) help your audience to CONNECT WITH YOUR BRAND once they find you. But topical hashtags (like #contentmarketing or #agencylife) help your audience actually FIND YOUR BRAND on social.
Also, avoid hashtags like #followme or #f4f (follow for follow). These will NEVER attract the kind of valuable accounts you're looking for. Also, if you're an influencer hoping to work with brands in the future, that kind of behavior will raise red flags all over the place. It's just not good practice. FYI.
And unless you already have millions of followers, using the big hashtags out there like #selfie or #travel won't actually bring you the benefits you imagine. Take #selfie for instance, there are 370 million posts using this hashtag as I'm writing this. Even if you're putting out the best content the platform has ever seen, it's highly unlikely that your posts will even be visible just a few seconds later.
You need to know how to target your hashtags. The screenshot below is a result listed under #foodstagram, a popular hashtag foodies, chefs and food bloggers use to help people find their content online.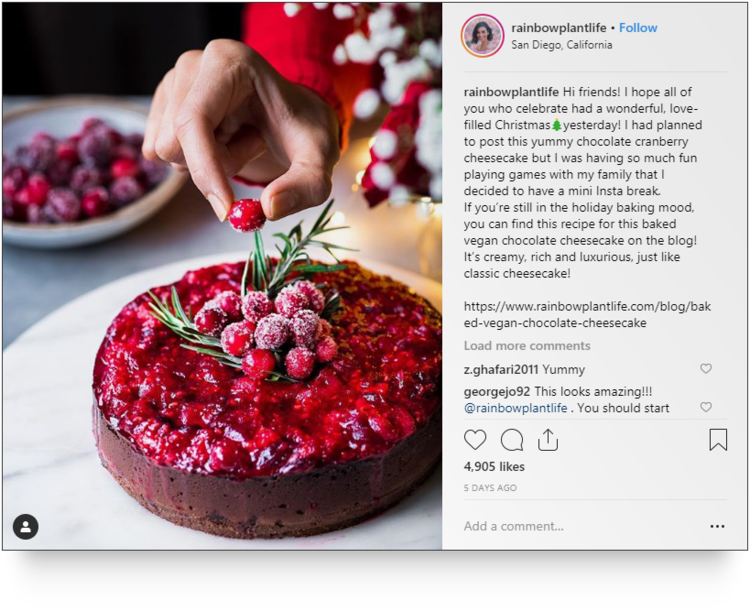 Source: On Instagram @rainbowplantlife #foodstagram
If you notice, @rainbowplantlife added 30 hashtags to this post as a comment. Smart. Because many of the hashtags used in this post like #veganbombs, #veganfoodie, and #foodblogger are targeted hashtags that will help people who are interested in things like vegan food, fat bombs, recipes, and food photographs find one another on Instagram.
Spend time searching for hashtags that have a smaller number of posts so that yours have a better chance of being seen. To this end, you'll also want to try some more targeted hashtags – instead of #travelblog (which has 32.9 million posts), go for #femaletravelbloggers (with 206k posts).
If you're a business user, you should also consider creating and using a branded hashtag. Brand-focused hashtags account for 7 out of every 10 on the platform. They're not always super obvious either. It doesn't have to simply be your brand name on its own, use a bit of imagination, and you might even see your branded hashtag spreading further than your own campaign, helping to spread your name even further.
3. BE ON AT THE RIGHT TIMES
While Instagram switched things up and did away with a chronological feed, the time and day that you post your content is still vitally important. Getting your content out so it's around for peak activity times is your best chance for grabbing those engagements.
The optimal time to post will differ from social platform to social platform depending on when users are most active. Studies on the best times to post demonstrate there are overlaps in the best times to post across different platforms. For Instagram in particular, global engagement peaks Thursday afternoons. Users are most engaged Wednesdays, Thursdays, and Fridays.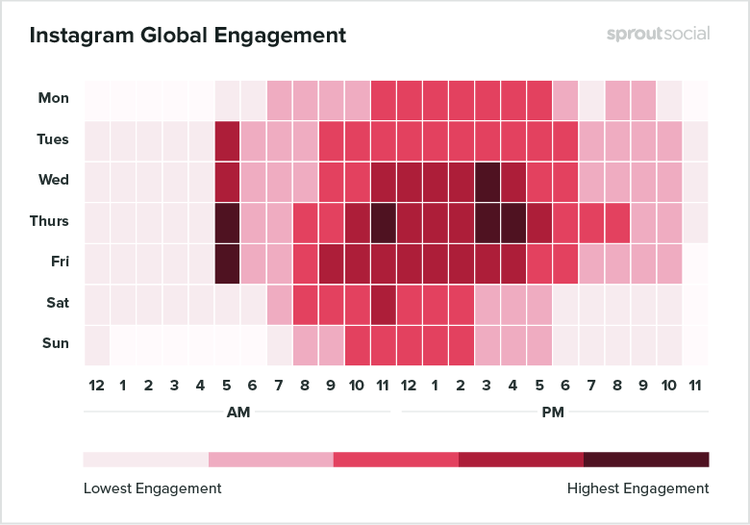 Source: Sprout Social
It's worth investigating the times when your account experiences the most engagement. If you have a business account on Instagram, then this is easy to do. In your own analytics tab, there will be simple graphs to show you the best days and times for your account. Depending on your audience's age, jobs, and location these times could be very different from the average statistic.
And, this doesn't just go for your in feed posts, the timing for your stories is also paramount.
4. SHOW YOUR FACE AND/ OR PRODUCT
This one can be tricky for products. While trying to be creative and share something new and exciting is a great goal to strive towards on Instagram, many of us forget that sometimes the simplest content is the most relatable and interesting.
People like an element of transparency on social media, especially now that they're much more clued up when it comes to filters, influencers, and "doing it for the 'gram".
One of the easiest ways to do this is just showing up in the posts. This simple act can help your engagement soar. Don't believe us? Check out this stat. Sixty-eight percent of the top performing posts on Instagram prominently feature a product, and images that contain faces achieve around 38 percent more likes than those without.
But remember the 80/20 rule when it comes to self-promotion. If every single one of your photos is pushing your products directly, then people will quickly get bored. Instead, you should make sure that 80 percent of your content is working to entertain, educate or inspire your audience. The other 20 percent you can use to advertise the product or service you're offering.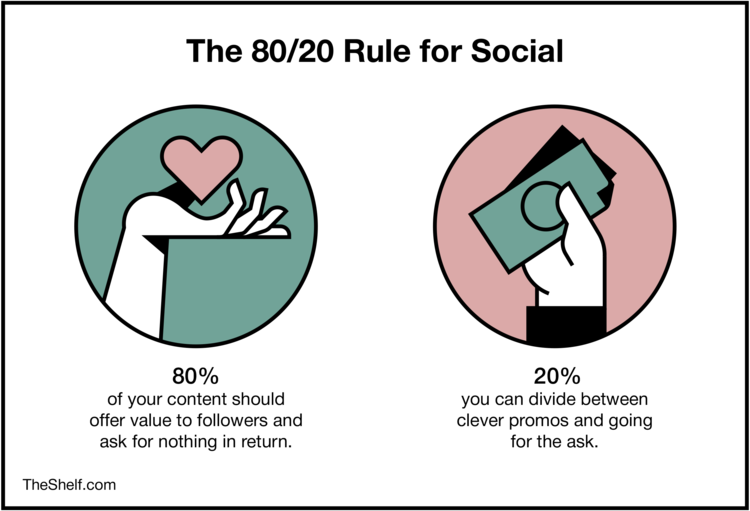 This is the same strategy social media marketer Gary Vaynerchuk even champions his book Jab, Jab, Jab, Right Hook.
Showing faces doesn't have to mean your face. It can mean:
Models using/ interacting with your product
Real customers and their reactions to your posts
Video reviews of your products
5. CREATE MULTIMEDIA CONTENT
While Instagram has always been a great place to share photos, the capacity for sharing videos has grown in recent years. In fact, a quarter of all ads on the platform are now single videos. Having some video content allows you to more easily show off what your product can do in ways a static image just can't do.
Thanks to Instagram's Stories feature, you're not confined to the traditional in feed posts any more. So, let's take a look at how you can use video to your advantage.
In-feed videos
One of the fastest growing types of Instagram ad is the In-feed videos. These 60 second maximum movies can help you to grab the attention of those perpetual scrollers and show off what you have to offer. Want to really grab them though? Studies have shown that attention drops off incredibly quickly on this platform, so even though you have those 60 seconds, you don't need to use them all. Grab them in the first 30 seconds, and you have a much better chance of conversion.
Another thing to consider is how many people will actually listen to your videos. We listed this stat in our step-by-step holiday social media strategy (you can download it here): 60 percent of Stories video ads were viewed with the sound on in 2017, compared with 7 percent of Facebook video ads.
That said, including subtitles on your videos is paramount if you're going include any kind of sound. Or, make it easier on yourself and keep it entirely a visual affair. That is what the platform is best known for after all.
Video Stories
If you're not using Stories yet, as an individual or a business, you are sorely missing out on the best features of the platform. These ephemeral images only stick around for 24 hours and they can be a great way to showcase less polished content and behind the scenes images. You also have the chance to go live, which is perfect for big announcements, unveiling new products, or interviewing guests.
Stories can also include hashtags, mentions, and location tags like any ordinary post, so make sure you're really utilising all of these features when you post. Of course, you don't want your stories to be littered with hashtags, but one simple trick to get away with this is to make the text so small that you can hide all of your chosen hashtags behind a single emoji or GIF.
If you simply can't let your stories disappear after their 24 hours is up, then you now have the option to create a "highlight" with them. These highlights live on your profile, and allow your followers to see stories months after you first posted them. By organizing these into groups, they can be a great additional tool for your account. They give easy access to categorised content right there on your profile. The categories you choose to use would depend on your account. For example, if you're a travel blogger, you can use a highlight for each country you visit, one for travel tips, one for a Q&A, and one for airport selfies. Get creative and use what your followers will love.
6. DM PEOPLE
The weird thing about social networks? They seem to be getting less about being social every single day. A lot of the social interaction we experience on Instagram is in the form of comments from people we don't know saying in-depth message like "Nice shot" or a single red heart emoji. So many of us overlook the power of the direct messages, especially when trying to grow our accounts.
A common method used by "growth hackers" is to connect with other influencers in the space through direct messaging in ways that will benefit them. Want to try this for yourself? Here's how you can do it too.
Find influencers in your niche
Whatever area your business or personal account is in, you won't be the only one there. Find the other influencers in your niche and start reaching out to them. Ideally, you'll want people with more followers and better engagement than yourself, but shoot too high and you might be lost in the noise.
If you have a smaller account, then it's a good idea to seek out influencers of a similar size, but with a following that is just to one side of your own. Check out their follower list and compare it to your own, or find someone who has a slightly different style to your own. The point of this exercise is to find new people to follow and interact with your own content.
Reach out, but personalize it
Once you've found some influencers to reach out to – no maximum here, make as many connections as you can – it's time to bite the bullet and reach out to them. As you'll be sending out multiple messages, it's a good idea to work with some kind of template in order to save time and avoid mistakes. But, be careful not to sound too much like an automaton.
Every message you send out should feel personal to every influencer you reach. Nobody wants to feel like the recipient of spam mail. Use their name, include a specific detail, and tailor each template as well as possible. For example, you could say; "Hey Bri! First, I just have to say how much I LOVE your adorable dogs! So jealous that you get to travel the world with them – it sounds like a dream. I'm reaching out to you because…". Having an opening like this makes the recipient feel valued.
Get to the point
Now it's time to get down to the details. The reason why you're reaching out. You want them to check out your profile, tag you in their story, comment on your posts, regram your content – whichever would be most effective from this particular influencer. Of course, you're more than happy to do the same for them. Quid pro quo, as it were.
Not everyone will be interested in this kind of deal of course, but when you partner up with influencers like this, you can see some amazing results. Make sure you hold up you end of the deal though, and don't overpromise. Once you get a reputation like that, it's almost impossible to shake it.
Every time you partner up with another influencer like this, you'll be harnessing the power of their own individual followings. It's like influencer marketing inception.
7. GRAB SOME UGC
While this tip is primarily for businesses and brands on Instagram, it can work with individual influencers as well, so no scrolling past!
We actually wrote a post on the five BIG benefits of UGC within an influencer marketing campaign before, but here's a quick refresher. When someone who loves your product creates any kind of content about your product, they've created the perfect piece of UGC that you can repurpose for your own feed. Of course, you will need permission first, but once you have that, you're good to go.
User-generated content is great because it saves you time and resources you would otherwise spend creating the content yourself, but more important than that, word-of-mouth endorsements like the types provided in influencer marketing and UGC typically convert at five times the rate of regular branded content. Ninety percent of consumers trust recommendations from friends, family and even influencers more than they trust branded content like websites and commercials.
creating the content yourself kind of content is great as it not only saves you time and uses a fresh eye, it's also really great for your engagement rate. In fact, this kind of user-generated content has a 4.5 percent higher conversion rate than regular, brand-produced content. Consumers prefer seeing posts from a person over a brand, that much is clear. If they are convinced to interact with that UGC post, you'll see that conversion rate rise to 9.6 percent.
8. EDIT
While strategic posting, analytics, and hashtag choices are important, the actual content you put out there has to be an important factor as well. Making sure that your images and videos look clear, bright, and high quality will always be a key factor in attracting attention on Instagram.
And, you don't have to be a pro to make your images look great anymore. Even the in-built editing tools on Instagram can turn most every day snaps into something more intriguing. While the pre-built filters on the platform might not be the best solution.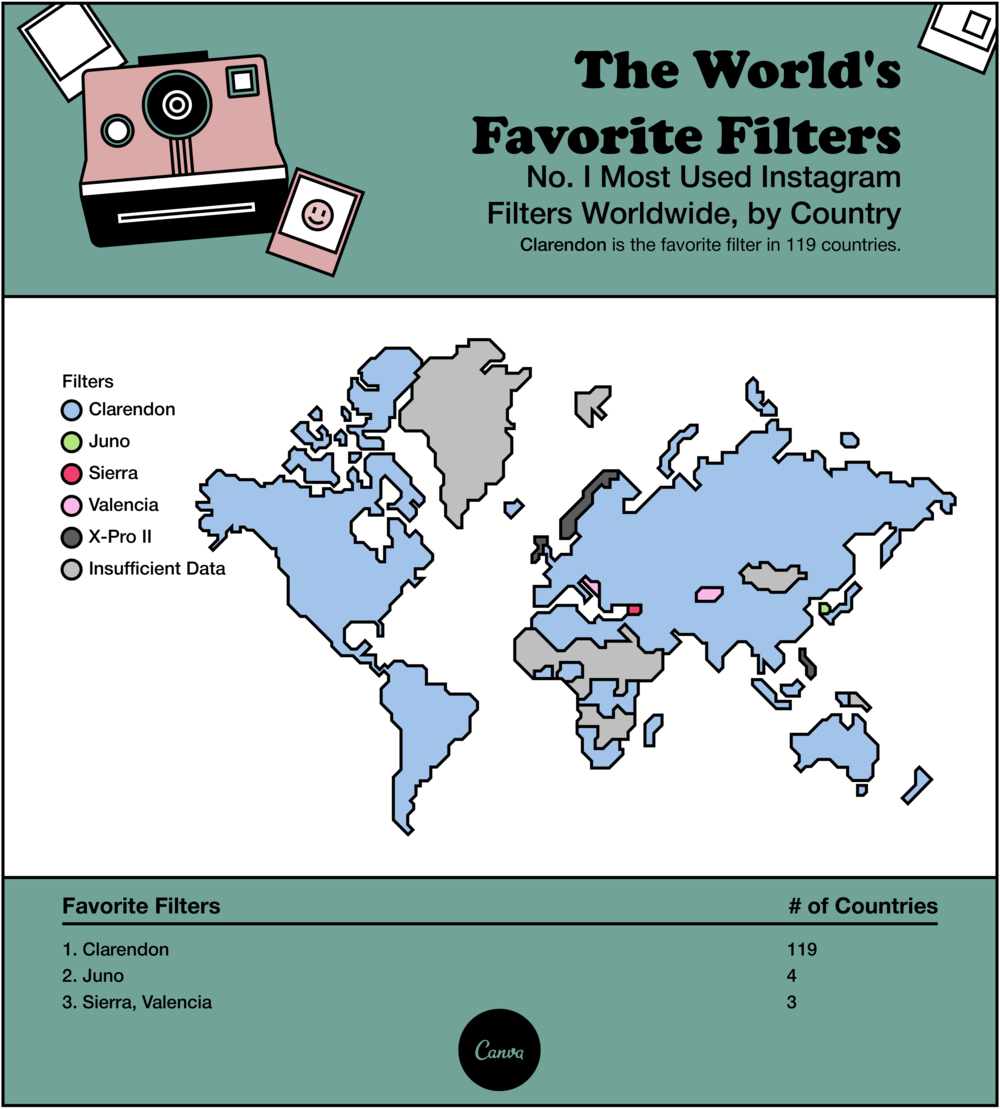 Clarendon has proven to be the most popular by a long shot. Clarendon is a filter that instantly brightens your image and intensifies both the highlights and the shadows. It's also the first choice after Default. So, artistic or lazy, people seem to like it.
Whatever style works for your brand, keep it consistent. The best business accounts out there are almost instantly recognizable when they post something new, as they've established a consistent brand image. The same advice holds true for your account. Choose a simple color palette, create your own preset, or simply use the same filter every time. Soon, your brand image will start to form, and people will know it's you, making them more likely to stop scrolling and start a conversation.
9. KNOW YOUR AUDIENCE
More than a third of all US adults are now on Instagram, so there's a good chance your audience will be there. But understanding who your user base is will help you tailor your campaign strategies.
Seventy-one percent of businesses use Instagram, so you're not the only one trying to get a slice of the social pie. Thanks to the array of features available to business accounts, this number has been growing year over year, and small businesses make up most of this number.
Eighty percent of Instagram users are located outside of the US. This is incredibly important to bear in mind if you're not offering a product that can be shipped internationally, or even if you're only targeting a US market. Offering some form of international option, or using influencers from outside the US can be a great way to tackle this.
Fifty-nine percent of 18-29 year olds use Instagram – when I first saw this statistic, I'll admit I was a little surprised. Like many others, I assumed that all of this age group were on the social media site, turns out, I was wrong. Still, this age group does make up the largest percentage of users on Instagram, so you'll want to make sure that your content appeals to this demographic. We're talking Millennials and Gen Z.
10. USE ALL OF INSTAGRAM'S FEATURES
Instagram is more than just a platform to post selfies and cute pictures of dogs. There are a wealth of features on the site that allow users to create engaging content, many of which go unused by the average user. And, while nobody is totally sure what their algorithm gets up to behind our screens, it is widely believed that the more of the platforms features you use, the more your content gets seen by your followers.
Take location tagging for instance, posts that use this feature receive 79 percent more engagement than those that don't. Such a simple step to add into each image, with such impressive results. Aside from location tagging, you can use hashtags, tag people in your post, share to other platforms, use stories, or go live from your account. All of these features help to make your account more interesting, and attract more engagement to your account.
11. SKIP THE SO-CALLED GROWTH HACKS
There are so many tactics floating around out there that claim to help you grow your account by thousands of followers in a matter of days. And, while they may well deliver on that promise, it's doubtful that those followers will be the kind you really want. And, they most likely won't want to engage with your content.
Also, steer clear of so called "engagement pods" where a group of influencers team up and comment on each other's posts. While you will see your engagement rate rise with all these new commenters, they're not REALLY interested in your content. They won't convert in sales, they won't recommend you to anyone else, and if you're an influencer hoping to work with brands, they can spot this kind of behaviour a mile away.
And please, promise us, right here and now, that you will never – I repeat NEVER – buy likes from anywhere. No matter how the site tries to sell them to you, they are fake likes, they look fake, and they won't provide any real value to your brand. Avoid them like the plague.
So, there you have it. Our 10 powerful strategies to help boost your Instagram engagement. Let us know if you apply any (or all) of these, and how they work for you on your account!