You've heard about people making money on Instagram, and you're thinking, "Hmmm, that could be me." You spend all your free time on Instagram anyway, and you love it. So, why not make money from it, right? Because becoming an Instagram influencer is still the most common tactic to earn money with Instagram.
In just 10 years, Instagram has evolved from a mere photo-sharing app to become one of the most popular social media platforms for daily use, and one of the most lucrative platforms for creators. With over a billion monthly users, Instagram is now the go-to app for your daily dose of inspiration and in-app checkouts.
Instagram has also turned into a business platform to be reckoned with. Millions of entrepreneurs, and easily 70 percent of all brands, are taking advantage of Instagram's selling power to launch new products and make more sales.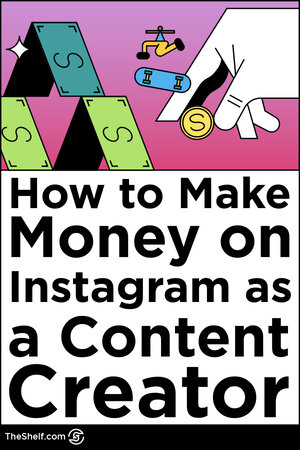 And it's not just for unicorns or whatever. You could join the ranks of successful creators who earn money from Instagram if you're willing to put in the work… and it's gonna be tons of work, babe.
Cool.
Fine.
But how on earth do you even start? Can you even sell if all the followers you have now are your mom, your high school classmates , and best friend?
Don't fret.
You don't need hundreds of thousands of followers to make money on IG, even though it's pretty normal to think you do. You don't need as many followers as you think.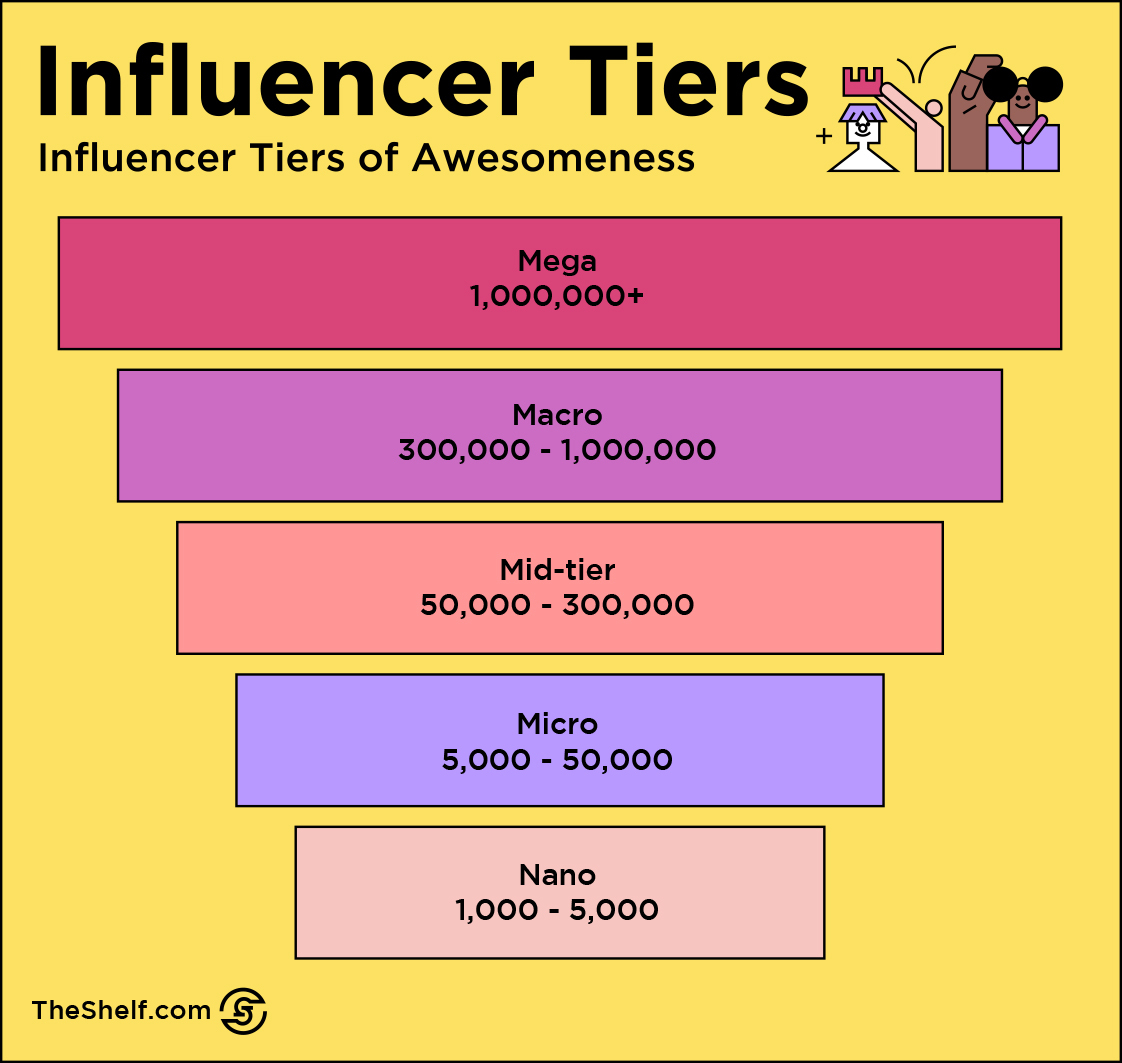 While top Instagrammers have hundreds of thousands (or millions) of followers, those with a small well-engaged following of just 1,000 fans can also make money on Instagram. If you're still interested, keep reading for specific tactics to make money on Instagram.
Three Ways To Make Money On Instagram Creating Content
We'll assume you're here because you're new to the influencer world. So before we get into the heavy-lifting, let's just rehash the basics of becoming an influencer.
An influencer is someone who has trust with audiences concerning specific topics. To their audiences, influencers are trendsetters and trusted experts whose opinions about certain subjects are highly regarded. Brands rely on influencers to use their authority with their audiences to get people to take action.
Many brands can't command this kind of influence, and so they partner with influencers who create content on behalf of the brand (aka sponsored posts) that help promote their products.
Becoming an Instagram influencer takes more than just having a decent number of followers and reach on your account (also known as vanity metrics). Brands also want to work with someone who can get engagement from their audience.
So, to the main point—how do you make money as an Instagram influencer?
1. Partner With Brands and Create Cool Content for Them
Typically, influencer deals involve influencers creating content such as Instagram ads, a post, a video, or a Story. You then get paid to post this content on your Instagram account.
The amount of money paid for such content depends on the scope of work you're doing (IG Stories vs posts vs IGTV vs YouTube vs blogs, and on and on) to work with and the scope of the work you're doing. In a survey by Shopify, 42 percent of influencers surveyed said they charged $200 to $400 per post. This gives you an idea of what some brands pay.
Here are a few important things you need to do to become a successful Instagram influencer and earn top dollar.
Choose a niche
Remember what we said brands are looking for most in an influencer? Trust. To earn trust from your followers you must live and breathe your brand. If you're just starting out, the easiest way to do that is for you to focus on one or two topics that you consistently post about.
"Yeah, but I want to be a lifestyle influencer."
Lifestyle influencers are mostly grown, not really made. If you post about just a few topics consistently when you start out, you create a cohesive brand, and it will be easier for both your audience and brands to figure out where your expertise and influence lies.
So…
Get into a niche that you can truly say is something you believe in and love. The more you niche down, the more authentic (and relatable) you become. Grow your audience
The other important thing that brands want from influencers is a large and engaged following. Do you still have your mom and bestie as your followers? Don't panic just yet. There are plenty of well-researched strategies that will help you get more followers on Instagram.
For one, you can quickly grow your audience by committing to posting consistently. Studies show that audiences demand consistent content. 
An analysis by Tailwind found the more people post on Instagram, the more engagement they get.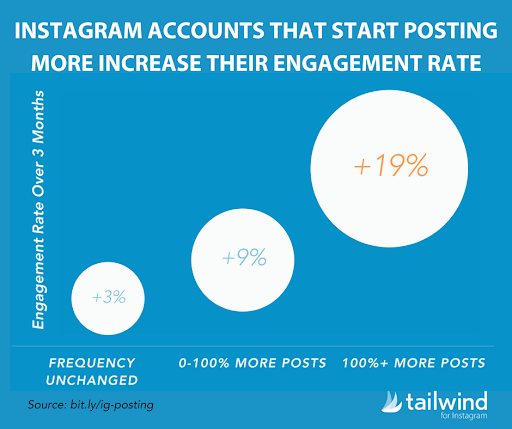 In addition to posting frequently, you also need to boost your content visibility because the more people you manage to reach, the higher your chances of driving sales. 
Partner with brands who are about what you're about
You can find brand partners by pitching them directly or just being ready when smaller brands approach you. Contact potential brands in your niche and pitch them what you can offer using your media kit. We wrote a post on what goes in an influencer media kit, just in case you want to know how to put one together.
Don't forget to provide them with plenty of compelling details about your audience and approach. Make sure you include important metrics that add value to your partnership: such as engagement rate, audience size, etc. 
Here's a tidbit you probably need to know: it's okay to start with smaller brands because your glowing track record with previous campaigns is part of what will help bigger brands determine whether to hire you. Post transparently
When posting sponsored content, be sure to make it clear the post is sponsored. for. The usual practice is to tag the post as "Sponsored" or "Paid partnership with (brand)". 
Trust me, you don't want any problems with the Federal Trade Commission (FTC). Be sure to read up on their guidelines and continue to check up on them as they get updated regularly.
2. Become An Affiliate
The second best tactic for making money on Instagram is becoming an affiliate. With this kind of tactic you will be focusing more on making sales for the partner brand—not just generating awareness—in exchange for a commission.
Your brand partner will give you a trackable link or unique promo code to follow up on sales generated from your efforts.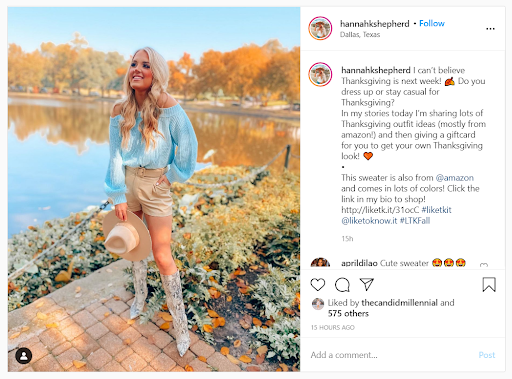 Instagram affiliate marketing requires a more calculated strategy than influencer marketing. To make as many sales as possible, you need to have a solid plan going into it. Here's how to successfully choose an affiliate network and use this tactic. Choose the best affiliate programs for your brand, otherwise…
Choose a product-focused niche that you feel most comfortable with or passionate about. You can start with the products that you use in your day-to-day life and create content centered around reviews and highlights of the product's features. 
You can join a brand's affiliate program directly or join an affiliate network. To be on the safe side, do both, it won't hurt your chances!
Some popular affiliate networks include: 
Post about the product
Once you find the product(s) you want to promote, and you've got your tracking codes or links, create outstanding posts promoting them on Instagram. Remember to use gorgeous images and videos that just want to make people buy, buy, buy. 
3. Sell Your Own Products
The third strategy for making money on Instagram throws you into the e-commerce world. The Shelf has a really cool running tally of influencers who have their own merch and products. So, the
If you have your own products, you can use your time and influence to make money by selling them on Instagram, instead of selling other people's products. If you already own a business, selling on Instagram could be an important addition to your marketing strategy. (Besides, it's always a good idea to add a new income stream.)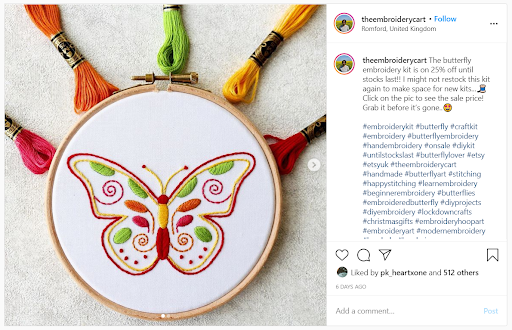 Set up a shoppable account
Instagram has been making huge strides in making the platform more business-friendly. From shopping-focused features like the Explore tab to product tags to shoppable posts to shoppable Stories. 
The most recent layout update and Instagram Checkout, make it even easier for people to shop right from the Instagram app.
Turn your Instagram account into a business account and take advantage of these features. And don't forget to create a product catalog to make your products stand out more!Post your products
Hype up your products through regular Instagram posts and Stories. Use Instagram analytics tools to measure your success so that you can see what's working and what is not. Also, be sure to engage with your audience.
It's that easy!
Three Tips on Using Instagram for Business
Instagram is growing by the day. More and more people are getting interested in making money on this popular platform. So, how do you ensure that you remain at the top of your game? Always stay in the loop on new trends and rules that are necessary to make money on Instagram.1) Know the ins and outs of Instagram for business
Understand how the Instagram business account works and the features that are only available to business accounts. Make sure you also understand how you can leverage the business account to make more money on Instagram. 2) Launch an Instagram Shop
The biggest advantage of having an Instagram shop is that you can integrate your product catalog with your Instagram profile. With this feature, you can promote your products directly to Instagram users through a special Shop tab on your profile, Stories, posts, and in the Explore tab.3) Learn the Do's and Don'ts of selling on Instagram
Instagram has detailed rules on how you should post, the types of images or videos you should post, and how many times per day you can post. There's also a limit to the number of hashtags to include. 

Make sure you follow these rules to improve your chances of making money on Instagram.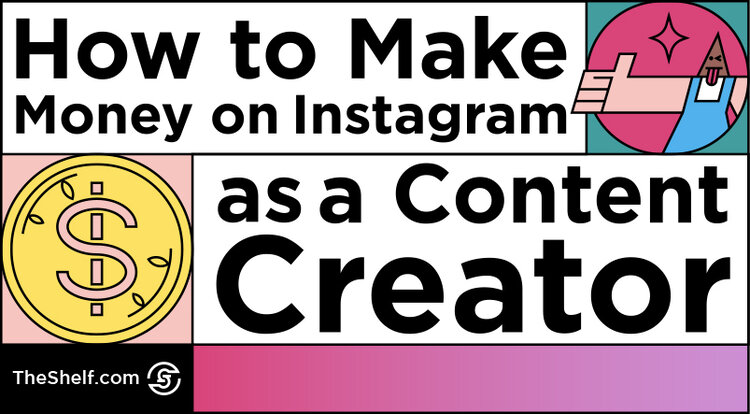 Let's Get That Money!
Instagram is growing exponentially and brands are investing a significant sum of their marketing budgets on the platform.
Whether you're just starting out or are a seasoned IG user, you can learn to make money using the platform's new features. And now there's a ton of info out there (including this post!) on how to do just that.
So go on and turn that thought of making money on Instagram into reality by implementing these Instagram money-making tactics.
Happy influencing!
---

We accurately measure real-time and historical social media data, illustrating information in easy-to-read graphs and layouts that simplify reporting and strategizing. Our product helps you effortlessly track #hashtags, keywords, @accounts and URLs on Twitter, Instagram, Youtube and Facebook. Use us for real-time campaign monitoring and optimization, brand monitoring and optimization, and data-driven market and competitor research. https://keyhole.co