Originally published September 2014. Updated August 2019.
When we talk about monetizing fashion content, we often come back to affiliate marketing. Why? Because it's one of the easiest ways to earn money blogging about the items you already share with your readers. In fact, many bloggers are becoming brands themselves and are transforming their musings on fashion into full-blown businesses. Props!
Brands are also reaping the rewards of affiliate marketing programs. Whereas fashion brands used to be notoriously shy of pursuing them, you're now far more likely to find them on the likes of ShopStyle Collective and rewardStyle, among others, in favor of billboards and other traditional advertisements.
How To Choose A Fashion Affiliate Network For Bloggers And Brands
With a recent diversification in publisher types, new technologies, and a rise in visual content marketing, brands have found confidence in this sector. National shopping habits have steadily changed over the past five years and brands recognize that the customer journey is a multi-faceted one.
Tom Woodhouse, who served as the affiliate manager at iPropsect once said, "Fashion aggregators such as Shopstyle, Polyvore and Lyst are able to place even the most premium brand in a luxury environment. There is a definite opportunity for high-end brands who would have traditionally never entered a space dominated by incentivised sites, which could damage brand credibility."
Fashion affiliate networks now offer a strong brand-led environment AND great shopping experience for customers.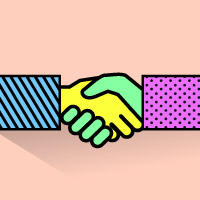 Related Post
How to Roll Out Your First Influencer Campaign (and what to expect when you do)
Depending on which affiliate network you go with, costs and levels of support vary for brands. Most charge a setup fee, monthly fee, and percentage around the commission being paid. Commissions paid to affiliates generally vary from 4 percent to 15 percent depending on how well established and well known your brand is. The blogger, on the other hand, doesn't pay a dime to join.
So, how do YOU get started with affiliate marketing? There are plenty of programs out there but a few in particular have gained serious fashion blogger and brand momentum and so sharing the affiliate love with you only seems necessary. 
Retail Fashion Affiliate Networks
For fashion bloggers, each network generally works the same way. Apply directly with the retailers you're interested in and you will get redirected to whatever affiliate network they use. If you're accepted into the program, you will gain access to banners, links, and other tools.
LINKSHARE
Participating brands on Rakuten (yes, the same company that does those rebate commercials) include: Nordstrom, Saks, Bloomingdales, Macy's, Net-a-Porter, The Outnet, ASOS, Alexander Wang, Topshop, J.Crew, Sephora, Forever21, Clinique.
COMMISSION JUNCTION
Participating brands on CJ Affiliate include: Shopbop, Luisa via Roma, Ferragamo, Zappos, Brooks Borthers, Bluefly, Banana Republic, Gap, Free People, Old Navy, Ann Taylor, Nasty Gal.
Other retail fashion affiliate networks include Shareasale.com and eBay enterprise.

Related Post
How to Vet Potential Blogger and Influencer Partners
Aggregator Fashion Affiliate Networks 
As a fashion blogger, the retailers you want to promote are more than likely part of different networks. Aggregators can save you a lot of time since they bring multiple programs from multiple networks together in one place. The best part? Once the aggregator accepts your application, you have access to all of the programs for which they've been pre-approved. This means you don't have to go through a long approval process with multiple networks. 
The benefit for brands is you can reap the rewards of their existing partnerships with diverse fashion and lifestyle publishers.
REWARDSTYLE
RewardStyle is undeniably the preferred aggregator among fashion bloggers. Almost every style blogger is drinking the rewardStyle Kool-Aid, and for good reason; the top bloggers can make a whopping $80,000 a month from affiliate sales alone. 
Launched in 2010, rewardStyle works with more than one million brands and 45,000 influencers in more than 100 countries and drive more than $1 billion in annual retail sales, according to Fast Company.
Participating publishers include: Vogue.com, WhoWhatWear, The Blonde Salad, Man Repeller, Fashionista.
If you do regular outfit posts, feature or review items you love, or talk about shopping, rewardStyle is likely a good fit for you blog. It offers higher commission rates than many of its competitors and brings together almost all of the fashion/lifestyle-related programs in one place. This is much easier than applying to each affiliate program separately based on the brands you want to work with. Payments are based on CPS, meaning bloggers are paid only if the visitor purchases something after clicking the affiliate link. They are also known for making Instagram posts shoppable before shoppability was an actual feature within the app through their game-changing app, LIKEtoKNOW:IT.  
SHOPSTYLE COLLECTIVE (FORMERLY SHOPSENSE BY SHOPSTYLE)
ShopStyle Collective (formerly known as ShopSense by ShopStyle) commissions are based on a CPC model, meaning you get paid whenever your links are clicked, not only when you convert a sale. This model is great if your readers are more inclined to browse as opposed to buy and is therefore best for high-traffic, low sales-generating sites. This is often the case with blogs that offer their readers inspiration as opposed to shopping advice.  
Participating publishers include: Popsugar group of sites, The Fashion Bomb.
SKIMLINKS
Many different publishers in the tech, food and fashion space use Skimlinks. The network is best known for its ease of use, as bloggers are only required to drop a line of javascript into their site's coding. The program then automatically generates relevant links on the fly. The program allows you to automatically link products, brands, colors, and clothing or accessories mentioned in posts to relevant affiliate links. While the program isn't specific to fashion, their tools narrow the possibilities by topic making it a great choice for fashion bloggers.
Participating publishers include: Luckymag.com, Gawker sites (including Jezebel), The Cut (New York Magazine).

Related Post
How to Do Blogger Outreach (Includes Templates)
Get Started With Influencer Marketing
Ready to make your content shoppable but still have blogger questions about using affiliate links? We've got your back. Are you a brand wanting to get started with influencer marketing or kick it into high gear? Get in touch with us and we'll help you out.