We thought it would be pretty cool to put together a list of sibling influencers who are mastering the art of visual storytelling. There's something special about brothers and sisters working together to entertain, inform, and engage on social media.
Many major brands recognize that their futures are tied to their ability create positive experiences and memories. That means making sure they deploy marketing strategies which endear them to every generation. Retailers and brands like Walmart and Target have been investing in influencer partnerships to sell everything from toys to luxury apparel. And influencer campaigns that feature young creators have proven to be pretty effective.
This roundup includes kidfluencers and siblings all grown up, so any brand can make their influencer marketing a family affair. We found 16 sets of young creators who are siblings (and quite a few twin and triplet sets) that we like following across social media.
Okay, here we go — our top list of siblings influencers who share some pretty cool aspects of their lives with us on social media. These teams span a range of ages, niches, and interests, so you're sure to find a set of sibfluencers right for your brand.
---
Triplet Influencers Zalen, Kaleb, and Malek Belizaire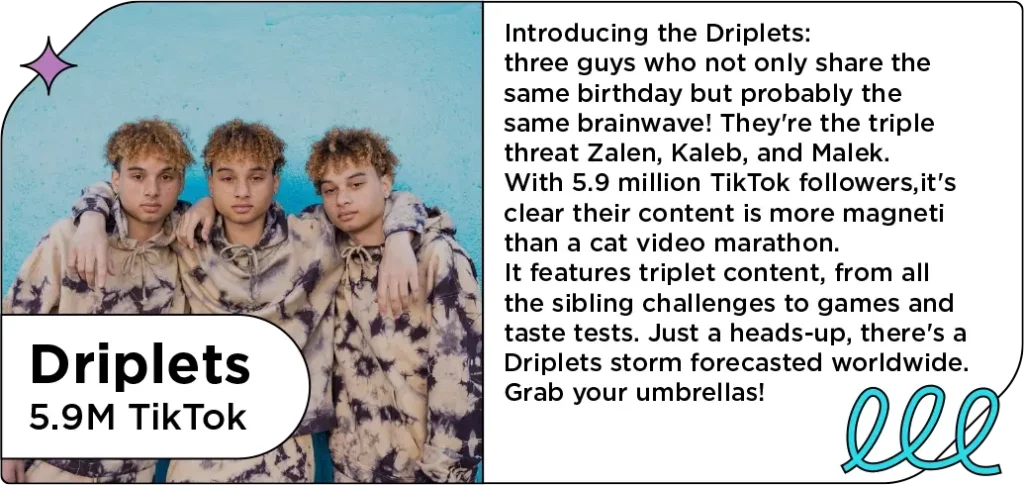 Introducing the Driplets: three guys who not only share the same birthday, but probably the same brainwave! They're the triple threat Zalen, Kaleb, and Malek. With 5.9 million TiKTok followers, it's clear their content is more magnetic than a cat video marathon. It features triplet content, from sibling challenges to games to taste tests. Just a heads up – there's a Driplets store forecasted worldwide. Grab your umbrellas!
---
Twin Influencers Taytum and Oakley Fisher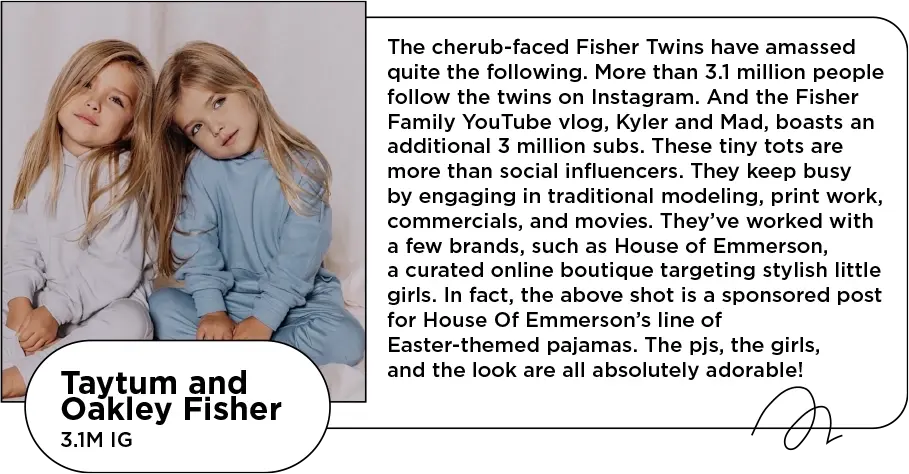 The cherub-faced Fisher Twins have amassed quite the following. More than 3.1 million people follow the twins on Instagram. And the Fisher Family YouTube vlog, Kyler and Mad, boasts an additional 3 million subs.
These tiny tots are more than social influencers. They keep busy by engaging in traditional modeling, print work, commercials, and movies. They've worked with a few brands, including House of Emmerson, a curated online boutique targeting stylish little girls.
---
Sibling Influencers Stella and Blaise Bennett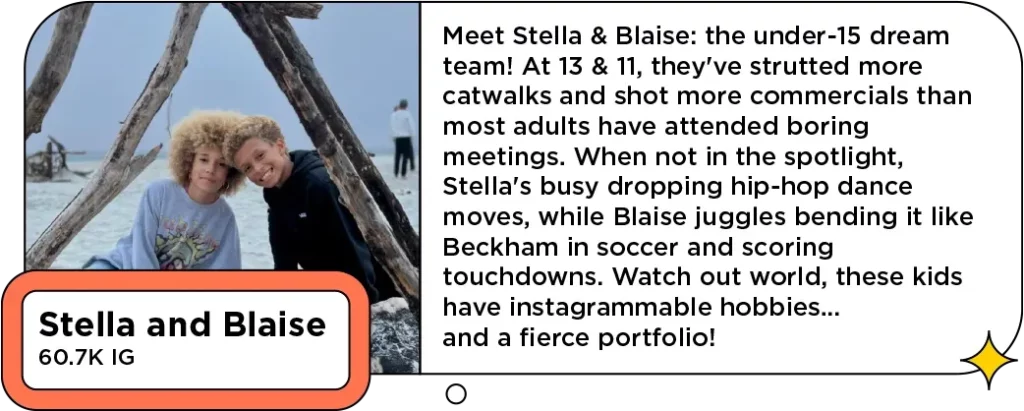 Meet Stella & Blaise: the under-15 dream team! At 13 & 11, they've strutted more catwalks and shot more commercials than most adults have attended boring meetings. When not in the spotlight, Stella's busy dropping hip-hop dance moves, while Blaise juggles bending it like Beckham in soccer and scoring touchdowns.
The pair recently designed a collection of kids apparel for Epic Threads that was sold at Macy's stores that was aimed at being comfy, stylish, and playful. Watch out world, these kids have Instagrammable hobbies… and a fierce portfolio! 📸💃🏻⚽🏈
---
Triplet Influencers Andrea, Arianna, and Athena Levesque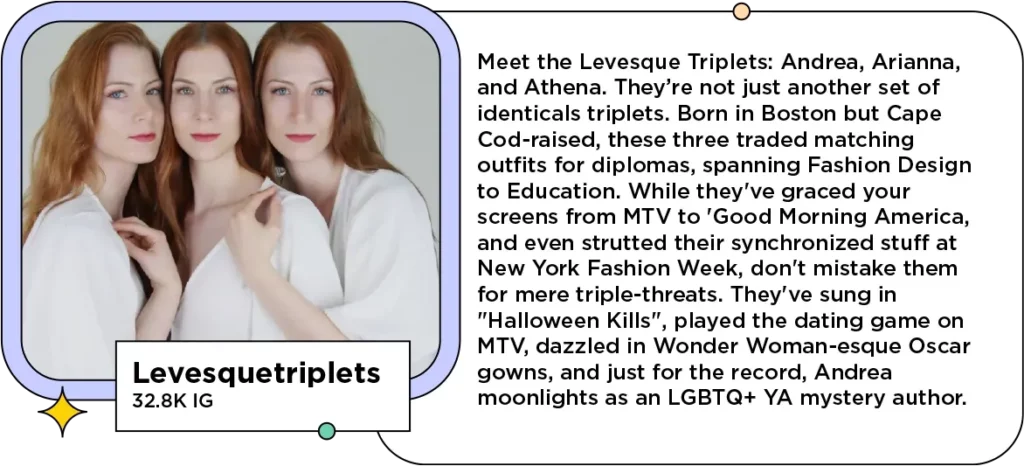 Meet the Levesque Triplets: Andrea, Arianna, and Athena. They're not just another set of identicals triplets. Born in Boston but Cape Cod-raised, these three traded matching outfits for diplomas, spanning Fashion Design to Education.
While they've graced your screens from MTV to 'Good Morning America,' and even strutted their synchronized stuff at New York Fashion Week, don't mistake them for mere triple-threats. They've sung in "Halloween Kills", played the dating game on MTV, dazzled in Wonder Woman-esque Oscar gowns, and just for the record, Andrea moonlights as an LGBTQ+ YA mystery author. 🎓👠📺📚🎤👗🎉
---
Twin Influencers Elisha and Renee Herbert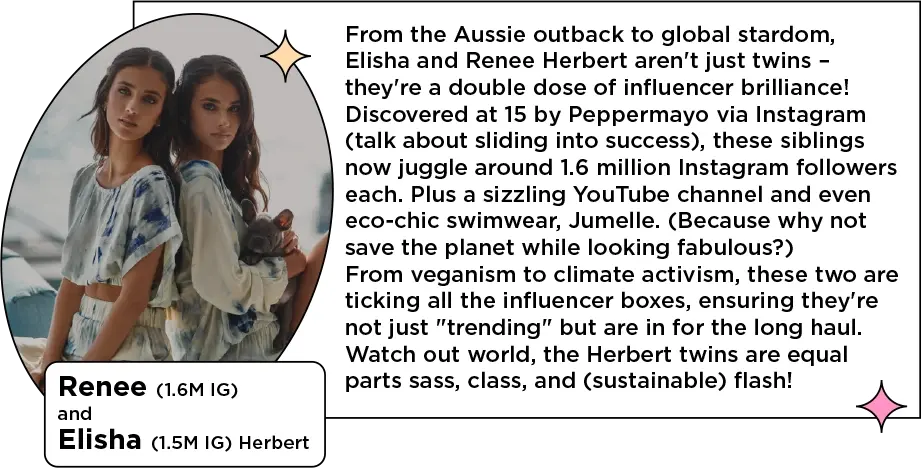 From the Aussie outback to global stardom, Elisha and Renee Herbert aren't just twins – they're a double dose of influencer brilliance! Discovered at 15 by Peppermayo via Instagram (talk about sliding into success), these siblings now juggle around 1.6 million Instagram followers each.
Plus a sizzling YouTube channel and even eco-chic swimwear, Jumelle. (Because why not save the planet while looking fabulous?) From veganism to climate activism, these two are ticking all the influencer boxes, ensuring they're not just "trending" but are in for the long haul. Watch out world, the Herbert twins are equal parts sass, class, and (sustainable) flash! 🌍👯‍♀️📸
---
Twin Influencers Emilio and Ivan Martinez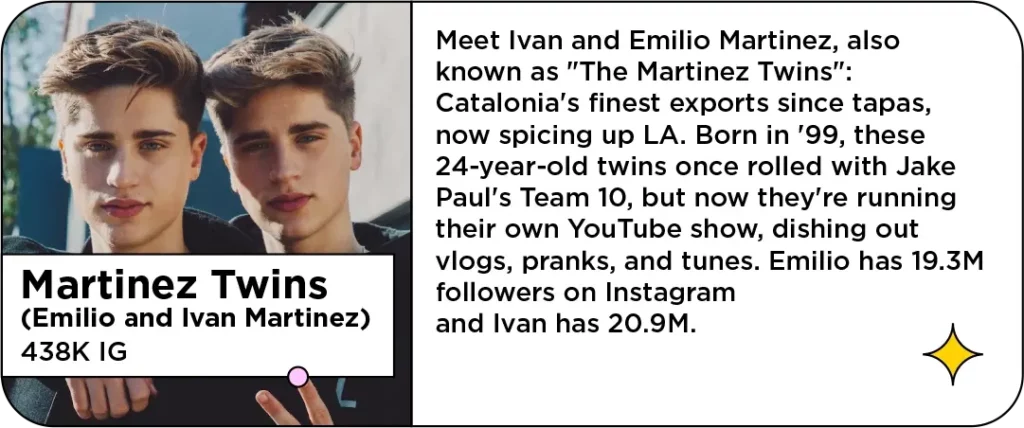 Meet Ivan and Emilio Martinez, also known as "The Martinez Twins": Catalonia's finest exports since tapas, now spicing up LA. Born in '99, these 24-year-old twins once rolled with Jake Paul's Team 10, but now they're running their own YouTube show, dishing out vlogs, pranks, and tunes. Emilio has 19.3M followers on Instagram and Ivan has 20.9M. 
---
Triplet Influencers Elnaz, Tanaz, and Golnaz Hakkak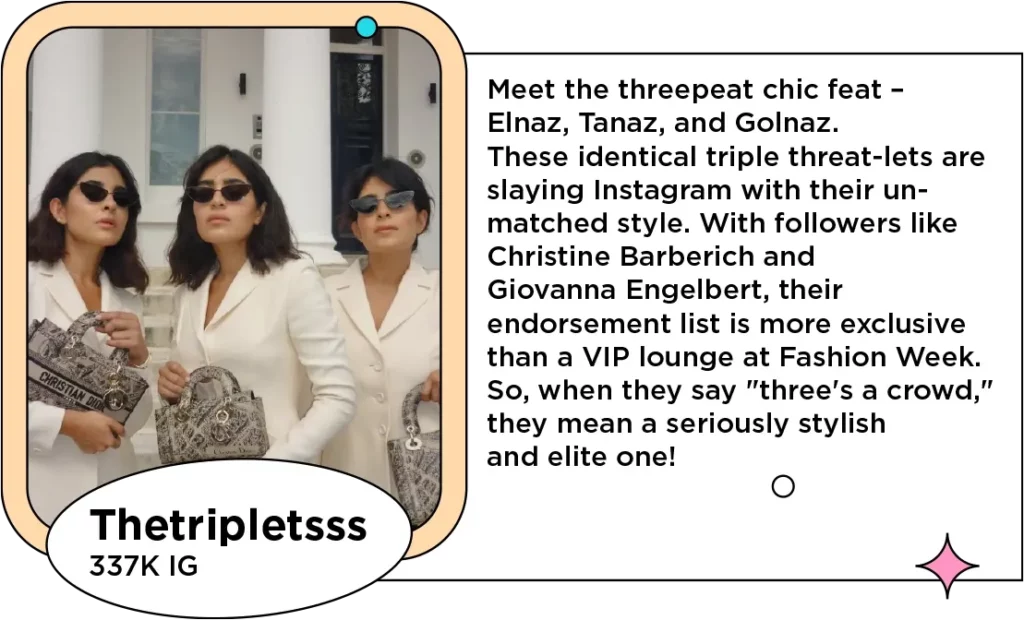 Meet the threepeat chic feat – Elnaz, Tanaz, and Golnaz. These identical triple threat-lets are slaying Instagram with their unmatched style. With followers like Christine Barberich and Giovanna Engelbert, their endorsement list is more exclusive than a VIP lounge at Fashion Week. So, when they say "three's a crowd," they mean a seriously stylish and elite crowd! 📸💃🏻👠👠👠
---
Sibling Influencers Shelcy and Christy Joseph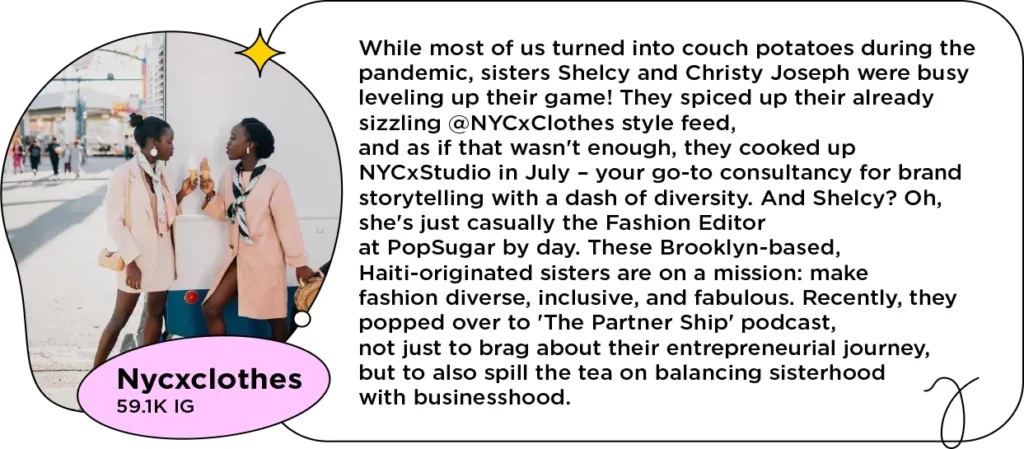 While most of us turned into couch potatoes during the pandemic, sisters Shelcy and Christy Joseph were busy leveling up their game! They spiced up their already sizzling @NYCxClothes style feed, and as if that wasn't enough, they cooked up NYCxStudio in July – your go-to consultancy for brand storytelling with a dash of diversity.
And Shelcy? Oh, she's the Fashion Editor at PopSugar by day. These Brooklyn-based, Haiti-originated sisters are on a mission: make fashion diverse, inclusive, and fabulous.
Recently, they popped over to 'The Partner Ship' podcast, not just to brag about their entrepreneurial journey, but to also spill the tea on balancing sisterhood with businesshood. 🌟👯‍♀️🎤👠
---
Twinfluencers The Dolan Twins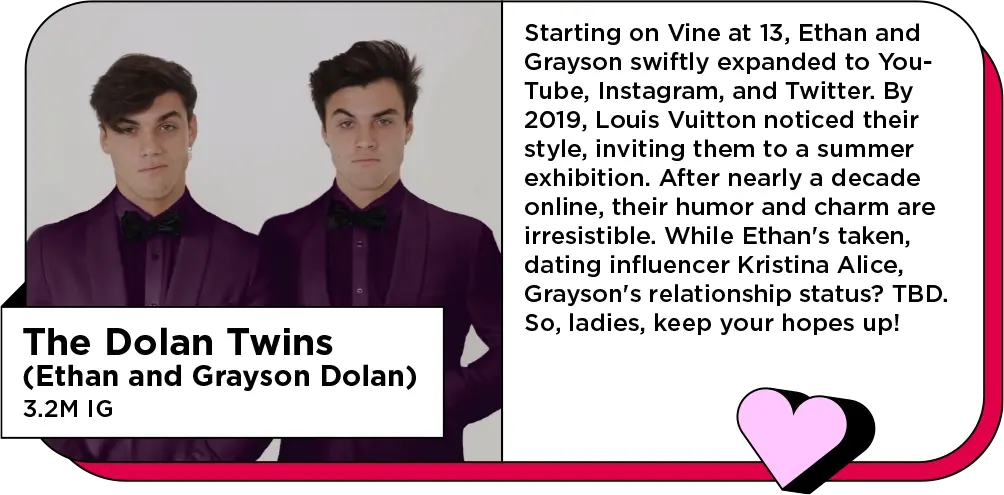 Starting on Vine at 13, Ethan and Grayson swiftly expanded to YouTube, Instagram, and Twitter. By 2019, Louis Vuitton noticed their style, inviting them to a summer exhibition. After nearly a decade online, their humor and charm are irresistible. While Ethan's taken, dating influencer Kristina Alice, Grayson's relationship status? TBD. So, ladies, keep your hopes up!
---
Sibling Influencers Omi, Rish, and Aash Jikaria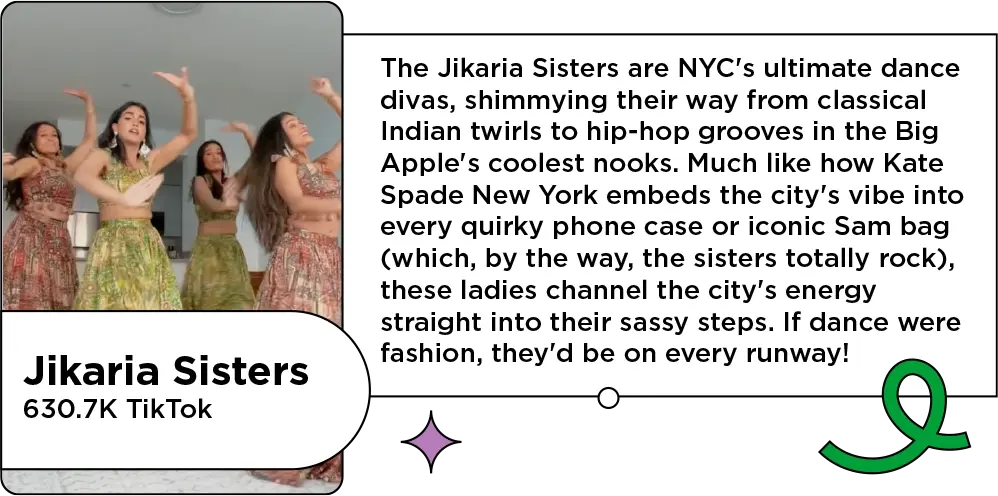 The Jikaria Sisters are NYC's ultimate dance divas, shimmying their way from classical Indian twirls to hip-hop grooves in the Big Apple's coolest nooks. Much like how Kate Spade New York embeds the city's vibe into every quirky phone case or iconic Sam bag (which, by the way, the sisters totally rock), these ladies channel the city's energy straight into their sassy steps. If dance were fashion, they'd be on every runway! 💃🍎👜
---
Twin Influencers Anais and Mirabelle Lee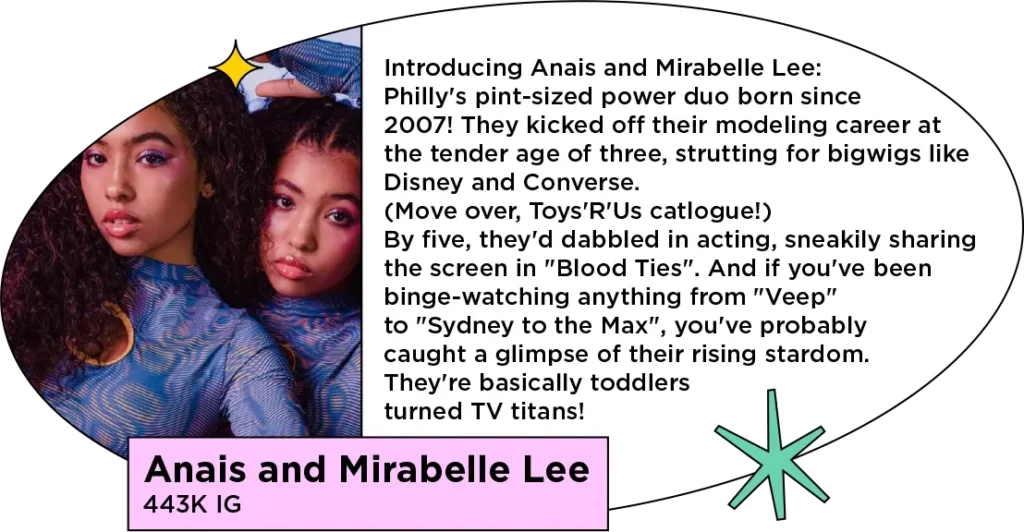 Introducing Anais and Mirabelle Lee: Philly's pint-sized power duo born since 2007! They kicked off their modeling career at the tender age of three, strutting for bigwigs like Disney and Converse. (Move over, Toys'R'Us catalogue!)
By five, they'd dabbled in acting, sneakily sharing the screen in "Blood Ties". And if you've been binge-watching anything from "Veep" to "Sydney to the Max", you've probably caught a glimpse of their rising stardom. They're basically toddlers turned TV titans! 🎥🌟👯‍♀️
---
Twin Influencers Niki and Gabi DeMartino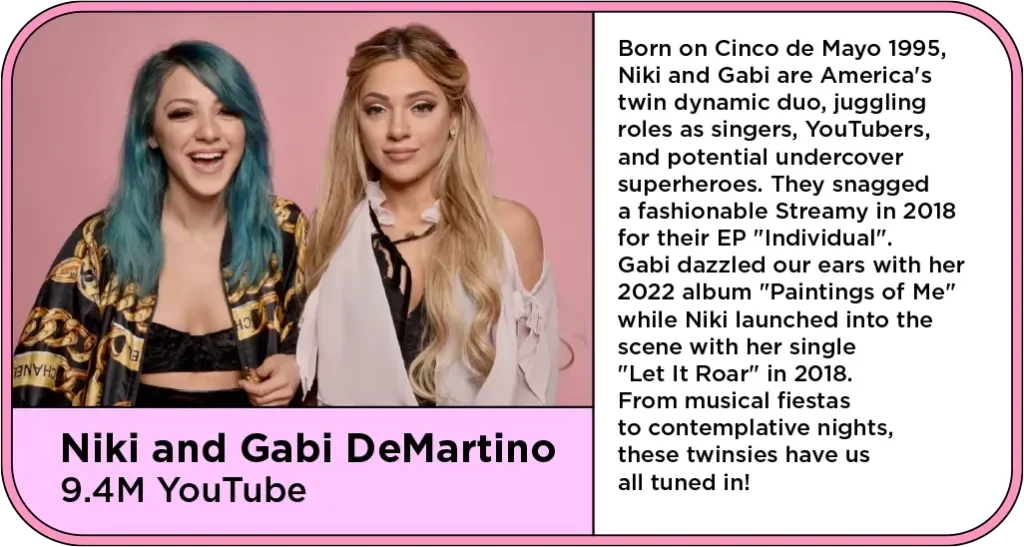 Born on Cinco de Mayo 1995, Niki and Gabi are America's twin dynamic duo, juggling roles as singers, YouTubers, and potential undercover superheroes. They snagged a fashionable Streamy in 2018 for their EP "Individual". Gabi dazzled our ears with her 2022 album "Paintings of Me" while Niki launched into the scene with her single "Let It Roar" in 2018. From musical fiestas to contemplative nights, these twinsies have us all tuned in! 🎸🎤🌟
---
Twin Influencers TK and Cipriana Quann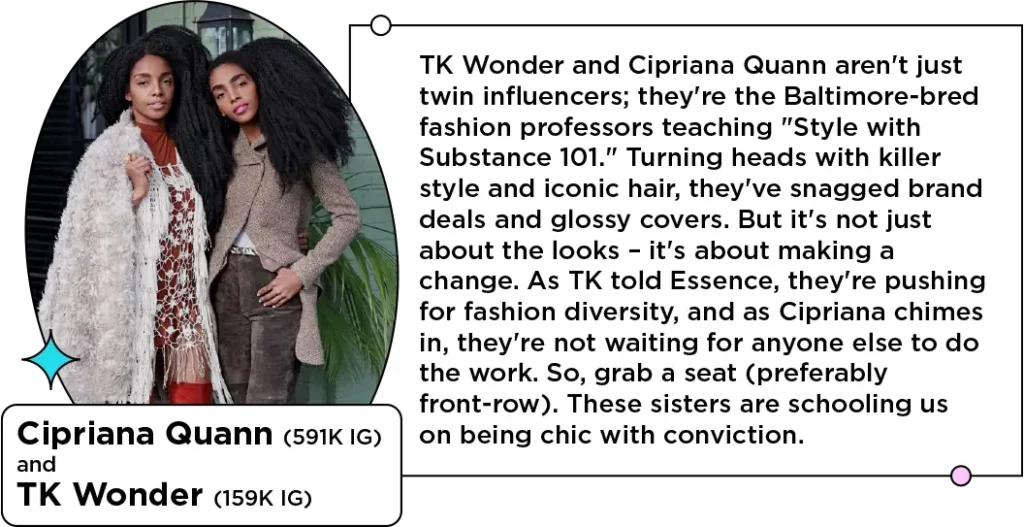 TK Wonder and Cipriana Quann aren't just twin influencers; they're the Baltimore-bred fashion professors teaching "Style with Substance 101." Turning heads with killer style and iconic hair, they've snagged brand deals and glossy covers. But it's not just about the looks – it's about making a change.
As TK told Essence, they're pushing for fashion diversity, and as Cipriana chimes in, they're not waiting for anyone else to do the work. So, grab a seat (preferably front-row). These sisters are schooling us on being chic with conviction.👯‍♀️📚👠
---
Sibling Influencers Patrick, Ronan, Conor, and Declan Moloney
From Chippenham, England, to TikTok stardom, the f0urbr0thers (yes, that's four bros, for those keeping count) are crushing it online. Kicked off by youngest brother Declan's bright idea during a lockdown dance-off, Patrick, Ronan, Conor, and Declan turned furlough boredom into viral content. Especially Ronan, whose personal TikTok game has 339.6K fans doing the "follow" jig. With a debut video that raked in 8,000 views overnight, Patrick recalls, "We thought, 'Why not? Let's dance!' And bam! Internet sensation." 🕺🎥🔥
---
Twin Influencers Brooklyn and Bailey McKnight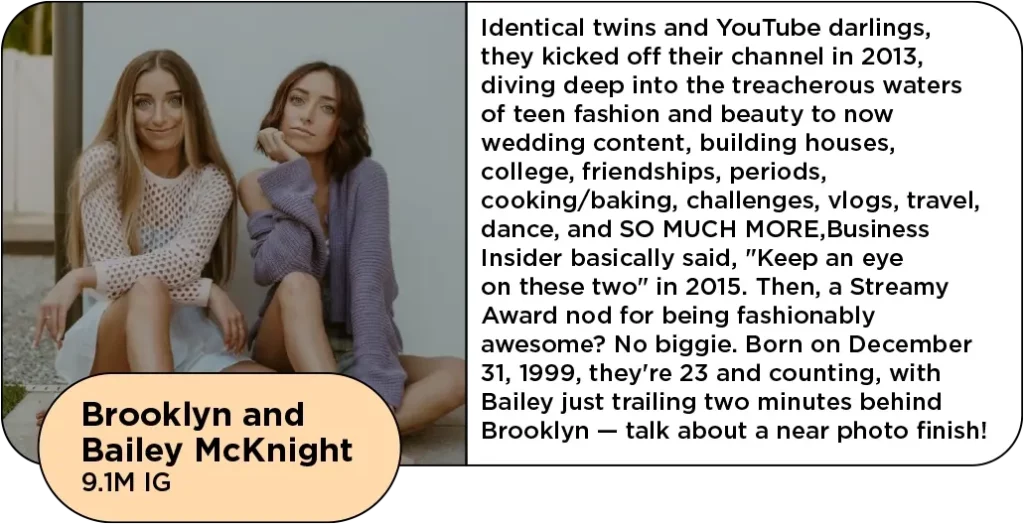 Identical twins and YouTube darlings, they kicked off their channel in 2013, diving deep into the treacherous waters of teen fashion and beauty to now wedding content, building houses, college, friendships, periods, cooking/baking, challenges, vlogs, travel, dance, and SO MUCH MORE.
Business Insider basically said, "Keep an eye on these two" in 2015. Then, a Streamy Award nod for being fashionably awesome? No biggie. Born on December 31, 1999, they're 23 and counting, with Bailey just trailing two minutes behind Brooklyn — talk about a near photo finish! 
Triplet Influencers Nicolas, Matthew, and Christopher Sturniolo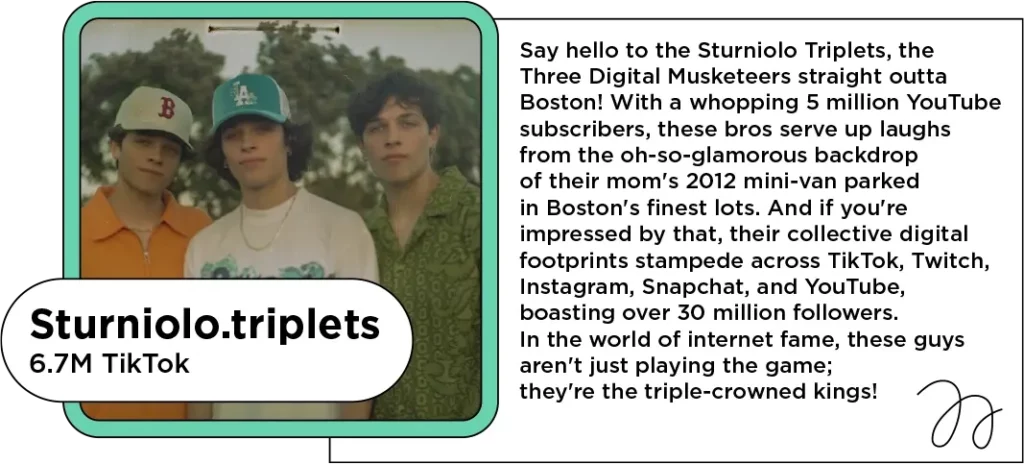 Say hello to the Sturniolo Triplets, the Three Digital Musketeers straight outta Boston! With a whopping 5 million YouTube subscribers, these bros serve up laughs from the oh-so-glamorous backdrop of their mom's 2012 mini-van parked in Boston's finest lots.
And if you're impressed by that, their collective digital footprints stampede across TikTok, Twitch, Instagram, Snapchat, and YouTube, boasting over 30 million followers. In the world of internet fame, these guys aren't just playing the game; they're the triple-crowned kings! 🚐👑🎥
---
Conclusion
You know what, it was actually pretty cool taking a look at the kinds of content these sibling influencers are making for social media. This roundup proves there's something for everyone on social and room for just about every type of creator. Did we leave someone off? Drop a comment and let us know!
Roundups are a great way to find out what's out there. But we know you can't rely solely on roundups to help you find all the creators you'll need for your next campaign. So, if you need help finding — and more importantly, vetting — influencers for your next campaign, The Shelf can streamline that process.
---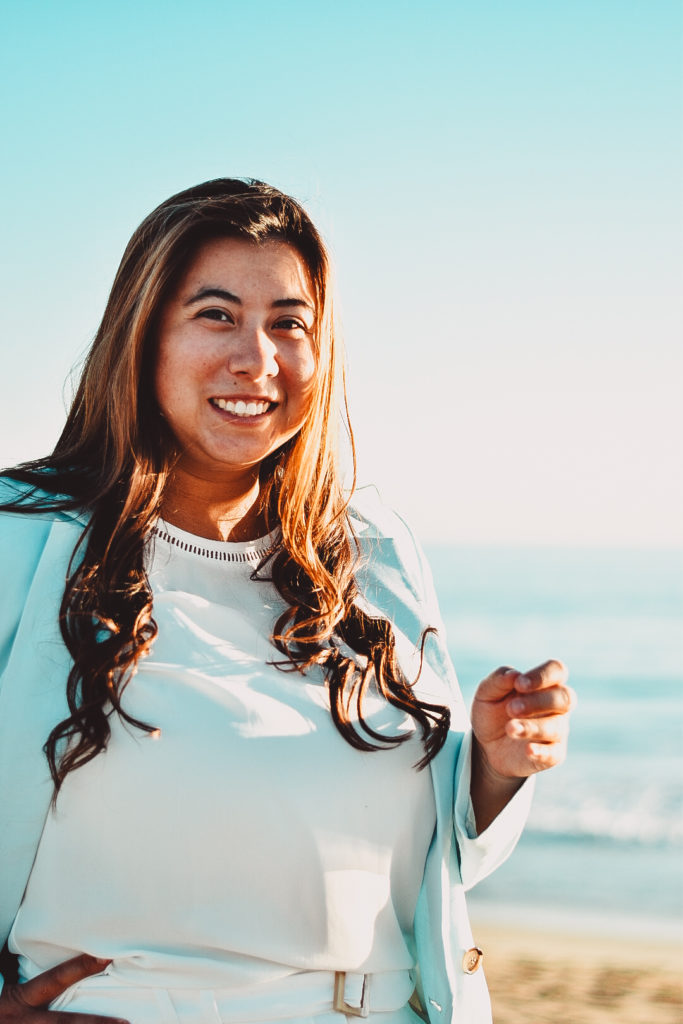 ABOUT THE AUTHOR
Abigail Welcom | Marketing Magician
Abby wins hearts and gains trust as our Brand Marketing & Outreach Coordinator. She puts her Film and Television Production degree to good use dreaming up visual marketing for The Shelf. When she's not dazzling us with out-of-the-box ideas, you can likely find her at The Happiest Place on Earth — Disneyland!
---