Fall 2019 has arrived. That means Pumpkin Spice….. everything has already made its debut… there's even a Pumpkin Spice Whiskey. Yes, you read that right – Pumpkin Spice Whiskey. Holiday decor is on store shelves, which means it's time for some fly DIY influencers who know a thing or two about holiday decor. And in the spirit of Halloween, we want to feature influencers who specialize in (or at least look like they do) DIY decor.
So, if you love Halloween and you're looking to liven up your decor (or your past creations have looked a little more on the trick side and less like a treat), take a look at these guys for some in-spoo-ration. (Sorry, I just had to!) Enjoy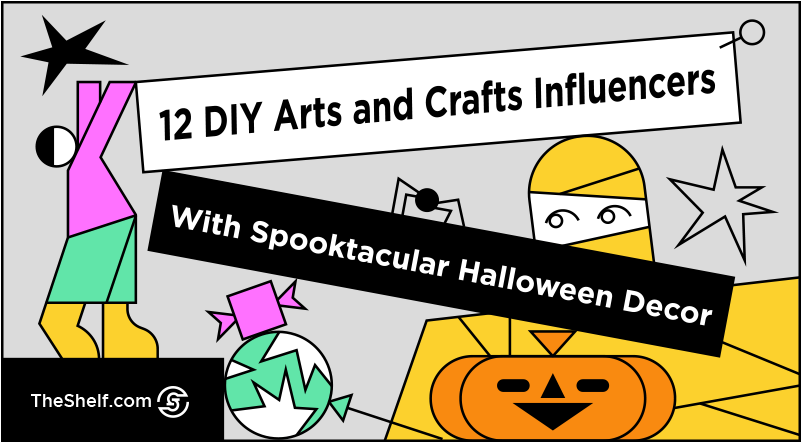 Elsie Larson and Emma Chapman
Instagram: @abeautifulmess
Blog: A Beautiful Mess
Let's start off with a bang! If you're looking to find your all-in-one, then the sister duo, Elsie Larson and Emma Chapman are your gals. Their blog, A Beautiful Mess offers an array of lifestyle pieces, recipes (cocktails too… yes please!), crafts, business advice and so much more! These two are homebodies and their mantra is " stay home and make something".
Elsie, shares a lot regarding her and her husband's adoption journey for their girls, Nova and Marigold. They encourage other families who are going through their own adoption journey. While sister, Emma can be found supporting her sister, baking something sweet, or cozied-up to a book!
Not only are these sisters into blogging, but they also have other businesses for photo apps and give back to their community! Down below, is a fun Halloween decor of houses you can paint and add your own spooky flair !
Renee Day
Instagram: @thediyday
Blog: The DIYDay

Renee Day is pretty awesome. She ties her love of creativity with her passion for helping others and turns it into artwork. Renee creates journals, stationery, and other unique items. She designs her journals in different themes so that they're truly one of a kind.
Cool insights about Renee for you: She has a background in photography AND in marriage and family Therapy… and she discovered that including art in her therapy sessions is quite useful for those who had a hard time "using their words" as she described. We all go through things at some point or another, and art is one powerful way to incorporate some much-needed (rather therapeutic) fun into your life! Go Renee! Take a look at these cute pillow boxes!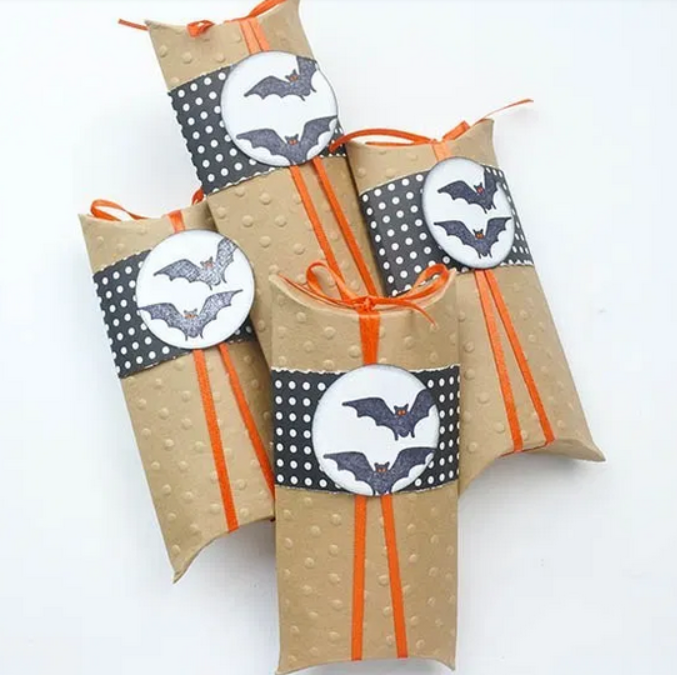 Sarah Rivero Khandijin
Instagram: @sarahhearts
Blog: Sarah Hearts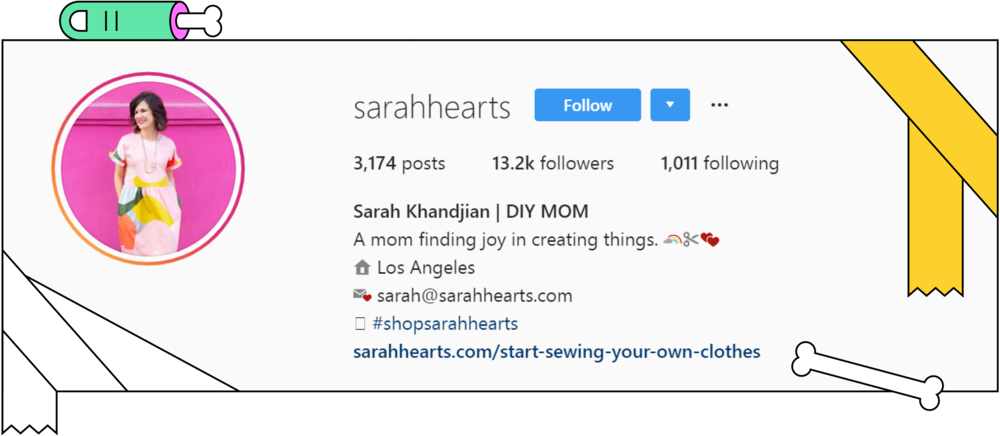 Sarah Rivero Khandijin is a Graphic Designer-turned-DIY blogger. She's always had a knack for art and design though. Not long after going to school for graphic design, she developed a love for color, and thus a DIY blogger was born!
Sarah's a new mom who enjoys sharing her love of art with the world. She started out designing little bags and soon found her way to designing and redesigning just about anything. If you happen upon her Instagram (which you totally should), you'll be kissed with color and sunshine! She even sews and designs digital wallpaper! This is a woman who's both old school AND modern cool wrapped in warm cuddles.
Okay… so take a look at the screenshot below. Sarah adds a bright, modern flair to a classic – the ole pumpkin. Instead of carving it, she opted for some fun beach vibes – striking colors and big palm leaves. It's bright, it's fun, and it travels well from Summer to Fall. Not to mention it's a whole lot cleaner than chopping up a pumpkin, right? No gooey mess or seeds, unless you like that kind of struggle.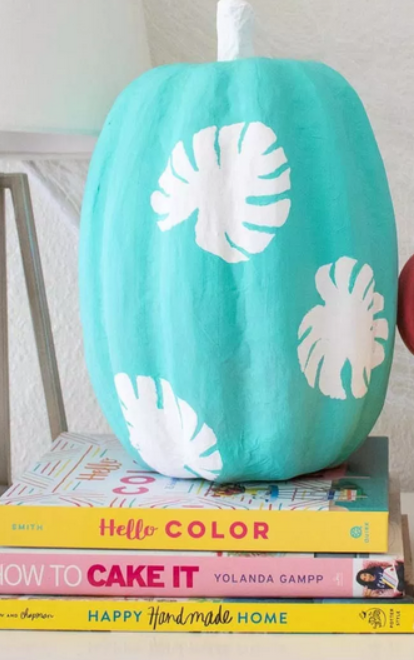 Rachel Faucett
Instagram: @handmadecharlotte
Blog: Handmade Charlotte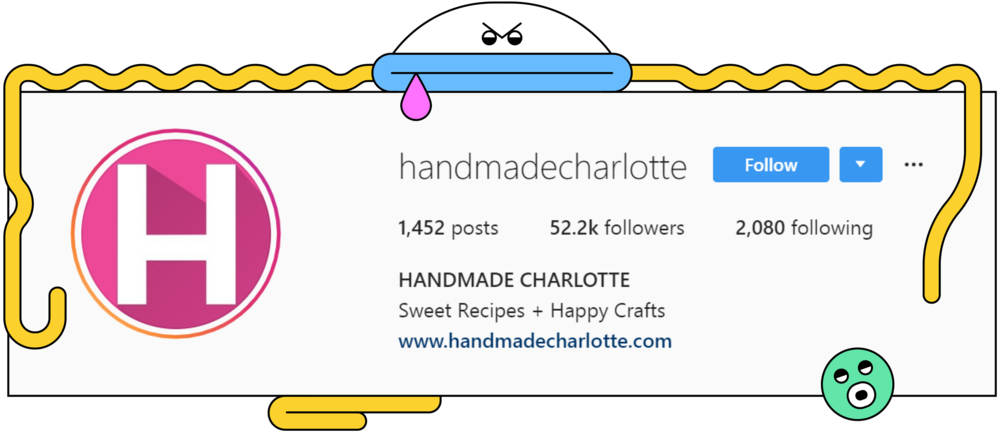 This blogger is basically Super Mom! She has five kids and is proving that with some imagination and love, you get Handmade Charlotte! Rachel Faucett is showing us how life's done! Not only has she been voted one of the top 20 most influential bloggers (go ahead, momma!), she's also been voted and named one of 50 top mom bloggers by Babble.com.
You'll also catch her in Martha Stewart Living, HGTV and, actually, I'll stop with the name dropping, so you can head over to her blog yourself and check out the other amazing work she's done. Like, go now to her site! Now that you've picked your jaw up off the floor, take a look below at some cute and creative little pipe cleaner skeletons! You're welcome!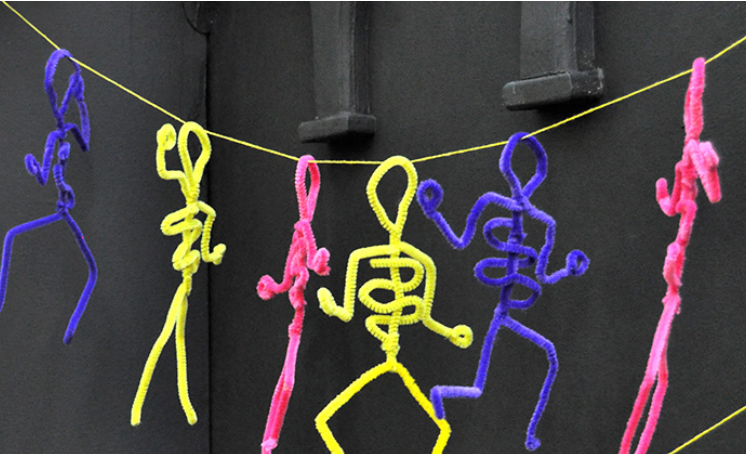 Carodiy (Caroline)
Instagram:@carodiy
Blog: Madmoisell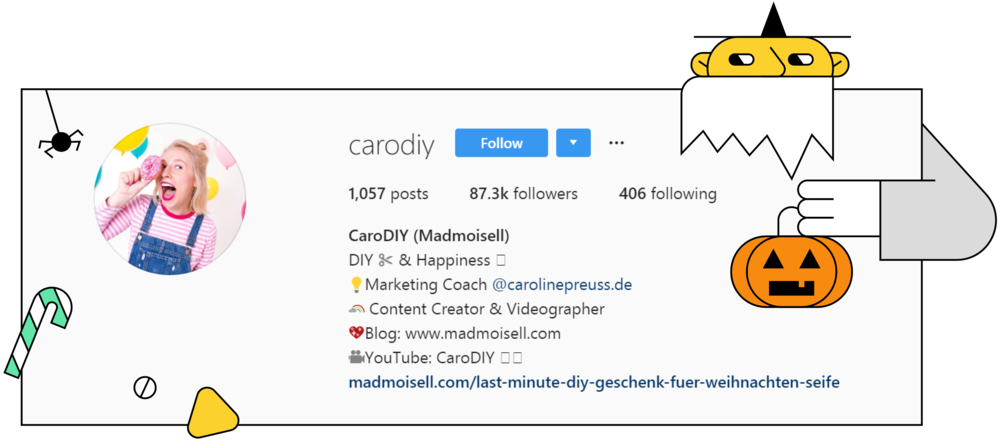 Caroline is the fun behind CaroDIY. For she is the wind beneath your do-it-yourself wings… she gives life. If My Little Pony's Pinkie Pie could morph into a human being, Caroline would be it. She is the "YAAAS QUEEN" to all things girly! If you love pink, pink and more pink, Caroline's blog is where you need to be.
Now, a bit of a disclaimer here: I'm not sure about your German, but mine is a tad rusty (never mind the fact that I'm married to a German…that's neither here, nor there, nor anywhere). I bring that up because Caroline lives in Berlin, Germany – BEAUTIFUL city, by the way – and she speaks German on her channel. But don't let that stop you from visiting her Instagram or her YouTube channel. She has just about anything you'd like to design on her channels. And when I say just about anything, I mean anything. She's quite talented.
Not only is Caroline a DIY Queen, she's also a content creator and marketing coach.Check out these adorable ghosts she's made!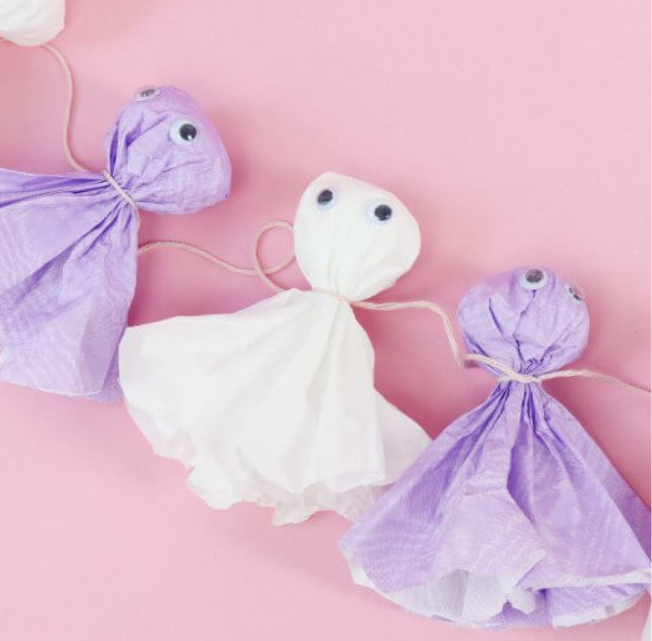 Dawn Lopez
Instagram: @cutefetti
Blog: Cutefetti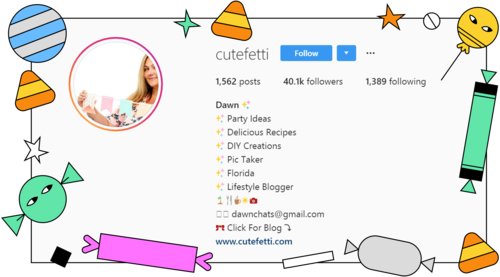 M-I-C-K-E-Y M-O-U-S-Eeeeee! Calling all Disney fans! If you love a great pair of mouse ears, you're in the right place! The creator of the Cutefetti Blog, Dawn Lopez is quite the fangirl of Disney. Keep that in mind when you visit her blog and Instagram page because you're bound to see a pair of glittery mouse ears.
Much like the other bloggers included in this roundup, Dawn is also a mom who loves all things creative. She is quite inspiring because she not only wants to create cute things, she also wants to inspire other women to do the same.
Your passion may not be to create DIY projects as much as she does, but if you do she wants to help you feel like you can. More importantly, she puts out the message that believing in yourself and following your dreams is a legit path to success.
Dawn's blog is set up to serve as a fun place for women to have their respective creative sparks ignited. When you jump to her blog you'll see some pretty cool ideas for Halloween… like this one for Trunk or Treat, a safer way for all your ghouls and monsters, or more recently your little superheroes to trick or treat.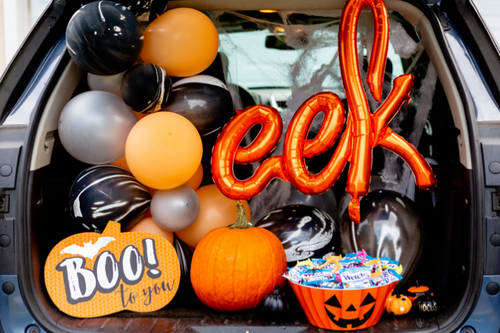 Sadie
Instagram: @sadieseasongoods
Blog: Sadie Seasonsgood

Sadie's mantra is " Living a firsthand life using secondhand things". Pretty clever, right? She repurposes previously owned items into something beautiful, new, and creative. Sadie does her best to use what she has and avoids making trips to the store if she can. She believes just about anything can be assigned a new purpose and turned into something beautiful.
We don't mean taking an old stationary bike that was once someone's path to fitness and "repurposing" it as the place you hang dirty clothes after you spend 14-hours on your latest rush project. I mean upcycling! Doing something cool, creative, and new with stuff that honestly has probably seen better days.
Here's a cute and simple idea Sadie shared that will help you with low-key, low-cost Halloween decor. Cover up a messy, old, or uninspired-looking table and make it the perfect Halloween pit stop.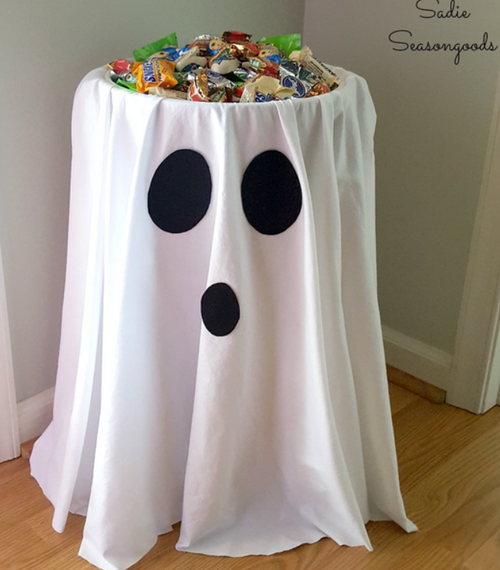 Vanessa Rodriguez Coppola
Instagram: @seevanessacraft
Blog:See Vanessa Craft

Vanessa's background is in communications and social work, and you totally get that vibe from her blog. She's done a great job of communicating exactly who she is and what she's about. Vanessa believes in living life to the fullest and spreading creativity through crafts, recipes and travel. Yes, please!
She's mom to a boy and girl who love dressing up in just about anything their mom creates… and they're adorable and Vanessa's DIY creations are, too. Check out Vanessa's blog for yummy recipes and cute crafts!
Like these holiday-inspired Halloween bouquets made of cupcakes! YUM!!( in my Rob Schneider voice from The Hot Chick, check that out if you haven't seen it !!).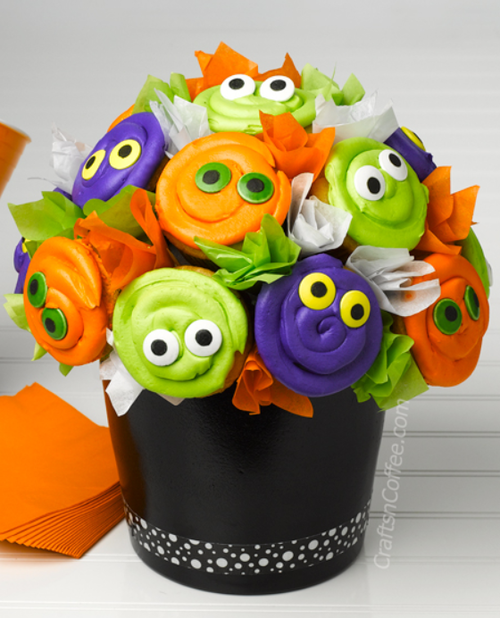 Angie Holden
Instagram: @countrychiccottage
Blog: The Country Chic Cottage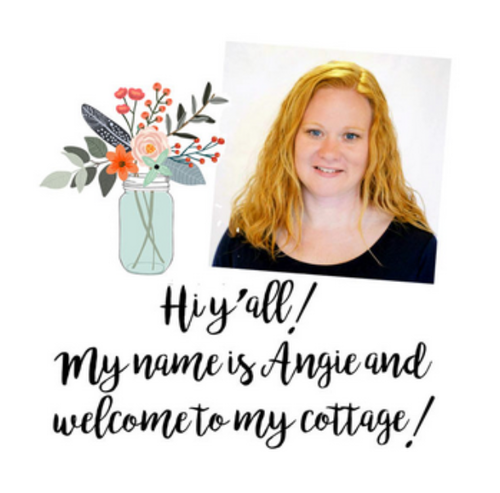 Angie Holden is the genius behind Country Chic! She's pretty straightforward in her approach, which is clean, simple, and fun! She describes her blog as having a farmhouse feel, inviting people to take an adventure with her and create some fun crafts.
Angie admits to still figuring everything out, but in reality, who isn't ?! When you head to her blog, you'll see some nifty crafts for all types of minds. If you love gardening, Ms. Angie's got you covered. If you don't have a garden, a little patio perhaps, she'll have your little space like a page right out of a top gardening magazine! Angie has many easy to do DIY ideas for the Halloween season! It's so hard to pick just one!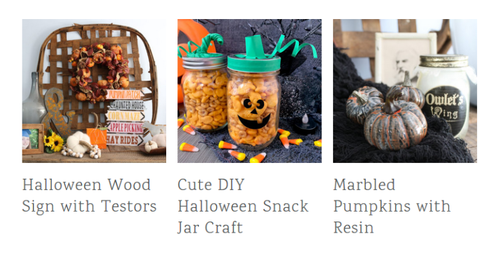 Stephy
Instagram: @prudentpennypincher

I love this DIYer's blog name! It makes me laugh just saying it. Don't judge me! Stephy's blog is all about helping people create the cutest crafts and recipes for just about anything! If you're on a Keto diet, take a look at her site where she has 100 recipes for Keto alone! If you're looking for crock pot ideas, she has 100 recipes for crock pots.
Stephy wants to help people save money and feel good about their own DIY efforts. Here's a pretty cool Halloween-y example of her handiwork – a cool lantern she made! This one's simple and you can change the look to reflect different seasons.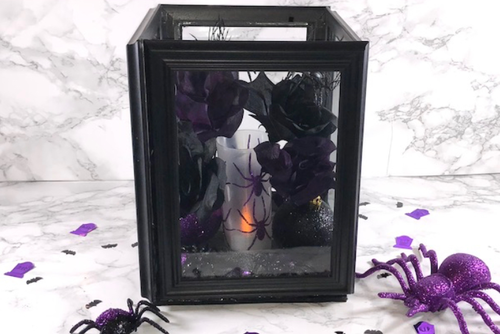 Laura
Instagram:@turquoisehome
Blog:The Turquoise Home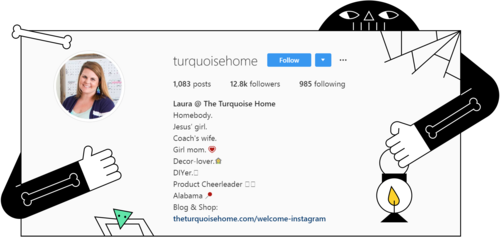 Laura is probably my spirit animal in writing! If you're interested in craft ideas that are both beautiful and simple, she's the lady for the task! Take a gander at her blog and Instagram and you're going to LOVE them. They're pretty, striking, and seamless with little pops of muted color.
Now, if you need a pick-me-up or an encouraging word, just head to her About section and read! You'll leave feeling like you can do just about anything you set your mind to, be it DIYing or just life. I'd say she'd feel accomplished because that's what she wants her readers to feel – accomplished and inspired. Here is her version of holiday pumpkins.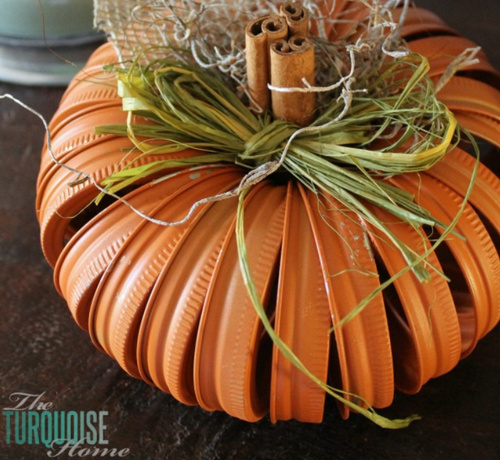 Brittni Mehlhoff
Instagram: @paperandstitch
Blog: Paper and Stitch

Rounding off this blogger round up, we have the outstanding Brittni Mehlhoff and her fabulous blog, Paper and Stitch. Much like the other blogs mentioned, she seems to do everything from travel, to baking to design.
Brittni has a background in painting and drawing and used to be a high school teacher. She started her blog back in 2008 and not long after, she was able to quit her teaching job and pursue her blog full-time. Click on the link below to check out the spooky-looking cocktails. They're sure to be a crowd pleaser and great conversation starter!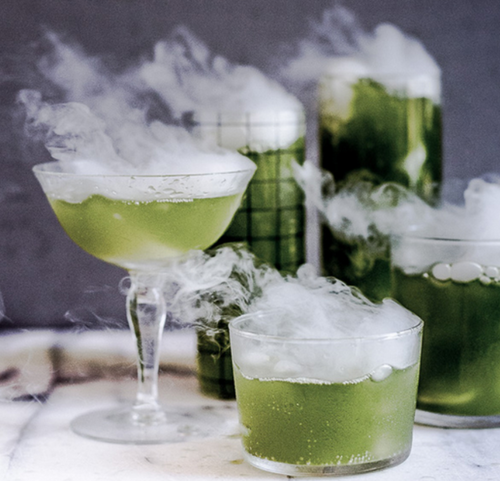 Conclusion
DIYers rock. They really do. And this time of year, being able to partner with a talented creator who's also great at making things and teaching others to make things is a valuable ally to have for your holiday campaigns.
So, comb through this list, take a look at some cool blogs, and see if any of the DIY influencers mentioned here may be a good fit for your year-end campaigns. And…
If we missed anyone who's on your list of top DIY influencers, give us a shout. Happy Halloween!