Whether traveling for a living or just for leisure, doing it in style doesn't come naturally to all of us. When it comes to fashion bloggers though, they always seem to master majorly chic travel style.
Their fabulous trips also open up loads of opportunities for brands to get in on the action, whether they're sponsoring the entire trip or just a portion of it, and position their product in a totally unique setting.
Ahead, we're sharing 12 fashion bloggers with the chicest travel style around.
Travel Bloggers With The Best Style: 12 To Follow Now
While she was once confined to a New York City cubicle, this free-spirited soul quit her day job to go explore the world. She started a travel blog about her expat life in Italy and since then has established a full-time career as a traveler, creating video diaries of her adventures, shooting style spreads around the world, and sharing travel tips on TV. Further proof that this travel blogger has style in spades, she uncovers the styles of the world in her show, State of Style.
As Kiara puts it on her blog, she was "Born in Vancouver, raised in Switzerland, California dreaming, and always reaching for the stars". While Kiara is currently based in Vancouver, travel and exploration are a big part of her life (currently: Tokyo). Even in her own city you'll find her exploring everything around her, just as a tourist would, but with a whole lot more street smarts. Inspired by her free-spirited soul, she recently launched a clothing line called Dream Catcher The Label and it's been getting the attention of wanderlusts all around the world.
Lorna started her blog on a whim after experimenting with visual content on Instagram. Now her blog covers her daily inspirations, passions, and plenty of wordplay to accompany her unique photography. This North of England native is now settled in the South but can often be found traveling and documenting her outfits as she goes. As her blog implies, she takes more of a luxe approach to everything she does, which means she carefully curates all the content she shares with her readers.
A blogger roundup wouldn't feel complete without Rumi Neely. The ultimate California girl, her blog is a sartorial feed filled with West Coast style snaps you could literally peruse over for hours. It's no surprise that just about every brand wants to work with her and every girl wants to be her. While based out of LA, you'll often find Rumi on the road, hitting up Coachella, a fashion week, or some sought-after destination.
While Alanna is primarily considered a style blogger, she's been on the road a lot lately. And when she does travel, her vacations are fashionably documented by her significant other. Her travels have most recently landed her in San Juan (where she devised an insanely cool video, highlighting her stay at the Marriott Resort), along with Puerto Rico and Mexico. Whether you want to follow her travels or just her day-to-day, you're definitely in for a stylish treat.
We hesitated to include Yvan in this roundup as he prefers to be referred to as a cultural explorer and branded entertainment maker, not so much a blogger. But since he travel 'blogs' more than anyone we know, and masterfully documents it all, he earns a spot in our top 12 list without a doubt. Yvan makes a full-time living out of exploring new cultures, documenting his journeys, and sharing it all with the world. Whether documenting his travels in his visual diary, capturing interesting characters and street style on Facehunter, or just entertaining us on Snapchat (mrfh), style manages to surround him.
Cara, the beautiful blogger behind A Fashion Love Affair, calls Vancouver her home but is often found jetsetting from fashion weeks to festivals to tropical destinations. Fashion (a la little white dresses) and beauty (mainly with the XO Styling Iron) are the main focus of her blog but her travels and brand work are gorgeously weaved throughout. A beautiful spirit and stunning style to match, Cara is the one to work with as far as fashionable travel bloggers go.
On a mission to avoid the 9-5, Amy has established herself as a creative brand and talent consultant. Her blog is a visual expression of her travels, personal style, love of culture, and passion for music. As a travel and lifestyle blogger she's had the opportunity to work with big brands, such as Jaguar, Chevrolet, Harrods, and Starwood Hotels. Her fashion influence has earned her recognition on Refinery 29, Cosmopolitan, New York Times and Elle, just to name a few.
Fabulous Femme is where you'll see all things Souri loves about life, through her lense. She's an Australian blogger and photographer from Melbourne but sometimes her camera takes her to other beautiful destinations, allowing her to share creative portraits you wouldn't normally see. Her blog is a combination of fashion, travel, lifestyle, and events.
The blog name, Euriental, derives from Kamara's European and Oriental background (she's half English and half Chinese). Still in the early stages of blogging, Kamara created Euriental to document her personal style and experiences. Through her blog she shares all of her adventures, especially her infatuation for travel, fashion, and food.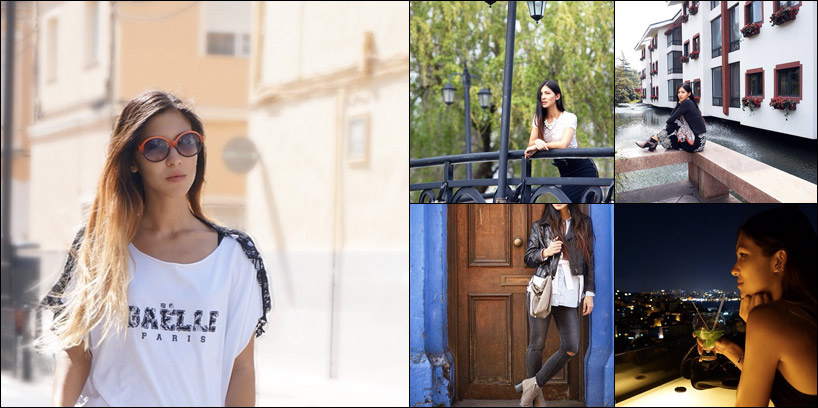 Mirror Me is a fashion, travel, and lifestyle blog. The founder behind the blog, Fisayo, draws inspiration from the countries she visits, such as Africa, Asia, Europe, and the Middle East. While normally based in London, she has a passion for exploring the world beyond her shores and doing it stylishly, no less.
With Chanel in one hand and her passport in the other, Jasmin always travels in style. Her blog focuses more on her personal style, with her travels weaved throughout. Head on over to her Instagram account and you'll be blown away by beautiful backdrops, especially thanks to her most recent visit to Sumba Island. She even has her own jewelry line, made for the eternal wanderlusts and nomadic souls out there.