The ability to simplify means to eliminate the unnecessary so that the necessary may speak. ~Hans Hofmann
In a sea of over-the-top ensembles, a minimal aesthetic can be totally refreshing. Especially as we leap into 2015, minimalism is top of mind for many. But if you want to lead a minimal life, assessing your wardrobe is a great place to start.
Don't get us wrong – we love bold style – but these bloggers are making a seriously compelling case for effortless and minimal style. As we are trying to keep things 'minimal' here, this list of seven should inspire you to start living – and dressing more intentionally.
Minimalist Style Bloggers: Ones To Watch
This New York-based style blogger has perfectly minimalist style. You will only find her in shades of black, grey, white and nude with silver accents and that's just fine by us.
The Chronicles of Her brings a classic twist to minimalism with clean tailoring, modern silhouettes and impeccable details. Whether it's a simple button-down, blazer or all black suiting, she is always styled to minimalist perfection.
MyDubio / Joyce Croonen
MyDubio is completely catered to the minimalist style lover – from shopping and outfits to interior design and DIY projects, Joyce shares a mix of designer duds and the perfect key pieces that don't break the bank.

Related Post
How to Do Blogger Outreach (Includes Templates)
afterDRK / Sabrina Meijer
afterDRK was launched with the intention of appealing to those with an appreciation for simplicity, though always with an edge. It's this fresh take on minimalism that makes her stand out from the rest. 
Moi Minnie is simple style with an attitude. Basics are chic in her style book. Working with neutral colors and cuts, she thinks of basics as a blank canvas with unlimited possibilities.
Mija / Mirjam Flatau
Mija works denim and knits into just about every outfit and nails 'effortless chic' every time.  While her style appears simple, the details – wide-brim hats, beautiful watches and leather sacks – shout out loud.
Un-Fancy / Caroline Joy Rector
Un-Fancy has 37 pieces in her wardrobe – and counting. She uses these pieces to share her daily outfit ideas and inspire others to make minimalism work for their closets. 
What do you think about minimalist style? Have you thought about living and dressing more intentionally for 2015? Share your thoughts in the comments!
Want to make influencer marketing your most profitable channel yet? These resources will help you kick your campaigns into the next stratosphere! Buckle up.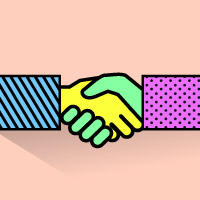 Related Post
How to Roll Out Your First Influencer Campaign (and what to expect when you do)

Related Post
Why Bloggers Charge for Sponsored Posts (and why you should be okay with it)

Related Post
Hands Down, the BEST Instagram and Stories Takeovers (and why they worked)