Skip Playing Favorites. Our Blogger Roundups Are Actually Created Using Data from The Shelf Influencer Marketing Platform
I had a blast a few weeks ago using our database to choose 17 of the most popular and engaging influencers on the continent of Africa.
For the sake of clarity, I work at The Shelf, a data-driven influencer marketing platform.
"Another one?" you ask.
Well, yeah. But we're, like, really good at it. With clients like Pepsi, Live Nation, Famous Footwear, Lowes, Neutrogena and eos… we pretty much kick butt and take names.
BUT… the campaign management part of the business isn't my thing. I'm actually the head of Content Marketing, so I don't get to geek out with our database as much as our Account Managers do. So this is a BIG DEAL for me.
Anyway, I want to tell you this story because I know most brands have no clue how to sift through influencers to find the best ones for their campaigns.
In 2016, Econsultancy reported 73 percent of marketers list identifying the right influencer as the most challenging part of influencer marketing. Last year, eMarketer said 55 percent of marketers still have trouble vetting influencers.  
So, I wrote this post to show you in the next 5 minutes or so how I was able to whittle down a pool of 453 million Internet users in Africa to 1254 potential influencers, and finally decided on 17 super stars for our roundup of African influencers.
How Did You Get to 453 Million People, Girl?
There are 54 countries on the continent of Africa, and besides obvious places like South Africa and Nigeria, I didn't really know which African countries had populations that were most active online. Rather than trying to find influencers in all 54 countries, I decided to save myself some effort and do a little preliminary research before starting on this particular roundup.
For instance, Internet World Stats gave me a list of African countries with up-to-date Internet user numbers. There are 1.28 billion people living on the continent, of which 453 million are Internet users. That's a lot of folks. So, my first goal was to just identify the 10 countries with the highest numbers, which were:
Nigeria with 98.4M Internet users
Egypt, 49.2M Internet users
Kenya, 43.3M Internet users
South Africa, 30.8M Internet users
Tanzania, 23M
Morocco, 22.6M
Uganda, 19M
Algeria, 18.6M
Ethiopia, 16.4M
Mali, 12.5M
That's pretty much what I expected with the exception of Mali, Tanzania and Uganda which weren't initially on my radar.
As I looked over the list, I began to wonder what influencers in Mozambique and Senegal were like. So, I expanded my list to include any country with more than one million Internet users. In the end, I was looking at social media activity for 1,254 social media users in 26 African countries.
No small pool, I know. #anotherfinemess
The screenshot below is of the list of countries I initially entered into our database after a little light research on InternetWorldStats.com.

Segmenting the Profiles with Filters
With 98M and 49M Internet users respectively, Nigeria and Egypt had plenty of influencers from which to choose. I wanted to start with those to ensure my entire roundup wasn't made up strictly of influencers from Nigeria and Egypt.
I filtered down the massive pool of candidates by only including social media users whose engagement ratios ranged between two and five percent. I pulled a couple of influencers from that list, including Dina Tokio and Diana Moss featured below.
I also decided to forego celebrities in favor of content creators. I wanted a roundup of people who were famous because they created content, not people who created content because they were famous.
To give my list more variety, I conducted several searches, changing the location for each search. I included three to four countries at a time in each search. That made it easier for me to find influencers in places with smaller Internet user populations like Benin, Angola, Burkina Faso, and Cameroon. I excluded influencers from Egypt, South Africa, and Nigeria in these searches.
I also applied several more filters. The Shelf dashboard lets me input various criteria to find and vet influencers like location, follower counts, engagement rate, gender, categories / verticals (like fashion, food, kids, travel), number of Likes, number of shares, and number of comments. As well, I can do Boolean searches, meaning I can combine search terms and add qualifiers like AND and NOT.
Profile Data
Next, for each profile that appeared in the search results, I looked at the profile data, which includes seven useful charts. I've grabbed screenshots of actual charts from the profiles of several African influencers so you can see what they look like.
CHART #1: SOCIAL FOLLOWERS & ENGAGEMENT
Gives and overview of follower counts, post frequency and engagement.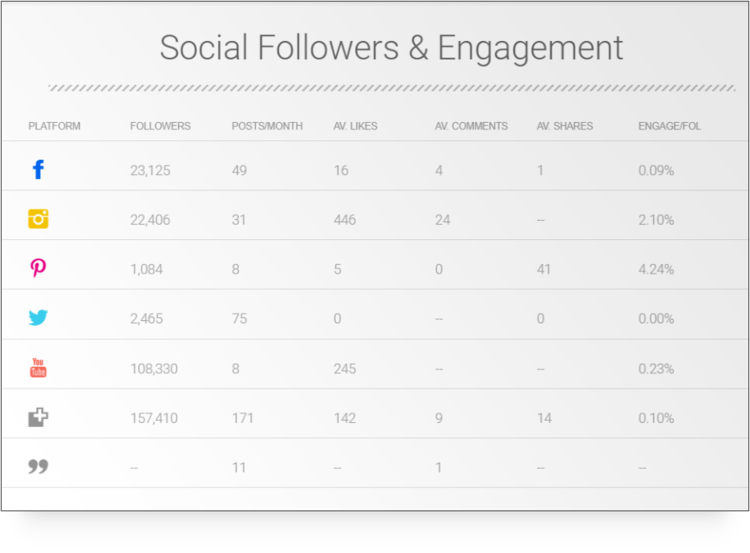 CHART #2: FOLLOWER GROWTH
We can track follower growth over a three-year period. This is our fraud detector. A growth chart that has sections on it that looks like a staircase – regardless of the number of stairs – is an immediate indicator the influencer has bought [fake] followers at one point or another. Bought followers weaken influence.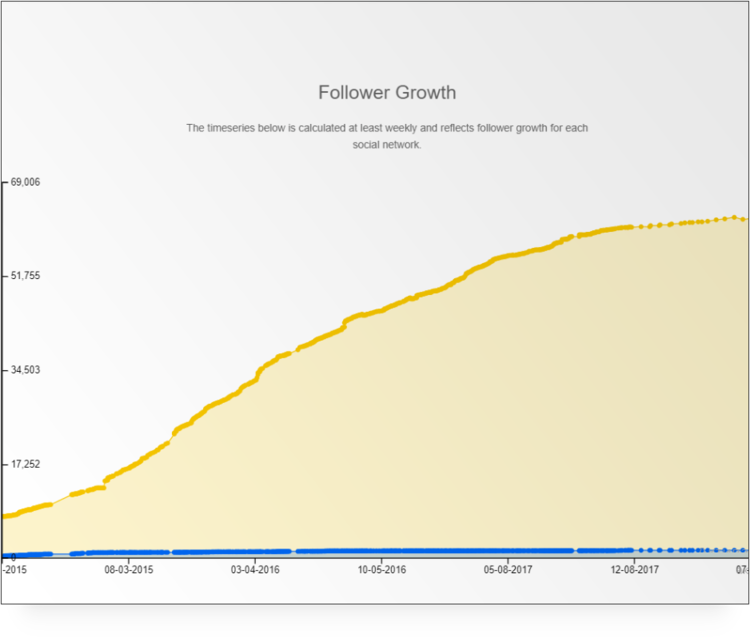 CHART #3: TRAFFIC AND AUDIENCE DATA
For influencers with blogs, this lets us get a look at their blog traffic for the last 12 months.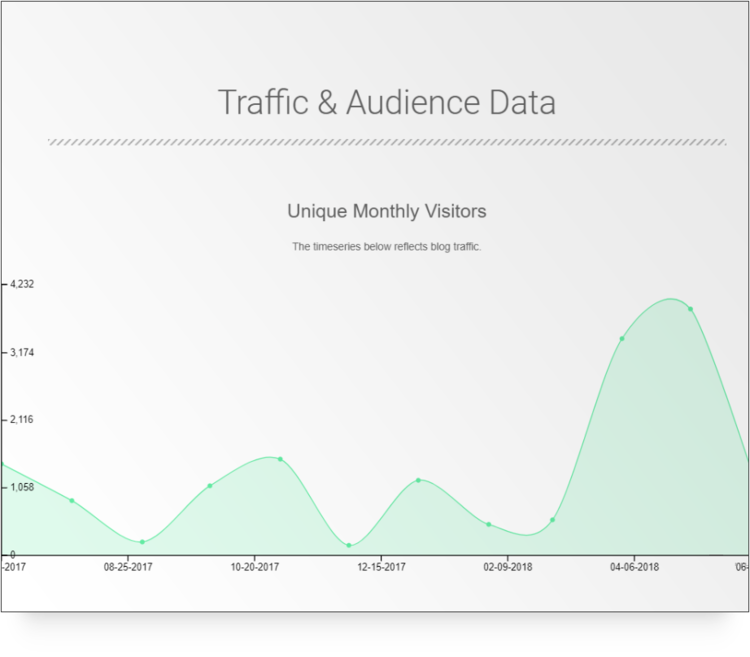 CHART #4: DEMOGRAPHIC DATA
The demographic data lets us know which generation(s) makes up an influencer's audience. This helps brands with campaign targeting. I considered including an influencer I found who is an artist who works in lead. His entire audience was 100 percent 35 years and up. He barely looked 35 himself. His art was pretty dope, though.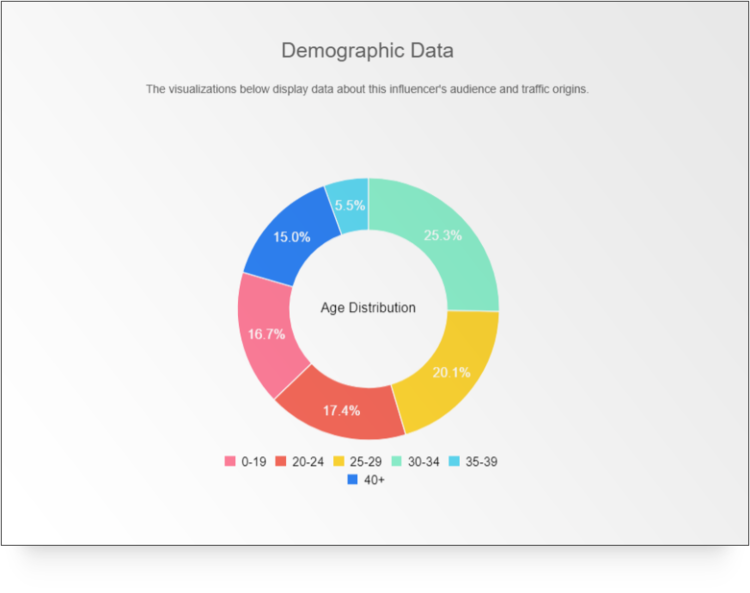 CHART #5: BRAND MENTIONS
This one is my favorite chart because it helps marketers to get a much better understanding of whether the influencer is a good match for their specific products and campaigns. This particular chart I pulled from a stylist who is from Africa but living in Denver. I didn't include her in the roundup but you can see from the wide range of designers and department stores included in this chart that she's all about fashion and lifestyle. I can hover over each little bubble to see the full name of the brand and find out how many times its been mentioned by the influencer.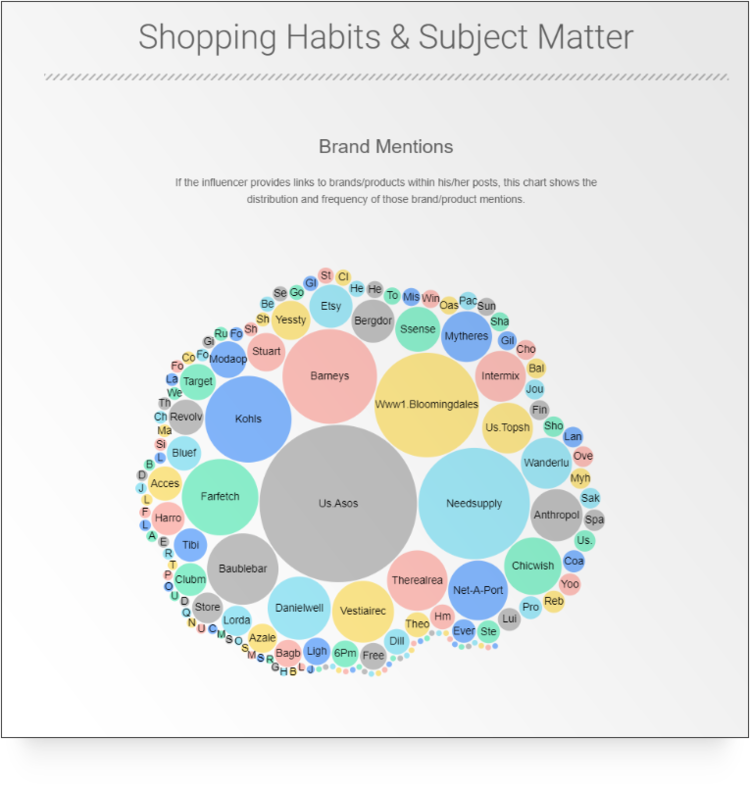 CHART #6: CATEGORY COVERAGE
Category coverage tells me the verticals in which an influencer actually holds some sway. That way marketers don't make the mistake of getting a 50-something solo traveler to sell Osh Kosh to Millennial moms. With this chart, I get to see the percentage of an influencer's online conversations that fall within certain verticals.
I can also see the most-used hashtags and at-mentions. So, the influencer below isn't the person you want selling your travel packages – only two percent of her only conversations mention travel. But judging by her hashtags, she would probably be a good ambassador for hair accessories, hair care products, or even a workout headband that keeps your hair from being a mess when you're done at the gym, like the headband created by actress Nicole Ari Parker.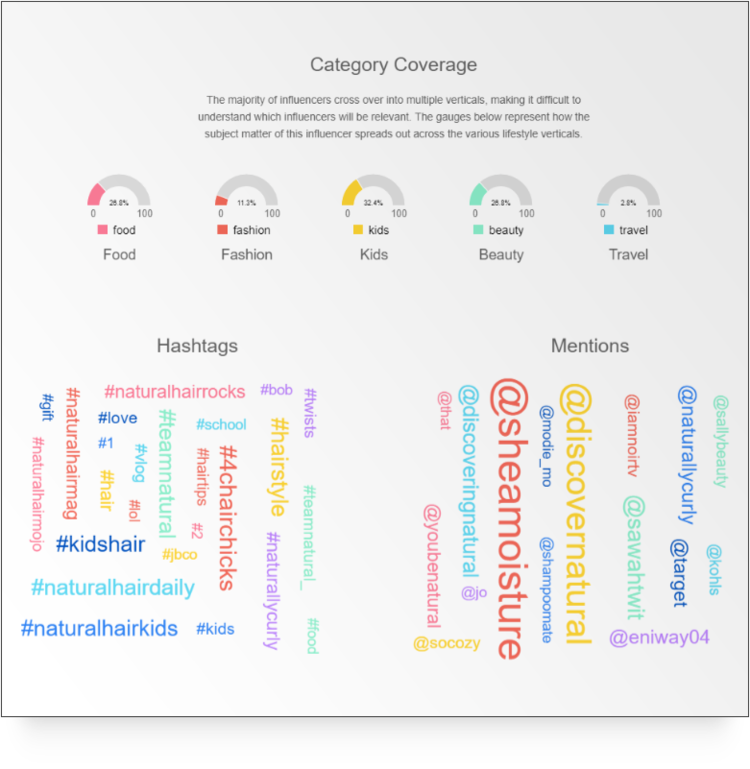 CHART #7: RECENT POSTS
It's not unusual for someone to grow a large following then leave social for a while. So the Recent Posts section is my way of just taking a look at an influencer's feed to see what types of images are posted, and making sure he or she has posted recently. The feed below is from stylist and fashion blogger Ranti Onayemi-Blanchard (@rantiinreview) of Ranti In Review.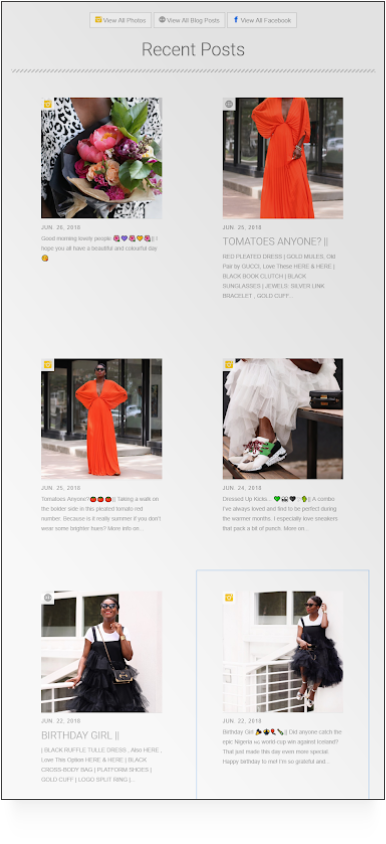 Quality Control
Final step – if the charts look good, I take a look at feeds myself. I click links, visit YouTube channels (which is how I figured out Dina Tokio is in the UK, not Egypt), review blogs, check out tweets, and prowl Pinterest boards.
I did all of this just to get a good list of influencers for my Mandela Day roundup.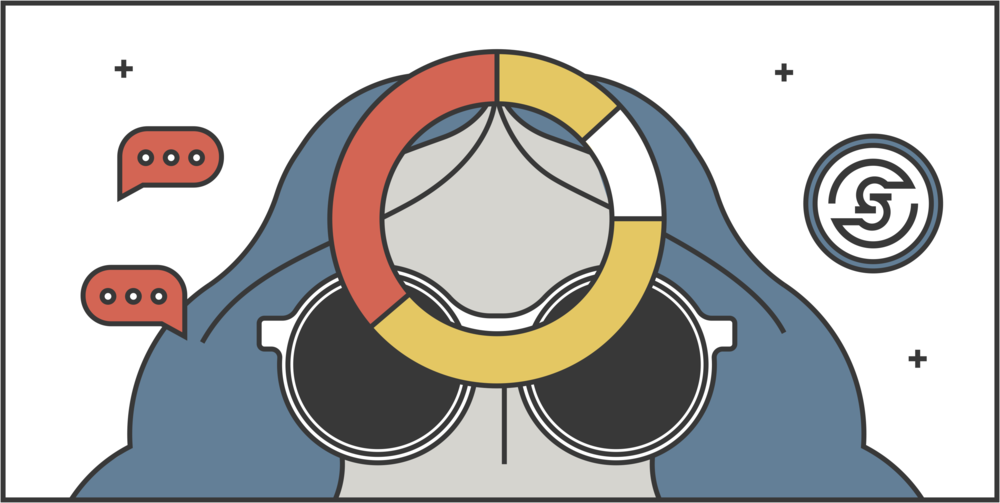 Ha!
Gotta say it: If you're brand, and you're doing anything less than this to find influencers for your marketing campaigns, well… you probably need a little help.
WE ARE THE SHELF.
WE DO INFLUENCER MARKETING BETTER THAN ANYONE ELSE.
By the way, you can check out the final list of 17 African Influencers by going to our Blogger Roundups page today..