Deciding which platform to use in your influencer marketing campaign is not always cut and dry. New platforms are popping up all the time (Vero, here's looking at you!), and "veteran" social media platforms aren't immune to scandal. They can fall out of favor with users and trigger a cascade of uninstalls. This type of controversy is exactly what's been plaguing Snapchat in 2018 and it can leave you wondering if it's worth it to even invest time, money and other important resources into launching social marketing campaigns on Snapchat.  
The Amazing Disappearing Feed
Snapchat's popularity stems in large part from the fact that messages on remain visible for 24 hours. The idea of disappearing visuals has supported the rise of many micro, macro and mega influencers, from your next door neighbor to the youngest Kardashian. 
When Instagram swooped in with its Stories feature, Snapchat developers tweaked the algorithm and changed the appearance of the app. Users were not happy. Then…
The Kylie Jenner thing happened. Then…
The Rihanna thing happened.
And suddenly, Snapchat's popularity is utility and its future seems to be on shaky ground. 
But don't dive off the ship just yet. Despite this year's controversies, the numbers don't lie. Snapchat is still the most-used social media platform by Gen Z teens and second most frequently-accessed social media network period. In fact, its popularity among teens between the ages of 12 and 18 has consistently grown in the last six years.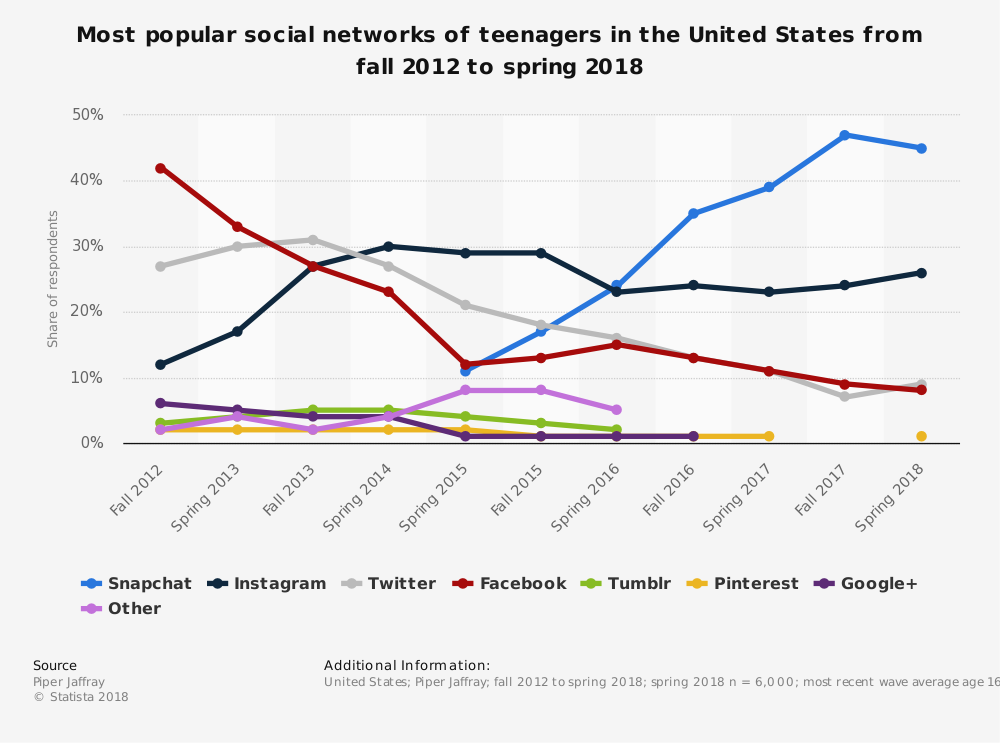 So, let's dive in to the ever-changing, Gen Z world of Snapchat, and see where it takes us.
Snapchat: The Basics 
Just in case you're not super-familiar with the app (which is going to be most people over the age of 34), let's start with a rundown of Snapchat basics to make sure you're up to speed with what this social media app has to offer.

Related Post
14 Gen Z Influencers Who Have Mad Sway Around The World
HOW IT WORKS
Snapchat is a photo-sharing platform where users can send still shots or videos to either individual users, or to their own public "Story". These images can be decorated with stickers and text, and will disappear after just 24 hours – one of the platform's unique positioning points.
Because of the fast-paced and fantastical nature of the app, it quickly became popular with teenagers and young adults, as it suited their evolving style of communication.
With their famous face filters, Snapchat became the go-to app for social media influencers to give their followers a snapshot of their everyday lives. And these snapshots were much more realistic than the posts they shared on other networks.
In fact, a few years ago, experts were positioning Snapchat as the real-life app, full of candid shots. It was the app where it was okay for you to be imperfect. The flipside was Instagram, with its curated feeds, consistent color schemes and filters,  and on-brand messages. Snapchat was pegged as the platform where you could be yourself. Very appealing idea to teens.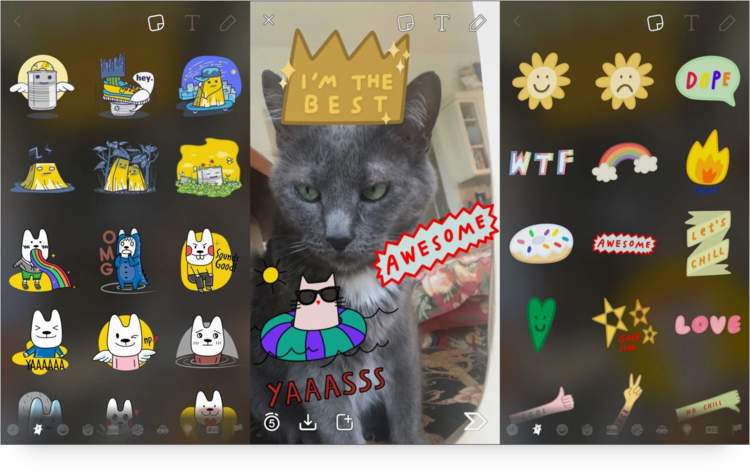 The wide range of quirky stickers that users can paste on top their images gives influencers the chance to indulge their creative sides. They can turn simple images into kitsch works of art. And, on top of simple emojis and bubble writing, the introduction of city-specific stickers helped to further the app's popularity among influencers, especially in the travel space.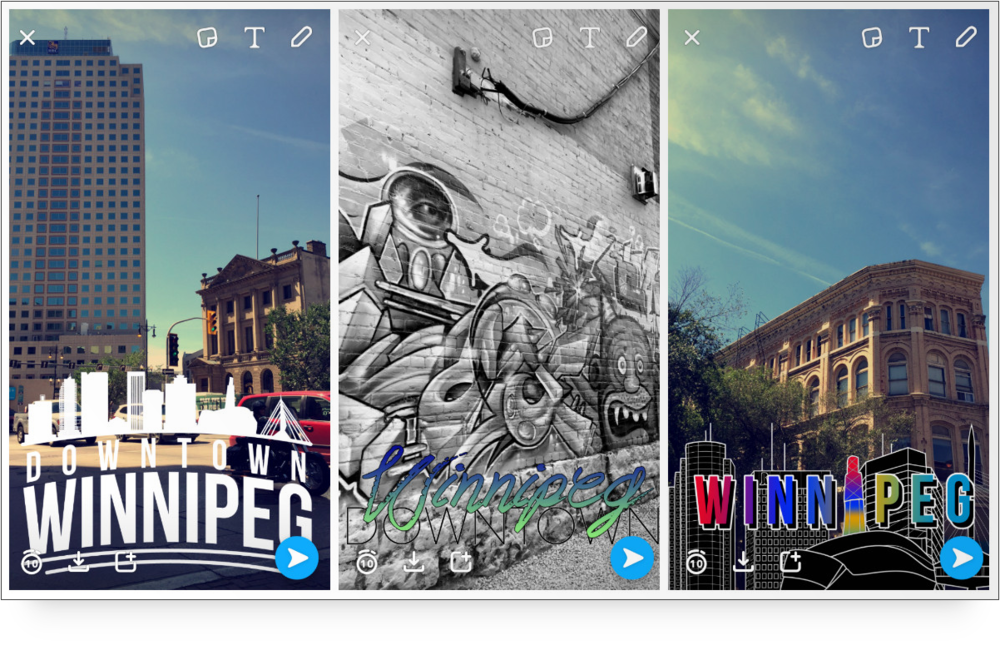 Despite the transient nature of posts on this platform, successful influencers were seeing views in the thousands (and higher) for their well-decorated and entertaining stories, which really opened up the space for influencer marketing campaigns.
THE DEMOGRAPHIC
Compared to most social media platforms, Snapchat has an almost exclusively younger audience.
71% of Snapchat users are under 34 years old
45% of those users are between 18-24 years old
Around 70% are female
18% of US social media users use Snapchat
30% of US millenial internet users use Snapchat daily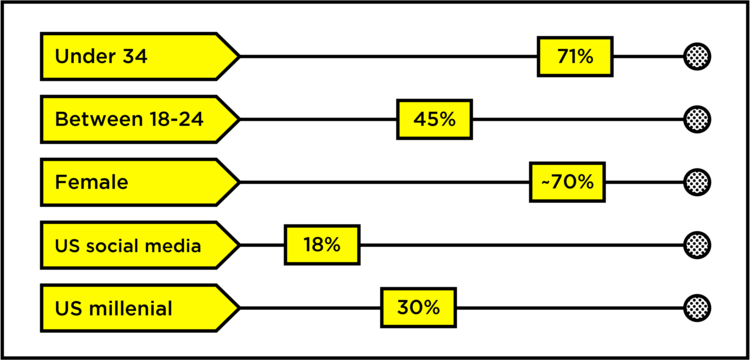 So while the platform may appear similar to Instagram on the surface, the carefree culture of the platform, fun-fuel nuances the difference in demographics keeps Snapchat the go-to platform for reaching younger Millennials.
This can be further evidenced by the platform's most prolific influencer herself – Miss Kylie Jenner. The most- followed account on the platform, and often hailed the "Queen of Snapchat", this 20 year-old makeup mogul knows how to rock a selfie better than anyone.
And, with so many younger users shunning the traditional platforms like Facebook and Twitter, Snapchat is a goldmine of teens who are already sick of traditional advertising – a ripe market that has been receptive to influencer marketing.
Influencer Marketing on Snapchat
As with any social media network, there is great potential for influencer marketing campaigns to find success here – as long as they are executed correctly. Influencer marketing is different here than on any other platform thanks to the limited lifespan of it's posts. Other than Instagram Stories, everything else posted on social media lasts a whole lot longer (and now, you can even save some of those stories in your highlights section – so even they're sticking around!).
So while a lot of the basics still apply here like how to spot fake influencers, what you need to look for in an influencer, and how to structure a campaign – there are some differences worth noting.
USER-GENERATED CONTENT
Snapchat is ALL about UGC (user-generated content), so you need to be prepared to loosen the reigns a little bit to allow influencers to speak in the language and vibe of the platform. This ain't your mother's soap commercial (or grandmother – the generational lines get murky here, depending on if you have a Gen X or Boomer mom). Anyway, the point is Snapchat is an altogether different world than the super-styled branded content you might be used to on other platforms or mediums.
Snapchat is about "real life" – and the quotation marks there are VERY necessary. This is still social media, so it should be noted that nothing is 100% real (sorry to break it to ya kids!), but people log on here to see behind-the-scenes content – not manicured model-level imagery. So bear that in mind when deciding to go ahead with an influencer campaign.
And since the snaps only last for 24 hours – you need to be sure your content is is eye catching, engaging, and shareable. You have a very small window to close the deal with Snapchat. 
The good news is influencers in this space know exactly how to bring viewers in and keep them there. They are expert storytellers. They just need you to tell them what story you want them to tell. 
UGC is necessary… but it's risky. No matter how stringent your brand guidelines are, there is always room for interpretation and you risk an influencer putting together a campaign that isn't exactly what you envisioned, or worse yet suffering from no vision at all.
Planning and communication are key. Give yourself enough time to put together a BOSS campaign and maintain open lines of communication.
INFLUENCER TRUST
Compared to other platforms, influencers on Snapchat tend to have higher levels of trust from their followers. Snapchat's young audience members tend to follow accounts of people they already know or, at least, know of.
And, because the content has more leeway to be unpolished, it comes across as more authentic. There should never be too much planning and scripting going into Snapchat posts – that's not what people are looking for.
This is ideal for newer brands, or those looking to repair any kind of negative reputation. This kind of trust will really help you to build a solid customer base that believes in your product and wants to come back to you time and time again.
Snapchat Making Headlines
Okay. We can't talk about launching a campaign on Snapchat without also addressing the issues that arose earlier this year.
Out of all the social media platforms, Snapchat seems to have been eating up more than its share of news time in recent months (even with Facebook's controversial algorithm change) – and unfortunately, most of it hasn't been all that positive.
NEW DESIGN, WHO DIS?
The first major headline hitter was when Snapchat decided to change its appearance and layout. And this did NOT go down well with users. There was an uproar of disgruntled teens who found themselves no longer able to connect with other users in the same way anymore.
The app had moved all their friend's messages and stories to a different spot on the app, and then jumbled up the order to boot. People were so unhappy with this that there was even a Change.org petition set up to get Snapchat to revert back to the old design. A petition signed by over 1.2 million people.
Snapchat responded to this outrage by saying that it would eventually bring out an update for the update, but also made it clear that users would simply have to buck up and get used to the new regime.
DON'T UPSET THE KARDASHIANS…
The second, and biggest, knock to the company's popularity was when social media queen Kylie Jenner herself tweeted the following: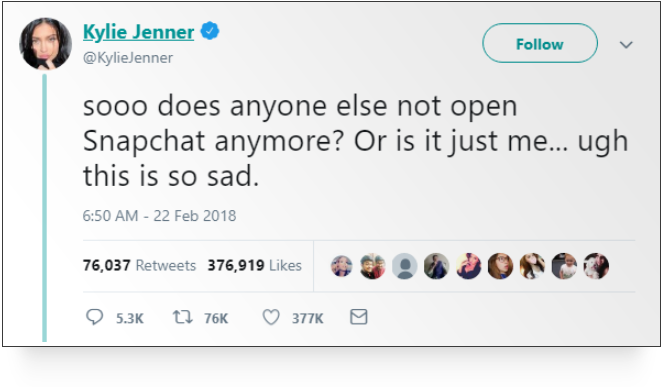 Ouch!
The tweet gained over 76k retweets and 376k likes, meaning her slam of the social media app has been heard far and wide. Many reports also claimed that she single-handedly managed to wipe more than $1 billion from the networks value in just one day. And, although Snapchat was already having problems thanks to its not-so-well-received update, it's possible that she did have at least a little bit of influence in that area.
The long-time advocate for Snapchat has certainly been a huge part of their popularity in recent years, but it seems here that her social media influence may have backfired for them with this tweet. As the unofficial face of her generation, what Kylie says really does matter for today's youth.
THAT RIHANNA AND CHRIS BROWN AD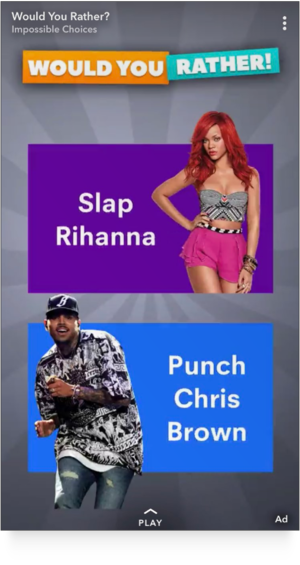 And the most recent misstep made by Snapchat? An ill-conceived ad shown between snaps, of their own design, asking an ever popular "would you rather" question, with a very unpopular choice.
Users were quick to jump on social media and criticise the app for their bad taste is creating something that made light of the previous issues of domestic violence between the two famous music stars. In 2009, rapper Chris Brown was charged with assault by Rihanna as he attacked her while the pair were still in a relationship.
This "would you rather" question seemed to be making a very thinly veiled reference to that incident, and users were not happy.
Rihanna herself even condemned Snapchat for making light of such an important issue like domestic violence by sending out an Instagram story with her message to the platform.
And, once again, the platform saw a huge drop in its value thanks to a popular and widely loved star damning its actions. Things are not going well for them it would seem.
Is This the End of Snapchat?
Not by a long shot. Despite all the negative press, unwanted updates, and exiting stars, the platform is still going strong with the younger users and is still a viable place to invest resources in terms of influencer marketing.
But, if you're targeting this demographic, it may be wise to invest in cross-platform campaigns to make sure you're getting the most for your money. Many Snapchat influencers are also big names on similar platforms like Instagram or YouTube – both also wildly popular with the younger generation.
Using Snapchat as part of a broader campaign can give your customers a unique, behind-the-scenes look at what your brand is all about, while making sure they are also seeing high-level, beautifully crafted content on other platforms.
STORYTELLING POWER
One thing that this platform really has going for it, is it's ability to create unique and engaging stories that users can follow each and every day. The top influencers on Snapchat really know how to condense all the best bits of a story into short video clips and images by using their unique storytelling abilities and skill sets.
Influencers like Branden Harvey who we had the pleasure of interviewing here at The Shelf about how he creates the perfect Snapchat campaigns for both brands and his followers.

Every one of his Snaps oozes character, comedy and intrigue – ensuring that his followers are always left wanting to see more. In our interview, he talked about his favorite campaigns, as well as his top nuggets of advice for brands that are looking to get started with their own influencer marketing campaigns. You can read the interview in full here.
REFRESHING CONTENT
As we said before, content on Snapchat is a world away from the perfectly posed, super-filtered, and expertly hash tagged images we usually see on social media. You know, the kind of images that people are beginning to get tired of?
People want real content that they can believe in and trust. They want to see celebrities with no makeup, just chilling at home. They want to see influencers talking about products they really love AND hate; and they want to see their friends pulling hilarious and ugly faces – because it's more fun that way!
This is why Snapchat has done so well in the past, and will most likely continue to thrive. The content shared on here doesn't last forever, so users are free to have more fun with it than they usually would. They can share their fails, their fumbles, and their fun times without the fear of it sticking around permanently. And that kind of freedom just doesn't exist outside of Snapchat right now.
MORE TOOLS FOR INFLUENCERS
One thing that the platform has been praised for in recent months is its expansion of the services and tools available to its influencers. When the platform initially launched, all users were treated equally – which may sound like a good thing, but it actually meant that influencers didn't have access to the kind of analytics they need to create successful campaigns for the brands they partnered with.
But now, thanks to this update, influencers have access to the kind of information they need to ensure their content is achieving the best results possible. Statistics that include:
Snap views
Unique views
Time spent watching snaps
Audience demographics
Follower interests
Followers locations
All this data will be invaluable for influencers, both in growing their own audience, and for sharing with brands to help them measure the ROI of their campaigns. A big check in the plus column for sure!
Without this information, influencers were left completely in the dark when it came to the performance of their snaps. They could never pass on any information to brands about exactly who their content was reaching, and so brands could never know for sure if their audience was right for them.
Now, brands can feel much more confident when selecting an influencer, as they will finally know if their audience, and the target audience for the campaign match up.
To Snapchat or Not to Snapchat?
Before you decide to launch into an influence marketing campaign on Snapchat, you need to really think about who your target market is, what kind of content you want to produce, and how much creative control you are willing to hand over.
No, Snapchat is not for everyone – but it is for more people than you might think. And, despite all the trouble it's faced in recent months, it's still here, and it's still going strong. If that's not an indicator of it's popularity, I don't what is!
Still unsure? Get in touch with the team here at The Shelf. They can help you decide which platforms, and which influencers are the best for your campaign.