If your brand, like most, happens to be one that's working tirelessly to build a strong social media presence to support your website or online store, you're going to need a strategy that will consistently enable you to connect with your followers by creating targeted messages. I'll be the first to admit that it's not easy to grow your social media presence. And you can't really build those brand-to-consumer connections without first understanding your consumers and understanding how they see your brand.
That's basically what this post is about: shaping how your audience sees you and finding smart ways to connect with them.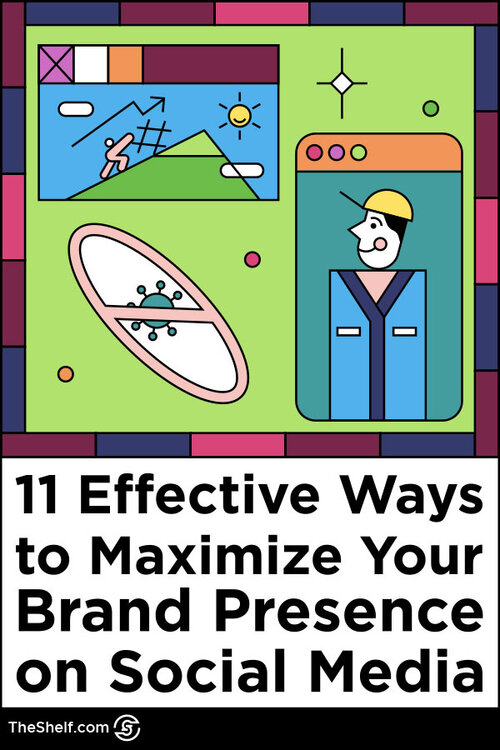 Here are 11 effective ways you can use to authentically boost your visibility now. And you'll see as you read this how using these tactics will make this strategy a good idea to use right now.
#1. Build Relationships, Not Just a Following
Before the COVID-19 pandemic changed everybody's life, brands were already implementing measures to very the accuracy of so-called "vanity metrics for their influencer partners, which typically include:
Follower count
Likes
Comments
Shares
While these metrics are important to watch, they're not what are most important. Having 100 followers who regularly engage with your social media content is more valuable than having 10,000 followers who do not interact much with your content. 
Social media provides endless opportunities for brands to connect with their audiences. The trick is to understand how to leverage social media so that you can genuinely connect with your audience in an oversaturated market. 
The beauty of social media is that it allows you to reach out to people seamlessly. It enables you to instantly speak with followers who may be anywhere in the world, and use those instant conversations to build relationships.
If you're not sure how or where to begin when it comes to communicating or building relationships, here are some quick tips that'll help you get started:
Reply to people when they @mention you or share your content.
Make sure that you @mention people you refer to in your social media posts.
Reply to all of the comments on your posts. 
Reply to those who re-share your content.
Don't just like or retweet other people's content, reply with an interesting comment that might start a conversation.
Ask questions and conduct polls to encourage people to share their opinions. 
The beauty of social media is that it allows you to reach out to people seamlessly. It enables you to instantly speak with followers who may be anywhere in the world, and use those instant conversations to build relationships.
#2. Focus on Offering Value Over Selling 
Although there are more opportunities for marketers to promote their products or brands now, social media isn't the place for your hard-sell. Of course, it makes sense to promote your products, offers, and deals to your followers. But marketing isn't about constantly bombarding your followers with your promotional content. Rather, it is more important to offer value over hard-selling your brand.
A good way to provide value to your audience is by answering questions they have or helping them with a challenge they're facing. Your focus should be on solving customers' pain points.
It can be as simple as a query regarding an offer, for instance, Whole Food Market helped their follower by simply providing a link: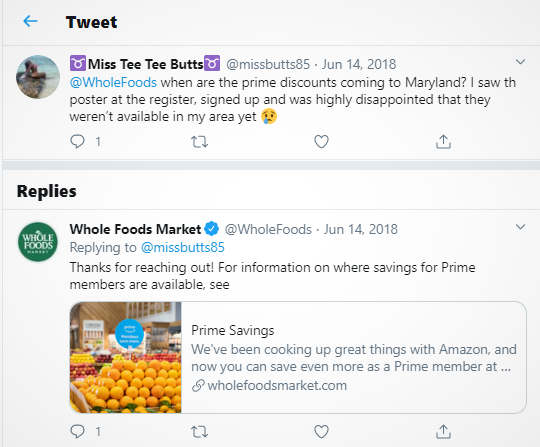 Additionally, if your audience seems to be buzzing about a particular issue or challenge, you should create content that directly addresses their problem. It shows that you care about solving your customers' pain points.
Another effective way to create value is by crafting insightful content that educates your readers or enlightens them about something interesting. 
For example, you should share content like BTS (behind-the-scenes), How-Tos, or DIYs (Do It Yourself) that can provide value to your followers.
#3. Optimize Your Accounts for Better Reach
Optimizing your social media accounts is far more interesting than plain old SEO. Social media optimization includes creating an engaging Instagram bio, including keywords in captions, effectively using hashtags, and filling out your profile with relevant information. 
For example, you can use your Instagram bio to promote your branded hashtag, add a link to your promotions, and convey your brand's short and engaging tagline or motto.  

You can also optimize your Facebook business page by adding complete business info that can actually help you rank better in Google. 
Here's a great example of an optimized Facebook bio: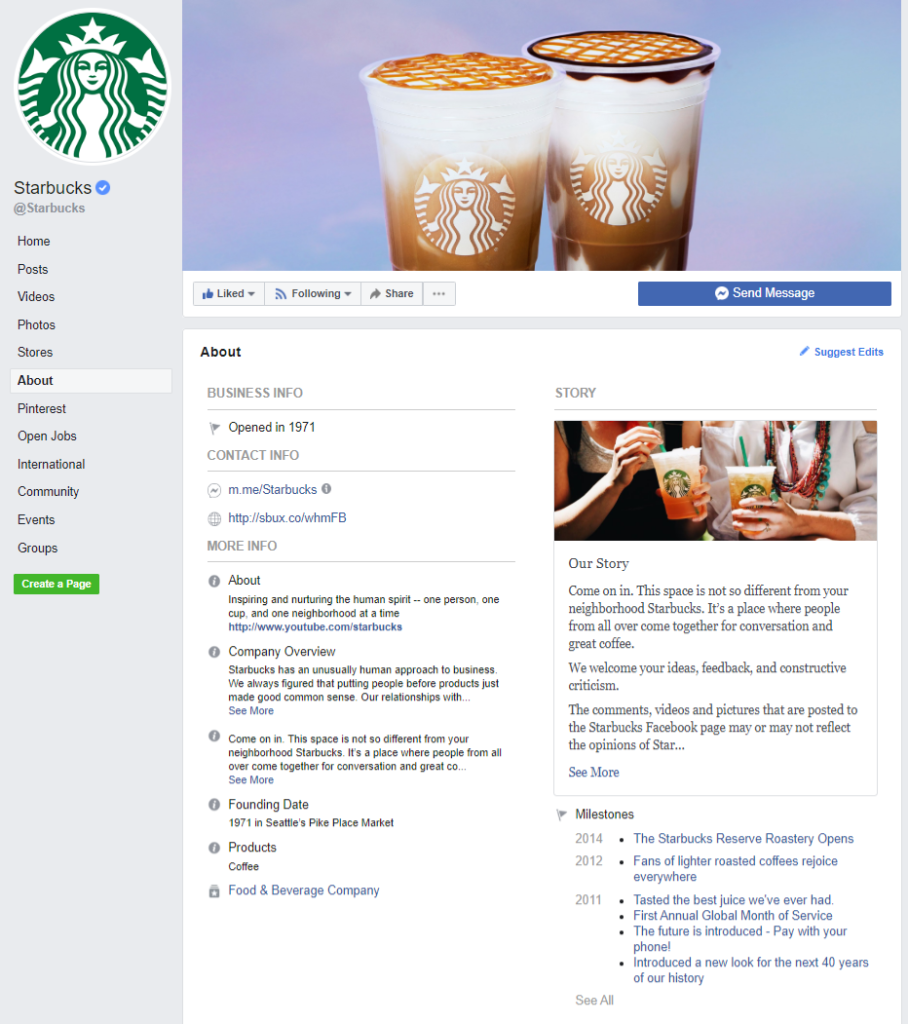 #4. Showcase Your Brand's Personality
One of the worst mistakes that you can make as a brand is come off as a faceless organization with no personality at all. In the modern age of real value over promoted ads and transparency, people want to get to know your brand on a more personal level. They are not just concerned about your vision of your brand. 
Instead, they want to know what kind of core values your organization shares, how much you prioritize your customers, and if you really want to connect with your followers on a personal level.  
Many brands today aren't afraid to talk to their followers like they would with their friends. With the evolution of social media networks and how brands communicate with their audiences, many followers expect them to have a human social media presence. 
Netflix is one of the best examples. They have built genuine connections with their followers over time. They crack jokes while replying to comments, reshare interesting content, and most importantly talk to their followers like humans. 
#5. Stay Active
There's no point in having social media profiles if you don't post regularly. People might not engage with your profile or may even unfollow you leading to a drastic drop in your engagement levels and social media presence. 
You need to stay active on social media and create fresh content day after day. 
Staying active on social media doesn't mean you have to stick to your screens throughout the day. Through simply scheduling and spending 10-15 minutes every day, you can post content and respond to your followers. 
Some quick ideas to help you stay active on social media include:
Select and prioritize your social accounts based on where your audience is the most active.
Implement social scheduling and automation to save energy and time.
Reshare user-generated content and repurpose your content so you don't have to always invest time in coming up with new ideas.
#6. Leverage Different Forms of Content on Social Media
Live streams, Stories, videos, images, infographics — there are so many different ways you can create content and connect with your followers on social media. 
While social media posts are great, you need to explore new mediums to reach out to your audience. For instance, Instagram live streams are placed ahead of all of the Stories, which gives increases the chances that more of your followers will watch them.
Instagram also sends notifications to your followers when you go live which means it draws more attention and invites your followers to watch the live session.  Live streams create a sense of urgency. For example, if you are watching a live sports game, your audience gets to experience it at the same time. 
Similarly, when brands host live sessions about their newly launched products, an event, or a Q&A, it generates more curiosity among the viewers. 
#7. Collaborate with Influencers
Influencer marketing is hot these days, and there are plenty of reasons for that. A simple fundamental logic that supports influencer marketing is that when an industry expert or a social media influencer shares content about a brand or their products, it creates instant credibility for the brand they are promoting. 
When an influencer promotes or talks about a brand, it creates a perception that it is a trustworthy company, based on the sentiment and endorsement provided by the influencer. This marketing method can greatly increase your social media reach and positioning in the current marketplace. 
There are many tools for influencer marketing that you can use to improve brand awareness and generate leads or revenue. Ideally, you should find influencers in your industry who have a follower base similar to your target audience. 
Since they regularly create content for their followers, they know exactly what their followers are most likely to engage with. 
Influencer marketing is one of the most efficient ways to target Gen Z and millennials. The best platform for influencer marketing is Instagram with over a billion monthly users and 500 million + daily Stories.
Wondering how brands can partner with influencers? The Shelf pens a ton of content on the topic (nothing but that topic, actually). But here's a pretty cool example of a popular influencer, Megan Ellaby, who collaborated with H&M, an eminent fashion brand, to promote its latest collection.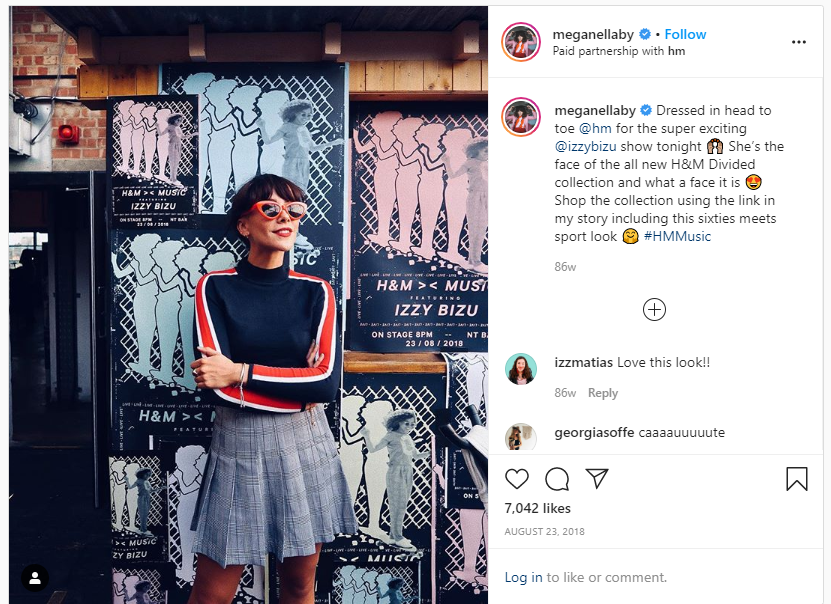 #8. Spend Money to Make Money
Nothing good comes for free, at least not on social media! While there's plenty of things that can be done organically to build a solid personal brand, the algorithms of social networks like Facebook and Instagram are changing. They signal a clear need for businesses to invest in social media ads. 
Instagram allows brands to promote their content via paid advertisements. You can select your target audience by using filters such as age, demographics, gender, interests, etc. If you partner with influencers, you'll also need to pay them. So, be ready to loosen your purse strings.
Both ads and influencer marketing offer tremendous ROI. By leveraging these strategies, you can create a strong social presence. 
#9. Monitor Your Social Media Presence
Creating and implementing a robust social media strategy is important. But oftentimes, brands tend to overlook the importance of monitoring their campaigns. Why should you monitor your social media presence?
Keeping track of your social media presence can help you determine how effective your strategies really are. By monitoring your social media content and analyzing insights, you can improve your marketing campaigns and content strategy and build a better brand presence. 
Brand monitoring tools are a  great way to evaluate what people are saying/posting about your brand, discover your social media mentions, or identify a particular problem your customers might be facing. 
These tools provide you with social insights that can help you to dig into your social networks and analyze how your followers are engaging with your brand. 
#10. Create Hashtag Campaigns
Cutting through the noise on social media can be difficult, especially with the growing number of users and competitors. One of the most reliable methods of expanding your social media reach is by using the right hashtags.
They can raise brand awareness, increase the visibility of your content in front of a bigger audience, boost your SEO, and even get you on the trending bandwagon. The key is to use them strategically to reach your audience organically. 
An interesting way to use hashtags is by creating hashtag campaigns. All you have to do is come up with a unique, engaging, and quirky branded hashtag that indicates the name of your brand and gives a sneak peek into the campaign. 
By creating hashtag campaigns, you can monitor the performance of your branded hashtag easily, and focus on user-generated content. Every time someone uses your branded hashtag, they boost your social media presence. 
One of the best hashtag campaigns was created by Audi on Twitter with the #WantAnR8 hashtag. The campaign was inspired by a tweet explaining why they wanted an Audi R8 sent to a brand by a follower . 
The brand instantly grabbed the opportunity and created a hashtag campaign to reach more consumers around the world via a thriving contest.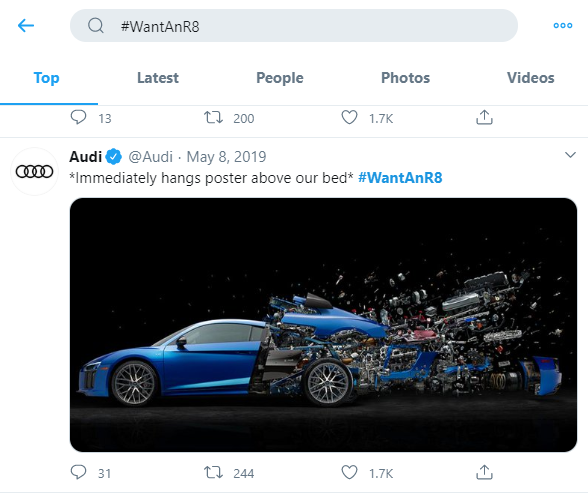 #11. Use Automation (but use it the right way)
Automation can give a boost to your team's productivity. It can help your team members focus on more important tasks while automated tools and processes complete small and repetitive activities. However, you can't put your social media presence entirely on autopilot. 
For example, using chat bots and automated tools for mass-replying can have a negative impact on your brand's presence and relationships with customers. 
A classic example of this is how Bank of America used to turn off their followers by not addressing their customers' issues and sending automated texts as replies.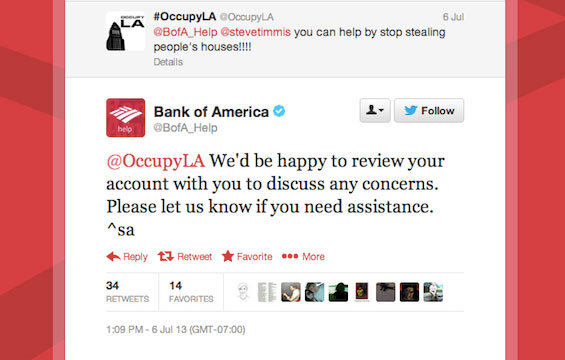 But with the evolving needs of customers and the importance of personalized experiences, the organization has certainly improved its social media presence with better ways of customer care.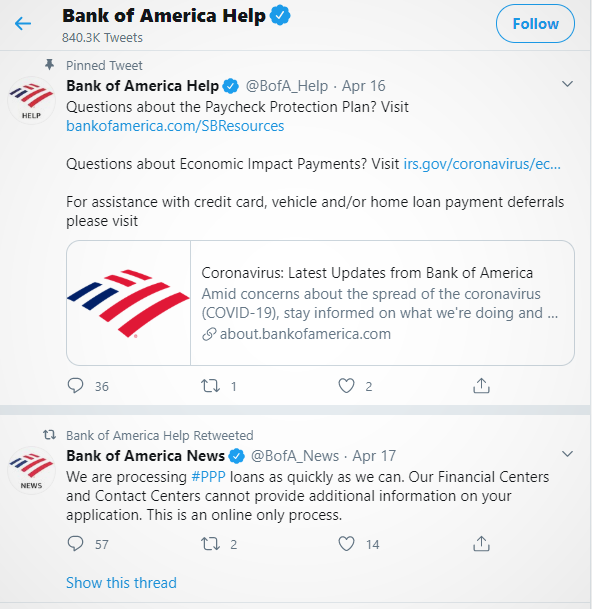 With that being said, automation can help with many different aspects of businesses. From curating content to scheduling it, automated tools can help. Make sure you don't use it while communicating with your customers directly, and you're good to go. 
---
Ready to Maximize Your Brand Presence?
There is no single sure-shot way of building a strong presence on social media. But there are plenty of small strategies and tactics that can help you get more visibility on social media platforms. 
While some of the strategies mentioned above will help you create better content, others will help you save time and generate more sales. There's something for everyone. If you can implement these strategies, you will be killing it on social media with a powerful brand presence! 
---
ABOUT THE AUTHOR OF THIS POST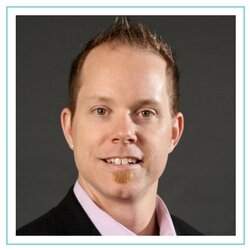 Shane Barker is a digital marketing consultant for 15 years with an emphasis on Influencer Marketing in the last 5 years. He is specialized in sales funnels, targeted traffic and website conversions. He has consulted with Fortune 500 companies, Influencers with digital products, and a number of A-List celebrities.
Connect with Shane on social via LinkedIn, on Twitter, on Facebook, on YouTube, and on Instagram.
---