For the past few weeks, we have been knee-deep in CBD content, talking about the industry itself, the market that exists, and how to do some effective marketing on social media. In our recent post, "CBD Marketing: An Influencer Strategy That Will Get More Eyes on Your Posts", we ran down a list of tactics to help brands get around the challenges of marketing CBD oil to the masses.
Since the laws governing the use and distribution of cannabis products change from state to state, and sometimes from city to city… the shifting legality of CBD makes marketing CBD oil a pain in the butt. CBD brands can't use traditional digital marketing channels like PPC and boosted posts to achieve important goals like becoming a household name and breaking the Internet with your crazy Amazon Prime-styled website traffic pile-up.
We get it.
We've spied our fair share of great CBD content since launching this series. But most of what we've seen in this space – especially as it relates to social media content – sort of sucks. CBD brands as a whole just aren't using social media as effectively as they could. So, we've spent the last few weeks showing CBD brands how to crush it with their social media marketing.
Let's get on with this week's buyer persona.
Let's Talk About Millennial Women for a Sec
Crazy demand has made the CBD industry one of THE fastest-growing markets, expected to reach a whopping $23 billion by 2023. One of the key demographics CBD brands are going after is millennial women.
Millennial women are the largest single segment of CBD buyers. In continuing with the buyer personas examined by the fine folks at High Yield Insights, this post is about the Goop-y Gwyneth persona, which is predominantly made up of married/partnered millennial women, 62 percent of whom are moms, and 40 percent of whom are homemakers.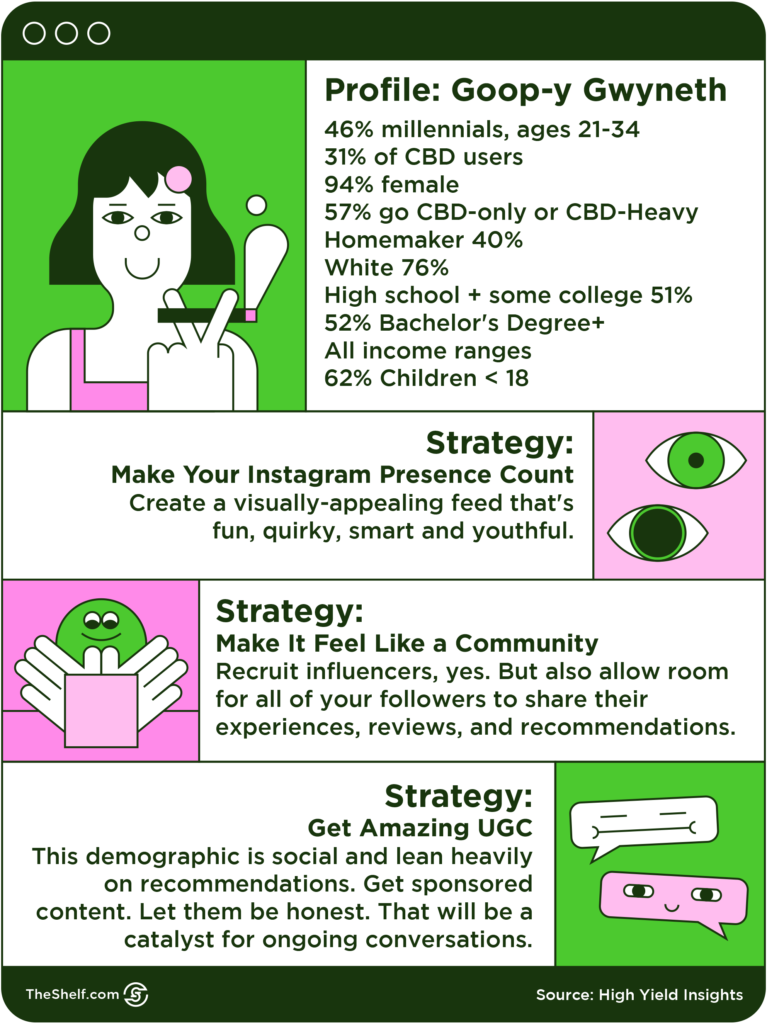 COPY AND PASTE THIS 👇 CODE TO EMBED THIS ☝️GRAPHIC.
Who Are Millennial Women?
Estimated to be born between 1980ish and 1995ish, millennial women are now 23 to 38 years old. They are the kids of Boomers and Gen X parents.
Approximately a quarter of America's mothers are millennials, and more than 80 percent of NEW moms are millennials, according to BabyCenter. I want to say the number falls somewhere around 10 to 12 million moms, but I can't say for sure. What I can say is the percentage of mothers who are millennials will increase over the next two decades.
Two decades?
Well, yeah… in part, because women are starting their families later and giving birth to kids well into their 40s. And the youngest millennial women are still in their early 20s.
Sixty-seven percent of millennial moms are multicultural, according to research from Carat. In fact, millennial moms and their children are part of the two most ethnically diverse generations currently living in the US.
The EXACT Reason Instagram Is So Important with This Group
You know how people are always talking about marketing on Instagram to reach young women? Yeah, it's true. But I'm a big data geek so I tend to skip what the crowd says and look at the numbers because numbers are awesome.
That said, I want to go through some of the numbers that really tell the story of why Instagram, in particular, is going to be so crucial for CBD brands trying to reach millennial women.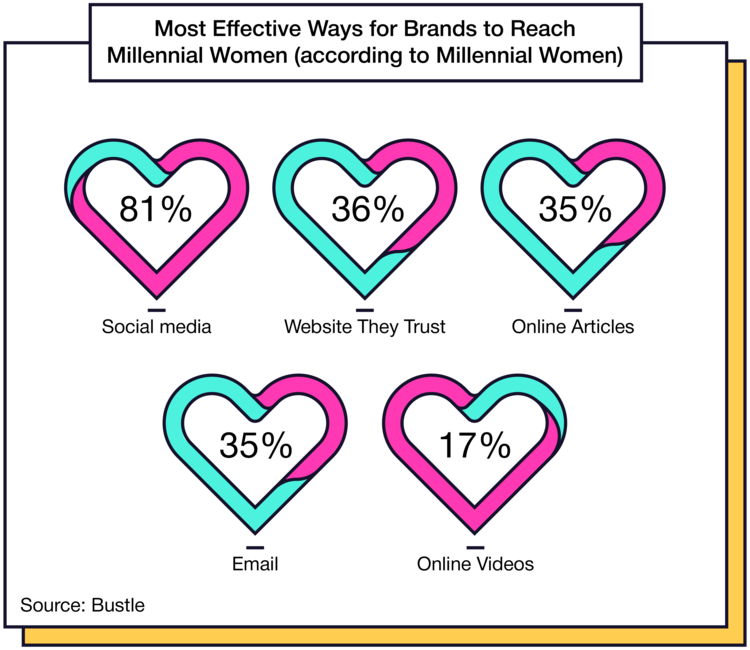 Millennial women are typically a pretty social bunch. Social media is how they find out about new products. In fact, millennial women EXPECT brands to use social as a way to introduce products. Eighty-one percent of millennial women surveyed by Bustle say social media is THE BEST way to reach them, and 57 percent expect to see sponsored content from brands – that's an important part of product discovery for them. They actually don't mind it.
Very different from the Gen X demographic I talked about in our last post on marketing CBD oil.
While millennial moms favor Instagram and Facebook (average MM has 500 Facebook friends), the typical millennial mom has at least three social media accounts, according to a Weber Shandwick study.
Millennial moms prefer smartphones to laptops. More than half of the millennial moms surveyed said they spend most or all of their time online on their phones, and spend more than 17 hours on social networks every week. That's 30 percent more time than the average mom spends on social sites. Millennial moms spend two hours more per week on social than they do watching TV.
How to Market CBD Oil to Millennial Women
Strategy #1: Make Your Own Instagram Feed Count
Instagram is one of three platforms millennial women rely on to learn about new products.
The other two are Facebook and Pinterest (although Pinterest is actually more of a visual search engine than a social media platform). 
With a gal like Goop-y Gwyneth, your presence on Instagram matters. Whether you focus on creating a feed that's visually stunning or creating a feed that's just really offbeat and cool, being active and engaged on Insta is a BIG friggin deal. And that's before you recruit influencers to your cause.
Lord Jones Drumming Up FOMO Like a MoFo
Lord Jones is the first brand that comes to my mind when the term "luxury CBD" is uttered. It's darn near a staple in the feeds of Hollywood's quirky cast of cool kids. Lord Jones capitalizes on that by name dropping. Not in a d-bag kinda way.
It's like…
If you were to overhear the timeless, ageless, transcendent (maybe immortal) Pharrell Williams talking about a few people he works with as part of a normal conversation… I mean, have you heard the soundtracks for the Despicable Me franchise? If Pharrell is talking about somebody, it's not name-dropping, it's a regular frickin' Tuesday.
Lord Jones is kinda like that – a level of cool that's not obscure or esoteric. It seems normal, familial, and familiar. Like we're all just out here wearing our big, over-sized, mountain ranger hats to the Grammy's together.
And tagging one another about it.
And that breed of cool is what makes a post like this one so relatable to everybody when it's clearly a cute little shout-out to one of Lord Jones' most vocal supporters, Busy Philipps (host of Busy Tonight) get tagged (look at the comments in the post below).
Big takeaway here: Like most of us, millennial women rely on visual content to help them gather information and input more efficiently, as well as to evaluate purchases.
A striking image or an interesting-looking video is usually a compelling enough reason to stop and read a caption. (It's also a good opp to see what other people are commenting on and chime in yourself if you are so inclined).
You know the old saying "a picture is worth a thousand words"? Yeah, well… That's because it takes 4 minutes to read 1,000 words and it takes less than 100 milliseconds to process an image. Pictures are a real time saver.
And unlike Senior Susan and Dosing Dads (the two other buyer personas we've written about who are more focused on getting useful info than getting somebody else's opinion), incorporating "peer influencers" who can talk about their experiences with your brand is an important part of reaching this demographic.
Here's why…
Millennial women use social media as a forum to share ideas and experiences on just about EVERYTHING, especially Adulting 101 topics.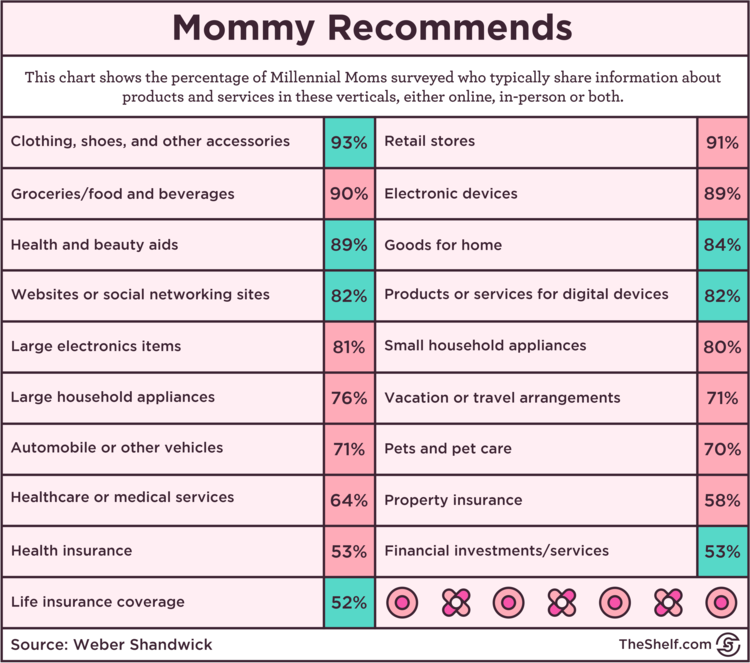 Millennial moms, in particular, aren't shy about their opinions, and 55 percent of them say they are frequently asked by other for their opinions. According to Weber Shandwick, millennial moms give unsolicited Likes and recommendations to products online 10.4x a month.
Unsolicited.
They also post unsolicited retweets and re-pins of products and services 7.8x a month. That means, even before you partner with a millennial influencer to promote your brand, she has already formed and probably shared an opinion about other cannabis brands or products.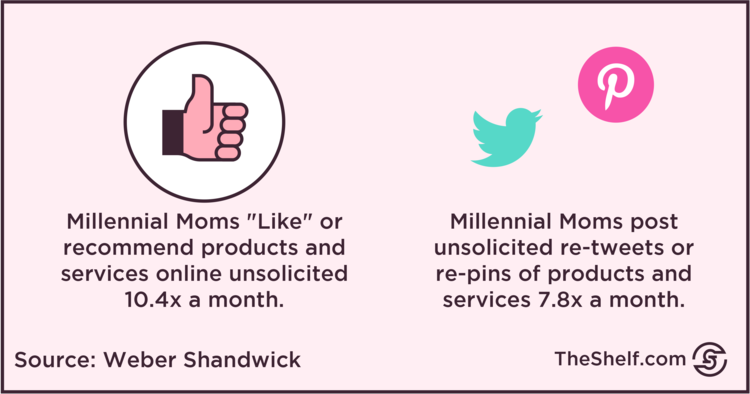 Strategy #2: Tighten Up Your Targeting
TARGETING AND GOAL-SETTING
I will say that for most CBD brands, simply getting your message targeted to the right audience is a step in the right direction, especially in a fast-growing industry like CBD where most of the current users are new to CBD products. But many brands fall short with their targeting. So, let me talk for a bit about that.
You want to make sure that you're creating the right kind of content for the specific audience you're targeting. And that you're hashtagging your RELEVANT content appropriately to attract the demographic that you want to see your post.
AND – and this is a big one – I know it probably doesn't seem like a big deal, but your hashtagging strategy should match the likely intent of the person searching or following a hashtag for posts.
Here's what I mean…
If you partner with a pet influencer (and this could be either the pet or its person) to talk about how your CBD is helping to minimize pain or anxiety for the pet, you want the picture you post to match the caption you write and the hashtag you add. That's how you effectively target on platforms like Instagram and Twitter.
So, you COULD use a popular hashtag like #CBDforPTSD because you think adding a that hashtag will help you get more eyes on your pet CBD post. BUT because the chances are pretty good the people searching and following #CBDforPTSD aren't interested in your pet's experience with CBD, it's a bad idea (and probably in poor taste) to use that hashtag for your pet CBD post.
Post + Caption + Hashtag – > Your Prospective CustomerAmber, With the Good Hashtag Strategy
Take a look at this post from beauty influencer and product reviewer @Amberlovesmakeup04 about a CBD face oil that's actually pretty hard to find. (I think its probably new. I looked up the brand on Instagram to find a new account with 13 posts and 80 followers. I had to do three different Google search combinations before I pulled up the right company (Google kept asking me if I meant revere).)
I'm including this particular Instagram post because it got something like 40 percent engagement, which is really, really, REALLY high for an image post, and especially rare for a product shot.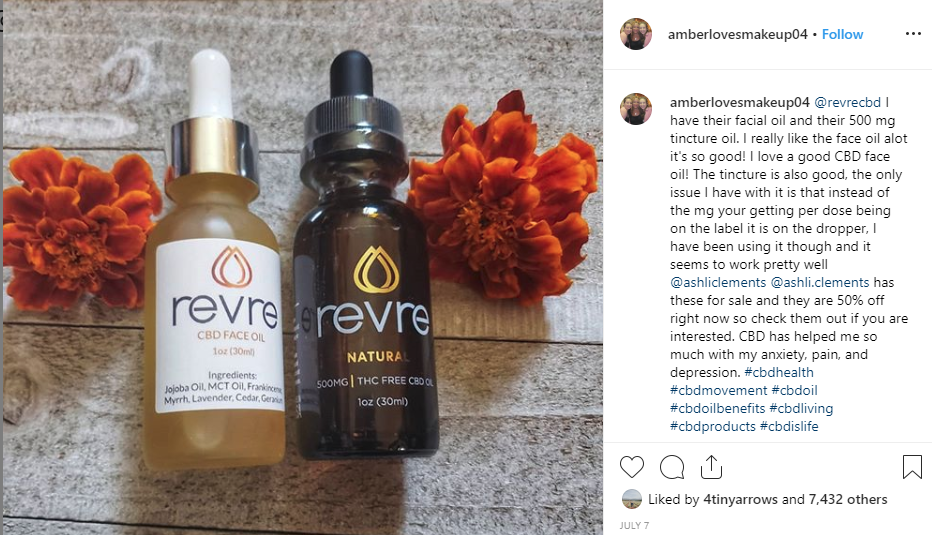 This particular micro-influencer averages over 20 percent engagement per post, and generated more than 7400 Likes and 156 comments for Revre in this product post. 
Now, being the snoop I am, I literally went through Amber's entire feed and discovered when she started her account in 2014, it was pretty uneventful. But there's a direct correlation between increased engagement with her posts and her decision in 2017 to target her account to the skincare and makeup verticals (by posting makeup reviews, full-face makeup pictures, beauty brands at-mentioned in her posts and the strategic use of skincare/makeup hashtags(we talked about the importance of using the right hashtags earlier, I know)).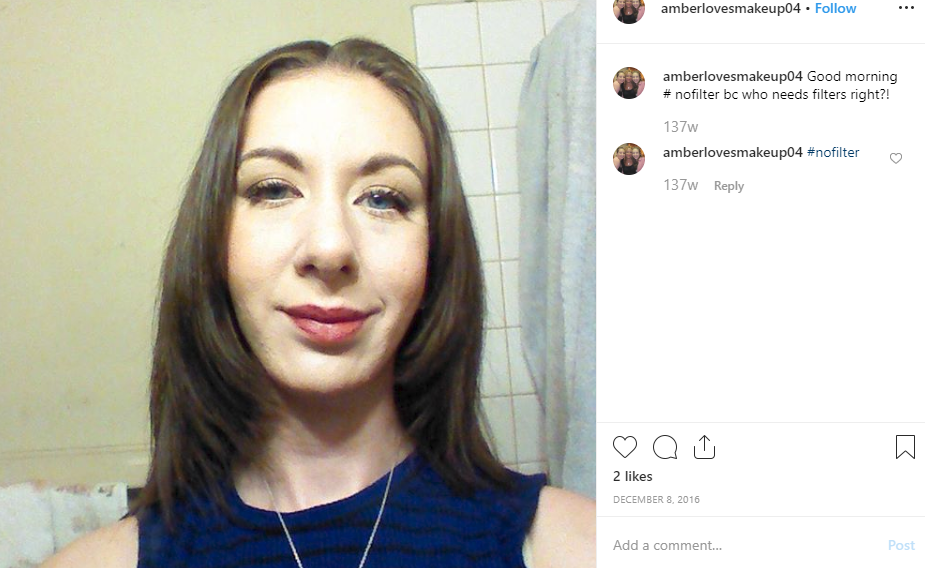 Above is the typical engagement on Amber's account in the first two years.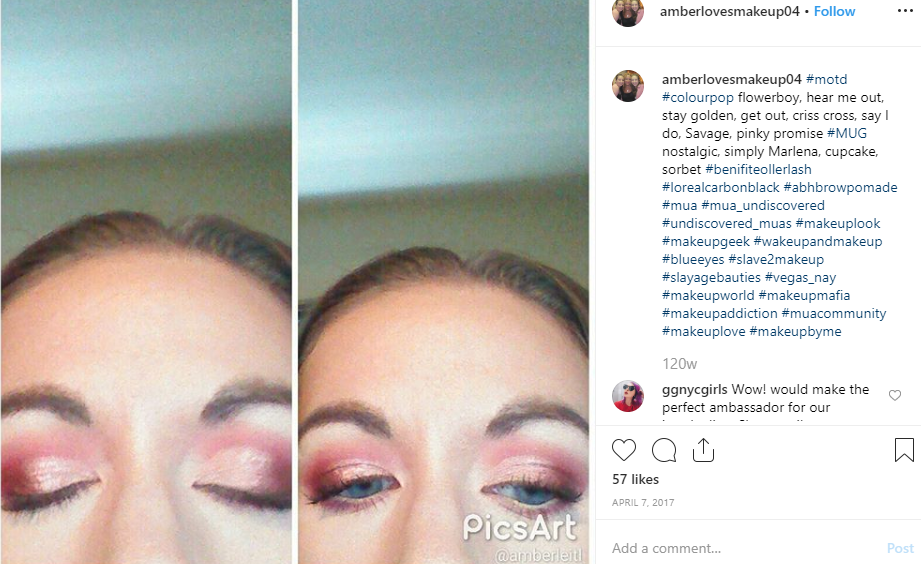 Notice how Amber's engagement starts to pick up when she tightens up her hashtag game. Today, Amber's product review account has more than 30k followers and her engagement stays in the double digits. She reviews a number of different products in the skincare / beauty verticals.
BUT she also has a track record of talking about her struggles with anxiety and depression, which makes her a pretty good pick for CBD oil and cannabis-derived products. Look at the way she captioned this particular post for Not Pot hemp gummies. The post got more than 3700 Likes and 120 comments.
And, as expected, her hashtags are relevant to her post + caption combination, and of interest to her audience.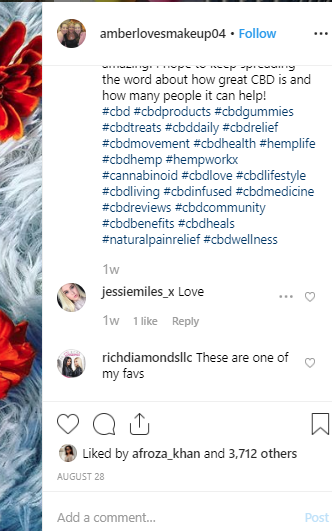 I talked in a previous post about partnering with vape promoters and product review accounts. I think I compared them to Yellow Pages listings. (Maybe with a legit review of the product, it's more Yelp than Yellow Pages.) Review pages are a popular way to boost visibility, but I would recommend combining this strategy (if you're going to use it) with sophisticated influencer strategies as well.
Strategy #3: Get Some Compelling Social Proof from Your Influencers by Letting Them Be Honest
Influencer marketing is built on the power of positive social proof. You need people who can authentically and authoritatively talk about your CBD oil… and it can't just be you. Partnering with a diverse cast of influencers to get that social proof is important.
One of the challenges of marketing CBD oil is the restrictions. Trying to talk about the benefits of your product is like walking through a minefield. Each time you talk about the benefits resulting outcomes could include anything from gaining a lifelong customer to pissing off a government agency and getting hit with a fine… or worse. 
THAT'S where partnering with influencers across different verticals will really help you (and with CBD products, you really could partner with different people from all walks of life). When it comes to marketing CBD oil, influencers have the freedom to say about your products the things you legally can't say. 
HOW TO GET THE UGC YOU ACTUALLY NEED FOR YOUR CAMPAIGN
Okay. How do we get them to say what we need them to say?
I mean, the obvious thing is to have a great product. Duh. That makes things way simpler when it's time to bring in influencers. In order for them to be effective, they have to produce content that's authentic, creative, and on-brand for them.
But I get it. You want to make sure they're singing your praises, not ruining your business. Well, if you have a great product that's great. But good product or mediocre one, you definitely want to set up content parameters… meaning it's smart to tell influencers what you want them to focus on.
Now, you don't necessarily need to write out a script. Remember, influencers are masters at creating content that goes over well with their audience. So, tempted as you may be, smile, get out of the way, and let them live their best lives.
Setting up content parameters is straightforward and simple, but it's important. You're basically letting your influencer partners know what you expect from the campaigna few things:
Who you are
What you're about
What makes your brand or product different
The focus of your campaign
Who you're targeting
What your goal is for the influencer campaign
What kind of content you expect them to create and any creative ideas you have that you want to be incorporated (and this can be different for different influencers).
So, yeah. You want to include content parameters, but you won't need to write out a script. (A LOT of brands write out scripts that ALL THEIR INFLUENCERS then copy into their post captions. Well, what's so authentic and creative about that?!?)
Plain Jane Giving It All Away
One CBD brand that's boosted its success by letting micro-influencers post about its product is Plain Jane (on Instagram @tryplainjane). Plain Jane is just as it sounds — some mary jane that's, well, plain. Since one of the main concerns consumers have about CBD oil is that it has a strong odor, the founders of Plain Jane decided to come up with a hemp flower and cigarette with natural flavors and a low odor (without flunking up the potency). Genius!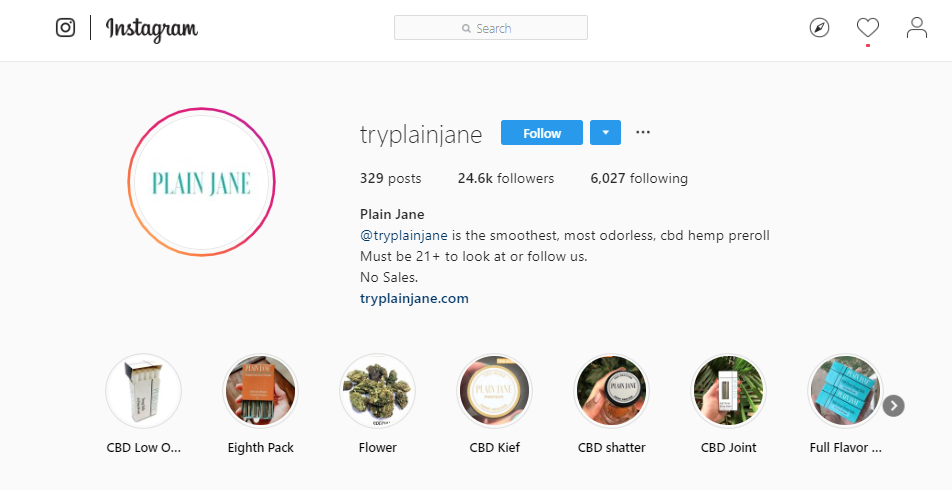 A screengrab of Plain Jane's IG account.
Within five months, the young company was generating $20k/mo in sales. Fine. Wonderful. Good. Sorilbran, what does that have to do with anything?
Well, I'll tell you: The secret ingredient to their success is influencer marketing. The brand used influencers to grow their audience on social media, and to date, its Instagram account has 24.6k followers.
---
"Influencer marketing has been huge for us. Our approach is pretty simple. We give out samples of our products and ask people to post about us on social media, aka a micro-influencer strategy." – Evan Marshall, Plain Jane Founder
---
Plain Jane's strategy revolves around presenting compelling, relatable social proof. Having Liv Tyler (I really do love her) talk about your brand is awesome (she mentioned Lord Jones in this video she did for Vogue on her beauty routine…)
Here, the lovely Liv Tyler goes through her 25-step beauty routine, which includes Lord Jones CBD Oil (around 4m45s). This video has 2.5 million YouTube views.
But honestly, if my next door neighbor and I are talking about skincare as we wait for the bell to ring outside our kids' school and she mentions a product, her recommendation really does carry more weight. 
Getting those authentic stories from your customers (can anybody say "Amazing UGC"?) and letting them share their experiences with their followers really is social media marketing gold.
So, here's what you would do…
Have your influencers create content (specific to campaign requirements like I mentioned above) tailored-made to produce certain results. You can then repurpose that content across your own branded channels (with permission, of course).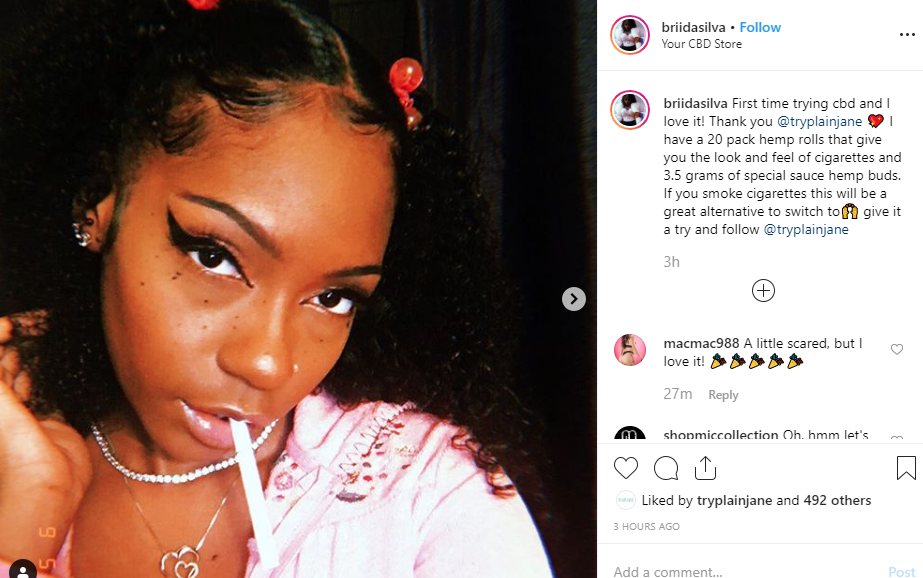 For Plain Jane, the micro-influencer strategy has worked so well that the majority of its business now stems from social media. Different influencers are often promoting different products simultaneously.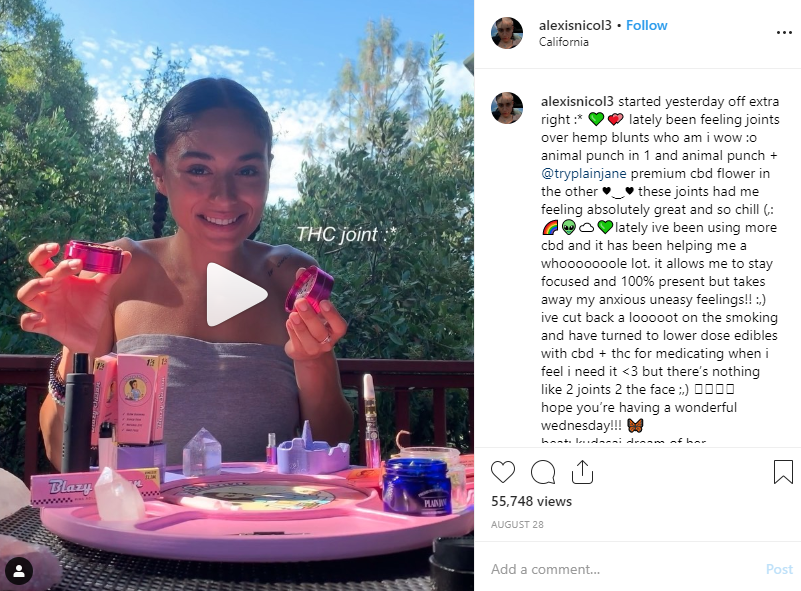 And no, it's not all serious CBD business – benefits and healing and education. Sometimes, it's just a funny video of a guy trying to eat a bunch of CBD like a crazy person. This guy is hilarious, by the way.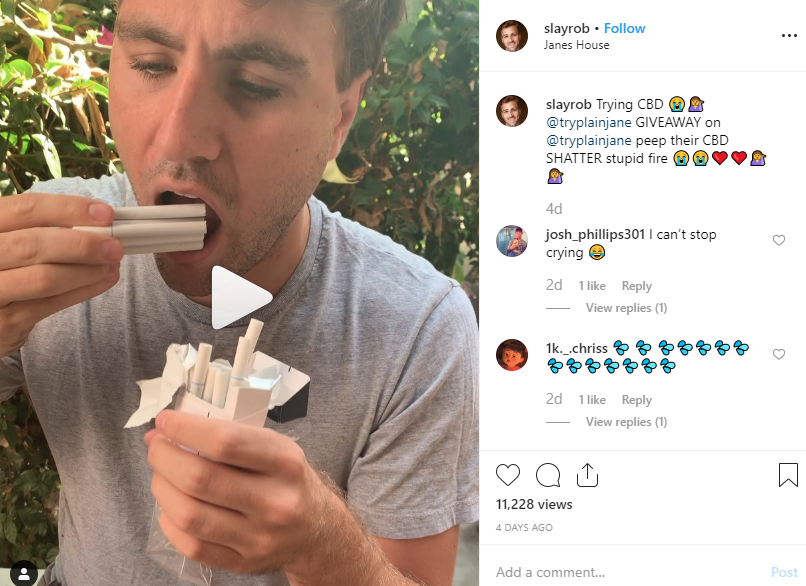 Plain Jane has accomplished the one feat that goes beyond building brand awareness – becoming a brand all the cool kids are talking about.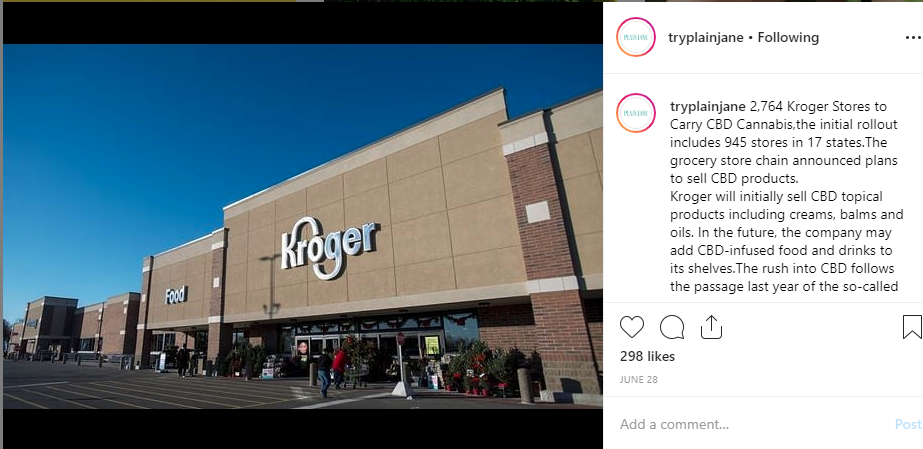 The company uses it's own Instagram feed to share CBD news and drive traffic to its website. So, if there's a page on the website that will help followers choose the right kind of CBD Oil or the right strain of hemp to meet their needs, that info gets shared to their Insta feed. Smartly, Plain Jane uses Instagram Stories to introduce new products.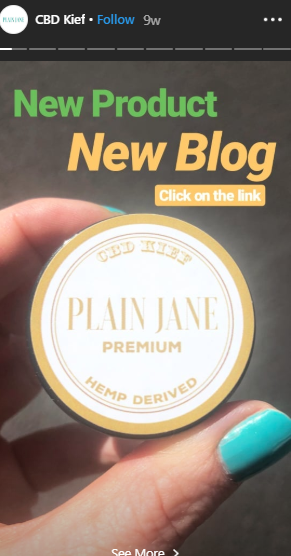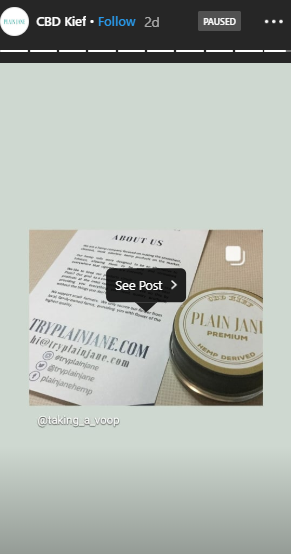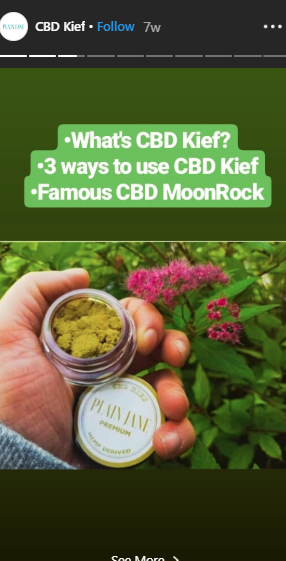 Whereas Lord Jones is all the rage in Hollywood, Plain Jane holds it own from Main Street to the backwoods. Plain Jane's audience is pretty varied. As such, it's influencer pool is varied as well. Not sure if that's a chicken-and-egg thing or not. But that's a good thing.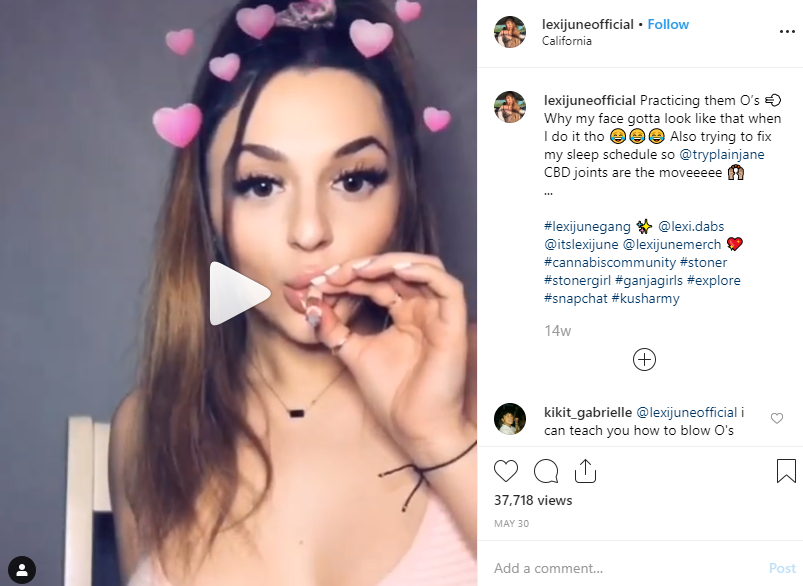 Just a parting thought about casting a wide net…
A lot of brands make the mistake of running influencer campaigns using the same type of influencers, which leads to no diversity. Again, let me reiterate that millennials (and Gen Z) are the most diverse generation in American history.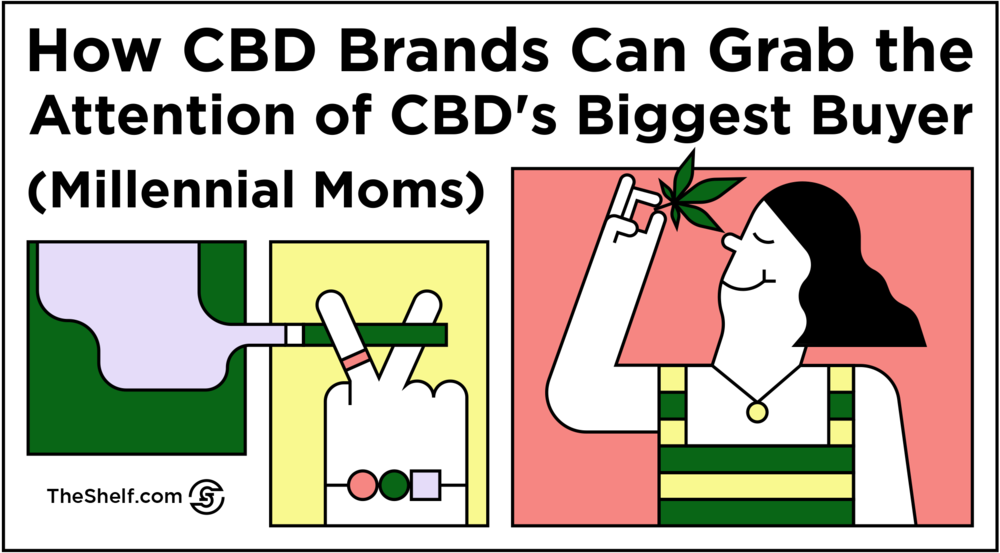 A Few Takeaways + a Wrap-Up
Okay, So Here Are the Key Takeaways About Millennial Women
Regulations for marketing CBD oil are kinda funky, and leave brands with limited options for getting their products in front of CBD buyers.
Millennial women make up 46 percent of CBD users.
81 percent of millennial women surveyed by Bustle say social media is the best way for brands to reach them.
More than half of millennial moms spend most or all of their time online on their phones.
The average millennial mom spends more than 17 hours on social networks every week, more than any other mom.
Millennial women use social media (specifically Instagram) and Pinterest to find new products
Instagram is the platform millennial women use as a touch point for brands and branded content.
You only have to glance at a newsstand to know that CBD is trending right now. Major publications have put out research and case studies on CBD use, as well as insights on the federal, state, and local laws governing the distribution, sale and use of cannabis products. And that's because CBD oil and other cannabis-derived products are big. Like, BIG big.
From cosmetics and personal care items, to fine cuisine and medicinal tinctures… CBD oil is ending up in the most interesting places, and demand for the oil (with or without the THC) and other cannabis-derived products is growing like weeds. (I know. I know. Just… forgive me already, geez…)
The three strategies discussed in this post will help you craft an effective influencer marketing strategy. And of course, if you need more creative ideas for crafting your strategy, our team can help.