Can you use influencers to boost the performance of a B2B marketing campaign? Short answer: Yes. Over the last few years, influencer marketing has become an integral part of the digital marketing landscape, with about 7 in 10 marketers earmarking budgets for influencer campaigns, with 49 percent of marketers planning to invest at least $50,000 on influencer marketing in 2019.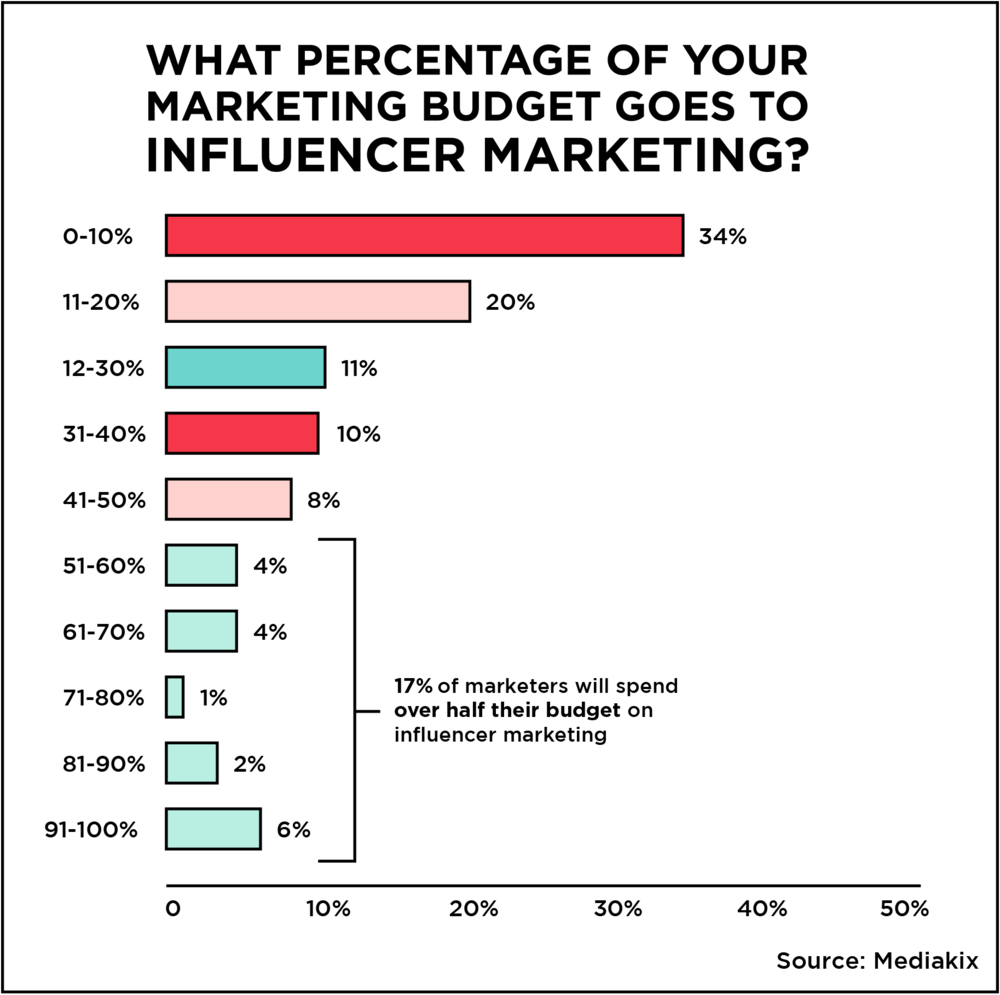 As the landscape of advertising has changed, and buyers have demonstrated time and again that they trust their peers over celebrities, influencer marketing has become a commodity. Between 2016 and 2018, influencer marketing grew from a $1.7 billion to $4.6 billion industry, according to Influencer Marketing Hub's The State of Influencer Marketing Report 2019.
A Few Key Insights About B2B Marketing That Will Put Things In Perspective
Before we dive into strategies for partnering with B2B influencers, I want to provide a little background information on B2B and B2C marketing and why the content an influencer creates for your brand would be of value.
LET'S COMPARE THE TWO: B2C VS B2B INFLUENCER MARKETING
In the consumer-facing world, B2C influencer marketing is a pretty straightforward, concept-wise: high profile influencers (or "creators") partner with brands to promote a product or service to their followers on social media.
By far, the most popular platform for B2C influencer marketing is Instagram. Facebook, Twitter, and Pinterest are also popular go-tos for creating and sharing sponsored content. For B2B, marketing with influencers is a different process altogether.
About one in three marketing professionals run influencer campaigns for the B2B sector. And the most popular platforms are Facebook (89%), LinkedIn (81%), and Twitter (75%), according to Blue Corona.
With B2B Marketing, Content Paves the Path to Purchase
Content paves the path to purchase for both B2B and B2C buyers. Seventy-one percent of B2B researchers begin their research with generic Google searches. Eighty-nine percent of B2B researchers use the internet for the research phase, while B2B buyers conduct about a dozen online searches before interacting with a vendor's website. Most view at least eight pieces of content during the purchase process, and 82 percent of buyers viewed at least 5 pieces of content from the vendor prior to purchase.
Stats. Stats. Stats. Well, there are a few more that will serve as useful segues into the influencer marketing part of this post: 80 percent of business decision makers favor getting brand information via an article series more than ads, but relevance is key. One in three business buyers limit their engagement with B2B vendors is because marketers send them irrelevant content.
The fact is targeted, relevant content is useful tool for moving B2B buyers through the purchase process. helps move buyers through the purchase process. Six in ten B2B buyers say they can make a purchasing decision based on online content alone. While 64 percent of C-suite execs have to okay company purchases, 81 percent of non-executive decision-makers also have a say in purchase decisions.
The challenge for B2B marketers is that buyers usually don't show up on their radars until they are more than halfway through (57 percent) the purchase process. That's when they finally talk to a sales rep. As a brand, you have to be deliberate, proactive, and strategic about the way your team handles content creation and distribution.
Four Tips for Finding the Right Influencers for Your B2B Influencer Marketing Campaign
One of the key advantages of influencer marketing that any B2C company can vouch for is that it enables brands to amass a catalog of user-generated content specifically designed to appeal to the influencer's audience. Influencers are brands within themselves. Most influencers are very protective of their reputations and their audiences because they've worked so hard to cultivated a community built on mutual interests and trust.
Partnering with a B2B influencer gives you an in with each influencer's audience. No, it won't be marketing designed to target your entire audience, but that's an old B2B marketing model anyway that no longer works.
That said, any brand can leverage influencer marketing to generate more leads, provided that influencer is offering expert insight. Below we go into specifics of how your B2B operation can do just that.
#1 Identify Influencers Who Most Align with Your Brand
Partnering with the right influencer is largely a matter of finding those whose values align with your own. Otherwise, your campaign can end up looking like a series of sponsored ads.
That's a bad thing. A very bad thing.
So, seek out influencers who have similar goals and similar audiences. In the B2B world, you can look at known quantities within your industry like popular event speakers, thought leaders, business heads, industry trade-journal authors, and expert bloggers/vloggers.
Do their goals (or those of the company they represent) align with your business?
Can they shape opinions in your business sector?
Are your customer bases similar? Similar enough for there to be significant overlap between your target audience and theirs?
Know that while both B2C and B2B influencers are active on social media, B2B influencers heavily focus on Twitter and LinkedIn (particularly LinkedIn Blogs). LinkedIn is a good place to start when you're searching for influencer partners. Actively building your pool of potential partners can be as simple as following hashtags on LinkedIn.
(Which you can access by clicking the Discover More link beneath the Followed Hashtags section on the left panel in your Home feed).
#2 Carefully Examine Potential Influencer Partners
By far, finding the right influencer partners is the thing brands find most challenging. Without access to influencer marketing software like The Shelf that can run reports on demand to provide you with the data you need to find influencers who will be the best fit, you're pretty much stuck manually scrolling social media feeds to see if you can spot patterns and inconsistencies.
Engagement Is the Single Most Important KPI
By far, the most important metric to watch is engagement rate. Engagement gives you some indication of how an influencer's content is being received by his/her followers.
The good news is that identifying B2B influencers is a lot less risky than spotting legitimate B2C influencers. What you see with a B2Bs influencer's audience size and engagement is typically what you get. More than anything else B2B followers pluck leaders from among the masses based on the person's track record.
So, even the bots that are following Jack Welch can't really damage the reputation he's already built as a business leader. And businesses don't seek out Simon Sinek's expertise because he has 2.4 million followers on LinkedIn. They probably seek him out because he's the "WHY?" guy. His large social media following is just a nice bonus.
Because B2B influencers are often working in niche industries, they're usually known quantities in their sectors, so their authority is easily verified. When influencers are still establishing their authority, it's a good idea to vet influencers by verifying the authenticity of their authority. Go to their websites, look for articles they've written and videos they've created and published. In the B2B space, authority and influencer are more easily verified.
Macro or Micro for B2B Influencers?
Should you ever target a micro-influencer? The obvious question is: why would a business forego working with the Jack Welches and Larry Kims of the world – an opportunity that would allow any company business to maximize its visibility by getting in front of millions of an influencer's followers – to partner with an influencer who has thousands of followers?
There are a couple of reasons companies typically choose to partner with micro-influencers over macro-influencers or celebrity influencers.
The first is budget. Along with a wider reach, macro-influencers typically have significantly higher fees, which can present a barrier for startups and micro businesses.
Another popular reason is that smaller B2B influencers typically have more targeted audiences. Before Gary Vaynerchuk became Gary Vee, the clouds-and-dirt-sneaker guy, he hosted a show called Wine Library.
Wine.
Gary Vee.
Which means that 10 years ago, you probably only knew this guy if you frequented his family's liquor store or watched his wine-tasting channel on YouTube. For him, "going wide" most likely meant diversifying his message to capture a larger audience.
One reason commonly given as a reason to partner with micro-influencers over macro-influencers is increased engagement, which is valid. Often the fewer followers an influencer has, the more effectively they're able to reach their target audience.
Of course, the trade you make with micro-influencers is usually time, as it takes longer to reach the same size audience you would reach by partnering with just one or two macro- or mega-influencers. If you have the time to hire a dozen micro-influencers who can take the next few weeks to make the rounds, or if you're targeting a smaller audience working with smaller influencers probably won't pose a problem.
Micro-influencers are a particularly good fit if you're a B2B operation looking to boost your local SEO. True, certain B2B companies, particularly those in the tech/SaaS sector, are solely digital companies that sell to other companies nationwide.
However, if your B2B brand has a physical location and meets with customers face to face, having a strategy to boost brand awareness in your area is important. Hiring a micro-influencer who has followers and fans in your city and town will go a long way to helping you achieve just that.
#3 Maintain Good Relationships with Influencers
This may seem like a no-brainer, but there's a subtle art to maintaining a mutually-beneficial relationship with an influencer. You never want to come on too strong by suggesting they eschew their greatest commodity—authenticity—for hard-sell sales tactics. This would be a futile strategy anyway because, as we mentioned above, B2B buyers don't respond to overt advertising tactics anyway.
Moreover, always ensure relevancy in what you're offering them. Influencers thrive on providing their audience meaty content on topics relevant in their lives. If your products or services aren't meeting that demand then there's no point in continuing the partnership. In short, continuously reinforce your value proposition to the influencer with whom you work.
#4 Share Their Content to Acknowledge Their Expertise
Then there's the content, which is the lynchpin for B2B influencer marketing. Many B2B influencers hold natural positions of authority such as journalists, analysts, business owners, experts, and content creators. Nothing says you're more committed to building a long-term, mutually beneficial business relationship than sharing THEIR content to your network on platforms like LinkedIn, Twitter, and Facebook.
Just remember to tag them when you share (or retweet) their content. It lets them know you're committed to mutual promotion and also helps put you on their radars so they will start following you.
COPY AND PASTE THIS 👇 CODE TO EMBED THIS ☝️GRAPHIC.
Conclusion
In the end, a successful B2B influencer strategy is about building relationships. It's finding influential individuals who are authentic and who can drum up interest in their content, events, and conversations.
Yes, authenticity is a bit easier to measure than it is in the B2C world of Instagram influencers, but putting together an influencer campaign in the B2B space is just as much of a challenge. But if you can adhere to the above tips and strategies, you'll find that the questions resolve themselves, and you'll enjoy a mutually-beneficial relationship with the right influencer to help you maximize your lead generation.
---
---