There's no doubt that social media marketing is an effective method of reaching large swaths of the voting population. On the heels of the much-publicized controversies surrounding Mike Bloomberg's use of social media influencers to create memes during his campaign, we got sort of obsessed with the idea that the candidates who are running for the highest office in the land may be facing the SAME challenges many brands face – wanting (and dare we say needing) to partner with influencers, but having NO IDEA how to actually do it.
Let's just go ahead and state the obvious: the stakes are pretty high for ANY marketing campaign you're going to run where your end game is the Oval Office. Meme accounts aside (some of those Bloomberg memes were pretty funny), the ultimate goal of this article series is to answer the question of how a presidential candidate should go about running an influencer campaign… and remain "presidential".
But first, let's address the elephant in the room. (Or donkey. We're not taking sides.)
Hey, Pinterest pinners, you can grab whichever pin represents your tribe. No judgments.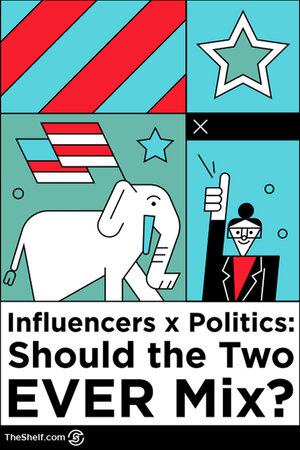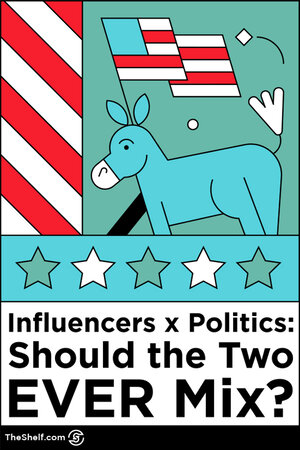 ---
Should Presidential Candidates Include Influencer Marketing As Part of Their Digital Marketing Strategies?
While most people are probably grabbing important election 2020 updates from Google Alerts and Twitter feeds, we here at The Shelf have been studying Instagram.
Oh, my gosh… why are you going to Instagram for election updates?
We're not using it for election updates (although you can grab them there… I mean, we get Google Alerts and Google News, too). We go to Instagram to get insights – to figure out what the candidates are really about.
As anyone on the platform can tell you, you can learn a lot about what people value by the types of content they post. That's why there actually needs to be a productive discourse around the topic of presidential candidates partnering with not just athletes, entertainers and other civic leaders, but social media infuencers as well.
So, here's our position: As part of a larger digital marketing strategy, influencer marketing can go a long way toward helping candidates CONNECT with younger voters on more than just policies.
Influencers provide candidates an avenue, not to regurgitate rhetoric (for the love of humanity, don't), but to build bonds with different audiences on the basis of shared histories, thoughts, values, and other commonalities.
In other words, influencers can help these guys seem more human.
So, do the interview with CBS. That's important, and I guarantee you that's where your Boomers and Elder Americans are going to find you. But, if you want to grab anybody under, say, 50 years old, a strategic digital marketing campaign that includes Instagram and YouTube can help your support grow by leaps and bounds. 

Related Post
Election 2020: The Power of Social Media in the Era of Social Distancing
The Two Big Reasons People Aren't Thrilled About Influencer x Candidate Partnerships
It's a touchy subject, I know. People lost their minds over those memes. They're just memes. And, yeah… they were a little weird, but they were still just memes.
First, let me say I totally get why social media platforms and digital media companies are aiming to install policies to ensure that fake news and marketing campaigns built around misinformation don't go viral and fool the masses. It's important to have safeguards in place. 
That said, people aren't generally turned off by politicians partnering with celebrities – like John Legend's endorsement of Elizabeth Warren (he was all over her IG feed in the weeks leading up to Super Tuesday).
But by and large, most of us are still trying to decide if partnering with influencers should be a thing. And I have a few ideas why that is.
Reason #1 People Don't Love the Idea of Influencers x Politics: They Don't TRUST the Candidates They Don't Support
People tend to be "ten toes down" for their preferred candidate and will typically demonstrate a strong dislike for the other guy. Weird, right?
When any two people from different political parties compete for a single office, most voters will like one and probably vehemently distrust or even hate the other. That's just the way we are. We, humans, love our tribes.
And arguments.
A lot of us just love to argue.
Reason #2 People Don't Love the Idea of Influencers x Politics: People Hate-Like Influencers
At a basic level, A LOT of people hate-like influencers. By far, the articles that perform best online with regard to social media influencers are the articles which share the misfortunes and public shamings of influencers, or those predicting the end of influencer marketing. 
Look at this screenshot from BuzzSumo of the top-performing posts about influencer marketing over the past year.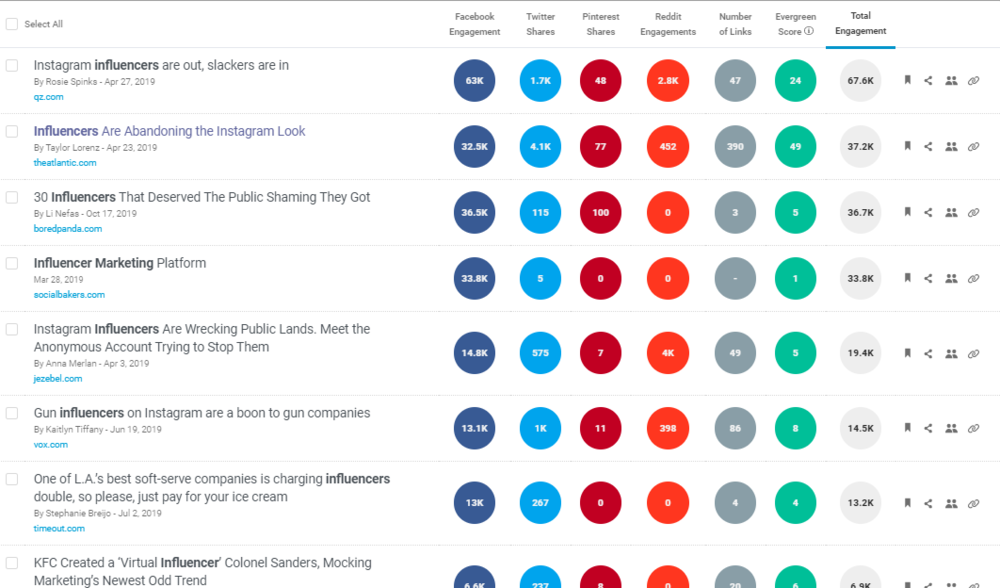 That list contains headlines like: 
Instagram influencers are wrecking public lands…
Soft-Serve company charging influencers double for ice cream…
Instagram influencers are out, slackers are in…
30 influencers that deserved their public shaming…
And people eat that stuff up! I wholly believe that people who aren't either marketers or influencers themselves ARE interested in influencers and influencer news. But they're MORE interested in influencer fails and bad news.
It's basically just another form of celebrity gossip.
Personally, I love to browse Instagram and Pinterest for cool ideas and inspiration. For instance, I LOVE Taryn Newton's outfits. I actually studied her feed before shopping for my honeymoon, just to get in the right mindset.
I think it's smart how @brittnebabe and @getupwithnards stay in phenomenal shape with home workouts. I'm dazzled by how Noelle Downing's feed is orange but it somehow looks sunkissed, and not orangey. (Meanwhile, I've all but given up on a color-coordinated IG feed because I never remember that I'm trying to create one – that's A LOT of work and forethought). I dig Katie VanSlyke's outdoorsy vibe. And have you heard her sing?
And just today, I made a mental note to find a few landscapers to follow on Instagram (for inspo) because my backyard is crazy right now. (Seriously, don't go back there.)
Of course…
I'm a content marketer, so I'm always looking for the value in – you guessed it – content. And I find value in a lot of the content I come across on social media.

Related Post
Which Social Media Network Drives the Greatest ROI?
YOU EVER WATCH THE SHOW WHITE COLLAR?
(So, I'm about to launch off into a legitimate tangent, so you can skip to the next section if you're not interested in my White Collar-themed parallels.)
I LOVE the show White Collar. If you don't know anything about the show, Matt Bomer played Neal Caffrey, an incarcerated conman who had been suspected of a dozen different types of frauds, schemes, art thefts, bond forgeries, etc. In the pilot episode, Neal convinced Peter Burk (played by Tim DeKay), the FBI agent who finally caught him after three years on his trail, to let him out of jail to serve the remainder of his four-year sentence in Peter's custody consulting for the FBI's white collar crime division. Peter agreed.
Upon Neal's release, the FBI set him up with an ankle monitor and a $700-a-month stipend to cover his housing expense. In New York City. Of course, the motel they found for him was a disgusting dump. When Neal protested, Peter told Neal something like "If you can find a better place nearby for the same price, go for it."
The next day when Peter showed up at the motel to pick up Neal for work, there was a note at the front desk with Neal's new address on it. He'd charmed his way into a gorgeous rooftop studio apartment that had a multi-million-dollar view of the New York skyline. The owner of the building was a well-to-do woman named June (played by the late, great Diahann Carol) who lived in the elegant home downstairs.
In response to Neal's upgraded lifestyle, Peter launched into this whole speech about how Neal's always looking to get something for nothing, and that Peter and his wife earn a certain amount of money that affords them certain things, and that Neal was skirting that system to enjoy things he hadn't earned. Peter felt real resentment for Neal's "come-up".
BUT…
Neal hadn't done anything wrong.
Regardless of what was in his past, he hadn't broken any new laws or bent any rules. He'd met June at the resale shop Peter advised him to go to for clothes. And he hadn't conned her (as if he could). He and June had hit it off. She agreed to let him take that upstairs apartment with the million-dollar view for just $700 a month.
Peter's response to Neal's new apartment is the same way people react to influencers. Did they put in a solid day's work to earn that time on a sandy beach? Or manage their money well enough to sport that high-end, luxe handbag they're getting PAID to promote? Nah. They're just a bunch of Neal Caffreys out here charming people with their crazy eyes (love Matt Bomer's big, crazy eyes!), pretty smiles, and great hair.
The side Peter hadn't acknowledged was just how hard it is to be a world-class art expert. Regardless of how he used that info, Neal had put in years of work learning to speak different languages and studying art and sculpting stuff – he was good at visual communication. He was great with people, no doubt a skill he'd honed for years. Plus, let's not forget how hard it is to have great hair – that has to be cultivated, maintained, cared for. I would submit to you that the only difference between Neal and Peter was that Neal was a better marketer.
The reality of it is social media influencers are expert digital marketers, many of them SELF-TAUGHT experts. Becoming a legitimate influencer on social media typically requires months and years of daily work.
For the people who are NOT in the business of seeing influencer marketing as a strategy (like CMOs and marketing teams), or in the habit of viewing influencers as regular people doing cool things (like me), they probably fall into that third category of people who view influencer marketing as a way for beautiful people to make money by promoting manufactured lifestyles. And there's a good chance they're sick to death of influencers. 
Candidates Should Go All in On Social for the Win
Bloomberg's memes have definitely gotten the ball rolling as far as furthering the idea of presidential candidates leveraging the power of digital marketing OUTSIDE of paid commercial spots or YouTube banners.
Have you seen the political ads that show up online? I thought I'd stashed away a screenshot of them, but I used to see the Trump ads all the time on YouTube – the ones with the call to action on the banner where I could click and join the president's digital army.
(The targeting was probably pretty spot-on – I have unusual streaming tastes during the day. And this particular week I had been streaming a lot of Joyce Meyer… and I had just discovered Chopin was really great background music for editing content… that may have also been during my Randy Travis period when I was just "in the mood" for some twangy singing all the time. Plus, I live in an agricultural community, the kind of community where the high school guys showcase their own mini-monster trucks on the weekend and there are literal cows in the front yard of the school… So, it was a weird week, and YouTube saw me being extra "rural" and showed me a bunch of ads that target evangelicals in rural communities who probably listen to Randy Travis and stream classical music sometimes. Timing is everything, am I right?)
An Effective Social Media Campaign Is the Straightest Path to Relevance
Political candidates typically strive to seem more accessible and relevant. Actually, in the next section, you'll see what I mean. To be perceived as that which American University professor Scott Talan calls "a guy you can have a beer with" and still be seen as a knowledgeable and formidable leader is the balancing act candidates have to walk in order to win the election. Having an effective social media strategy is the straightest path to relevance.
I'm not saying at all that Likes translate into votes. What I am saying is that brand awareness – understanding what a particular brand (even if that brand is president) is about – always comes before a conversion. Always.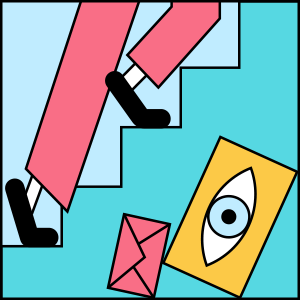 Related Post
Launching an Influencer Campaign to Boost Brand Awareness
That Time Governor Clinton Played the Sax and Won the Election
I remember seeing a governor from Arkansas sitting in with the band on the Arsenio Hall Show in the 1990s. I wasn't old enough to vote yet, but if I had been, he probably would have gotten my vote because that night, he showed me he was in my tribe – he was a funny, clever musician who could sit in with a live band.
Bill Clinton got a standing ovation for that performance (he also won the election), so I wasn't the only person pleasantly surprised and impressed by his appearance. (Plus, you can't go wrong when you go on the hippest late-night talk show and play Elvis on your saxophone in Blues Brothers sunglasses.)
I wasn't tuning in to Arsenio to see some old guy talk politics. I was tuning in because that's what I did every night. The "old politician" just happened to be on there being… kinda normal. And interesting. And cool. And quick. And thoughtful.
Now, Arsenio wasn't social media, but that show was a source of entertainment, news, and conversation-starters. The Arsenio Hall Show broke new acts nobody else would touch and talked to people nobody else wanted to talk to. That show was the thing you talked about the next day.
I have another one for you…
That Time SNL and Drake Helped a Real Estate Mogul Sorta Win Our Trust… and the Presidency
In 2015, I remember marveling as the views of Drake's video for his song Hotline Bling kept climbing by millions every single day. It was both insane and fascinating.
I mean, I liked Drake. Early in his music career, he was an amazing storyteller… like the John Mayer of pop rap. Plus, he had cool hooks and did thoughtful cameos (like his verse in Jamie Foxx's "Fall For Your Type" – classic). The former Degrassi star had become an icon.
And then this happened…
Remember that? At 1m 33s real estate mogul, Donald Trump danced and sang to a Drake song. It was the first time I'd seen him not firing people or being intense about real estate. It just showed a different side of him.
I'd read The Art of the Deal years before. And I'd seen The Apprentice. We even had a framed quote from Donald Trump in the house: "If you focus on winning, losing doesn't stand a chance."
(Seemed really cool at the time.)
But this… this was novel. And funny. And self-deprecating. People loved it. I know I did.
Examples like these can easily translate to social media because they're instances where for one frickin' second, candidates weren't concerned about the sound byte. These are examples of presidential candidates endearing themselves to a younger audience by meeting young voters on their own "blocks", so to speak. And isn't social media just digital neighborhoods where we go to hang out?

Related Post
Using Social Proof to Boost Brand Awareness
You Want to Woo Young Voters? Think Like a 30-Something Startup Founder
What if, instead of agreeing to one more network TV interview… or having a marketing expert create cool ads for a candidate people still don't get, can't connect with, and don't trust, the candidate does 100 podcasts in 100 days?
Big podcasts, small podcasts…
Podcasts targeting women entrepreneurs…
Or combat sports enthusiasts…
Or real estate podcasts…
Or podcasts for people who are about that guerilla marketing life…
Hard-hitting thinkers are going to ask candidates questions they can't possibly be prepared to have a scripted answer for. It's going to be a frickin' blood bath at some of those podcasts, FOR SURE. Schedule those last. But do them.
And they won't ALL be angry hosts just waiting for their chance to rip candidates a new one. Maybe a few will be filmed style podcasts where candidates can talk about their looks or the most comfortable shoes for campaigning, or the one thing they wish they'd known about spending months and months in front of a blue curtain making speeches (and dumbing-down the aesthetic of their IG feeds).
Or a funny story about the CBD cream they had to use after sprinting four city blocks in tweed slacks when an angry voter let the dog loose on them as they were campaigning door-to-door.
Or Bloomberg's green ties.
Just something interesting and human that helps us all know we're not being taken over by well-dressed AI-powered life model decoys (HAD to stick a little sci-fi geek in here. I just HAD to).
I'll Conclude With This
Social media can provide candidates with a platform to CONNECT with younger voters, not just try to reach them. Use social media and the digital landscape to fill in the blanks and help voters who need more than your stance on the policies to understand what you're about.
That's the way to build a tribe today – through connections. Because, let's be honest, young voters are swayed by the strength of your baby-kissing game. Targeting teenagers and people in their early 20s when you're in your early to late 70s is tough. I don't care what you're selling. Let the old way of campaigning be the stuff you take to the networks. And build a responsive social media strategy tailored to meet the needs of your voters.