5 Social Marketing Strategies Brands Like Ikea, Ace Hardware and Chalk Ink Are Using to Get Their Products in Front of Buyers
If there's no place like home, then there aren't many activities quite as satisfying as personalizing your living space to make it feel like home. For that, you're going to embark on at least one of three activities – home improvement, decorating your home, or furnishing your home. And you need look no further than your own social media feed for design ideas and products to help you get the job done.
Ahead of the New Year / Spring Cleaning season, here are 5 effective social media strategies top home decor and home improvement brands are using to boost brand awareness, get products in front of buyers and get foot traffic in stores.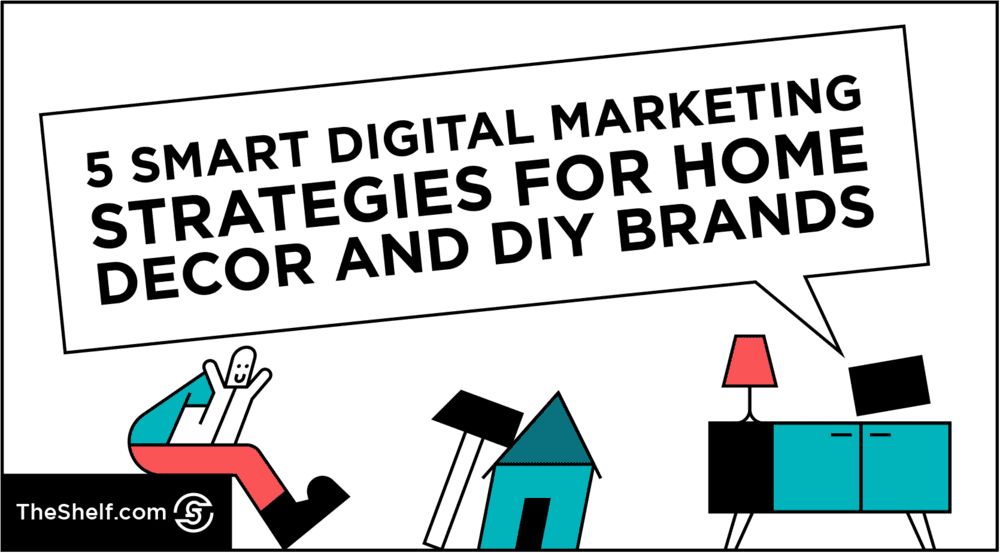 Home Improvement and Home Design Are a BIG Deal… Everywhere
HOME DECOR
Home decor and DIY / home improvement aren't just big business, they're a big deal. In the US, shoppers spent $122 billion on home decor in 2016. US home improvement retailers expect to generate more than $409 billion in sales by 2019, and the global home decor market could reach $664 billion by 2020.
As disposable income continues to grow in Middle Eastern and Asian countries, the demand for home goods grows as well. In fact, the Asian market is the fastest-growing home goods market in the world. Worldwide home decor sales are on track to grow by 4.2 percent year-over-year for the five-year period from 2015 to 2020.
In the months between the New Year and Spring Cleaning Season (which 38 percent of those surveyed start in March), Americans will spend an average of $165 on home decorating according to the Offers.com Home Decor Survey 2018.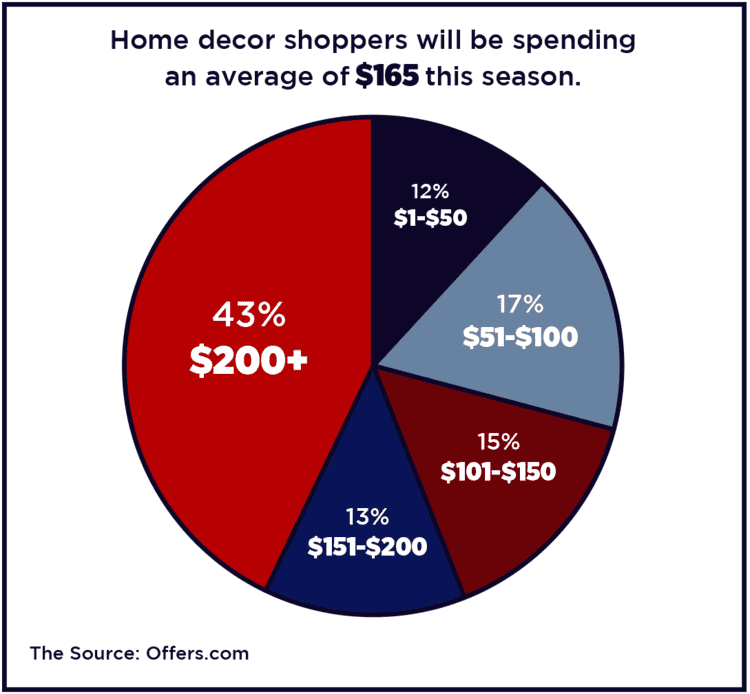 The list of top brands shoppers name as their go-to for home decor is made up of retailers who are great at balancing trends and quality with affordability.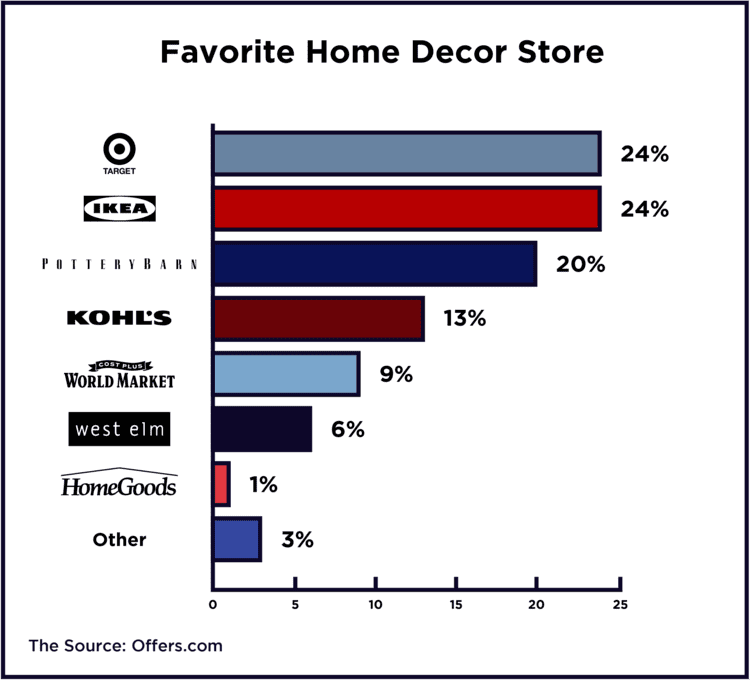 And yes… you may read articles about how American Millennials aren't buying houses as quickly as their parents and grandparents did at their age, but they are buying homes, eventually.
HOME IMPROVEMENT
On the home improvement/design project side, Millennials are DIYing like nobody's business. Nearly 7 in 10 Millennials are handling home improvement projects themselves and relying on home improvement retailers like Ace Hardware, The Home Depot and Lowe's to tackle renovations.
According to The Zillow Group Report on Housing Trends, Millennials are taking on these home improvement projects… but 66 percent of the time it's just to add their own personal touch to a space, not really to FIX fix anything. That's true across the board – across demographics and all over the country.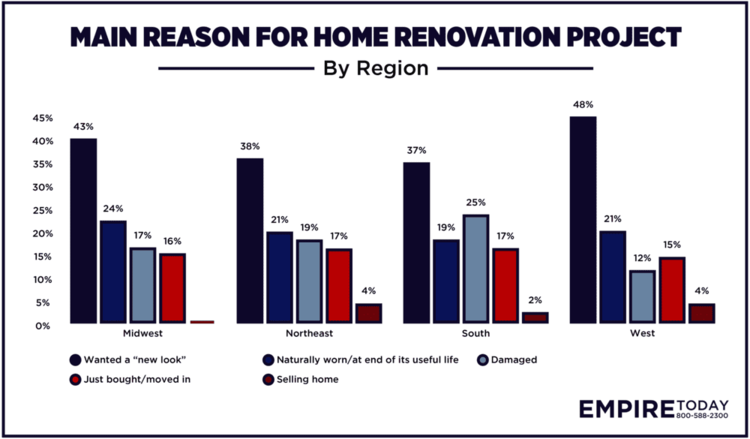 The Empire Today Home Improvement Survey 2017 reflected the same outcome – most people are embarking on renovation projects to pretty-up their spaces.  Coincidentally, painting is the most common home improvement endeavor undertaken by homeowners.
Social Media's Influencing How People Spend on Home Design
Social media is directly influencing how people spend on home decor and home improvement projects. Twenty-eight percent of homeowners have made at least one purchase for their home in the last 12 months based on what they saw in a friend's social media feed.
While Boomers and older Gen Xers get the majority of their design information and inspiration from magazines and television shows like HGTV and This Old House, according to SoFi, 44 percent of homeowners between the ages of 18 and 44, and 29 percent of homeowners over the age of 45 rely on social networks like Pinterest and Instagram to get inspiration for these kinds of design projects. You would be hard-pressed to come up with a brand in the home improvement/home decor space that didn't have a presence on Instagram, Pinterest or both.
PINTEREST TOTALLY DOMINATES THE SOCIAL MEDIA + HOME DECOR WORLD
In summer 2017, Pinterest reported there were 11 billion home decor pins on the platform and 2.3 billion home decor searches and saves per year. Pinterest alone reaches 40 percent of the people who have made home furnishing purchases within the last six months, and users say Pinterest is THE MOST influential platform for home decor and home design inspiration.
User-wise, Pinterest doesn't have as many monthly active users as Facebook or Instagram. At the end of September 2018, the platform had 250 million monthly active users. But unlike Faebook and Instagram, 93% of Pinners use the platform to plan for or make purchases. Sixty percent of Pinners have used Pinterest to actually MAKE purchasing decisions for home decor.
Home decor is one of the three most popular search categories on Pinterest as well as one of the top shopping categories that lead to purchases.
Part of the platform's charm is that it's always tugging on me with cool ideas. A few days ago, the December Trends email landed in my inbox with insights into what's hot on Pinterest, much of it focused on home decor. Out of the six topics covered in The Top Trends for December 2018, three of them were specifically about home decor.
Dark green living rooms are making a comeback…
People are also into smoke and cardboard art…
Open closets are a thing…
---

---
The above is a screenshot of a portion of the trends report email I got. When I clicked on the hyperlink for "open closets", the next page featured a collection of pins tagged open closet.
There's a Promoted Pin from Interior Define. Other pins include images from brands like Pottery Barn, Ikea, Wayfair, eBay, and Etsy.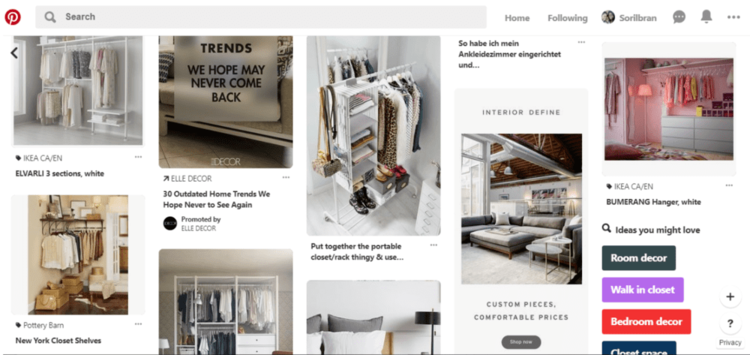 And E-Commerce is Driving Sales of Home Goods
In addition to sourcing ideas only, most people are actually buying both furniture and home decor items online, often in lieu of going into store locations. Furniture and home furnishings make up 12.9 percent of total retail e-commerce sales in the U.S. So, for every $10 spent at any store online, $1.29 of that amount was spent on something for the house.
Why would anybody want to shop online for a comfy chair they can't test out in the store? Simple answer – shopping online provides consumers with access to more products and more product variations. Shoppers can visit online stores for web-based retailers like Wayfair that don't have physical stores as well ass physical stores that may not have nearby locations. Shoppers can also see a wider variety of items that they can have shipped to local retailers and even see the individual store inventory for specific products.
For instance, in Walmart.com's marketplace, you are as likely to see items shipped by Overstock.com and Wayfair as you are to see those shipped by Walmart.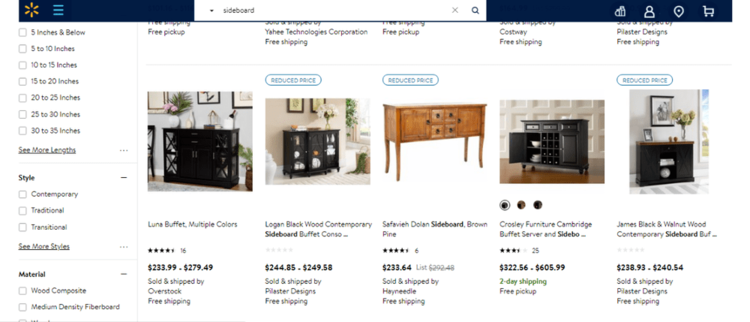 Walmart is working to expand both the e-commerce side of its business and home decor, launching brands like Allswell Home (on Instagram @allswellhome), a luxe mattress and bedding line. On December 6th, Walmart announced it was acquiring online home decor retailer Art.com, adding to Walmart's growing portfolio of digital brands like Moosejaw, Hayneedle, and Jet.com.
According to Walmart stakeholders, part of the reason for the acquisition is to help Walmart target the younger, tech-savvy  audience that doesn't make it into Walmart's store locations. The acquisition will also enable Walmart to leverage Art.com's augmented reality technology.
Even for retailers like At Home which doesn't have a shopping cart feature, an online presence simplifies the shopping process. I like to use At Home's search feature to find stuff I like, then check to see if the product I see online is available in any of the locations near me.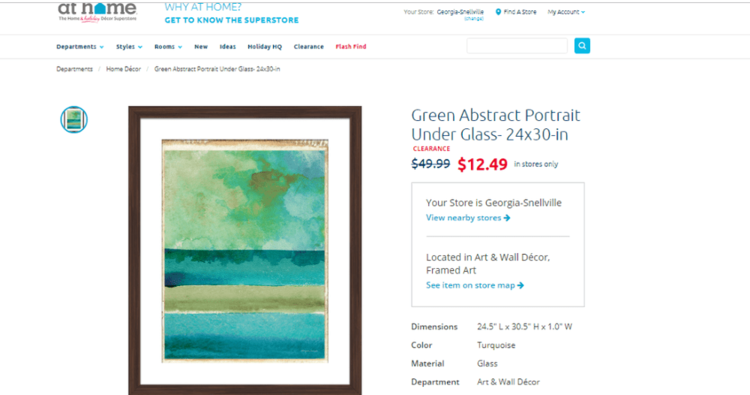 5 Cool Social Media Strategies We've Seen DIY and Home Decor Brands Use
#1 RUNNING PRINT CAMPAIGNS
This is an area we don't talk about a whole lot, but many businesses can benefit from having both an online and an offline marketing strategy in place.
I talked a bit earlier in this post about magazines and television still being an important part of the inspiration process for consumers over the age of 45. So, running an offline campaign alongside your online efforts can help you reach your goals faster. I have two examples here…
CHALK INK
Chalk Ink first landed on my radar as I flipped through the July / August 2018 issue of House Beautiful. The company had a full-page ad in that issue…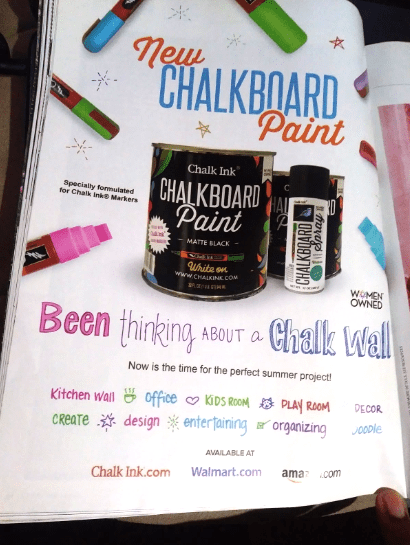 When I saw it, I immediately snapped a picture of it as a mental note to check Chalk Ink's marketing on other platforms – i.e., see what kind of fun content was showing up on Instagram. I originally assumed Chalk Ink would be targeting moms with school-aged kids. I couldn't immediately think of another use for Chalkboard paint or chalk marketers. I totally forgot about Instagrammers in particular using chalkboards and letter boards to create and post textual messages. Chalkboard messages have been reappropriated from the coffeehouse culture of using script or calligraphy to write messages and menus on chalkboards.
So, yeah… Chalk Ink is active on Instagram (@chalk.ink).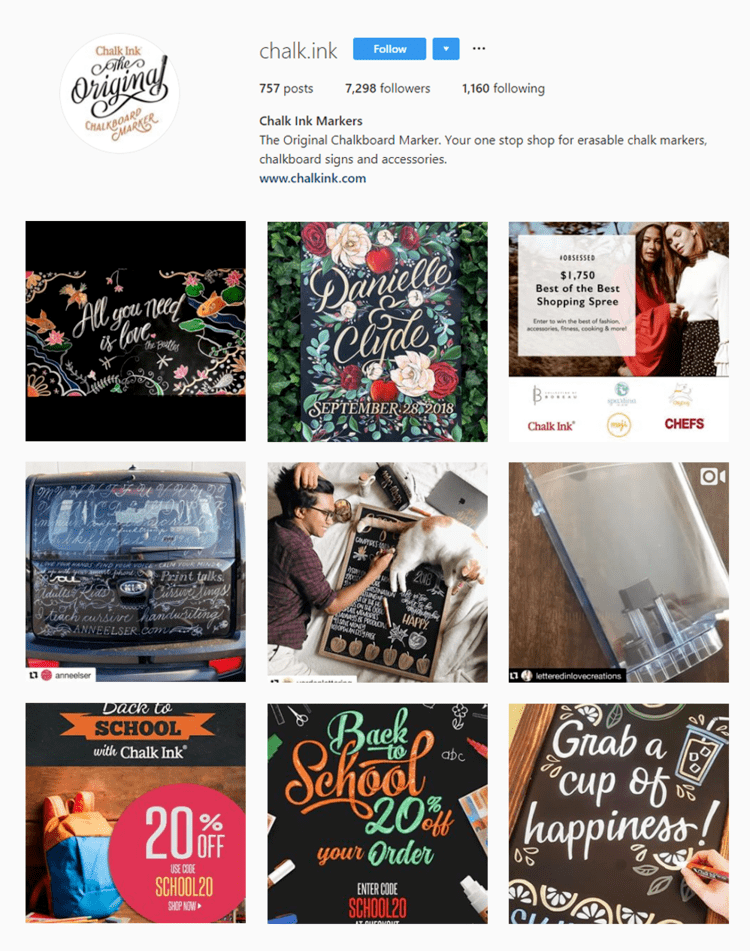 As I scrolled through the company's Instagram feed, I spotted a post announcing another print ad in Entrepreneur Magazine.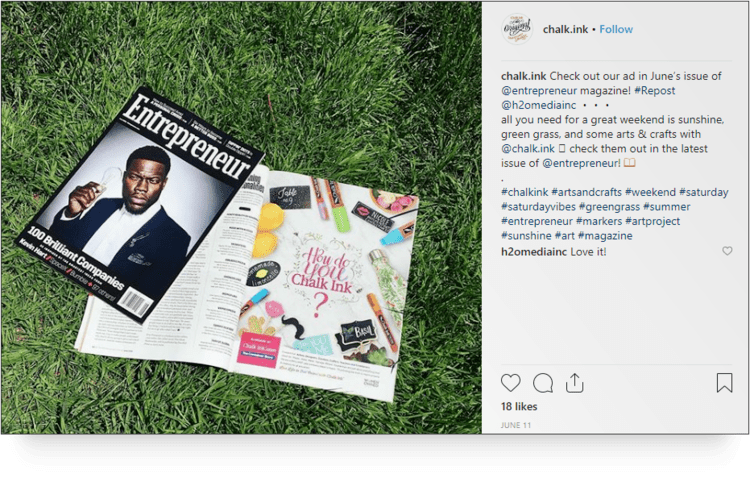 I didn't notice an immediate connection between what they were posting on social and the ads that were running in national magazines. Which brings me to my next example…
#2 RUNNING SYMBIOTIC ONLINE AND OFFLINE CAMPAIGNS TOGETHER
TOMORROW HYBRID MATTRESSES
I also came across a print ad for Tomorrow Hybrid Mattresses, which looked a lot like Instagram fodder to me.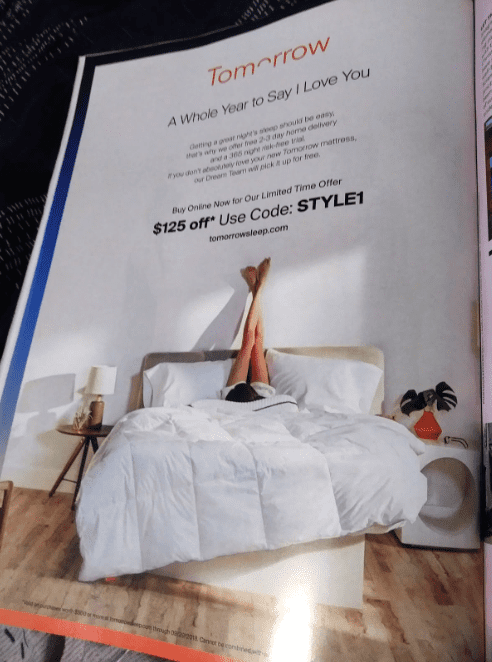 That immediately made me search the company's Instagram feed for the same image, which I found. Variations of this image can also be found on the brand's website.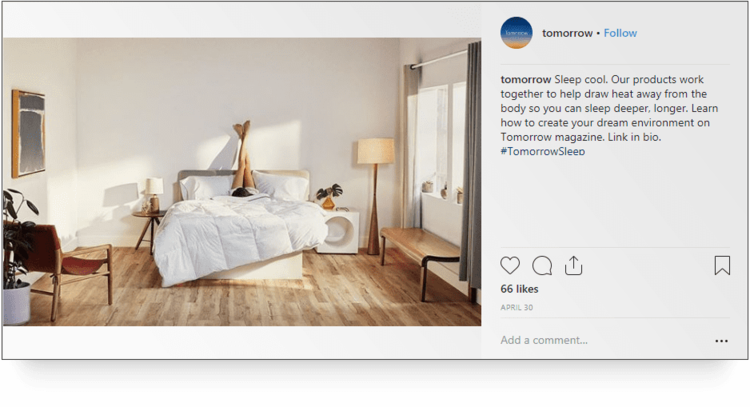 Tomorrow (which is a Serta brand) consistently runs influencer campaigns like this one with influencer Tal Lee (on Instagram @tallee).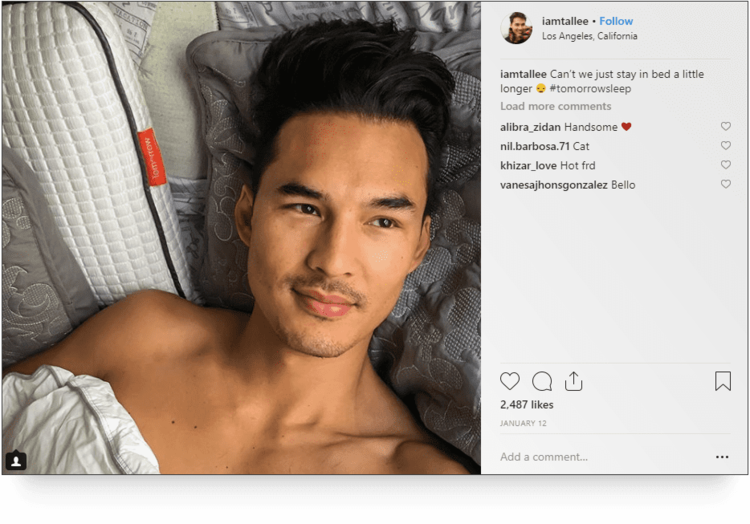 There are also tons of posts featuring professional athletes… like this Instagram post from NBA shooting guard Jacob Evans III (on Instagram @j.n.e.iii)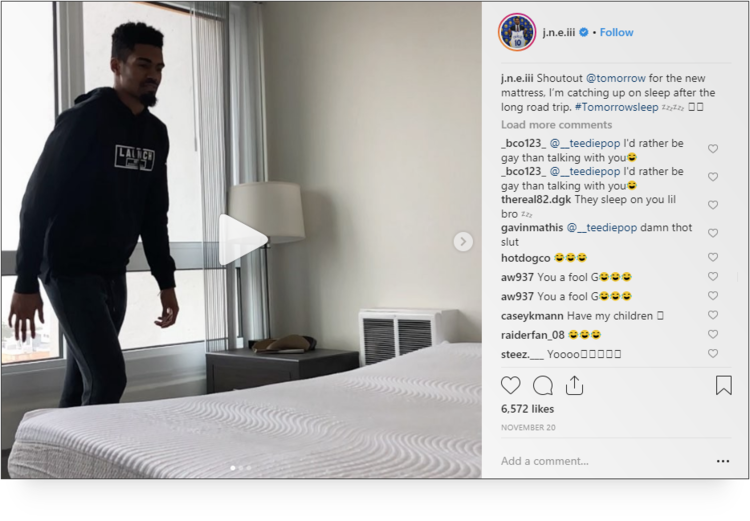 Or this Instagram post featuring professional NFL linebacker Alec Ogletree (on Instagram @misterogletree52)…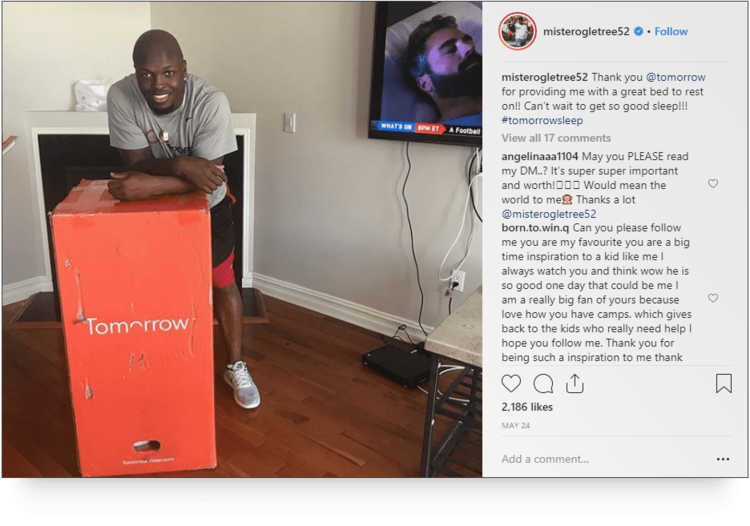 And this one with NBA point guard Elfrid Payton (New Orleans Pelicans; on Instagram @elfrid)
#3 BECOME A RESOURCE FOR #GOALS
WAYFAIR
Once upon a time, Wayfair was dozens and dozens of individual drop shipping ecomm sites until its founder got the brilliant idea to make Wayfair one awesome marketplace for the coolest-looking furniture on earth. The brand runs multiple branded accounts on Instagram and Pinterest. Smartly, Wayfair creates a lot of content designed to help shoppers source inspiration.
Becoming a source of inspiration offers a couple of cool benefits. First, becoming creating valuable content that includes looks, trends, and design ideas gives you more opportunities for your customers and prospects to engage with your brand.
Second, the analytics such as bookmarks, repins, Likes, comments and regrams will give you insights into which ideas and trends your customers are most interested in seeing more of, so you know which products (plural) they are more likely to save, "cart ", and buy.
Wayfair's Wayfair Professional account on Instagram features both design ideas for home offices and commercial spaces, as well as actual designed spaces the company has created, like this Instagram post of the reception area of Brit + Co (@britandco).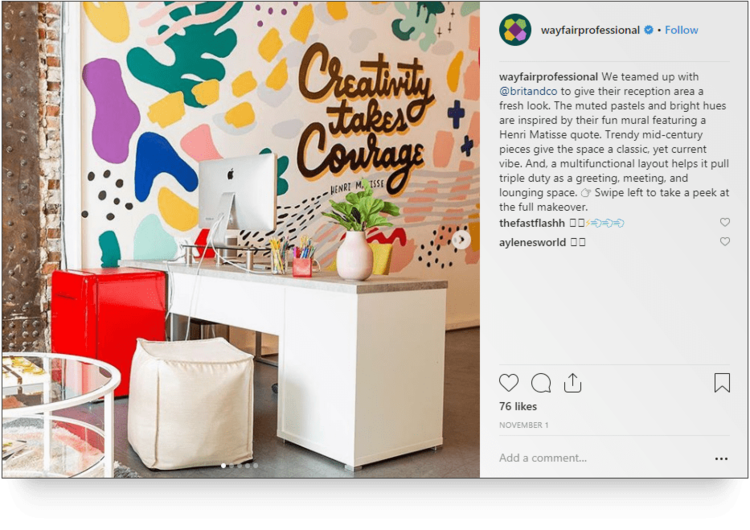 The Wayfair US Pinterest account includes 15 boards one of which is the Style Inspiration board, comprised of more than 2200 pins. This board alone has more than 363K Pinterest followers. What's cool about this board is it isn't your run-of-the-mill chair-and-table pics. Wayfair's inspiration section includes trendy ideas for cartography-inspired decor, as well as ideas for design ideas for vintage, cottage, southwestern and even speakeasy style decor.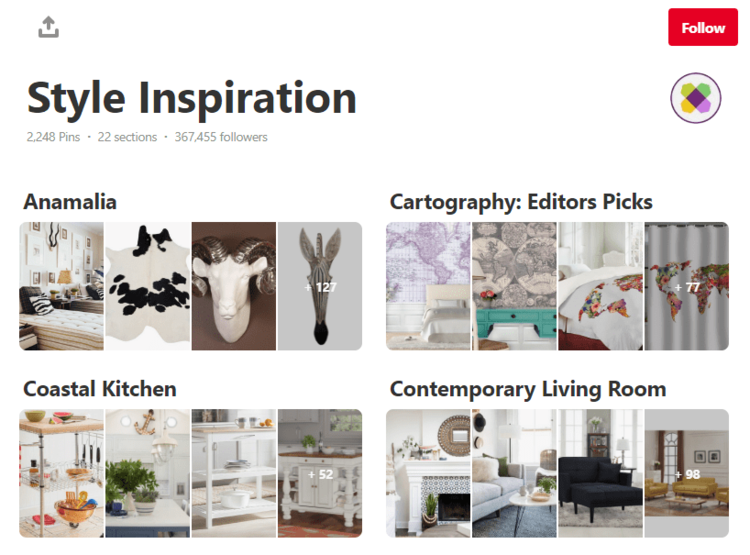 #4 BEING A REGULAR PERSON, SO TO SPEAK
IKEA
Ikea is an absolute MASTER at understanding that there's more going on in a buyer's world than just shopping for furniture. Ikea does a great job at tapping into what's going on in popular culture and reappropriating it to fit the brand.
Ikea's now Ikonic (see what I did there?) back-to-college video series entitled "Oddly Ikea" featured a 25-minute ASMR video that tiptoed through a series of products (and gently-spoken product information) as part of a dorm room design inspiration piece. Coincidentally, the image below is from that ASMR video, paused on a screenshot of someone tapping their fingers against a 200-thread count sheet set… to "hear every thread".
But beyond the curiously enjoyable ASMR video last year, Ikea is also great at drumming up design inspiration, both in-store and online. Ikea's Pinterest account is 45 boards, most of them are design inspo boards.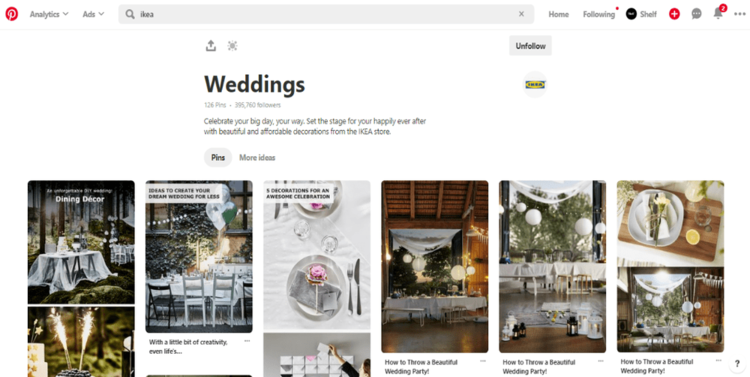 Another smart move – Ikea has stepped outside the home to include inspiration boards for things like the office, food, holidays and even weddings.
#5 CREATING DIY AND HOW-TO CONTENT
Fun fact: For people who plan to do home renovations and improvement in the coming year, 52 percent expect there will be a 50/50 split between what they intend to do themselves and what they intend to hire a professional to do. So brands that are able to create content that walks DIYers through simple (and even more advanced) techniques for doing things like building a table or maintaining a garden can get a spike in their sales by teaching. .
ACE HARDWARE
If there's one home improvement brand that has the How-To content thing down to a science, it's Ace Hardware. Your local Ace Hardware isn't a giant superstore. If you have one near you, it probably looks like the local hardware store – easy to navigate, no chance of getting lost, and accessible inventory that you can reach… or grab a step stool to get when absolutely necessary.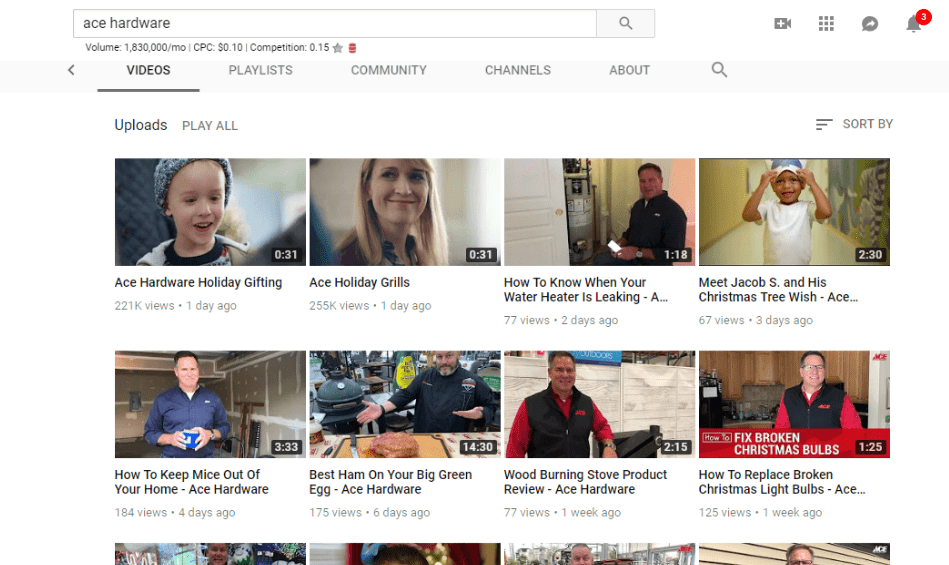 Ace Hardware has found a way to get eyes on its products and on its brand through a series of super-useful home dwellers videos. Sure, you can learn how to build a table, but you can also learn how to fix broken Christmas lights, how to keep mice out of your house when it gets cold, and the proper way to divide perennials.
Ace skipped the typical product reviews and went one step further to show the utility of its products. For instance, Ace has a series of videos of cool recipes for the Traeger Grill. Not just ribs, but corn casserole, S'mores cones, root beer pulled pork, jerkey, and smoked deviled eggs.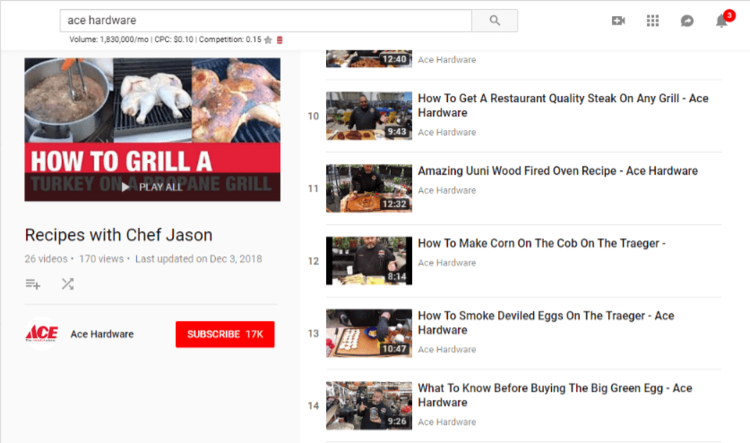 Ace's YouTube channel has more than 17K subscribers. But get this – the channels has racked up 16.8 million video views.  
Ace Hardware generates content ideas like every one of its retailer-owned stores is populated by real people who actually live in real houses. It makes sense that Ace Hardware is the top-ranking home improvement store chain in the United States for customer satisfaction.
Ace's tagline forever has been "Ace is the place with the helpful hardware folks." the company's social media strategy supports that mission. So, it's content isn't really design inspiration so much as helping people solve real issues. Super smart.
Even on Pinterest, there is as much DIY content as there is inspiration or product info content.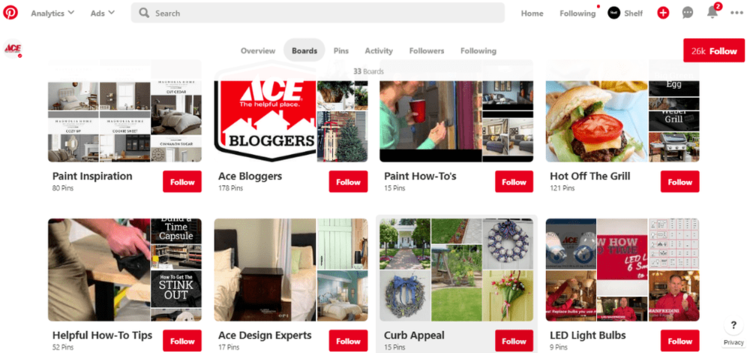 Wrapping it -Up
We are making the transition from year-end to the New Year, and as home owners and apartment dwellers are collecting ideas for the next big home design purchase, brands can begin incorporating these super effective digital marketing strategies into their 2019 arsenal.
Of course, if you need help with your next big marketing push, our platform is all about the data and simplifies what could otherwise be an extremely onerous process of rolling out a highly-targeted, effective influencer marketing campaign. We can help. Just call.