More shoppers than ever will shop major deals on their phones after gobbling down turkey and pumpkin pie this Black Friday. Big retailers already know this, and already have plans in motion to grab their share of those Thanksgiving weekend sales.
You should get in on that, too. So, we're just gonna hop right into this and give you some tips for building a Black Friday marketing strategy that will help keep your #shopsmall campaign top of mind for your local customers.
Before we proceed, I want to point out that the strategies provided in this post are evergreen. So, whether you use them to get in on Small Business Saturday the day after Black Friday or keep your campaign going through the holiday shopping season, these tips will be working overtime to help you hit your campaign targets.
Entice Black Friday Shoppers to #ShopSmall with a Brilliant Influencer Marketing Campaign
The table is set, and it's time to eat! Give me all the turkey, stuffing, green bean casserole, pie, and influencer marketing strategy you can dish out. It's almost Thanksgiving, people. That means Black Friday is just around the corner.
Do you have your influencer marketing campaigns laid out to make the most of this holiday shopping extravaganza? If you do, kudos. We like the way you think. If not, don't fear. We're thankful you found us.
This Season of Giving, The Shelf is gifting you the magic of influencer marketing ideas that will transform your Black Friday and Small Business Saturday sales into something to be extra grateful for. We've broken down some stats and strategies to get you started.
…
As Thanksgiving kicks off the holiday season, shoppers around the world are making lists and checking them twice in search of the perfect gifts for their loved ones. With big-box stores, small businesses, and online retailers boasting the best sale prices of the year, Black Friday shopping becomes hard to resist.
Last year, approximately 38 percent of Americans shopped on Black Friday, bringing in a record $6.22 billion online. This number comes as a result of more than a trillion visits (yes, that's trillion with a T) to American sites that accounted for the 23.6 percent increase over 2017's online Black Friday sales.
The shift in online shopping trends doesn't stop there. According to MarketingLand's numbers, more than one-third of Black Friday purchases were made on smartphones last year. The sale frenzy crept its way into the holiday festivities at a record high, with consumers logging on right after Thursday's Thanksgiving dinner. Forget dessert, Americans (and international shoppers, alike) are giving thanks for the ability to conveniently shop post-feast.
While we're on the subject, there's still time to beef up (turkey up?) your Thanksgiving marketing as well.
More consumers are taking to their smartphones to make Black Friday purchases, which makes influencer marketing increasingly beneficial. As the post-dinner scrolling begins, we expect online sales to ramp up around 4pm and peak in that post-turkey bliss between 8pm and 10 pm, just as they did last year.
Smartphone users spent more than $2 billion in Black Friday sales in 2018. That number is expected to increase, and American shoppers will likely spend even more on gifts this holiday season.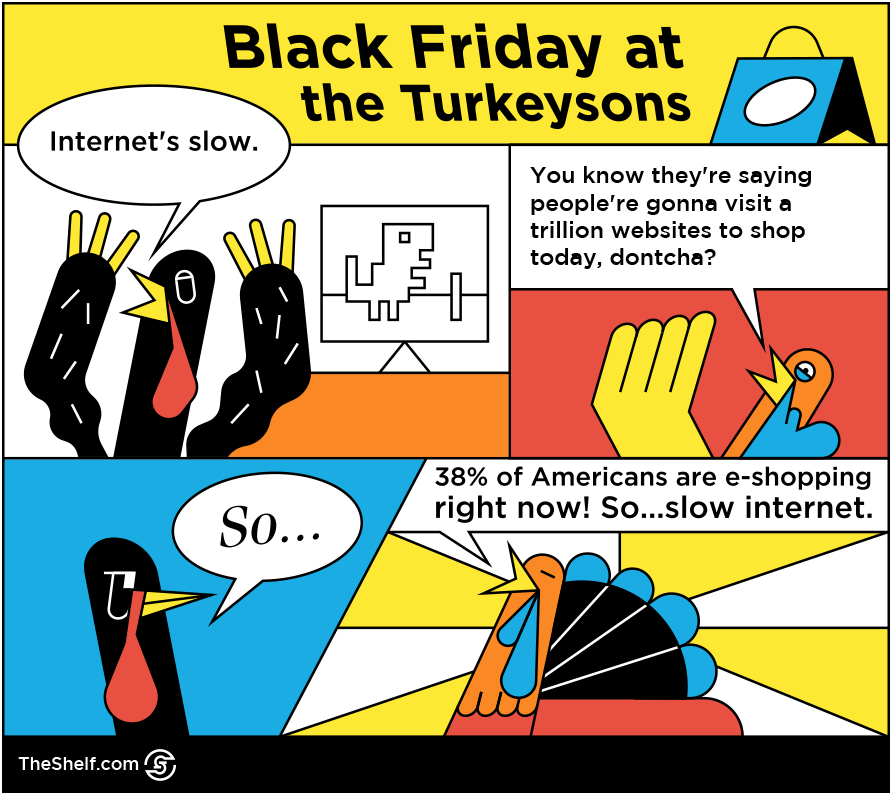 As more and more people log on to their Grandma's slow-and-steady-wins-the-race wifi to complete their holiday shopping,small businesses can use this mobile migration to gain traction in the Black Friday market.
And I know what you're thinking, but you don't need doorbusters or a line of eager shoppers camped outside your store hours before you open to reach and surpass your Black Friday sales expectations. All you need is a top-notch influencer strategy to encourage your target audience to shop small.
American Express and the Small Business Saturday #ShopSmall Movement
In 2009, American Express launched the first Small Business Saturday the day after Black Friday. The campaign was originally designed to help local small businesses rebound after the Great Recession. Now, it's a whole big thing.
This November 30th marks the 10th anniversary of the Shop Small movement, now a legit holiday shopping tradition that continues to bring communities together in-store and online.
More than 22 million posts use the #shopsmall hashtag. And even more are tagged to the official @shopsmall Instagram account.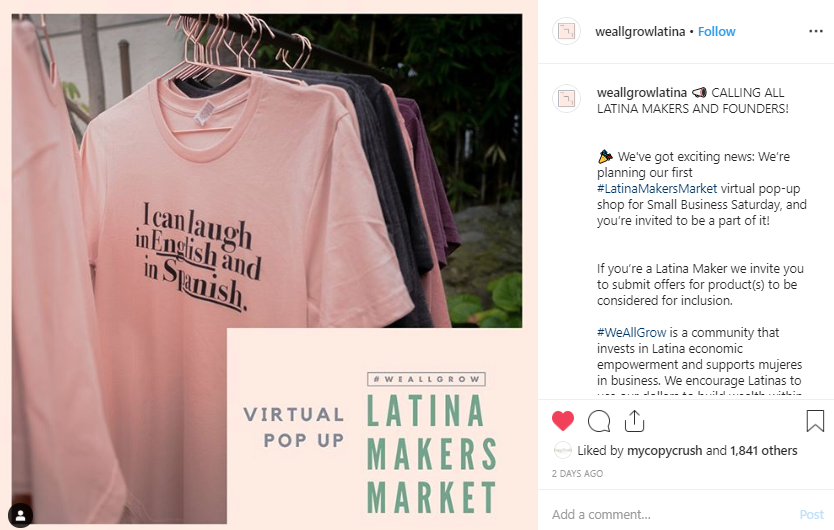 And I'll let you in on a little secret. Even if you just comb the posts that are using those tags, you'll probably find a world of campaign examples that will help you dream up cool ideas that'll help you drum up Small Business Saturday sales.
(Or you could always skip the hard work and just hit us up and we'll handle the influencer marketing part for you. Beats overburdening yourself with campaign stuff then trying to find ways to rehydrate an overcooked turkey on the day of. #beenthere)
We actually put together our own list of really cool #shopsmall influencer posts that we think merits The Shelf stamp of approval. These posts appealed to influencers' niche audiences, repped their small business partners, and generally presented a cozy, thankful vibe.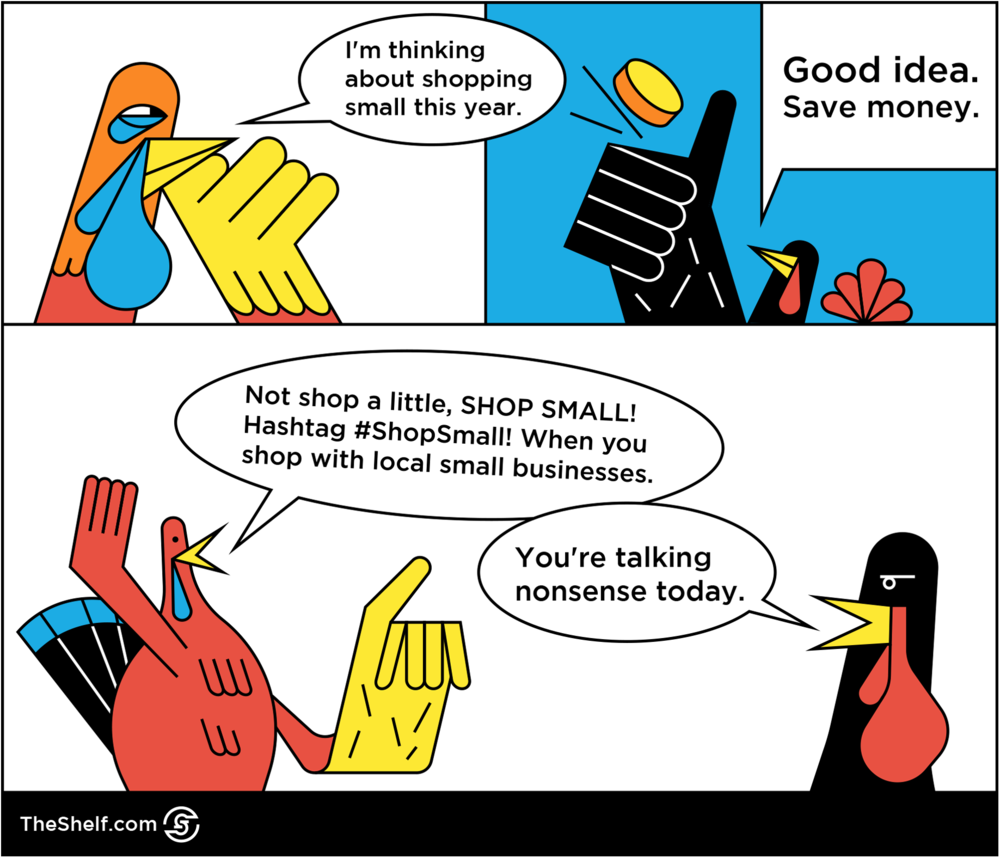 5 Black Friday Marketing Tips to Keep Your Local Small Biz Top of Mind This Year
Marketing Tip #1: Tug on Those Holiday Heart Strings
For many people, the holiday season provides an opportunity to get some much-needed family time. I mean, the changes in the weather alone are enough to make you stay inside, even if it means hearing the latest Looper gossip about Hollywood's next big prequel from that weirdo, sci-fi geek second cousin of yours. #eyeroll
(If you're the weirdo, that's what everybody around you is thinking but not saying.)
My point is…
Effective social media campaigns often build on these types of marketable holiday moments to create high-impact campaigns that resonate with your audience because people TOTALLY get where you're coming from.
Influencer posts that showcase family bonds, remind us of reasons to be thankful, and that inspire giving are perfect for more traditional holiday campaigns. Consumers already have full bellies, your influencer marketing strategy could leave them with full hearts as well… plus another item (or two) checked off their gift list.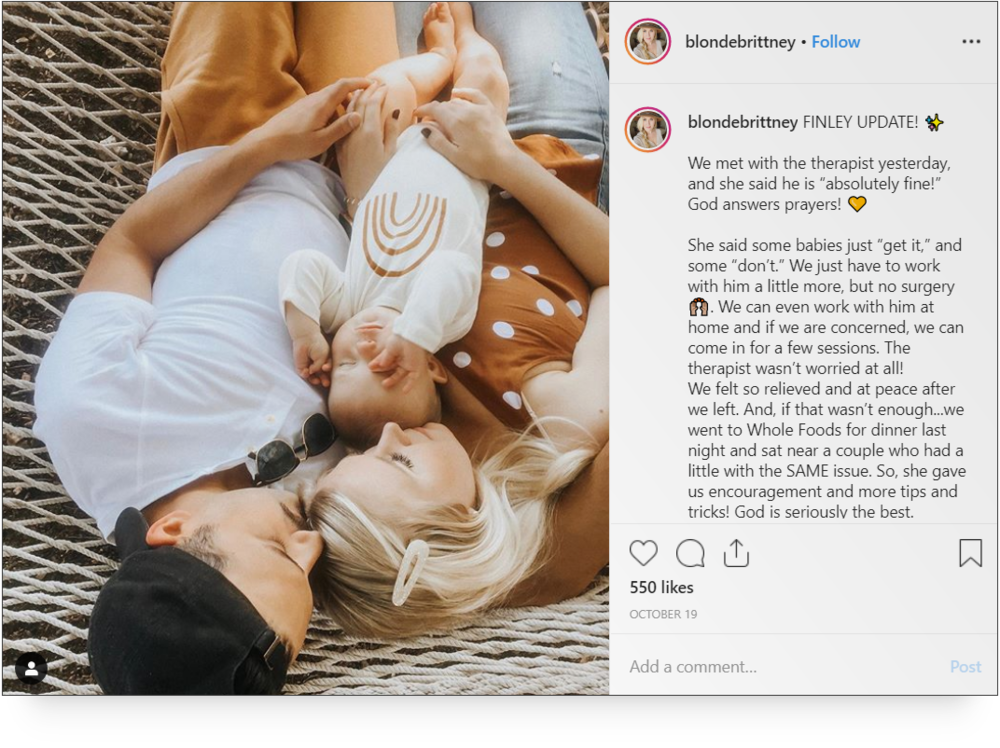 I love how my #shopsmall search provided as many small business posts as it did posts about small humans! The above post flawlessly captures both.
Mommy Blogger Brittney Graham shops small for her little one. Although this post wasn't geared toward Black Friday specifically, it is a great example of an influencer marketing post that works well for the season and effortlessly promotes the brand @tenthandpine.
The post provides her follower community with an important update on the well-being of her baby boy, Finley. This kind of vulnerable, wholehearted sharing bolsters the trust her followers feel and highlights the season of thanks.
We see a grateful family first, then we turn to the small biz babywear brand the blogger tagged. This helps the post feel less like an ad, and more like an extension of the influencer's life, which in turn helps with consumer reception. (Influencer marketing is all about ads that don't feel like ads.)
Plus, the marriage of influencer marketing and small businesses is built on a foundation of niche audiences. Although the post brought in 550 likes (as of this writing) and a smattering of comments, this engagement accounts for 15 percent of the influencer's following of more than 8,000 eco-conscious, small-business-shopping moms.
Little tip for choosing influencer partners who have these types of super-niche audiences: Look for local influencers with audiences that are highly engaged (the minimum we typically look for with engagement is 1.5 percent, so this post kicked butt). And yes, you can go with nano-influencers like Brittney who have between 5,000 and 10,000 followers BUT if you do that, make sure most of their social media audience is your target audience as well.
Marketing Tip #2: Remind Them What Time of Year It Is
If you're anything like me, the Christmas lights go up ASAP after Thanksgiving. What better way to drive holiday gift sales than by getting your customers in the holiday spirit (because the Black Friday spirit often sucks, big time).
Take a look at this post from @thekrazykouponlady.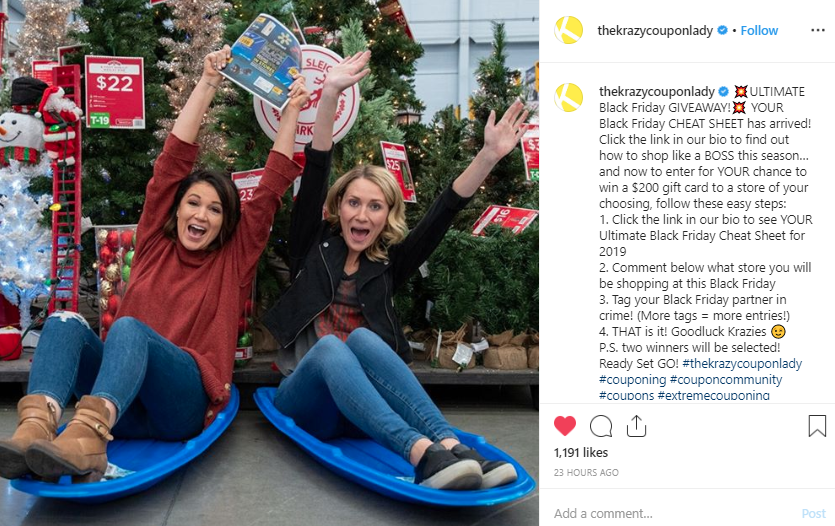 What's great about this post is it's actually a post promoting a list of Black Friday deals, but it pulls you into the excitement of the holidays because these particular frugal femmes are posing in sleds with a bedazzled Christmas tree backdrop, and they look downright THRILLED.
The caption of the post details a giveaway with instructions on how to enter to win a $200 gift card. And while there are only 1191 Likes showing, there are more than 1,000 comments… meaning this influential duo (that has more than 208k followers) was able to generate up one percent engagement in just 23 hours.
For a more traditional holiday approach, take a look at the Christmas-themed post below. It's just the type of post that can easily put your followers in the holiday spirit, even if you live in a place that doesn't celebrate the American holiday of Thanksgiving… like British Columbia.
Although Thanksgiving remains an inherently American holiday, international buyers and retailers do take advantage of the sale prices and shopping fever that descends on us between Black Friday and Cyber Monday.
American retail culture extends abroad. Countries, big-box retailers, small businesses, and consumers around the world will celebrate Black Friday this year. Be sure you aren't limiting your audience (or your influencers) to U.S. shoppers.
Marketing Tip #3: Partner with a Local Social Media Celebrity (Holiday Entertainer (or the Style Enthusiast)
In classic influencer fashion, Boston blogger Alyssa Stevens serves some serious Thanksgiving aesthetics in this post. The photo accompanies an invitation to watch her spot on a local television program where she plugged several small businesses (each tagged in her photo) that contributed to her holiday hostessing.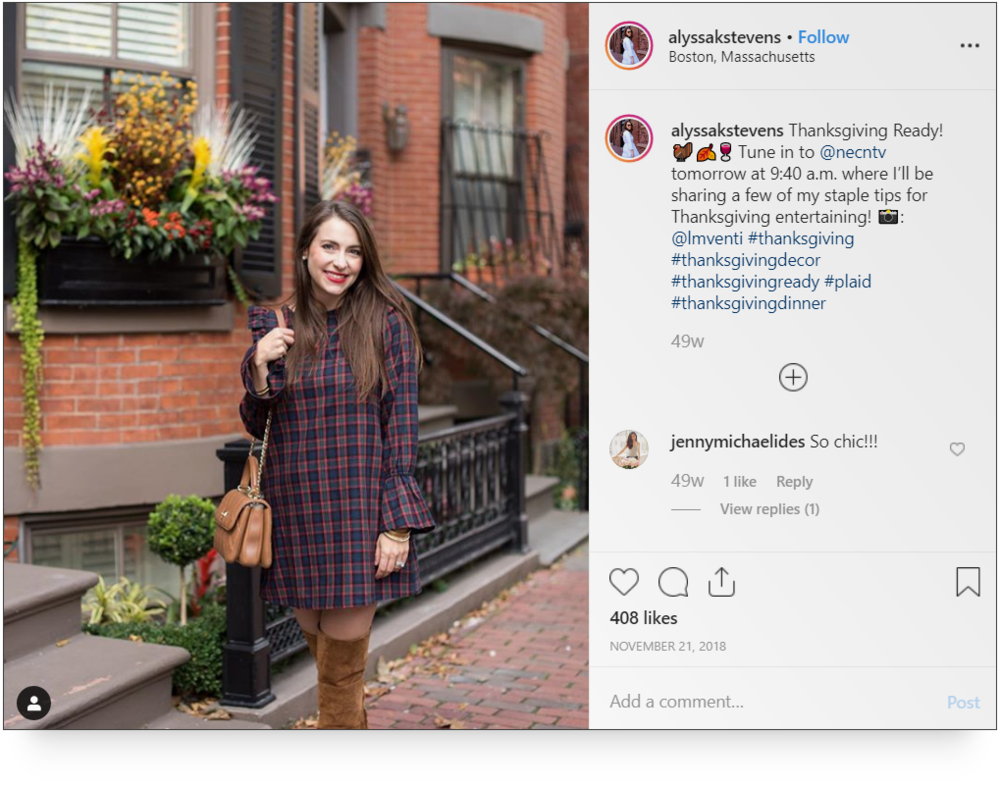 Alyssa's post contained tags for companies like Target, JCrew, and Amazon, attributing credit for her perfectly curated fall 'fit. But she also tagged local, small businesses including Table Talk Pies, Place and Gather, and Junebug Charlestown. This appeals to the average consumer who is looking for the total package. When not everything can be shopped small, be sure to highlight the things that can and should be this holiday season.
Marketing Tip #4: Show Them Who You Are (or Remind Them Who They Are)
There is something to be said for being a man or woman of the people. Humanizing your brand by telling them who you are, what you do, what the vibe is in your the office, how you make your products is the fastest path to building a community.
With today's shoppers, a lot of brand loyalty is created in the space around the brand. By that I mean, the things you do and the persona you create that extends beyond just making and selling goods and services.
Social media is the PERFECT platform for faceless, soulless companies to humanize themselves. Take a look at this scroll-stopping post that we found under the hashtag #shopsmall.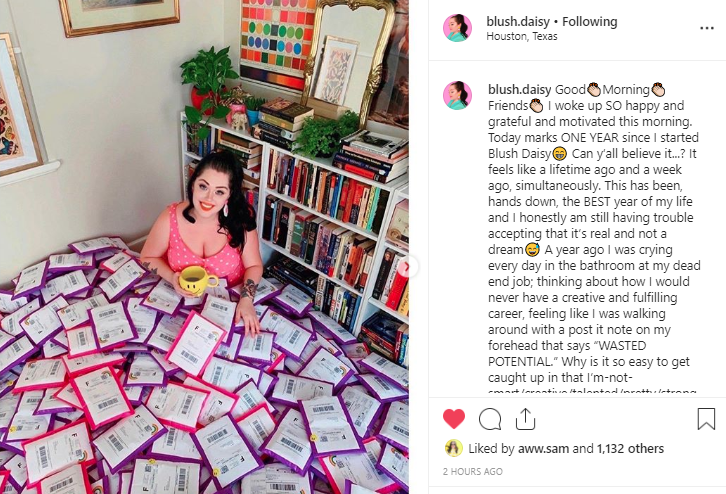 Blush Daisy's owner, Alex Danko uses ShopBlushDaisy.com to sell colorful, 60s-inspired jewelry. Her posts are eye-catching and unique. And the community she's built on instagram is engaged, and it's growing. For a micro-business, often the best way to build a customer base is to engage with your followers.
Years ago, it was trendy for small businesses to make themselves look bigger using things like live answering services, virtual receptionists, and "business-y" stock photography. Websites used words like, "we" and "us" and "our team". When really, it was just the one guy at his dining room table.
You know what? This pic of Alex in her cozy workspace, captioned with an autobiographical account of the year she's had since she opened her business does more for her brand than 1,000 fake receptionists. Haha.
I guess my point here is to be authentic. Authenticity is trending right now.
Flipside…
If you're not still jammed into that faceless, soulless category and your followers know you, I think it would be cool if you remind them what you know about them. Look at this Express ad that's running on YouTube as pre-roll. It's part of the brand's Express Yourself campaign. This is the full spot, but the pre-roll we saw that triggered our YouTube search for the full video was probably between 6 and 15 seconds long.
Marketing Tip #5: Show Up with Some Great Deals
Giveaways, sales, and discount codes are as important as ever when it comes to Black Friday and #shopsmall influencer campaigns. Your customers are swimming in coupons and cut-price tags from the big box stores. Though most savvy shoppers aren't expecting the same level of discounts from local small businesses, they really do appreciate it when a local small business falls in line with holiday tradition and offers those sweet deals in-store and online. They'll probably be all over it.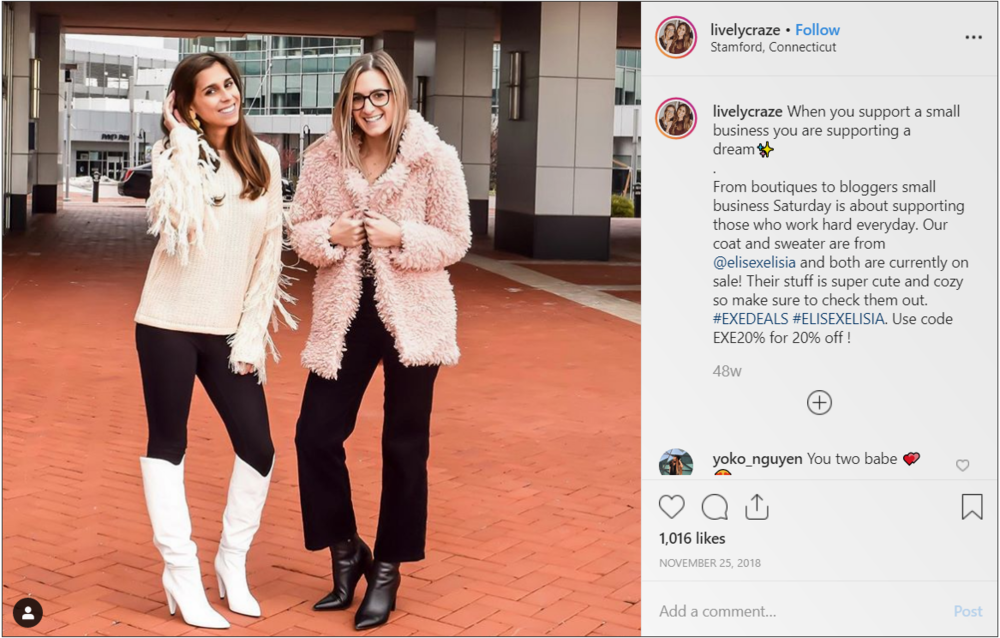 A great way to enhance the symbiotic relationship between your influencers and your small biz is to offer influencer-specific discount codes. Sometimes, brands will incentivize the influencer agreement by paying the influencer a percentage of sales he or she generates.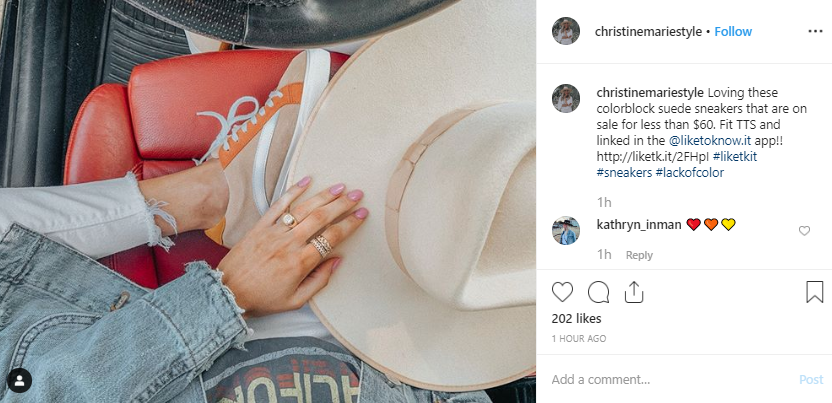 When you compound the savings these discount codes provide with your seasonal Black Friday sales, you're sure to entice new shoppers. These posts are also quite common when it comes to token style bloggers like Kelly & Alex of @livelycraze.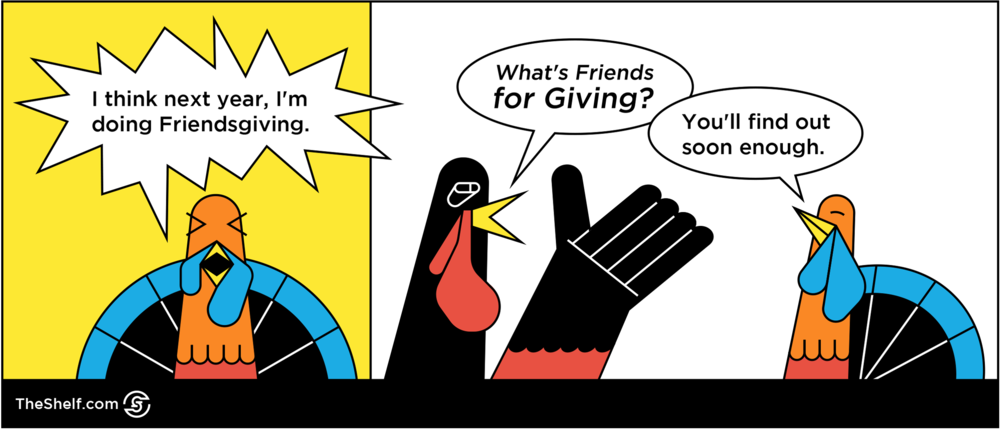 Next Steps
The holiday season is a time for feasting, friends, and family, but it is also prime time to capitalize on all the giving and getting consumers partake in for their loved ones. Have your Black Friday (or Small Business Saturday) influencer marketing campaign fleshed out before the Thanksgiving itis sets in.
As more and more consumers tap add to cart on their smartphones this Thanksgiving weekend, you won't regret launching an Instagram campaign that will dazzle on your shoppers' feeds.
Like what you see here? Check out the rest of our blog for influencer marketing tips and tricks for every season. Have a burning question that just can't wait? Drop it in the comments below.