The ongoing antitrust case against Amazon brought forth by the US Federal Trade Commission and 17 U.S. states has far-reaching implications, not only for Amazon but also for brands that sell and promote their products on the platform. As this legal battle unfolds, it's important to understand how it can impact your sales and marketing. Here's a breakdown of some of the implications of the Amazon lawsuit.
Listen to this article
---
Here's Why the FTC Is Suing Amazon
So, why is the FTC suing Amazon? According to the FTC, the entire purpose of the complaint against Amazon is to eliminate any practices the company currently uses to "block competition, stunt rivals' growth, and cement its dominance."
FTC Chair Lina Khan explained the complaint this way on CNN: "People are paying higher prices, right? Consumers are paying more than they otherwise would. Small businesses are having to pay a 50% Amazon tax right now. And so ultimately, the complaint is seeking to restore the lost promise of competition. Greater competition would mean lower prices, better quality, better selection, and greater innovation. And that's ultimately what this case is about."
We're on the cusp of a holiday season in which 54% of holiday shoppers say they feel a financial burden this year, according to Bankrate. One in ten holiday shoppers started their shopping back in August. Half are planning to start before the end of October.
The availability of a wider selection of products and services from different suppliers and at different price points could provide a much-needed sigh of relief to cash-strapped consumers. And that's what the FTC is accusing Amazon of suppressing – better options for consumers and better opportunities for merchants.
Here's Amazon's Response
In a response published September 26, 2023, Amazon explains that the Amazon marketplace we see today is the direct result of the company intentionally creating a procompetitive space that would allow hundreds of thousands of merchants to sell their products to Amazon's highly engaged audience using the company's state-of-the-art platform.
Where the FTC sees an Amazon tax, Amazon insists its fulfillment service isn't an additional service merchants are strongarmed into getting, but rather a way to shoppers with a consistent experience across the platform, regardless of which merchant they patronize. In addition to the marketplace and fulfillment service, Amazon also provides merchants with discounted shipping rates and low-cost two-day shipping options to merchants who would otherwise have to handle the logistics of running an online store.
It is the company's stance that the "current FTC" has minimized the productive and competitive environment Amazon has created, along with the positive impact the company has made on e-commerce and the US economy.
Why This Case Matters to Brands, Big and Small
For decades, Amazon has been able to leverage the sheer size of its audience as the carrot to woo merchants, authors, and book publishers. Amazon gets more than two billion visitors to its marketplace each month. Two hundred million of these are Amazon Prime members. There are 500,000 US-based independent businesses selling on Amazon, according to the official response released by Amazon earlier this week. Amazon generated 514 billion dollars in sales in 2022.
But here's where things get a little tricky…
Among the platform's sales, 41% stem from Amazon's wholesale procurement and subsequent sales, while the remaining 59% originate from third-party sellers, predominantly comprising small and mid-sized businesses. These sellers offer their own products on the platform and often bear substantial fees associated with selling there.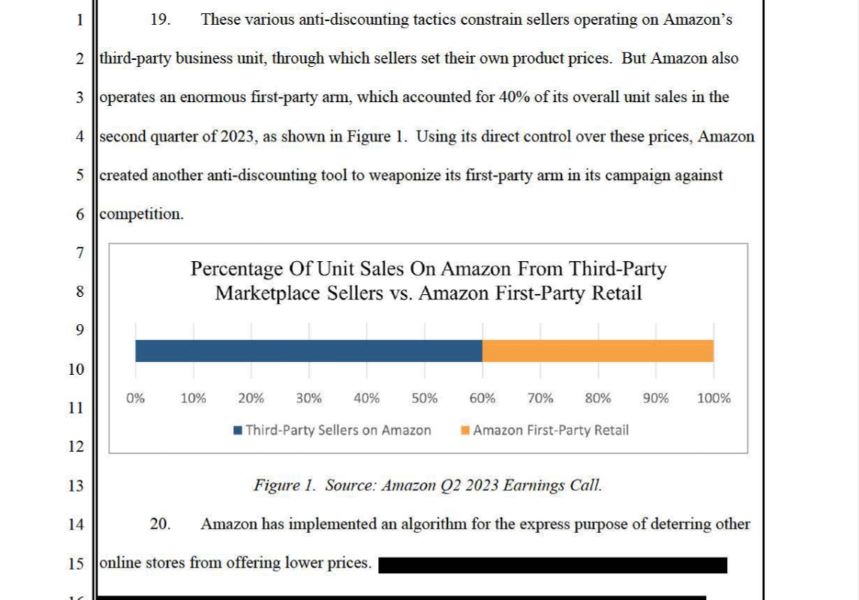 In some instances, it may be better for these brands to pursue a Direct-to-Consumer (DTC) approach. The challenge is many brands encounter difficulties in breaking free from the Amazon ecosystem. Amazon third-party sellers (the small businesses selling products retail to the Amazon audience) are either prohibited from selling their products on other platforms at lower prices or face penalties for doing so. These are the "anti-discounting tactics" mentioned in the FTC complaint.
If you were to take a look at the complaint itself, you'll find large portions of the complaint are redacted, which you can see in the snippet above. Part of what's redacted in the snippet is a description of the technology the FTC says Amazon uses to crawl the web in search of instances where Amazon sellers have discounted their prices on another platform. Cool technology. If only we could use it for good.
"Well, just don't sell your stuff on Amazon!"
Makes sense, right? Except… many retailers and manufacturers that opt not to set up shop in the Amazon marketplace discover Amazon's reach extends far beyond the platform. Many of these brands – some of them large legacy brands – discover that Amazon is outbidding them for their own branded keywords through Google Ads and driving what could essentially be direct traffic for that brand back to Amazon using a paid ads.
Yes, many merchants generate revenue on Amazon. But many merchants also find their profits fall short of what they could earn were they to sell directly to consumers. Plus, tracking sales and attribution is often clearer through direct-to-consumer channels compared to Amazon's complex ecosystem.
So, THAT'S what this whole thing is about.
4 Things About the Amazon Lawsuit That Could Change Your Sales and Marketing Efforts
Whether you are in support of the antitrust lawsuit or you couldn't care less, this case matters as there are likely to be some changes in the near future for both retailers and manufacturers. Without even taking into consideration the long-term implications of this case once it's decided, there are a handful of ideas that stick out about this entire ordeal.
Rising Scrutiny of Amazon's Operations
At present, all attention is focused on Amazon. A significant, high-profile antitrust case such as this one has the potential to reshape the landscape of e-commerce. It is likely to trigger heightened scrutiny of Amazon's business practices. This, in turn, could lead to increased transparency and reporting requirements for brands currently selling on that platform, designed to ensure compliance with potential new regulations. And it's important to note that these regulations may emerge before the case is decided in court. 
Much like similar legal actions against major tech firms, the Amazon lawsuit could extend over several years. During this period, it's likely the company will independently introduce changes intended to mitigate the impact or credibility of the lawsuit. So, there's that.
Leveling the Playing Field
The ongoing antitrust case against Amazon brings hope that it could lead to more competition and a fairer playing field on the e-commerce giant's platform. If the case results in measures to promote fair competition, it could benefit various brands. Smaller businesses, especially those that rely on influencers for visibility, might find it easier to compete with the larger, dominant sellers on the platform who are buying all of Amazon's bells and whistles (namely fulfillment services and ads to promote their products and merchant shops).
If Amazon is found guilty of antitrust violations, it might have to change its pricing strategies, potentially making the competition on its platform fairer. This, in turn, could mean better pricing options for consumers, making the marketplace more consumer-friendly.
It's worth noting that the effects of this antitrust lawsuit may extend beyond Amazon itself. Brands operating within Amazon's ecosystem could see changes in their competitive landscape, possibly ushering in a new era of fairness and accessibility. This shift could enhance the overall experience for consumers as well.
Leveraging Creators: Stay Visible on Amazon AND Boost Your DTC Channel
The role of creators in amplifying brand visibility cannot be overstated here. TikTok has demonstrated this power, where creators continuously churn out captivating content, driving engagement and shaping trends. This dynamic doesn't just apply to TikTok though; it's becoming increasingly pivotal for Amazon as well. Here's why:
Amazon has been evolving, embracing video content while also incorporating more social features into its platform. For the last few years, Amazon has been making a very deliberate move toward not just video, but making Amazon a more social app.
Both the home page for the desktop version of the Amazon website and the home page of the app feature video content. The desktop/laptop home page prioritizes Prime Video content while the app prioritizes livestreams from the Amazon Influencer Program.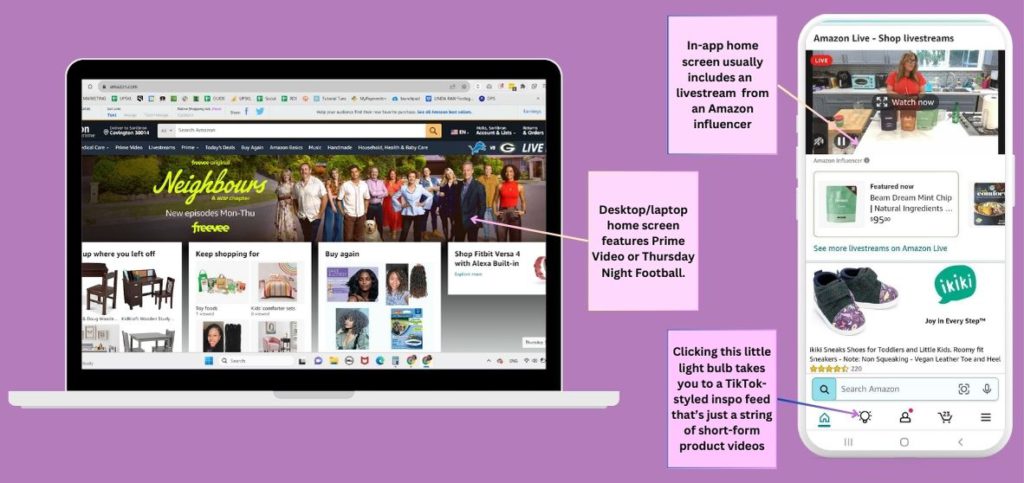 One of Amazon's strategies involves leveraging the video content created by influencers and user-generated content (UGC) from buyers – rich media content that's readily available and easy to find in the app. From the Amazon app, buyers can easily post reviews as rich content. And Amazon prioritizes video reviews from both buyers and influencers in the app.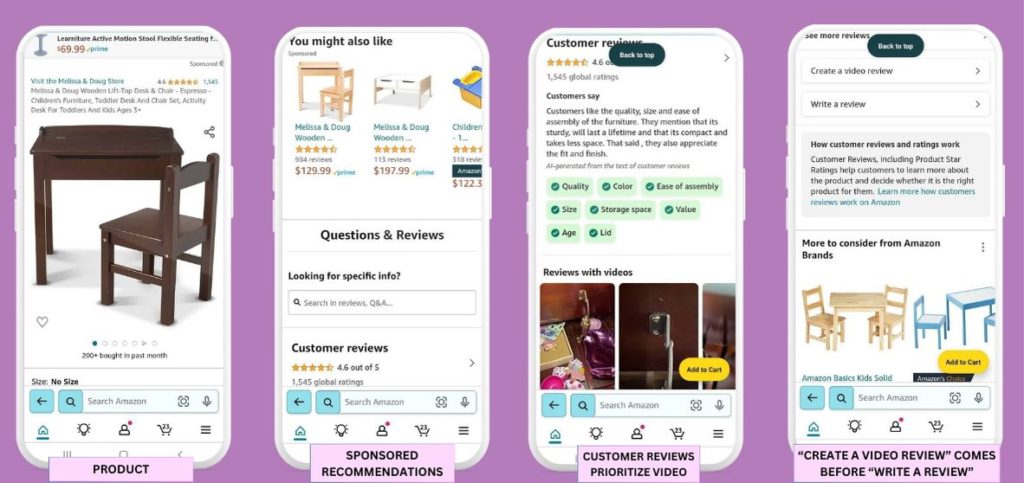 Amazon's also added the Inspire page (featured below) which can be accessed from a mobile device by clicking the light bulb at the bottom of the screen. The feed looks like Reels and TikTok, except all the content is about products sold on the platform.
Amazon provides a few other avenues for increased discoverability, such as the "Shop by Interest" page, which features idea lists, photos, and collages posted by influencers. During the holiday season, curated picks by influencers take the spotlight on dedicated pages, and the gift page prioritizes live streams hosted by influencers while highlighting the day's deals.
These initiatives collectively enhance brand discoverability on Amazon, ensuring that customers not only find what they need but also stumble across exciting products and deals they might not have initially considered. 
Diversifying Beyond Amazon with Influencer Marketing
As Amazon faces increasing scrutiny and potential restructuring, brands are weighing their options. Shifting dynamics can push brands to lean into their omnichannel marketing strategies to ensure they remain visible, particularly during holiday and pulse periods by leveraging influencer marketing.
TikTok
TikTok influencer marketing allows brands to partner with TikTok creators who are already experts at leveraging fun, entertaining, short-form video content to reach the platform's highly engaged audience. TikTokers are virtual masters at making everyday situations hilarious and supremely enjoyable to watch. Which in turn, makes them masters at creating native-looking sponsored content for your next influencer marketing campaign. TikTok's organic reach is phenomenal when compared to the other platforms. And the short form video app has a billion users a day spread across 154 countries. 
Earlier this month, TikTok rolled out TikTok Shop, an all-in-one solution for in-app commerce. This includes everything from shoppable short videos and live streams to a full-fledged marketplace accessible through a dedicated Shop tab.
TikTok Shop boasts about 200,000 merchants, but this number is a tiny fraction compared to TikTok's reported 5 million U.S. business accounts. So, while Amazon navigates its challenges, TikTok is positioning itself as a compelling alternative for brands looking to diversify their e-commerce strategy and reach a fresh, engaged audience.
Instagram
Instagram influencer marketing is a word-of-mouth marketing tactic in which brands hire and partner with Instagram creators to promote the brand's products and increase a brand's visibility among targeted audiences. Brands hire influencers to help them turn scrollers into clickers.
Influencer marketing, in and of itself, can occur just about anywhere an audience exists. But the most recent iteration of influencer marketing grew alongside the popularity of Instagram influencers.
Instagram Shopping is a feature that allows Grammers to shop a brand's products by clicking on pictures and videos anywhere they appear on the platform. Businesses can also open their own Shops, curate collections (influencers are great for this), and create product detail pages which then dynamically pull product details into your tagged products wherever they may show up on Instagram.
Pinterest
Pinterest is a visual discovery platform that allows its 445 million monthly active users to create (or "pin") their own visual content, or bookmark ("repin") other users' pins. Imagine if Instagram and Google got together and had a digital baby. That's Pinterest. Pinterest is one part social media platform, one part search engine, and one part digital scrapbook.
Pinterest marketing provides brands a unique opportunity as Pinterest is a purchase planning app. Ninety-seven percent of the searches on the app are unbranded and pinners use the platform to find inspiration, organize their ideas, and plan their purchases. Pinterest's Verified Merchants program allows businesses to catalog their inventory inside Pinterest, build product catalogs, and create shoppable Product Pins that contain pricing info, availability, product title, and description.
Final Thoughts
Antitrust cases against tech giants like Amazon and Google have the potential to reshape the digital and e-commerce landscapes. Brands promoting products on these platforms have to be agile to adjust to potential changes in pricing, competition, and regulations.
Influencer partnerships can help brands maintain a presence across multiple platforms, including Amazon, whether or not the company shifts the way it operates. Still, it can't hurt to consider alternative platforms like TikTok, even if you're simply adding them to your digital strategy. After all, the average consumer uses seven social media platforms and their path to purchase can easily fragment over multiple channels as well. The emergence of TikTok's social commerce solution adds a new dimension to a social commerce landscape dominated by Facebook and Instagram. Leveraging influencer marketing activations can offer brands fresh opportunities to connect with consumers in innovative ways. 
As these cases unfold and regulations evolve, adaptability and a diversified marketing strategy will be key for brands and influencers alike. We'll keep you posted.