It's almost turkey time! We've rounded up five finger-licking Thanksgiving strategies to help you clean your plate and gobble up all your influencer marketing goals. We encourage you to embrace the themes of the season and watch that ROI roll in.
Whatever product or service your brand specializes in, if you are catering to an American audience, odds are your customers are celebrating Thanksgiving. Meet them where they're at and add to the festivities. Luckily for brands, the season of giving is also the season of spending! There's money to be made this holiday season. Use these five Thanksgiving strategies to see how.
Before We Get Into Thanksgiving Strategies, Let's Talk Numbers
Thanksgiving is the second most popular holiday in America (after Christmas). A whopping 90 percent of Americans are planning to celebrate this year. Many of whom are traveling far and wide to reconnect with family for turkey and stuffing. Last year, nearly 55 million people traveled more than 50 miles for a Thanksgiving feast. Approximately 49 million road-tripped to their destinations. And 4.5 million took to the skies.
All that is to say, Americans are willing to go to great lengths to celebrate Thanksgiving. That's even more reason to invest in influencer marketing Thanksgiving strategies this year. With consumers planning travel, meals, and decorations, Thanksgiving is already top of mind.
Turkey Day enthusiasts are doing more than just traveling. They're putting their money where their mouth is. And they're spending on more than food. Although, food spending is a big piece of the pie. Last year, Americans spent $1.1 billion dollars on Thanksgiving turkeys alone. Millennials were the biggest splurges on Thanksgiving day parties and feasts, with hosts spending an average $461 per party. Boomers, by contrast, spent $242 when hosting Thanksgiving.
With party and prep costs aside, Thanksgiving itself is one of the biggest spending days of the year. Last year, Americans spent $5.9 billion online shopping after their turkey dinners on Thanksgiving Day. There's a lot of money being spent, and that means there's plenty of money to be made by brands like yours.
A Cornucopia of Thanksgiving Strategies
Okay, let's get into the meat of the post. It's time to talk about Thanksgiving strategies. We've added an example post for each strategy to help you visualize what each could look like in your own campaign. The rest is all gravy. Let's dig in.
1. Hyper-Target Your Audience
The vast majority of Americans celebrate Thanksgiving. That's great. It's wonderful to see people come together from all walks of life to celebrate this communal holiday. But it also leads to a lot of generalized influencer marketing campaigns. Because there are so many eyes on Thanksgiving content, many brands go wide. They cast a wide net, targeting anyone and everyone who celebrates Thanksgiving, rather than focusing on a specific niche.
Influencer marketing for a wide audience can be beneficial for certain types of campaigns. (For example, brand awareness campaigns can benefit from larger, more sprawling audiences.) But if your goal is to convert customers and make sales, it may behoove you to niche down. Scrollers are going to see so many generalized Thanksgiving posts this November. Help your brand stand out by creating hyper-targeting campaigns that speak directly to your specific target audience.
Targeting works. And hyper-targeting is even better. Get specific about who exactly your target audience is, and speak directly to them. Where are they scrolling? What are their pain points? How can you make this the best-ever Thanksgiving season specifically for them?
Search Thanksgiving hashtags and niche keywords on your target audience's favorite social platform. You may be surprised by the overlap you'll find. For example, did you know being pregnant during Thanksgiving has become an internet meme? If you're a maternity brand or your target audience is expecting moms, hop on this trend!
2. Focus on Moments
Like we said in this 2019 Thanksgiving strategies post, moments are what we remember. This time of year especially, there are so many homey, family-filled moments that make up the spirit of the season. Tap into that with your influencer marketing content. Encourage your influencers to create moments worth remembering and inspire your audience to do the same.
Thanksgiving moments could include: sharing a meal, the car ride to grandma's house, setting the table, getting ready together for a gathering, walking through fall foliage, baking something special, or telling someone you're grateful for them. There are so many heart-warming moments this time of year! Let's put them on display for all to enjoy.
Think about how your customers use your products or services to make memories. Then capture those memory-worthy moments. Take this example of a mother-daughter duo sharing the first bite of their beautiful Thanksgiving cheese board.
3. Embrace the Season of Giving
Consider giving back this thankful season by running a giveaway. One of the great things about giveaways is that they can be run with the help of influencers or directly from your account. So if you were late to the game on selecting Thanksgiving strategies this year, and you don't have any room in the budget to hire an influencer, don't fret!
Giveaways are common on Instagram. (Don't worry, you can run them through Facebook, TikTok, or your site of choice if you're not a big Insta brand.) Many Instagram giveaways will be structured like such:
An engaging and visually dynamic grid post and story post will feature or explain the products or services being given away. The details of the giveaway will be listed in the caption.
To enter, potential winners will have to follow the brand and the influencer who promoted the giveaway (if there is one). Next, they'll have to like the post or share it on their Instagram story. This is great because it extends your organic reach. You can even encourage entrants to create their own original content around the giveaway to increase your UGC. A great way to do this and keep track of it is to create a hashtag for the giveaway and ask entrants to tag your brand in each post.
Finally, entrants will be asked to tag friends in the comments of the original post. Sometimes this is the basis for general entry. Other times, each unique tag represents a new entry. So entrants can maximize their chances to win by tagging friends. And the brand wins by getting discovered by more and more users who may fall within their target audience.
Giveaways are a great, inexpensive way to increase your reach and give back to your customers.
4. Go with Gratitude
Gratitude is universal. We're all grateful for something and someone. That means your customers are too! An influencer campaign focused on gratitude is sure to win hearts this season.
We suggest encouraging your influencers to organically incorporate your products into a gratitude-focused post. This could be a TikTok video in which the creator talks about what they're grateful for. Or it could be a static Instagram post with a grateful caption. Whatever the platform or medium, it's easy to share gratitude.
Organic product placement in a gratitude-focused post is a great way to shed a positive light on your product or services. These posts can be effective even when your brand isn't the main focus of the post. I mean, if you want to ask influencers why they're grateful for your brand, and you trust they'll have some sweeter-than-pumpkin-pie answers, go for it! But that's not the only way to use gratitude as one of your Thanksgiving strategies.
Here are some examples of posts centered on gratitude with some chill product placements. This type of content is great to request from influencers who you have an ambassador-type relationship with. They know your brand well, and they know how to make it shine even if it's not front and center.
TikTokers on Gratitude
This video is about the scientific effect of gratitude on the brain. It caters to a specific niche, is on theme for Thanksgiving, and features a well-placed product (label side out!) on the table. Subtle yet effective.
In this get ready with me post, influencer Anna Kai talks about lessons she's grateful to have learned while she does her makeup. We can see her well-used Tartelette eyeshadow palette, logo to lens. But the video isn't about being grateful for eyeshadow. She speaks from the heart about her gratitude and just so happens to be creating an amazing look with this product while she tells us about it.
5. Think Home, Family, and Food
Your Thanksgiving strategies should reflect the themes of the season. Your audience is getting in the holiday spirit. Meet them there! Aside from giving thanks for another bountiful harvest, that means focusing on home, family, and food. Of course, this is easier for food, home, and lifestyle brands to seamlessly accomplish. But don't be afraid to think outside the box!
This time of year is about togetherness. There are parties being thrown, comfy clothes being worn, and delicious treats being shared. How can your brand embrace those cozy, communal themes?
Could one of your products be featured in an influencer's Thanksgiving tablescape? Does your brand offer the perfect autumn outfit to stun at the family function? Is any part of your brand applicable to the whole family?
Influencer Brynn Witfield with CB2
Check out this post from influencer and Real Housewives of New York star, Brynn Witfield. She partnered with @CB2 to decorate her home for the holidays. Her carousel Instagram post features a picture-perfect Thanksgiving tablescape.
Notice that Brynn added a long caption to her post. Not only does she gush over the brand and her excitement for this partnership, she also adds a personal touch. She talks about how she dreamed of curating a beautiful home when she was a little girl. Now, with the help of CB2, she gets to make that dream a reality. And, she acknowledges those who may have a tough time during the holiday season. She knows not everyone has the family or home they always dreamed of.
She tugs on our heartstrings with childhood stories and a nod to the complicated dynamic of families this time of year. And through it all, she encourages us to celebrate! This post exudes gratitude and subtly hits on every theme of home, family, and food. Plus, it makes the brand look great! This is a perfect example of how choosing top-notch influencers will help you take sponsored content to the next level. This partnership is about more than pretty home decor to Brynn. It's about gratitude, family, and dreams come true.
Want More Thanksgiving Strategies? We've Got the Leftovers
The holiday season is officially upon us. After Thanksgiving comes Black Friday and Small Business Saturday. That weekend of feasting and shopping will kick off millions of Americans in their holiday spending. It's the most wonderful time of the year, and it can be the most wonderful time for your brand, too.
We hope these Thanksgiving strategies inspired you to get started on your Turkey Day campaign. There's more where this came from. Our expert team can help you make the most of every theme and special day this holiday season. If you'd like help sourcing influencers, planning campaigns, or developing a holiday strategy, schedule a strategy call with us. We're here to help. It's the season of giving after all, and we're so thankful you're here.
---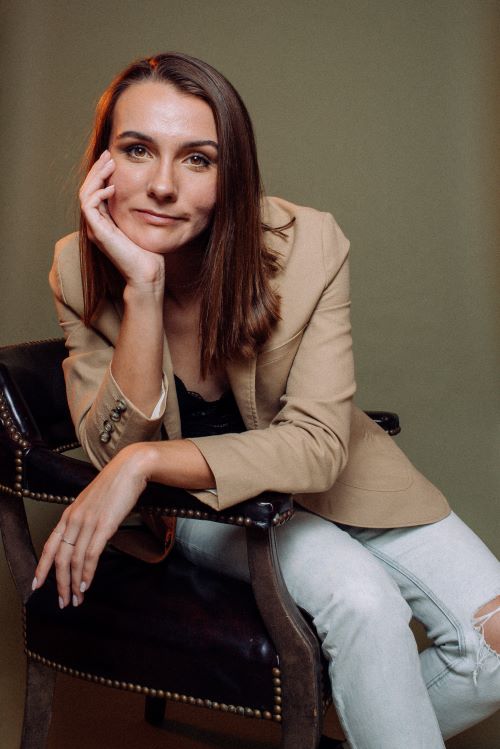 About This Author
Ariana Newhouse | B2B Writer
I am a freelance writer and comedian based in Los Angeles, and while making people laugh is my jam, it's not always the company brand. So, I strive to make people feel something. My writing philosophy is collaborative, empathetic, and humanistic. At the end of the day, no matter the message, there are real people on both ends of the process.
---