Influencers Are Reaching Men and Kids Online… Now If Personal Care Brands Could Just Leverage That Access…
Shampoo? Check! Whitening toothpaste (for sensitive teeth)? Check! Moisturizing deep conditioner and thermal cap? Check! Okay, maybe that last one isn't really for everybody, but the other two are pretty much in every household. Every year, 174 million Americans shop for medicine cabinet, laundry room, and boudoir vanity items from some of the biggest (and smallest) personal care brands in the world. Thirty-one percent of us spend between $26 and $50 on beauty and personal care products Every. Single. Month. (Statista).
It's why P&G is shelling out that cool $5.6 million to run an ad during Super Bowl LIV to amuse and amaze us with The Old Spice Guy (played by Isaiah Mustafa – love him) and his son (played by Keith Powers – loved him in the New Edition movie – you're all like, "It's Ronnie DeVoe!" when you see him) for the character's torch-passing 10th-anniversary campaign.
Cool Thing Happening in the Personal Care Space
There are a couple of really cool trends happening in this space… the growth of direct-to-consumer (DTC) services like subscription grooming kits, the uptick in the percentage of middle class men (and boys – we have a pretty cool video on this, too) whose grooming rituals require more than soap and shaving cream, the demand for "clean beauty" products (that bigger corporations have been sloooooow to meet), the big push from grocery stores and pharmacies to get their customers shopping on their phones and laptops instead of in-store.
These are the shifts in the personal care industry that are creating MASSIVE opportunities for legacy personal care brands to reach customers at different touch points throughout the purchase process.
AS WELL, these shifts represent prime opportunities for emerging personal care brands to capitalize on the molasses-slow adaptability of big corporations that lack the agility to pivot quickly when staring down the barrel of a rapidly changing market.
And the tie that binds in both these scenarios is the ability to leverage social media. Which I really want to talk about. But first…
Let me do my due diligence and highlight some of the finer points of the personal care industry, as a whole.
---
So Which Products Are Considered "Personal Care?"
You have asked a wise question, grasshopper. If you're wondering what all gets lumped in as part of the personal care industry, you're probably in the majority. Chances are, it's because you've seen a bunch of different categories referred to as personal care or personal hygiene.
It's skincare, but not makeup… sometimes. That's a different industry. Hair care products, but not salon services. That's also a different industry.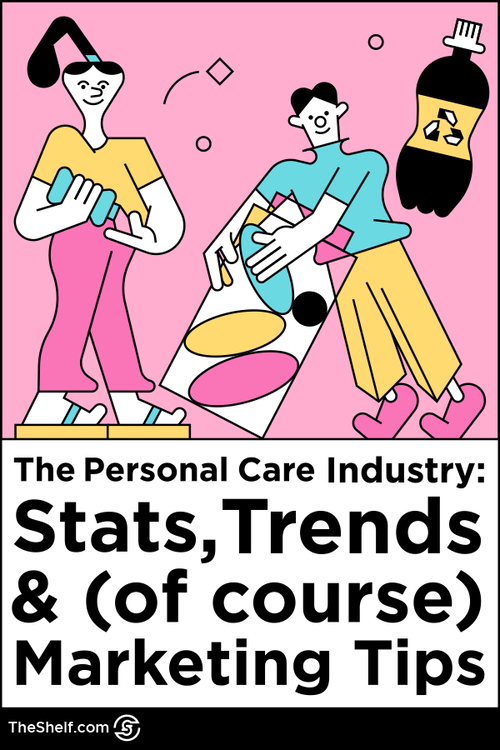 Plus, there are well-known corporations like L'Oreal that make products you would use as part of your beauty regimen for sure… buhhhhhht different L'Oreal beauty products fall into different/multiple industries… despite them all sitting on one mirrored tray atop your vanity.
AND, let's not forget that different people need different things as part of their personal care routines. So, it all gets a little confusing trying to figure out where there's overlap and where there's underlap (that's a thing, right?).
ALSO, if you happen to do any research on the personal care industry, you're going to find that often personal care stats will be lumped in with stats from the beauty industry. OR segmented like these stats from Statista which report the average American household spends $189 a year on cosmetics, perfume, and bath preparation.
Think about oral hygiene for a sec. We need to brush our teeth, clean between them, maintain healthy gums, remove bacteria from our mouths, brighten our teeth, straighten our teeth, not clinch our teeth, freshen our breath, desensitize our teeth, and clean our tongues. Can't you think of, like 50 products already? Now, what if we segment by natural products?
Now fluoride-free.
Add in charcoal.
Now for denture wearers.
Now for kids.
We're square dancing over here!
In just one area of our bodies, we each could literally fill our countertops with products. And then you look beneath the vanity, and you'll find a host of other products for the other 2,000 parts of the body (according to Zest).
Here's a quick list of some of the items classified as personal care products:
Feminine products: sanitary pads/tampons, liners, douches, etc.
Footcare: foot filer, nail clippers, nail filers, anti-fungal creams, etc.
Hand sanitizers: Soaps, soap dispensers, sanitizing gel, etc.
Oral care: toothbrushes, toothpaste, mouthwash, tongue scrapers, teeth whitening strips, etc.
Body care: soap, lotion, creams, loofahs, sponges, rags, perfume/cologne, etc.
Shaving: razors, shaving cream, aftershave, etc.
Toilet: tissue paper, baby wipes, diapers, etc.
Hair care: shampoo, conditioner, moisturizers, etc.
Laundry: detergents, dryer sheets, fabric softener, stain/odor remover, etc.
Skin: acne creams, lip balm, suntan lotion, etc.
Undergarments: panties, boxers, bras, tank tops
There's a lot of room to find a niche in this space. And as you'll soon discover, brands are doing an excellent job of niching-down the industry to claim their place in the market.
Industry Leaders and Brands That Are Dominating the Personal Care Market
Now that you know what the personal care industry is, let's do a little name-dropping.
L'Oreal Paris (the French brand Americans love). It's headquartered in France but sells billions of dollars in products across the world. As of 2018, the brand was making a majestic $27.2 billion annually with a pretty impressive brands portfolio that includes names like Carol's Daughter, Mizani, Redken, Kiehl's, Lancôme, Yves Saint Laurent Beauté, Ralph Lauren Fragrances, IT Cosmetics, Diesel, Guy Laroche, Urban Decay, Maybelline, Garnier, SoftSheen-Carson, Essie, Ambi, CerVe, and Skinceuticals. Not even half the brands in L'Oreal's portfolio, by the way.
Another top dog in this market is Colgate-Palmolive. Colgate is the only brand in the world purchased by half the households on the globe. As you're probably aware (because statistically, either you or your BFF currently uses Colgate products), Colgate has everything you need for your oral hygiene. This includes dental floss, toothpaste, toothbrushes, and mouthwashes. And because of its success, Colgate employs some 38,000 people around the world.
Other familiar companies in this space include
Johnson & Johnson -one of the world's most valuable companies, J&J owns Band-Aid, Tylenol, and Neutrogena
Purell – hand sanitizer
Dyson – yeah… the vacuum company – also manufactures hand and hair dryers
Kimberly-Clark – Kleenex, Kotex, Cottonelle, Huggies
Procter & Gamble – Always pads, Pantene, Tide, Downy, Oral-B, Olay
Unilever – which owns over 400 brands like Dove (the soap/deodorant, not the ice cream… though Unilever does own ice cream brands), Degree and Axe
Remington Products – razors and hair products
How Big Is the Personal Care Market?
Marketwatch puts the market size of the Beauty and Personal Care industry at US $420 billion globally. Last year, the Personal Care industry alone accounted for around 16 percent of that, at US $68 billion. This year, the U.S. market for beauty and personal care will top out at approximately US $90 billion, with hair care and skincare being the top-selling segments in the market.
While not everyone is interested in filling their bathrooms with anti-aging creams, the U.S. is still the largest beauty and personal care market in the world (Statista).
For Americans, soap is the top seller in this category, accounting for $5 billion in sales in 2018 (no small feat, considering the average bar of soap costs about two bucks), followed by skincare products, which accounted for $3.9 billion in sales last year.
Lady Things
Now, it's also worth mentioning a smaller, but equally dominant segment of the personal care market — feminine hygiene products. Globally, these goods are expected to expand by 6.8 percent CAGR, growing this segment of the market from $37 billion in 2018 to $52 billion by 2023.
Sustainable, Organic, and All-Natural
Eco-friendly. Environmentally-friendly. Green. Natural. Organic. All different terms, all with different, nuanced meanings. But each one of those little branches of the personal care industry is important.
For organic products, skincare, hair care, oral care and cosmetics are the segments to watch. The global organic personal care market size is projected to reach US $25.11 billion by 2025, of which $7.7 billion is expected to be the U.S. organic personal care industry (PR Newswire).
Whatever terms you want to use to signify your delight to have a safer product — you're not alone. There are gajillions of people out there who are looking for the same.
In 2017, the U.S. natural personal care market was sitting at a whopping $1.53 billion (Grandview Research).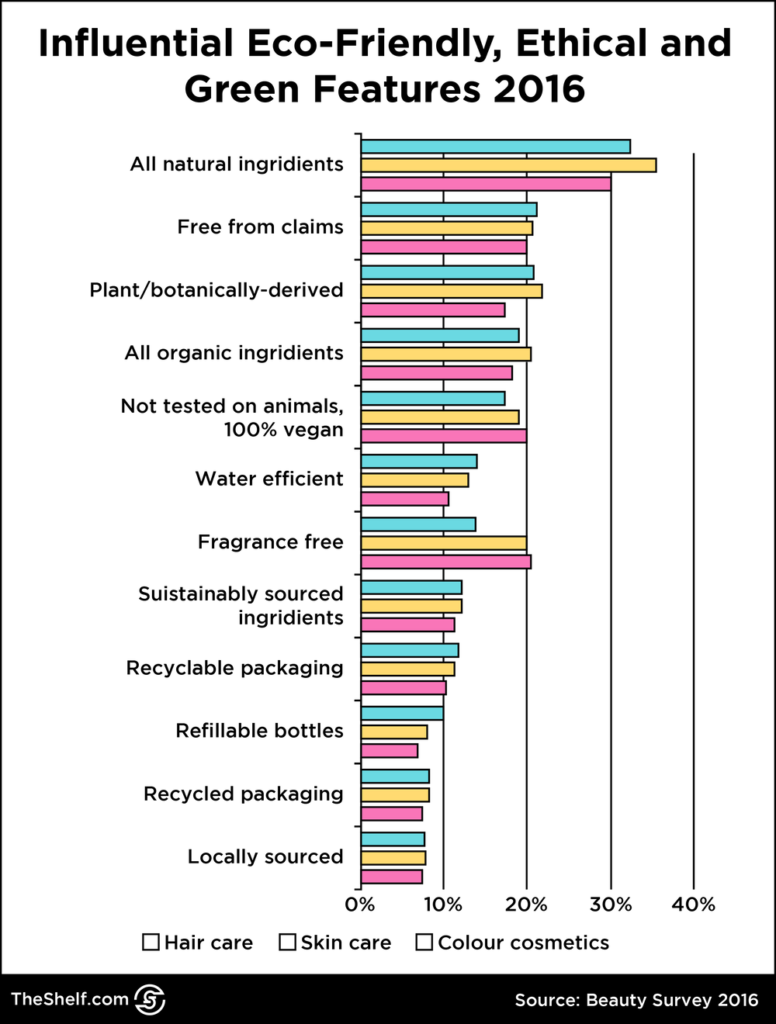 And this has been one of the major shifts in the beauty and personal care industries. Women and men are taking a stand against unethical practices, environmentally-harmful production processes, and overall hazardous goods. Instead, they're looking for items that are safe for the skin and body and can be produced without harming nature.
Now, let me backtrack to feminine hygiene products.
A MORE NATURAL WAY TO DO WHAT'S NATURAL
Sanitary pads have the largest market share of the natural personal care market, holding strong at 55.1 percent. Not surprising. What's eye-opening is the growing consumer awareness about the harmful effects of "unhygienic" products for menstruation. So there's a rise in demand for natural (or organic) products that forgo using synthetic chemicals unnecessarily.
And the industry is responding. Brands are coming out with cleaner options for women. And of course, you're probably already aware that the move toward natural, cruelty-free, and less harmful products has grown the organic beauty care market by leaps and bounds, generating grown to $11 billion in sales in 2016 (CAS).
By 2021, the natural beauty care marketing is expected to grow by as much as 10 percent. In case you're not impressed — that's double the 4.3 percent growth rate of the cosmetics industry as a whole.
This growth is in light of small and large companies stepping up to meet the needs of the market. Among them were brands like L'Oreal and Tata Harper (a newcomer on the scene).
THE BEAUTY INDUSTRY IS BEING PULLED BY IN THE SKINCARE WAGON
The skincare industry is now officially growing faster than the beauty segment. In 2018, sales of skincare products grew by 13 percent (NPD), compared to one percent boost in sales for beauty products. The growth in skincare sales in fueled largely by the demand for clean skincare products. In the midst of the natural products craze, a record number of patent applications were filed for moisturizers (CAS).
The numbers truly speak for themselves: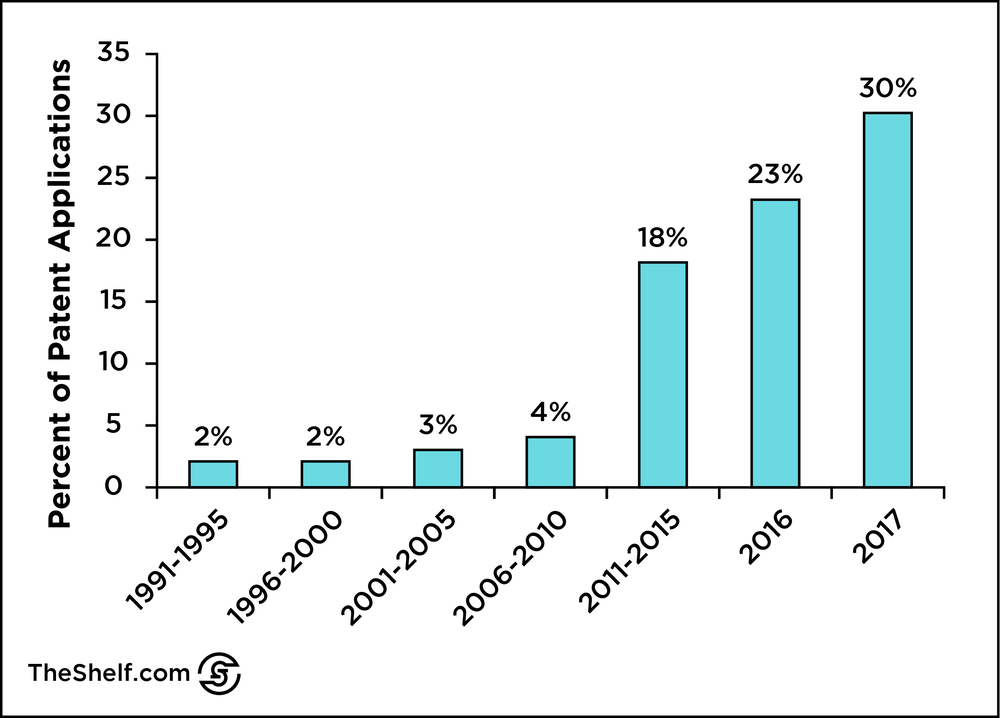 Yeah. That's like a 700 percent rise in less than a decade. What's exceptional about this whole trend is that it not only gave established companies a way to stay relevant, but it's also allowed new and emerging brands gain a foothold. When you look at the top 10 list of patent applications filed, they're mostly from lesser-known companies: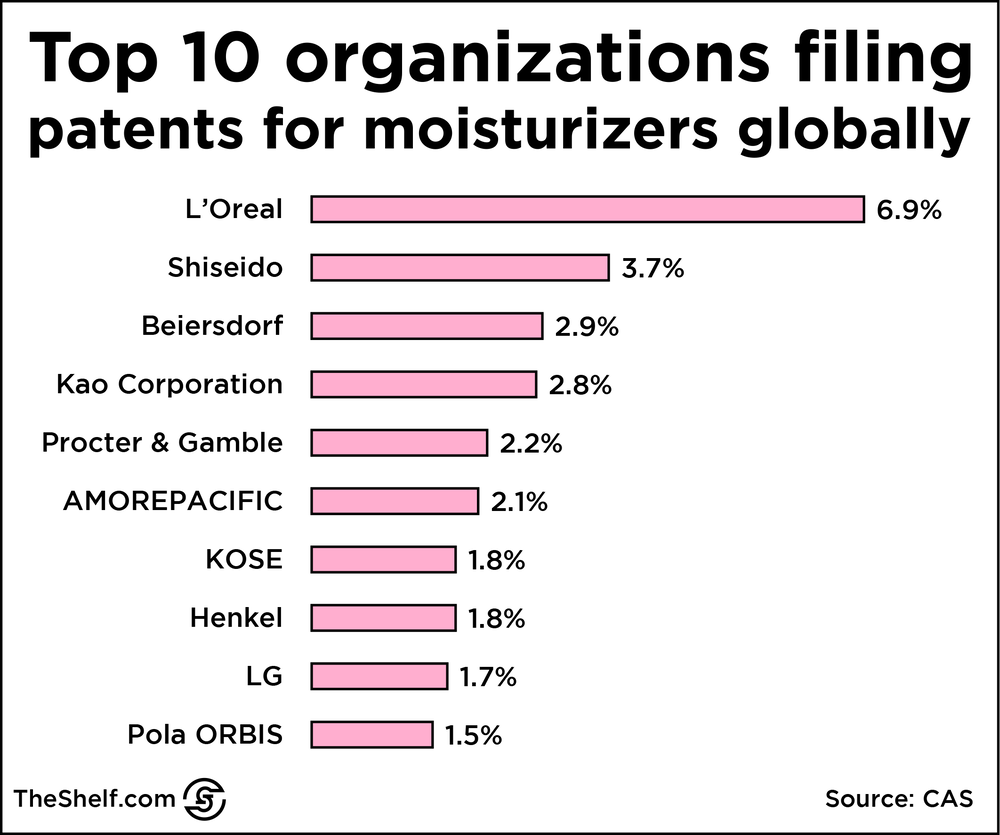 It's also allowing other regions to partake in the growth, such as China and Brazil. E-commerce has played a significant role in making this happen.
Personal Care Brands Are Relying on Social Media to Hyper-Target Buyers
Now, I don't want to just show you a bunch of campaigns as proof that personal care brands are using social media. There are some really interesting things going on in the personal care market, especially as it relates to the way in which large and small brands are reaching customers.
Here's why personal care brands are relying so heavily on social media…Because the Target Buyer Is Younger Than You Probably Think
When you look back at that list of personal care products, who do you think of as the buyers? You, me, your parents, the guy down the hall whose cologne you can smell as you leave for work in the morning (that guy, definitely), the cool hipster couple next door that's still living in the city with two toddlers… all of those answers are right. But the sweet spot for personal care brands, believe it or not, is young adults. Shoppers between the ages of 15 and 25 years old (PR Newswire).
Seem kinda young? Well, they're not even the youngest. Do you remember this little gem?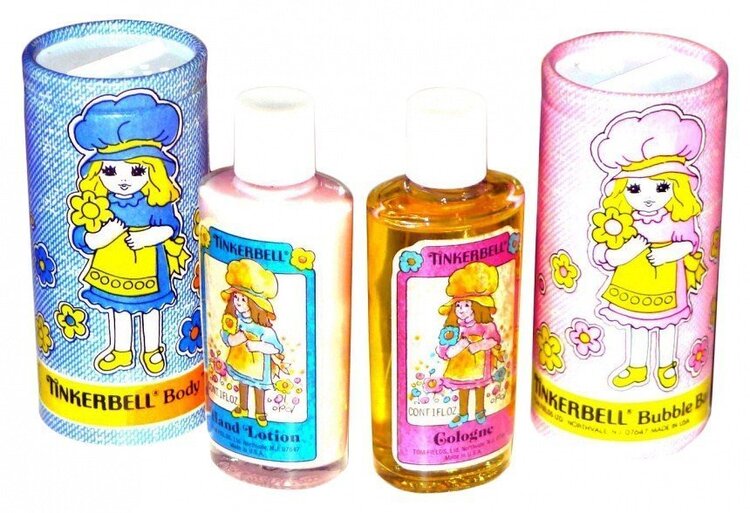 That's [vintage] Tinkerbell perfume. It was a real fragrance, targeting prepubescent girls. Here's why…
According to a report by Mintel:
90 percent of US girls between the ages of 9 and 17 use beauty products, compared to 69 percent of US boys.
44 percent of teen boys (those between the ages of 12 and 17) use facial cleansers.
42 percent of teen boys use cologne.
41 percent of teen boys use lip care products.
And here's something for the Tinkerbell crowd:
80 percent of US tweens (those between the ages of 9 and 11) use beauty and personal care products (whaaa??).
25 percent of boys and 39 percent of US girls BETWEEN THE AGES OF 6 and 8 wear cologne, body spray, or perfume.
Cologne, body spray, or perfume. This goes beyond Incredible Hulk body wash and that first roll-on deodorant. Your friend's first-grader is learning to layer products. Interestingly, that's my next point on why personal care brands rely so heavily on social media.
Because YouTube Has Created Younger, More Informed Buyers
We talked about this a bit in our post on partnering with kid influencers: Brands target young kids because young kids can be shaped into loyal, lifelong customers. If you have time, take a look at this post from Adweek about kids and brand loyalty. It predates YouTube, and the stats are still startling. Kids start expressing brand awareness as early as two years old (Happy Meal, please!).
The Mintel report I mentioned earlier (you can read Mintel's overview of that report here) identifies a couple of reasons elementary and middle school girls and boys spend so much time perfecting their beauty regimen.
First, refining their look is one of the ways they express themselves. That's true for 56 percent of US teens. For teens between the ages of 12 and 14 (the junior high crowd), using beauty and personal care products also helps them feel more confident.
How do they find these products? From their friends, social media, and YouTube – by watching videos like the one above from Harrison Dell (it's adorable, funny, and serious business all at once).
Kids that age seek out influencers who are relatable and whose advice they can trust to help them find (or maybe a more suitable word is discover) the right products. Teen boys are more likely than teen girls to be influenced by celebrities and athletes. Girls favor a more "girl next door" approach to influencers.
Meet Angelina Drake, a super-popular 13 year-old YouTube creator whose channel has 29.3k subscribers. In 2018, Angelina posted this school morning routine video that has racked up more than 411k views to date.
That video, along with her nighttime routine video included a pretty ample selection of personal care products, including a mention of an Aveeno cleanser for her face (actually, I think it may have been a body wash), WOW hair smoother, a hair straightener (you may call it a flat iron, depending on where you live), a makeup brush from Claire's, an eyelash curler, Butter Bronzer, and regular stuff like lotions, soaps, toothpaste and a toothbrush.
<Slider>
I don't get the feeling that either of Angelina's videos were sponsored, but then, that's the mark of a good influencer, isn't it? Though both these videos were posted when Angelina was just 11 years old, she was likeable, confident, unscripted, relatable, and seemed very much like a regular middle school girl. I would venture a bet that most of Angelina's followers and subscribers back then were in the 8 to 11-year-old range.
Now, she's thirteen. Inevitably, she talks about different things, and different types of products, and her following is aging up as she does.
Because "Certified Organic" is Hard to Explain and #CleanBeauty Isn't
Nearly half of American women say they're looking for natural skincare products (CNBC). According to Statista, the top three influences impacting skincare purchases are dermatologists (for 45 percent of those surveyed), friends (32 percent), and social media (28 percent).
Social media and YouTube have made documenting your skincare routine a legitimate content type. And perhaps no category has more successfully leveraged the power of word-of-mouth marketing than "clean beauty" brands.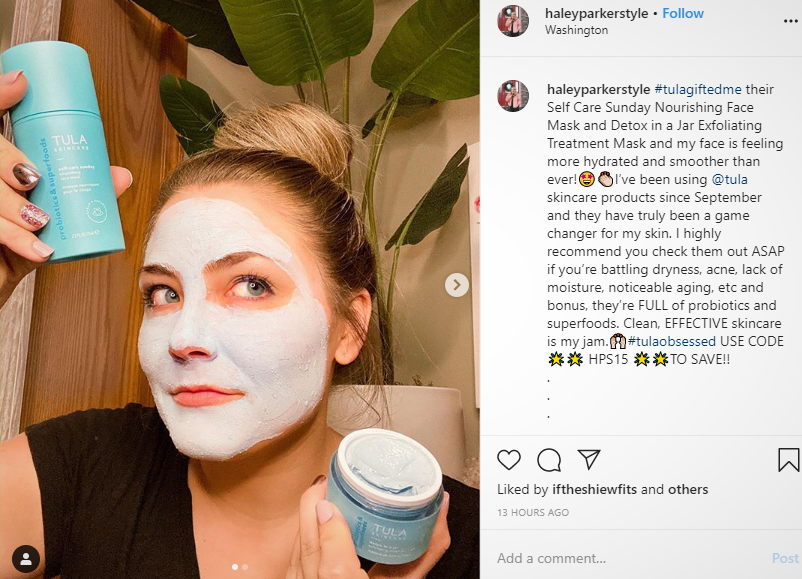 Now, "clean" includes a number of different nuanced terms.
"Natural" usually refers to personal care products that don't have artificial colors or synthetic substances (Report Linker).
Eco-friendly means the farming, harvesting, or disposal of a product doesn't negatively impact the environment.
Organic products are created from other organic products that were produced in accordance with governmental organic farming regulations.
Here's the thing though…
There's no one universal term for any of that. From country to country, each of those terms can mean different things. So, the list of substances identified as dangerous or non-natural could include a dozen chemicals in one country, and another country's list of prohibited substances could included hundreds of chemicals.
In a global economy where online shopping allows you to buy products that can come from all over the world, a HUGE discrepancy like this can make shopping for healthy, responsibly-sourced products a nightmarish time-suck.
AND since brands don't have to disclose when a product contains poisons, consumers can either keep shopping for products in stores that may be selling them poisons, OR they can do all the research themselves (and who has that kinda time?), OR they can gather information, tips, and recommendations from their social media community.
Researching products on social media is the path of least resistance. By following targeted hashtags, buyers can learn passively from brands, from experts, and from people who have tried different products. Pulled these graphics from the Instagram feed of @theklog.
Small personal care brands have been able to successfully enter the beauty market without forking over millions of dollars to launch and market new products, and many of them are relying on social media for everything from market research to product testing to actually launching and marketing products.
There are more than 7 million posts hashtagged #skincareroutine on Instagram, nearly 3 million tagged #facemask, more than 2 million tagged #cleanbeauty, and 269k tagged #nontoxicskincare.
For boutique beauty brands, getting in front of the right audience often starts with following these hashtags and using them to position the brand as not just a product, but a brand made up of people who are enthusiasts and experts – they wanted a great solution so they created one.
Creating educational content (like the stuff above from The Klog), or instructional/informative content (like the posts below from Dr. Dennis Gross), and partnering with influencers whose influence reaches into skincare can help personal care brands move the needle on social media without looking like "just another so-called organic brand".
Because "High-End" Doesn't Always Mean Weird or Inaccessible
This year, the oldest millennials will be turning 40! Brands that want to attract older millennials who are more likely to have families and higher incomes should understand that as millennials get older and accumulate more responsibilities, they're becoming more time-pressed. That means brands need to be able to communicate value succinctly.
One of the influencer campaigns we ran was for Dr. Dennis Gross's Spectralite Eye Mask, an anti-aging LED light device that was both pricier and looked a little intimidating. For the #WearTheLite campaign, the influencers of choice were from lifestyle and beauty backgrounds, all over 30 years old. They each used the Spectralite Eye Mask so they could talk knowledgeably about the immediate benefits they had using the device.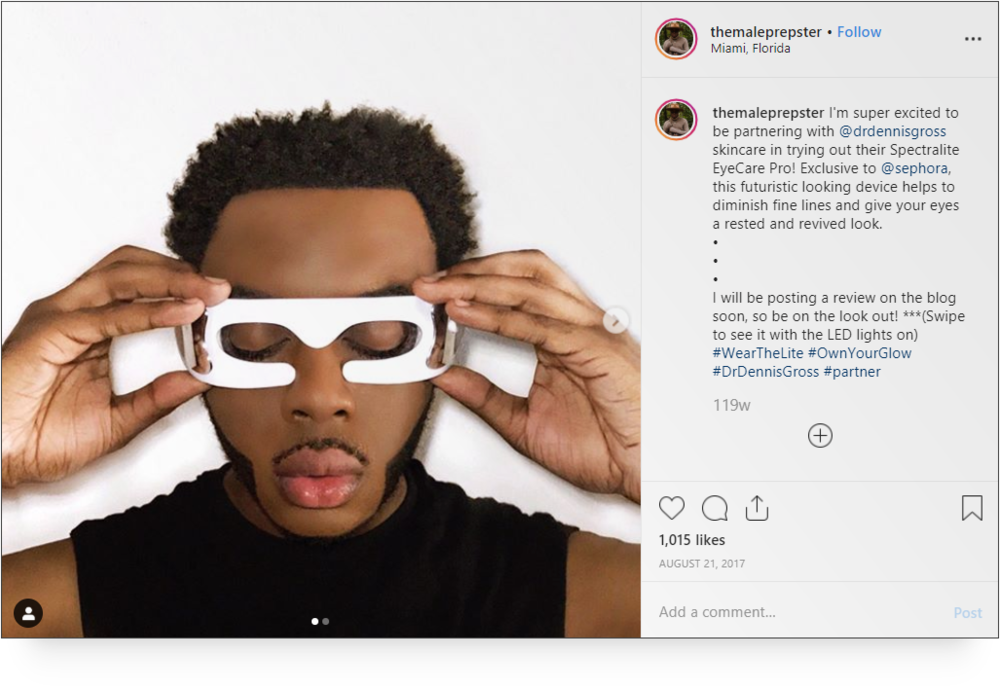 Because Men… Obviously
Glitter beards, flower beards, Black Ice (that stuff is magic)… I think Rob Lowe's character on 9-1-1 Lone Star said it best when he said to a fellow firefighter, "No man left behind… when it comes to skincare."
The global men's grooming market is expected to balloon to more than $81 billion by 2024 (Statista), while the men's personal as more men turn their focus to aging well, looking good, and feeling more confident. Personal care products, and especially beauty and enhancement products, for men is a sector that personal care brands are trying their best to pivot into, but there are challenges.
For most of the established big brands like Aveeno and Olay, for instance, they're strongly associated with women's beauty, which is making it hard for larger brands to expand into men's personal care products. While brands like Jack Black and Kiehl's that have historically been seen as men's product lines are successfully capitalizing on the sector's growth.
Another thing that's interesting about the men's grooming market is that it takes a variety of different forms. For instance, Sephora includes Slip's silk pillowcase ($85 for queen) and the sleepmask $50) in their list top-selling men's products. Silk pillowcases are said to be great for minimizing breakouts because it allows your skin to stay cool and hydrated while you sleep.
This YouTube video from Fenty Beauty teaches men how to use makeup to enhance their natural looks as part of their grooming ritual. Primers, concealers, foundation, bronzers, tinted or semi-transparent lip balms, and even nude, matte lipsticks are popular men's grooming products.
A Google Search of "makeup for men" turns up more than a dozen different categories including masculine, eye makeup, feminine, Instagram, and androgynous.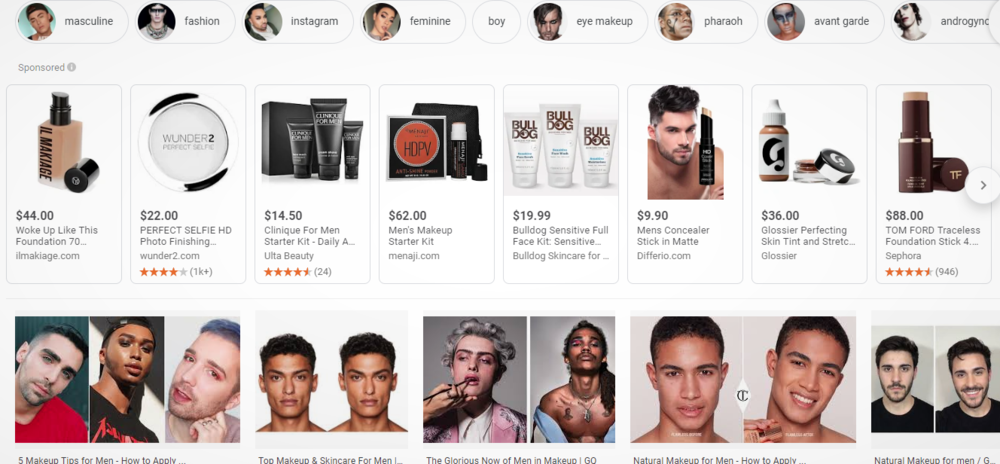 But it's not just men's skincare that's on the rise. There is a corresponding rise in men's grooming and personal care spending across different categories.
This is a video of a process barbers call enhancing that's become really popular over the past few years. It's basically a temporary hair coloring/hair filling process. This particular tutorial on this enhancement technique is from influencer 360Jeezy has more than 218k views. 360Jeezy is pretty funny, actually. His channel has 2.7 million subscribe to this barber-focused channel.
FYI, "Fire" in this instance means exceptional, successful or superior. No one's spraying fire on anybody's head and calling it an enhancement.
Because You Can Drive Traffic (In-Store and Online) If You Give Shoppers A Reason To Shop and Make the Process SUPER Simple
Influencer campaigns go a long way toward helping brands to get on the radars of their target customers. Brand awareness is one of the primary reasons social media is so crucial for personal care brands launching new products. (FYI… we recently published a step-by-step guide on building a brand awareness campaign.)
This is true for small and unknown brands as well as legacy brands launching new product lines. They can achieve massive reach and build brand awareness over the course of just a few weeks, namely because of the thriving niche communities on different platforms.
For instance, if you look at people who follow a topic on Instagram like #plantbasedbeauty, they're looking to engage with other users on that specific topic. They also use these types of hashtags to discover new products.
Good example of a niched-down audience… We found the Good for You Girls product line while exploring the #skincareforkids hashtag. But brands can just as easily find face mask enthusiasts; body scrub lovers; groups that are about the #skincareformen life; the millions and millions of posts about anti-aging, anti-aging products, and anti-aging serums… think of one – I bet you'll find followers.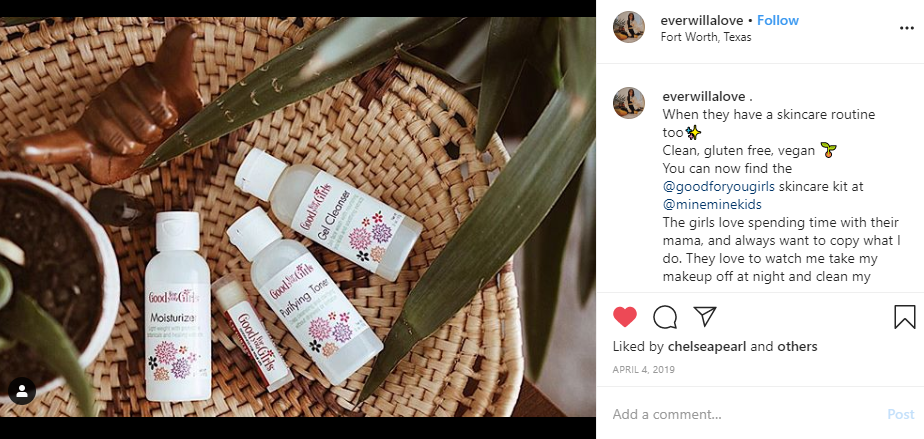 We came across the Good For Your Girls skincare line under the hashtag #skincareforkids.
When it comes to streamlining and simplicity, I don't think any industry has been more successful at simplifying the buying process (or the business process) in recent years like DTC companies. Direct-to-Customer companies are those who engage and sell directly to their customers, bypassing stores altogether.
Typically, DTC companies rely on content as that kind of "extended hand" to build relationships with their customers Channels of choice include YouTube, social media, or podcasts, but not TV, magazine ads or billboards (HubSpot (awesome article)).
Since DTC brands are typically targeting young, professional buyers who are willing to pay a little extra for a more personalized, seamless shopping process, social media and YouTube are just spot-on for helping them to reach their target buyers.
One of THE most interesting aspects of this space has to be the way DTC brands are using content to level the playing field in an industry that has long been dominated by legacy brands that your grandparents and great-grandparents used. Content is so important here because it serves as more than just a salesperson who peddles information and offers you a "Click to Buy" button. DTC brands use content to perform two very important jobs:
It helps the brand to connect with the audience on a very personal level. Meaning, a lot of the content DTC brands are putting out comes with loads of personality that make the brand almost seem like a person you know.
It also minimizes the need for hard sells because unlike a billboard or print ad, social media content from a brand can show up in a buyer's feed on a daily basis.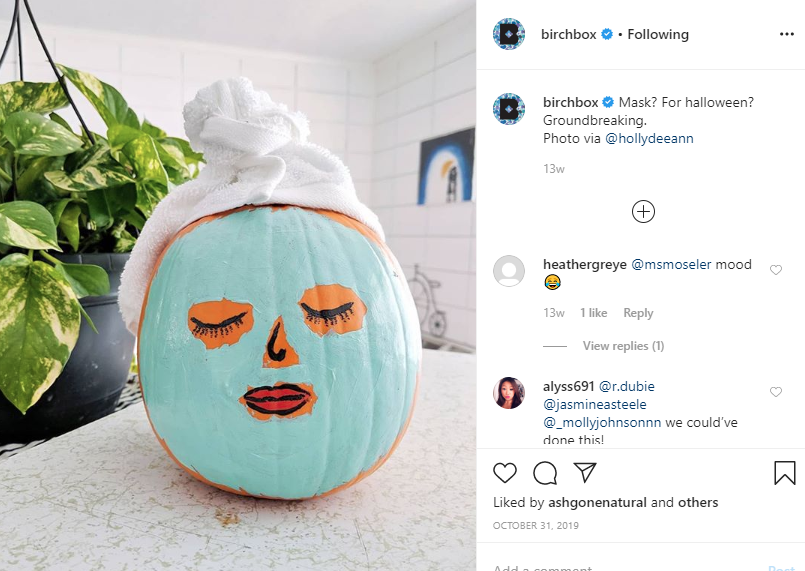 Isn't this Birchbox just cute, funny, and charming all at once? No sales pitch. No products. Just a moment of Halloween giggles.
We spotted this pic while scrolling Birchbox's Instagram feed. If you're not familiar with the brand, Birchbox is a subscription-based service that sends subscribers out a box of four or five beauty and skincare products every month. Multi-Channel Merchant estimates that subscriptions services will make up 75 percent of DTC brands by 2023. That means DTC brands really benefit by using social media channels as a way to stay top-of-mind for consumers AND to strengthen relationships and brand loyalty.
For example, Birchbox uses Instagram as a way to engage with followers, introduce products that are available in the current month's box, and even provide followers with skincare tips. One more thing – Birchbox uses Instagram to facilitate customer service requests.
In the screengrab below, you can see that a pretty simple #HumpdayHair post regrammed from Free People became an opportunity for Birchbox to serve a customer who had a question. And there's a little bit of going the extra mile-ness in there, too.
The DTC movement is all about being able to serve customers a personalized, efficient experience that's scalable for the company. It's managing customer expectations and meeting customer demands all while learning from the feedback you get from your customers, and doing it all in a way that's agile and lightweight for the company.
Social media makes that strategy possible. And DTC brands like Birchbox and The Dollar Shave Club have gotten really good at managing the human experience (how customers experience the brand)… in addition to the customer experience (how customers experience the products).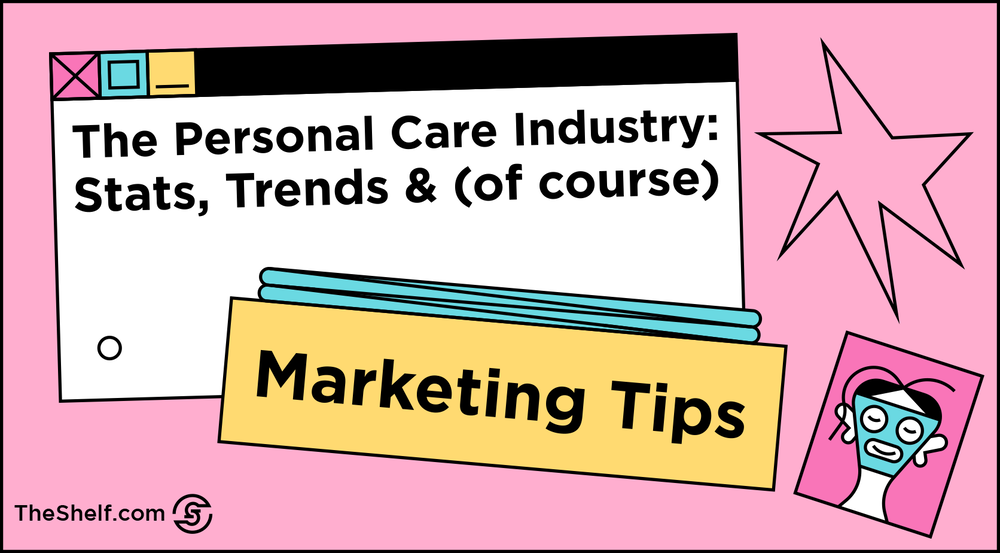 Conclusion
For new personal care brands, as well as brands launching new products in the market, partnering with influencers gives you the advantage of being able to introduce your products in a way that's fun, compelling, and memorable. This way, your audience is more receptive to you when you engage online and you have a much better chance of getting personal care buyers to do things like visit your website (63 percent of buyers visit a personal care brand's website each month), follow your brand on social media (27 percent of shoppers do this), or even download/use your app (19 percent do this).
In addition to the campaign we ran for Dr. Dennis Gross, we've worked with brands like eos and Neutrogena to craft really clever, memorable influencer campaigns. Ready to plan your campaign? Let's do it.