One of the challenges marketers face as they make the transition into influencer marketing is trying to figure out the best ways to measure the success of a campaign. In a perfect world, a brand would spend a few thousand bucks and get their product in front of a million new prospects, 1% of whom would buy.
But this isn't a perfect world.
So, we thought we'd help you in two ways.
First, we're going to show you the creative ways brands have been able to successfully promote unusual products during the holiday campaign. Second, we're going to help you pinpoint exactly what it is that makes an influencer marketing campaign successful by looking at multiple sponsored posts from different brands' Thanksgiving campaigns to pinpoint exactly what it is that makes followers engage with sponsored content.
These are sponsored posts that ran a few days before and a few days after Thanksgiving. Though we came across a pretty cool campaign for Stash Tea promoting tea-braised carrots for Thanksgiving (hmmm…), none of these campaigns we're reviewing for this post are for turkey.
Or cornbread stuffing.
Or ornaments.
Or fall-theme home décor.
Or anything that is directly Thanksgiving-related.
As we sifted through hundreds of sponsored posts for the Thanksgiving Holiday (there were more than 9,000 of them, actually), we set certain criteria for posts that we would include as case studies for this post. The post had to be:

A sponsored post from an Instagram influencer
The influencer needs to have a follower count between 5,000 and 250,000
Published between November 15 and November 30, 2016
Visually appealing
Generating at least 1% engagement for sponsored posts from brands not beauty or fashion-related or at least 2% engagement for beauty, fashion, food, and everything else
A Thanksgiving promotion but not Thanksgiving-related
Of note: We skipped sponsored posts that were published on Thanksgiving Day, as they tend to under-perform. Folks are busy cooking, eating, talking, and then standing in Black Thursday lines. So, they're posting on Instagram, but won't actually be responding to posts until Black Fridayish.
Let's do it.
Brand: OshKosh Kids
TARGET AUDIENCE: MOMS OF YOUNG CHILDREN AND SCHOOL-AGED CHILDREN
OshKosh B'gosh has been around forever. The brand was founded in Wisconsin (in OshKosh, which is a place, it turns out) more than 100 years old ago where it manufactured work clothes for men, namely overalls. Makes sense for 1895, right?
The story of how OshKosh started producing kids' clothes is pretty cute. They originally made kids clothes to allow the kids to dress like their dads. Over the years, OshKosh morphed into a children's apparel company. OshKosh was acquired in 2005 by Carter's, another children's apparel brand that's been around since the 1800s.
The below screenshot is of OshKoshKids Instagram page. With more than 312K followers, their engagement per post usually doesn't reach 1%. When they work with influencers, on the other hand, the engagement almost always exceeds 1%.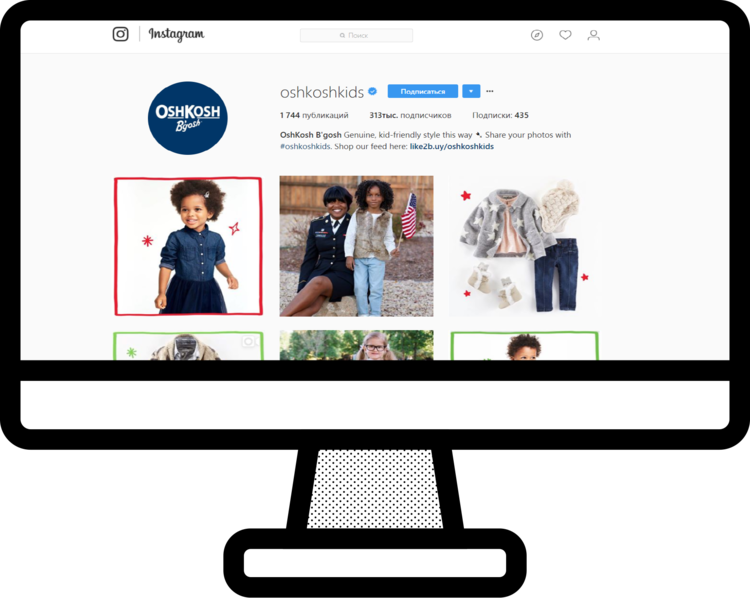 So, here's what we know about OshKosh for sure: OshKosh is a children's apparel company. It's always been a family-focused, all-American brand. OshKosh is more than 100 years old and was recently acquired by an even older children's apparel manufacturer. And if it wants to sell clothes for small kids, the marketing has to go through Mom.
Now, let's look at some posts.
For their Thanksgiving holiday campaign, @OshKoshKids essentially created an online catalog of adorable ensembles for young kids who seemed to range in age from about one to ten years old.
THE ANGLE: HOLIDAY OUTFITS.
Goodness, I wouldn't dare buy a special outfit for my girls for Thanksgiving. If anything, the little one will end up in a pie-stained onesie while my four-year-old wears capris that were once long pants, play shoes, and a beat-up tee – you know, the regular uniform of a little girl who is about to spend the afternoon with roughly 15 toddler cousins.
But for families that will be going home for the holidays (more than 48 million Americans travel for the Thanksgiving holiday, according to AAA), dolling-up the kids for Thanksgiving is a pretty common tradition.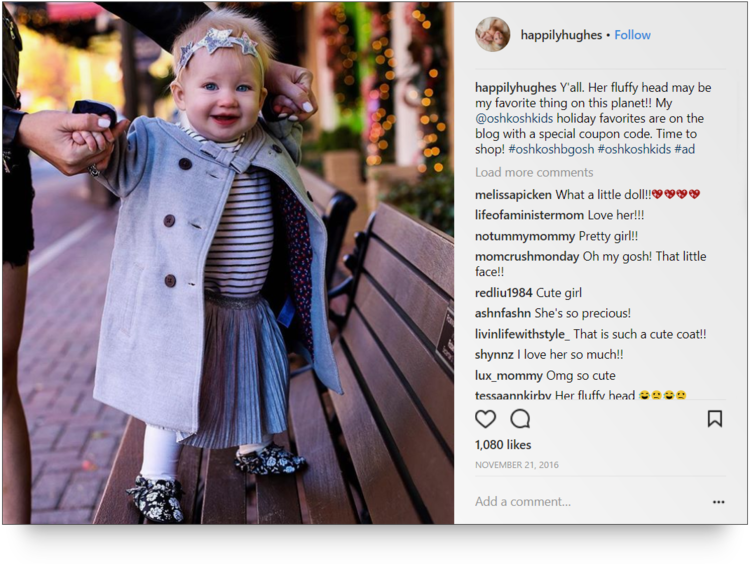 The post above comes from mommy blogger Jessica Hughes (@happilyhughes) of Atlanta. This is one of about five dozen posts we found for OshKosh Kids during the month of November.  And it, like the others, featured a simply adorable cute kids in cozy clothes just in time for the holiday season.
If there's one thing we've learned about engagement online, it's that pictures of cute babies get a lot of it.
THE TACTIC OSHKOSH USES TO GENERATE ENGAGEMENT
This post uses a tactic we've seen generate engagement time and again for OshKosh. The brand partners with mommy bloggers like Jessica Hughes (HappilyHughes.com) who have large Instagram followings. A mommy blogger uses an adorable pic of her kids wearing seasonal OshKosh clothes, which she positions as holiday outfits.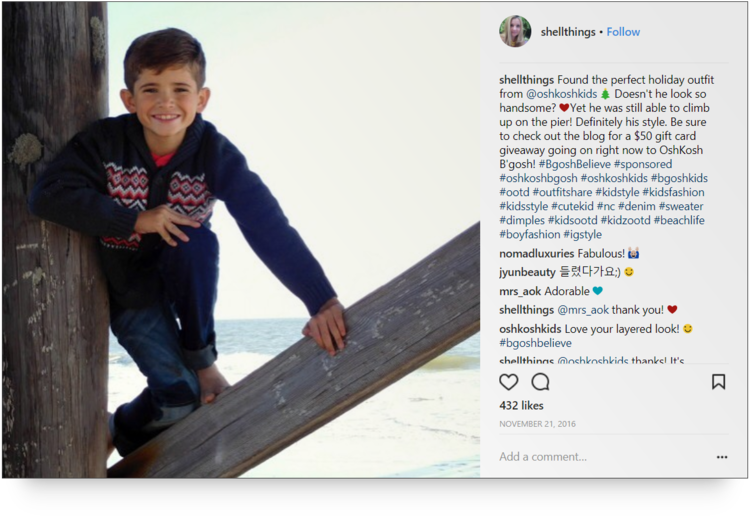 The influencer's Instagram post may include a specific coupon code that her followers can use on her mommy blog to get a discount on clothes for a specified period, like the offer @sandyalamode extended her followers. Or the post may include an enticing offer, like the one above from @shellthings for a $50 OshKosh gift card giveaway that followers can learn more about on her blog at ThingsIcantsay.com. Shell's post saw 3% engagement.
Frequently, influencers will direct traffic to a specific page on their blogs using a link in their bio or by including a URL in the actual post.  From the blog, followers can see more clothes, download coupons, or click-thru affiliate links to buy the clothes directly from OshKosh.
We actually talked about a similar OshKosh-sponsored post from @Sandyalamode in this post. You can see the similarities. Again, OshKosh used a coupon code on the blogger's site to generate engagement and drive traffic.
Brand: Uber
TARGET AUDIENCE: MILLENNIAL WOMEN
Last year, my car went down right before the holiday shopping season. I love vintage cars… but I don't know how to fix them. And you'd be surprised how few neighborhood mechanics specialize in fixing carburetors.
So, my saving grace was a crazy deal that showed up in my inbox from Lyft.  It was something like, 20 rides for a one-time payment of $39, and the deal was good from November to December 31st. The deal was so good, I continued to use Lyft as my go-to rideshare app throughout most of this year.  
Giving the gift of super-convenient transportation is a legitimate gift now. And I, for one, would gladly accept a $50Uber card for Christmas. Uber knows this. So, their Thanksgiving holiday campaign last year focused on making sure Millennials remembered how great it would be to get an Uber gift card.
THE ANGLE: UBER MAKES LIFE EASIER.
During the month of November, the brand had two campaigns running that nicely supported one another.
THE DRIVER-PARTNER CAMPAIGN
From the beginning to the middle of November, Uber ran a Driver-Partner campaign. These were sponsored posts from Uber passengers who spent time getting to know Uber driver-partners.  The posts, which featured influencers doing things like hanging out (like in this colorful post from @followdee).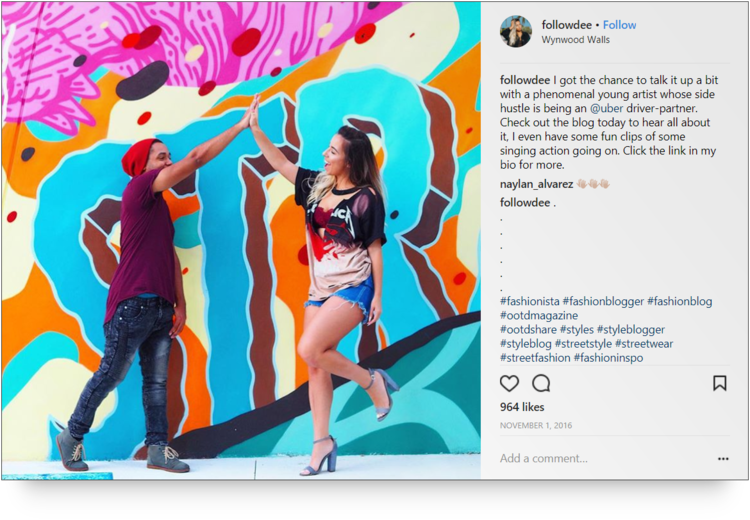 …and  having jam sessions with drivers (like in this post also from @followdee) is a brand-building and community-building promotion.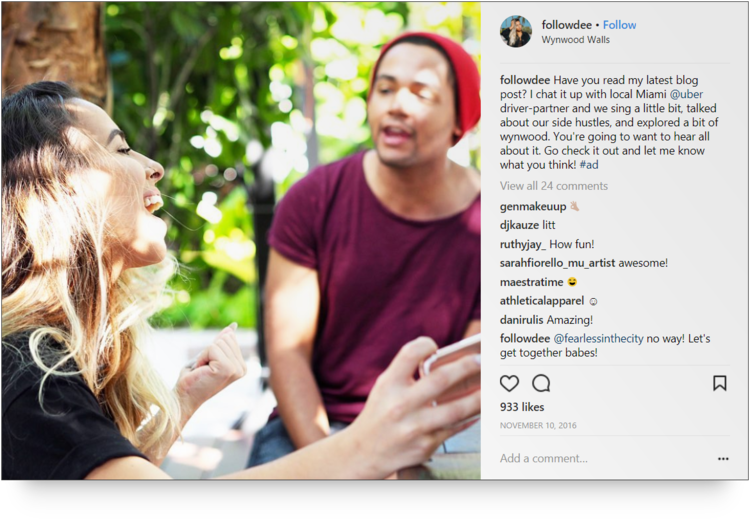 Further, the campaign helped people make the connection that Uber driver-partners are local people who frequent the same stores you do, listen to the same music, and like the same hipster graffiti that you like.  The campaign deconstructed the avatar of an Uber driver.
I remember being picked up from the store by an Uber driver and riding in silence with my eyes glued on my phone (rude, I know, and that's not my typical behavior) for five miles before finally asking her, "Hey, do you live across the street from me?" She did.
This long-form post from Heather D. Reese & Family (@itsalovelylife) generated 4.8% engagement. The post shows a member of the Reese family – Pete Reese – talking to Scott, an Uber driver-partner from the San Diego area.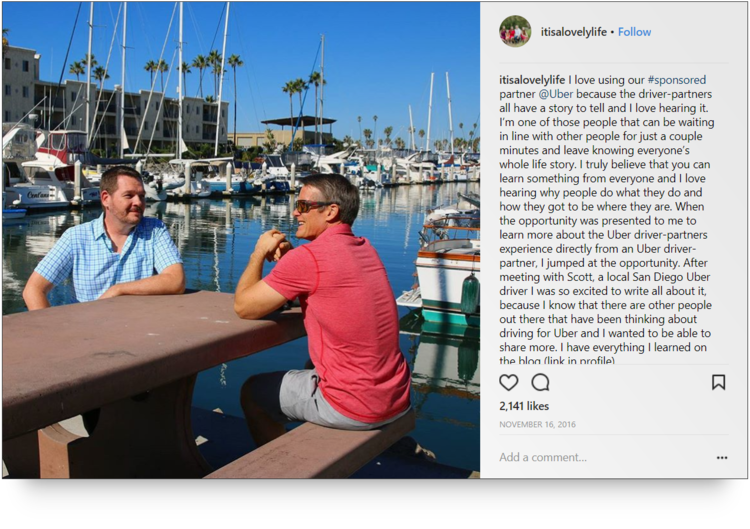 The Reese family has the unusual distinction of traveling more 150 days a year as a family and collectively contributing to their six-figure blog about their travels. Pete edits the videos, Heather does the blogging on their website, their youngest daughter Emily helps with travel reviews and daughters Ashley and Maddie handle the social media.
The sponsored post served as a preview to an actual blog post on the family's blog, It's a Lovely Life.  
THE HOLIDAY GIFT-CARD CAMPAIGN
Now that we've established that Uber driver-partners are our neighbors and friends, and driving for Uber is a viable way to earn extra money, Uber focused on its holiday campaign. The holiday campaigns were decidedly holiday-themed. Even when they didn't look it.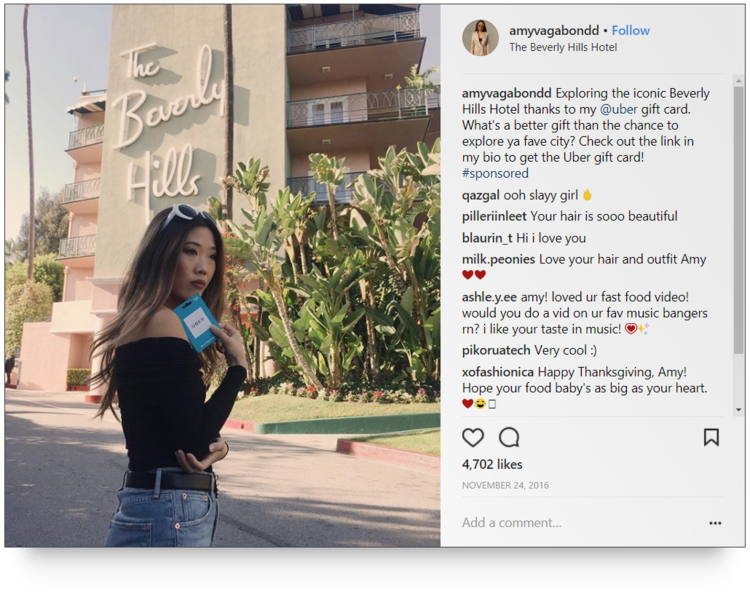 Amy Lee is the host of a popular YouTube fashion vlog, Vagabond Youth. With more than a quarter of a million subscribers and 18 million views , Amy's YouTube channel is, no doubt, feeding her Instagram influence.
In the above post, Amy (@AmyVagabondd), who lives in the Los Angeles area, talks about her adventures sight-seeing in Beverly Hills, compliments of Uber. She then offers followers the chance to grab an Uber gift card by clicking the link in her bio.
This post is classically West Coast – a beautiful young woman with sunglasses on her head and tussled hair down her back. She's dressed for a Los Angeles fall in an off-the-shoulder top and jeans. It's sunny and beautiful outside.
On the same day, New York-based travel blogger Steffy (@steffyspandcs) shares a picture with her followers of her and her newborn son, who, at the time is just two weeks old. That day, Steffy was taking him out on his very first New York shopping trip and they used Uber to get it done – just Steffy Hudson (her baby boy), a super-stylish diaper bag, and her Uber app.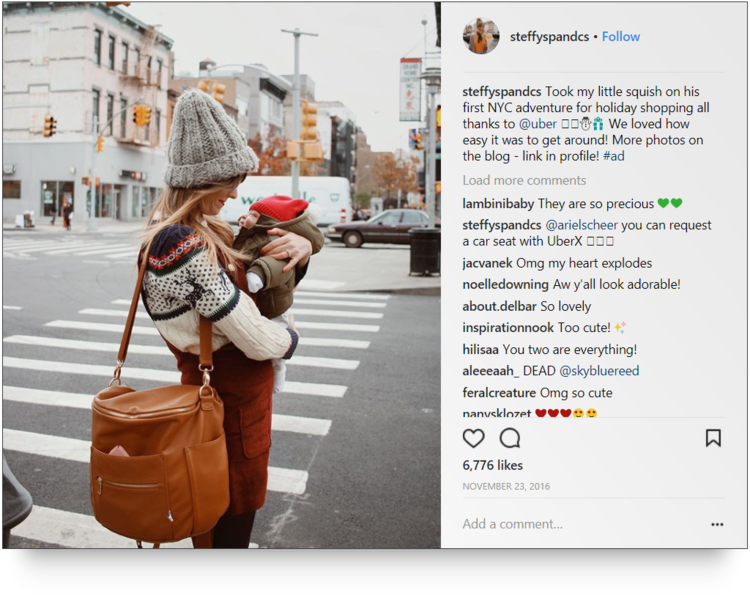 It's New York in November, and Steffy is wearing the uniform – a thick, wool cap and sweater. Her baby boy is bundled in a what looks like a snowsuit. Steffy's image is a powerful contrast to Amy's image, but both successfully support the main point: That no matter which coast you represent, Uber is still the easiest way for busy Millennials – whether fashionistas or stylish new moms – to see the sights and get around the city hassle-free.
THE TACTIC UBER USES TO GENERATE ENGAGEMENT
Real life. No coupon codes. No special discounts. Just a pretty little reminder that Uber is convenient and affordable.
In real life, it's more fun to be the passenger than the driver when you're either a) sight-seeing, or b) travelling with little ones. I'm usually doing both. It's a little more expensive in Atlanta to order an Uber than just driving your own car into the city, but it's worth the extra few bucks because using Uber will save you the trouble of having to mentally "decompress" when you finally reach your destination.
I reach my destination and between convincing my toddler to put her shoes and jacket back on, finding the sippy cup that has vanished from the backseat, and playing the seatbelt equivalent of Who's on First? with my one-year old who always puts her arms back in the seat belts once I free them and try to remove her from her car seat, it takes us five minutes to exit the car.  
Or I could just get an Uber.
Brand: Cross Pens
TARGET AUDIENCE: BUSY WOMEN
Cross Pens is another legacy brand working to grab the attention of a new generation of buyers. Founded in Rhode Island in 1846 by Richard Cross, the brand specializes in "functional luxury" pieces, namely high-end pens, journals, wallets, and reading glasses.
Cross is pushing to relocate itself from being associated with stuffy, old financiers (no offense to any stuffy, old financiers who may be reading), to being the creative tool of influential people like social entrepreneur Peter Thum; up-and-coming Millennial singer-songwriters, Kate Davis and Cris Cab; and artist Enrico Isamu Oyama.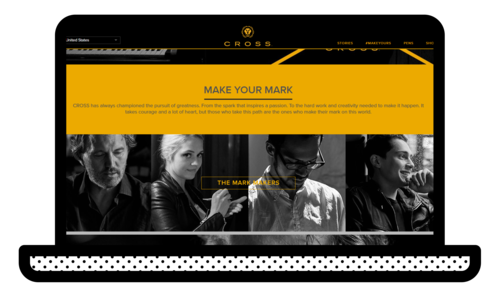 THE ANGLE: CREATE WITH INTENT.
Cross used Instagram to get eyes on their products for National Fountain Pen Day (a real thing – falls on the first Friday of November), then transitioned seamlessly into their holiday campaign to targeting Millennials, without really zeroing in on any particular segment of Millennials.
THE TACTIC CROSS USED TO GENERATE ENGAGEMENT
Long-form posts that contain coupon codes. The Cross-sponsored posts that saw the most engagement on Instagram were posts that appealed to the reader's sentimentality and sense of purpose. Adding long-form text to Instagram posts is an effective way to get eyes on your post. Five years after Instagram became the next big thing, the platform still caters to the creation of visual content, making long-form text unexpected and welcome.
In the month of November 2016, we found 19 posts that mentioned @Crosspens.  From November 2016 to November 2017, we found only 63 posts that even mention @Crosspens (with just 7 published in 2017). A few sponsored holiday posts saw about 1% engagement. The others saw significantly less.
So, let's look at the top-performers and see what they did right.
Lisa Linh (@bylisalinh) is a California-based travel blogger with a knack for telling fantastically stylish stories with pictures. With more than 96K followers, Lisa Linh's overall engagement is just under 2%.  For her Cross-sponsored post, Linh focused on the idea of planning. Her narrative is relatable. She had a plan for her life that got off track the moment she left high school. She had to hustle (a Millennial buzzword) to finish school, had a series of jobs to pay for school, and moved often as she made her transition into independence and adulthood.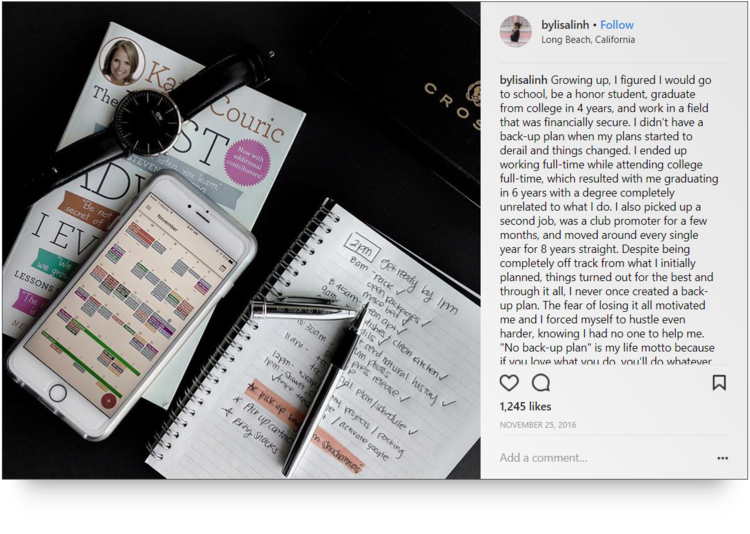 Linh's story is harrowing. It's common to get off track, but many people are slow to adapt so they miss opportunities. She seems like the type of person who makes a plan and executes, which supports Cross's universal call to action, "Make your mark."
Linh sums up her post by saying even though things go messy, she never created a backup plan. She just hustled harder because she knew her success was up to her and her alone.
There are literally millions on memes and quote cards on Instagram that preach these same ideals.
Hustle. Struggle. Toughen up. Go for it. Rely on yourself. Make your mark.
Linh's post generated 1,245 Likes and dozens of comments from people who were impacted by her story. Her engagement for this post was about 1.3%, which is actually good considering she's promoting a $100 ballpoint pen.
There's one thing that wasn't quite as clear in Linh's post. These sponsored posts are to promote engraved pens, which is why Linh shared with her audience that her motto is "No backup plan."
But this post from Kristi Elong (@thecurrentcrush) takes a slightly more straightforward approach to what I realized was a Cross campaign.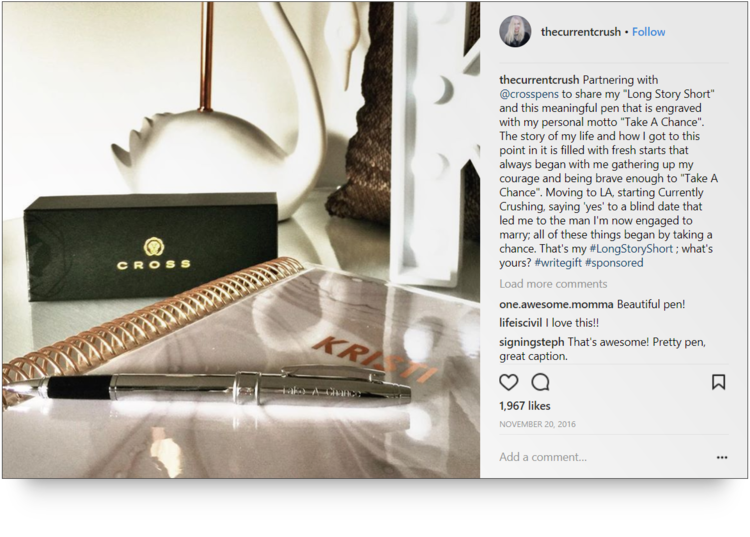 In Kristi's post, which generated 1.8% engagement, you start to see the beginnings of a formula. First, this post is using the hashtag #LongShortStory.
Second, Kristi also has a motto, but in this post, you can see Kristi's motto, "Take a chance" is engraved on her Cross pen. Her narrative focuses on the fortuitous events that resulted from Kristi's willingness to take chances, including her relocation, starting her blog, and meeting her fiancé.
All three of these events are pivotal points in a woman's life. And none of them would have occurred without the courage to execute, even in the face of failure.
Brand: Samsung Galaxy
TARGET: INSTAGRAMMERS AND SELFIE ENTHUSIASTS
There only two instances when stock photography is super-cool on Instagram. The first is when the picture doesn't look like stock photography. The second is when the photographer posts the picture herself.
THE ANGLE: EXPERTS USE IT.
This post from San Diego food photographer Brittany Wright (@wrightkitchen) is actually a sponsored post from Samsung to promote the picture quality of the camera on the Galaxy S7.
It. Is. Stellar.
THE TACTIC SAMSUNG USED TO GENERATE ENGAGEMENT
Foodporn. Social media users love pictures of food. This bright, beautiful picture by @wrightkitchen of imperfectly cut holiday pies not only makes you want to step-up your holiday dessert game, but it also demonstrates the power of the Galaxy to capture even ho-hum holiday moments (like beating yourself up about getting a second slice of pie… that's my interpretation of this picture) in magical brilliance.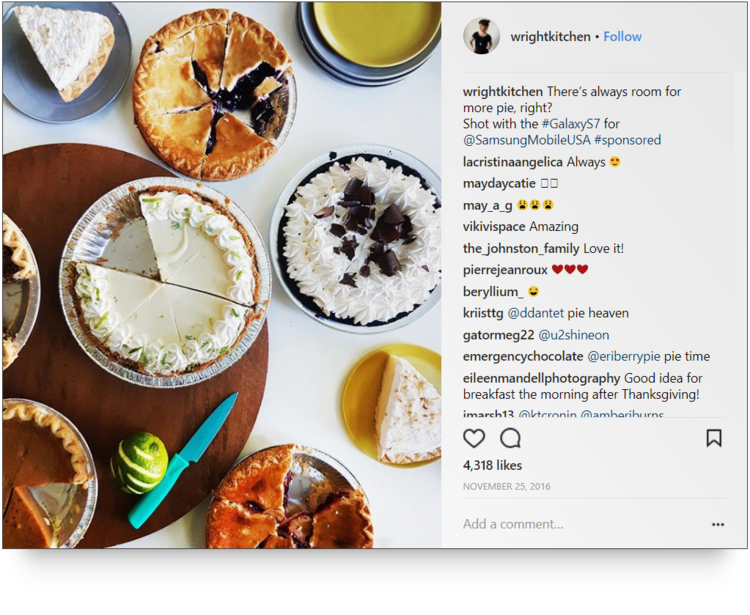 Four Successful Thanksgiving Influencer Marketing Campaigns (That Had Nothing to Do with Thanksgiving)
It's one thing for an influencer to promote a product. It's something altogether different for an influencer to use the product she's promoting at her day job. So, having a food photographer take pictures using a cell phone (doesn't even feel right to call it that anymore, does it?), helps further establish Samsung's credibility.
Wrapping Things Up
Our aim with this series of posts about Thanksgiving marketing campaigns was really to help marketers understand that next to having a great product, creative marketing is one of your greatest assets. That's true during your busy season, and it's true even during seasons and events that seem unrelated to what you do (like selling $100 pens for Thanksgiving).
It's not always easy to come up with new and creative ways to market your products, which is great. Because that's what we here at TheShelf.com do best.
There's still time to launch an amazing Thanksgiving influencer marketing campaign. Let us help you.