There are some verticals that are just a tough space for influencer marketing. For example, the hunting space is tough because a lot of influencers get locked into exclusive ambassadorships with brands, which limits your options when it's time to recruit influencer partners.
In the natural hair care space, a lot of brands (big and small) aren't exactly sure which of their ingredients are on their target customers' no-no lists. So, it can be tough recruiting for those campaigns because hair bloggers are really picky about the products they use.
The blue collar space is a tough one, too. Skilled tradespeople (aka blue collar professionals) make up 13.9 percent of the U.S. workforce (The Washington Post), and there are currently more jobs available in the US for skilled workers than people with the training and experience to do them.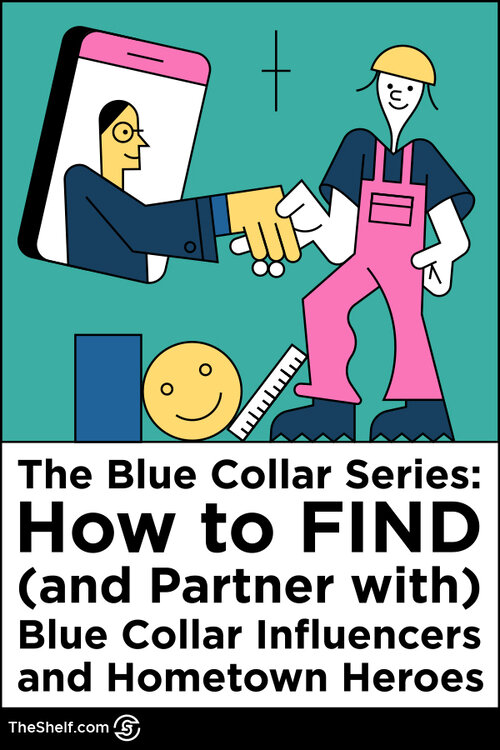 That means for brands that cater specifically to the blue collar crowd, being able to craft a campaign that resonates with your target buyers is that much more important.
And that ain't easy, Sally.
Running influencer campaigns that target buyers who are (or have relatives who are) skilled tradespeople means:
building a strategy that incorporates creative recruiting for influencer partners
understanding the nuances of audience segmenting – what you say to welders is different from what you'll say to painters
being patient and having a plan B for when your emails go unanswered, and
knowing that the kinds of posts that work in the lifestyle space aren't going to work with these guys
Which is pretty much why we're doing this series of posts on verticals that are hard to target, like hunting and the blue collar space.
Salt of the Earth Types… Hometown Heroes, These Guys
Now, before we dig into the goods — how to find blue-collar influencers on Instagram — I'd like to take a moment to discuss why this topic resonates with me. My father is an ironworker, as well as his brother, and their father, my grandfather. My grandmother was, at one point, a woodworker. Early on, I learned we are blue-collar folks.
For our family, that meant pride in rough hands and strong family values. Generally, blue-collar workers are defined as those in the working class who work physically demanding jobs, or those that require work clothes or protective clothing. They are less likely to have bachelor's degrees and are known for touting values that champion dependability and hard work. I like to think of the blue-collar crowd as men and women of principle, good to their word. Real salt of the earth types.
As part of this series on the blue-collar market, we're focusing a lot on brands that provide the work attire and protective clothing these worker bees need on the job and in their adventurous personal lives. From welding iron to climbing mountains, the blue-collar industry is filled with people willing to spend money on items that help them brave the elements and protect their extremities.
Now, let's get right down to it. How do you find influencers whose words carry weight with America's blue-collar community?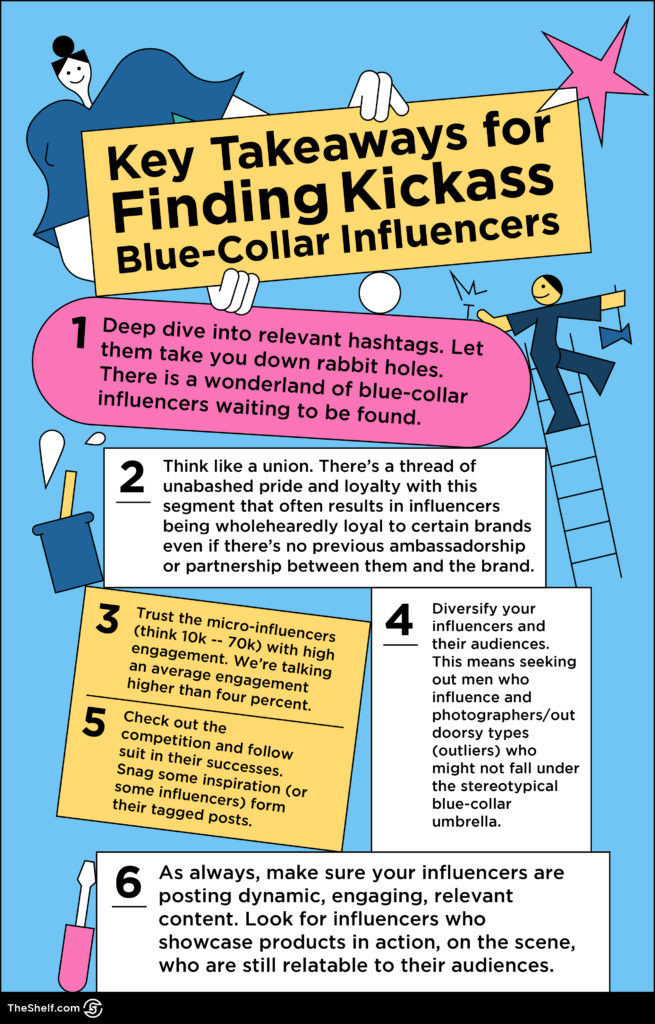 COPY AND PASTE THIS CODE TO EMBED ON YOUR SITE
Hard to Target: Building Influencer Campaigns That Ring True with the Blue Collar Crowd
As of last year, 84.6 percent of Instagram influencers were female (Statista). Yet in most states only 41 – 47 percent of the working class were women (American Progress). So while the majority of the content I found for the blue-collar industry was posted by hard-working ladies, this actually isn't representative of the demographic. There are a couple of reasons for that:
We're targeting a demographic that includes a segment of American men who don't place as much value on "Instagramming" in the traditional sense of natural-lit pics and gorgeous backdrops. They follow who they follow, and they go to keep in touch and be entertained. Not necessarily to be seen or found.
Men tend not the be as committed to hashtagging as women are.
Chances are are pretty good that if you're trying to launch a branding campaign for your outerwear or work gear brand, you'll want to tap into the buying power of blue-collar men as well. For this vertical, achieving diversity in your influencer campaign means seeking out men.
Build a Database of Segmented Blue Collar Hashtags
When I am on the prowl for new influencers (of any kind) on Instagram, I usually stick to two methods: hashtags and tagged photos.
The hashtag route is pretty self-explanatory, but it can be a challenge for verticals like the blue collar niche that are hard to target. When we built out a campaign for one of our clients who targets blue collar workers, we literally had a company spreadsheet that listed out hashtags for 13 different segments of the blue collar audience. Not kidding. Under construction alone, we gathered 153 hashtags that people who work in the construction space use.
When you're building influencer campaigns for verticals that are hard to target, your hashtag game has to be strong. That's gonna take some time, attention, and effort on your part. But it's necessary, because people in different jobs have different common experiences, different challenges, different solutions, and are looking for different things. So, the message that resonates with a welder won't necessarily be the same stuff that resonates with your painters.
As a general note, you want to find relevant phrases or words for your campaign and see what people are using. There are more than 400,000 posts with the hashtag #bluecollar that I had access to when writing this post. And #bluecollarlife had 34,000 posts that were just helpful.
Of course, everyone's free to use hashtags. You'll have to sift through the everyday posts to find the sponsored ones, but even this seemingly mundane task can provide marketing insight. Those non-influencers who use the hashtags associated with your brand likely represent a portion of your target audience. So don't take that scrolling for granted.
Day-in-the-Life Posts
When scrolling through the #bluecollar posts, I found this post from Trish Powell (on Instagram @tradie.lady.trish), a pipe welder. Trish reps workwear brands while she's on the job.
You'll notice with a lot of posts from skilled tradespeople, their "work" posts aren't your typical Instagram lifestyle posts. Substitute the word "lifestyle" for "real life". That's a more accurate frame of reference, I think. Posts are more likely to be informative, funny, day in the life posts, live-action posts, or memes. The posts are a lot less posed and more candid. Nobody's worrying about the shadows or being caught at the perfect angle.
Flipside, you can get some pretty interesting content for your brand by introducing stuff like lighting and angles to your blue-collar influencers and letting them just go with it.
Trish tagged @rascofr, the flame resistant clothing brand, and @goldenarmcollective, a company that makes welder merch. This photo of her work 'fit was reposted by both accounts, taking her reach from the 13.4k followers she has on her personal account to 20k more scrollers in the blue-collar market.
This post resonates with her audience (with about 11.7 percent engagement!) because it's straightforward and relatable. Skilled pros like Trish typically have job-specific work attire. In this pic, Trish pretty much shows us what she's working with.
I don't care what your day job may be, a day in the life of a pipe welder is interesting. The clothes (and brands) she uses to get the job done will probably resonate more with people in this or similar lines of work. This post works because it shows people what welders need – work attire they can count on, from someone they trust.
Just a lady welder getting that money (and getting her sponsors' money, too!)
Live-Action Posts of Pros Demonstrating Skills
Sometimes the best way to connect with an audience is to show real people in action, crushing it. Influencer Jen Pasten, known as @gotweldrepair on Instagram, showcases her welding skills in this clip which graced the feeds of her more than 18k followers. With 8,553 views (at the time of this writing), that's more than 47 percent engagement on this one post!
The beauty of using micro-influencers like Jen to promote your brand is this mega-engagement opportunity. While @berneworkwear has less than 4,000 followers, they are reaching more than double their brand following with the help of influencers like Jen. Don't be afraid to tap into these niche blue-collar communities when you're making your influencer partnerships. Always go for the posters who have killer engagement like Jen.
Plus, it helps to have dynamic posts like this that audiences want to engage with. Video content helps show your products in action. Let the blue-collar work shine with the help of blue-collar influencers, and your products, of course.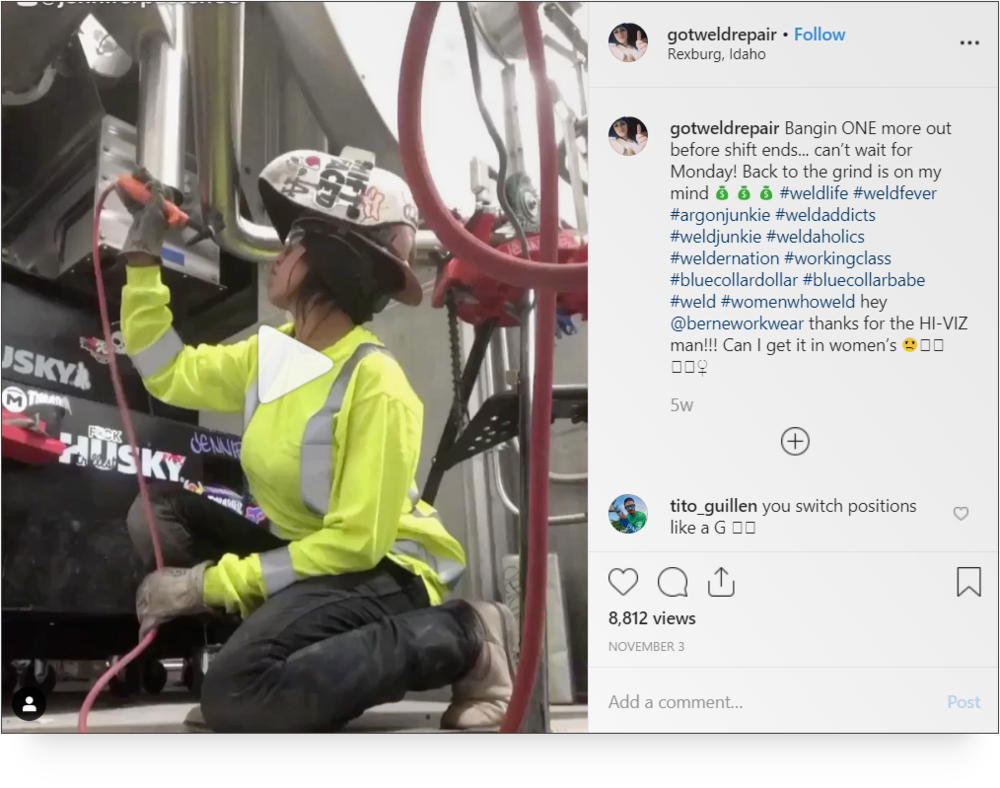 Now, while hashtags are the bees knees when searching for influencers and audience engagement alike, they are often more useful when used in conjunction with brands' tagged posts. After all, I stumbled upon Tommy not because he used the #bluecollarmen tag himself, but because he was tagged in a post that did. This leads us to the second portion of this run down, the power of tagged posts.
Use Tags – They'll Save You a Ton of Time
When the hashtag method fails, proves too time-consuming, or you just need a little umph in your current campaign, turn to the tags. A great way to find blue-collar influencers (or those for any niche industry) is to find brands similar to your own and peruse their tagged photos. Look for companies who already boast top-notch influencer campaigns, and then trace them back to the source, their influencers.
Now, I'm not suggesting that you poach your competition's influencer power, BUT many influencers will work with several brands simultaneously, especially if the products being promoted compliment one another. Even if they're off the market, their profiles will likely lead you to similar influencers in the industry who can help.
Brands like Black Yak and The Heat Company do a great job reaching influencers who need their climate-protecting gear and apparel. Their influencers' posts may not have many hashtags in common, but the brand is always tagged. So to find a quick sample of climbers, mountaineers, and alpinists who rough the slopes and climb the highest peaks for a living and for leisure (if you can call it that), hop on over to their of these companies and scroll through their tagged photos.
Differentiate by Grabbing A Few Outdoorsy Types and Adventurers
Both accounts are chock-full of posts just like this one. Blue-collar adventurers out in the elements repping their gear. The photos are scenic, intense, and attention-grabbing. Your eye might not be drawn to the product itself, but it only takes a little imagination to see just how essential this outerwear is to those who brave these heights and conditions.
Appeal to the adventurer in your audience. While you're at it, appeal to ever blue-collar guy or gal who just wants to stay warm. That's a pretty universal feeling, right?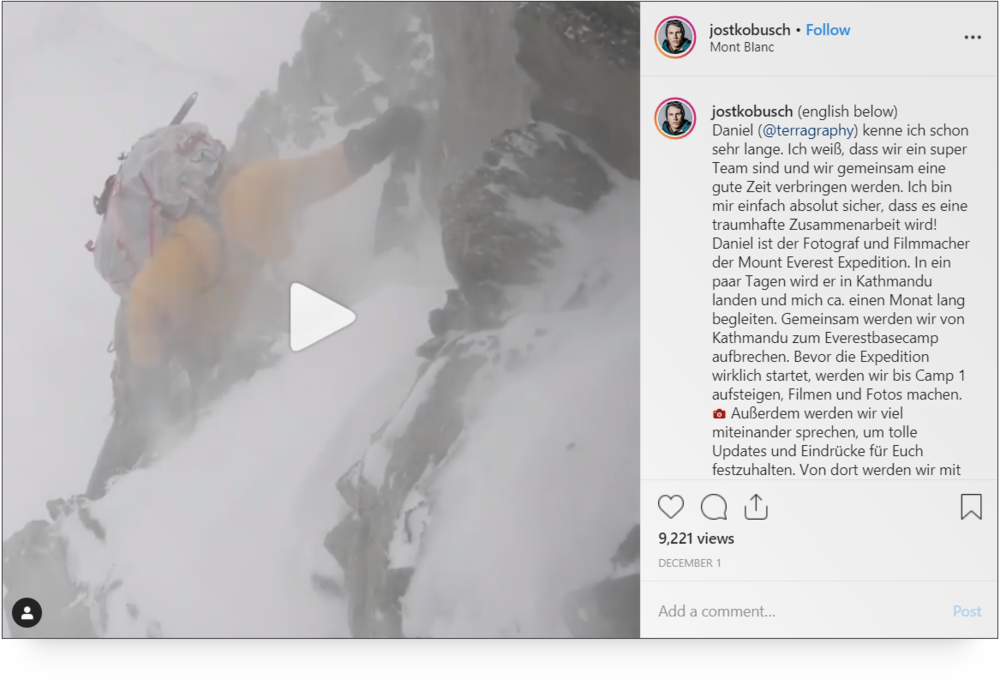 When it comes to influencer marketing, the blue-collar industry includes more than craftsmen and service jobs. Photographers, climbers, park rangers, and many other occupations that require people to work outdoors typically fall into the target market for brands who also market to the blue collar crowd. So don't forget about the artists of the group, or those who might use your products in a way different than you usually market it.
Photographer Solli Kanani is based in Paris and shoots her fair share of picturesque Parisian scenes, both indoors and out. But when her work takes her into the bitter cold that undoubtedly hides behind this gorgeous shot, she needs The Heat Company's gloves and outerwear just as much as those in traditional blue-collar professions. Like any carpenter or crafter, Kanani's work is done with her eyes and her hands in all weather conditions.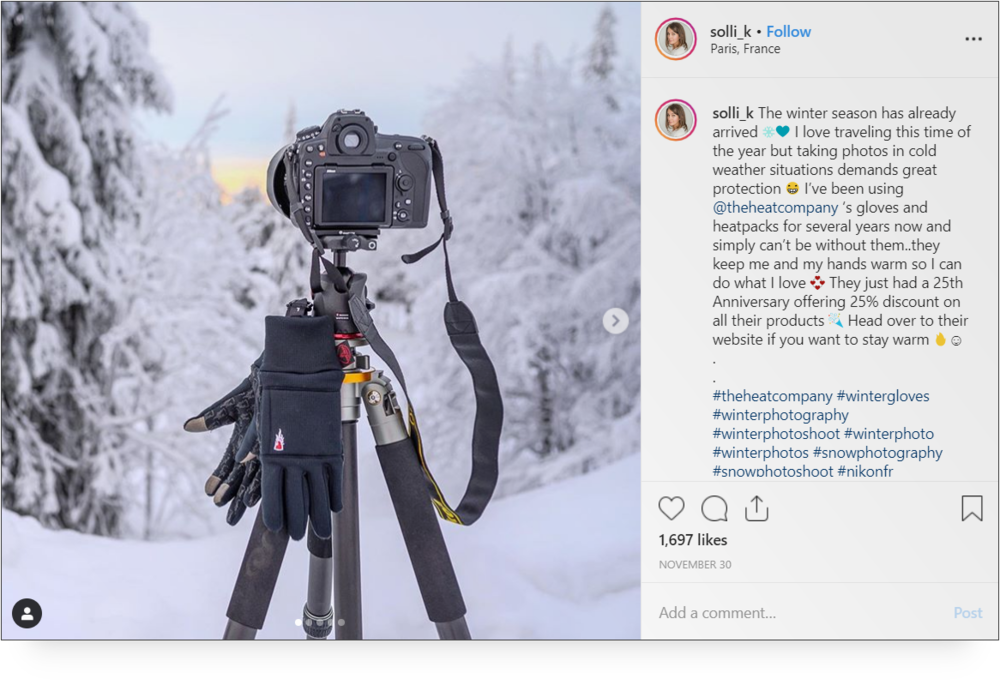 Don't shy away from where the tagged posts and hashtags take you, even if they lead you in a direction altogether different than your traditional marketing. Working with influencers is all about engaging with niche markets who need or want your products. Don't take a one-size-fits-all approach to your influencer hunt.
Recruit Influencers From Different Segments of Your Audience for a More Targeted Campaign
You ever talk to a jazz musician about jazz? Are they not just speaking another language if you're not into jazz? I mean… come on! But other jazz musicians and jazz lovers will eat that conversation up because jazz is pretty much their jam.
And so it is with skilled professionals. Lawyers speak legalese. Marketers speak jargon. Back-end engineers speak code. And welders, well, they speak a language and share a bond that only other welders are really privvy to.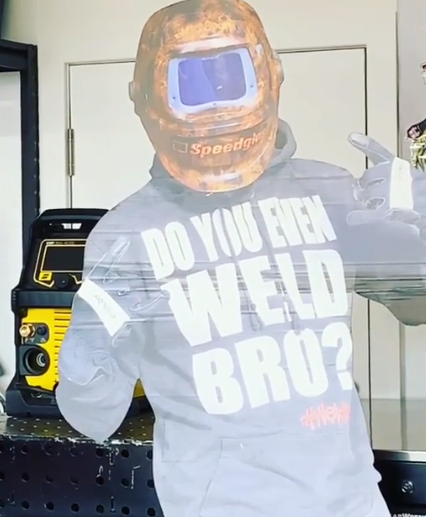 Capitalize on that by making it a point to partner with influencers with different skillsets – roofers, welders, farmers, plumbers, fishers, builders, custodians… that's going to matter a lot when it comes time for shaping some authentic messages that really ring true with different segments of your audience.
Key Takeaways for Finding Kickass Insta Influencers
Deep dive into relevant hashtags. Let them take you down rabbit holes. There is a wonderland of blue-collar influencers waiting to be found.
Think like a union. There's a thread of unabashed pride and loyalty with this segment that often results in influencers being wholehearedly loyal to certain brands even if there's no previous ambassadorship or partnership between them and the brand.
Trust the micro-influencers (think 10k — 70k) with high engagement. We're talking an average engagement higher than four percent.
Diversify your influencers and their audiences. This means seeking out men who influence and photographers/outdoorsy types (outliers) who might not fall under the stereotypical blue-collar umbrella.
Check out the competition and follow suit in their successes. Snag some inspiration (or some influencers) form their tagged posts.
As always, make sure your influencers are posting dynamic, engaging, relevant content. Look for influencers who showcase products in action, on the scene, who are still relatable to their audiences.
Put that blue-collar work ethic to good use and get cracking on developing your brand's influencer marketing campaign. Need more from us? We can help you find influencers and learn more about the campaign strategies that will work the best for your brand and blue-collar market. Let's chat!