by Izabelle Hundrev
When was the last time you bought something without reading customer reviews before? Or maybe you asked a friend who previously purchased that product or service to share with you their experience with the brand. Either way, most brands will instantly become more credible the moment they're value gets validated by others.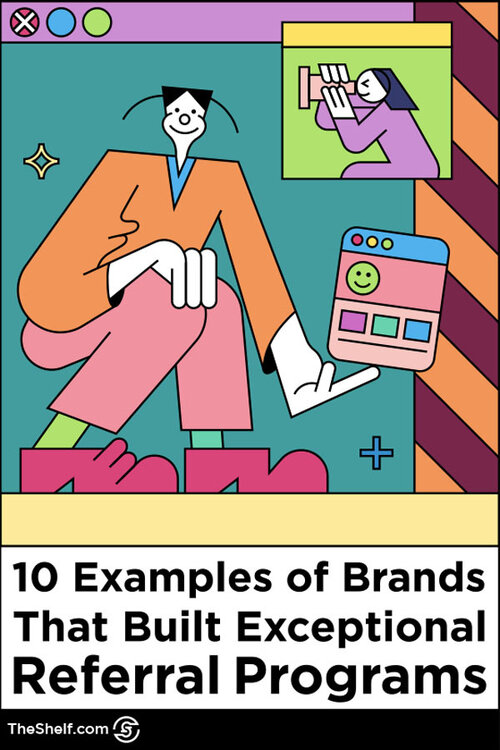 That's referral marketing in a nutshell. 
Harnessing the power of word-of-mouth can drive measurable impact to your marketing efforts. In fact, 84 percent of people cite word-of-mouth as the MOST trustworthy form of advertising. 
While you can't always control what's being said about your brand, you can incentivize your happiest customers to share their positive experiences with their friends and family. That's called a referral program. If executed correctly, a strong referral program can be a marketer's secret weapon for continuously attracting new customers (and keeping them) at a very low cost.
How Referral Programs Work
Across many different industries, both B2B and B2C brands are taking advantage of the benefits of word-of-mouth marketing via structured referral programs. It doesn't matter if you're a clothing company or an ecommerce platform.  If you're offering a stellar product or service, it's likely that your customers have already started telling their networks about your brand. 
To capitalize on this, it's important to come up with a referral strategy that is straightforward, measurable, and easy-to-implement. Many marketers rely on customer advocacy software to help guide their efforts and automate some of the manual labor required to implement and manage a referral program.
Although every brand is unique, most referral programs follow a similar model: 
Identify a group of exceptionally happy customers
Ask them for a referral
Offer an incentive in return
What this model ends up looking like for your brand will vary based on your business model, industry, and customer base. 
For example, if you work with a subscription box service, giving your loyal customers a code to send a free box to their friends in exchange for 10 percent off their next purchase could be an enticing offer. If, on the other hand, your company sells a B2B service, your referral offering might look very different. Do research to learn what types of incentives your target market finds most appealing to set the program up for success. Your marketing automation tool can help you launch your program and get the referrals rolling in.
If you're going to start a referral program, you want to do it right. There's no better way to learn than by looking at real-life examples of brands that have already implemented this type of marketing strategy successfully.
10 Examples of Brands with Killer Referral programs
#1 Casper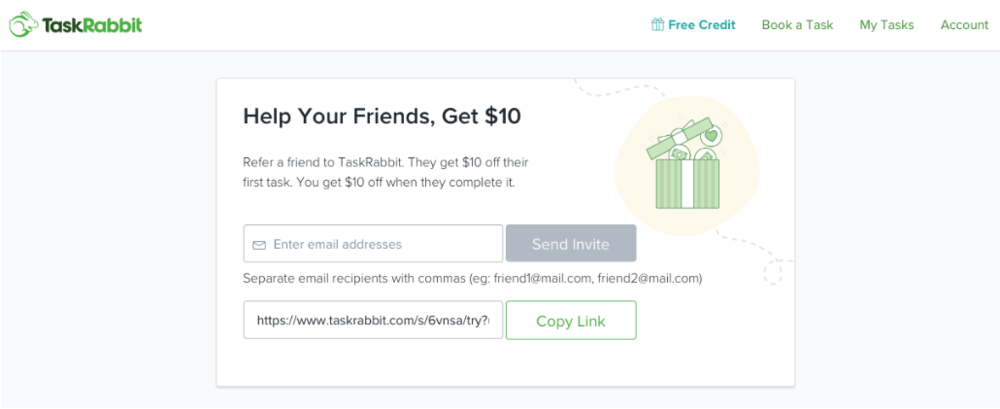 Casper is an e-commerce company that sells mattresses and other sleep-related products. Its referral program offers customers a $75 Amazon Gift Card for any referral that buys a Casper mattress using their personal code. As an added bonus, their referral gets 10 percent off.
WHY IT WORKS
Casper's program is exceptional because it's simple and offers a killer incentive. Their created landing page is easy-to-read, has a cheeky headline, and makes it incredibly easy for Casper's customers to generate a personal link and send it to their friends.
#2 Zenefits
Zenefits is a cloud-based SaaS platform for managing core human resources-related functions including benefits administration, payroll, and compliance. As part of its referral program, Zenefits sends customers company swag, followed by a digital gift card for an amount that will vary based on the size of the business that they refer.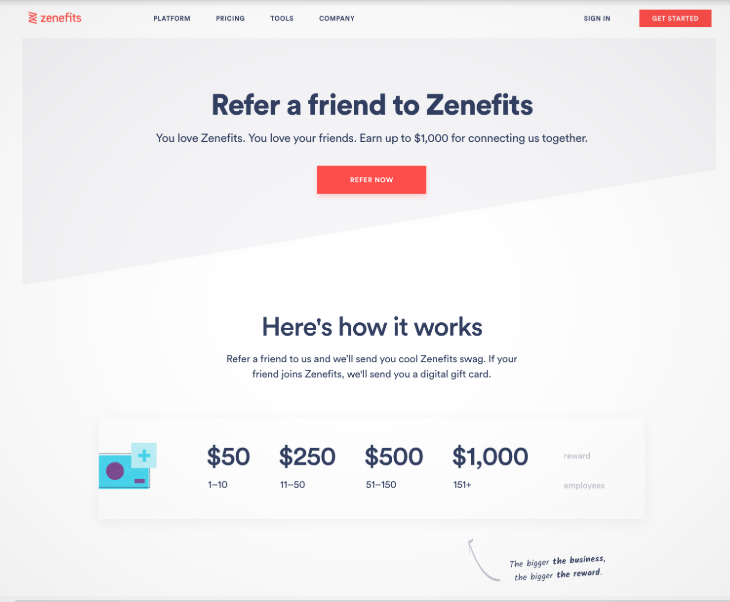 WHY IT WORKS
Zenefits referral program is unique in that it incentivizes customers to refer bigger companies to get more money. Additionally, many referral programs give prizes that require the customer to purchase from the brand again, but Zenefits gives away cash that their customers can redeem "just about anywhere." After all, who doesn't want up to $1000 of extra spending cash? 
#3 Ritual
Ritual is an app that makes pre-ordering food easy and fun by allowing users to skip the line, 
make a group order with their coworkers or friends, and earn rewards along the way. Everytime a user places an order through the app, they earn points, which ultimately lead to rewards such as $1 lunch or early access to local restaurants. Ritual's referral program is pretty straightforward: for every referral, the user gets 1000 rewards points. The person they referred to sign up will also receive a bonus on their first order.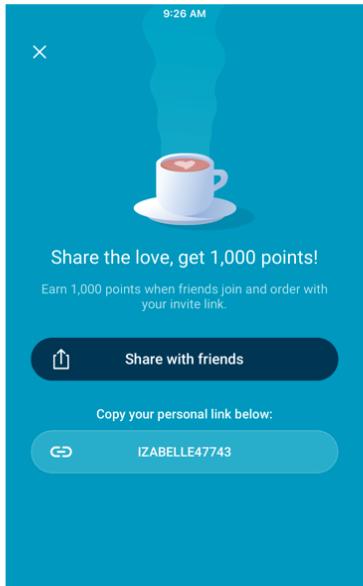 WHY IT WORKS
Ritual's referral program is ridiculously simple and caters to its audience.  Not many people have time to read through a text-heavy referral page in the middle of a busy workday. The landing page has minimal copy and the design makes it easy to send the referral link instantaneously.
#4 Sling TV
Sling TV is an internet television service that allows subscribers to stream live television without having to go through a traditional cable provider. Through Sling's referral program, existing customers can get $5 off their next three months of streaming if they refer a friend. New users that subscribe through a referral link get the same deal.
WHY IT WORKS
Talk about an effective landing page. Sling's referral program makes it super easy for customers to share their referral link on social media or through email. The headline is bold and immediately catches the reader's attention. Plus, offering $5 off over the course of three months incentivizes users to stay subscribed since the deal stretches out over a longer period of time.
#5 TaskRabbit
TaskRabbit is an online marketplace that connects freelance workers with people in their local community who need assistance with general handyman work such as repairs, furniture building, or moving. As part of TaskRabbit's referral program, users get a $10 credit for each referral and give their referral the same credit towards their first transaction.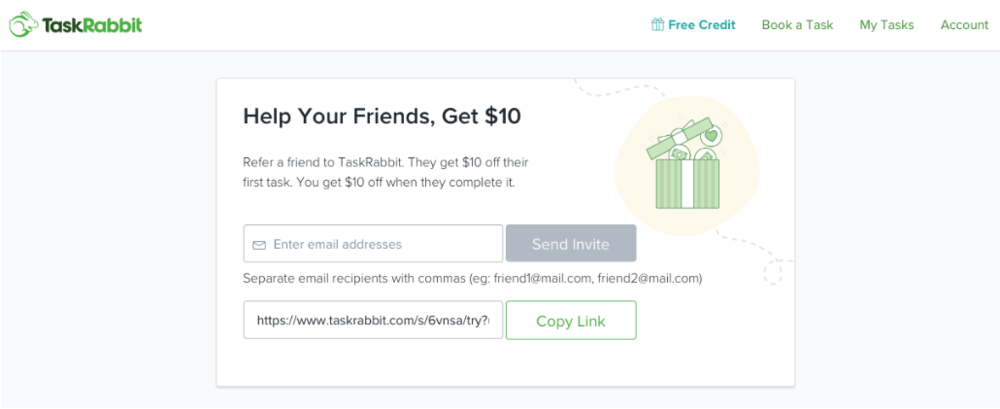 WHY IT WORKS
TaskRabbit's referral program is simple but effective. The interface has limited copy, making it easy to read and understand. The "free credit" call-to-action at the top of the web page is enticing and clickable..
#6 Lyft
Lyft is a popular ride-sharing company based in San Francisco, California. On the mobile app, riders can earn $5 in ride credit by referring their friends to sign up to ride or $500 for referring a driver.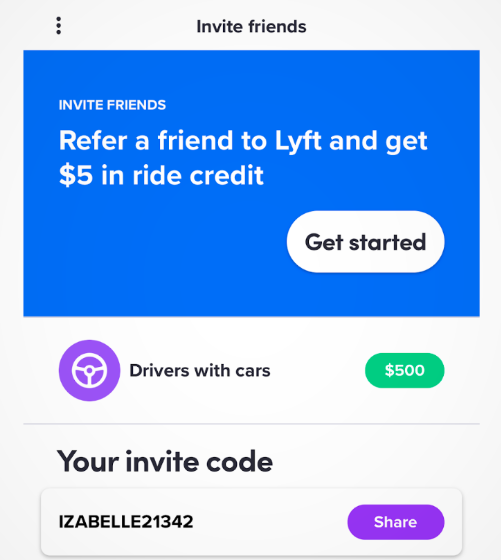 WHY IT WORKS
Lyft's referral program is incredibly intuitive and easy to navigate. The app seamlessly guides the user from one screen to the next, where it then asks for access to their contacts list so they can send their invite code with just a click. Plus, since Lyft is always looking for more drivers, offering a whopping $500 in ride credits for a driver referral is a surefire way to get people's attention.
#7 HelloFresh
HelloFresh is a meal kit service provider that sends customers pre-packaged ingredients and recipes right to their homes. Subscribers have two referral options to choose from: sending a free HelloFresh box to a friend or the option to give a friend $40 off their first box and receive a $20 credit in return.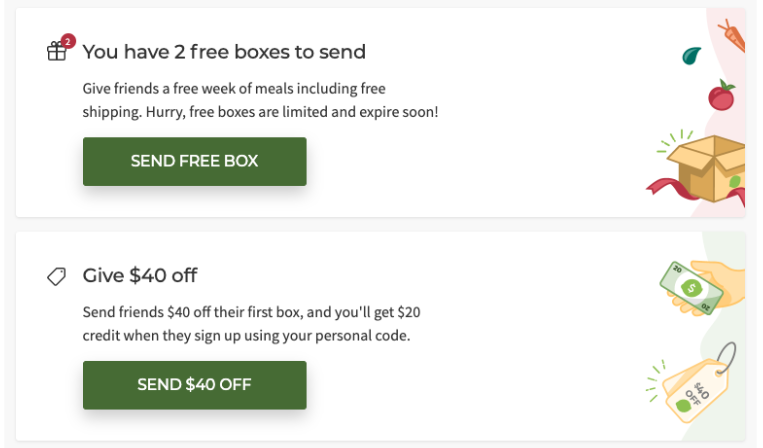 WHY IT WORKS
Having multiple referral options gives the customer even more incentive to participate because they can choose what's most convenient for them. HelloFresh has the "free box" option for a limited time, which further entices users to use it before it's gone.
#8 Airbnb
Airbnb is a popular virtual marketplace that connects travelers with hosts looking to offer up their home for lodging. As part of its referral program, Airbnb offers customers the chance to refer friends and redeem a $30 travel credit. The person they referred will get $55 off their first trip.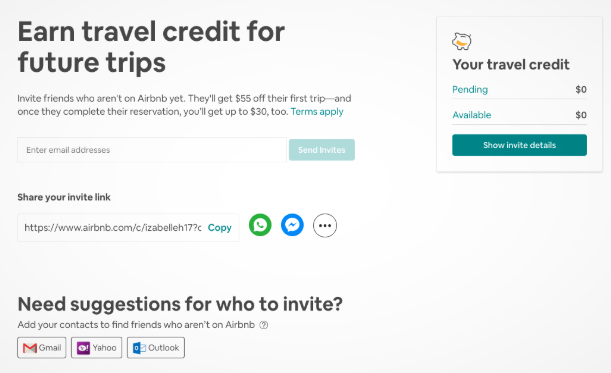 WHY IT WORKS
Airbnb makes it easy for customers to invite friends by keeping a log of their available travel credit and providing suggestions if they choose to sync their contacts through email.
#9 Evernote
Evernote is a freemium note taking app that allows users to create detailed notes consisting of text, images, or drawings. For every referral, users earn points to use toward the paid version. On the flip side, the person who was referred will receive one month free of Evernote premium.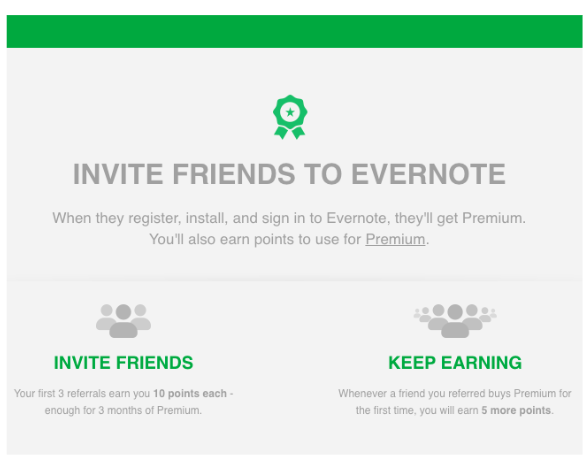 WHY IT WORKS
Evernote's referral program is effective because it gives customers a glimpse at all of the features available on the premium version. The idea behind this strategy is that both new and existing users will be enticed to buy the paid version once they have a chance to try it out for free.
#10 Tesla
Tesla is a vehicle manufacturing and technology company known for its electric cars and solar panels. Its referral program gives customers a chance to earn 1000 miles of free Supercharging or a $100 reward. Additionally, for each referral, customers have a shot at winning a Tesla Model Y or Roadster supercar.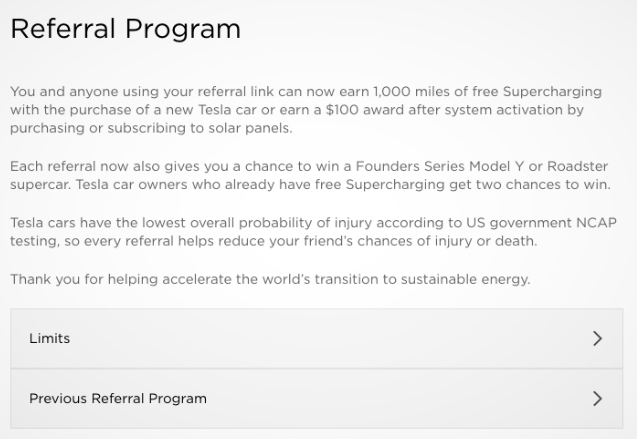 WHY IT WORKS
Tesla's referral program goes without all the bells and whistles and in this case, less is more. The company's foundational values are based on sustainability and safety, which is highlighted in the copy of this landing page. Tesla is encouraging their existing customers to spread these values while picking up some free perks along the way.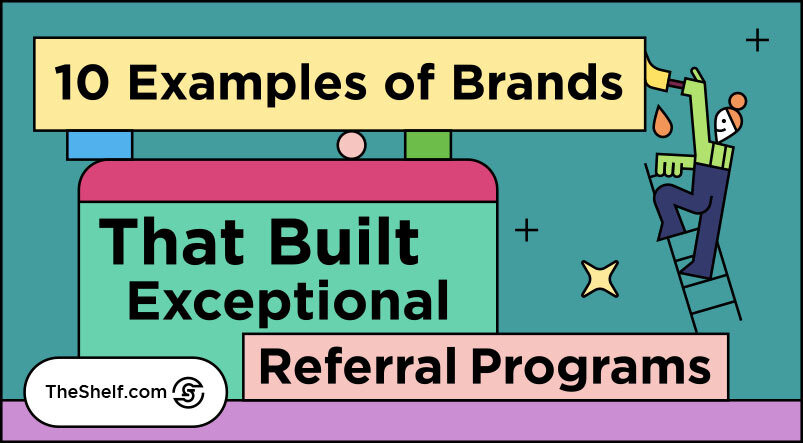 So, Spread the Word
Marketing is all about building trust with your audience. Spoiler alert: your happiest customers already trust you. Don't miss out on the chance to turn them into your brand's strongest advocates. If you empower them to share their positive experience with others in their network through a referral program, all that's left for you to do is watch the new customers start rolling in.