Here's Our List of 20 Food Influencers Who Have Our Full Attention
If you've seen both fall and winter decorations strategically placed in your favorite store then you know what that means – the holiday season is officially beginning. After the kids are back in school, the period from late September through the New Year is when we collectively turn our thoughts and spending toward, gifts, food and other universal expressions of warmth and love. The holidays are especially big for foodies, chefs and food brands.
So, you know us… we've already eyeballed some of our favorite Instagram food influencers to inspire for your next marketing campaign… even if that campaign is just convincing your in-laws that your pie is table-worthy.
Here are some of our favorite food bloggers on Insta.
Healthy Eating influencers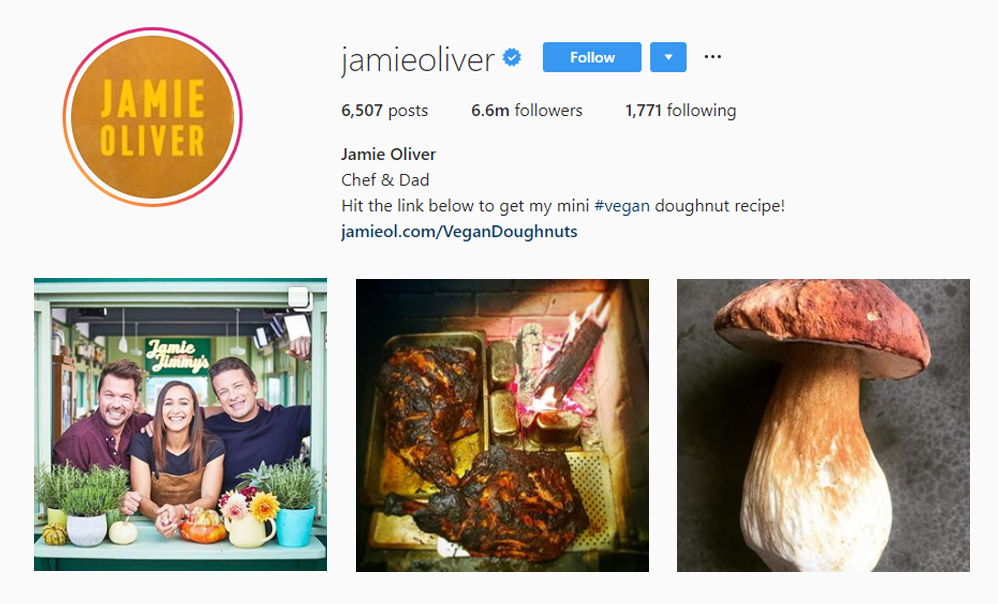 Celebrity chef, restaurateur and advocate for healthier school lunches, Jamie Oliver has already had a pretty long high-profile career. His youthful exuberance and straight talk about transparency in foods has made him famous. He's the guy known for showing kids exactly what's in their fast food, and trying to discourage them from eating things like chicken nuggets and pizza. He's also the guy who told the world just what is in ground beef. Even better, he's a big proponent of telling people what to buy / eat instead.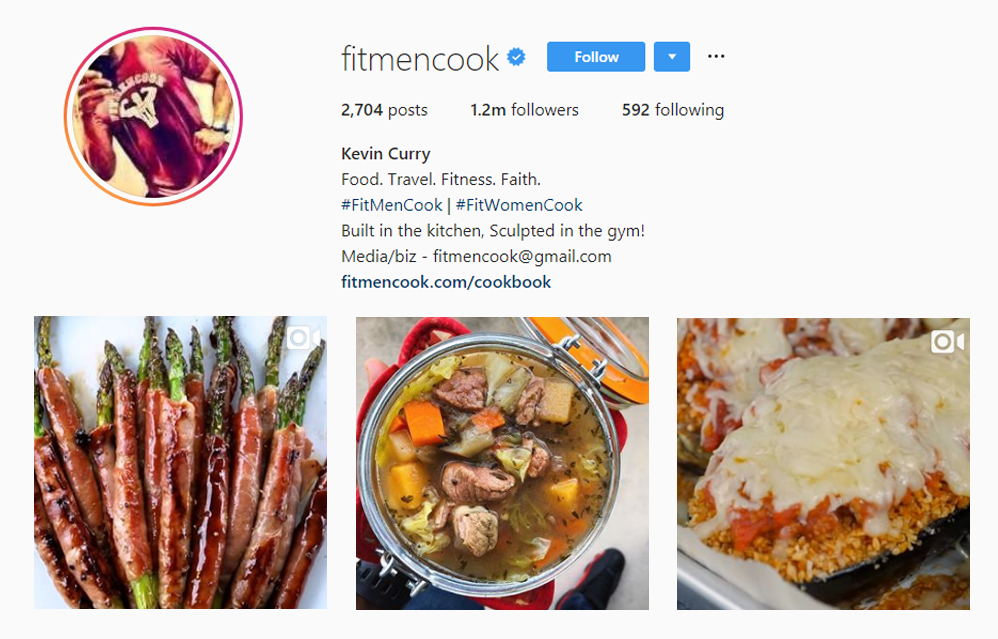 Kevin Curry is known for his protein-packed, ultra-healthy meals that help both men and women exercise practical fitness. With over a million followers on Instagram as well as a successful YouTube channel, he's definitely one to watch.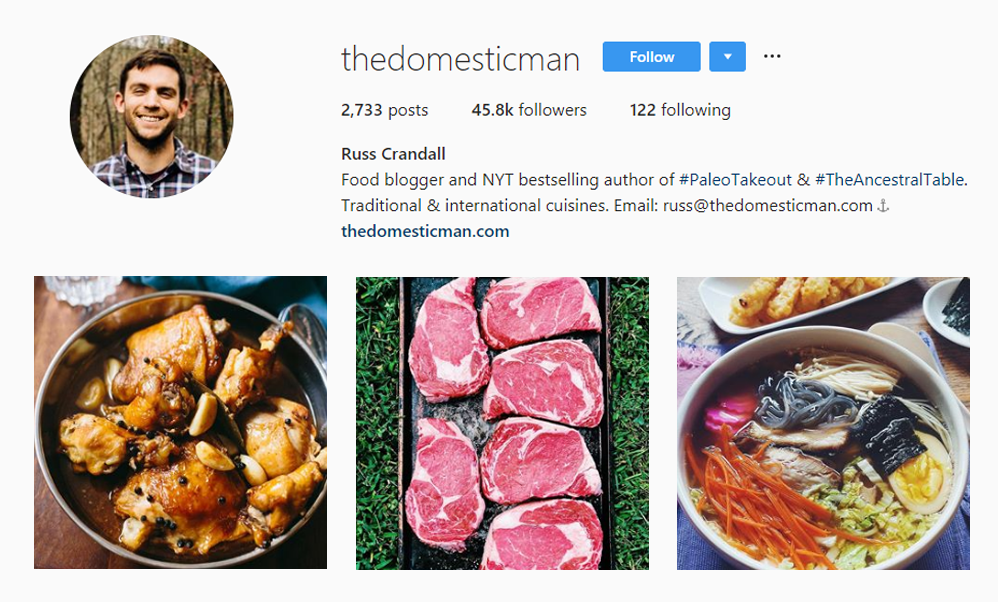 Russ Crandall is the master of leading a delicious Paleo lifestyle. His feed is jam packed with delicious recipes that you can make yourself and absolutely love without ever having to ditch your paleo meal plan. The perfect source for finding ways to keep your holiday meals healthy without sacrificing taste.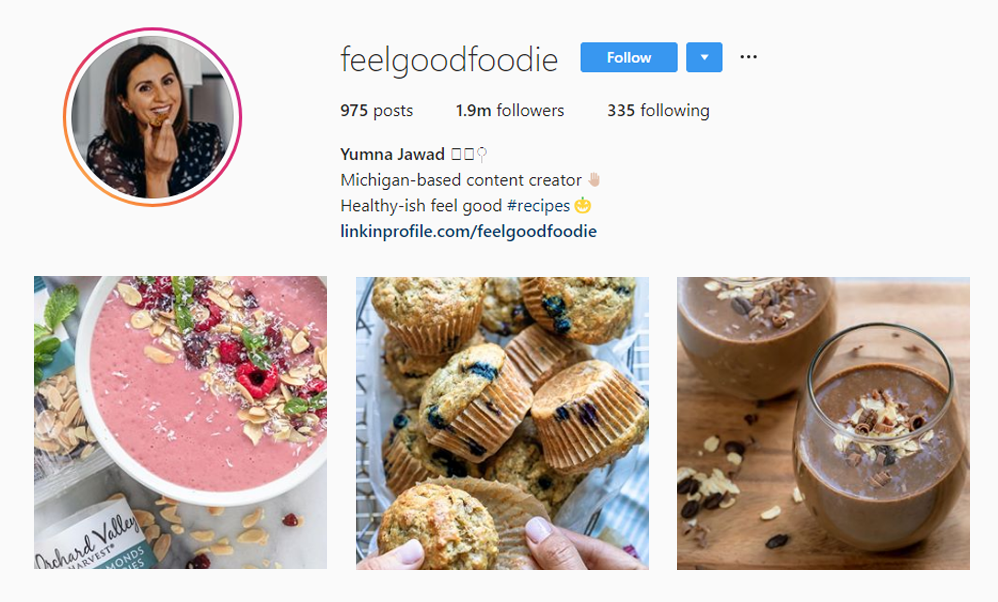 Yumna Jawad is the brains behind the Feel Good Foodie brand and blog. Think she was born to cook, right? I mean, her pics look like stock photography. In reality, Jawad learned to cook in 2007, two weeks after she got married by calling her mom every single day to walk her step-by-step through the process for making some of her favorite dishes. Hilariously real-life, right?  
Today, the Feel Good Foodie has millions of followers across social media and posts the most amazing recipes for your favorite treats as well as some Middle Eastern favorites.
So, once you're done enjoying as much of the turkey, yams, and pie as you possibly can this Thanksgiving, check out her Insta feed to get your diet back on track with her "healthy-ish recipes with feel good ingredients".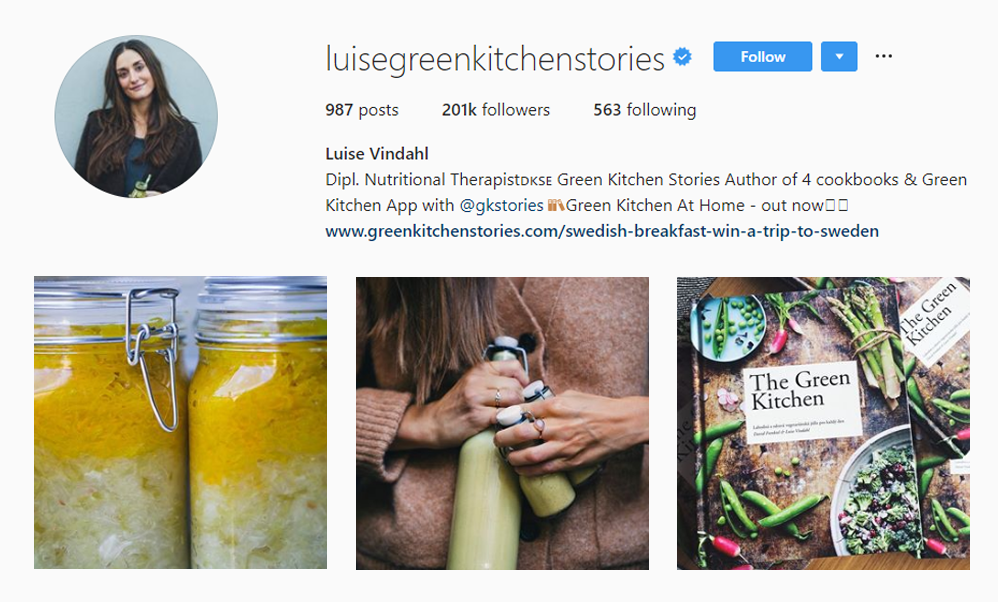 Luise Vindahl is a Danish-born influencer who is working hard to broaden our healthy eating experiences by introducing her followers to a wide range of lesser-known (read tasty) ingredients to create delicious and healthy meals. Vindahl is also The Green Kitchen series of cookbooks Keep her in mind the next time you're searching for a great book to add to your kitchen library.
---
Vegetarian/ Vegan influencers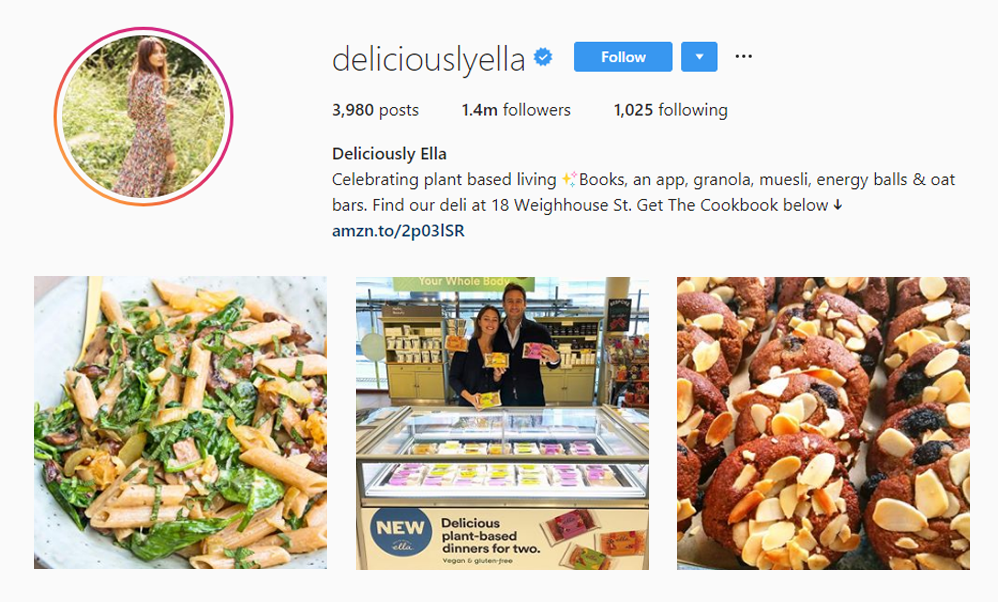 If you're looking for some healthy living inspiration, look no further than Ella Woodward. Ms. Woodward's Instagram feed is filled with her own recipes for delicious, meat-free meals that her 1.4 million followers love. And, now with her own line of food products, an app, and a range of books on the market, she's fast becoming a powerhouse brand in her own right,  too.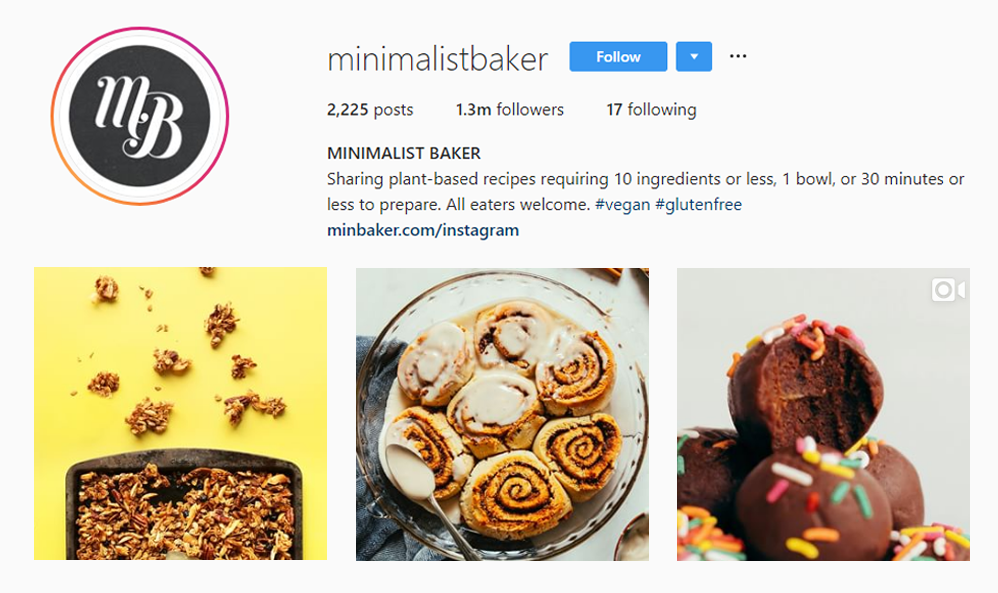 Minimalist Baker – brilliant! Every recipe these guys share is vegan – no eggs and no dairy. But that doesn't stop them from looking absolutely delicious and being super-simple to make. They have officially hacked desserts. This feed focuses on providing more than one million followers with recipes that require few ingredients, little effort, and just a little time to complete. It's the ideal place to find dessert ideas that you can enjoy this Thanksgiving, without it feeling like you have yet one more thing to do.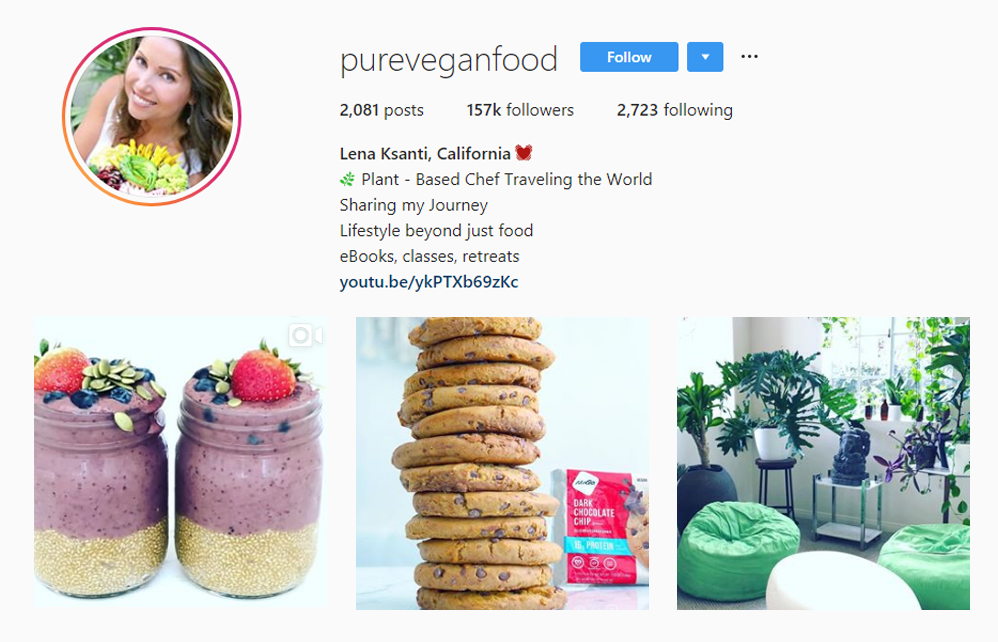 Working as both a chef and a restaurant consultant, it's fair to say that Lena Ksanti over at Pure Vegan Food knows her stuff. She's a great source of inspiration and mood-boosting goodness.  Escape to her Inst feed when your extended family starts to grate on you this holiday season.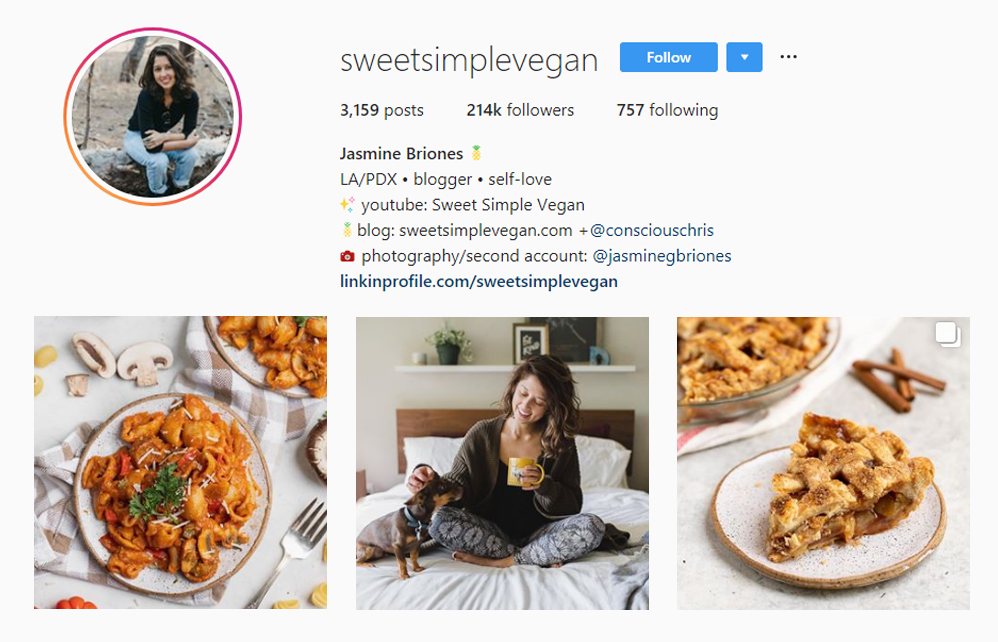 Another awesome vegan influencer who has mercy on the rest of us by posting simple, healthy vegan recipes is Jasmine Briones. Her feed is the perfect balance of soft white and neutral colors punctuated by delectable vegan treats, and she posts recipes and pictures of a wide range of vegan foods, from pasta to pies.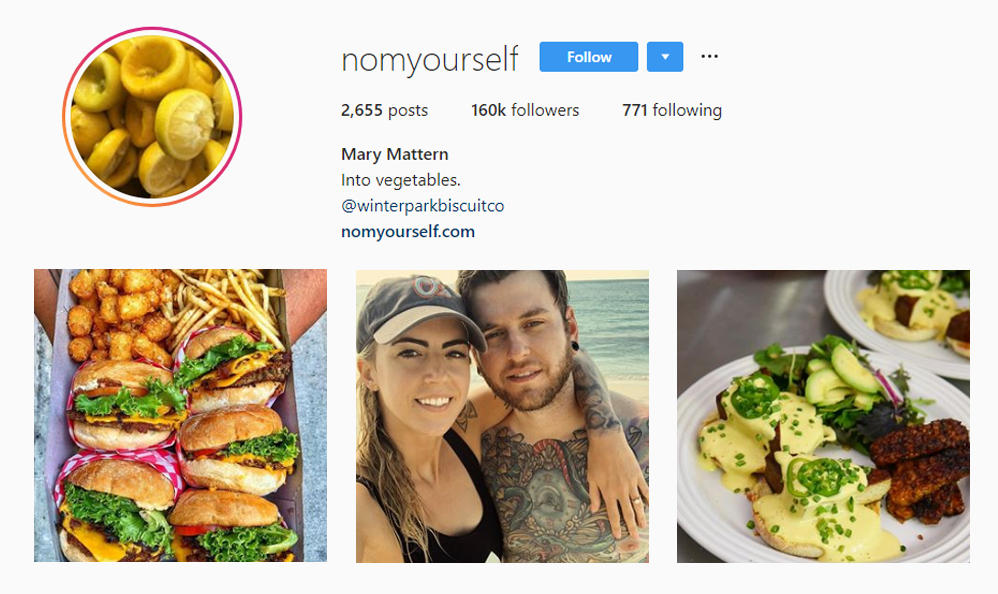 Three words: Vegan Mac'n Cheese. Or four words… because it's not  Mac'n – it's Mac N' Cheese.
Three or four words, Mary Mattern's feed is pretty cool, and focuses on putting to rest our greatest vegan fears – that vegan automatically means gray matter and cold salads. Ha! NOT! Ms. Mattern's Instagram feed shows us how we can still enjoy all of our favorite meals like burgers and mac 'n' cheese without relying on any animal products whatsoever. it's magical.
---
Easy Cooking Influencers
HOLLY ERICKSON & NATALIE MORTIMER – @THEMODERNPROPER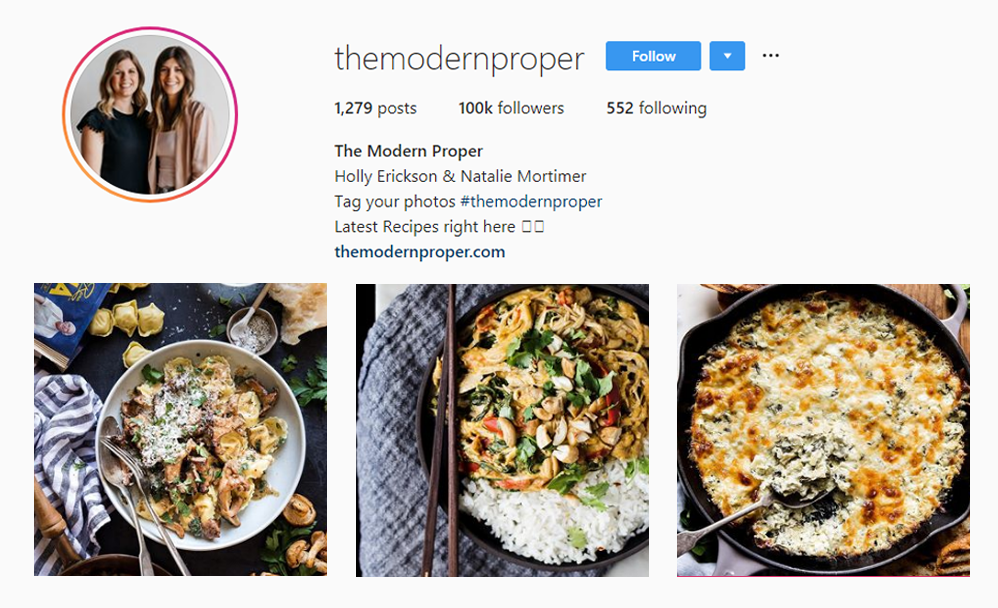 Holly Erickson and Natalie Mortimer are the two forces behind The Modern Proper, a feed that focuses on sharing simple home cooking ideas. Their Instagram feed is truly a thing of beauty, which comes as no surprise – both women are also photographers and food stylists to boot.
HANNAH HART – @HARTO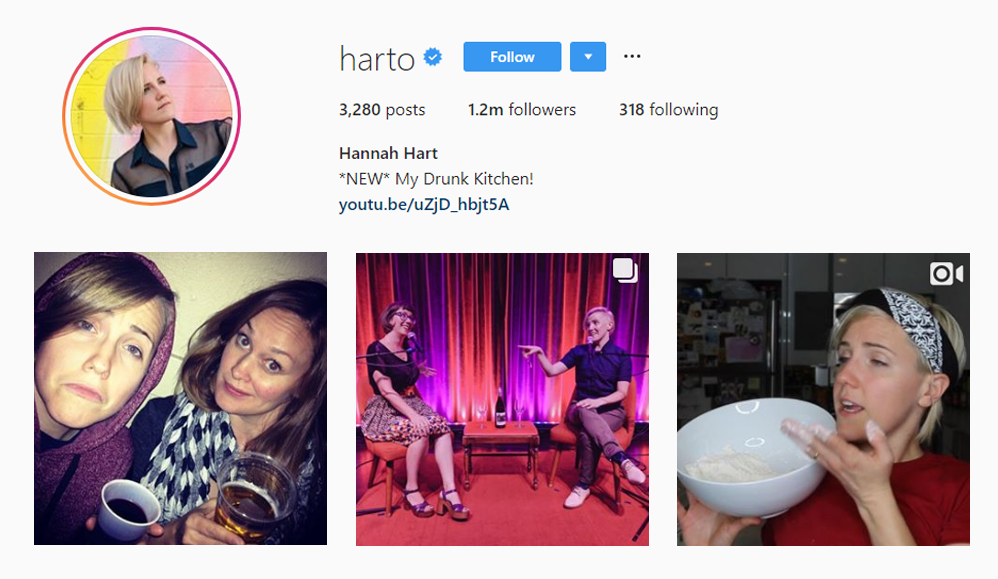 While Hannah Hart may not have an Instagram feed filled with gorgeous snaps of perfectly plated food, she is one of the most well-known foodie influencers out there. Her YouTube show, My Drunk Kitchen, is a hit with her 2.5 million subscribers, and sees her indulging in generous amounts of alcohol before cooking a new meal. Her antics are hilarious, and often result in some pretty tasty meals.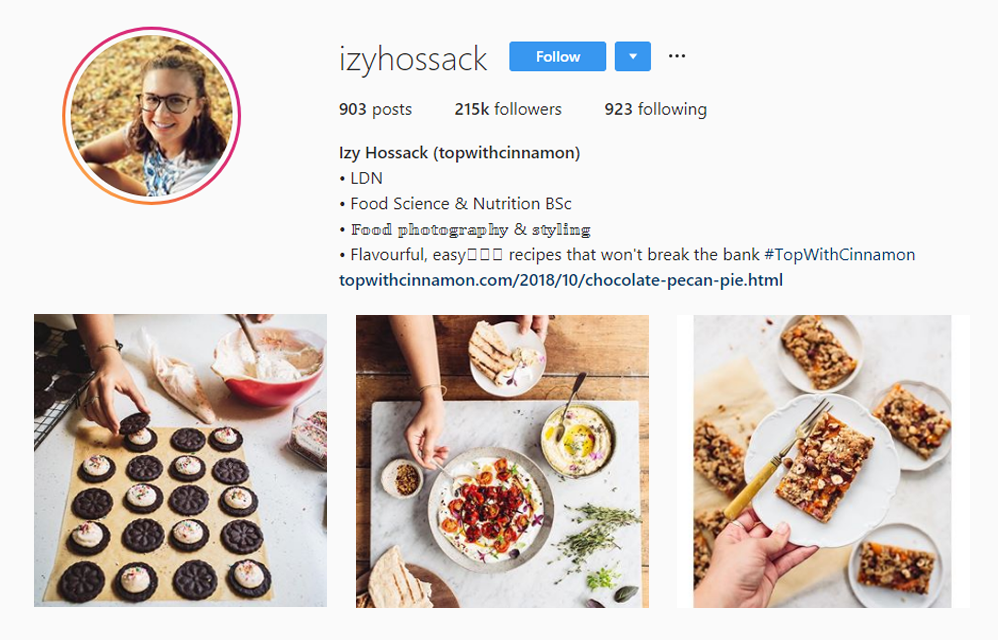 Focusing on easy-to-make recipes that are still affordable, Izy Hossack knows what she's talking about when it comes to cooking. She holds a degree in Food Science and Nutrition and is the owner of Top with Cinnamon, a food blog that features some of Izy's culinary experiments! She is also the author of the author of two cookbooks under The Savvy Cook brand, the first of which she published in 2014, when she was still a teenager.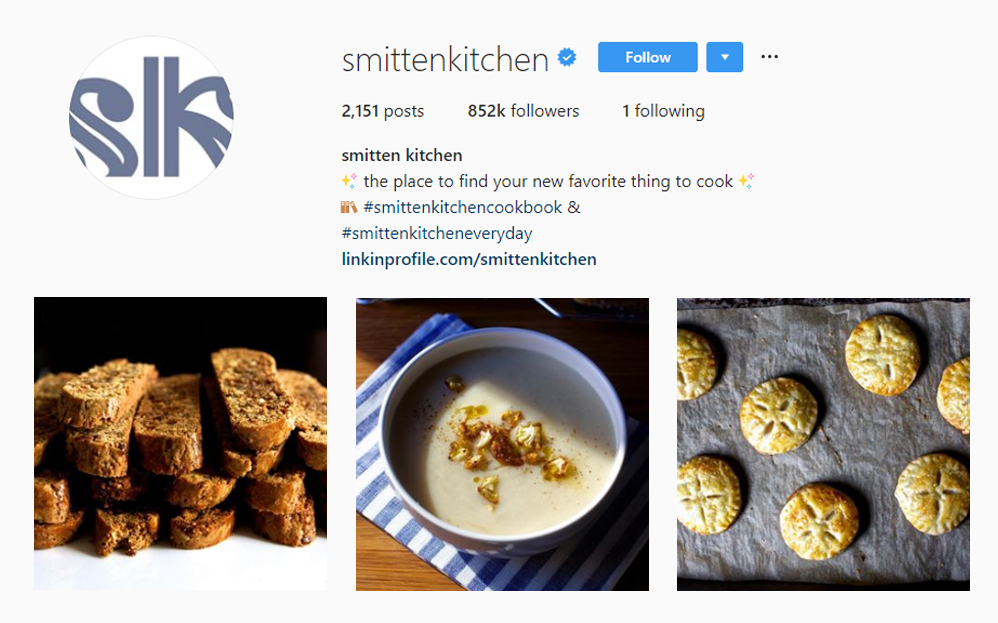 If you're ever at a loss for recipes and want to try making something new, head over to Deb Perelman's Smitten Kitchen Instagram feed to check out the wide selection of recipes that are easy to make, even for the average person (Yay!). There are options for every taste and budget. In addition to the Smitten Kitchen blog and Smitten Kitchen cookbooks, the Smitten Kitchen has a facebook feed that is a fantastic way to source inspiration for the Thanksgiving dinner table.
LINDSAY & BJORK OSTROM – @PINCHOFYUM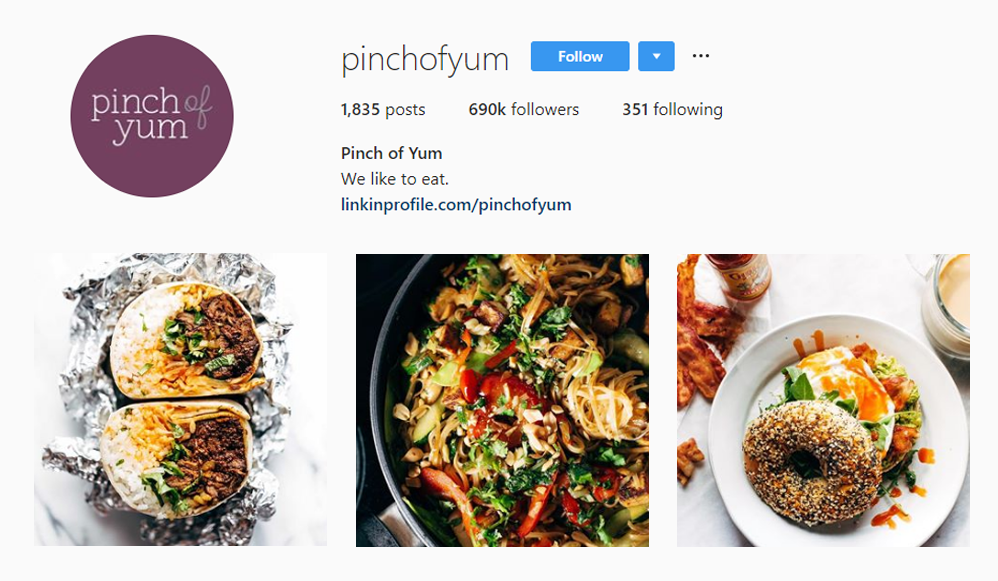 "We like to eat" is the slogan of husband and wife creators Bjork and Lindsay Ostrom. Their  Pinch of Yum Instagram account and Pinch of Yum blog are popular resources for cooks (and less cook-y cooks) to grab ideas and frankly, figure out what to do to cook a great meal. As well, the Ostroms head up the Food Blogger Pro program, a training ground that teaches food bloggers how to monetize their content. Their recipes look fantastic… plus, they're quick and simple. Scroll through the Pinch of Yum feed. We double-dog dare you.
---
Indulgent Influencers
SARAH PHILLIPS – @FOOD
Not only has Sarah Phillips snapped up possibly the best username on Instagram, she has created a drool-worthy feed of tantalizing dishes. You can find everything from pies and sorbets to cakes on her feed.
I'll do you one better.
Ms. Phillips also styles the feed for Ugly Produce is Beautiful  as well as a blog by the same name. Ugly produce you ask?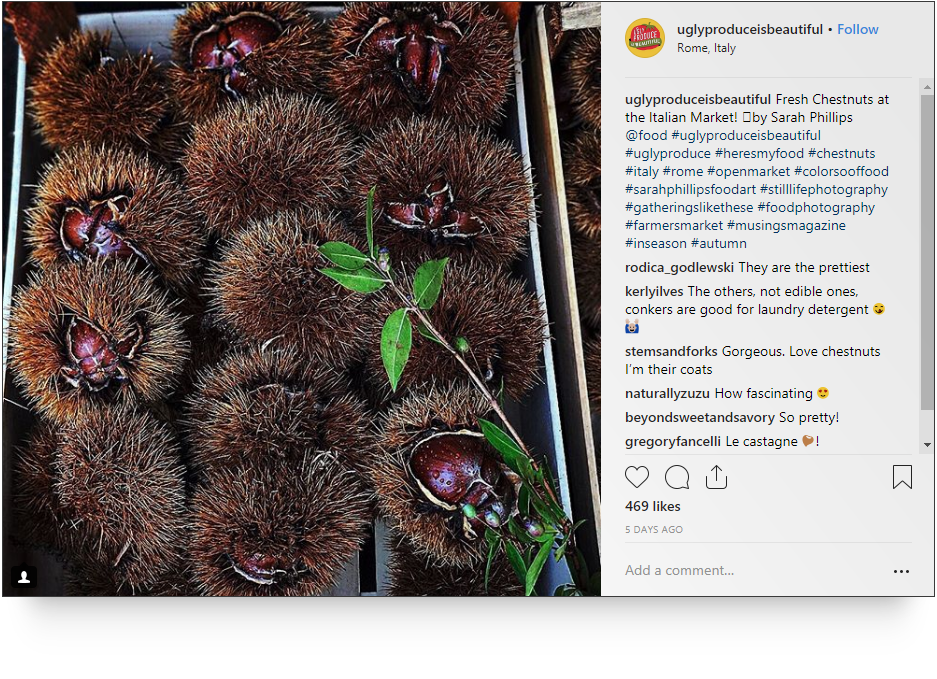 These are chestnuts. Who knew?.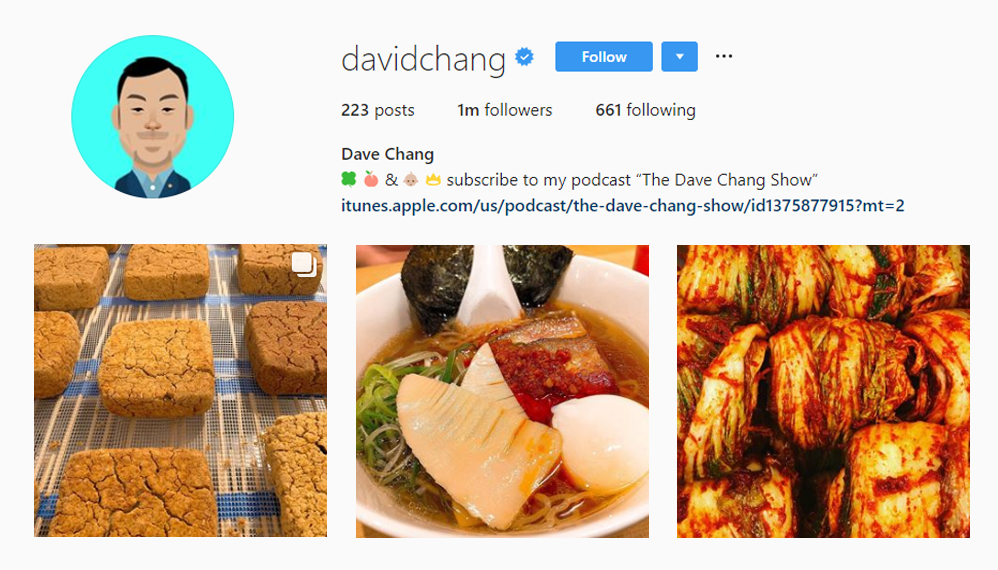 One of the chefs behind the popular L.A. bakery  Momofuku Milk Bar, David Chang has built up quite the following of his own on Instagram. His feed is usually filled with mouth-watering pictures of food, including dishes made for the restaurant itself.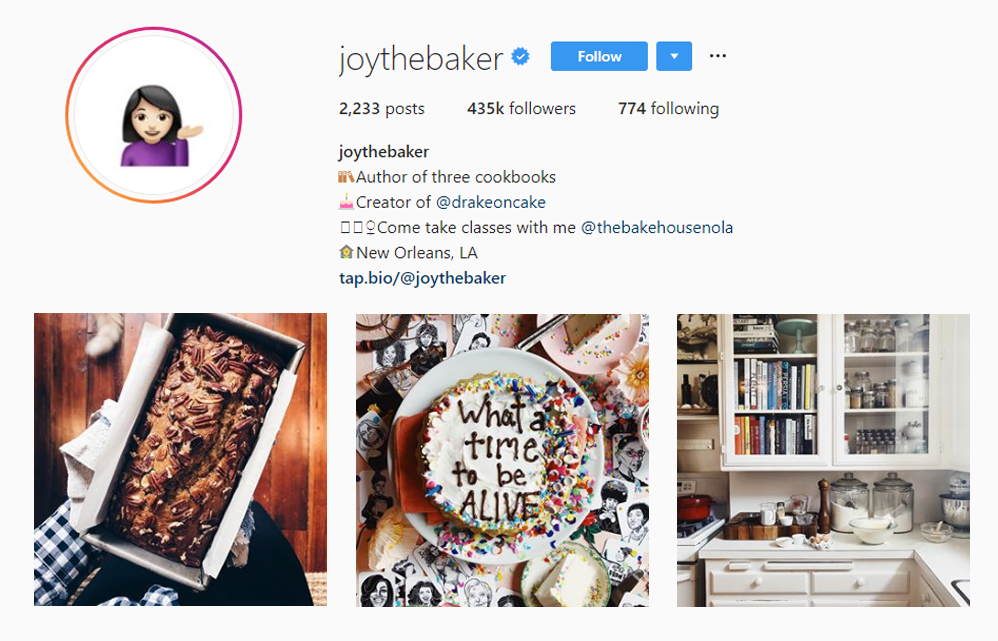 Joy Wilson is a content creating powerhouse. She is the owner of the Joy the Baker food blog, author of three cookbooks in the Joy the Baker series, and creator of The Bake House cooking workshops in Crescent City, just outside New Orleans' French Quarter. And the content she creates is absolutely gorgeous. Her cakes, breads, and pastries are enough to make anyone feel a rumble in their tummy.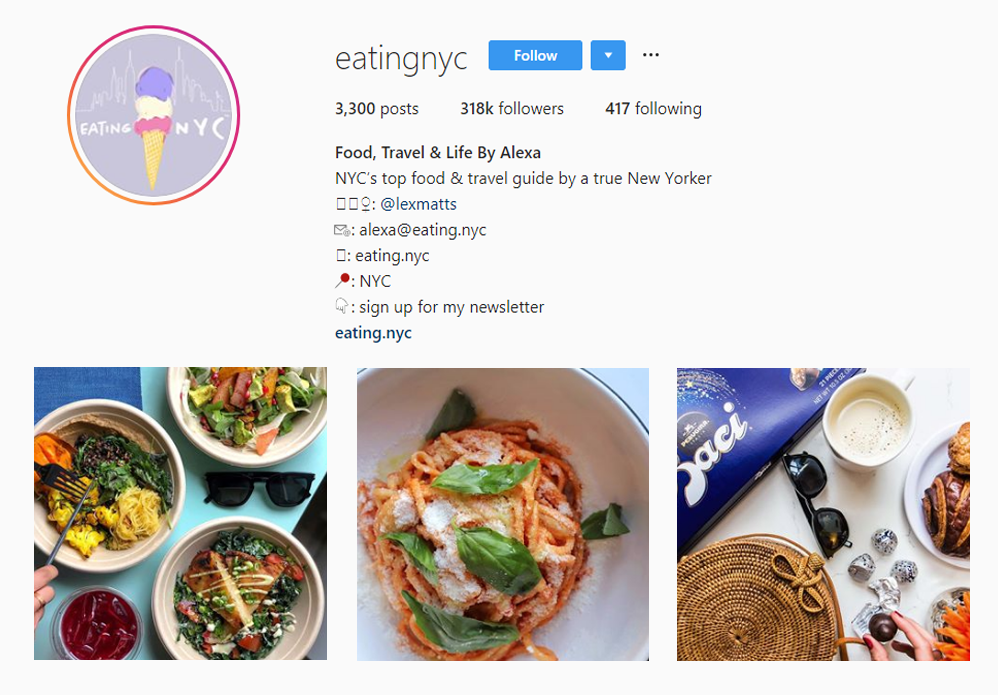 Combining food and travel is one of our favorite things, and the Eating NYC Instagram account has us dreaming of eating our way through "the big apple". Food blogger Alexa Mehraban knows all the best places to eat and drink in NYC, and takes us along for the ride with her beautiful photography.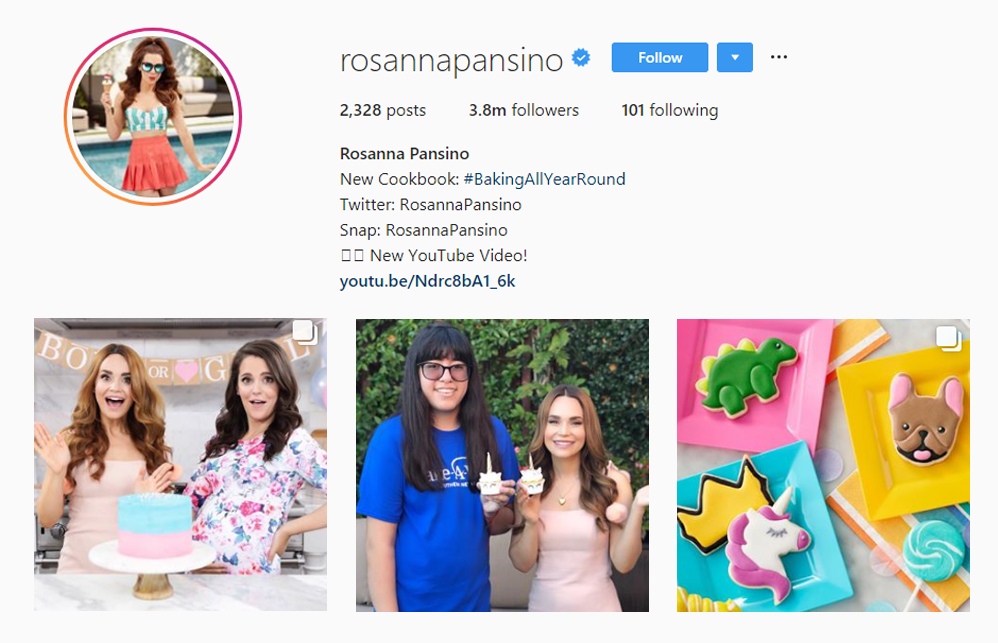 One of the biggest influencers on our list today, Rosanna Pansino has a wildly successful career as an influencer both on Instagram and YouTube (where she boasts over 10 million subscribers) and an entrepreneur. Her adorable personality is reflected in the delicious treats she likes to create. And, with her own collection of cookbooks – including the New York Times best-selling The Nerdy Nummies Cookbook, she's building her brand in a hugely effective way.
That's our list. And it's a good one. Did we miss any food influencers that you follow? Let us know in the comments below! There's always another roundup on the way.