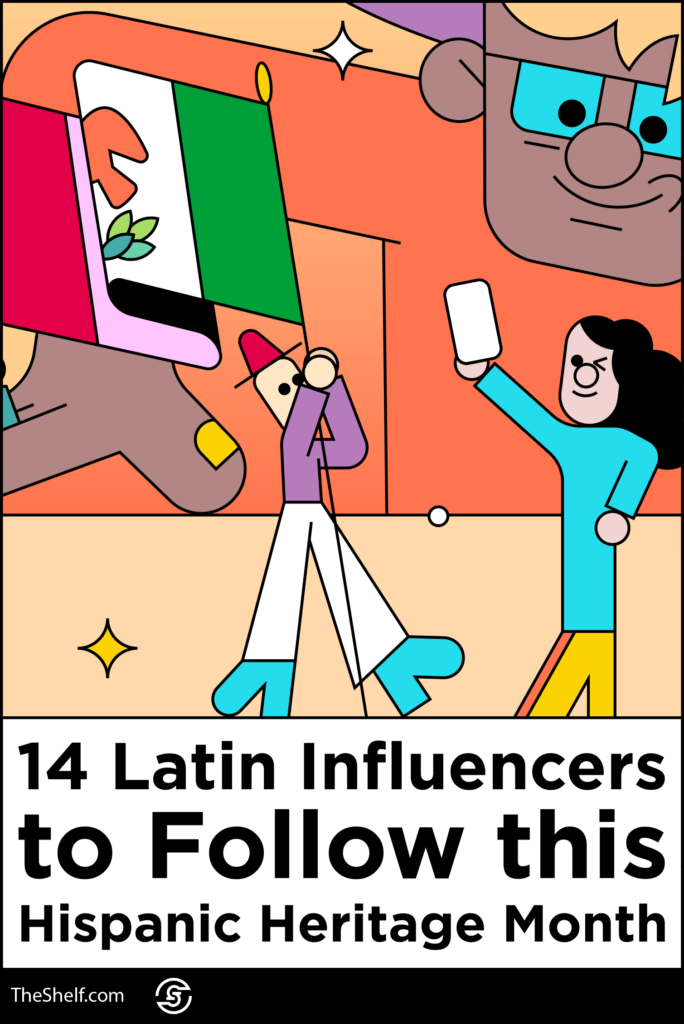 We're about to take you on a whirlwind tour of some of the most influential Hispanic and Latin influencers in the digital space. National Hispanic Heritage Month is celebrated from September 15 to October 15. So we thought it was fitting to commemorate this period by spotlighting our adored Hispanic and Latin influencers. They're artists, entrepreneurs, beauty gurus, fitness enthusiasts, and so much more. These creators are making waves across various platforms, inspiring millions with their passion and creativity. So, buckle up!
Fan-Favorite Hispanic and Latin Influencers
We're excited to share our curated list of favorite Hispanic and Latin influencers. They're not just shaping their community. They're redefining the digital world. Let's dive in!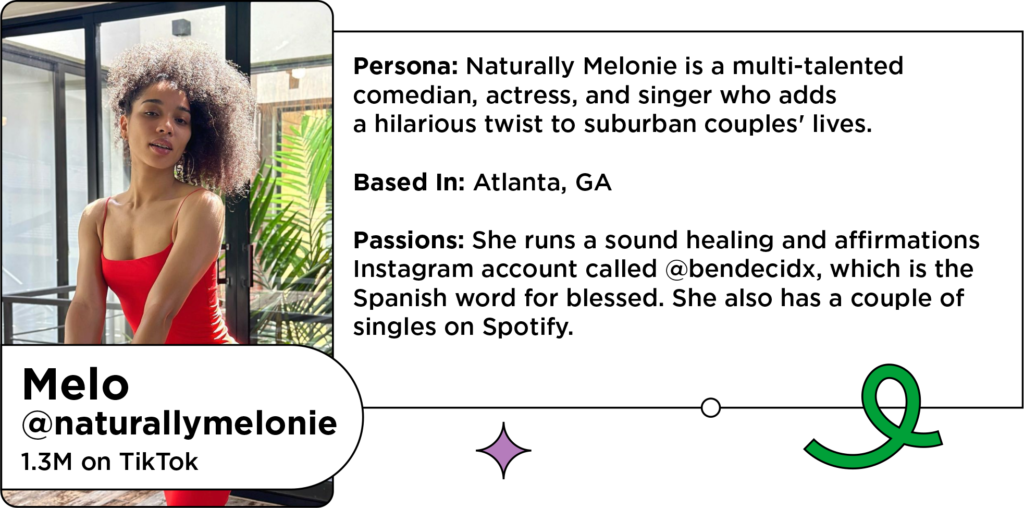 Naturally Melonie is the TikTok sensation we didn't know we needed. Coming to our phones from Atlanta, she's a comedian, actress, and singer all wrapped up in one hilarious package. Her claim to fame? Giving suburban couples' lives a hilariously unexpected twist like this video here. But she didn't stop there. She dropped a viral video where she played trickster sisters, getting over two million views overnight. With 1.3 million followers on TikTok, her account is a weekly dose of hilarious skits and spot-on character impersonations.
2. Mike Alfaro aka Millennial Lotería @millennialloteria 99.4K on Instagram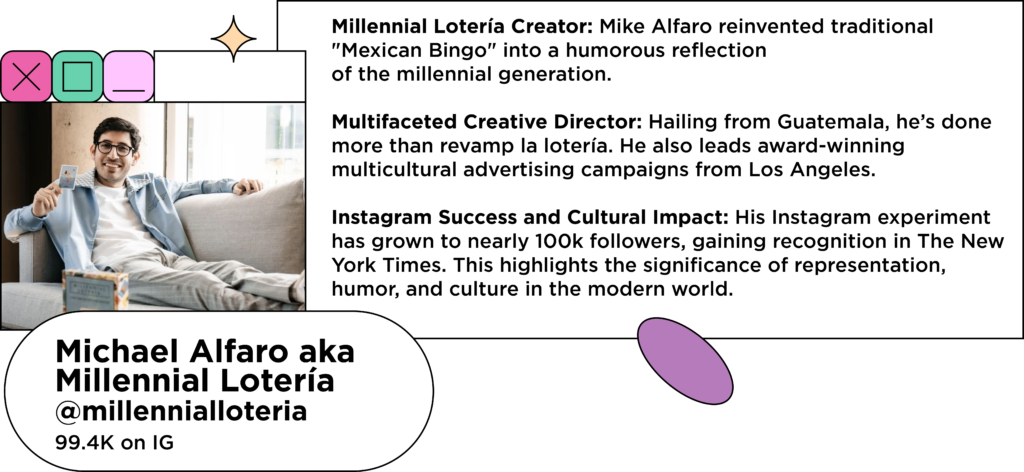 Mike Alfaro, the mastermind behind Millennial Lotería, has brilliantly reinvented the age-old "Mexican Bingo" into a hilarious reflection of today's millennial generation. As a Creative Director hailing from Guatemala, he's not only revamped la lotería. He's also leveraged his Hispanic insights to steer award-winning multicultural advertising campaigns from sunny Los Angeles. What started as an Instagram experiment skyrocketed to 99,400 dedicated followers and even graced the pages of The New York Times. It's a testament to the power of representation in our modern world – where laughter and culture unite us all!
3. Jennifer Hernandez @makeupandtatt2 36.4K on Instagram

Jennifer Hernandez's makeup journey kicked off at the tender age of 17, defying the norms of your typical teenage obsession. She found herself in a small makeup class led by none other than the legendary Priscilla Ono. Priscilla helped launch Jennifer into the world of makeup artistry. Freelancing for all occasions became her forte, and she even took a shot at conquering the Instagram makeup scene. When life took an unexpected twist in store for Jennifer, she temporarily shelved her Insta dreams, relegating makeup to the backseat. But this resilient artist made a comeback. In 2018, she made a triumphant return with a fresh approach, sharing makeup and tutorials online. Lo and behold, her page blossomed into a makeup paradise. 💄✨
4. Leslie Gonzalez @drlesliegonzalez 49.3K on Instagram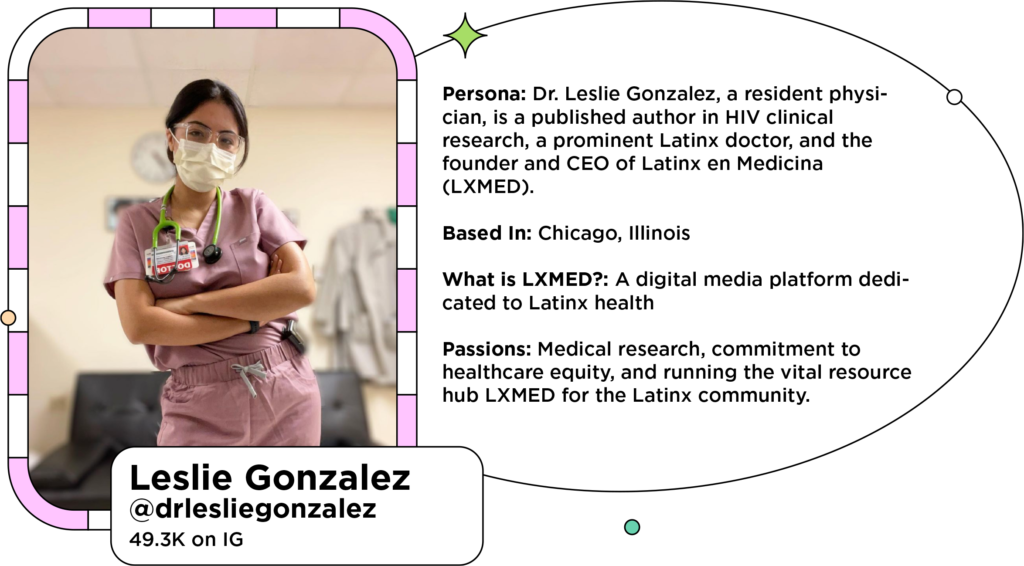 Dr. Leslie Gonzalez, a resident physician in Chicago, Illinois, is a published author in HIV clinical research, a prominent Latinx doctor, and a passionate advocate for equity in medicine. She's also the founder and CEO of Latinx en Medicina (LXMED), a digital media platform dedicated to Latinx health. Dr. Gonzalez's multifaceted career encompasses groundbreaking medical research, a commitment to addressing healthcare disparities, and the creation of a vital resource hub for the Latinx community. She's a true leader in healthcare.
5. Dr. Alexandra Lourdes @alexandra_lourdes 373K on Instagram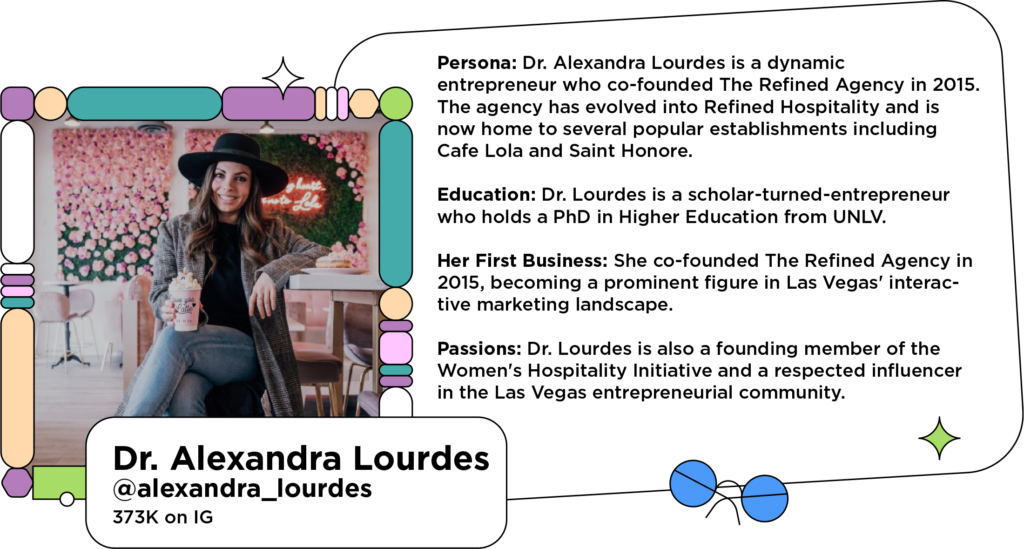 Dr. Alexandra Lourdes, PhD, is not just a scholar. She's a powerhouse entrepreneur with a side of wit. Armed with a PhD in Higher Education from UNLV, she ventured into the wild world of social media startups. In 2015, Alex and her partner Lin spotted a gap in the interactive marketing market and conjured up The Refined Agency. They swiftly claimed the throne as Las Vegas' premier interactive marketing maestros. This success led to the birth of Refined Hospitality. It's now home to Café Lola, Saint Honoré Doughnuts and Beignets, and Pizza Anonymous. Oh, and did we mention she's a founding member of the Women's Hospitality Initiative and a top influencer in the Las Vegas entrepreneurial scene?
6. Marcello Hernandez @marcellohdz 527K on Instagram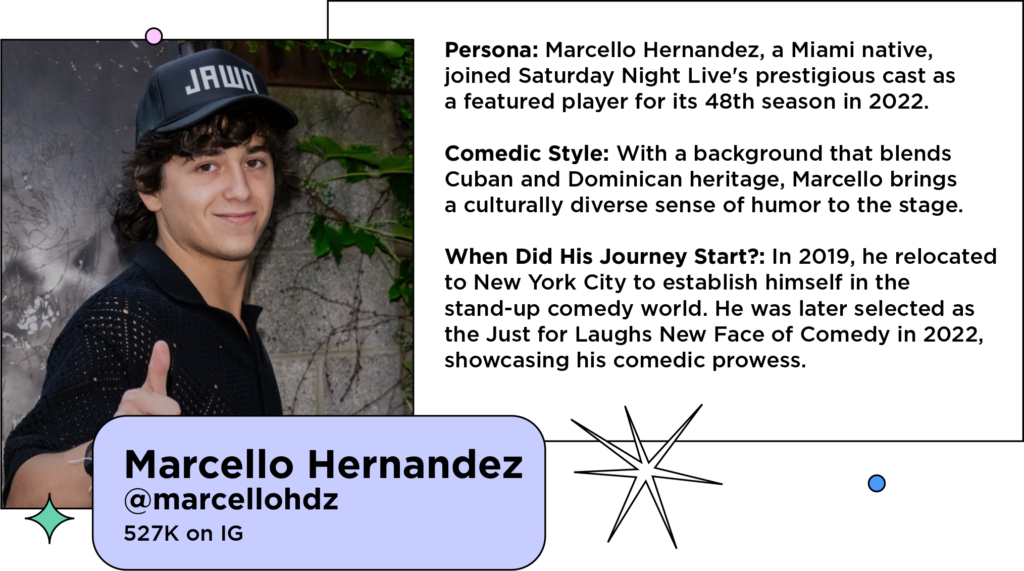 Marcello Hernandez, born and raised in Miami, is a true comedy chameleon with a background as diverse as his punchlines. With roots that span from the vibrant culture of Cuba through his mother, to the spirited Dominican heritage courtesy of his father, Marcello brings a unique blend of humor to the stage. In 2019, he packed his bags and set sail for the comedy epicenter of the world, New York City. He was determined to make his mark in the stand-up universe. In 2022, he was handpicked for the coveted Just for Laughs New Face of Comedy. To top it off, Marcello made a big splash by joining the prestigious cast of Saturday Night Live as a featured player right before the 48th season kicked off in the same year. 🎤😂
7. Stevie Van Horn @stevieyaaaay 93.9K on Instagram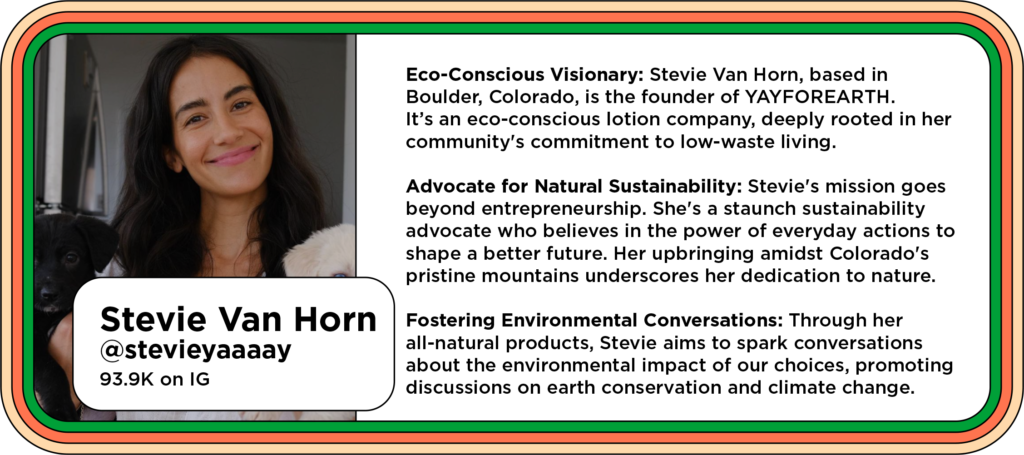 Stevie Van Horn, the visionary behind YAYFOREARTH, an eco-conscious lotion company, is not just a founder. She's a sustainability evangelist based in Boulder, CO, where low-waste living is a way of life. Her deep-rooted belief that every daily action contributes significantly to a brighter future drives her mission. Having grown up in the pristine mountains of Colorado, she's always had an unwavering dedication to nature. Through her all-natural products, Stevie aims to spark a broader dialogue about how our choices impact the planet. She fosters discussions on earth conservation and climate change.
8. Bekah Martinez @bekah 687K on Instagram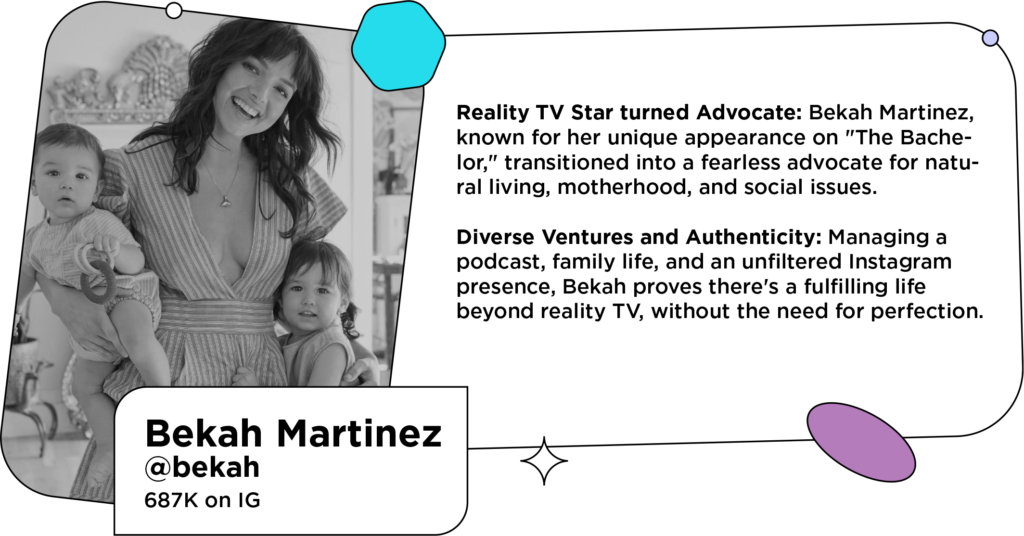 Bekah Martinez was once best known for her strikingly short hair and mysteriously missing age on her Bachelor chyron. She made waves in 2018 as a contestant on Arie Luyendyk Jr.'s season of the reality show. Since her TV stint, she's evolved from the young woman who made Bachelor Nation detectives everywhere scratch their heads, to a fearless advocate for all things natural, motherhood, and social issues. Juggling her podcast, "Chatty Broads," a growing family, and an unapologetically candid Instagram presence, Bekah has proven that there's life after roses. And it might not always involve perfectly curated photos or an age reveal.
9. Will Hidalgo @radicalhidalgo 1.7M on TikTok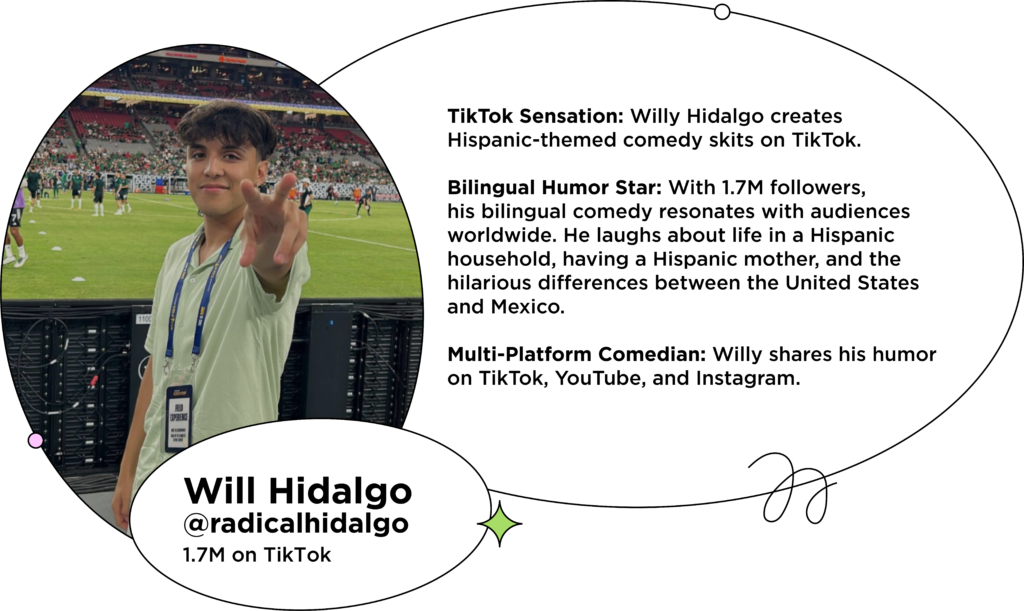 Willy Hidalgo is the master of comedy skits that dive into his Hispanic heritage. Since his grand TikTok entrance in November 2019, he's attracted a whopping 1.7 million followers. This latin influencer proves that bilingual comedy — like his hilarious take on juggling English and Spanish simultaneously — really hits a nerve (or funny bone). When he's on TikTok, you can catch his antics on his self-titled YouTube channel or on Instagram, @willyhidalgo_.
10. Lauren Arboleda @foodfromtheheart 193K on Instagram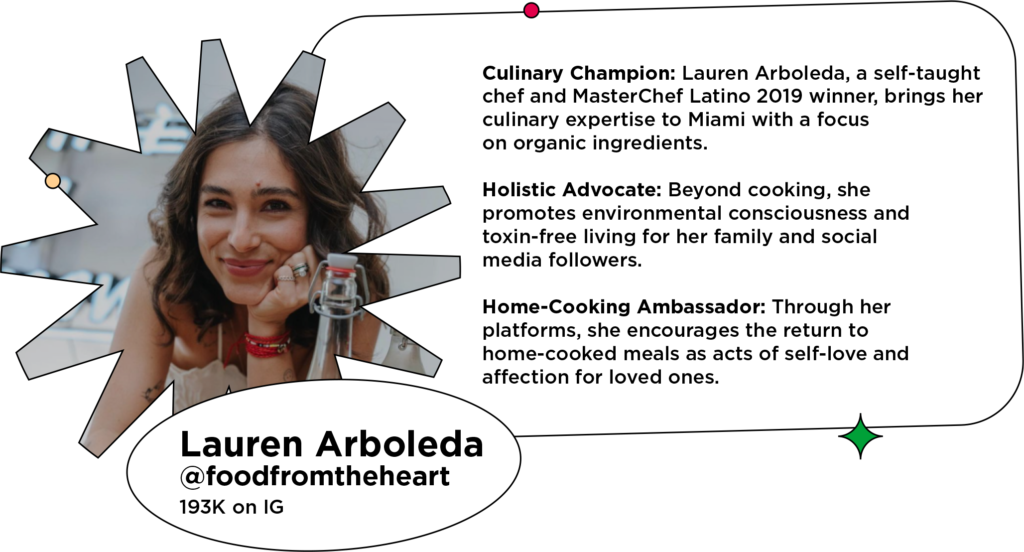 Lauren Arboleda Is the spirited force behind Food From the Heart,. She descends from Colombia and now works her culinary magic in Miami. As a self-taught chef, certified health enthusiast, and crowned champ of MasterChef Latino 2019, Lauren's not just cooking; she's creating edible love stories. With a focus on organic ingredients and a holistic approach to food, she believes in intertwining all five senses in the kitchen. But Lauren's passion doesn't stop at the plate. A fervent advocate for environmental consciousness and natural beauty, she's on a mission to cultivate a toxin-free space. Both for her family and her substantial social media following. She urges everyone to rediscover the romance of home-cooked meals — a gesture of love for oneself and those we cherish.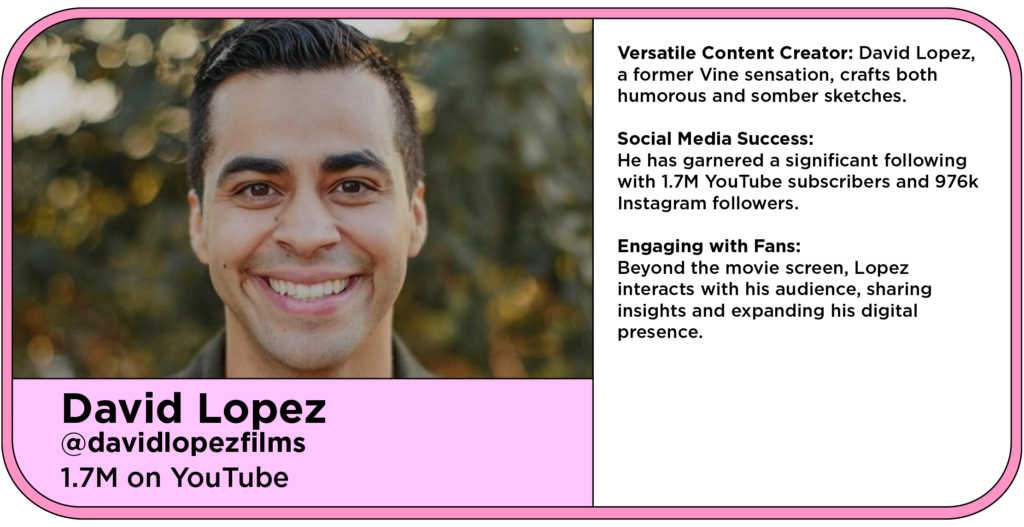 The former Vine sensation (RIP Vine), David Lopez, has seamlessly transitioned from short bursts of hilarious skits to crafting intricate sketches. While comedy remains his mainstay, David occasionally ventures into sketches with a more somber tone. He's definitely got versatility in the world of content creation. Since Vine's departure, he hasn't missed a beat, amassing a significant following across various social media platforms. We're talking 1.7 million subscribers on YouTube and 976 thousand followers on Instagram! Lopez continues to engage with fans, sharing insights and expanding his digital empire.
12. Fernanda Romero @fernandaromeroo 371K on Instagram
Fernanda Romero wears more hats than a milliner's shop! She's not only an actress and mid-tier influencer. She's also the vocal powerhouse behind her band, The White Cherries. But wait, there's more! Fernanda moonlights as the CEO of Vita Parfum, where she's revolutionizing the world of scents with oil-based fragrances. Inspired by life's four basic elements — Aer, Flamma, Aqua, & Terra — her fragrances might just be the fifth element you didn't know you needed. Talk about a multi-elemental talent!
13. Luisa Fernanda W @luisafernandaw 18.9M on Instagram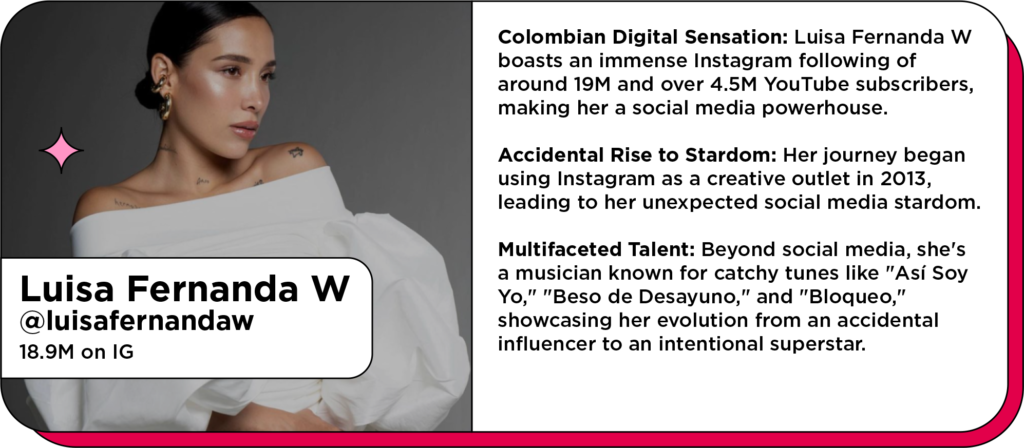 Luisa Fernanda W is arguably one of Colombia's most prized creators. She has an Instagram following larger than many countries' populations! She has around 19 million followers on Instagram. And a YouTube subscriber count of over 4.5 million. Luisa is clearly the queen of social media real estate. But here's the kicker: she stumbled into this social media stardom quite by accident. Back in 2013, her Instagram account was merely a fun sandbox for creativity. Now, besides rocking the social media charts, she serenades the world with catchy tunes. Find her songs like "Así Soy Yo", "Beso de Desayuno", and "Bloqueo" on Spotify. From accidental influencer to intentional superstar, Luisa has shown there's no telling where a "creative outlet" might lead.
14. Paola Alberdi @paolaalberdi 1.1M on Instagram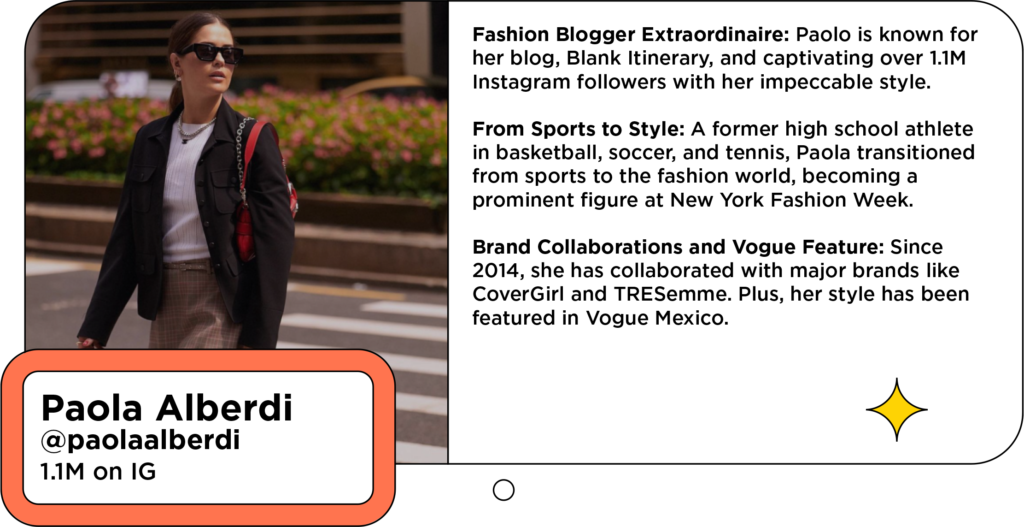 Paola Alberdi is the brains behind the fashion blog Blank Itinerary. She now stuns over 1.1 million Instagram fans with her impeccable style. But she once played the courts and fields of high school basketball, soccer, and tennis. Who knew this international business student would swap ball games for the haute couture lanes of New York Fashion Week? Paola launched her trendsetting journey in 2014. And she quickly became the go-to gal for brands like CoverGirl and TRESemme. She even inked her style tales for Vogue Mexico.
That's a Wrap on our Favorite Hispanic and Latin Influencers this Month
And there you have it, our roundup of fan-favorite Hispanic and Latin influencers making waves in the digital sphere. From artists to entrepreneurs, each one of them is a testament to the rich cultural heritage they represent. They inspire us with their work, passion, and undeniable spirit. As we celebrate National Hispanic Heritage Month, let's take a moment to appreciate these extraordinary influencers.
We encourage you to follow, support, and take inspiration from these remarkable individuals. After all, diversity is the spice of life. These influencers definitely add a vibrant flavor to our digital landscape. If you need help selecting latin influencers for your next campaign, check out our guide to influencer selection. Or schedule a strategy call with one of our experts.
Happy National Hispanic Heritage Month!
---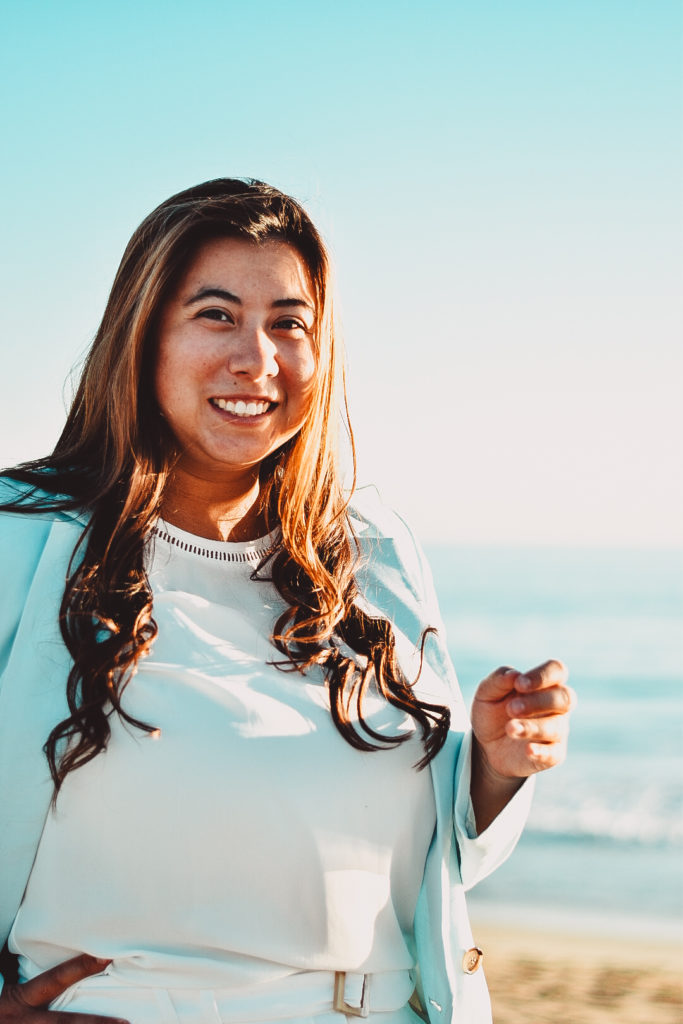 ABOUT THE AUTHOR
Abigail Welcom | Marketing Magician
Abby wins hearts and gains trust as our Brand Marketing & Outreach Coordinator. She puts her Film and Television Production degree to good use dreaming up visual marketing for The Shelf. When she's not dazzling us with out-of-the-box ideas, you can likely find her at The Happiest Place on Earth — Disneyland!
---