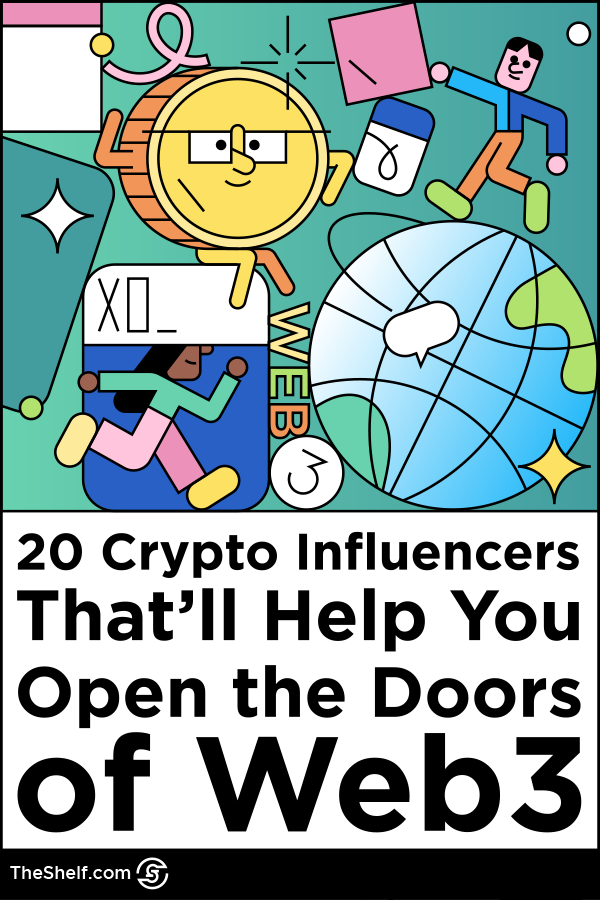 If there's is one thing that can be said about crypto, metaverse, and DeFi: it's that they're mind-boggling spaces. From the soaring prices of Bitcoin and Ethereum to the head-spinning galleries of NFT marketplaces, the crypto world is like the exclusive infinity pool that's difficult to get to. It's smart to get the guidance of a few good crypto influencers to keep you informed.
Everyone is preparing for Web3, which is considered the next phase of the internet that is to rely on blockchain technology, artificial intelligence, and beyond.
Many newcomers wade into the space excited about the hyped-up promises of decentralization but leave exhausted, unable to get past all the tech jargon, tokenomic speak, and niche Internet humor shared throughout the various Discord channels and Twitter threads (cue the memes).
One of the best ways to wrap your brain around Web3 is to start following the top crypto influencers and begin tuning into their content.
To help you open the doors of Web3, we've compiled a list of crypto influencers just for you! Whether you've been a crypto stan since its beginning in the late 2000s or you're a newbie eager to jump into the deep end, this list will work as your access badge to the wild world of crypto.
5 Crypto Influencers on Twitter You Should Follow
Brian Armstrong
Not shy to ruffle anyone's feathers, Brian Armstrong is one of crypto's most outspoken and engaging voices. In 2012, Armstrong founded the massively popular exchange platform Coinbase (check this link out—it's arguably the most important site in crypto). He remains a thought leader on Twitter and in interviews where he discusses everything from regulatory policy to the coolest new NFTs.
He helped shape Web3 and crypto from the very beginning, and his influence cannot be understated. Make his Twitter feed part of your daily content feed.
Vitalik Buterin
No list about crypto influencers would be complete without including Vitalik Buterin, the guy who really started it all. Debatable, I know. Why is he so important? Well, Buterin started Ethereum, the world's leading blockchain. Ethereum is a community-based blockchain that powers the extremely popular cryptocurrency ether (ETH) and enables decentralized apps (commonly called dApps).
But it's much easier to think of Ethereum as the home base for crypto, Web3, DeFi, etc—because that's exactly what it is. By developing such a successful blockchain, Buterin has emerged as a leading Twitter influencer in the fields of blockchain technology and cryptocurrency, boasting nearly 4 million followers.
Meltem Demirors
Meltem Demirors is the Chief Strategy Officer of CoinShares, a leader in digital asset investing, and she has used her expertise to become a top crypto influencer on Twitter where she shares crypto-oriented memes, market advice, technology news, and opinions on all things Web3. She is also an outspoken advocate for women in crypto and finance, and has shared her wisdom in many articles and interviews to detail how blockchain and Web3 can empower women and balance the gender divide in finance.
Erik Voorhees
As the CEO of ShapeShift, one of the most respected cryptocurrency exchanges in DeFi, Erik Voorhees knows his way around the crypto world. He's been in the game since the beginning, working on a handful of projects including the Web3 wallet app Coinapult, which has proved to be one of the best wallets on the market. He is also a leading crypto influencer on Twitter, tweeting content on DAOs, emerging tech, and DeFi to nearly 600k followers.
Roger Ver
Commonly referred to as "Bitcoin Jesus," Roger Ver is a top crypto influencer on Twitter. As the former CEO of Bitcoin.com, Ver has an impressive amount of knowledge surrounding Web3, DeFi, and metaverse, providing nearly 800k followers with no-nonsense opinions and general information about crypto. His Twitter feed covers a wide range of ideas, from political theory to investment tips. He's a must-follow.
---
5 Crypto Influencers on YouTube That You Must Subscribe To
Coin Bureau
Coin Bureau is one of the most important YouTube crypto influencers out there. Managed by a mysterious host named "Guy," Coin Bureau has cultivated a devoted audience of over 2 million subscribers by consistently releasing informative and exciting content on all things crypto and Web3. You'll find videos on a variety of topics from crypto project spotlights to warning videos about NFT scams. Guy also maintains an influential voice on Twitter, tweeting content to 687k followers. He's a must follow.
Boxmining
With over 260k subscribers, Boxmining is one of the most respected crypto influencers on YouTube. Run by Web3 expert Michael Gu, the channel covers a wide array of topics, from the hottest DeFi news to Web3-based video games. Gu's personality is warm and engaging, and Boxmining's main goal is to make Web3 and crypto more accessible to everyday people. He publishes content weekly, so Boxmining makes for one of the most accessible, consistent crypto influencers out there.
BitBoy Crypto
Ben Armstrong a.k.a. BitBoy Crypto is another foundational crypto figurehead. He's been in the cryptospace since 2012, starting as an early investor and quickly working his way into becoming a top crypto influencer on YouTube. His channel, BitBoy Crypto, has over 1.4 million subscribers, and he publishes top-notch content on a daily basis. He's funny and engaging, and his videos cover many unique topics such as altcoins, metaverse regulations, NFT drops, and more.
EllioTrades Crypto
EllioTrades Crypto is the brainchild of Elliot Wainman, one of the best personalities in crypto. He started out in the field as a co-founder of an NFT platform before starting a YouTube channel on all things crypto and Web3. He's now become a leading voice in the space, publishing weekly content to over 580k subscribers. He has positioned himself as one of the most informative crypto influencers on YouTube, and his videos cover basic concepts like trading on Ethereum to more technical stuff like minting NFTs.
CryptoBanter
Run by four crypto gurus, CryptoBanter has become a go-to YouTube channel for newbies coming to Web3. They offer live streaming events, news updates, and educational material on tons of cool things happening in crypto, from market predictions to coin summaries. While their main focus involves the financial and trading side of crypto they also focus on general Web3 stuff like NFTs and metaverse games. They also host interviews with industry gurus and thought leaders.
---
5 Crypto Influencers on Medium and Substack You Must Read
Anthony Pompliano
Anthony Pompliano began his career in Product & Growth at Facebook before becoming a successful entrepreneur and investor, particularly in cryptocurrency. He has been a leading voice for investors in Bitcoin since the early days, with a track record to prove it. Pompliano manages a massively popular Substack newsletter called The Pomp Letter with over 210k readers, runs an equally successful podcast, and entertains over 1.6 million Twitter followers. He's never scared to speak his mind, and his direct way of calling it like it is has earned him a devoted audience of investors and financiers. Pompliano is a go-to source for all things investing, market prediction, and DeFi. 
Cobie's Substack
Though not a frequent poster per se, Cobie's Substack has come to be one of the most respected voices in crypto, and for good reason. Run by the anonymous Cobie, the newsletter offers top-of-the-line commentary on crypto markets, trends, economic theory, cultural critique, and more. Cobie is an insightful and exciting writer, often blending personal stories into crypto commentary with ease. It's no surprise Cobie's Substack has become a top crypto influencer on Substack.
Bankless
If you were to make one crypto newsletter your homebase, make it Bankless. With the main goal of helping "you level up your open finance game," Bankless offers some of the best crypto and tech insight available, writing five actionable newsletters every week filled with practical financial strategies, Web3 news, long-term investment tips, and more. It's all written in plain-speak, so you won't have to dig through all the tech jargon and Web3 speak. Bankless has rightfully come to be a top crypto influencer.
Nat's Crypto Newsletter
Gaming has always been an essential part of crypto, from conceptualizing the metaverse to developing in-network tokens. There are so many in-references and concepts borrowed from gaming in Web3 that it can be confusing. Nat's Crypto Newsletter aims to simplify the connections between crypto and gaming. Run by crypto expert Nat Eliason, the Substack covers a wide variety of Web3 material, but with a central focus on gaming. The newsletter is fun and deeply informative, and something of an insider's favorite.
Coinmonks
Maybe the best Medium blog in the cryptospehre, Coinmonks is a non-profit crypto education platform that seeks to bring Web3 to the masses. Managed by Gaurav Agrawal, the blog posts daily content on crypto news, techy summaries, DAO and token reviews, NFT content, and much, much more. The blog also contains a handful of categories that include detailed articles on wallets, tax software, trading bots, and more. It's one of the leading thought organizers in the crypto space, so you should include it in your daily content feed.
---
5 Crypto Thought Leaders You Should Tune Into
Elon Musk
Love him or hate him, there's no denying Elon Musk's influence in the technology space, especially in crypto and Web3. The multi-billionaire SpaceX CEO has long been a spokesperson for cryptocurrency, tweeting about it back in the early days of Ethereum and Bitcoin. His Twitter presence has proved to be massively influential, with single tweets forcing rises and declines in certain stock and crypto prices. He has positioned himself as crypto's leading provocateur, and though his takes can rub some the wrong way, he is almost always a weekly talking point.
Justin Sun
Justin Sun is the absolute real deal. Featured on Forbes' 30 under 30 list in 2017, Sun has become one of the youngest people in crypto to reach the 100 million mark. He has worked on tons of dApps and Web3 projects, including Ripple Labs and Tron, a leading blockchain he founded. He's got over three million Twitter followers, and his feed always consists of the cutting-edge news in all things crypto. He's a must-player in Web3.
Charles Hoskinson
Charles Hoskinson is a big deal in the blockchain world for a handful of reasons. For one, he helped Vitalik Buterin start Ethereum back in 2013. But, he also started his own public blockchain and smart contract platform called Cardano, which has proved to be highly successful. He has nearly 1 million Twitter followers, and he manages a more personalized YouTube channel where he publishes videos on all kinds of topics, from NFT collections to personal stories. He's a must-know.
3LAU
3LAU is an acclaimed DJ who's produced top dance tracks and remixes for Rihanna, Ariana Grande, Katy Perry, and more. While he's become a big name in the mixing world, he's also become something of a crypto influencer on Twitter. He recently co-founded a blockchain-based music company called Royal that allows fans to invest directly in their favorite artists. Royal essentially allows artists to share ownership rights of their music with their fans, allowing for anyone to participate in their favorite artist's creative output. On his Twitter, 3LAU discusses how crypto can make the music industry a better place, the ins and outs of blockchain tech, and more. He's become a leading voice in the overlap between music and crypto.
Michael Saylor
As the founder of the top financial intelligence firm MicroStrategy, Michael Saylor has come to be known as one of crypto's most insightful voices. With more traditional financial roots and a keen understanding of market volatility, Saylor has become a prominent force on Twitter when it comes to all things crypto. He's also put his money where his mouth is; in 2021, he transferred tons of MicroStrategy's assets to Bitcoin, becoming one of the first entrepreneurs to stake a company in virtual assets.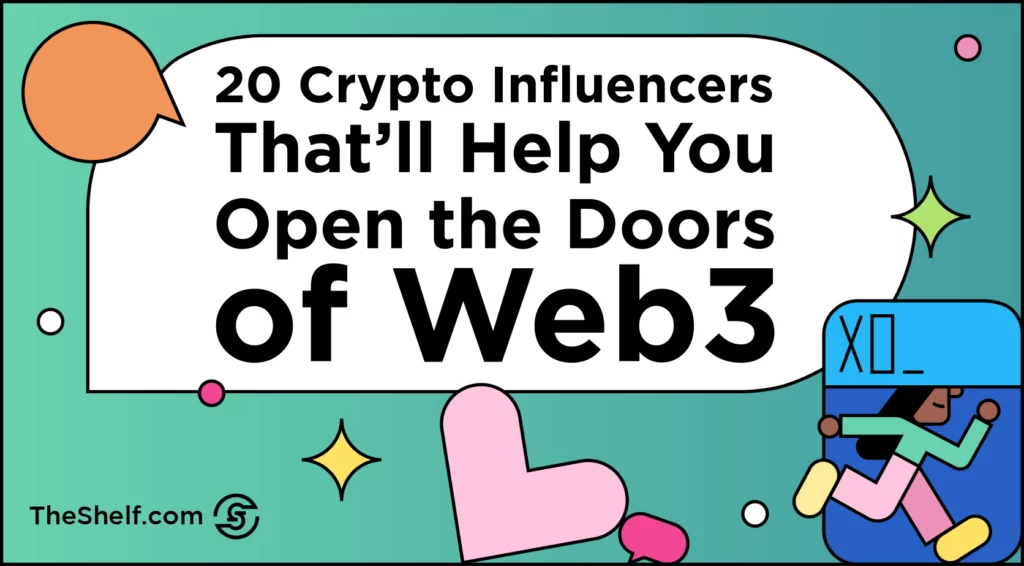 Conclusion
There you have it—20 crypto influencers that will help you confidently open the doors to Web3! Look, we know that this all seems like a lot, but if you spend a few weeks tuning into these top crypto influencers, you may even become something of an expert yourself. And, lucky for you, the crypto world is rife with great, informative content, from top YouTube channels to controversial Twitter feeds. Go check out what these crypto influencers have to offer!