If you're like us and you're feeling, well, like you've been living through a pandemic for the last nine months, then you know that we can use all the good news and good vibes we can get. So, we've put together a list of the coolest do-gooders that are all fighting for causes that would ultimately make the world a better place. 
These folks range from some of the most iconic names in the biz to micro-influencers that are changing the game, but regardless of their reach, they are making the world better, and we want to celebrate and recognize each and every one of them.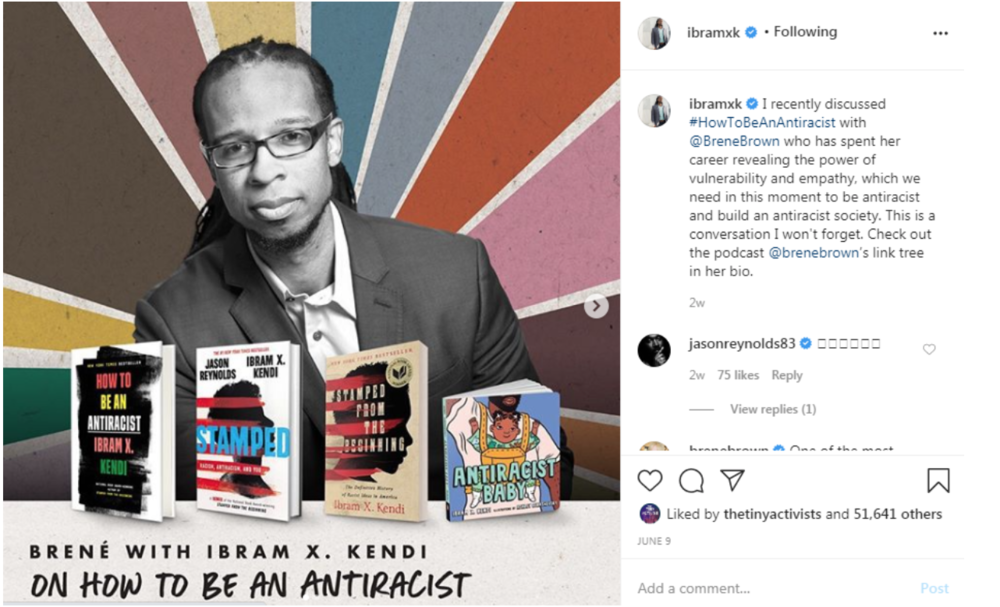 Our first shout out goes to Ibram Kendi, New York Times bestselling author of "How To Be An Antiracist" (and a few others) and the Founding Director of The Antiracist Research and Policy Center at American University in Washington, DC. He is a professor of history and international relations, and a contributor at The Atlantic and CBS News. As of July 1, 2020, Kendi will be making the move to Boston University to teach history and settle in as Founding Director of the Boston University Center for Antiracist Research. 
He also has 975K Instagram followers and more than 346K on Twitter. That's major reach, which equals major influence. 
Unless you live under a rock, you've noticed that global supporters of the Black Lives Matter movement are pressing for the change Kendi has been advocating and proposing for years, and the momentum is undeniable. Looks like something transformative and good will come out of 2020 after all.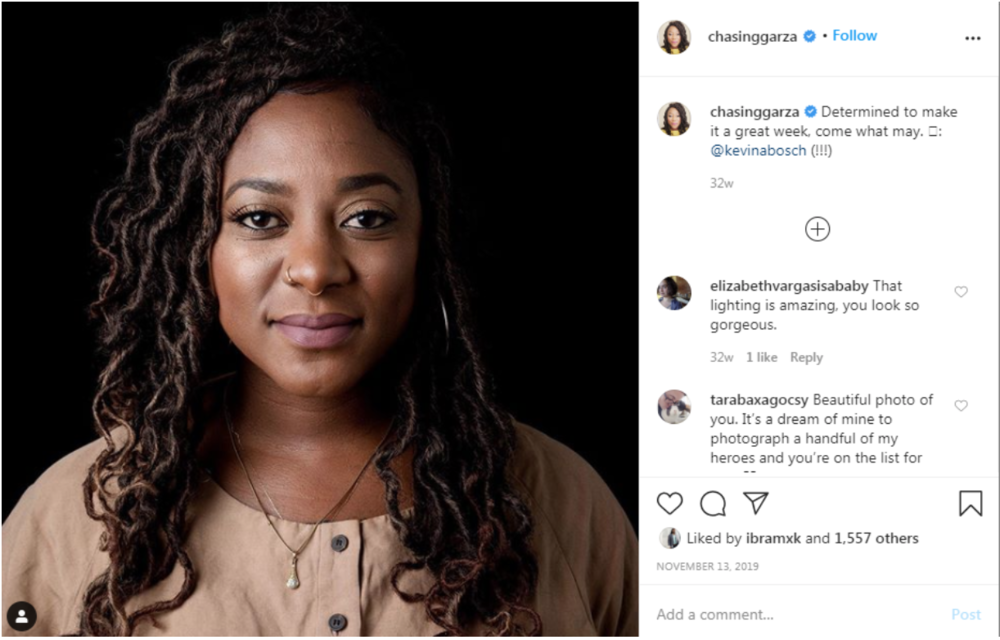 Alicia is the civil rights activist who co-founded the Black Lives Matter movement. Following the Treyvon Martin case, and the not-guilty verdict of the man who killed him, George Zimmerman, Garza took her passion to Twitter, tweeting "I continue to be surprised at how little Black lives matter…Our lives matter," and coined the now famous hashtag #BlackLivesMatter.  
Garza's advocacy for social justice began long before 2013, though. In the early 2000s as a student at the University of California, San Diego, she fought for higher pay for the university's janitors and organized UCSD's first "Women of Color Conference." 
Garza is mighty, but she is also humble. She does not credit herself with beginning any modern day movement, but sees the collective fight for equality for POC in America enshrined within the Black Lives Matter movement, as a continuation of the fight for civil rights, which Black people have been waging for centuries. 
She's been making big moves since college, and we have a feeling she is just getting started.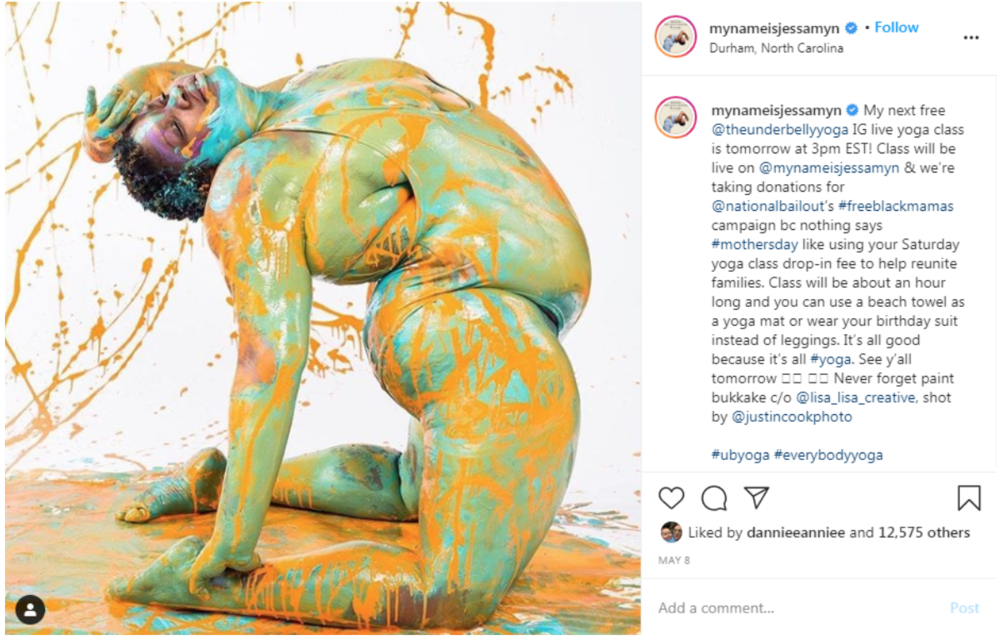 Jessamyn is a trailblazer for the body positivity movement, and the way she loves her body is helping millions of other women love theirs too. Her approach to high energy vinyasa flow is one that compels her students to ask themselves, "How do I feel?" rather than "How do I look?" She is flipping the Barbie paradigm on its head for her 450K Instagram followers with her gorgeous photos. Her go-to message is simple: It isn't the size of your clothing that determines the beauty of your body. It is a mindset, a lifestyle.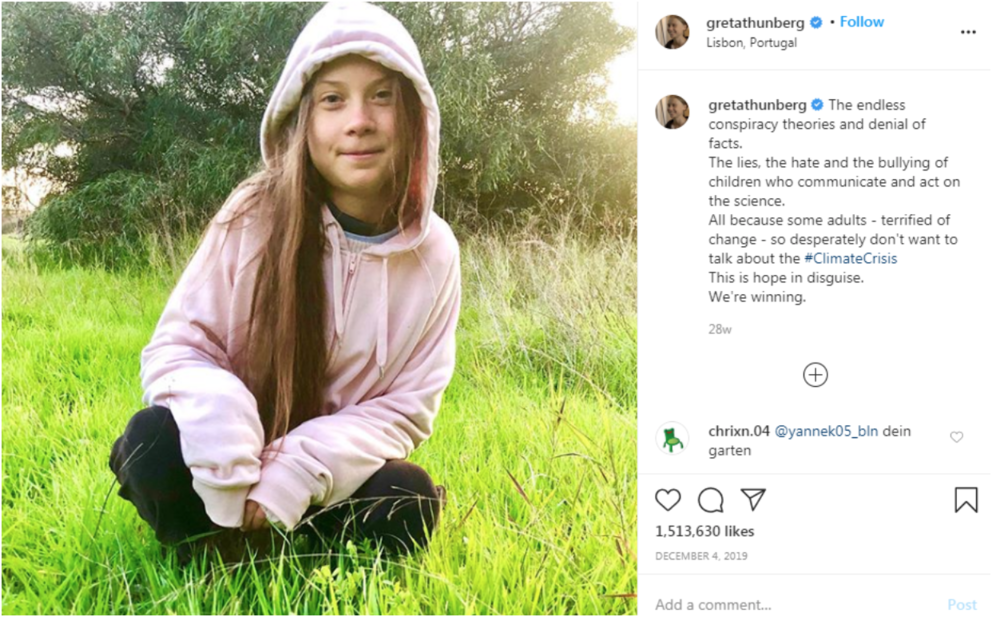 There is one photo of Greta Thunberg that comes to mind every time I think of her. She is sitting on the ground, arms hugging her legs to her chest, back propped up against the stone foundation of the Swedish Parliament building, with the now iconic sign next to her which reads Skolstrejk för klimatet (School strike for climate). Greta started skipping school at age 15 to protest alone outside the building every day. It didn't stay that way for long, though. This teen has become a global inspiration, and by 2019, she was joined across the planet by millions of other students in an extension of her protest, in their own communities, which became known as Fridays for Future.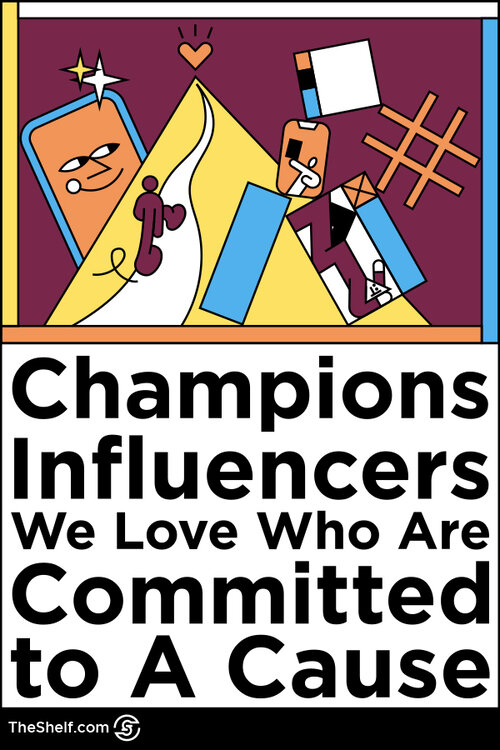 These youth are demanding the same thing: swift and sweeping policy reform that will help stop the acceleration of global warming. 
Greta addressed world leaders at the 2019 UN Climate Action Summit, where her speech in which she asked "How dare you?" to world leaders went viral. They were shamed for not doing more to ensure a healthy and thriving planet for the next generation – Greta's generation.
If that were not enough, she represents the neuro-diverse community as she herself has Asperger's. The example she sets establishes with diversity comes strength. To back this up, she has been nominated for a Nobel Peace Prize not once, but twice, and is the youngest person to ever be named Time Magazine's "Person of the Year." Talk about making us millennials feel bad.
Oh, and she has 10.6 million followers on Instagram and 4.4 million on Twitter.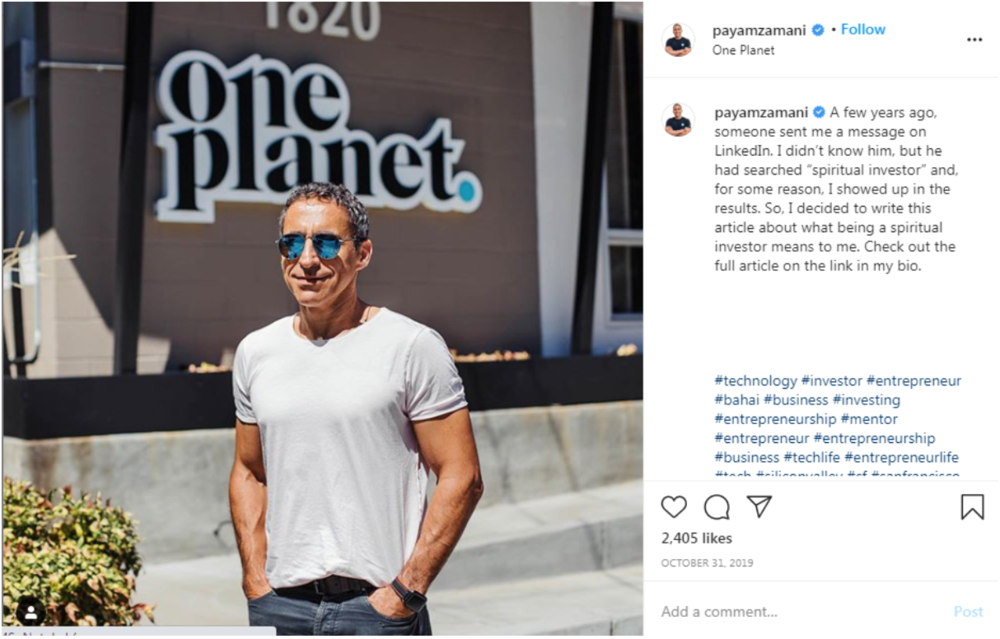 Payam Zamani is the founder, chairman and CEO of One Planet, a hybrid tech firm that owns and operates a suite of online technology and media businesses. He is an early stage investor in cutting edge technologies and businesses, and also serves as a startup business incubator, according to the company's website. Super interesting and entrepreneurial, but that's not even the good stuff. This guy's a giver. Just ask his 377K followers on Instagram.
In 2019, Zamani presented the idea of wiping clean student meal debt for the entire Oakland Unified School District to One Planet's executive team, and they were all in. This is only one example of countless charitable gifts that he, his family, and his company have made to better the lives of those in need.
Zamani is an Iranian-American, having come to the states as an Iranian refugee as a teen. He and his older brother came to this country alone and found the drive, passion and resilience to put themselves through college and become stories of success. 
As a refugee fleeing persecution for being Baha'i, a religious minority in Iran, supporting those with similar stories is something he is extremely passionate about. He is a champion of the Tahirih Justice Center, a U.S.-based Baha'i inspired non-profit, which provides legal and social services to immigrant women fleeing domestic violence. Zamani sits on the board and was the recipient of the organization's 2016 Hope Award for his continuous support and inspiration to TJC's mission and work.
And as far as being an influencer for good, you can find him actively posting inspirational Baha'i quotes about the oneness of humanity and calling leaders to action whether it be regarding climate change or enforcing preventive protocol to thwart the spread of COVID-19, across his numerous social media platforms.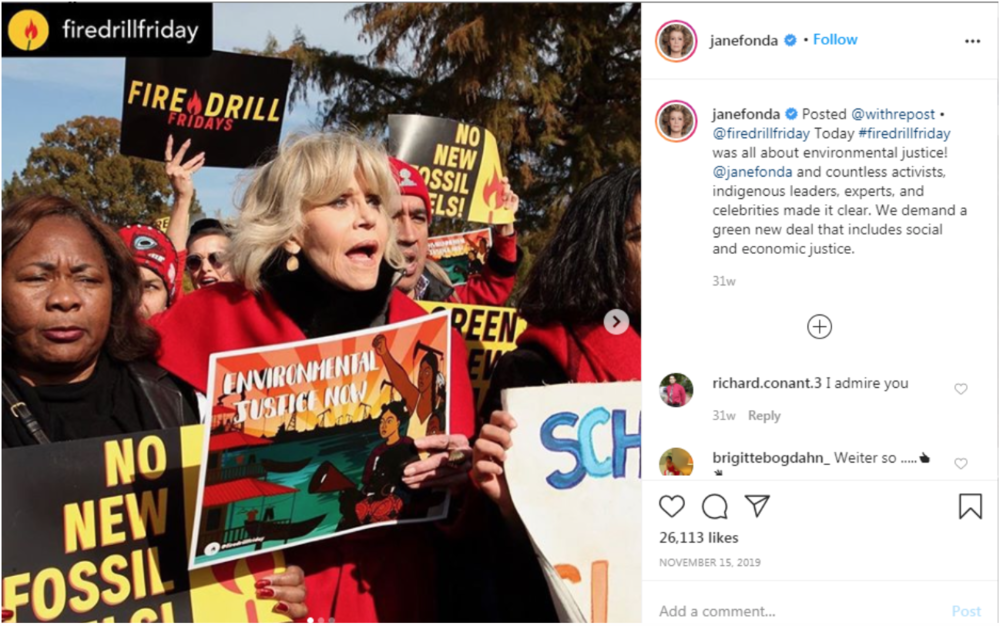 Sometimes a name is enough. And when you drop one like Jane Fonda, people know who you're talking about, whether she's on Instagram or not. Just in case you were wondering though, she is. The iconic actress has found her social media soap box: climate change, and guess what folks, people are listening. 
With 1.5 million followers on Instagram and 875K on Twitter, this woman is setting the world on fire with Fire Drill Fridays, an extension of Greta Thunberg's Fridays for Future movement. Before COVID hit, you could find her protesting on Capitol Hill the first Friday of every month (the movement is currently operating in a virtual capacity). 
Her activism is focused on getting leaders to implement policy that will help combat climate change. She can be heard on NPR invoking the words of Thunberg, Fonda being one of many the teen has inspired to use their fame for good.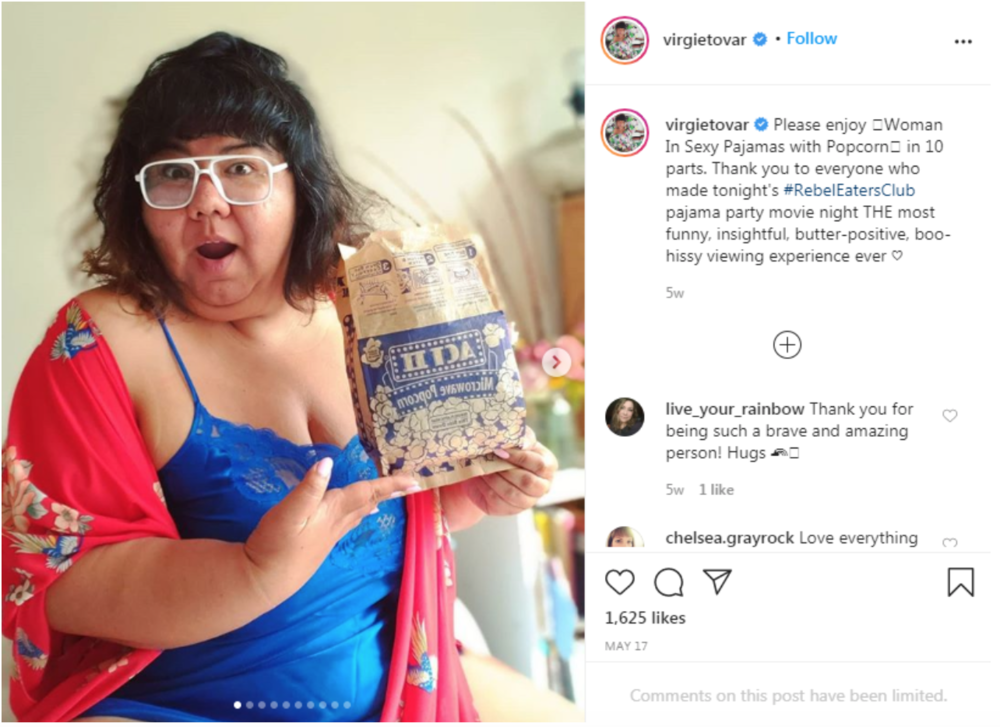 Virgie Tovar's slogan is "Lose hate, not weight" and as one of the nation's loudest voices in the body positive movement, people are starting to get her not-so-subliminal message. Virgie's 68K Instagram followers love her colorful, in your face photos broadcasting the fact that one can look and feel sexy while – wait for it – eating a delicious snack, and other still somewhat social taboo images of a similar nature.
This author slash activist slash podcaster extraordinaire is taking the notion of "big is beautiful" to a whole new level. Her mission is to obliterate fat-shaming and to help women embrace the beauty that is the authentic them, whatever size that may be.   
Brands are starting to catch on. Have you noticed how much more common it has become to see a plus-sized model in an advertising campaign? 'Cause we have. Whether it's Dove, Aerie, Banana Republic or smaller mom and pop shops, carrying a multitude of sizes is just plain smart business. Oh, and the fact that the average American woman could snap the typical size storefront mannequin between her fingers just adds fuel to Tovar's fire. We feel the heat Virgie, and it feels good.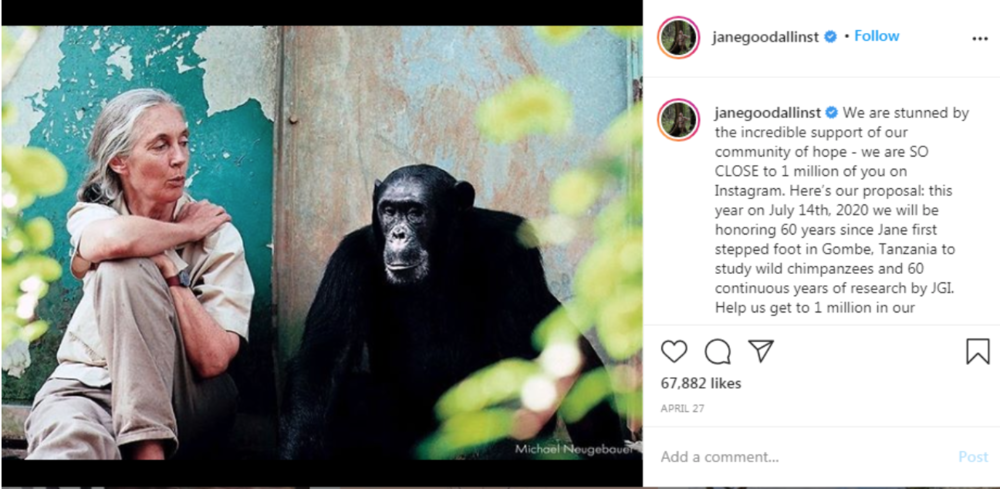 Dr. Jane Goodall is another example of a name that says it all. 
But in case you are curious to know more about this epic scientist, conservationist, primatologist, peacemaker, feminist, mentor and animal rights activist, listen up, 'cause her 1 million Instagram followers and 1.4 million Twitter followers already are.
In 1960, at the age of twenty-six, Dr. Goodall ventured into dense forest in Tanzania to immerse herself in the largely unknown world of chimpanzees. What she came to discover over the years has completely transformed the way we view these incredible creatures and the way we see ourselves in relation to them. Her discovery of chimpanzees making and using tools is, to this day, considered one of the greatest scientific observations of the twentieth century.
Dr. Goodall's dedication to enhancing our ability to relate to another species in a deep and meaningful way has made huge contributions to the many passions in her life. Through her foundation, she has dedicated her life to sharing her knowledge, experience and insight to further the change the earth is in desperate and imminent need of. She and Greta Thunberg need to hang out, seriously.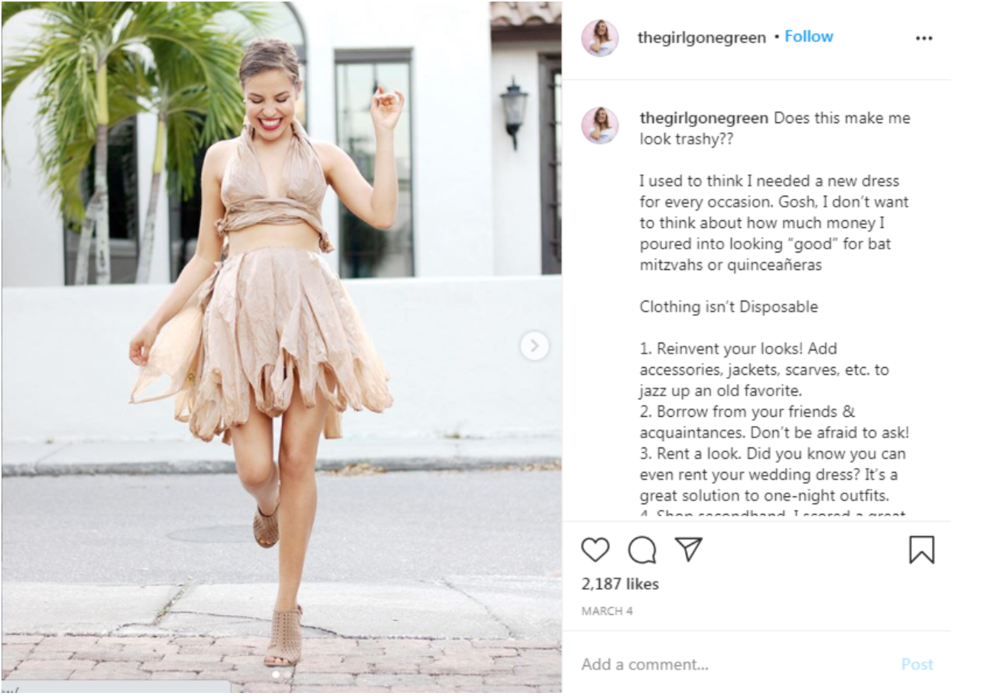 Has anyone ever told you that you could wear a garbage bag and still look beautiful? Well, Manuela Baron actually did, and her 32K Instagram followers ate it up.
Manuela's specialty is making works of art out of recycled materials. She uses this talent and her creations to mobilize friends and followers to fight climate change in their own sustainable and meaningful ways. One day you'll find her sharing the best sustainable beauty products and the next you'll see her at a climate strike in NYC protesting climate change.
She's an inspiration like all the others on this list, and one to watch.
Are you inspired yet?
You may or may not be able to go above and beyond like the folks on this list, but everyone has the capacity to do something – anything. We can all take a hint from each of these amazing souls and try to make the world a better place, one small step at a time.