Ever wonder if your favorite influencer is considered a micro-influencer or macro-influencer? What about nano, mid-tier or mega influencers? Didn't know those last three existed? Yeah, neither did I. Ok, I'm lying. I did know. But that's why I'm writing this for you! You'll thank me later. Anyways, with the ever-changing landscape of influencer marketing, it's hard to keep up with all the different elements, let alone the ocean of terms that have been created.
We're sharing the internal chart we use to distinguish between the five influencer tiers to get to the bottom of what makes an influencer nano, micro, mid-tier, macro or mega. I'll be giving a brief description of each one and telling you why (and when) brands would want to work with them ('cause trust me…you do). Plus, since this is The Shelf, we'll go over some numbers and give some examples of kick-ass influencers who are #winning at influencing right now.
BUT FIRST…A LITTLE BACK STORY ON THE AFOREMENTIONED EVER-CHANGING LANDSCAPE
When Instagram influencer marketing began, the influencers who had large followings were most likely to secure brand partnerships. And that was pretty much the main criteria. Brands were simpler then, and they equated follower count with reach.
However, as the industry's matured and marketing technologies have gotten better at being able to measure different aspects of the influencer marketing campaign, brands realized that a large follower count isn't always indicative of real reach, or even influence, for that matter.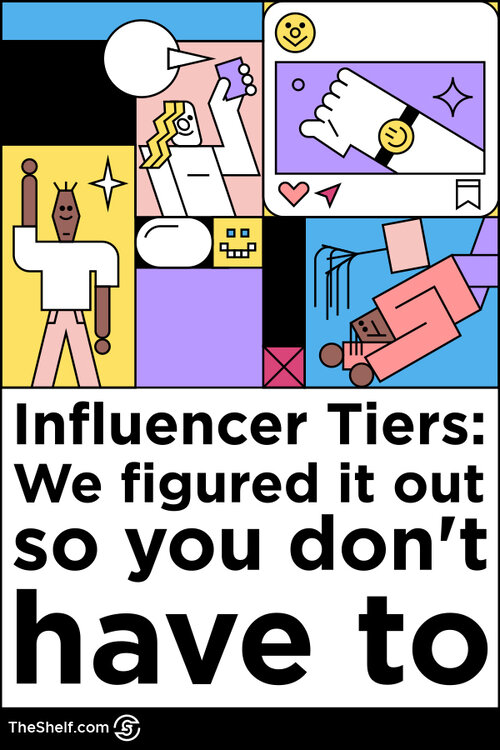 That's not to say an influencer's audience size isn't important because it is. But the industry now categorizes influencers under tiers depending on the amount of followers they have. With that, a brand can easily choose which type of influencer would work best for them in terms of budget. The more followers an influencer has, the more expensive they are.
The problem? We searched the internet far and wide to get a good sense of what the standard is for the different influencer tiers. And guess what we found? Different agencies use different definitions for terms like macro-influencer or micro-influencer.
So we decided it was time to put together THE standard of influencer tiers based on the latest analysis of some 30 playas in the biz.
The Influencer Tiers
So here's the good news: there are basically five tiers to choose from when it comes to influencers. Not every agency or brand will agree with this particular wheel, but based on our extensive research and our own knowledge of the influencer culture, we think this is the most logical and inclusive (you'll see what I mean) breakdown.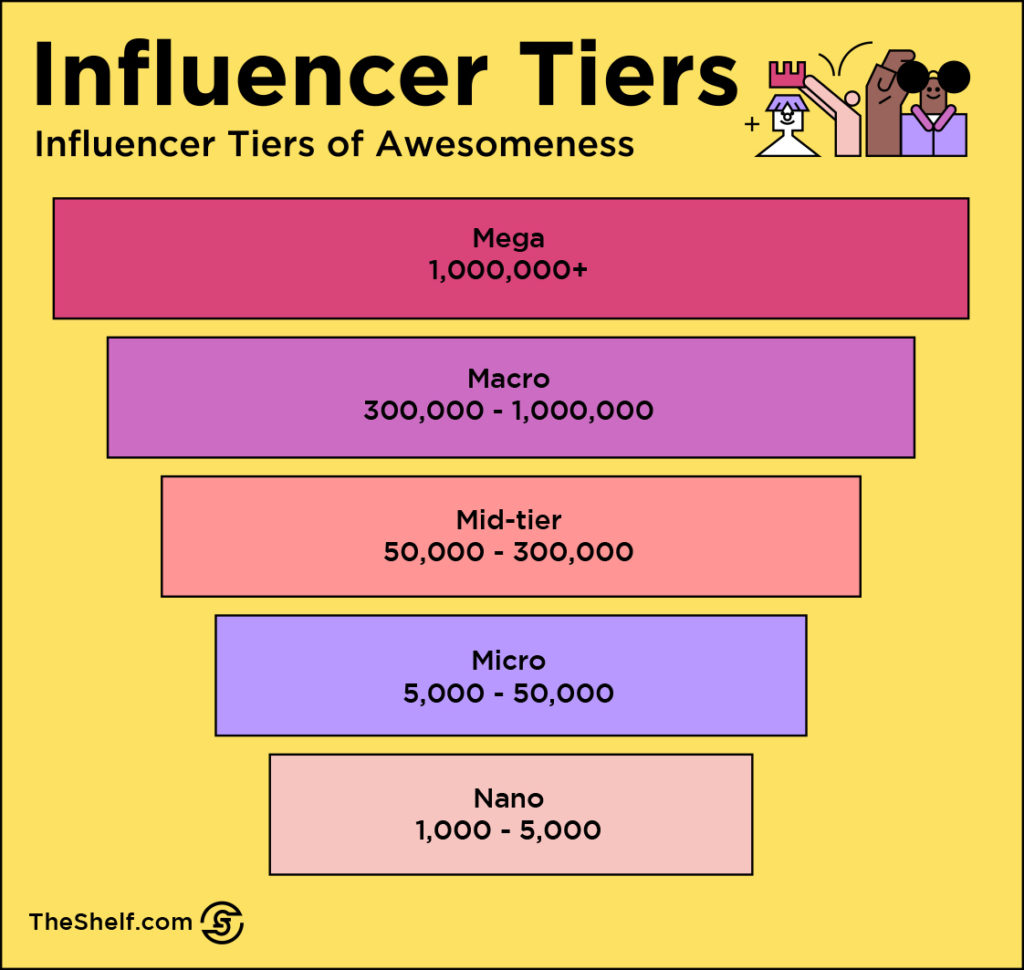 COPY AND PASTE THIS CODE TO EMBED ON YOUR SITE
What is a Mega-Influencer?
Mega-influencers have more than one million followers on a single social media platform. They're a mix between celebrities who "made it" offline and brought their fame online with them and influencers like nine year-old Ryan Kaji who started off doing toy reviews and now have tens of millions of YouTube subscribers and toys at every major toy store (and his own TV show on Nickelodeon and is somehow still doing his YouTube show).
Mega-influencers are the big kahunas of the influencer world. They are usually global brands themselves who have parlayed their offline celebrity into online influence and can command (and get) six and seven figures for their sponsored content.
(For instance, Kylie Jenner famously asks for over $1 million for ONE Instagram post. One. Uno. Wow. She has 199 million followers.)
The challenge with mega-influencers is that they are legit celebrities, so while their posts get plenty of eyes, they typically don't directly engage with their audiences (they have "people" for that) and therefore, lacks a certain connection with their followers that brands may actually need.
But that's just the higher end of the mega-influencer spectrum. Those on the lower end of the mega-influencer spectrum – around 1 to 5 million followers – often include celebrities who became famous online. Think beauty YouTubers like Manny Gutierrez and fashion influencers on Instagram. They may not be Hollywood celebrities, but they are now considered celebrities in their own right. They also won't charge what Kylie charges, but it will still cost you a pretty penny to hire them.
Mega-influencers usually have teams dedicated to their socials, so expect top notch photography and sponsored content. A single collaboration with one of these guys can elevate your brand to be a part of the cool kids (or not-so-cool kids. No judgment here.). This also translates into an increase in sales and metrics. So if you've got the cash and want lots of eyeballs to see your product (hello, brand awareness campaign) and get to know your brand while betting on that celebrity cache, this is definitely the way to go.

Related Post
The Complete Guide to Influencer Marketing 🤯
What is a Macro-Influencer?
Macro-influencers have between 300,000 and 1,000,000 single-platform followers. Most macro-influencers are well-known internet stars, most of whom earned their fame online first, gaining their following by creating enticing content on different social channels.
If you want your product to be seen by a lot of eyes but don't have the budget to hire Cristiano Ronaldo (look him up on IG and get ready to cry), macro-influencers are a good place to start. They have a broader audience, which means diversity, and who doesn't love that? But, more importantly, they are considered experts in the influencing game.
Most of them are constantly working on their brands and regularly creating new content. They know how to finesse their messaging to get the most engagement, and they know what kinds of images will make people stop scrolling (so that the finessing can start). They've been a part of the game for a long time and know what to expect and how to deliver. And they're also a step above the others when it comes to content creation. Macro-influencers usually have the means to hire professional photographers, which will only make your product and/or brand look better.
Another great thing about macro-influencers is that you can have just one campaign and one contract instead of hundreds or even thousands of smaller campaigns with the other types of influencers. It'll be easier to keep your head on straight. They are a one-stop shop, but you've gotta be willing to shell out some serious cash to work with one of these guys.
What is a Mid-Tier-Influencer?
Mid-tier influencers have between 50,000 and 300,000 single-platform followers. Weirdly, they aren't always thought of when brands are doing influencer selection, even though they have sway with tens of thousands of social media users. This is the Jan Brady of the influencer bunch. She's stuck in the middle and doesn't even exist to some in the biz. #PoorJan. But we love Jan, so we've decided to include her (remember when I mentioned inclusivity?), and here's why: some sources jump from micro to macro, which would leave too-wide a spectrum for micro. Let me explain.
If there was no Jan, a micro-influencer would range between 10K and 500K followers, and that used to be the case a few years ago when we only talked about micro-, macro-, and mega-influencers. It doesn't take a rocket scientist to know that someone with 10K followers will have a slightly different life than an influencer with 500K followers. #justsayin. So we've decided to adopt Jan and add her to our official list since brands actually do want to partner with influencers who have, say 100,000 followers.
Mid-tier-influencers tend to have engaged audiences and are still considered authentic. Mid-tier is the sweet spot for brands because they can get the benefits of partnering with an influencer who has a larger audience and impactful reach, while still being cost-effective. These guys have way more experience than the types below, which means better pictures and better content overall. By teaming up with a mid-tier-influencer, you can expect strong sponsored content and secure that much-desired ROI. #goJan.
Like with anything in the business world, more experience = more expensive. But if you're looking for that middle ground of cost vs. benefits, these are the influencers for you.
What is a Micro-Influencer?
Micro-influencers have single-platform audiences that range from 5,000 to 50,000 followers. Micros are the cool, up-and-coming social media stars that everyone wants to know and be friends with. Why? 'Cause they're cheap dates and know all the trivia.
Micro-influencers have the advantages that come with being more niched down such as strong engagement rates and authenticity. They are also experienced enough in creating content with the specific goal of growing their audience that brands can feel pretty confident they'll get some great marketing assets (i.e. better photography, better captions) out of any partnerships.
They also have niche-specific audiences, which is especially helpful to niche-specific products. Micro-influencers are known to help brands increase their sales by 300%. Not bad considering they're on the lower end of the follower tier.
While that all sounds great, micro-influencers are considered to have smallish reach, and therefore, not the go-to option for brand awareness pushes where wider reach is the enticing carrot.
And just an FYI as a friend… this is right around the time influencers are tempted to start buying their followers, which will translate into less engagement as well. 
What is a Nano-Influencer?
Nano-influencers have between 1,000 and 5,000 followers on a single platform, with one caveat: nano-influencers are only classified as such if they actually have intentions of being one. In this day and age, anyone can rack up 1,000 followers pretty easily. If my dad used social media, he would gain 50 followers a day, no problem. This guy befriends everyone he comes into contact with. Still, he wouldn't be cool enough to be considered a nano-influencer. (Sorry, Dad.)
Influencers have to, you know, influence, which means they actually have to try to influence. So, just keep that in mind before you start scouring the popular pages on the gram. (Yes, I still call them the popular pages. They're now called Explore. But you're exploring what the Instagram algorithm thinks is popular. The name should have stayed. Thank you for coming to my TED Talk.)
Nano-influencers pretty consistently have higher engagement rates. According to CMS Wire, it is highly likely that they have a real-life relationship with a big chunk of their followers, which makes them a more compelling choice for word-of-mouth marketing.
(Generally, the smaller the influencer, the more trust they can build with their audience. Doesn't get any better than that. (Actually it does. They are extremely cost-effective. Who doesn't wanna save some money, right?))
Compared to the other influencer tiers, though, these guys have the smallest reach. But that's not necessarily a bad thing if you're just dipping your toes in partnerships with influencers. Gotta start somewhere.
Why You'd Want to Partner with Influencers
If you're reading this, then you've probably already made the decision to at least toy with the idea of working with an influencer, so you trust that influencer marketing has a seat at the table. Influencer marketing can generate 11 times the ROI of traditional advertising. Mic drop.
But that's not all. About 42 percent of people say they have been influenced into trying a product or service after seeing an influencer's sponsored content for the brand. Twenty-six percent report actually making a purchase. Those are some pretty decent numbers, IMO. (Double mic drop?)
So you see where I'm going with this? Influencers can definitely help your brand, and now there are five different types to choose from that can work for any budget.
How to Know Which Influencer Tier to Target
Well, that depends on what you need as a brand and what you're looking for in a partnership.
MEGA-INFLUENCERS
If you're looking for reach, brand awareness and impressions, you'll need to look into working with a mega-influencer or macro-influencer. Sure, these guys mean big bucks, but they've got the numbers needed to reach the most people, which raises your chances for impressions per post and awareness to your brand. Here are a few examples of mega- and macro-influencers doing their thing.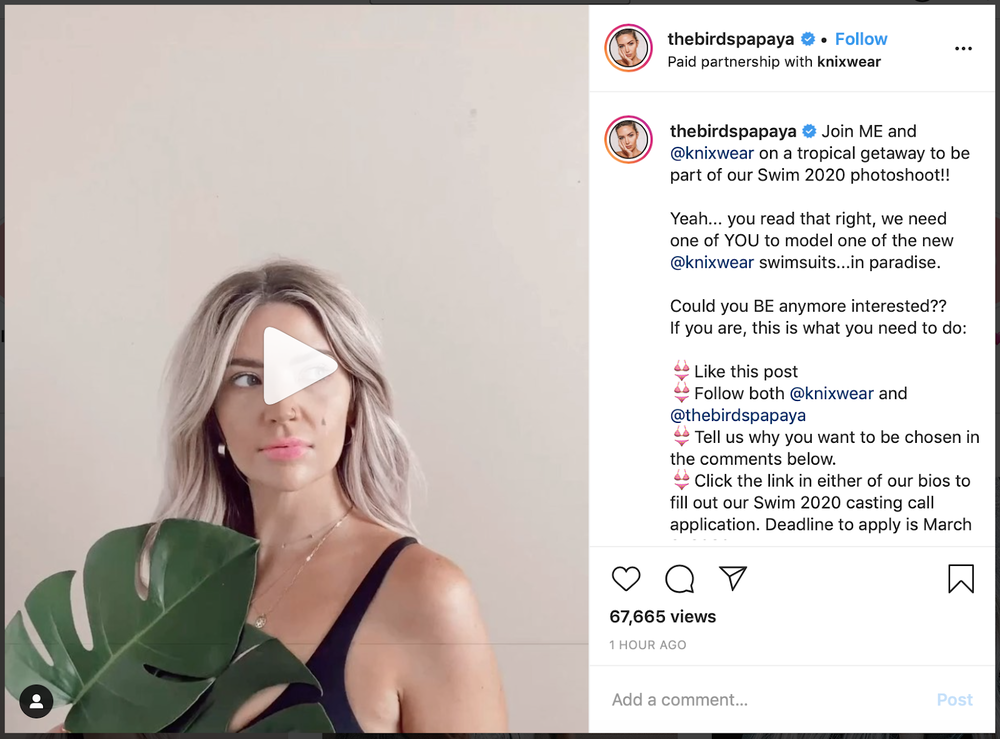 Sarah Nicole Landry just hit 1.7 million followers and has decent engagement from her audience. She's open about her struggles with body image and also talks about difficult subjects, which in turn engages her audience to also open up. Her partnerships include women's products, clothing and wellness items.

Jackie Aina recently scored her own makeup palette with Anatasia Beverly Hills, so you know she knows her sh*t. In the YouTube beauty world, that is a huge deal and basically means you've made it. With Jackie, you get excellent makeup reviews/tutorials and humor. I'm not much of a beauty buff, but her videos are worth the watch just for the humor and personality that shines through.
---
MACRO-INFLUENCERS
For most brands, macro-influencers will be the go-to for campaigns that require the word about a product to spread quickly. These can be rebranding efforts, product launches, product explainers, events (like promoting sales), app downloads, and ambassadorships.

Tara Henderson is the ultimate mommy YouTuber. She has been gaining more sponsorship deals over the past few months and has grown to more than 600K. Her followers often buy items she promotes (sponsored or not) and share them on their IG stories. That's brand awareness, impressions and conversions at its best (i.e. the whole damn funnel).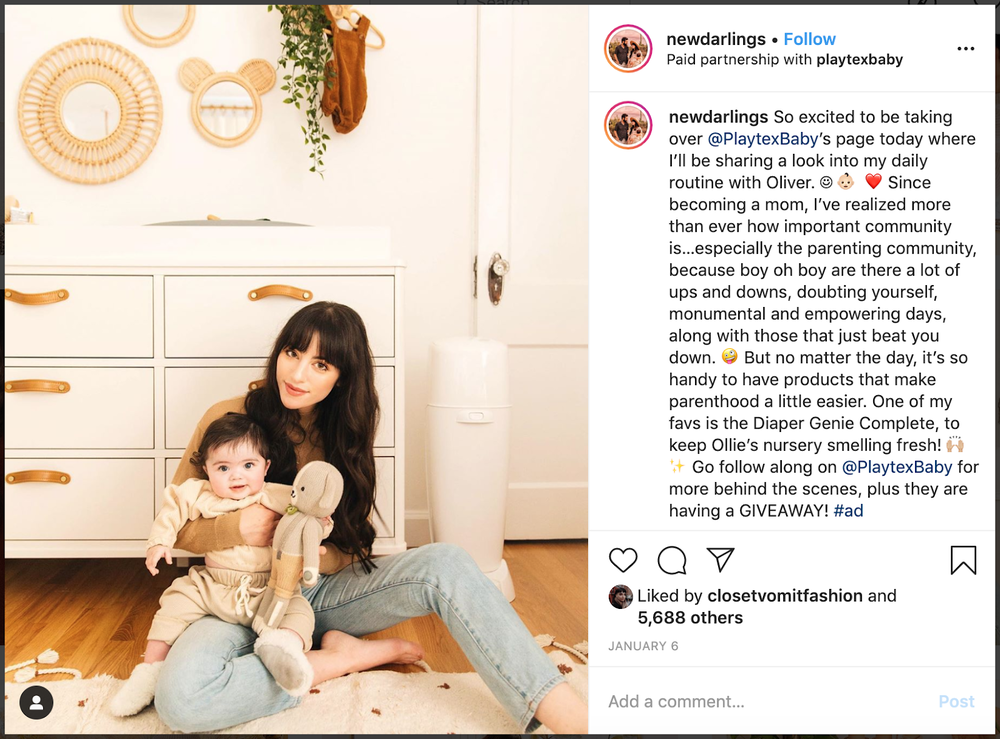 Cristina and Robert are big in the home and fashion space. They had a baby boy a little over a year ago, so now they're tapping into a whole new market of baby-related items. And with 442K followers on Instagram, they cast a pretty wide net.
MID-TIER-INFLUENCERS
If you're looking for engagement, mid-tier- and nano-influencers are your best bet. As a brand, you want to know what people think of your product and have fans share the love. These types of influencers tend to get the best engagement rates of the bunch.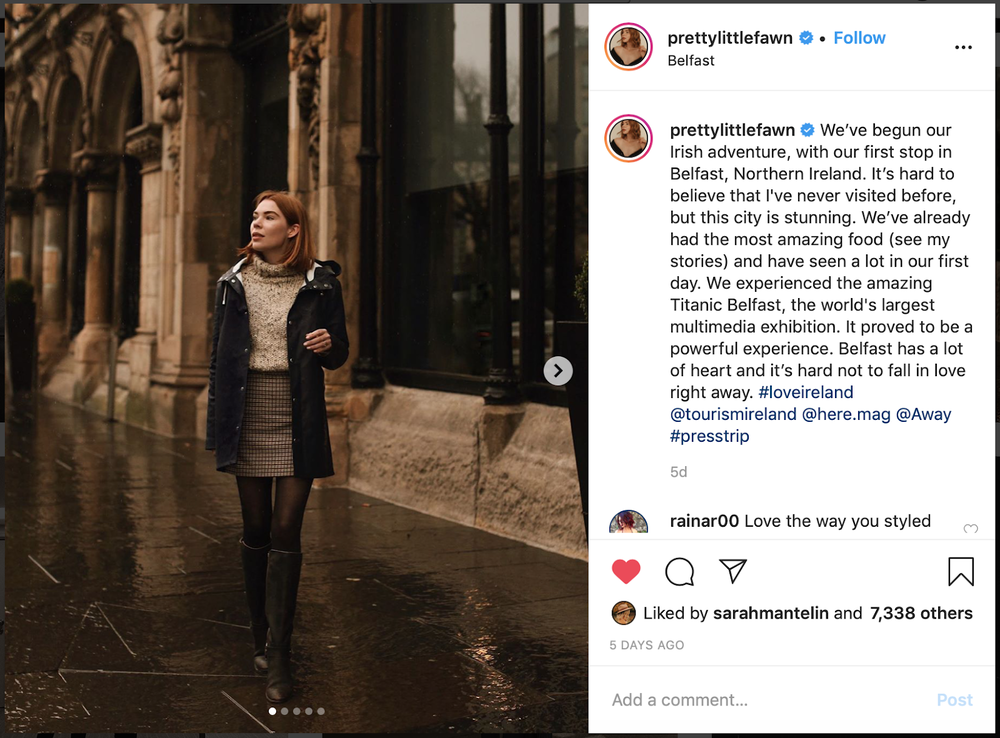 Courtney Halverson has 283K followers on Instagram and runs multiple brand sponsorships per month. She has a beautiful feed, if you're into fashion and travel posts. And even if you're not, you can appreciate the visually appealing photography and overall aesthetic.
Courtney Halverson has 283K followers on Instagram and runs multiple brand sponsorships per month. She has a beautiful feed, if you're into fashion and travel posts. And even if you're not, you can appreciate the visually appealing photography and overall aesthetic.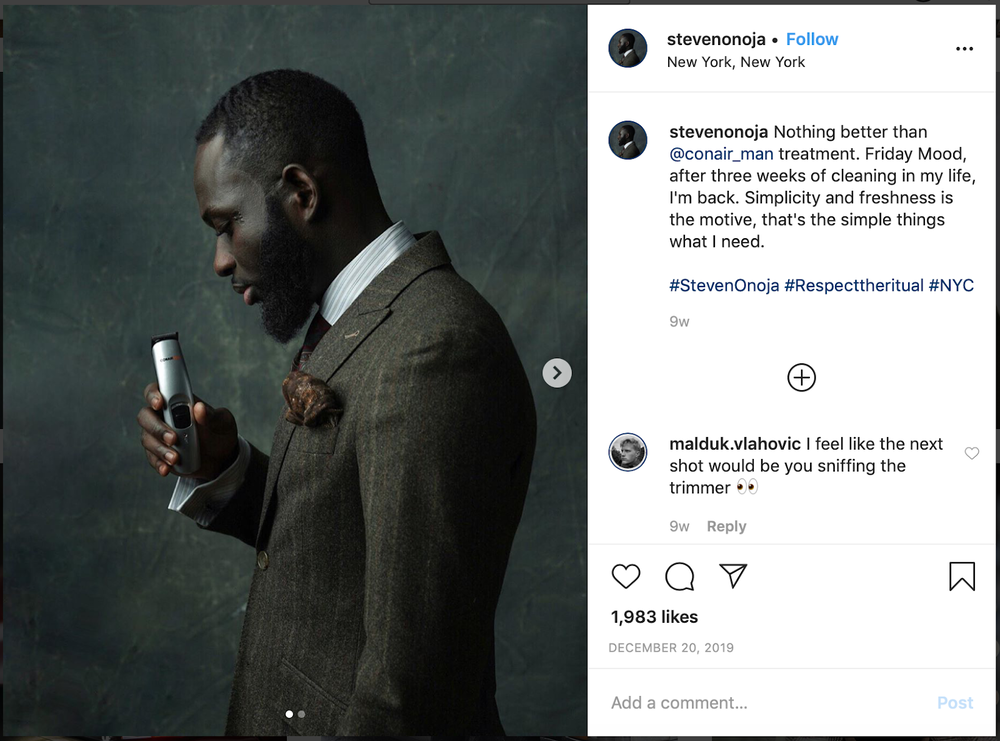 Steven Onoja is close to reaching 100K followers on IG. His feed is full of vivid photography and great style. His partnerships are targeted to fit his aesthetic and brand perfectly, like the Conair Man ad above.
---
MICRO-INFLUENCERS
If you're looking for conversions, look no further than the micro-influencer. With targeted niches, brands can position their products to their specific target market who are probably already looking for those items anyway.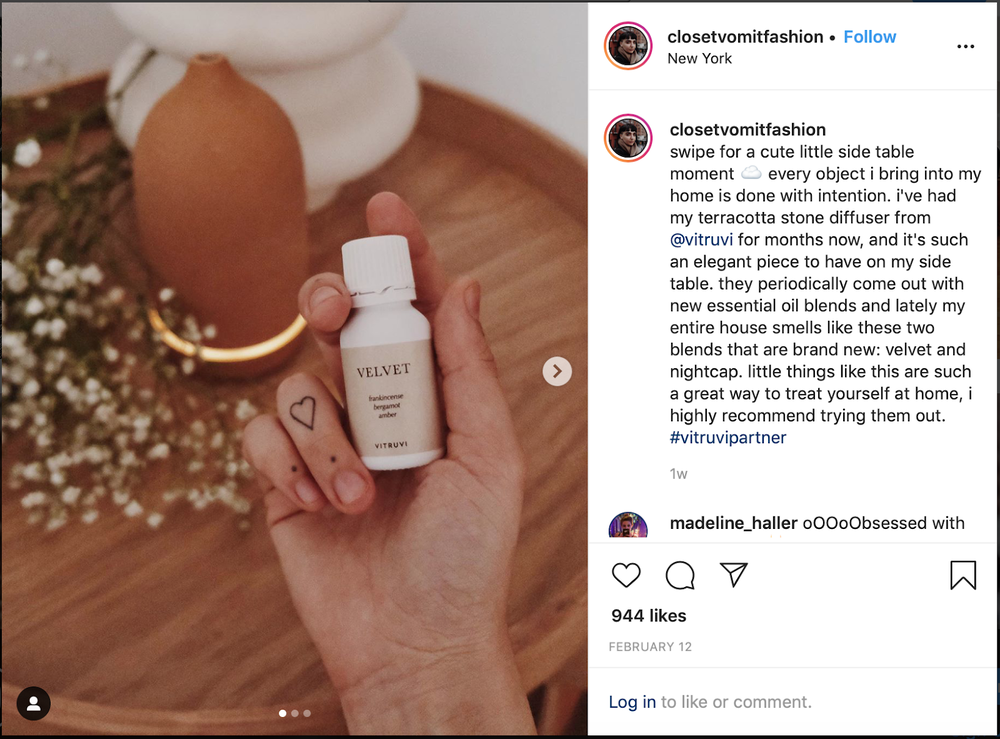 Ashley Ballard just hit 49K followers on IG and is still growing. She is known for her openness about mental health, which ties in well with the products she promotes. The response from her followers is overwhelming since a lot of them share that commonality with her.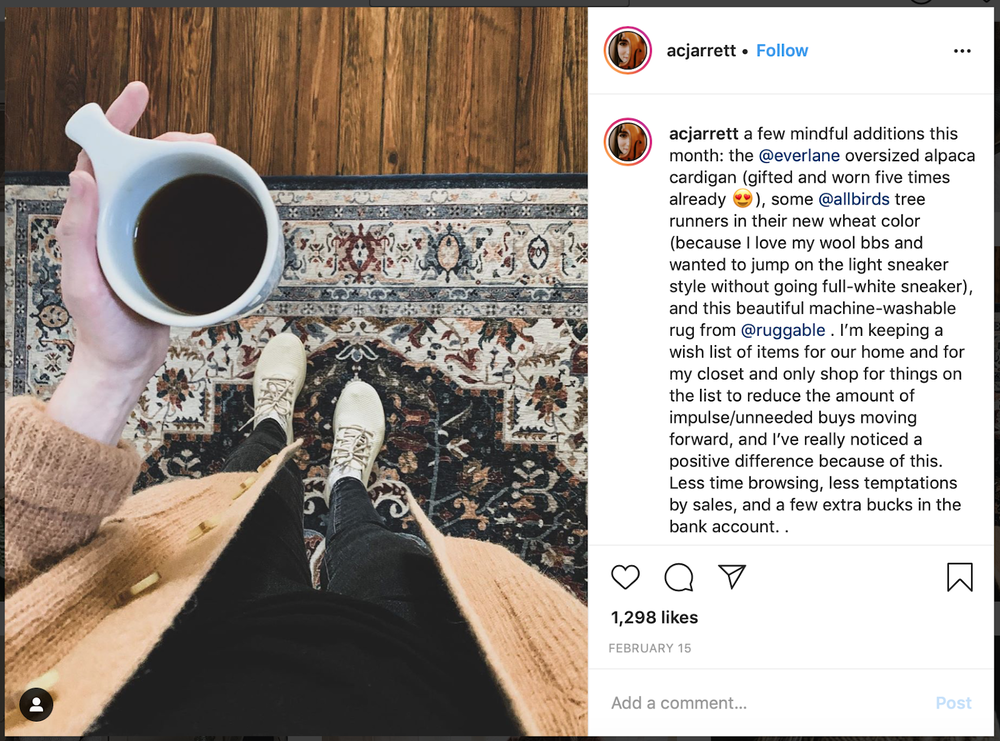 Andrea Jarrett is on the lower end of the spectrum of the micro-influencer tier at 13K followers on IG, but she offers a very targeted feed to sustainable fashion. She has a partnership with one of the top sustainable brands in the biz – Everlane. 'Nuff said.
---
NANO-INFLUENCERS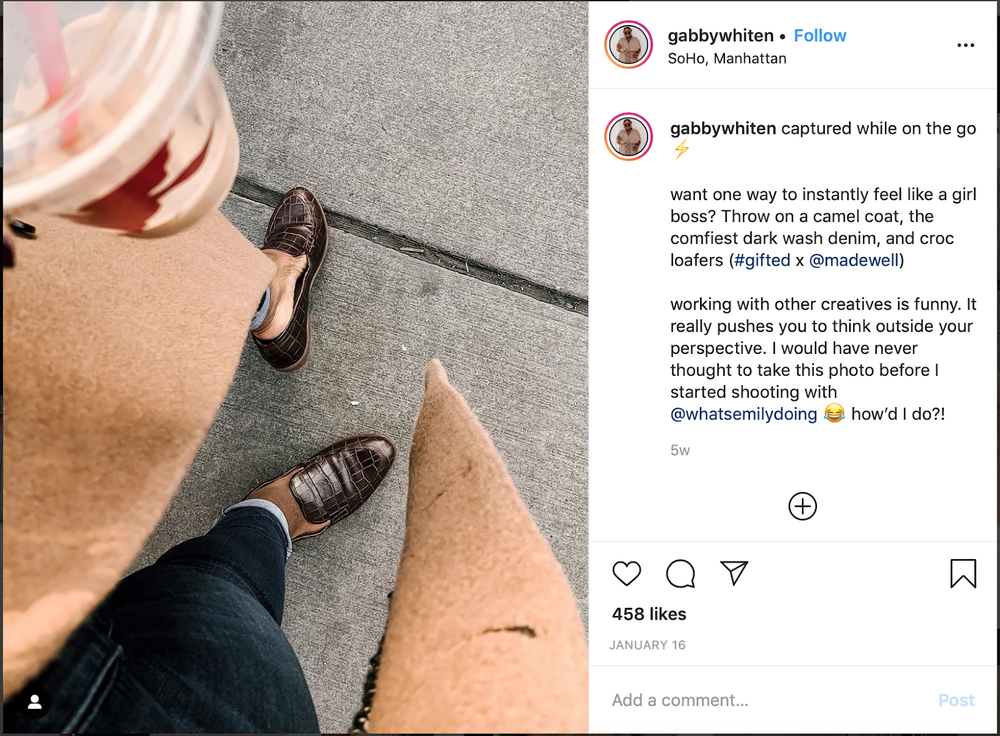 Gabby Whiten is the girl in the city IG feed you never knew you needed. As a NYU Ph.D. student, she has a #hearteyesforever feed for any wannabe New Yorker (#me af) and scored a partnership with Madewell at just 8.7K followers!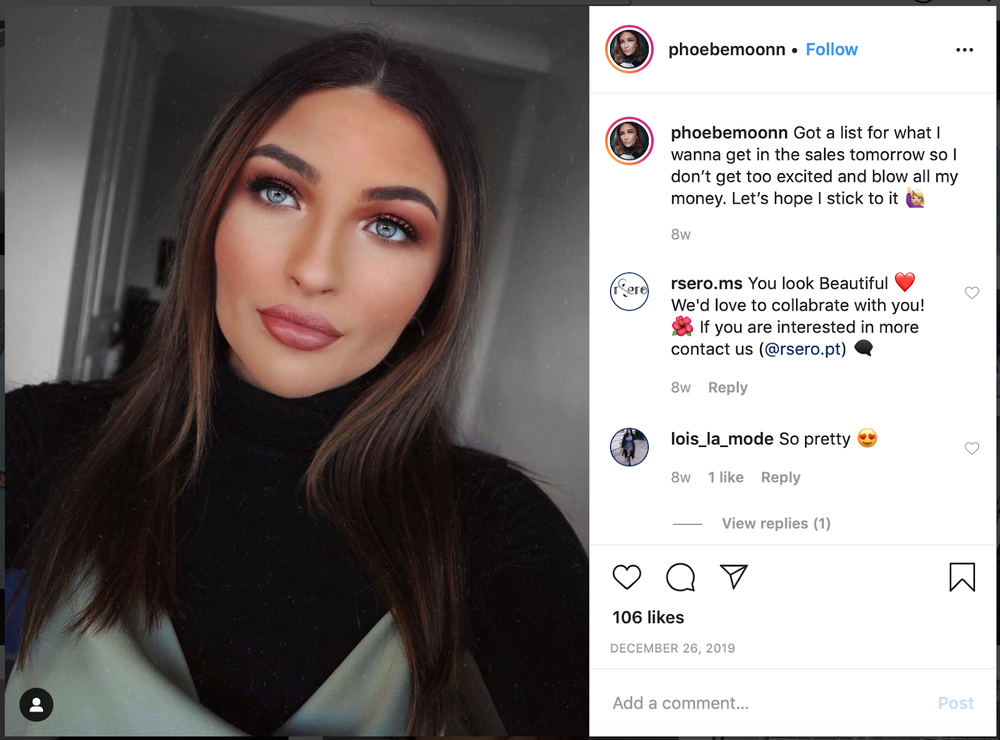 If you're looking for cool style and makeup, Phoebe Moon has a great feed to follow. She's actually rebuilding her feed FROM SCRATCH (who does that anymore), and is approaching the 500 follower mark. A few months ago, she had well over 1500 followers. Why start over? Well, from what we can tell, her new feed is more striking and visually consistent than her last one. In a few more months, she'll be one to consider if you're hyper-targeting and working on a tight budget. If you look closely, you can see a brand reached out to her in the post above!
---
CONCLUSION
So there you have it. I know that was quite a bit of information, but at The Shelf, we like giving you ALL the information so you can make the best decision possible for your brand and next campaign. Even though there are only five influencer tiers, there is a wide variety of influencers at all levels and industries. And even though working with influencers can cost you from $100+ for a nano-influencer to $1 million+ for a mega-influencer, by now you know that they are worth every penny.