Welcome to the New Year! Our social feeds are about to fill up with #NewYearNewMe posts as consumers say "out with the old and in with the new". They'll be looking to ditch old habits (and products) and start fresh with new ones. For nutrition, health and fitness brands, having the right social media strategies in place will help you run targeted local and national campaigns that drive sales and sign-ups.
There are a bunch of different products, programs, and services that fall under health and fitness. I want to focus this post more on the fitness/physical activity side of things… which also has a bunch of subcategories within that category.
For instance, we could talk about health club memberships and the 60 million Americans who are members of gyms. Between 2000 and 2017, the number of gym memberships in the U.S. nearly doubled, going from 32 million to 60.8 million.
Or we could talk about Lululemon, Outdoor Voices and the brands that are striving to make athleisure part of everyone's regular wardrobe. The athleisure market was estimated to be worth $155 billion in 2018, and is expected to reach $257.1 billion by the year 2026.
Or fitness equipment. Valued at $5.24 billion in North America alone, the market for fitness equipment is steadily increasing. In 2018, U.S. consumers spent more than $3.5 billion on fitness equipment to use at home, which is more than double what fitness centers actually spent on equipment ($1.5 billion) in that same year. Workout equipment is THE MOST popular type of sports equipment sold in the U.S. Forty-two percent of women in the U.S. have purchased workout equipment in the last 12 months, compared with 37 percent of U.S. consumers overall.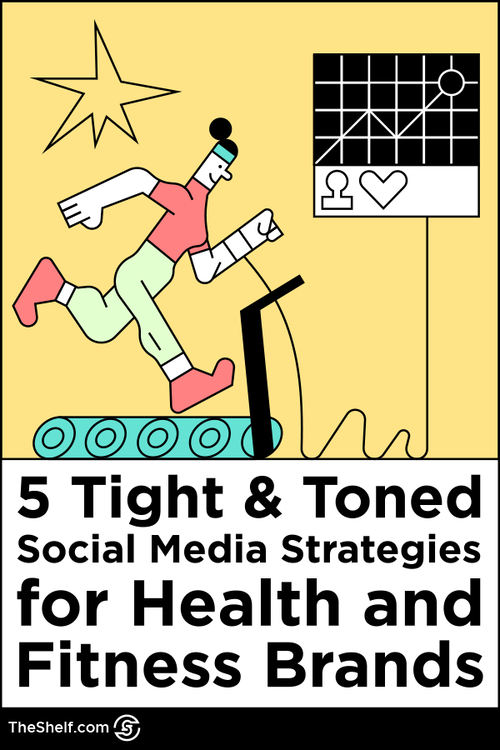 See what I mean. Lots of ground we could cover. So, we won't get too much into the industry stats. Let's just focus on the social media strategies health and fitness brands can use.
Two in Five Americans Are Setting Fitness Goals RIGHT NOW
I, like 40 percent of Americans (that's 128 million people), break out my trusty journal and set New Year's resolutions every late December. I cherish the opportunity to reflect on the year behind me and aspire to the one ahead.
Of all the habits people typically want to improve in the new year and the vices they want to leave in last year's dust, 45 percent of Americans (or 130 million of us) who make resolutions say losing weight or getting into better shape are top priorities. This is great news for a health and fitness brand. People want what you're selling!
The challenge is being able to convince prospects your product, program, or service is best-suited to help them reach their goals without completely wrecking their lives. You also have to keep in mind that only eight percent of resolutions made this year will be accomplished, according to Forbes.com.
So, while you can't promise your customers that the onboarding process (that point in the journey where they have to form new habits and ditch the old ones) will be painless, you can aim to incentivize them to COMMIT and CONTINUE until they get the results they want.
Partnering with Influencers to Keep Fitness Campaigns Aspirational Without Being Unattainable
That's the thing. Brands walk a fine line making sure sponsored content is aspirational without being exclusive. alienating, or unattainable. That said, we've drummed up a little catalog of social media strategies that are effective for targeting specific audiences.

Related Post
How to Vet Potential Blogger and Influencer Partners
Strategy #1: Become the Influencer. Build Your Credibility and Your Audience.
If you happen to be a super soldier with a suped-up fitness regimen like Michael Eckert (on Instagram @michaeleckert_fit) or you easily slip into beast mode on the yoga mat like Jessamyn Stanley (on Instagram @mynameisjessamyn), you may be your own secret weapon. Becoming an influencer is one of the best ways to build a credible brand, and it also positions you to partner with other brands who are looking for health and fitness influencers.
One really popular strategy for drawing that 45 percent of American consumers who want to get in shape for 2020 is to show them how it's done and the results that are possible with your fitness program by being a walking billboard for your program.
Meet @brittnebabe, a fitness influencer who posts easy-to-follow and easy-to-copy workouts to her TikTok and Instagram feeds. You'll also find her on Pinterest. Brittne bills herself as the "Queen of Home Workouts" (smart targeting – hello, busy moms) and she looks pretty amazing doing it. Not only does she have her own products and brands, but she also partners with brands like Gymshark to create sponsored content.
Another smart thing Brittne's doing is she has a wildly popular social media challenge hashtagged #Brittnebabe21daychallenge that offers cash and prizes to participants who get the most dynamic results after 21 days. That's amazing. As of this writing, there are more than 46k posts using that hashtag on Instagram alone.
She is absolutely #fitnessgoals, which adds extra incentive. (You mean if I do three sets of this shoulder killer workout I could one day look like Brittne?! Sign me up!)
In the screengrab below, @brittnebabe is working within her @Gymshark partnership. Obviously, she is stunting in their new look, but she also tags them in the caption to plug Gymshark's Conditioning App while sporting her Gymshark workout gear.
Check out Gymshark's other influencers on Instagram if you're looking for more inspiration on how to attract fitness posters. They do a great job reaching a wide audience and covering a variety of health and fitness verticals.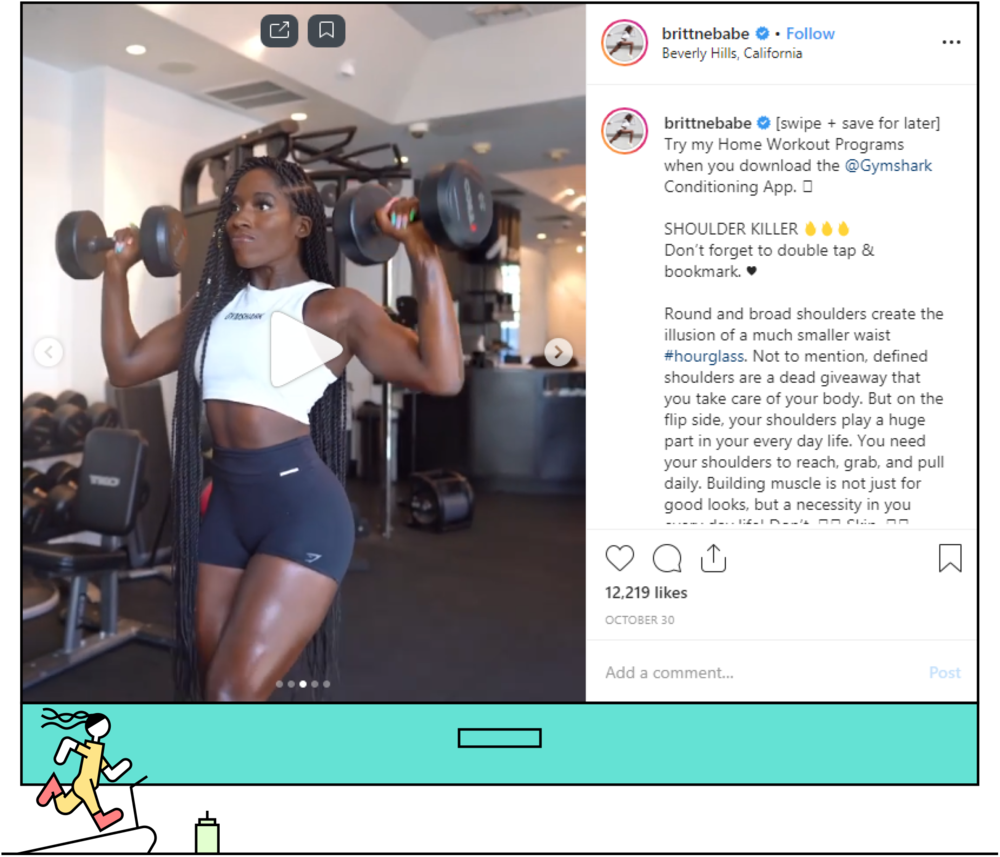 Channel your inner workout warrior with this fitspiration from @brittnebabe on Instagram.
Strategy #2: Showcase the Goods with Haul Videos
The Instagram haul is an influencer marketing staple. Hauls are especially beneficial for apparel brands. Hauls actually provide a couple of really cool benefits:
Benefit… A haul lets you showcase multiple pieces from your product line.
A great way to show customers what your product line has to offer is by having a vlogger take them through piece by piece.
Benefit… Vloggers can provide viewers more nuanced details about a product's more personal features.
Have you ever adored your gal pal's new workout set and just have to know where she got it and how it fits… and if you'll get buttsweat in it if you wear it to the gym? Yeah, same. Haul videos are informal, so they provide influencers with more leeway and wiggle room in the topics they cover (like buttsweat… which may or may not be a compound word. Vloggers can get down to the nitty-gritty with haul videos and speak on topics your marketing team's copywriter won't really be allowed to get into (unless you're one of the geniuses at Purple Mattress or PooPourri).
Benefit… Cost flexibility. While video hauls can showcase your entire line, you can also have a product or two included as part of a haul that features other brands. This option is usually quite a bit cheaper than sponsoring a dedicated video haul.
An ideal haul will show shoppers the good, the bad, and the ugly of your product line. This is important to remember because most influencers will want to be honest with their audiences. That's what helps them to keep and strengthen their position as a reliable resource. But it's good for you, too because this level of transparency also helps your brand to minimize returns, reduce negative customer experiences, and prevent bad reviews from being posted about your products.
I mean, as long as your products are high quality, who cares if the influencer is honest about the taupe color washing her out? The post will still drive sales.
Consumers pretty much follow influencers they already trust, and inflencers like @mikzazon are great at creating videos that familiarize their followers with your products in a low-key, informative, entertaining way. Here's a great example, actually. Check out Mik's Balance Athletica haul, which featured a giveaway that included a gift card.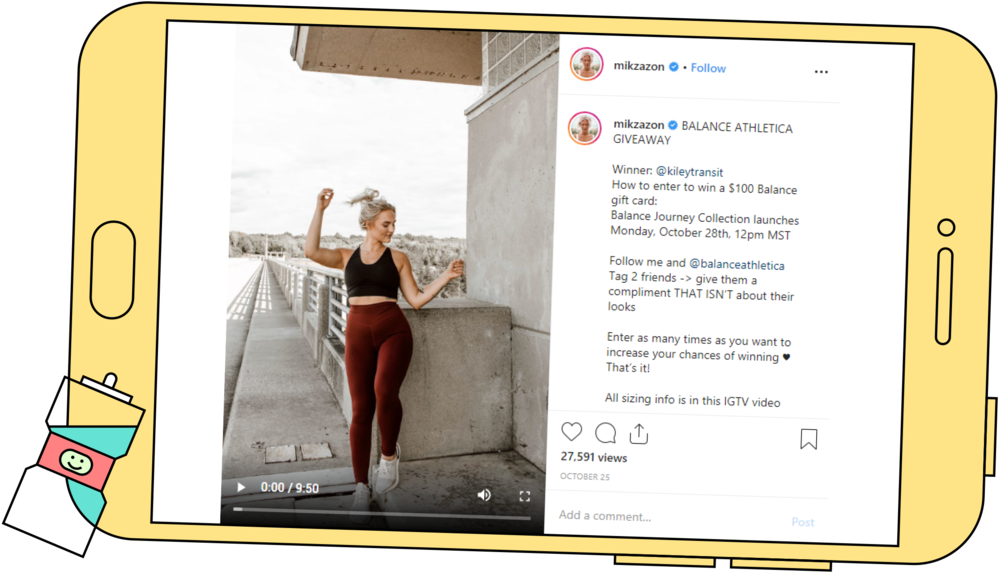 Here @mikzazon looks pretty and fitty in the new Balance Athletica collection on Instagram.
Not only did it promote the launch of a new collection, it also enticed Mik's followers to imagine what they would purchase if they were the lucky winner. Even those who came up short in the giveaway were already dreaming about the products, which means implementing a strategy like this one will likely result in more sales for Balance.
It is also important to mention that Balance Athletica is a brand on a mission for body inclusivity. This appeals to Mik's niche audience, which is the next strategy on our list!

Related Post
6 Video Marketing Strategies to Up Your Social Marketing Game
Strategy #3: Make Sure Your Content (and Your Influencer Choice) Reflects Your Target Audience
The health and fitness niche is very nuanced. You've got yogis, runners, cross-fitters, healthy eaters, wellness experts, body hackers, and the list seems to grow with every new trend. Mik Zazon is a health and fitness influencer who focuses on body positivity.
We published a post recently on the how the body positive movement is impacting the intimate apparel industry. In the screenshot above, you can see that Mik's post includes a vulnerable caption discussing her strained relationship with food, fitness, and body shame. The post is in partnership with CVS as you can see by the #ad disclaimer at the top of her caption and the tag in the photo.
Mik's uses her Instagram feed as a body positive community and safe space for those who struggle to maintain healthy relationships with their bodies. CVS supports this mission as it aligns with its own "Be healthy. Live beautifully." mantra (snagged from CVS's Instagram bio).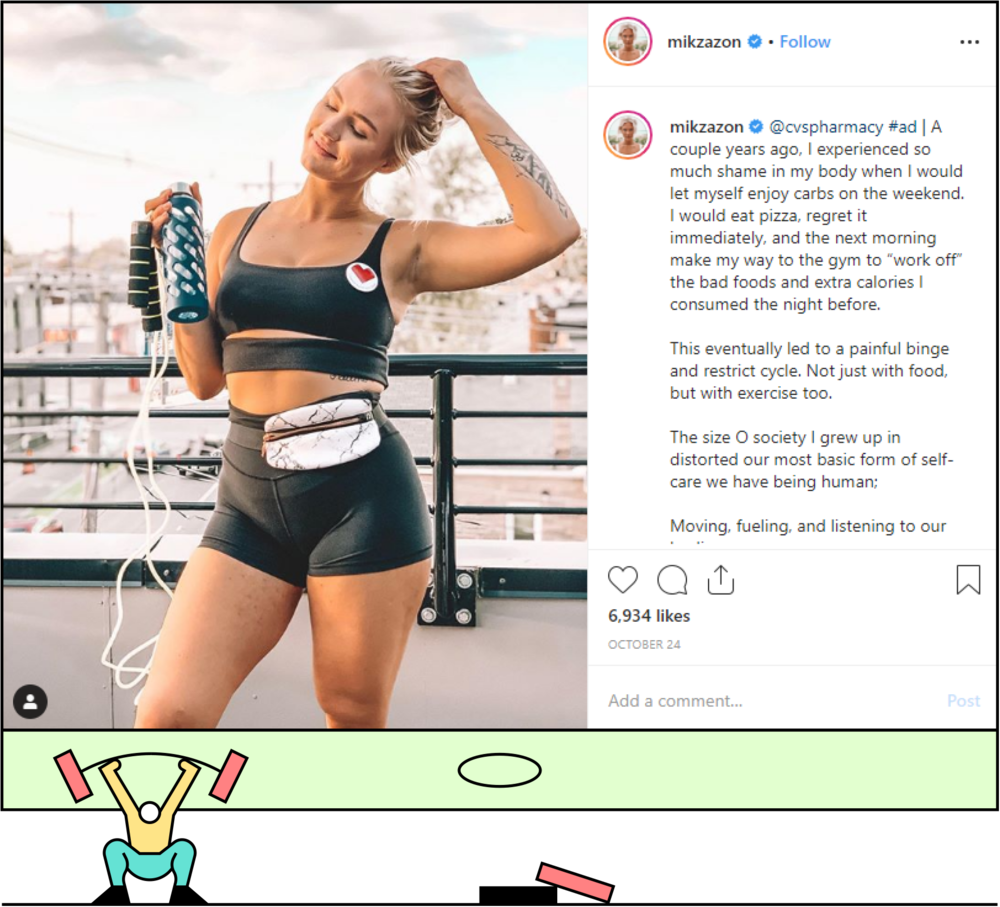 You can market via mission by partnering wiht influencers like @mikzazon on Instagram.
It's important to select influencers who align with your brand's mission, and vice versa. You'll get the most engagement and bang for your buck when your brand is showcased in a way that really resonates with segments of your target audience.
It is also important to note here that influencers can partner with multiple brands at once. There may be the occasional contractual limit, but if you spot an influencer working with another brand, that doesn't mean they're off-limits to promote for you as well. Mik is a perfect example of this as we can see her post for both Balance Athletica and CVS to great success.
Strategy #4: Grab the Adventurers
I really like the influencer campaigns I see from Alo Yoga, probably because I'm hoping to find peace (and gain the flexibility to be remarkably bendy). I was first drawn to their tagged posts because of how gosh darn beautiful the settings often are.
Take this post from @joshkrameryoga for example. Josh is out there living his best life in perfect harmony with Mother Nature.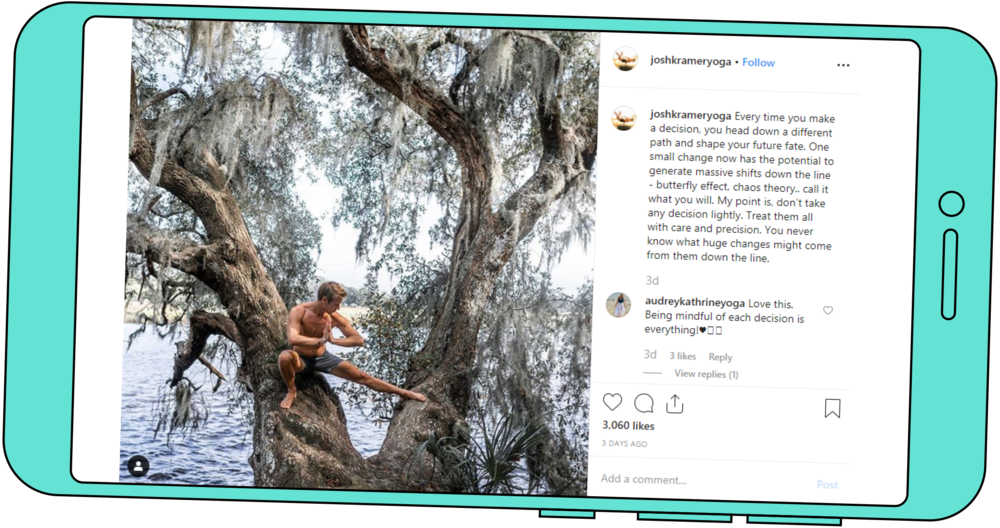 Wishing I could find my zen like @joshkrameryoga on Instagram.
I know you may not be able to promise buyers that your yoga shorts or leggings will open the doors to international travel and photo-worthy settings, you can target the 69 percent of millennial travelers who consider themselves adventurous and supply the products your market will want to wear on their next trip.
But hang on, there… While nearly 7 in 10 millennials do think of themselves as outdoor adventurers, they actually make up a smaller segment of outdoor participants than you may think. According to the 2018 Outdoor Participation Report:
People ages 13 – 17 account for 10 percent of outdoor participants
People ages 18- 24 account for 12 percent of outdoor participants
People ages 25-44 account for 29 percent of outdoor participants
People ages 45+ account for 36 percent of outdoor participants
Gen Xers and Boomers are heading outdoors 3x more than Gen Z adults (no doubt disposable income plays a role here).
But the point is posts like this one from Josh Kramer, where the setting draws in the viewer, are powerful, especially around the New Year when people are joining fitness challenges and making their identifying their 2020 fitness goals.
PLUS, travel is another popular resolution. So, it very well may be that the resolution behind "getting fit" is "travel more" on your customers' lists of resolutions. Last year 24 percent of resolution makers noted they wanted to travel more often. When travel and health are on your consumers' minds, posts like these can capitalize on both?
Another quick tip on this, too. Instagram is the most popular platform to use for influencer marketing, but it's not the only platform to use. Incorporating Pinterest into your influencer marketing can help give your sponsored content staying power and legs.
Alo Yoga leverages both as you can Pinterest post below. Make sure you are appealing to viewers on multiple platforms when you design your first quarter health and fitness influencer campaigns.
Adventure seekers fuel their travel bugs on Pinterest, Facebook, and YouTube by creating boards, sharing posts, and dreaming up destination bucket lists.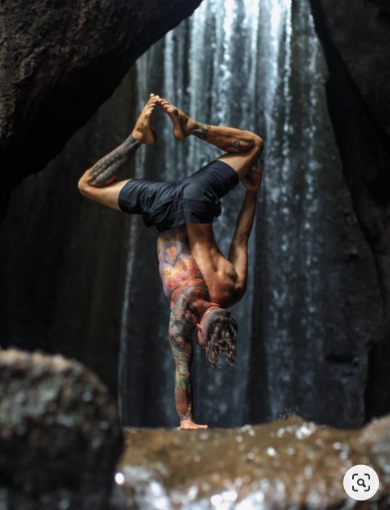 Strategy #5: Appeal to the Homebodies
Unfortunately, we can't all achieve our New Year's health and fitness goals by jetting off around the world. Heck, half the time I can't even drag myself to the gym. And chances are neither can all of your potential customers.
Even when setting lofty resolutions, people are always out for convenience. Sometimes it's better to avoid the judgy gym eyes and get in a quick sweat sesh in your living room.
This post from a Fit Inspo Pinterest board is a great example of at-home workouts that are accessible to almost anyone. Pair with influencers like @getupwithnards (congrats on your baby!) or @brittnebabe who can get your customers off the couch, even if they can't get them to a Zumba class.
Blakelyy Mariee posts at-home workout videos like the 15 Minute Burner shown here clad in workout attire from her brand partnerships. So her followers can get in a quick workout and check out the latest fit fashion.
Influencer marketing in the way of workout videos does more than promote a look or product, it also provides a service for your audience. Before they even make a purchase they are benefiting from your partnership with their favorite influencer.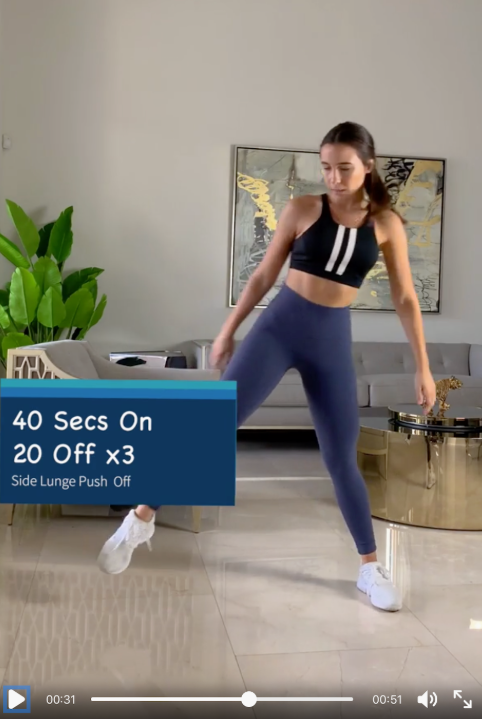 Bonus Strategy: Get Them Going and Keep Them Going
We've already established that lots of goal-setters excited for their New Year's resolutions fall off the wagon sooner rather than later. (A whopping 80 percent fail before January even ends.)
So how can you encourage your consumers to keep up that New Year's ambition and ride out their health and fitness goals through 2020 along with your brand? We love a calendar campaign. Help your target market keep their resolutions and prolong their engagement with your brand. Win-win!
Creating calendars or month-long challenges for influencers to promote are great resources to keep your customers hungry for health and engaged with your campaign. Plus, you can encourage people to post their progress along the way to reach even more followings and broaden your audience further.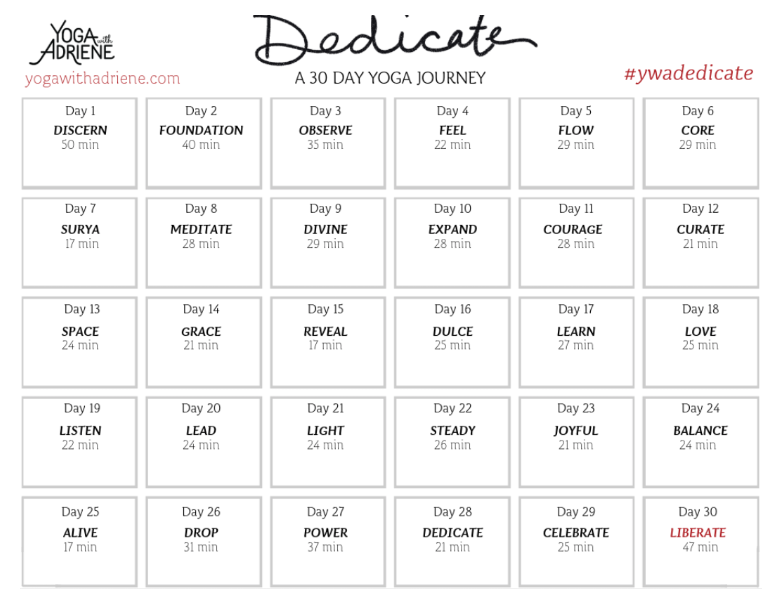 Something like this Dedicate calendar from Yoga with Adrienne is perfect for capitalizing on that New Year energy. Dedicate to your resolution this year like this Yoga with Adrienne calendar from Pinterest.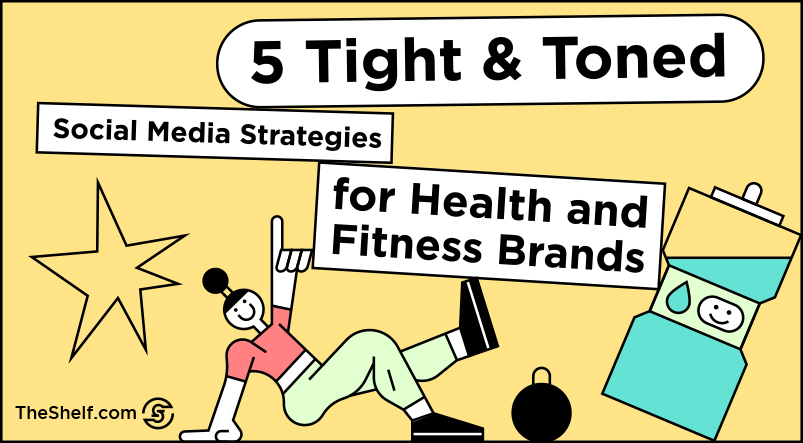 Conclusion
Do yourself a favor this New Year, make creating a ball-dropping (of the New Year's Rockin Eve variety) influencer marketing campaign your #1 resolution for 2020. Start capitalizing on the power of clicks and shares and pair with influencers who can help make this year your brand's best one yet.
If you're looking for more inspiration or you'd like a nudge in the right direction, give us a shout! We'll help you build an influencer marketing campaign that will carry that New Year glow throughout your 2020 sales.