The intimate apparel industry has gone from being considered a necessity that people referred to as "foundation garments" and "unmentionables" in hushed tones, to being a growing segment of the fashion industry and a mainstay on runways. Unlike the overall apparel industry, intimate apparel is actually growing, due in large part to the adaptability of intimate apparel brands whose younger, mobile-savvy customers have quickly adopted e-commerce, mobile shopping, and social commerce as part of the path to purchase.
The Great Retail Apocalypse
Cold hard fact: More than 9,000 stores had plans to shut their doors in 2019, and half of them had already made the announcement and began closing stores in the first quarter of this year. The media's been calling this mass closure event the Retail Apocalypse. And the primary culprit? A change in shopping behaviors that is a direct result of the rise of e-commerce, mobile commerce, and social commerce.
If this sounds less like an apocalypse and more like evolution to you, I agree.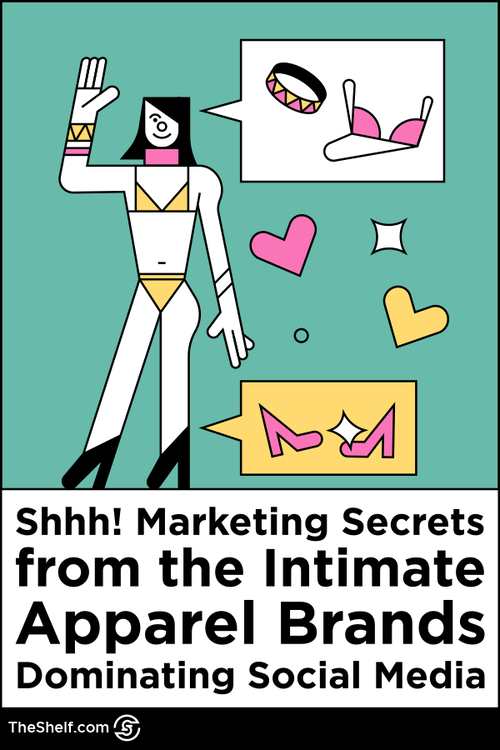 Thirty years ago, computer manufacturers were in the same situation – figuring out how to make garage-sized computing systems fit on top of your mom's desk without sacrificing too much in the way of functionality.
Then it was laptops – how do we make the desktop computer fit into a messenger bag?
Then it was phones – how do we fit the equivalent of a laptop computer into the front pocket of this guy's red skinny jeans? Who knows how small things will get?
What's being called a retail apocalypse is really just the last leg of retailers having to make the shift from foot traffic to site traffic. But that's one thing intimate apparel brands have done very well. Here's why they're so darned nimble.
A Succinct Overview of the Intimate Apparel Industry
I don't want to make this 600 words of data because we want to be able to get into the campaign examples, so I'll list a handful of important data points to give you an idea of what's going on in the intimate apparel market.
Intimate apparel is basically defined as the items you wear under your clothes. These include bras, briefs, shapewear, sleepwear, thermals, loungewear, socks and stockings. (Statista)
Lingerie is typically defined as visually-appealing bras and briefs. So, yeah… your partner's right. Your wash-day, granny bloomers ARE NOT lingerie… even with their enticing floral design.
In 2017 the global intimate apparel market was USD $143 billion, and is expected to reach $217.7 billion by 2022.. (Statista)
In 2018, the global lingerie market was valued at approximately $29.84 billion. Europe (specifically Germany, France, UK, Russia and Italy) and North America (US, Mexico, and Canada) account for two-thirds of the global lingerie market, and bras lead the category with 55.5 percent of the market share. (Statista)
In the US, the lingerie market reached $9 billion in 2018, and is trending up as manufacturers, retailers, and direct-to-consumer companies expand their catalogs to include a more diverse selection of products to match the growing diversity in the industry's customer base. (Ibisworld)
Curvy, Body Positive and Driving Change
Now, let's talk about a topic that some some intimate apparel manufacturers and retailers have foolishly tried to ignore – real women.
As you could probably imagine, the body positivity movement is a force the intimate apparel industry has had to contend with… and with much resistance. Curvy women now represent 68 percent of retail shoppers. One in three teens shop sizes that are considered plus-size. According to an article on International Journal of Fashion Design, Technology and Education, the average American woman is now a U.S. size 16-18. And did you have any idea that Americans have actually gotten TALLER over the last five or so decades? Yeah, I saw multiple articles on this topic. That's bananas, right?!?
The average height of an American man has grown from 5'8" to 5'9" between 1960 and today. And women have gotten taller too, going from 5'3" to 5;4".
According to the CDC, the average American woman weighs 170 pounds, and has a waist circumference of 38.7 inches. And yeah… depending on where you live, that average will go up or down.
In a 2017 press release titled "Curvy is the New Full Figured: Body Positive Millennials Drive Change in Intimate Apparel" HanesBrands released data indicating women are entering the curvy market earlier than in recent years:
35 percent of women are plus-size by age 25
44 percent of women are plus-size by age 33.
The NPD Group's 2015 Women's Special Sizes Study reported that the number of teens buying plus-sized clothing in the United States doubled between 2010 and 2015. In response, HanesBrands rolled out Maidenform and Playtex products in step with the body positive movement. Maidenform's expanded line included undergarments for women dress sizes U.S. 16 to 30, available at department stores. Playtex Love My Curves was expanded to include bra cup sizes up to G, along with matching panties, which the brand did for the first time ever.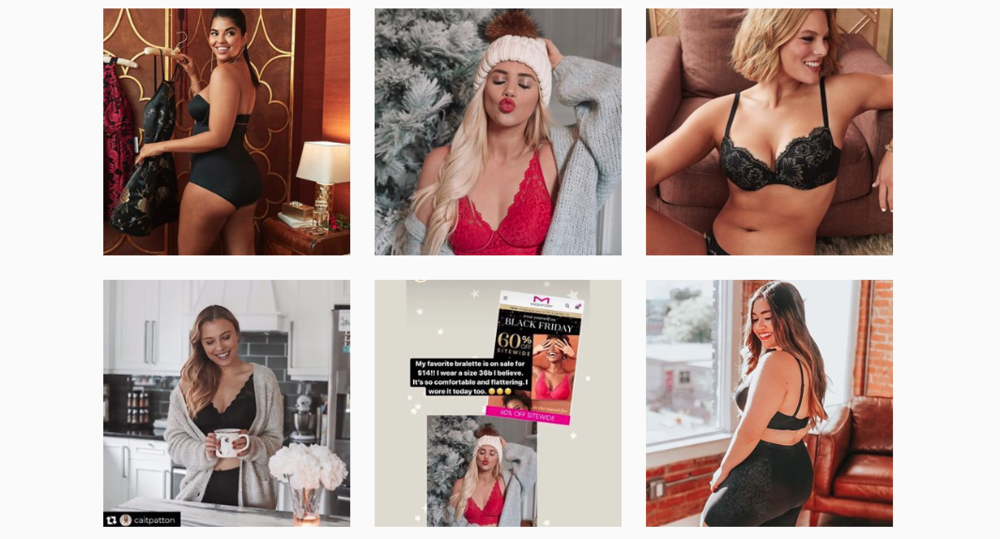 Regardless of the reasons behind our height and weight increases, intimate apparel brands – and especially lingerie brands – have been slow to truly reflect the reality of the average American woman. Heck, in 1960, the average American woman weighed 140 pounds… not exactly representative of Victoria's Secret's winged angels.
But… the industry's changing. Let's take a look at the brands that are disrupting the intimate apparel industry with provocative social media marketing campaigns.
How Influencer Marketing Is Helping Lingerie and Intimate Apparel Brands Stay Relevant
Social media is one of the most powerful forces driving popular culture. It is a global network of different platforms that allow people to communicate with one another in the medium that best suits them, whether that's text, images, or other multimedia. And communication is the foundation upon which all relationships are built.
Many of us write using hashtags, without regard to whether the platform we're using actually allows anyone else to use hashtags to track topics.
We've swapped out emails and phone calls for Slack, a handy little app that creates private social communities for groups, teams, and companies.
We literally use Twitter as a kind our global news network, and Facebook/Instagram as our community news networks.
We rely on memes to help us capture and communicate relatable moments in life.
We use platforms like Pinterest as our digital shopping guides.
And we search Instagram for new products because we know the data Facebook has gathered about us will help it find products we're going to love.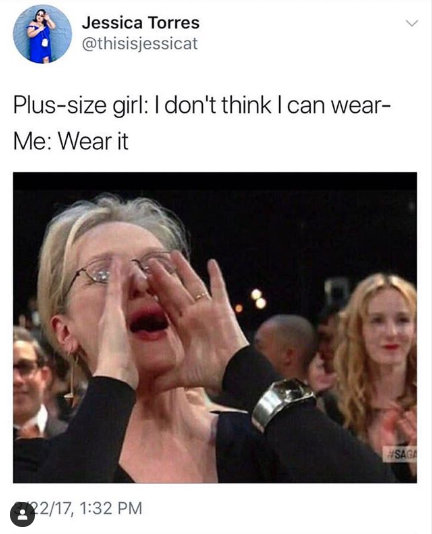 Not only has social media crept into every aspect of our lives, it's also becoming our go-to tool for sharing news, taking a public position, and learning about cool stuff.
For intimate apparel companies, social media has been the tool used by brands and shoppers alike to completely reshape this industry, and essentially change the conversation happening around the value, self-worth, body image and… underwear.
I'm talking about influencers like body confidence coach Michelle Elman (@scarrednotscared) who manages the Instagram account for @bodypositivememes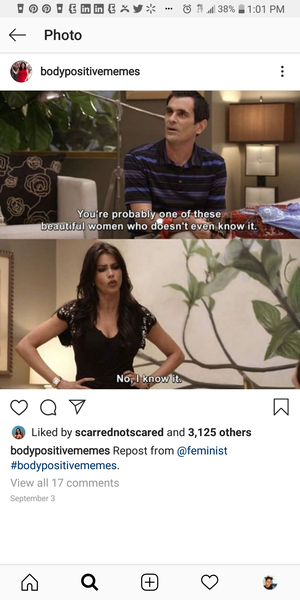 Or lifestyle/fitness influencer and author Jessamyn Stanley (@mynameisjessamyn) are unabashedly trumpeting the cause of body positivity.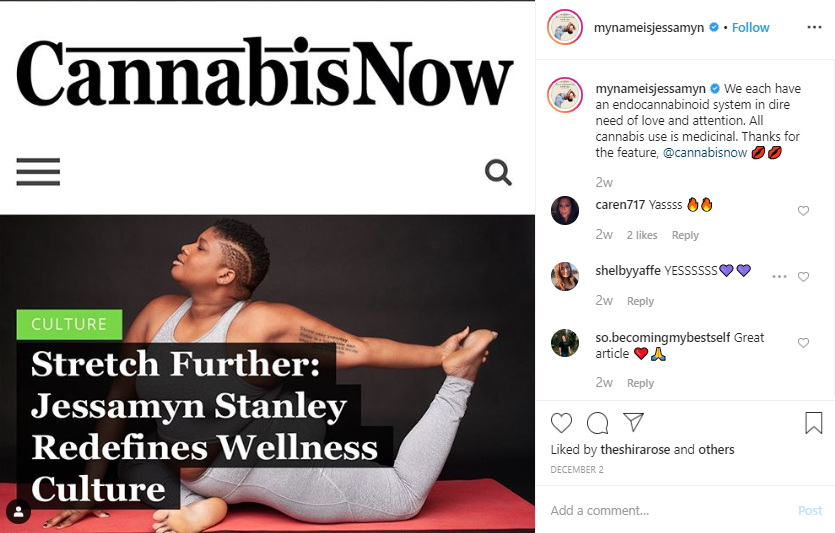 Let's look at a handful of campaign examples of intimate apparel brands partnering with influencers to shape their message and reach wider, more diverse audiences.
---
Natori Uses AI, Social Media Ads, and Influencers
Natori, the luxury sleepwear designer and manufacturer, may be an older brand, but it's hip to (70s term, but just in case you didn't watch Sanford & Son, you can use the term "keen on") the importance of using the web to drive sales.
The 41-year-old company secured its position in the market by launching an e-commerce site in 2008. The company was iffy about the move, fearing a backlash from wholesalers.
But there was none, especially as the trend picked up with other manufacturers also going direct-to-consumer.
In 2017, Natori put together a campaign involving artificial intelligence and social media ads. And it worked .The company saw a 7-1 return on ad spend. Plus, they boosted their social media revenue by 76 percent.
Natori messed around with creating social ads, then decided to adopt an AI tool that took all of their photos, videos, and ad copy and spun them into unique ads.
Within months, the return was 150-300 percent, earning roughly $3.75 for every $1.50 spent.
But that's not the only method Natori uses on social media. The brand has a presence on Facebook and Instagram, but they primarily used it for displaying their products — not so much advertising.
In Sept. 2018, Natori unleashed yet another campaign (#MyNatori), this time recruiting popular fashion and lifestyle social media influencers (14 in all) to help spread the word.
The objective for the #MyNatori campaign was to work with busy, career-focused women as they highlight how Natori is a modern day bra crafted to celebrate modern day women. The overarching goal was for influencers to share with their followers how Natori's "bread and butter" bra collection helps to support them with comfort and femininity. In addition, Natori wanted to celebrate what makes each and every woman special, no matter her shape or size, so featuring a diverse set of influencers in a wide range of body types was important.
Natori's aim was to reach a large pool of women, which the #mynatori campaign did. The campaign posts reached more than 1.9 million people and got another 2 million video views.
BRITTANY ANN COURTNEY
Her'es an example with micro-influencer Brittany Ann Courtney, who published a sponsored post last fall wearing the brand's sleepwear while overlooking a gorgeous beach view.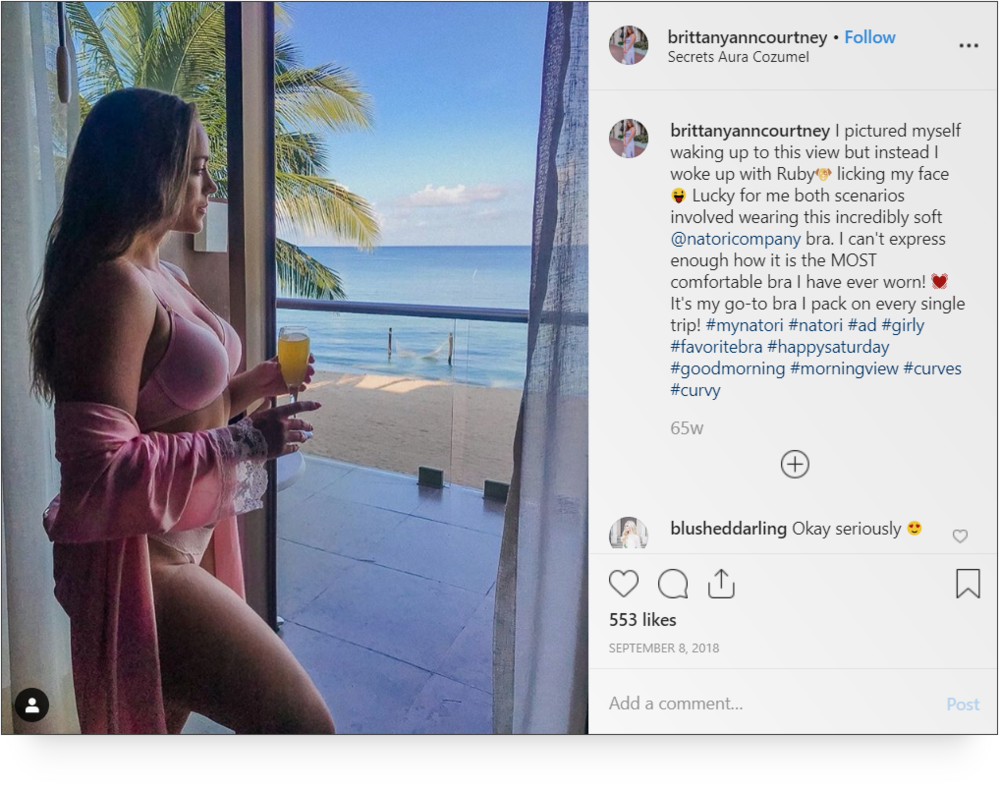 BEVERLY ADAMS
A more recent sponsored post from @thebeverlyadams features the mom-to-be wearing a piece from the Feathers Bra collection.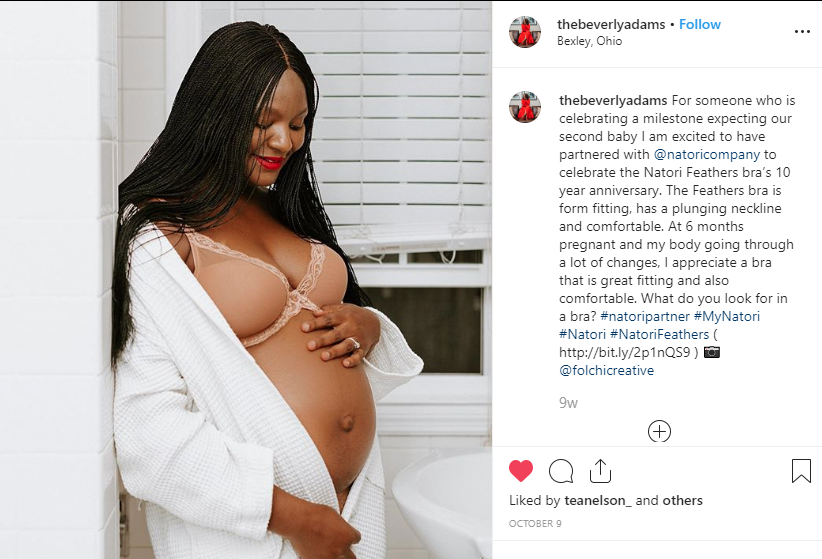 ASHLEY DOROUGH
Or this post from real mom and Atlanta lifestyle blogger, @ashley_dorough, a great-looking piece of influencer-created content that was actually shared by Natori's Instagram account under the campaign hashtag #mynatori.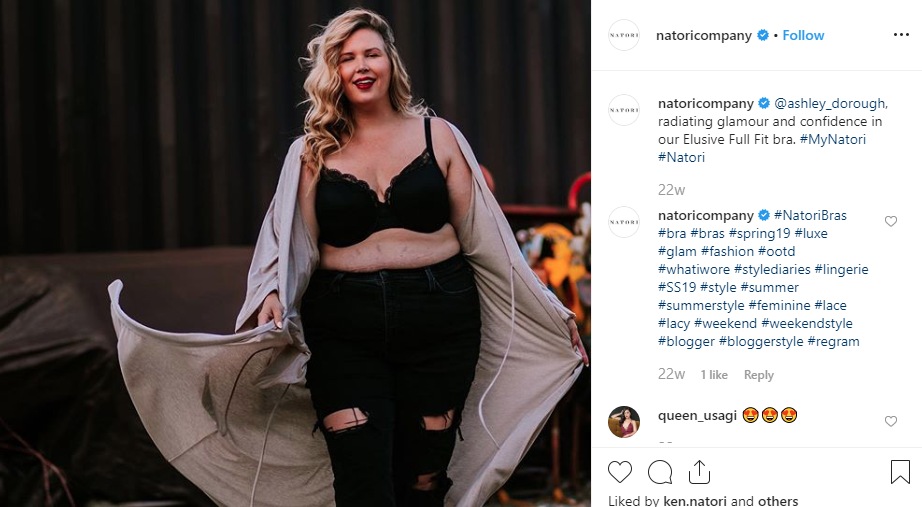 Natori definitely put their money where their mouth is with this campaign by choosing a mix of influencers of different sizes (body shape and audience), ethnicities, and backgrounds.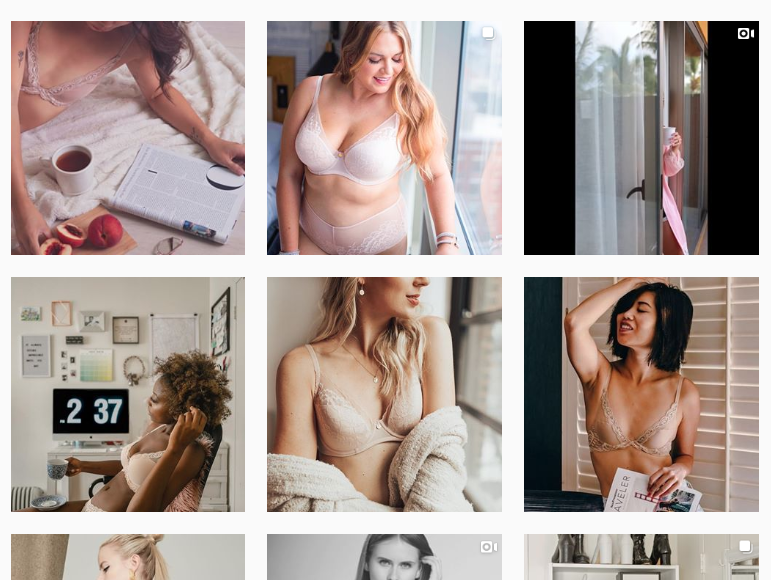 Victoria's Secret to Marketing: Gamification, Video, Fashion Shows
Victoria's Secret is known for being outlandishly sexy. Since the 90s, it's hosted the most fantastical fashion shows with beautiful, even a bit enchanting female models.
They will forever be the origin of the infamous angel wings. We can't deny that they've been a dominant intimate apparel company for decades.
But how is the brand fairing in the 21st century? Well… you probably weren't surprised to hear the iconic Victoria's Secret Fashion Show was discontinued this year. I mean, with the fashion industry as a whole doing a big of restructuring and intimate apparel brands collectively going through a rebranding to reach a disenfranchised target consumer, totally makes sense that the glitter-dusted torsos of the VS angels didn't own the runways this year. Instead, the brand is making a move to focus more on digital marketing.
To be fair, Victoria's Secret didn't just rely on its fashion shows to generate buzz. When you look at their presence on Facebook (nearly 30 million followers), YouTube (1.7 million subscribers), and Instagram (almost 66 million followers), you can safely say they're comfortable on social media. Plus, the VS angels are, themselves, fashion influencers by the very nature of their work.
Victori'a's Secret has successfully made their fashion shows a social media event for years. The #VSFashionShow was an epic event with gorgeously unwearable costumes hitched onto great pieces from the VS catalog. One of the HUGE advantages of being the company that's been pioneering sexy for the last few decades is the sheer volume of content the brand creates featuring mega-influencers and celebrity influencers like Bella Hadid, Kendall Jenner, and Adriana Lima. For example…
This photo shows Kendall Jenner walking the VS runway in 2018.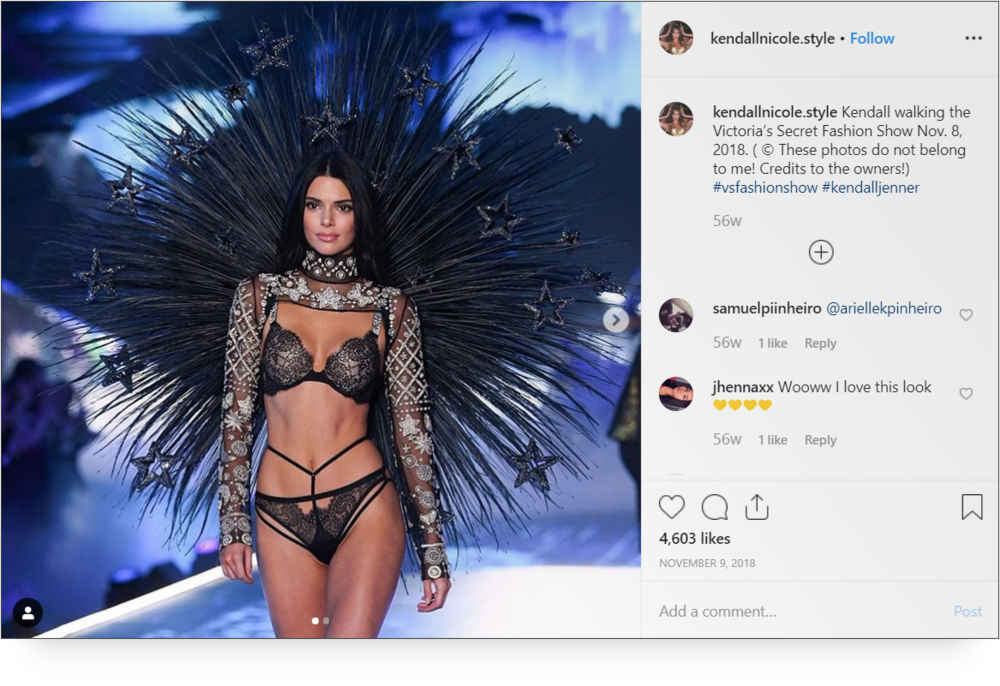 Sure, VS inserts a parade of global icons (Heidi Klum, Tyra Banks, Kendall Jenner) into their fashion shows, but the brand also relies on girl-next-door brand ambassadors to provide audiences with a more realistic look at Victoria's Secret and Pink products, like the VS haul from popular vloggers and UK brand ambassador Freddy My Love.
But photos are just one part of Victoria's Secret strategy. The company also used gamification to get more people's attention. The brand launched a Snapchat campaign with a doodle app to engage younger audiences (hello, Pink fans!). Users were able to create their own fantasy bra.
The campaign ignited engagement by asking Instagrammers to share selfies while in Victoria Secret or with their fashion show ticket. Those who participated received a discount voucher.
Then to give incentives to their followers, Victoria's Secret regularly deals out exclusive perks and news on Instagram and Snapchat. This is a genius way to connect with audiences and build loyal fans.
And what about YouTube? How are they getting so many people to subscribe?
One thing's for sure — they're not rolling out promotion after promotion. They're using this platform to entertain their audience with compelling and informative videos.
For instance, how to work out, meeting new VS angels, makeup tutorials, and giving behind the scenes access to their fashion shows.
Hanes Connects with Shoppers on a Emotional Level
Hanes is one of those multi-generational brands that'll last a lifetime. They've nailed their voice and understand their audience well enough to stay relevant and well-loved.
And this translates into their social media campaigns.
If you've seen any of their ads or posts, then you'll notice the theme is consistently around comfort, being yourself, and accepting who you are.
It's the perfect vision for today's world, where so many people feel undervalued. But as we come to learn — self-love is the foundation of happiness.
But the brand takes humanity a step further by donating money to causes people care about. They do this by promoting engagement via social media.
For example, they launched a campaign to donate $50K to the National Breast Cancer Foundation. They agreed to give $5K for every 1,000 shares they received.
Guess what happened next.
They received over 10K shares in record time and in less than 2 days, they reached 60K shares. But that wasn't the only engagement.
The post received over 500K impressions, 300K unique views, and 96K unique clicks. But they're no fluke using sensitive matters to gain a competitive edge.
The company has continued its support for the Breast Cancer Research Foundation.
Between 2008 and 2015, Hanes has donated over $1.5 million.
As of late, they're running another humanitarian campaign — a sock drive for those in need.
Then to connect with their audience even more, they turned to video marketing. They create entertaining videos that revolve around comfort, style, and confidence.
Like in this video.
But you can't truly connect with your fans without — well — talking to them. And that's what they do on their Facebook brand page (which has over 2.8 million likes).
Hanes uses Facebook to share user-generated content, which is great. But the real genius of their strategy is that they're leveraging social commerce to make UGC shoppable posts. This enables people to click-to-buy products as their researching, deciding, and/or positively engaging with the brand.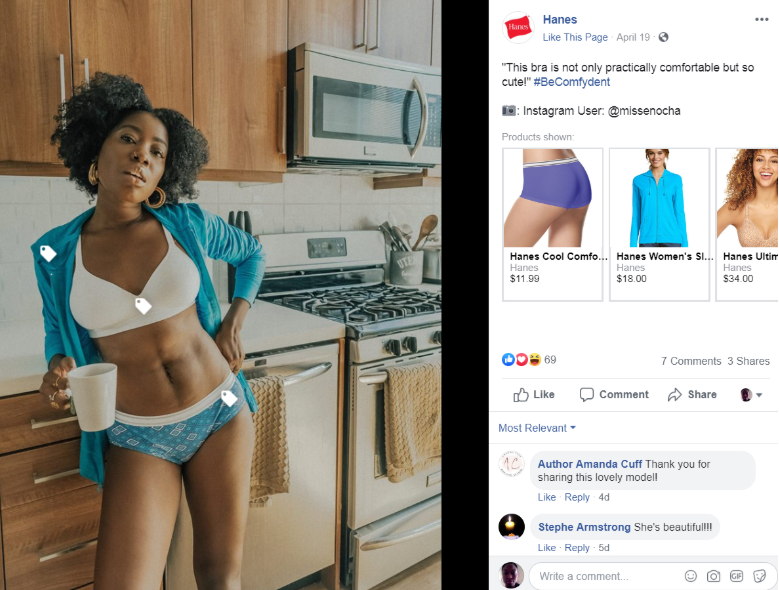 Ask open-ended questions that spark conversations. And to offer customer support.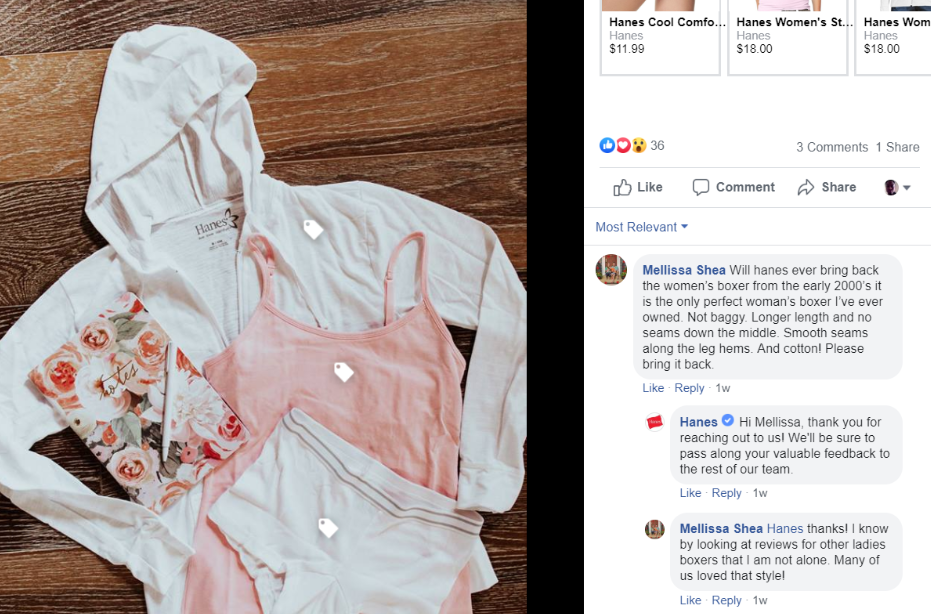 Then, can we blame the brand for using high-profile celebrities to ramp up engagement?
Hanes launched a campaign offering a chance to "Chill Like Michael Jordan", whose been a Hanes ambassador since the 1990s. This campaign was to help drive awareness for a new line of undergarments made with technology that adapts to your body temperature, so it's comfortable and dry all day.
This particular experiential marketing campaign was a unique one — a choose-your-adventure interactive game You pick different options based on what you think MJ would do. There were also some pretty cool Hanes Michael Jordan trading cards.
For example, in the gym, a guy is struggling with a weight — do you continue walking or help him out (I think the answer is obvious here)?
By participating in the game, users were entered into the sweepstakes for a chance to win.
Tommy John Choose Humor Over Sex Appeal
We're used to intimate apparel brands using sexual appeal to attract their core audience. But Tommy John (initially a men's undergarment brand) decided to do something a little different.
Make his audience laugh.
Who can disagree that laughter isn't welcoming? They say if you can make a woman life, you can win her over.
And while this is true in many cases, it's not a magic spell. Laughter is the key to building friendships and relationships. While this won't guarantee success in marriage (or in this case, a purchase), it does set a beautiful foundation.
One way the brand pulled this off was by doing a Valentine's Day poll, which revealed funny data about men. For instance, 33 percent of males whose moms buy their underwear adjust themselves almost ten times a day.
You'll find some of the stats a bit over-the-top, but it's the humor that counts — not the authenticity of the survey.
Tommy John also took its humor to the screen with LOL content like this one.
The brand has been doing well — so well, that it decided to branch out into the women's underwear market.
And as you'd imagine, it took the same spin on attracting the ladies — by making them crack a smile.
They decided to collaborate with actress and director Elizabeth Banks for the campaign called "The Little Adjustments."
The video will explain it all.
It received nearly 1.5 million views and did an excellent job of honing in on the irritations (and embarrassing moments) underwear cause for many of us women.
But no more — Tommy John is here with the promise of "No More Adjustments."
Shapermint Storms Instagram to Change the Conversation Around Shapewear
If you're familiar with the brand Shapermint, the chances are pretty good you got that introduction on Facebook or Instagram. Shapermint has created a social media presence that's successfully making shapewear the norm. They're not your grandma's foundation garments or your mom's unmentionables (I actually may have those generations + colloquialisms reversed). Shapermint enhances the fit and hang of your clothes… because sometimes an assist would be nice… and it has nothing to do with your self-image.
What you may not know is that Shapermint is an online, direct-to-consumer company that offers shoppers a variety of different types of shapewear from different manufacturers. The company's been heavily targeting Facebook and Instagram users to grow brand awareness and drive traffic to its site with shoppable ads.
Shapermint targeted Facebook and Instagram with Stories to build brand awareness and drum up new customers. In 2018, the company ran a campaign from August 16 – September 1 with the following results:
3.7-point lift in purchase intent
12.8-point lift in ad recall
6.6-point lift in brand awareness
1.5X incremental return on ad spend
Why did it work? Well, Instagram is one of the platforms women in particular use for product discovery. Shapermint ads are compelling and relatable. Some of them even have UGC infused into the spot. This is actually one of the spots that was running on Instagram this year (grabbed a copy of it from YouTube).
Of course, you can find the Shapermint brand across all the big platforms, like this sponsored YouTube post from vlogger Dominique A. who recently lost a lot of weight and walked viewers through different Shapermint pieces in search of something that slims the waist, doesn't round the tummy, enhances your silhouette, and hides FUPA (that's the extra skin/lower belly fat that kinda pouches below the belly button).
But I think of this 👇🏽 more as Shapermint in its natural habitat.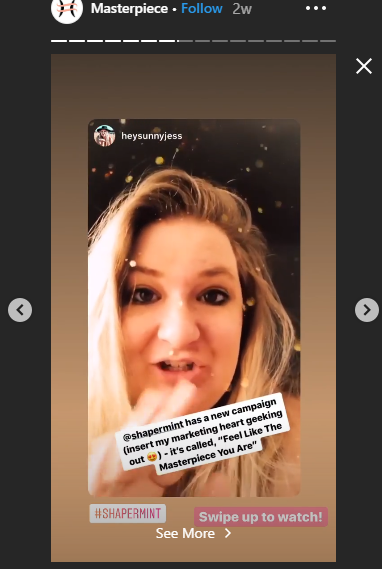 Shapermint also entered the market addressing all the taboo topics traditional underwear brands have avoided addressing, and in so doing have packaged the shapewear conversation in a way that's affirming, uplifting, empowering and body positive.
This ideology is one of the primary reasons Shapermint has been tagged in thousands and thousands of Instagram posts. Shapewear is doing for body positivity what Starbucks has done for the hustle culture, and that is to come alongside it, validate it, publicly support it and make room for others to live it.
There's no two ways about it: To stay relevant in the current market, intimate apparel brands have to GET that a woman is intrinsically valuable. The notion that her value somehow stems from some designer's idea of beauty is a lie whose reign has come to a well-deserved end.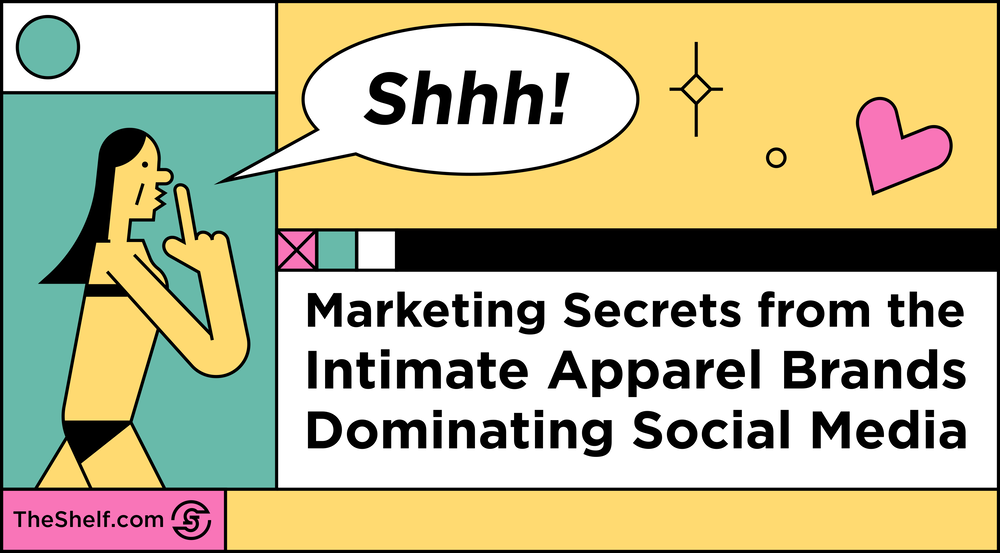 Wrapping It Up
It's incredible to see how beneficial social media can be for businesses across industries. We're used to seeing clothing retailers, corporations, and hospitality companies do it all the time.
The fact intimate apparel excels in their campaigns proves it's possible for any brand that's willing to think outside of the box.
Whether you choose to use sex appeal, gamification, or good ol' humor — you can make it work as long as it stays true to your brand.