Most of the algorithm news this year has been centred around Facebook and their recent changes. But, that doesn't mean that other platforms aren't following suit. Instagram has been making changes to its own algorithm recently, and these changes have been shaking up marketing strategies across the country. Since Instagram is owned by Facebook, is it really that big of a surprise?
How has the algorithm changed in 2018?
Just like Facebook, Instagram has changed the way it shows posts to its users. Everything is changing and making things more difficult for brands to get their content seen on the platform. But, the changes aren't all bad. Let's take a look at what has changed.
USER COMPLAINTS
The second that Instagram scrapped its chronological feed in one of their previous updates, users have been complaining that they want it back. The change meant that users no longer saw posts in the order they were sent out. Instead, Instagram was deciding for them which posts they thought they wanted to see.
Once this shift happened, marketers started looking for ways to "beat" the built-in algorithm so that their posts performed as well as possible. And, today is no different. Once upon a time, the easiest way to do this was just to post often with high-quality content. But, thanks to multiple adjustments in the algorithm. This is no longer the case.
ENGAGEMENT IS KEY
One of the biggest changes to the algorithm is how it decides which posts to show where in users feeds. Of course, the goal for most brands on Instagram is to have their posts show up front and centre in their followers feeds. And, thanks to the platform's latest algorithm change we now know that in order to do this – you're going to want to beef up your engagement.
This perfectly reflects the changes that happened over on Instagram's big brother – Facebook. Earlier this year, Mark Zuckerberg announced the changes he was going to make to the world's biggest social media network, and instantly everyone began to wonder if the same would happen over on Instagram.
He stated that "meaningful conversations" were going to be the new focus for Facebook. This was in direct response to the rise of "fake news" as they worked to combat this, and bring the platform back to it's more personal roots. And, while Instagram has never been as "personal" as Facebook, it would seem they are trying to move this platform in the same direction too.
KEEPING VIEWERS INTERESTED
The time that users spend viewing your content on Instagram has also become an important part of successful Instagram campaigns. The platform has now started to monitor how long people are viewing your content. So, a simple "like" from a scrolling thumb is no longer as valuable as it once was.
Again, they seem to be imitating Facebook by giving video content much higher importance than static content. This has been a growing trend across social media in recent years as more and more people are getting all their news and entertainment content from social media rather than traditional avenues.
How this change affects social media marketing
Every time we see an algorithm change, we see marketing teams scrambling to adjust their strategy to keep their momentum going. There are some simple steps you can take to make sure your posts are bringing your brand the most value along with this new algorithm, and we're here to tell you how.
FOCUSING ON ENGAGEMENT
We know that engagement is key to the new algorithm but with a minimised reach thanks to all these changes – how can you boost your engagement to get around this?
Killer Captions
The first thing to concentrate on is how you craft your post captions. If you're sticking to short sentences without a lot of options for interaction, you'll be doing yourself a disservice. This is where you have the opportunity to start conversations with your followers – so don't waste it.
Use your caption to flex your storytelling muscles. Don't think of it as an afterthought to your image – they are equally important and should be treated as such. Also, you need to make sure to include questions and calls-to-action in your captions. It may seem obvious, but giving your followers an easy way to engage with you is key to boosting your post.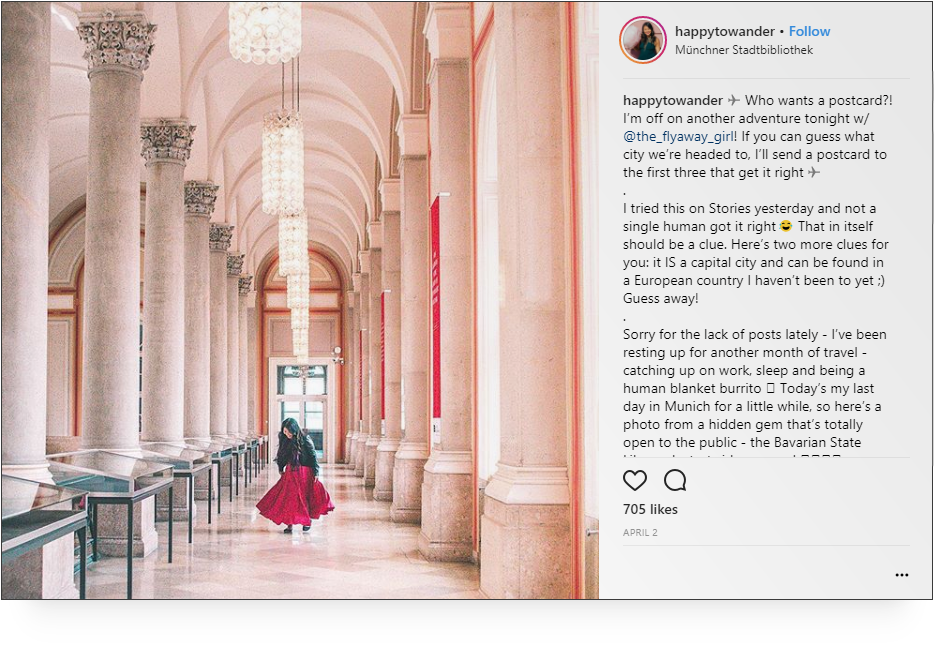 Take a look at the caption above. Posted by popular travel blogger HappyToWander, this is one of her best performing recent posts. Want to know why? Just look at that engaging caption! By asking her followers to guess where she is going, she is telling them exactly what to say in the comments.
The easier you make it for followers, the more likely they are to interact. Also, by creating an air of competition, she's made it even more enticing to join in the conversation. This is a great example of an even greater caption.
Your friendly, neighbourhood Instagram
Imagine it's Christmas Day (or any other big holiday with presents – we don't want to discriminate!), and you wake up to find hundreds of presents under your tree. This is amazing! You feel so great and loved. How nice that all these people decided to give you a gift. This would never happen though if you didn't also give others plenty of gifts too. If you refused to buy anyone any presents, you might still get a few from family members, or kinda awful secret Santa gifts – but it wouldn't be anywhere near as fun.
And when it comes to engagement on Instagram – this same analogy applies.If you send out your post and then sit back and wait for the thousands of comments to roll in – it just ain't gonna happen. But, give, and you will receive.
The more you interact with your community, the more valued your followers are going to feel. The more valued they feel, the more likely they are to engage. Create relationships with your followers, and compliment other accounts that you admire every time they post. The more you do this, the more you'll get back in return.
Also, be sure to reply to every comment made on your own posts. Not only will this help to build those all-important relationships with your followers; you'll also be boosting the engagement rate of your own post in the process. Talk about a win-win situation.
Timing
We may not be back to the chronological feed that users so badly want, but post timing is still very important. The algorithm favors engagement, yes. But, more than that, it favors quick engagement. If you really want to make the most out of your post, you need the engagement to take place as soon as possible after posting.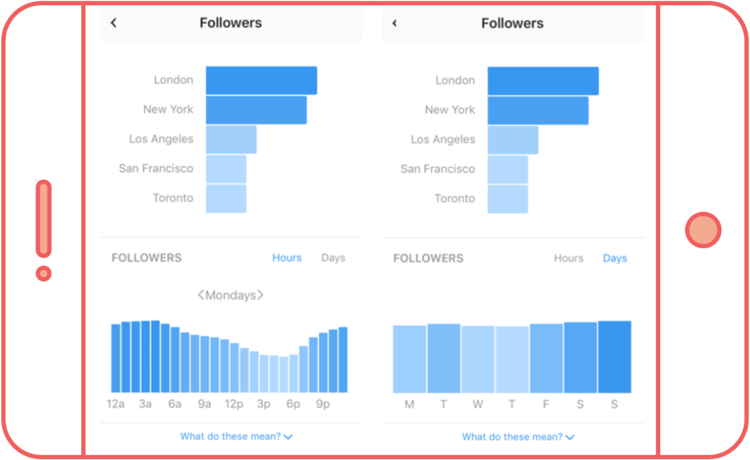 Knowing what days and times your following are most active is essential for tapping into this advantage. If you're posting at a time when your followers are most active, you're giving yourself the best chance of building up those comments and likes as quickly as possible.
If your post receives a lot of engagement right off the bat, this signals to Instagram that you're posting some high-quality content. And they love that. So, you'll find that your post reach will continue to grow and grow as more people see it.
NICHING DOWN
One way to help get your content seen by more people is to work within a well-defined niche. When you keep your content within one particular niche, Instagram's algorithm can better understand who to show it to.
The algorithm keeps track of what kind of content users are interacting with most, categorizing it, and then showing them more of the same. So, if you keep flip-flopping from one niche to another, it won't know how best to distribute your content.
And, of course, with over 800 million active users on the platform, having a well-defined niche is essential so you can stand out from the crowd. Sticking with something that you're passionate about will show when posting your content. People will react to your enthusiasm with an enthusiasm of their own, and you'll start to grow a more dedicated following because of this.
CONTENT TYPES
What type of content you're producing will also have a big effect on the kind of results you receive. As we mentioned before, the time spent viewing your posts is also a big factor in beating Instagram's new algorithm. Simple image posts may not be the best option for growing your brand anymore. Instead, utilising video content and image carousels may be the way to go.
Video
In the past few years, video content has gradually become more and more popular across social media, as various platforms have been favoring it over other forms. Instagram has been following this trend for a while, but even more so with the latest update.
If people are sticking around to watch your whole video, then Instagram will register this and show it to even more people. But, be warned. If you are posting low-quality video content or badly edited content, then this could do more harm than good for your account. So only take this route if you have the necessary skills.
Carousel
Another great option to increase view time on your account is uploading image carousels. This is similar to uploading a photo album on Facebook as you will post a group of pictures all in one place. And, because there is more than one image; view time is going to get ramped up as well.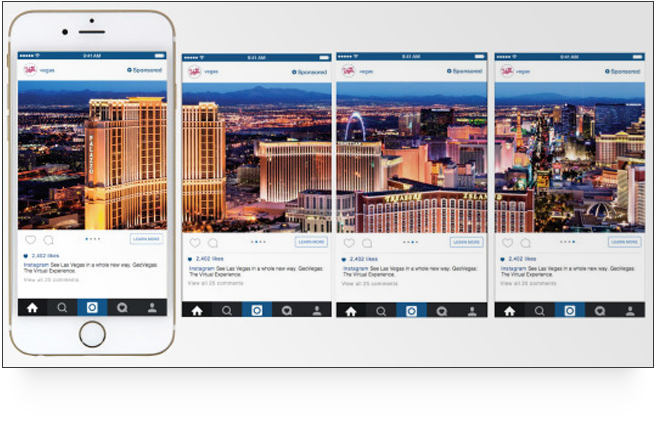 This is a great option when you have a collection of images from an event, or around a new product. There are some brands out there that are really killing this kind of post in inventive and creative ways. Don't just think of it as a collection of images. Instead, think of it as an opportunity to express some creativity and really give your followers something special.
It allows you to post multiple images without spamming your followers feeds, and without messing up the overall aesthetic of your profile. And, if you're feeling really invested – you can even post a video carousel which will really help to keep viewers around for longer.
Influencer marketing and the new algorithm
Anytime there is an algorithm change, the first people to really get a handle on how to succeed despite the changes are the influencers. Growing social media accounts and building up brands is their job, and they're very good at it. And while these recent changes will have made things more difficult for them too – they have a much better chance of continuing to grow than brands do.
STARTING CONVERSATIONS
The algorithm change has seen the reach of business accounts dropping in a similar way to business pages on Facebook. Thankfully, all the best influencers are experts at creating and continuing conversations with their followers. And since engagement is now so important in getting your posts seen – they are much better placed to promote your product than your own brand accounts.
AUTHENTIC CONTENT
The whole reasoning behind these algorithm changes we've been seeing is the desire to fight back against the recent tidal wave of "fake news". People no longer trust brands and businesses on social media like they used to. All because a small handful exploited the opportunities available to them.
This is where influencers have seen the biggest shift. More and more people now trust personal recommendations – even if they are from people they don't know. This gives influencers a kind of power that brands no longer have. And it is this power that helps them to beat these algorithm changes.
The content that influencers put out there is often viewed as more authentic by their followers – even when they disclose that they've been paid.
Utilizing Stories
One aspect of Instagram that you should definitely be utilising now is Stories. These ephemeral images and videos are more valuable than ever thanks to the algorithm changes. So, you need to be including these in both your own marketing and when working with influencers.  
WHY THEY'RE VALUABLE
One reason why Stories are now so valuable is that Instagram is rewarding accounts that take advantage of all it's features. So, if you're posting images, engaging with posts, sending DMs and using Stories – you're likely to see a much higher reach, and faster growth for your account.
Stories are also an awesome way to encourage more engagement on your account. The content you upload on Stories should be less polished than on your main feed. This is where you can really unleash your fun and creativity. The wide range of editing options here makes this much easier than in your main feed. Take full advantage of the stickers, writing, GIFs, and filters.
HOW TO MAKE THE MOST OUT OF THEM
Swipe Up feature
If you have 10k followers or more, you will also have the ability to include the "swipe up" feature in your Stories. This is the only place on Instagram where you can have a direct link to your site within a post. Other than this, you have to direct people to your profile to click on your bio link. This is a super valuable real estate – so be sure to use this as much as possible.
Hashtags
Hashtags aren't just important on your main feed images. Using them effectively will also help to boost the reach of your Stories, and get your brand seen by even more people. Now, when people search for a hashtag on Instagram, not only do they see images that have used that hashtag in their captions, they also see a selection of Stories as well.
Not every Story using a particular hashtag will show up in this way though – so making sure your engagement rates are high will give you a much better chance.
What's coming next?
It would be naive to think that Instagram won't just change up its algorithm again one day soon. This is the digital age, and things move pretty quickly around here. But, based on how things have changed in the past, and taking notice of the rumours that are constantly flying about the internet – we can make some good guesses at what those next changes may be.
RELATED POSTS
Instagram has already been testing out their next feature with certain accounts – so we have a pretty good idea of what it will be.
Right now, user's feeds only feature posts from the accounts they follow and a smattering of sponsored posts for good measure. However, the platform is beginning to roll out a "related posts" as well. With this, users will begin to see content that the algorithm thinks they would like based on their previous activity.
So keeping your content relevant to your niche is going to become even more important in the next few months. If Instagram's algorithm can understand exactly what your content is all about – it's much easier for it to include it here.
The biggest takeaway from this change is that Instagram is following in the footsteps of Facebook and trying to shift the focus onto more personal content. This move away from businesses means that social media marketing is becoming more difficult, but by utilising the power of influencers, brands can manage to sidestep this by working with authentic content.
Keep focusing on increasing your engagement with captivating captions and great content; niche down your account to keep it streamlined, and make sure you're taking full advantage of the Stories feature on the regular. And, if you have any more questions about the new algorithm, or how you can use influencer marketing to boost your brand, then get in touch with us!