Curated Instagram feeds don't happen overnight. They're the result of pre-planning, hard work, and consistently sharing new content. No matter how high-quality and valuable your posts are, without a strategy to develop your aesthetic, you may be overlooked by customers or clients.
"Having a cohesive, consistent Instagram feed not only looks fabulous but will help grow your following as well. People crave consistency, especially on social media," explains Jessica Safko, photographer and creative educator.
With more than 1 billion monthly users, Instagram is an integral platform for marketers and business owners alike. If you're struggling with the look and feel of your Instagram feed, try these actionable strategies to help develop a cohesive brand look.
Establish Your Brand Identity
Brand identity is the foundation of a great Instagram strategy and cohesive look. To get started, ask yourself two simple questions:
Who is your target audience?
What are the key values you want your brand to represent?
Your target audience is the ideal demographic that you want to attract to your Instagram account, while your key values encompass your main mission; what your brand stands for, the essence that you want your Instagram feed to evoke.
Once you determine these two components, it'll be easier to have the look and feel that audience is attracted to because you have a clear idea of who you're targeting and what you have to offer. Then you can shift focus to the style, look, and aesthetic of your account.
Build Your Instagram Style Guide
If you already have a style or branding guide (logo, color palette, typography), you'll want to customize your IG style guide specifically for an Instagram feed. To build your guide, focus on three aspects; theme, color palette, and organization.
#1: THEME
An Instagram theme is the overall motif of your account. A strong theme will not only catch the user's eye but ensure your brand look is cohesive by turning individual pictures into a larger story. Start by brainstorming what you want your theme to be, and keep in mind your brand identity (target audience and key values). Here are a few theme examples:
Dark and moody
Tropical and bright
Natural and soft
Vintage and retro
Sunny and cheery
These are just a few of many directions you can go in. Browse other IG accounts or Pinterest for inspiration. For example, Werrell Woodworks (@werrellwoodworks) creates art, decor, and furniture with different types of natural wood. Their theme, therefore, is natural and minimalist. Their audience is made up of shoppers interested in handmade, one-of-a-kind goods. Their posts subtly reflect this by showcasing their work in natural and warm environments.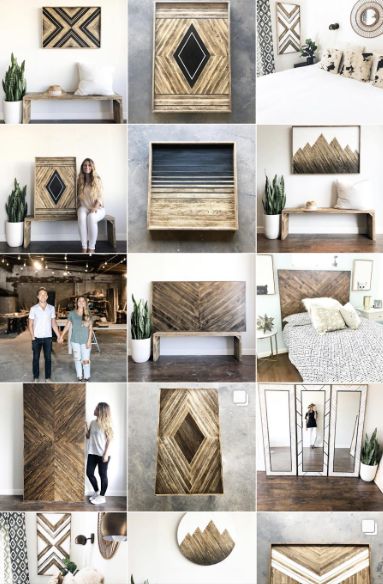 #2: COLOR PALETTE  
Developing a color palette will help you narrow down to a specific look and feel of your Instagram feed. Keep in mind, if you have a style guide this doesn't mean you need to post images with same 2 to 3 colors all the time. Instead, focus on these existing colors as a base, then broaden and extend the palette, including complimentary accent colors.
If you're struggling, check out MavSocial's guide to developing the perfect Instagram color palette. You'll dive deep into tones and examples of color palettes, including monochromatic, neutral, complementary and more.
When your color scheme is consistent, you can gradually change accents colors. Take for example designer Lauren Conrad (@laurenconrad). Her palette is generally soft hazy pinks and bright creamy whites. However during Fall and Halloween, she accented with black and orange, and during the holiday season, she accented with green.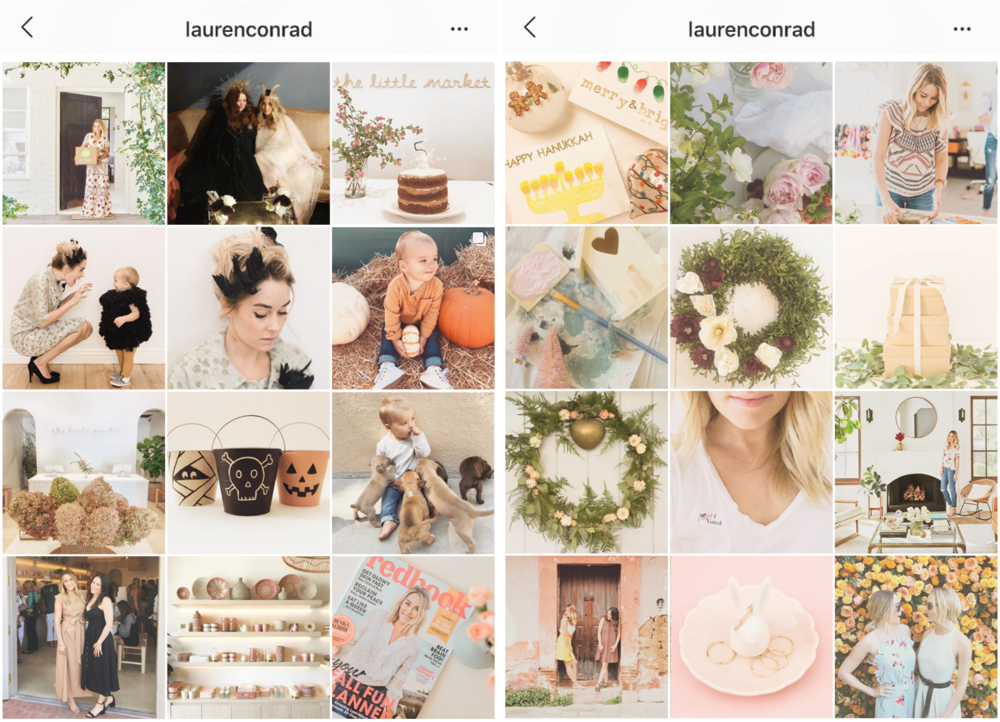 #3: ORGANIZATION
The layout and arrangement of your posts in relation to one another can ensure that your feed is cohesive and on-brand with your desired look. Third-party planning programs such as Later or Plann let you drag and drop posts within your tiled feed to assess the look of your layout before scheduling anything to go live.
This will allow you to spread out images versus branded graphics or videos. Media company Brit + Co (@britandco) intersperses pictures or videos with quote graphics to achieve a checkerboard pattern on their feed.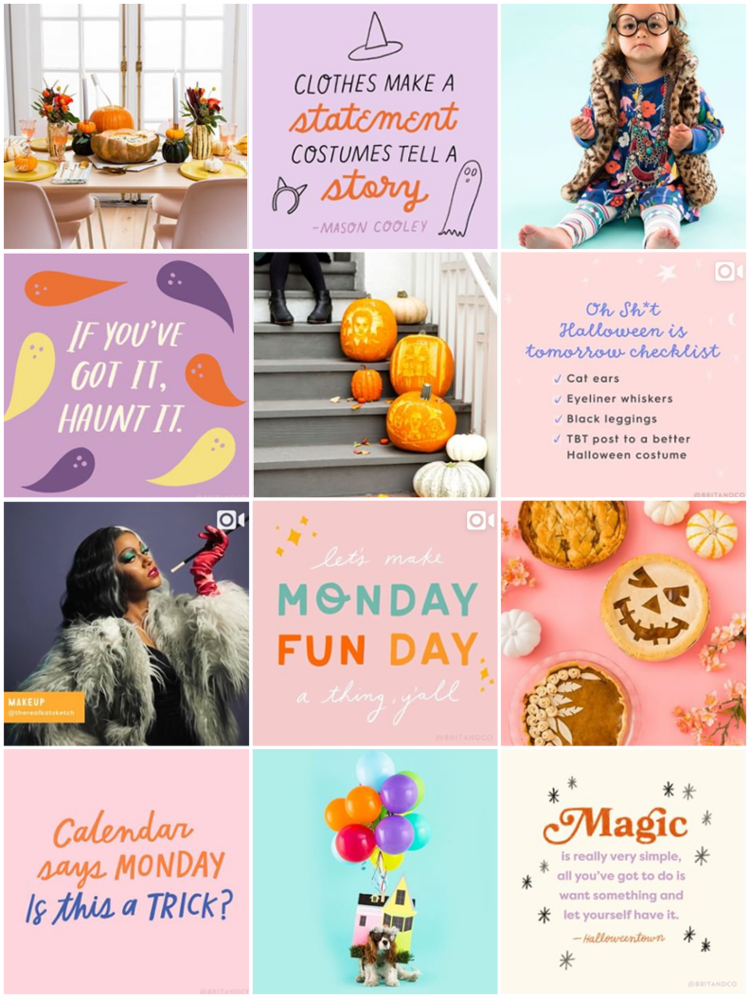 Some accounts even go as far as to create rows and lines that feature different styles or colors. If youdon't feel strongly about a patterned organization of your posts, you can still use planning tools to make sure none of your posts are clashing or hurting the overall cohesiveness of your feed.
Try These Tips and Tricks for Tough Brands
What if your brand can't follow the above guidelines to create an Instagram style guide? Perhaps you need to post a variety of differently themed or colored images to promote your business properly.
Here are a few tips and tricks to those brands, to make sure you still have a cohesive Instagram look.
USE BORDERS
If all of your content is different images and graphics without a unifying color palette or theme, use the same border to tie your posts together. Fashion and food account, Beautiful and Yummy (@beautifulandyummy), uses black borders to unify their content. Fitspo account Barre Boss (@barre_bosse) uses white borders, and photographer Naomi Rahim (@auroradesign) uses all rectangle images with white borders. While all of these images are rather different, you'll notice that their Instagram still has a cohesive brand look.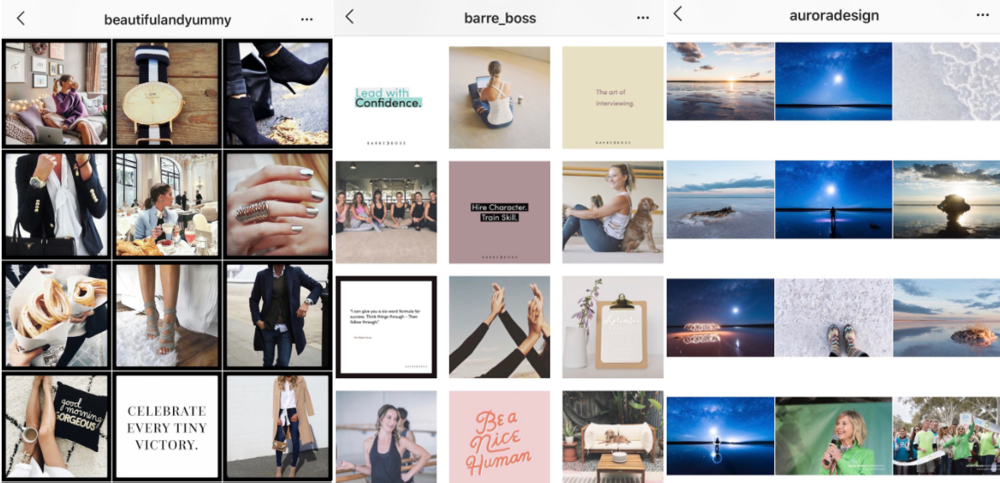 USE COLORS STRATEGICALLY
If your brand's identity is specifically tied to showing every color of the rainbow, focus on showcasing a specific color or color scheme for a certain amount of posts and then move onto the next. This way you don't have to pigeonhole your brand look, but can still keep a consistent Instagram aesthetic.
Color design company Pantone (@pantone) is a masterclass example of strategic color usage on their Instagram. They used orange and brown hues during fall, bright contrasting neon blues and pinks for summer, and for spring—an all-purple phase.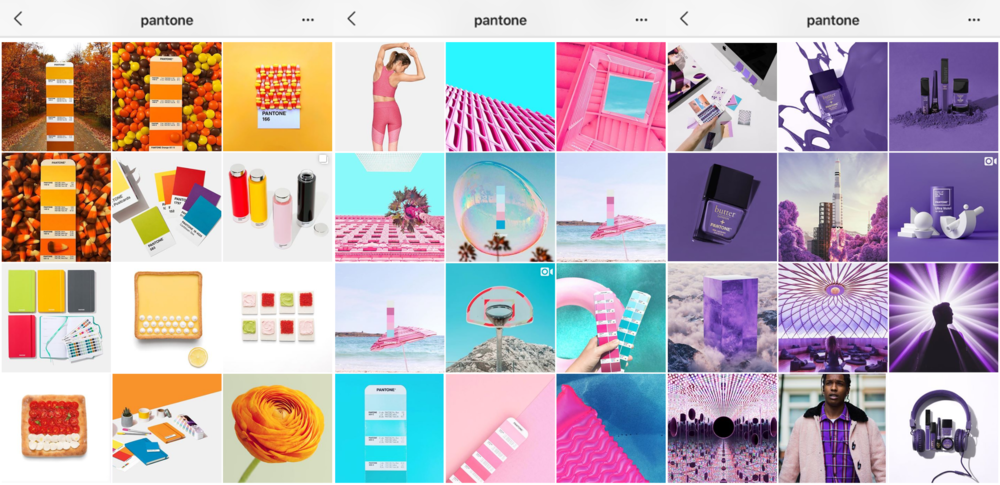 This shows that you can still achieve a cohesive brand look, without a specific color palette, as long as you strategically plan your posts.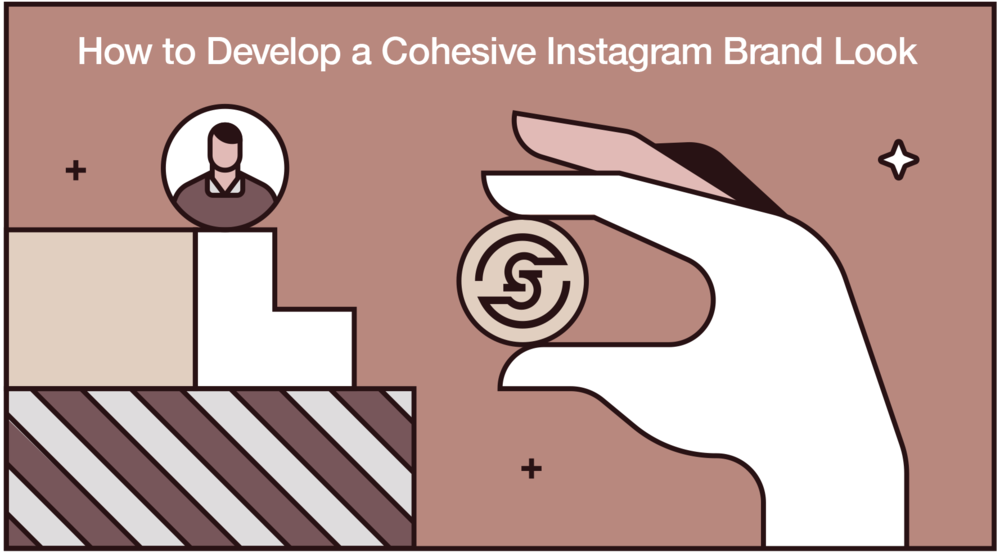 Develop Your Unique Instagram Brand Look
Establishing a brand identity for an Instagram is all about finding what works for your organization's unique style. Remember to first understand your target audience and the key values that you want to promote.
From there, develop an Instagram-specific style guide that you can refer to while posting content to your account. If you can't find unifying themes for your brand look, try using strategic borders or colors to bring together your posts. Once you've developed your brand look, you can focus on providing quality and engaging content.
Jessica Thiefels is founder and CEO of Jessica Thiefels Consulting, a content marketing agency. She's been writing for more than 10 years and has been featured in top publications like Forbes and Fast Company. She also regularly contributes to Virgin, Business Insider, Manta and more. Follow her on Twitter @JThiefels and connect on LinkedIn.