Influencer marketing is tactic brands rely on to reach new audiences and drive marketing results. Do you know that as many as 9 in 10 marketers are now incorporating influencers into their digital marketing strategies? Incredible, right? When The Shelf first became a living, breathing platform, there were a handful of influencer marketing agencies, a handful of platforms, and a whole bunch of questions brands wanted answering. Fast forward to 2022, and there are tons of tools, tons of data, and tons of proof that influencer marketing works. 
So, with us being total experts at building, managing, and optimizing influencer marketing campaigns, we thought we'd create this comprehensive overview of some of the most important aspects of influencer marketing. Plus, we're going to address your FAQs. 😇
We also have an influencer marketing strategy guide that you can check out as well. 
Did You Know Facts About Influencer Marketing?
If you happen to work in the digital marketing space, or you have to run any part of your business through the digital marketing channels (which is most companies), you already know that things change fast in our business. Influencer marketing is not a new invention, but today's iteration of social-media-driven word-of-mouth marketing has really only existed in its current form for about the last decade. 
We love data, and it's always fun to roll out the latest and greatest research, data, stats, and facts on influencer marketing.
Despite a global pandemic, the global influencer marketing industry has more than doubled in value in the last two years, jumping from $5.6 billion in 2019 to more than $13 billion in 2021. 
61 percent

of consumers interact with an influencer at least once a day, and 35 percent interact with influencers multiple times a day.

80 percent

of consumers made a purchase recommended by an influencer through clicking on a link or image that was shared. 

66 percent

of respondents agree that social media plays a crucial role in impacting their decision to consider a brand.

50 percent

of consumers surveyed have visited a website to buy a product or service as a result of seeing it in Stories 

81 percent of millennial women say social media is the best way to reach them.

Studies show that conversions increase by at least

10 percent

for brands that use influencer-generated content in the online purchase path.  
Now that we've established a few important benchmarks, let's talk about everything that has anything to do with influencer marketing. For just a few minutes.
What is Influencer Marketing?
Influencer marketing is a type of marketing strategy where one company, brand, or entity pays an individual who holds a lot of clout on social media to endorse their product. Influencer campaigns are used by businesses to engage consumers with their brands by leveraging the trust, credibility, and reputation of popular social media creators. 
An influencer campaign may be a one-off post on social media channels such as Instagram, Twitter, YouTube, and Facebook. Campaigns can also extend into a series of posts over time on the same social media channels and even with the same influencer(s).
What Makes Influencer Marketing So Effective?
Influencer marketing works. In fact, if you polled 100 marketers, at least 80 of them will tell you influencer marketing is as effective, or more effective, than the other marketing tactics they have used.
There are three main reasons why influencer marketing is so popular among brands that want to market their products or services: 
Influencer marketing offers a level of authenticity and relatability that other marketing tactics have a hard time replicating.

The proliferation of social media has made it easy to spread the word about a brand or product (and its benefits) with just a single click. 

Influencer marketing is a cost-effective way to expand your audience, get real-time feedback on the effectiveness of live campaigns, and create a catalog of reusable marketing assets without having to bring in a creative agency all the time to do the work. 

Influencer Marketing Trends for 2022
So, what will influencer marketing look like for the next year? We actually created a post that lists the 17 big influencer marketing trends of 2022. Here are five important trends from that list that we're watching. These will directly impact your influencer marketing in 2022. 
Brands will start putting more money toward podcast influencer marketing.

It's inexpensive, it's an easily accessible method of cross-channel marketing, and it has a growing base of attentive listeners.

Influencer contracts will become more nuanced.

During the events of 2020, it was influencers who led the charge toward establishing the new normal. They served as impromptu online community leaders and connectors who kept us all emotionally afloat. That shift permanently changed the dynamic between influencers and brands.

Diversity, Equity, and Inclusion are the new standards.

Brands are working hard to shift their corporate cultures, and especially their influencer marketing strategies to ensure campaigns resonate with more diverse audiences.

Live shopping will increase.

Pinterest just unveiled Pinterest TV, a shoppable, episodic live streaming platform that allows Pinterest creators to engage with their audiences in real-time. 

Platforms are making it easier for creators to collaborate on their platforms.

Not only that but it will be easier to recognize collaborations and brand sponsorships when you see them. Instagram's rolled out multiple features that will make it easier for content creators to collaborate with other creators, share content and engagement metrics. The features also highlight sponsored content in a way that's cool and desired, not in a "Skip Ad" kind of way. As is the way with social media networks, if one network launches a significant feature, others will follow suit. 
Tips for Building Your Influencer Marketing Strategy
Building an influencer marketing strategy is not an easy job. A lot of marketing teams are surprised when they discover how much time and effort (and other resources) it takes to run a successful campaign. 
The truth is it just takes some know-how and experience to put together an effective influencer campaign. And there are a lot of moving pieces, right? 
You have to figure out what you want the campaign to accomplish, find the right influencers, ship out their product and set up some creative guidelines, you may even need someone to come up with creative concepts, track packages, assign pixels, monitor the campaign, see what's working vs what's working REALLY well, optimize for best ROI… It's a lot to manage, and it takes some practice to do it right.
One of our account managers describes the process of finding influencers for a campaign as a puzzle she can't wait to solve. Marketing geek stuff. But for the 75 percent of marketing teams who are knee-deep in the process of influencer selection, they say it's way less of a puzzle and much more of a challenge. Perspective.
You can take the process from being a challenge that's giving you ulcers to being a puzzle you love solving by having the right tools to streamline the process of building and rolling out an influencer campaign. 
And by identifying which of your team members use the word challenge vs which ones use the word puzzle to describe different aspects of setting up an influencer campaign. 
It requires a lot of time and effort to be successful. But with the right steps, anyone can get baller results.
Step 1 is to set a goal for your campaign. 
There was a time when we were extolling the virtues of setting goals for your influencer campaign, but by this time, most marketing teams understand that you can set goals for influencer campaigns. So, that's always the first thing. 
Why? Well, your campaign goals shape everything from your influencer selection process to your whitelisting strategy. So, you want to identify your goal as part of the campaign planning process. What do you want to achieve? Who are you targeting? What are your expectations? When you know what you want your influencer campaign to do, you can structure it to achieve specific goals. 

Step 2 is to choose your target audience. 
This one seems simple enough, but for influencer campaigns audience targeting is essential. For instance, we recently ran a campaign for a well-known business directory. While the user base for this particular company is global with a presence in dozens of countries around the world, the influencer campaign we ran for them specifically targeted African Americans in major U.S. cities. Why? Because the campaign goal was to get more users enabling a new feature that helped people find Black-Owned businesses. The goal dictated the target audience. 
Step 3 is to identify the right marketing channels to reach your audience. 
Assuming you've already selected an influencer marketing company to help build and manage your campaign, the next important step is identifying the right channels for your influencer campaign. Channel selection takes into account where your audience spends time online as well as the product ro brand you're promoting in your campaign. 
Let's deal with the audience targeting first. When your target audience spends time online, where do they go? Are they more likely to be on Instagram or Twitch? Pinterest or LinkedIn? And how do they typically consume content? Do they prefer videos or pictures when it comes to your topic? 
Then as it relates to your product or brand, you have to figure out the best way to communicate the value of your brand. Clothing retailers usually have display windows because styling different pieces as part of an ensemble is a good way to sell clothes. 
Whereas SaaS companies usually need to demonstrate the value of their products with explainer videos that include walk-thrus of the dashboard or screenshots of different features. Demos are a normal part of the regular sales process. 
On the other hand, when it comes to dietary supplements or different types of financial products or insurance, brands usually need to explain the value of the product because that's the best way to communicate its utility.
So, what about your product? What is the best way for people to understand the value of your product? And how can you tie the medium to the channels where your audience is spending time? 
Step 4 is to find influencers who can help you accomplish your campaign goals. 
So, after you know what you want to accomplish, who you're targeting, where you'll run the campaign and the type of content you need, you can use that info to figure out the basic criteria your influencers need to have. Ideally, you want to choose creators who are already talking about your brand and using your products. But you also have to loop all those other elements into the mix, too, along with demographic and psychographic data, creative skillset assessment, and an analysis of the influencer's audience to estimate how much of their audience really is a potential buyer for you.
Types of Influencer Marketing
Now, let's talk about the different types of influencer marketing you can do. Influencer campaigns can usually be categorized as either brand awareness pushes, click-focused campaigns, or campaigns to get content that the brand can repurpose. So, in this section, we'll explain the difference between these three types of campaigns and provide a few examples of the different ways these campaigns can be structured. 
Brand Awareness 
Brand Awareness Campaigns work best when your goal is to introduce a new product when you're rebranding when you're trying to present a value prop to interrupt someone's intention to keep buying their regular brand. 
          Host Giveaways
Freebies are a good way to get eyes on anything, right? Most of us have seen different influencers or brands announcing giveaways in their feeds. Giveaways are a good way to grow your following on social media since eligibility to enter the giveaway usually requires people to follow the brand, tag a friend, opt into an email list, or something like that. Giveaways also provide a good way for brands to engage with their audiences and get feedback on products, promotions, and messages in real-time. 
           Gifting
Gifting is another way to build an audience on social channels AND get multiple people talking about your brand or product in a short period of time. Gifting can be trickly because the value of the gift needs to be in line with an influencer's existing rates AND be something an influencer would want or need. Most influencers will expect monetary compensation of some sort, especially if you're negotiating reuse rights. 

But it's a valuable technique known as product seeding. After receiving the gift from a brand, the influencers share their reactions through amazing content posts online. This will help kick start a campaign. Besides this, the technique will also help build relationships with the influencers for a longer period. It is the opportunity for the brands to get a first and honest review of their product. When the influencers love something, it will turn into a positive product review that will convince other people to make a purchase.

Plus, you can increase the sales by providing the influencers with a product link or coupon code that can be used by the people while making the purchase to get certain discounts. The technique also benefits the influencers as they get a certain amount every time there is a sale.
           Social Media Takeover
This type of influencer marketing is highly preferred to increase brand exposure and provide the audience with some interesting content. Social media takeover, and especially an

Instagram takeover

happens when a brand allows an influencer to create content specifically for the brand's feed and audience for a set period of time. The goal is to widen your audience by partnering with an influencer who knows how to create compelling content that will live in your feed instead of theirs. 

Takeovers can help you promote events and offers by incorporating interactive features, contests, share selfies, Q&A to engage the followers. Takeovers can really boost your brand awareness efforts.

Content-Focused Campaigns
Content Campaigns are best when your goal is to get a ton of influencer-generated content to reuse across your branded channels and in online and offline ads. 
Social Media Content
This one can take all shapes as any content created – whether for a brand lift push or to get clicks – can be reused and repurposed across your own accounts. 

Click-Focused Campaigns
Traffic/Clicks Campaigns work best for increasing site traffic, growing your list, getting sales and when you're also running retargeting campaigns (and need prospects to see your brand a few more times to stay top-of-mind)
Affiliate marketing
So, brand affiliates are content creators who earn a commission from every product sold using the influencer's customized links. Affiliate marketing is usually a big part of brand ambassadorships. Influencers can get discounted products plus they earn money for the products they sell. 
Unboxing and Review
Unboxing videos are popular, from kids to the over-55 crowd. In fact, they're so popular that YouTube is beginning to unbox videos targeting kids as part of an effort to keep kids safe from unethical practices online. But kids LOVE unboxing videos as much as the rest of us.
Influencers use unboxing and reviews to provide their audience with honest feedback in the form of unfiltered first impressions of the products they receive in the mail or buy in stores. 
Unboxing videos really just need to highlight the value of the product and be created in a way that's appropriate for the viewer. 
For instance, 2 in 3 Baby Boomers watch YouTube learn about new things and save themselves time. But when it comes to unboxing videos, they prefer product specs and facts over editorial-focused user opinions and experiences. 
Influencers to make things better can add a link to the brand or the products on their Instagram or other social media platforms to make it easy for the audience to make a purchase.
Sponsored Blog Posts
Blogs have a much longer life cycle than social media content – years versus days, in most cases. So, blogs can provide consistent traffic for brands for months and months. So, companies will partner with influential bloggers to create content that incorporates their products. 
Sometimes sponsored blog posts are dedicated posts that only feature one brand. At other times, they're posts that incorporate multiple related brands into one post. 
The value of a sponsored blog post is that it can help drive traffic back to a sales page or product page on the brand's website in the form of affiliate links, discount codes, or VIP access to different events that you can only get by clicking through from the blogger's post.

Influencer Marketing Helps to Build On Your Established Online Presence
So far, we've given advice and tips on how to build influencer campaigns that will help you grow your online audience, drive traffic back to your site, and even get a variety of content that you can drop into your own social media feeds. But the assumption here is that you already have the basics covered. What are the basics? Well, having an online presence in the first place!
It's not impossible, but it is improbable that you'll be able to build a strong online following without establishing your presence on at least one social media channel. If you plan to run influencer marketing campaigns, some of the most commonly used ways to measure the ROI of influencer marketing include getting more followers and that more social media users are talking about your brand on different platforms. So, having a presence on social media is an important part of your success with influencer campaigns. 
How to Reach the Right Influencers
Finding the right influencer partners is a legit mystery for something like 75 percent of the brand and marketing teams that are planning influencer campaigns. It's tough for brands to spot influencers who have a bunch of fake followers (50 percent of brands polled say this is a challenge for them), they're not sure how to price influencer services as the cost of influencer partnerships continue to increase (38 percent), there are brand safety and alignment issues that post a challenge (28 percent), then there are processing payments (48 percent) and making sure influencers are delivering content on time (49 percent).
It's a lot to manage. But there are ways to go about figuring out which influencers to choose for brand partnerships. We already covered a few of the factors that go into determining the criteria for your influencer selection process. These include:
Knowing your campaigns goals

Knowing what kind of content you need for the campaign

Understanding which social channel will deliver the best ROI

Knowing who it is you're targeting
But like we said earlier, there is also demographic info to factor in:
Age

Gender

Marital status

Family size

Race/ethnicity

Background

HH income

Location

Language 
        Then there are performative and behaviors elements to consider: 
Follower count

Reach

Engagement ratios

Types of engagement

Platforms on which influencers are most active

Topic, quality, and frequency of posts

Previous partnerships

Categories of actual authority

Brands they mention or shop

Topics they cover on other social platforms

The price range of the brands they mention

Hashtags most frequently used
         And, of course, creative assessments that will need to be done:
Storytelling

Aesthetic

Quality of content

Audience sentiment

Level of creativity

Values

Relatability

Influencer personality

Lighting

How they engage with followers
Now, we would be remiss if we didn't let you know that influencer selection is a time-consuming process. We actually have designated researchers on our team who use our proprietary influencer marketing platform to find the right influencers for the right campaigns. You'll need tools to do the job right. And fast.
How to Track the ROI of Your Social Media Influencer Marketing Strategy 
So, here's where the rubber meets the road. Campaign ROI is a touchy subject for a lot of brands. Something like 80%+ of marketers has tried influencer marketing. But a full 25 percent of them saw ZERO return on their investment. 
Nothing wrong with influencer marketing – it's an effective strategy for turning Likes into leads. But that's only true when you understand that the success of your influencer marketing campaign hinges on all the other stuff we covered in this post. 
Aside from properly structuring your influencer campaign, the most important thing you need to know is how to track, optimize, and measure the results of your influencer campaign. We talked a little earlier about the importance of making your campaigns trackable by creating pixels and branded links that each influencer can use to track engagement when traffic is driven off the social platform. 
Key influencer marketing metrics to track based on campaign goals
Track your results based on the goals you want to achieve. Here are the most important metrics for each type of campaign:
For Brand Awareness campaigns… 
Reach and impressions measure how many times your campaign showed up in people's feeds.

Engagement (likes, comments, saves, shares, taps, and double-taps) measure the number of times someone stopped to DO something with your content

 Views measure the number of times people watch a video (for at least 3 seconds, usually)

Followers measure the growth in your audience size that happened during and immediately after your campaign

Brand mentions measure the number of times your brand has been mentioned or your branded hashtag used as a result of your influencer marketing campaign
For Click-Focused campaigns…
Link clicks and swipes measure the number of times someone used one of your links (or affiliate links) to learn more about your offer on a different platform, usually an influencer's blog, a sales page, or the product page

Site traffic measures the uptick in site traffic either to your product page or the influencers' sponsored blog post about your product. 

Promo codes will help you track the number of users who saw your campaign and took an action by using a promo code during the checkout process. And if you created different promo codes for each influencer, you'll also be able to determine which influencer sent the most buyers your way.
For Content-Focused campaigns…
Engagement (likes, comments, saves, shares, taps, and double-taps) measure the number of times someone stopped to DO something with your content

 Views measure the number of times people watch a video (for at least 3 seconds, usually)
These two matter because if you're going to repurpose content, you want to repurpose content that's proven to resonate with your audience. Also, knowing which pieces of content garnered the most engagement will help you identify which influencers may be good partners for similar campaigns in the future. 
Optimizing Influencer Campaigns for Better and Better ROI 
Keeping an eye on the results of a campaign is an important part of tracking your results. That's because you'll be able to spot trends as they emerge. For instance, you'll notice it when the content of a few influencers is outperforming the rest of the campaign content. So, you'll know which content you should support with a paid strategy that will get your best-performing content seen by more larger audience. 
Final Words About Launching a Successful Influencer Marketing Campaign in 2022 
It took us about 4,000 words 😊but I think we summed up the important aspects of launching an influencer campaign in this post. If you're interested in something that digs a little more into influencer marketing tactics, we have another post (about 8,000 words) that will walk you through whitelisting strategies, repurposing content, campaign logistics, and all sorts of stuff.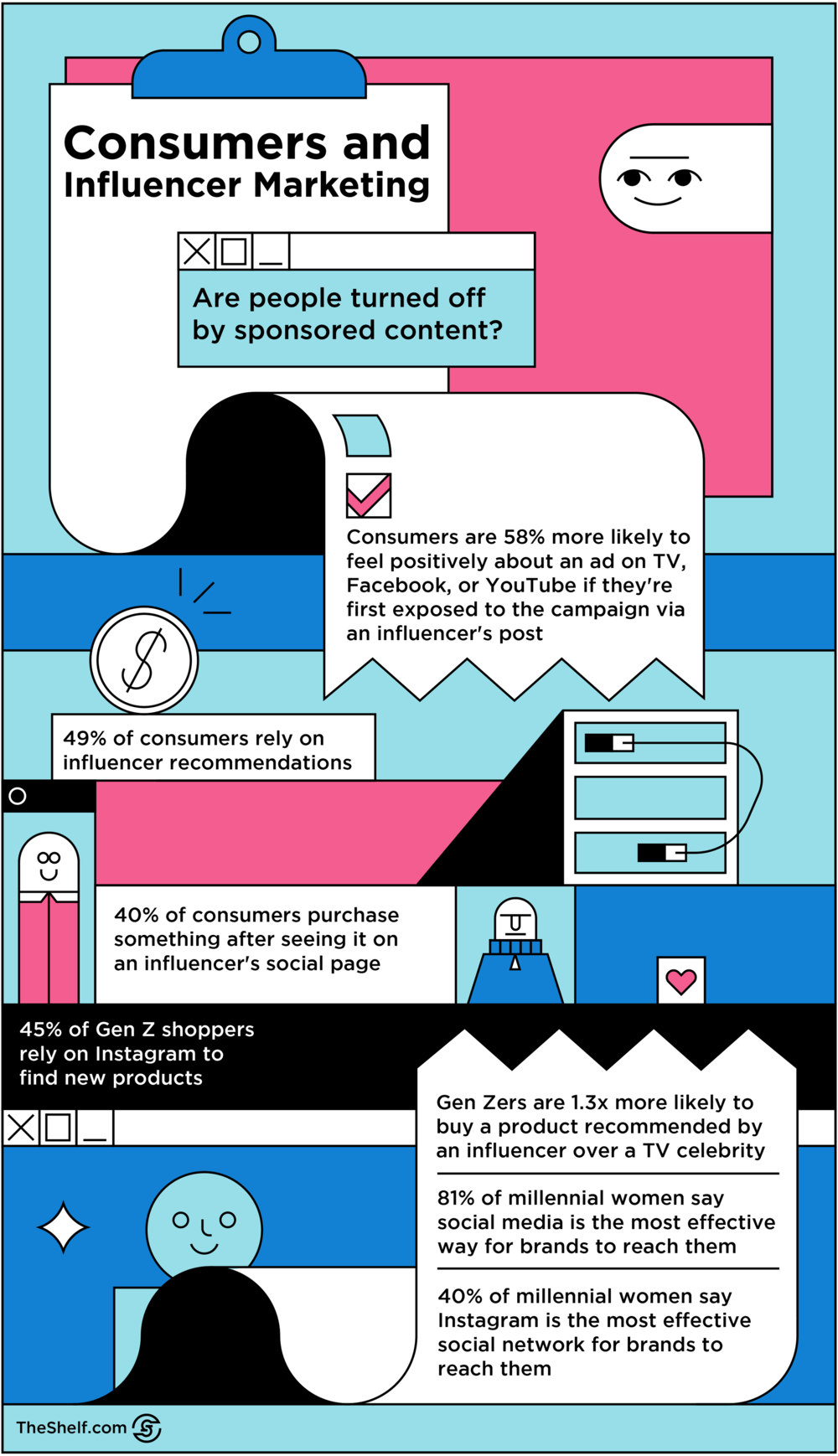 Suffice it to say that influencer marketing campaigns work best when they are created within the context of your marketing ecosystem – your audience, your product, your brand persona, your product price… all these things shape how, when, and where influencer marketing happens. In 2022, influencer marketing is all about being responsive.