Everybody's talking about the last cool video they watched (or is that just me?). If you've been paying attention, you probably noticed that these days A LOT of this chatter revolves around TikTok videos (easy to spot because the TikTok logo is usually visible in the corner of one of these videos).
Justine, ¿pero para qué necesitamos OTRA red social?
Good question, me. (Sometimes I talk to myself in Spanish.) The answer is I don't know why we NEED another social platform.
What I do know is TikTok is big business, has a HUGE following, and is the go-to place for hilariously, light-hearted nonsensical videos.
Finally, a community where we can all go to chill. Not argue. Not be scared to death by headlines. Not hate-Like the vacay pics of a girl you knew from high school… and who you're also still following, somehow.
Whether it's people sharing their day-to-day lives or someone recreating how people cook in anime, TikTok is becoming the go-to place to find (and make) creative, funny, and offbeat content. Maybe it's what Creatives are doing for fun after work.
First things first…
What is TikTok?
TikTok defines itself as the "leading destination for short-form mobile videos." And… they totally NAILED IT. TikTok is all about videos.
By 2022, 82 percent of the traffic generated on the Internet will come from videos. There's no escaping video content and TikTok knows it.
Think of TikTok as a mix between Vine (R.I.P.), Twitch, and Snapchat. When you download TikTok, the first thing you see is a video that takes up all of your screen. It comes with some catchy song and almost always, people are doing funny things in front of the camera. These videos are between 15 and 60 seconds long.
Of course, the video app also offers an editing toolkit, filters, effects, and an extensive music library.
A Super-Cool Origin Story
Here's the story of TikTok.
TikTok is owned by Bytedance, a Chinese company and unicorn startup. Just this past year, it surpassed Uber as the MOST VALUABLE TECH STARTUP IN THE WORLD (it's worth $79 billion dollars… are these still called startups?).
Bytedance bought Musical.ly, which was already popular in the US and Europe, to merge it with an app it had already launched in China called Douyin. In 2017 Douyin and Musical.ly merged and launched as TikTok in markets outside of China. In China, the app's name is still Douyin.
Like Snapchat, the nature of the trends in TikTok is pretty short-lived. What could be popular on YouTube for weeks, is popular on TikTok for some days. It's a here today, gone today sort of thing.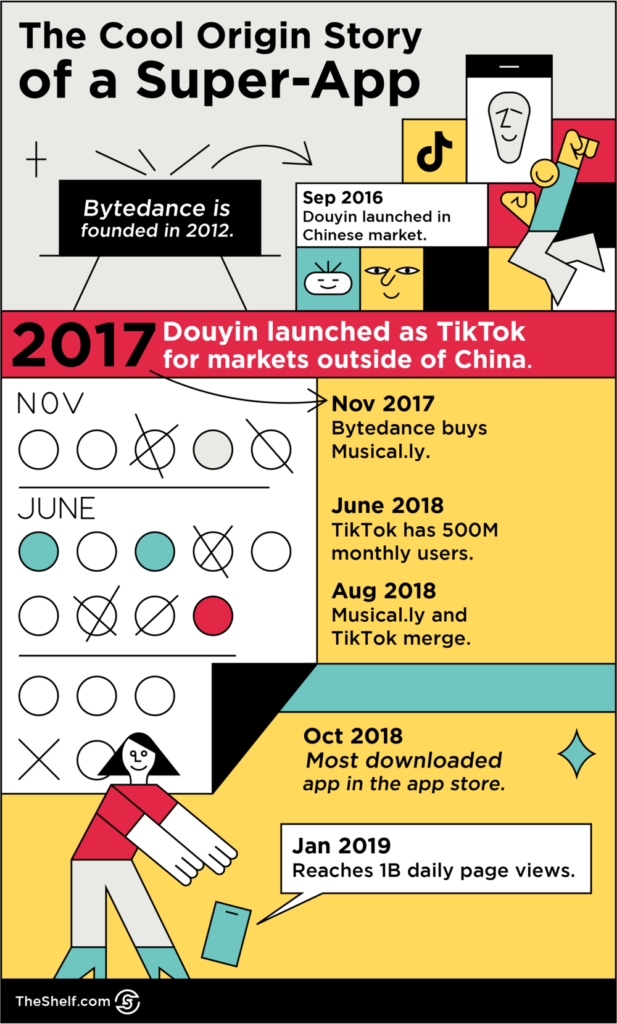 Courtesy of: The Shelf Full-Funnel Influencer Marketing
COPY AND PASTE THIS 👇 CODE TO EMBED THIS ☝️GRAPHIC.
Who Uses TikTok? (and why don't I understand anything that's happening on there?)
You're old. I'm kidding. Ish. In just two years, TikTok has accumulated more than 500 million users worldwide. To give you a little perspective here, Twitter has around 321 million monthly users, and Twitter doesn't seem to be growing anymore.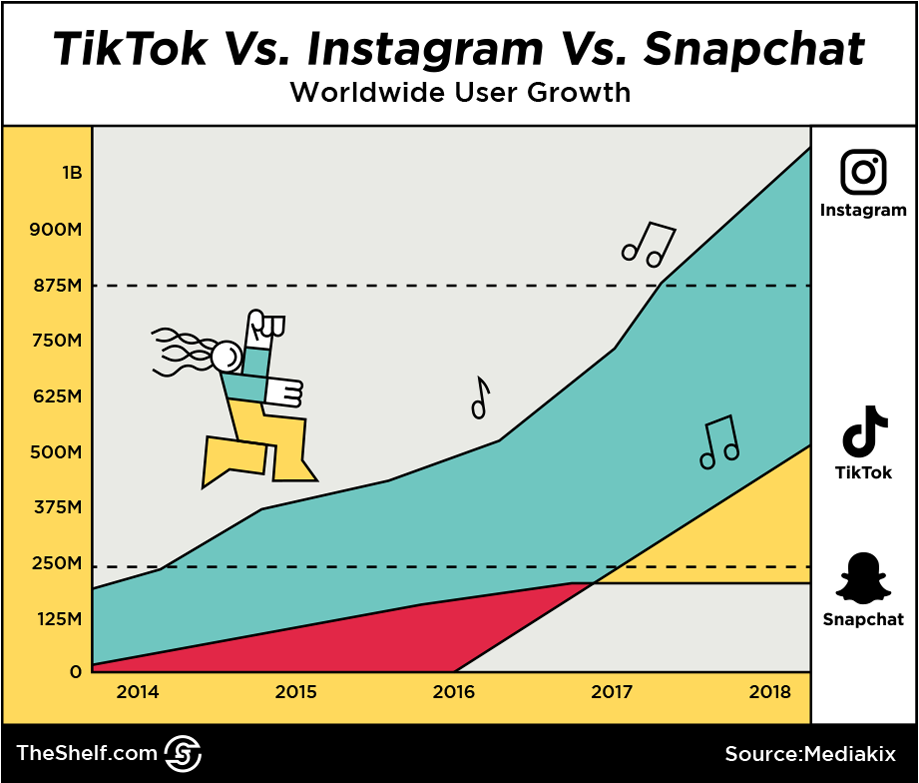 If you still think it's not that much, 2.1 billion people use Facebook + Instagram + WhatsApp + Messenger every day, on average. So, three years in, TikTok already has a quarter of what Facebook has… and it's just the one app!
In the US, 96 million people use TikTok. And although the app has been growing in different markets around the world, in the US, the monthly active user audience grew by 30 million after TikTok was launched. At 25 percent, growth of TikTok in the US has surpassed worldwide growth of the app (20 percent).
TikTok has been downloaded more than Snapchat, Instagram, YouTube and Facebook in the US!
So yes… you probably want to seriously consider TikTok.
IS IT ALL YOUTHS? PRETTY MUCH… YEAH
Yes, TikTok is super popular with teenagers (a.k.a. Gen Z), so maybe that's the reason you don't get the cringe humor in there. But it's not all school kids.
(Cringe comedy… think socially awkward like Buster Bluth's weird thing with the two Lucilles on the TV show Arrested Development or everything about Michael Scott from The Office.)
Forty-one percent of Tiktok users worldwide are between the ages of 16 and 24 years old. In our post about Gen Z teens, we talked a bit about how important social media is to younger buyers. They know that certain validation will come from the content they put out there. TikTok makes it easy for them to create authentic content that's a good representation of themselves.
Should Your Brand Build a Presence on TikTok?
Glad you asked. Like most social media platforms, TikTok is all user-generated content. But, unlike Facebook or Instagram where most of what shows up in your feed is from the people you know, TikTok is more focused on introducing users to new content.
Ding! Ding! Ding! Jackpot!
TikTok users are getting hours and hours of quirky, free entertainment… and lots of chances to be discovered by other users and rapidly growing their own follower base, an opportunity that seems to be all but lost on other popular social media platforms right now.
The content created is, most of the time, very niche. Very "had to be there" in nature. You'll find pet lovers, drag queens, comedians, food lovers, and every niche you can imagine. So, if you're angling to create an account in TikTok, think about how you'll appeal to users in other niches, and how your brand aligns with TikTok communities that already have a lot of eyes.
Another thing about TikTok that will be of interest to marketers is that they give everyone the same chance (and the same tools) to create their own content. The company's mission is to "[empower] everyone to be a creator directly from their smartphones, [and] building a community by encouraging users to share their passion and creative expression through their videos."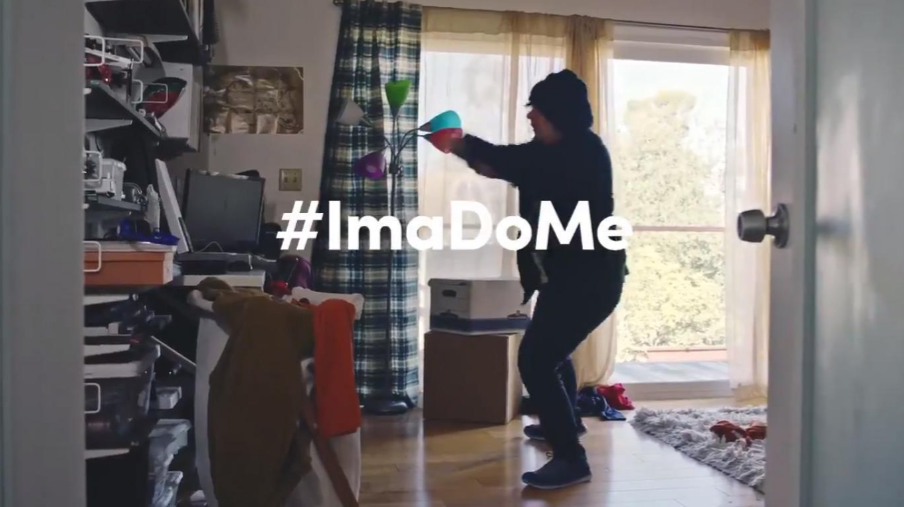 Here's the biggest difference between TikTok and other platforms: While a lot of people go to Facebook and Instagram to see what their friends or celebrities are up to, with TikTok most people in the US and UK go to see others' creativity… and to be seen themselves!
As the global marketing manager of TikTok US, Stefan Heinrich, said "[users] aren't just watching. They're creating in response."
With filters, music, effects, and other tools, users can experiment with their content in a lot of ways. This also means that users spend more time within the app, without having to go to another app to edit their content (like YouTube, for example).
This is also the reason TikTok is growing among older audiences (and by "older audiences" I really mean fun and older!).
TikTok: The Basics
For brands, the possibilities of leveraging TikTok as a platform to grow your UGC and reach new audiences is pretty sweet in that brands have the same opportunities as normal users. (Translation: You don't have to learn your way around the dashboard of an Ads Manager.)
TIKTOK FEATURES
With TikTok, interaction works the same way as in other platforms. You can follow, share, like, and comment on videos. But, TikTok offers some other really cool features that make using it downright addictive.
Duets
One of the most popular features of TikTok is Duets. With this feature, people can record themselves using a video created by another user in half of the screen. The end result is a mix between a video already done and the new one created by someone else.
Real-Time Reactions
Another feature is the video reactions. With this one, users react to videos already posted in the platform "in real time" while they're recording themselves. It's like a loop of creation and remix.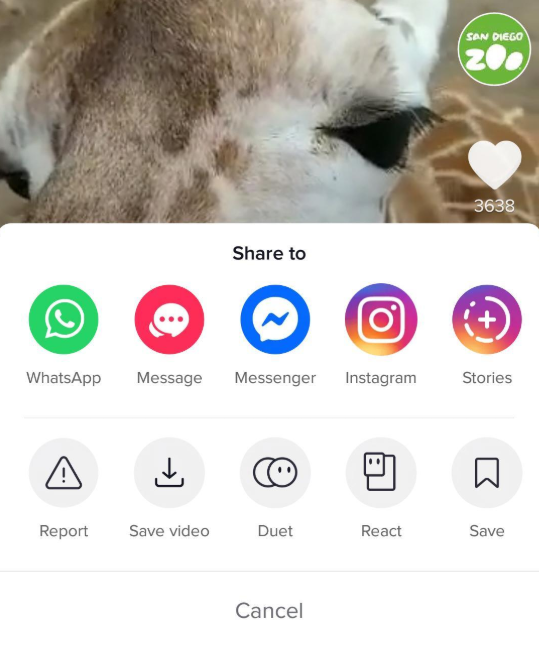 Sharing
Oh, and unlike other social platforms, where it's super difficult to download the files of the videos, on TikTok you can easily download them and send them on WhatsApp, for example. That's why there are a lot of TikTok compilations on YouTube.
Verified Accounts
Verified accounts are also available. If you're a popular creator, you also get a badge. Prolific creators (or anybody, since I checked and I can do it, too) can also create Pro Accounts. If you must have a dashboard to feel accomplished, the Pro Account gives you access to our favorite thing ever – insights. It feels very similar to Instagram for Business and you can have numbers of your community, views, and traffic sources. Also, it's very easy to set up.
Music
If you want to jump right into creating content, the first thing you have to consider is the music. Music is what moves almost all of the content in TikTok and picking the right sound or song can make or break the popularity of a video. Don't worry, you can choose from a huge library that looks like a hybrid between Apple Music and Spotify.
If you want to create content that reaches more people, go for the viral or trending songs.
The next thing to keep an eye on are the trends. There's a specific part
Trends
here's a specific part of the app where you can check all the trends that are currently popular on the app (there's also a desktop version you can check).
According to DigiDay, TikTok has been sending newsletters to media companies so they know beforehand what will be trending on the app the following week. This way, media companies can plan their content around specific trends.
Kind of easy, huh?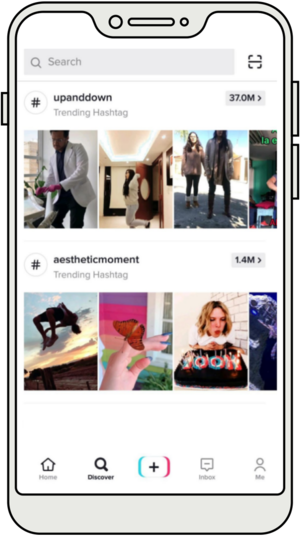 Trends on TikTok can inspire your content
Trends mostly use the same sounds and music and revolve around the same topics or dynamics. Do you remember the Karma is a b*tch videos you saw everywhere? Remember how all of them used exactly the same music? Well, now you know why. Users can use the same sounds to create their videos and be part of the trend.
TikTok also has a library of effects that people can use for continuity of content when they're taking part in a challenge or fueling a trend. This is actually one of the reasons people compare TikTok to Snapchat. The difference is that, while trends are temporary in TikTok, all the content you create stays in your profile. This way, people can rediscover your content even after trends have passed.
AND some videos are featured at the top of trends when they're really popular.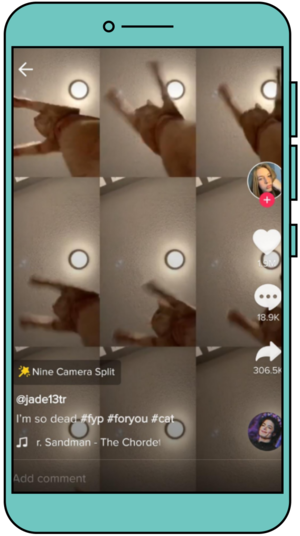 The NFL Just Joined TikTok
Some of the most popular trends are also challenges. For example, the NFL is running a challenge now called #WeReady in which the segment of TikTok users who are also NFL fans could show love for their teams ahead of in the days before the start of the regular season on Sunday, September 8, 2019. Users could see how many views the challenge has publicly, which can make for some interesting benchmarking.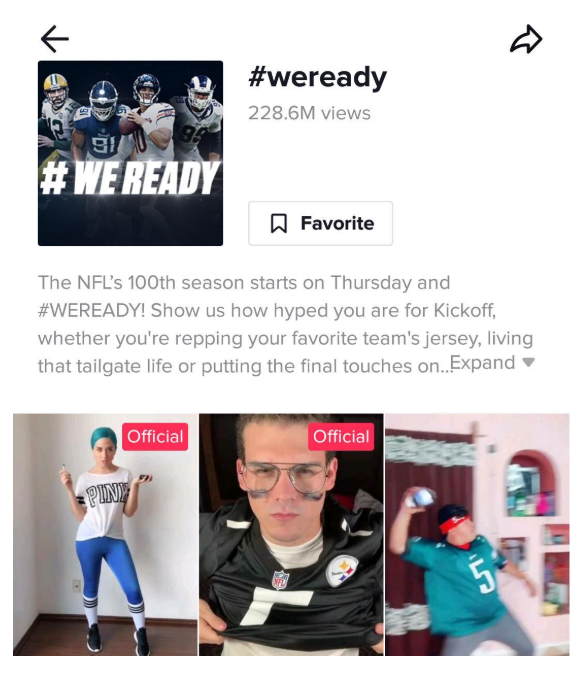 Challenges can be sponsored by brands, sure. But, if you happen not to be the NFL with the ability to instantly conjure up a competitive spirit, you'd probably get more traction by letting one of the platform's popular creators be the face of your efforts. brands collaborating with popular creators. Which brings us to the next point…
Using Content to Build Brand Awareness in the Magical World of TikTok
Content in TikTok is goofy, natural, and looks (doesn't mean that it is) improvised. Stefan Heinrich declared that a lot of content created and consumed in social platforms strives towards perfection. We all see perfect Instagram photos, for example. But now, with TikTok, you're getting to see the normal, real life of the creators.
Right now, there simply isn't a whole lot of pressure to build big social followings or create super-viral content on TikTok. People are just there to have a good time. Sure, you could be the life of the party, but nobody's requiring you to do it.
The platform is still new and marketers haven't ruined it yet. Haha. But brands and marketers are still trying to get a handle on the platform and figure out the best way to use it. Although ads have been tested and some users say they've already seen some, not many users will have access to this feature yet.
OPTION 1: Create a Challenge
Maybe you're not ready to dive into TikTok but you can think of some other ways to test the waters.
Try a light approach like the campaign #DanceForChange from the United Nations' International Fund for Agricultural Development. Along with super famous choreographer Sherrie Silver and singer and songwriter Mr. Eazi, the UN asked people to learn the choreography for a particular dance then GO FOR IT! The results would be used to remind world leaders of the importance of investing in long-term solutions for agriculture. Right now, the total number of videos made for this challenge have 98 million views.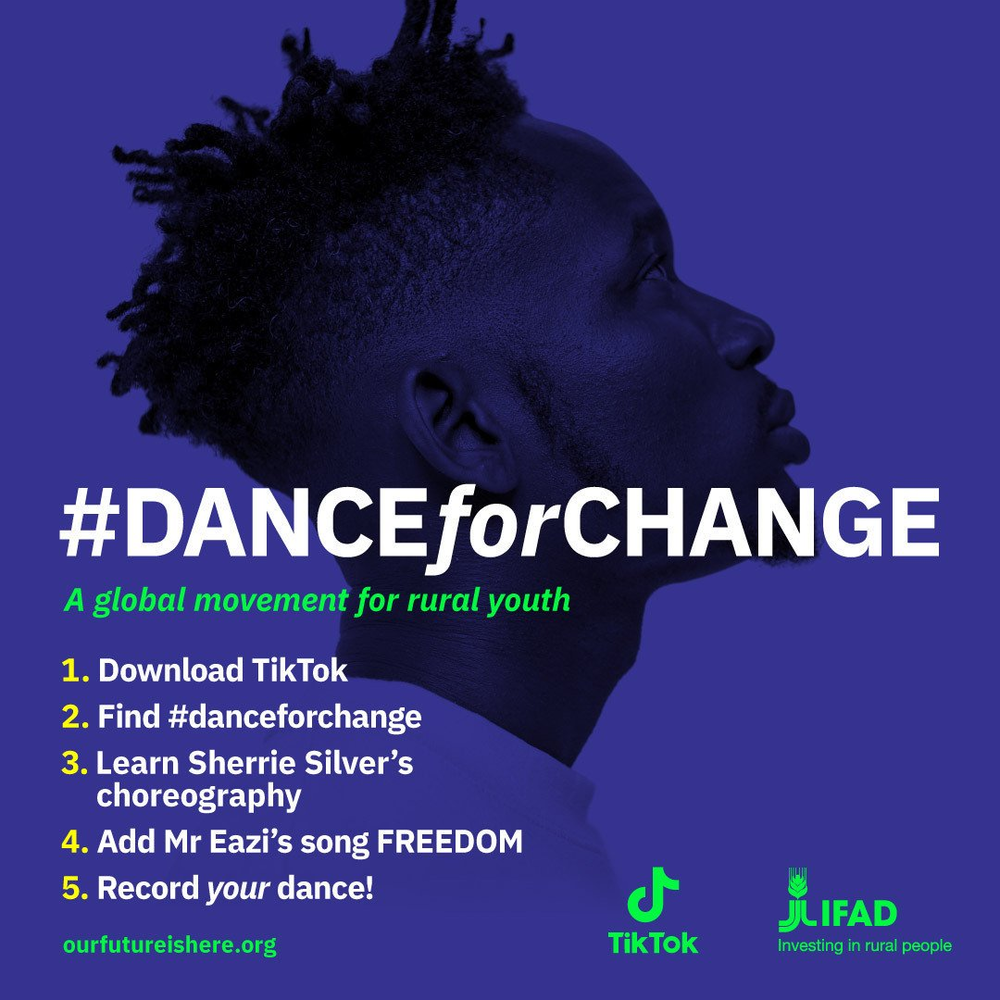 OPTION 2: Social Listening
Even if you don't know it, your brand could be part of a meme in TikTok. Such was the case of Marc Anthony, a beauty brand (not Jennifer Lopez's ex). They started seeing abnormal sales of products in their "Strictly Curls" line in places like Walmart. After some investigation, they discovered that a lot of people on TikTok were creating videos using the product… and in a very positive way! Most of the videos were proof that the product really worked the way it intended.
But not all brands are so lucky, some have to create the content themselves. Wonk waaahhhh
OPTION 3: Create Your Own Content
The San Diego Zoo started its own TikTok profile. They have already 51k followers. By using hashtags, uploading funny animal videos, and using features like the duet, the zoo has until now 407k likes.
San Diego Zoo is a great example of casual content. Like the video above, it's a funny way for people to discover the animals in the zoo. This is a type of content that speaks to the people that are already using the app.
If you're going to create content based on challenges or trends, really try to understand them before uploading anything. Try to be real. Yes, you need to plan what you'll publish but the appeal of TikTok is that you get to see the real brand and the real people. Remember Gen Z isn't very tolerant of advertising, don't be too pushy!
OPTION 4: Partner with TikTok Influencers
The smartest way to start to build your community in TikTok is through popular creators. Of course, you can create content yourself, but you can also lean on creators that are already popular on the platform and that align with your brand. Also, they will provide the natural, light, sometimes cringey tone you're looking for.
Take as an example the first sponsored challenge that ever happened in TikTok. Guess created the challenge #InMyDenim in September of 2018. For this, they partnered with @madison_willow, who has more than 1 million followers and 24.6 million hearts in TikTok, and other popular TikTok creators.
The #InMyDenim campaign relied on people transforming themselves with Guess clothing. This transformation trend was already popular in the platform, they didn't reinvent the wheel, they just used the car… so to speak. #InMyJeans has more than 38 million views, and Guess 36.6k followers.
Another example comes from A House with a Clock in its Walls. They created the challenge #FindYourMagic where people had to show their magic tricks. Click on that link under your own risk, I spent like an hour checking all the content created under the tag. For this challenge, Universal Pictures partnered with famous TikTok creators like @gabby_murrayy (3.4 million fans), @rebeccazamolo (11 million fans), and @ourfire (5.2 million fans). The challenge currently has almost 70 million views. Let's see how that helps the movie that will be opening on September 21.
OPTION 5: Create Sponsored Content That Doesn't Look Like Sponsored Content
Speaking of that, there might be a lot of sponsored content already on TikTok but we just don't notice. It's said that many songs are pushed through already popular creators. The correct thing to do here is to state, clearly, that the post is paid for. The Federal Trade Commission says that any ad should be stated as an ad. If the product comes with certain risks, you have to state it. It doesn't matter the platform you're using or if it's new. You have to be clear with the people.
Should You Invest Your Marketing Budget In TikTok?
TikTok is new turf for us craggy, old marketers. That's just the reality of things. You're probably not going to nail your targeting right from the first post. You'll need time to learn the platform. The good news: You have time to do what Gary Vee says – leverage the ROI of speed.
The red tape and C-suite buy-ins is making your competitors move super slow on TikTok right now, so you have a window where you can get in there and do some damage. Still a little confuse? You're not alone.
Nike already has a TikTok account. It's verified. But as of this writing, it's also private. Why in the world would Nike have a private TikTok account? Maybe it's gated content… which makes sense for Gen Z. They did that sort of thing. But if I had to venture a guess… they're still trying to figure out their TikTok strategy and reserved the name while they come up with something awesome. Still, even with an empty, private account Nike has more than 140k followers as of this writing.
Another famous brand that's also in TikTok is Fenty Beauty, which has 201k followers. Fenty posts from time to time, but… you know how it goes, right? They promote challenges, but they barely get a response. I'm telling you it can happen to the best of us. Fenty Beauty created the #TakeaBrow challenge. If you click on the hashtag, the only video there is the one from Fenty.
☹️😢 😭
Brands are still trying to figure it out. Yes, early adopter brands can benefit from what seems to be a less-crowded space. But, first they have to figure out what actually works.
Remember when Snapchat was something new?
Ah… Were we ever that young? Totally were. And we didn't really know how to use it (some still don't know). The same is happening with TikTok. We don't know yet much about it but that only means that you can be as creative as you want! There aren't many set rules yet. Brands can make use of that and run crazy, quirky, creative campaigns.
Use TikTok as an excuse to rethink your marketing strategies, how can your brand use this platform to get closer to the people you care about?
Even if Gen Z is not your target audience, you should be paying attention on what's happening in Tiktok. Stay ahead of the curve and find inspiration in the unique content that's being shared on the platform. Remember teens always know what's cool before anybody else.
We still don't know if TikTok will have real influence offline (the Marc Anthony case is just one in a million). There's still some road ahead to discover if TikTok is really here to stay. But in the meantime, try it! At least you'll have hours and hours of free entertainment.