The Brand
Blued is the largest social app in the world that's specifically designed for gay men. With 58 million worldwide users on Blued, it's a popular online hub for men who want to connect, show off their talents, and expand their romantic prospects.
But Blued is way more than just a social app – it's a digital extension of the GBTQ community. It's a safe place to date, befriend, and express yourself.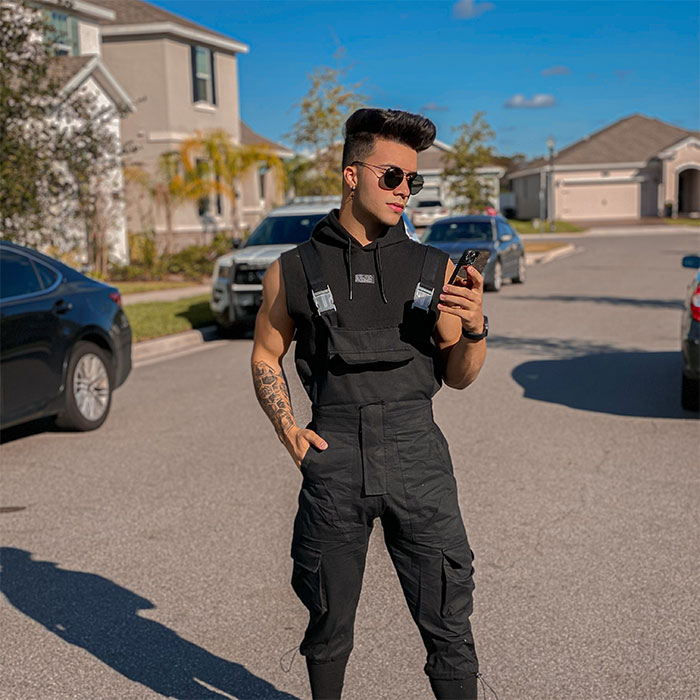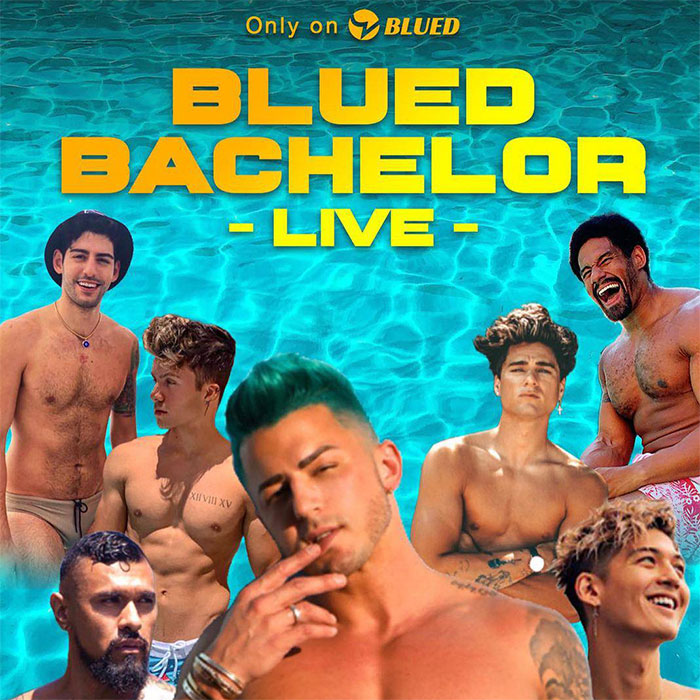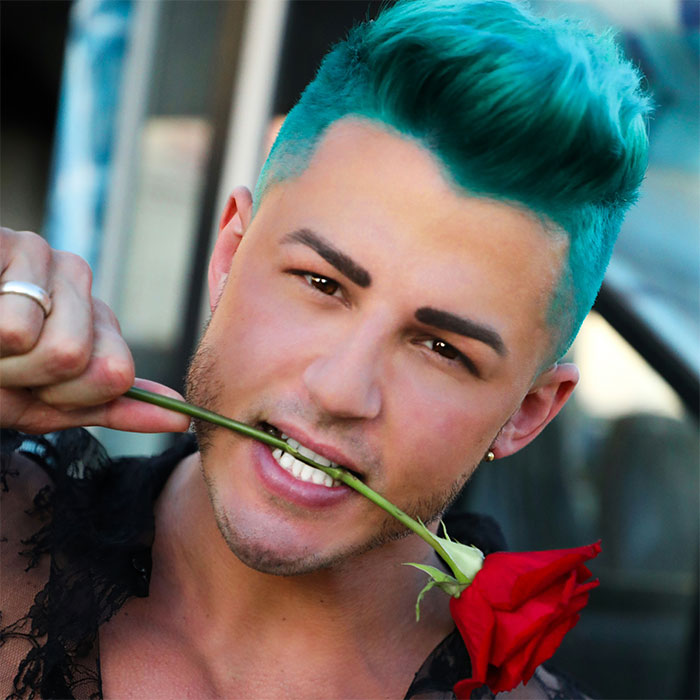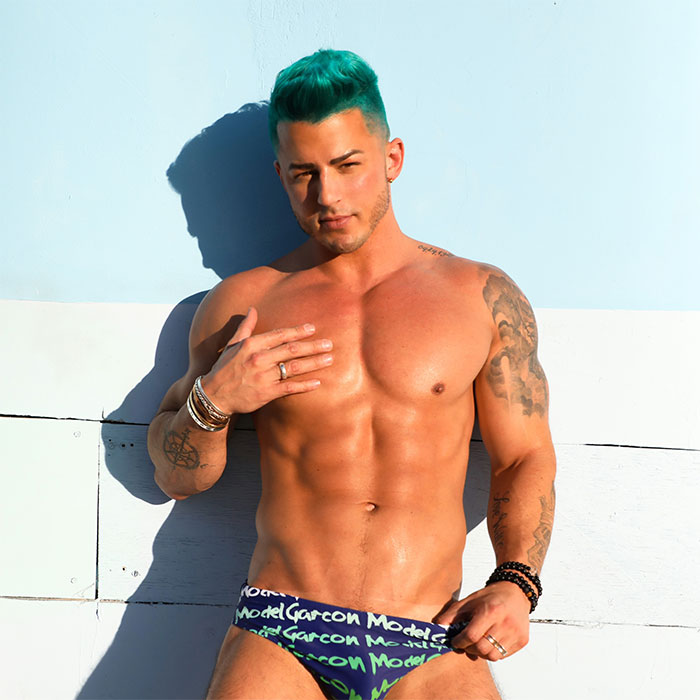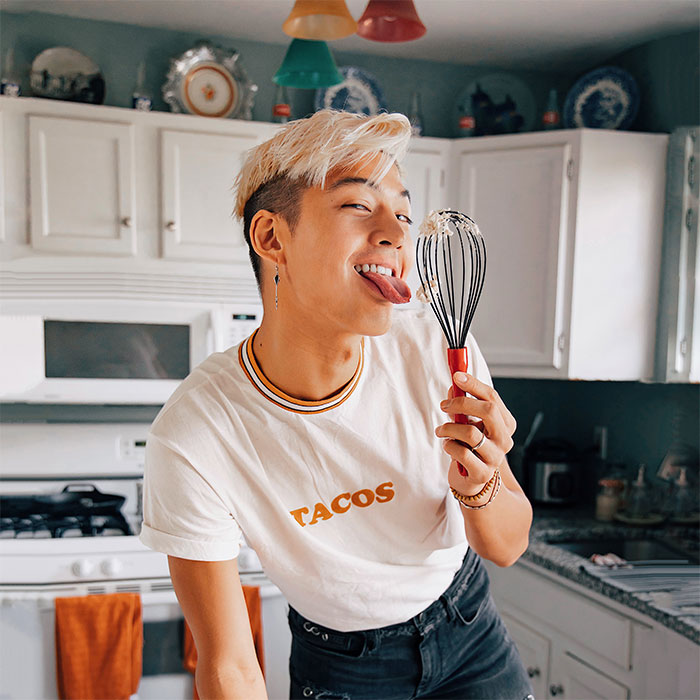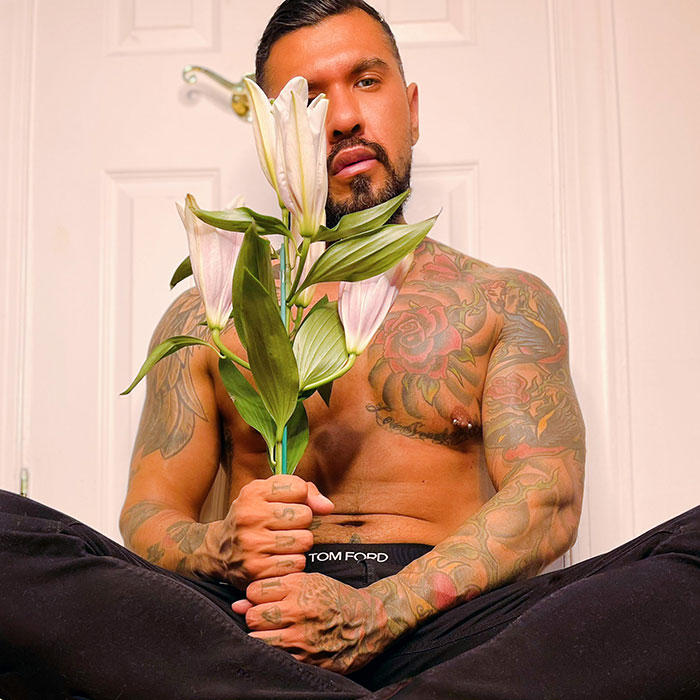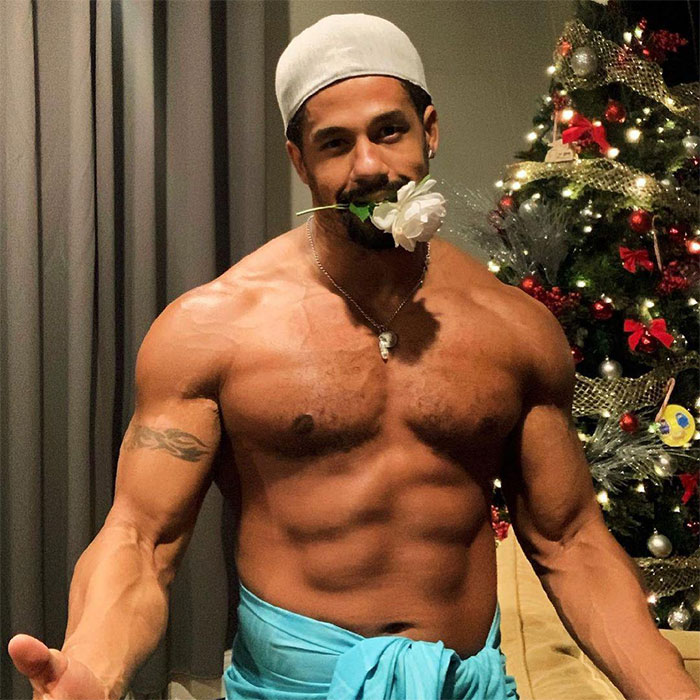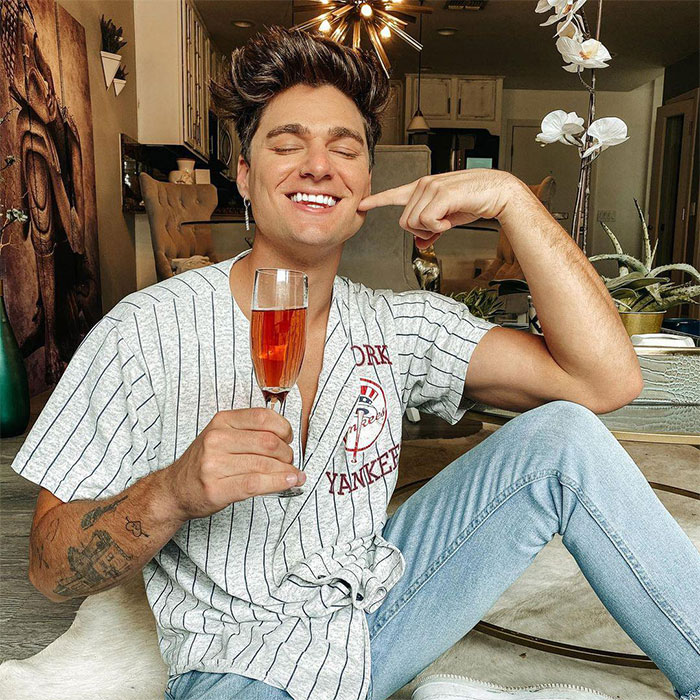 The Approach
The Shelf was tasked with the ultimate challenge: show all the GBTQers out there just how easy it is to make love connections and build new friendships. We did this through the #BluedBachelorLIVE.
You know the show The Bachelor, right? Well, the idea was to create a Bachelor-styled event through the Blued app, using its livestream feature. We wanted to get Blued users engaged and intrigued enough to livestream themselves. We handpicked several influencers according to Blued's specifications, and had them participate as contestants.
Blued outlined influencer selection criteria that included preferences for follower size, engagement ratios, U.S. demographic reach (for males), as well as men who produced high-quality content. They also had to be single 👀 and "aspirational" enough to be considered a strong role model. This vetting process was rigorous (👈🏼 understatement) and challenging, but we were up for it. Our account managers set out to find one eligible man with an incredible following, and then 6 popular gay men to win his love – all within the social media stratosphere!
Our Strategy
We introduced 6 eligible gay men to one handsome bachelor. Over the course of five weeks, we watched our bachelor fall for not one, but TWO sexy singles on his journey to find love!
With 329,000 followers, Murray Swanby was our chosen bachelor. His experience in the entertainment industry and reality TV made him the perfect star.
We then picked six diverse influencers, each of whom had followings of 100,000 – 400,000 to be contestants on the "show". We kicked off night one with a round of speed dating so Murray could meet each contestant. Throughout the following weeks, Murray went on themed virtual dates with the guys: a mixology date where two contestants and Murray made a cocktail (and got a little tipsy), a virtual dinner date, and a pillow talk date where Murray and his date got to know one another.
In the end, this fantastic group of men showed up with their A-games (and generated plenty of laughs) to get Murray's attention while producing on-brand content and promoting Blued to their own audiences.
The Big, Beautiful Highlights
Instagram posts had a
unique reach of 1,273,202

and generated some beautiful content for Blued.
Influencers' Stories were a HUGE success, producing
747,728 organic impressions.

We achieved incredible results with the combination of organic and paid whitelisting efforts.
Instagram Stories totally drove the campaign, and delivered some pretty good metrics:
– 103,967 total engagements, giving us
an engagement rate of 13.09%.

This performance is incredible, because

our goal was to drive traffic

🚗 to download the Blued app and tune into livestreams, and these metrics accomplished that extremely well for the campaign
– 57,480 link clicks

(triple what we promised)


– 30,810 sticker taps
– 5,936 shares
– 9,513 profile visits
Running a campaign mainly through a live platform has its risks. We were definitely in an anything-can-happen situation. Because of that, we wanted to keep one hand on the wheel, so to speak. 😅 That's why
we spoke directly to each influencer several times BEFORE their dates

, to make sure they understood what was expected of them. We tested the technology with them, ran through their posting timelines, and ensured that they were truly invested in the process.

We even hosted a "green room" during each livestream,

so that the contestants had a place to enjoy the show together and get help if they had any tech issues.
These efforts snagged our team a new nickname from all the influencers: The Producers! The Shelf is now adding "producer" to our resumé 😎 because
we essentially ran a live television show

, and the level of complexity for a campaign like this cannot be underestimated.
A big takeaway was how well the contestants got along! So much so that
they built actual friendships

with each other. 💙 This was huge, because it was exactly what Blued wanted to get across to their audiences: that this app is

a place for the community to come together.
Noteworthy to call out: we only promised the client 13,000 total clicks between paid and organic, and by the end of the 5 weeks,
our campaign resulted in 62,000 clicks!

A major win for the team. 🎉
Finding the right man for this job was no small task. Blued had a specific list of traits that they wanted for their star, including someone with a follower count close to 400,000. Macro influencers are not hard to find, but it can be a challenge to lock them in because they often have their own list of requirements when it comes to working with a brand. However, our team is pretty well-versed in "macro" speak, so we were able to meet both Blued and Murray's standards to start working together on one of the most fun campaigns we've ever run.
Murray was a true team player because he was genuinely interested in his contestants, and really got to know them. We especially liked his ability to navigate the livestreams through any awkward date moments or tech issues. He really made sure everyone was having fun.
A major concern when you hire influencers is that they might be lowkey joining the campaign just for a paycheck – but we take the time to vet our influencers deep enough. Meaning, we knew Murray was truly excited to jump on board.
"Honestly had such an amazing time over the last few weeks with @bluedapp for their #BluedBachelorLive series… Big thank youuu for having me 😋.. and a shout out to all the sexy ass boys that I got to meet @wobruno 🔥 @officialbradlee 🌹 @teejayhughes @zakartwins @baconlvr @realfredrosser ! Check out Blued's social media for recaps of the series and download the @bluedapp to start meeting cute guys😜(link in my stories)🎉🎉 xoxo! #Sponsored #BluedOriginalContent #BluedLIVE"
Teejay is a traveler and a talented photographer, but what we love most about him is his passion for infusing creativity in everything he does. Take a look at his Blued content! Teejay created a rose "wall" as the backdrop of his Bachelor-themed post, and hosted a cooking segment for his date with Murray. He was our artistic contestant who clearly showed how much fun he was having every time the camera focused on him.
Boomer is a multi-talented designer and activist who threw himself into this campaign with every intention of winning Murray's love. But even if he didn't get a victory, he was still intent on having a blast. "I've got my roses and I am getting ready to crush the competition on the #BluedBachelorLIVE premiere tonight."
Bradlee's been a contestant before on American Idol and X-Factor, so his TV personality SHINED in this campaign! He's an all-American boy and ended up being one of TWO winners Murray picked!
Bruno snagged the best metrics of the campaign with post engagement rates above 9% and Story engagement rates over 26%. His post captions were genuine and cute, admitting he was a little nervous but how he couldn't wait to possibly find love on the Blued app.
It's important to have influencers who stand for more than just popularity. Fred Rosser is a pioneer in the world of wrestling, being the first openly gay pro in the industry. We are thrilled to have mold breakers involved in our campaigns.
The Zakar Twins, authors of Pray The Gay Away (now an off-Broadway hit!) did fantastic with their IG Story content that hit an engagement rate of over 18%. We thought it was pretty cool to have twins as contestants, showing that Blued is all about making connections, no matter what form they come in!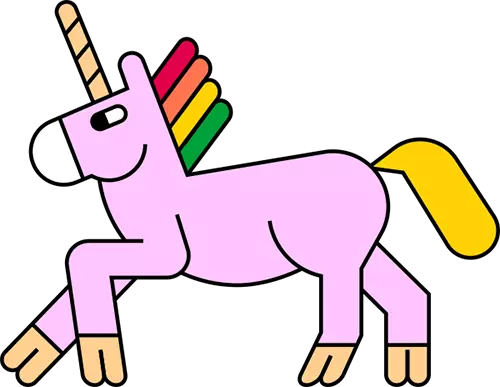 We are a full-service influencer marketing agency creating meaningful stories, experiences, and content by working with influencers who know how to spread the word about your brand. With our unique, professional, and longstanding influencer marketing expertise, we create the most genuine connections to deliver the results you deserve.
Schedule a quick call with one of our strategists and learn how one of our campaigns can guide your customers through each stage of their decision-making process, from activation to conversion.
Schedule a Strategy Call