The New Year is a time to start afresh, put your best foot forward. In the digital world, one of the most important ways to start afresh is to update your website so it better reflects your brand AND compels customers to take action. This is especially true for brands running online stores.
It's critical your site administrator stays on top of changes in the digital landscape to make sure they keep up with app changes, have the latest security and encryption, and continue to provide a safe, positive experience for users. When your site flows, is optimized, and wows with crisp product images, you'll feel ready to take on the new year. As you prepare to make the necessary updates, keep the following ideas in mind.  
6 Quick & Easy Tips for Updating Your E-commerce Site to Make More Sales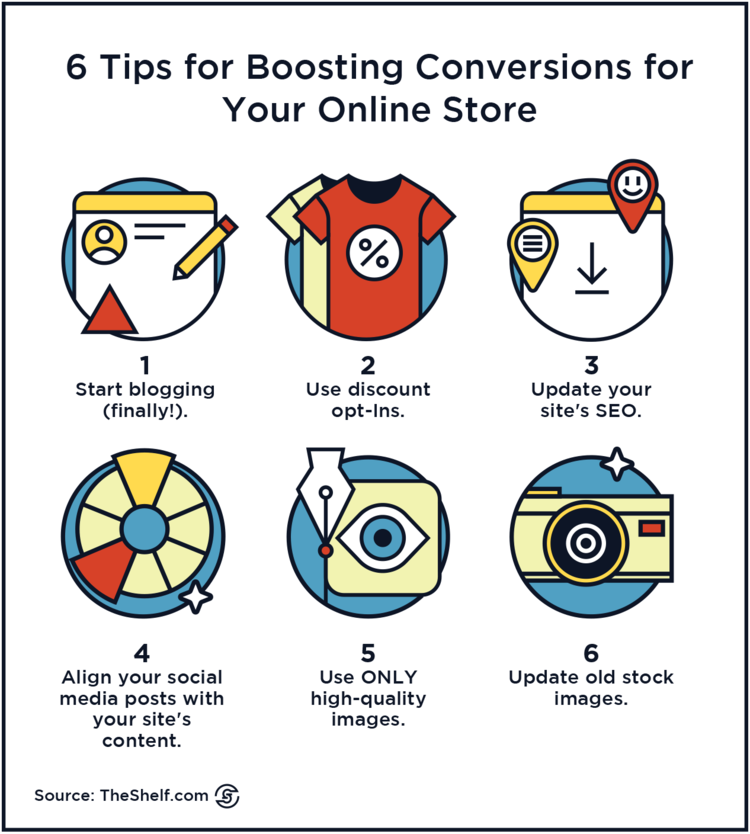 [Finally!] Start Blogging
Okay. Okay. This may seem very 2001, but most business owners – especially small business owners – intend to start and maintain a blog but…
Blogging may seem time-consuming, and it usually is. BUT your blog is a powerful way of driving leads and generating sales. If you're thinking, "Well, I post on social media, and that's enough" think again.
In the guide, How to Promote a Product, e-commerce experts Selz make an important point: "Social platforms can limit your access to customers if you don't pay for boosted content and ads, so moving leads and existing customers to a blog post with a call-to-action is a smart way to reach your audience without spending money for their attention."
The key is providing value to your readers in the form of actionable solutions to real problems. If you make it a habit to deliver (and over-deliver) on value, site visitors won't mind you working your products into the content in natural and helpful ways. Selz continues, "This can be as simple as a post exploring the benefits of the new product and the needs that it can meet, then including a button or widget that allows your customers to easily to buy it."
I'll give you an example. If you're releasing a new morning face cream, you could write a blog post titled, "5 Ways to Boost Your Morning Routine in 2019" and introduce your product as a solution to specific challenges your readers actually face addressed in your post.
Test Discount Opt-Ins
You need to catch the attention of a potential buyer right away. In our highly competitive online shopping world, consumers have so many options. Your product is probably going to be one of many, or if you're lucky, one of several. A good way to get eyes on your brand is to incentivize your offers with opt-in discounts.
It's a simple idea: A visitor lands on your website and within 3, 5, or 10 seconds—or as they're exiting your site (called exit-intent), a pop-up flies in with a discount or offer. To get that offer, the user only needs to enter and verify his or her email address and become a valued subscriber to get the offer.
See an example from Alex and Ani below: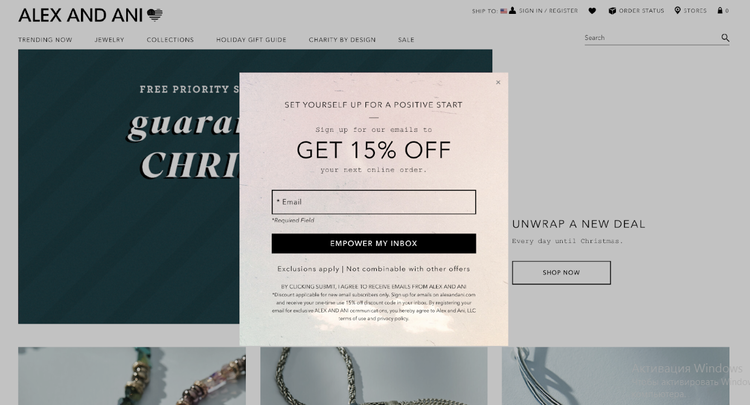 Opt-in discounts work because, in exchange for the opportunity to build a subscriber base that you can stay in contact with all year long, the user gets to save money in your store. Who hasn't spent money (or more money) to save money?
Update Your Site's SEO
This is a big one. SEO may feel very technical—and it can be—but you can make small SEO updates on your own, with little to no SEO knowledge. To update your store in the new year, keep these simple optimizations, from Search Engine Watch, in mind:
Update your site to HTTPS. You can do this with your hosting provider; they can likely even do it for you. This update is ensuring your site's security; in today's digital world, you want to provide customers with a secure experience.
Optimize category and product pages. If you have a WordPress site, Yoast SEO is a plugin that can help you in this area by making recommendations on how to better optimize every page on your site.
Remove any duplicate content between product and category pages. Google will penalize your site for that. Search Engine Watch has another great guide specifically fixing duplicate content on your e-commerce site.
Don't remove product pages if the product is out of stock—you'll miss out on important traffic. Instead, just add "Out of Stock" to the product headline or somewhere on the page. You can make this happen dynamically via your e-commerce platform or plugin.
Align Your Social Media Posts and Site Content
Keep your website content and your social media conversations aligned and complementary. Typically, social media posts are included as part of the overall content strategy to ensure what goes up on social is on-brand for your company. Keeping both your social media posts and website content aligned also ensures that when you share your site's content to social, it's still topical and relevant for your audience and network.
For brands, this area can be a minefield because the impulse is to post nonstop about their products and services. But people don't respond to constant pitches – at least not in a positive manner.
Think of social media as more of a long-term branding tool than a transactional / sales tool. You go there to build relationships, grow your community, and let your audience get to know what you're about. It's the place you go to get eyes on your brand, and you do this by publishing interesting, relevant content that's native to (or appropriate for) the platform to which you're posting.
There are creative ways to include your product in your posts without every post looking like a product pitch. This post from Compartes Chocolatier (on Instagram @compartes) is a great example of this. Compartes has found a way to make product placements of its gourmet chocolate bars look like art instead of a product shot. Notice that Compartes included a link to their Avocado Toast Chocolate Bar in its Instagram bio, so the opportunity to make a sale is still there.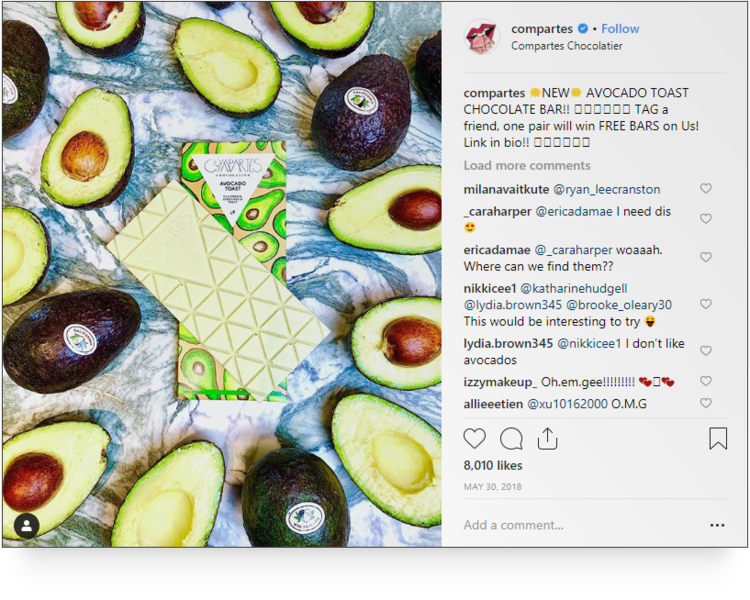 FYI, this post achieved more than four percent engagement, which is about the engagement typically generated by branded content.
Another thing many brands don't always recognize is the connection between social media and your SEO strategy. Influencer marketing is actually a great way to support and even fortify your SEO efforts because inevitably, the goal of influencer campaigns is to drive traffic back to your site from social media, YouTube, or the influencer's own blog.
Use ONLY High-Quality Images
Keep your image game strong. Low-quality photos don't cut it anymore. If your site has them, get rid of your low-quality images and replace them with great-looking pictures.  
You can bet a substantial number of your customers will be accessing your site from their phones, not a 19-inch LCD monitor. Customers expect high-quality imagery, and grainy, dark or poorly taken product images can totally kill your credibility. Think about it: the customer can't touch or feel the product when shopping online, so you need to emulate that experience as much as possible.
Not to mention, when your images are crisp and high-quality, your business benefits. Sheila Dahlgren, SVP of marketing at Scene7 explains: "Customers are three times more likely to buy online when retailers offer rich imagery with the ability to zoom, pan, and see color options and alternative views of the merchandise, along with the products presented in context or on a model."
That means now is the time to find a photographer and update your product photos. Another option is to hire a photo editor from a site like Upwork who can make your current images look brighter, more crisp—whatever is needed.
Don't forget about Dahlgren's suggestion to add the ability to zoom, pan and see color options. Add those features through your e-commerce software if they're not available to your customers yet.
Update Old Stock Images
(even if you already paid for and still own that old license)
Stock images go out of style. No kidding. Since we essentially use the images we post on social media to communicate with one another, you sort of have to stay up on th lingo. If you happened to post a generic-looking office photo a few years ago, you did the right thing. Then. If it's still up today, you can bet your bottom dollar it's making your site look like it was created by a web designosaur.
You can refresh your stock images by subscribing to low-cost stock image sites, or hiring your own photographer + designer to get fresh images that can be put on your site.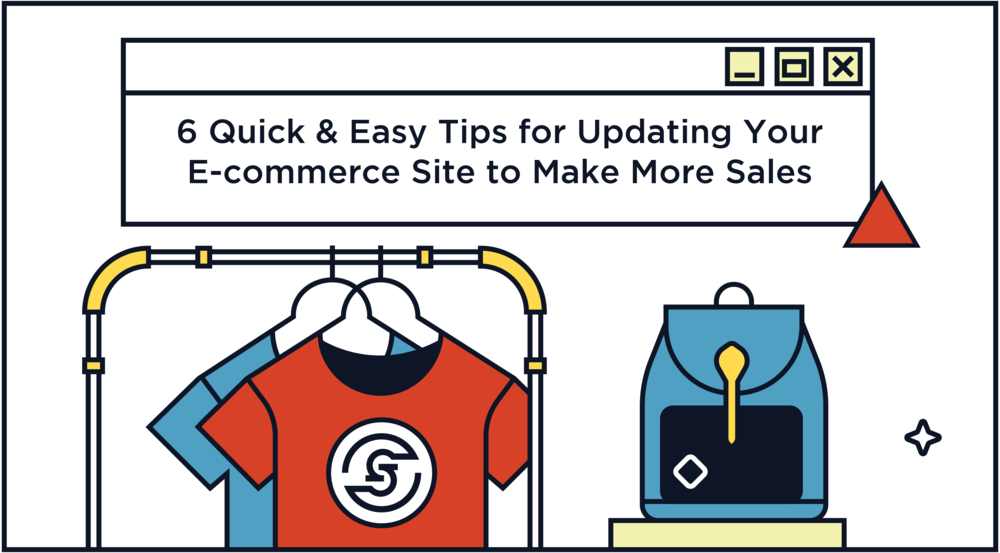 The Wrap-Up
If you want to capture as many sales as possible in 2019, your website may need a refresh. Use these ideas to prep your online store and make it your most profitable year yet.
---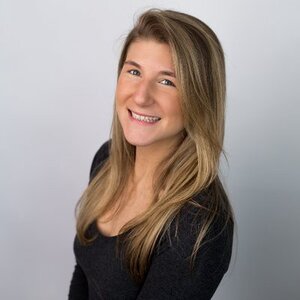 ABOUT THE AUTHOR
Jessica Thiefels is founder and CEO of Jessica Thiefels Consulting, a content marketing agency. She's been writing for more than 10 years and has been featured in top publications like Forbes and FastCompany. She also regularly contributes to Virgin, Business Insider, Glassdoor, Score.org and more. Follow her on Twitter @JThiefels and connect on LinkedIn.
---