If you typically work in an office setting, COVID-19 has undoubtedly forced you to find a way to crush it while working from home. In the U.S., we went from 100 cases to 1,000,000 cases in just 56 days (Statista), which has made many companies build work-from-home programs on the fly. It also means you and your team may have had to learn how to work from home on the fly. (Hello, video calls in front of white walls with the obligatory potted plant in the background.)
Of the 164 million+ people who make up the U.S. labor force, fewer than 10 million worked from home even some of the time before COVID-19. These days, estimates put the number of people working from home at least part of the time around 32 million (another Statista chart).
For the 20 million+ additional workers who are suddenly doing business from home every day, not all of them have the luxury of a designated room or space in their homes for an office. So if you find yourself needing office space, or you're just plain sick of the way your current office looks … keep reading!

Related Post
Working from Home? Here's Our Stress-Free Guide to Working Remotely
CFOS Are Seeing the Beauty of Working Remotely, Gang. It May Be Time for That Permanent Home Office.
Since the start of the global pandemic, the number of people working from home has likely more than tripled. The stats that are emerging now say that a lot of workers who weren't working from home previously will find themselves working from home more or even permanently going forward.
A Gartner survey of 317 CFOs and Finance leaders revealed that 74 percent now see remote working as a viable opportunity to reduce overhead. AND they have plans to shift at least five percent of their on-site team members into working remotely at least part of the time.
Over the past few weeks, many of us have discovered what veteran work-from-homers have known forever – it's really easy to get distracted when you work from home. You can grab all the remote working productivity tools you need. And you may finally get to do your meetings wearing a button-up shirt and pajama bottoms, but you may also think you're hearing the audible voice of the dirty laundry… saying, "It would only take, like five minutes for you to pop in the laundry…"
Don't listen to Laundry's whispers. It'll take more than five minutes for you to regain your focus, and focus is the key to maintaining productivity when working from home (or anywhere, for that matter). Add to that the fact that the kids are home, and many of us are continuing to stay home, even after states have begun lifting restrictions (though if you check #PiedmontPark trending on Twitter, you wouldn't know it) and you've got yourself the perfect recipe for perpetual distractions.
Did you know it can take anywhere from 15 to 25 minutes for you to get back on track after you're interrupted? That's why on those days when you have three or four meetings at different points in the day, you get almost nothing else done. If you want to read more about this, RescueTime did a really interesting post about it from May 2018 called, "Managing interruptions at work: What we learned surveying hundreds of RescueTime users about their worst distractions".

Related Post
The COVID-19 Stats Every Brand and Marketer Need to Know
Think You Don't Need a Home Office… Think Again. Here's How to Cobble Together a Pretty Cool One
Having a designated space is key to being as productive and as focused as possible.  Now you might be reading this and saying, "There is no way I have space for an office in my 600-square-foot. apartment," but trust me, you do. No worries. I'll show you how to create an office space when you don't think you have the room, how to spruce up an existing office with what you may already have lying around, and even give you some inspo to get you going.
Here's what you can do to create an office in your home (no matter what size):
Assess Your Space
Check out your digs and see how much space you can actually dedicate to an office. But keep an open mind. There are these cool foldable desks that hang off the wall that are perfect for small spaces. 
Find the light. Since you're probably not getting out much these days, try using a corner that has an abundance of natural light. It'll help you stay awake and feel better throughout the day. (Enjoy an office without fluorescents, while you still can.)
Narrow down must-have items. And I mean absolutely must-have. Desk, chair, computer. Done. Even if you have an entire spare room to create an office, you don't want to fill it up with crap from the get go. Keep it minimal. If you're a maximalist, use decor to fill up the space (more on this later).
If You Don't Have An Office…
Now's your chance to take a second look at this space (and clean it). And who doesn't love an excuse to spruce up a space … one that you actually need. 
Here are a few tips to make your current office feel new…
Consider reorganizing the furniture. Anytime I want to spruce up a space in my home, this is my go-to step. If I end up doing nothing else, this automatically makes a difference. I've always put my desks up against a wall. If you're like me, try moving it away from the wall and putting your chair behind it. Try it, I dare you. You can also try changing any other items you are using. Go nuts!
Declutter. Once you've decided on a new setup, you'll need to make the space feel like an office and work as an office. There's nothing like a mess to make you want to go work from the couch. I know this may seem trivial, but having a functional workspace that also motivates you is the key to actually working. Get rid of anything you don't absolutely need. Keep only the items that are essential or inspire you in some way. 
Clean, clean, clean. This is also one of those steps that could be the only thing you need to do. Maybe you're not a pig, and your space is already set up the way you like and is decluttered. Maybe, it's even clean. Clean it again. Trust me. Remove each item, clean it, and put it all aside. It'll give you a fresh start. 
Organize everything else, too. Now take each piece you just cleaned and reevaluate. Does it inspire you right now? Do you absolutely need it? Ask yourself these questions to keep only the best things to finally pull the space together. 

Related Post
How to Avoid Silos When Working Remotely
Spruce It Up!
Ok, now to the fun part. Whether you're a minimalist or a maximalist, decor is how to showcase your individuality, feel inspired every time you use the space and stay motivated throughout the workday.
Here are a few tips on sprucing your space up with what you already have…
Raid your garage/junk cabinet. I'm a pack rat, so I've spruced up different areas in my home by reusing or upcycling older items. Like I've used the vase I once got from an Edible Arrangements as my pen holder. It was bright red and funky looking and was just the thing my desk needed to add a little color to my day. Garages are home to all the "I can repurpose this" items. Get in there, and get creative. Maybe you have some throw pillows you're not currently using in your living room that would be great for your chair. Or you have some vintage license plates that would look great as wall art. Regardless of what it is, choose items that make you feel good and that motivate and inspire you.
Think thrifty. Speaking of motivation, there's nothing like a motivational quote to give you a jolt of inspiration. You can print one out and frame it on the wall. No printer? No frame? No problem. Get a sharpie and write it yourself on a piece of paper, put some tape on the back and stick it to the wall. Gotta think thrifty, guys!
Swap out decor. Take a candle from another spot in your house and put it in your new workspace. Or bring in your favorite picture frame. This is the easiest way to make your desk feel new without actually buying anything new.
Bring in color. Remember those pillows you found in your garage? That's an easy way to bring color into your space. Another great way to add color is to frame (or tape) stuff on the wall. You can use pictures, motivational quotes or actual art. 
Or go monochrome. If you're tired of color and want to switch it up, go black and white. Black and white spaces can be less distracting than color. Just go with your gut on what will make you feel good.
Add a plant … or three. Plants are a great way to add a pop of color but not too much color. Plants bring life to any space. They're also good for you. 
Use the wall as an inspiration board. All you need is a piece of cork and some thumbtacks. Instant inspiration. See number 2
DIY a piece or two. Quick story: I used to live in a one-bedroom apartment and chose a wall from the living room area to be my office. I had a bookcase, desk, chair, rug, and corkboard and some frames on the wall. In order to give it a color scheme and separate it from the rest of the house, I spray painted the legs of the desk, the legs of the chair and the wood around the frames in gold! You guys, it looked so good! I was so happy with it, and I think I spent around $100 on everything. Bottom line: DIY-ing is cheap and makes a huge difference.
---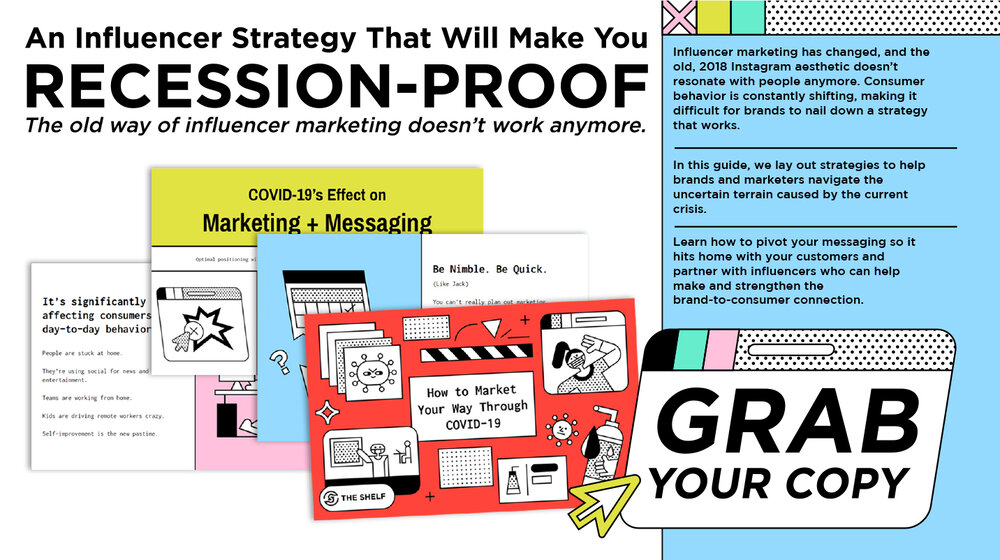 ---
Home Office Inspo for #WFH Newbies (and Tips for Those Of Us Who REALLY Don't Want to Spend on a Desk or Whatever
Possibly the hardest part of all this is pulling the space together, so it's not just some random corner in your home. I've rounded up some inspiration for small, medium and whole-room office spaces so you can get started.
If All You've Got is A Tiny Corner
Living in small spaces is an actual sought-out thing now (hello, tiny homes). So having a small space is no excuse to not have an office. When it comes to small spaces, always look up. Maximize the space by using the wall instead of the floor.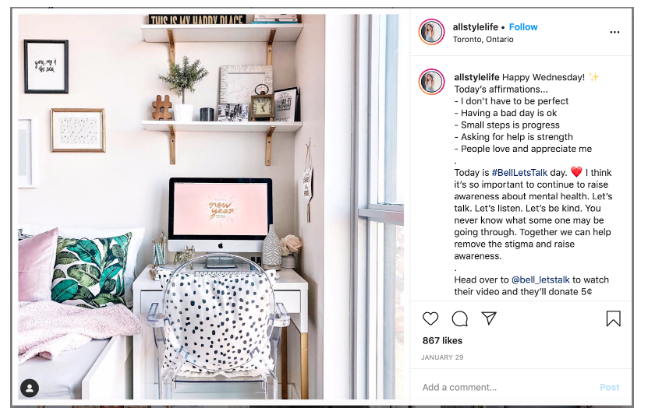 This office is tiny but mighty, and therefore proves my point that any corner will do. It's still a beautiful and inspiring space. I totally would not mind working here.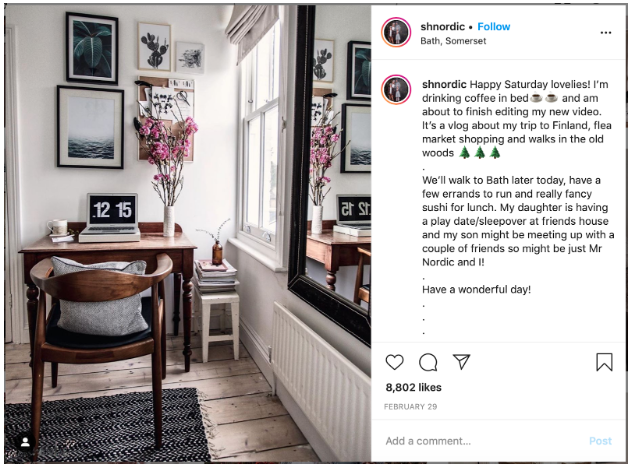 Here's another tiny office option. It sits next to a window with lots of natural light, so you won't feel cooped up all day. Add a few wall prints and flowers, and you're good to go!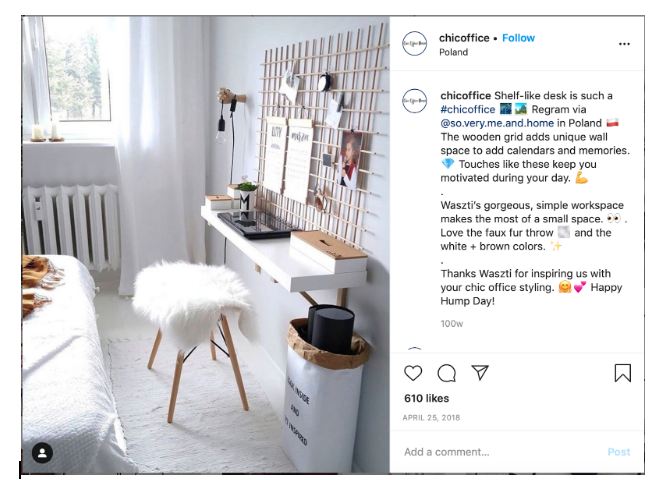 How cool is this office? It's minimalistic, chic, and has that really cool hand holding the lightbulb. Done working? Just push the stool in. Genius.If You've Got One Wall…
If you've got a little more room to work with, you can dedicate a full wall or half a wall to an office. With these options, you have a little more floor space as well, so it would be great to have a bookcase or some kind of shelving on the side of your desk and not just on the wall.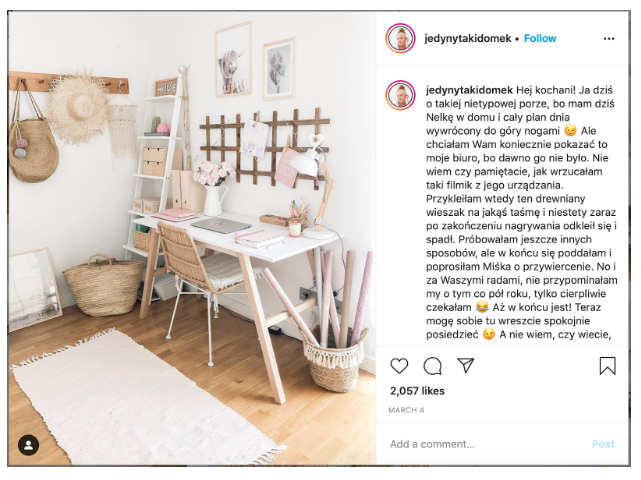 Having some extra space, gives you a little more leg room and storage. You can spruce up your current space by switching out the art on the walls or changing your current color scheme. Don't have one? Create one! (See my story in number 8 of the last section.)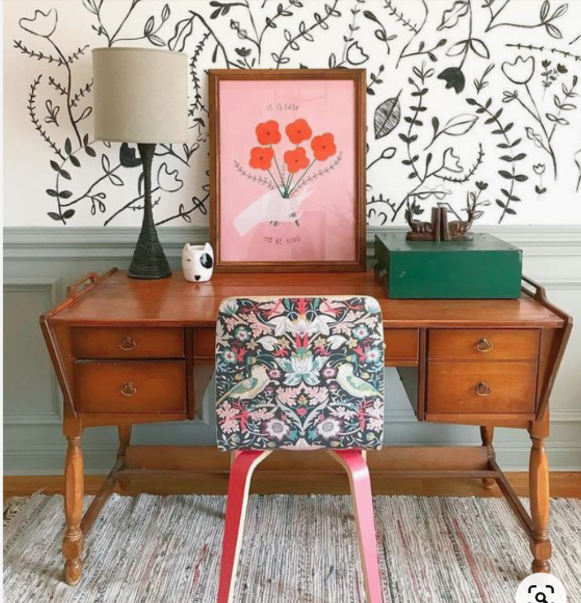 How calming is this space? I love the different colors and prints. And that wall art! Somehow it all comes perfectly together.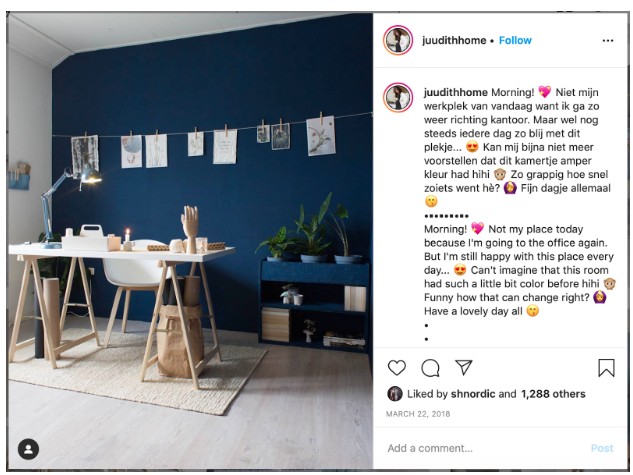 If you really wanna tackle some DIY and spruce up your office and only have a wall, paint your wall a different color. If you're renting, you can use wallpaper! This blue wall is beautiful and calming but can easily be painted over whenever you wanna change it up again. 
If You Have a Whole Room
… then you're done. Kidding! This, obviously, has the most potential, which makes it all the more difficult. Redoing an entire space can be daunting, but if you take it a step at a time, it can be done. Or maybe just choose one piece to spruce up. Like just the desk decor or just the wall art. You make the rules!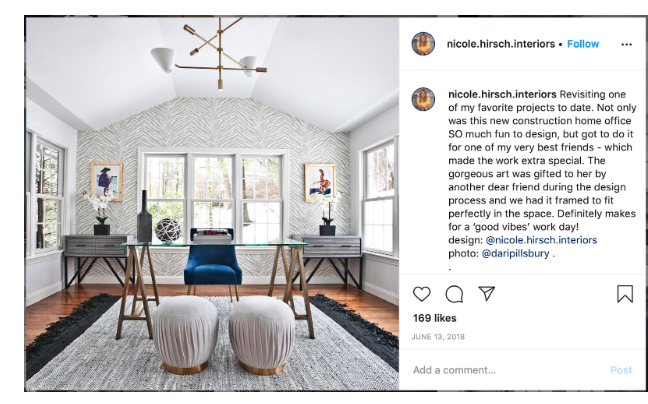 This office shows what a little wallpaper, nice rug and natural light can do. And it's simple enough that you can just switch up a few accents (like that beautiful chair) if you ever wanted to change it up a bit. That chair, though. I wouldn't change that chair. 
Gotta share with your partner? No worries. You can separate a longer desk with some cabinets and each of you can use the wall above your space to make it all your own.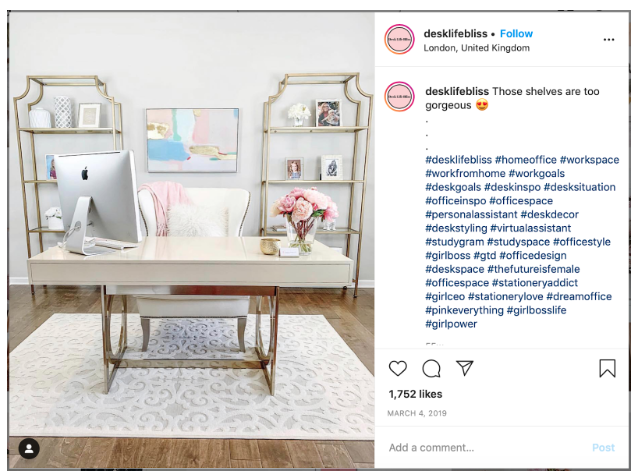 This is a pretty simple room but is ornate and very pulled together. 
Okay. You Should Be Plenty Inspired By Now
So do you believe me now that you can use virtually any corner in your home to create an office? Since the coronavirus has made this somewhat of an urgent issue, don't put too much pressure on yourself right now to make it look perfect. Focus on functionality. You can add bits and pieces as time goes on. And, hey, who knows, maybe none of us will ever go back to work in an office. Kidding, kidding!