If you find out today that you're working from home for the next year, do you have the tools you need to be productive? Do you have an optimized home office and the right apps and tools at home to work seamlessly without the hiccups? Yes? No? Kinda? No worries. We compiled this list of some of our FAVORITE productivity tools for remote teams.
Brands like Google, Twitter and Amazon are sending their teams home to work for the remainder of 2020. As well, a significant percentage of those who can work from home will continue to work from home, according to surveys. That means home-based people need good tools to crush it from the comfort of their own homes.
Less than a third of Americans (29 percent) have the types of jobs that would allow them to work remotely. This includes 1 out of 20 service workers and half of information workers.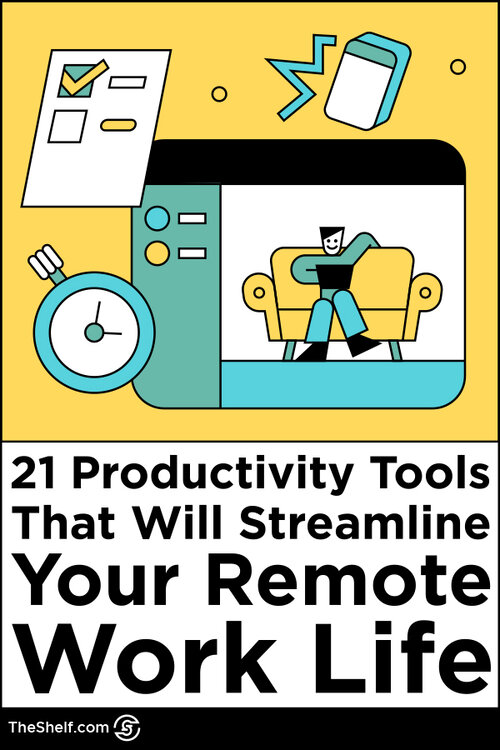 If you're new to the remote scene, it's probably been tough enough just to figure out a way to stay productive with the partner/roommates/kids/overwhelming silence in the house. Here's our hit list of 21 really great tools.
4 Apps to Help You Communicate
Slack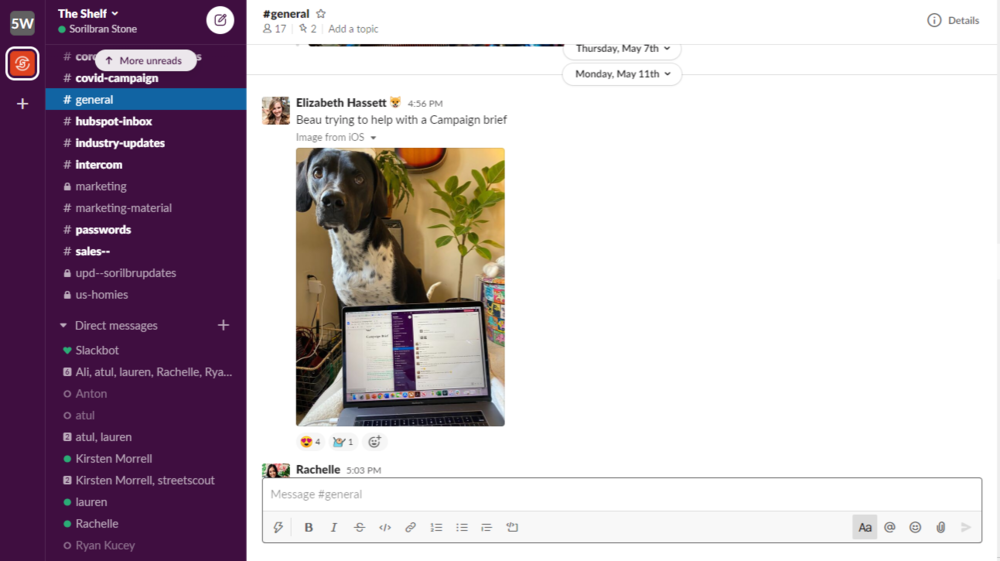 Maybe you're already using this to keep in touch with your team in the workplace. Slack is a pretty cool tool for keeping the lines of communication open. What works really well is that the app allows you to create public and private channels on different topics, for different departments, for specific conversations… that sort of thing.
The public channels are available for any team member to view, so your marketers can just jump into the sales channel to see what the sales team is up to, and maybe even offer ideas based on data or trends they've seen. The private channels, of course, are by invite only.
For remote teams, Slack is a good way to keep everyone accountable and to stave off the dreaded silos. Instead, stick those would-be silos in a channel of their own that other team members can check in on. Our #general channel is where we do the most goofing off… but we do it as a team (usually, our CEO is the ringleader of the antics )
 Skype
Skype is like the Godfather of virtual communications — and it's a great tool to use for remote teams. It's ideal for texting back and forth with contractors who aren't on your Slack channel, or having quick video calls when visual demonstrations are necessary. 
It's still free to use and there are premium paid options if you need to make calls to landlines or cellular phones outside your home country. I'm going to skip the screenshot for this one, as it's replete with the real names of our contractors. #secretsauce
Google Calendar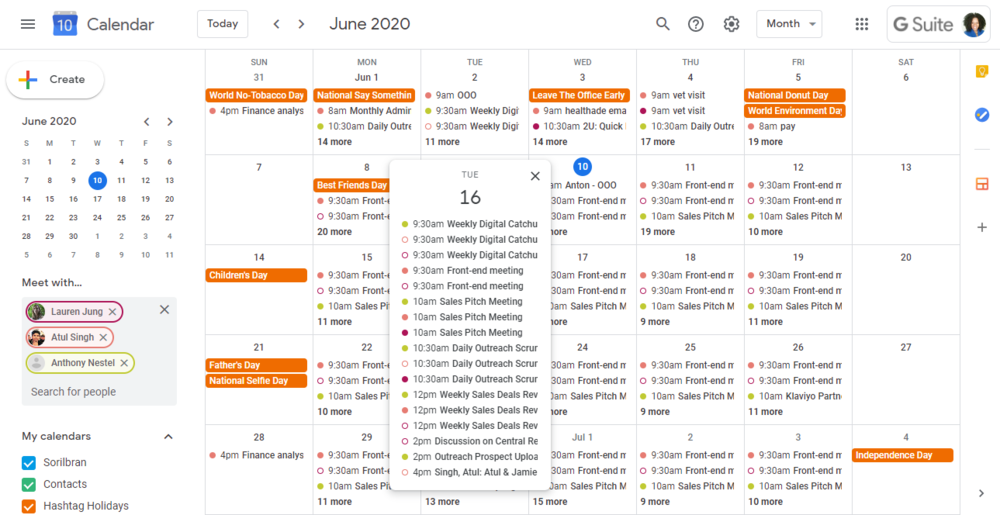 Just going to say it now: Google Apps are built for small businesses, and offer some pretty cool solutions for remote teams. One of which is the Google Calendar. For our team, we pull everything into that calendar – company meetings, team meetings, one-on-one meetings, hashtag holidays, everything.
And it's cool because when it's time to schedule a meeting, you can look at the calendars of everyone you want to invite to see where the breaks is in their schedules are. Bye-bye back and forth.
Plus, your Google Calendar integrates with a bunch of different apps (like Asana and Marvin (Marvin is pretty cool)) and a bunch of different scheduling tools (like Acuity, which sends a notification reminder from your Google calendar to let you know when you have a new meeting scheduled through Acuity.)
Calendly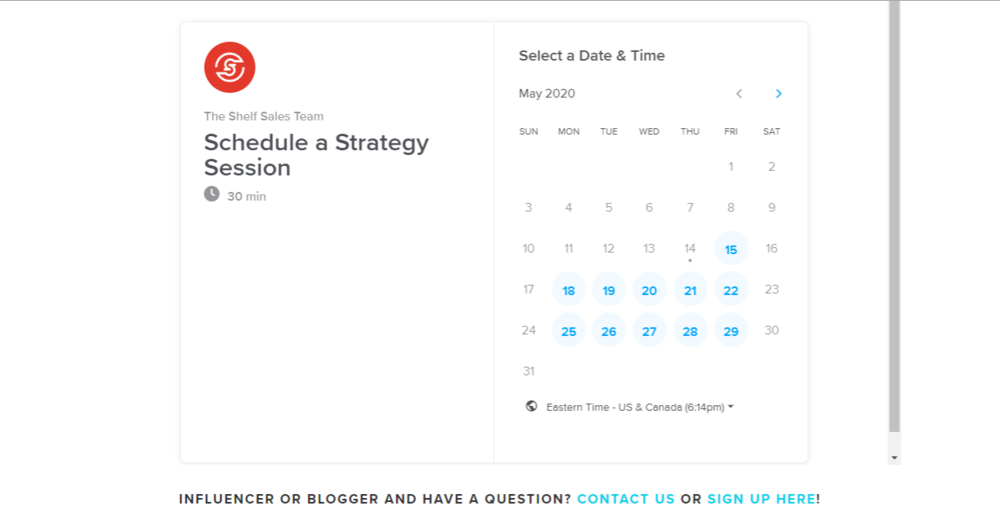 Calendly is a scheduling app that works really well for client-facing businesses where your sales team needs a no-hands method of making sure qualified leads can schedule demos and calls when they're available. We actually use it on our website.
---
3 Apps to Help You Track Tasks
Trello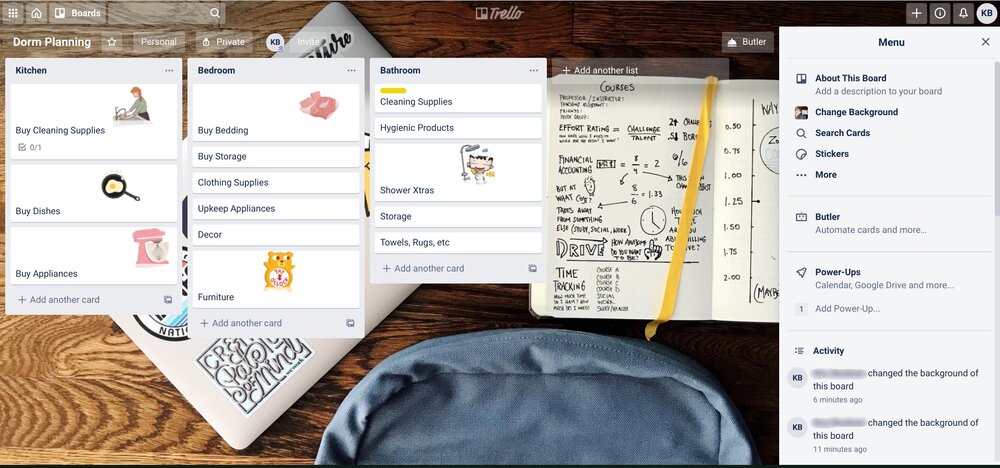 Trello is a sanity-saver whether you work on a team or solo dolo. This handy platform allows you to create to-do lists, assign tasks to your team, and schedule due dates (and reminders). For those who are more visual, the built-in kanban boards are a great way to keep track of tasks without the old-school-styled paper list.
Asana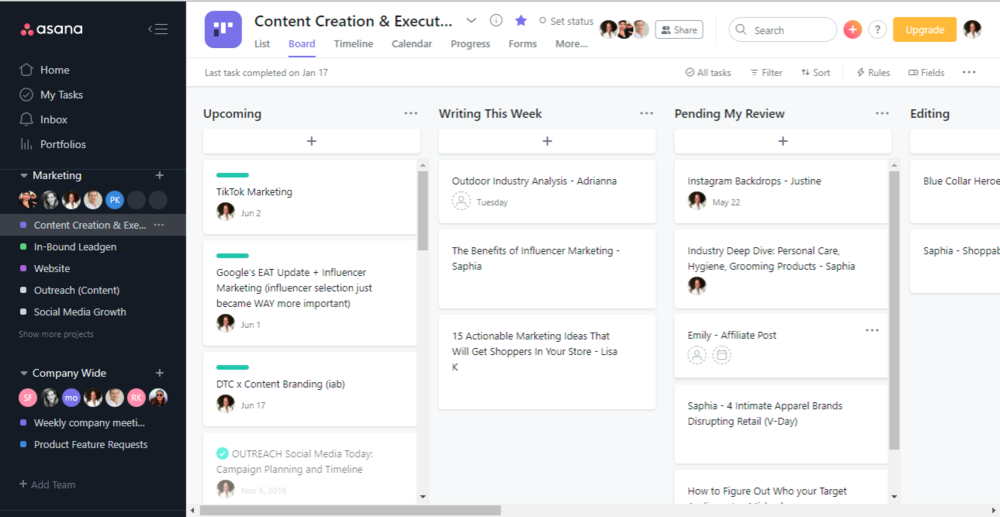 Maybe your projects are a bit larger and more complex and require something more than the average to-do list. In this case, you'll want to use a project management tool like Asana. 
Asana creates several structured ways to see what needs to be done, by whom, and by when. It's more in-depth than Trello and enables you to generate progress reports for your team. You can sort tasks and view them by their due dates using a calendar view, or have a sort of at-a-glance progress view using kanban boards (for you visual folks), or even just see a full list of tasks, projects, and deliverables.
As you can see, one of our key uses is for content. Asana can be integrated with other platforms you use, like Gmail, Slack, and Dropbox.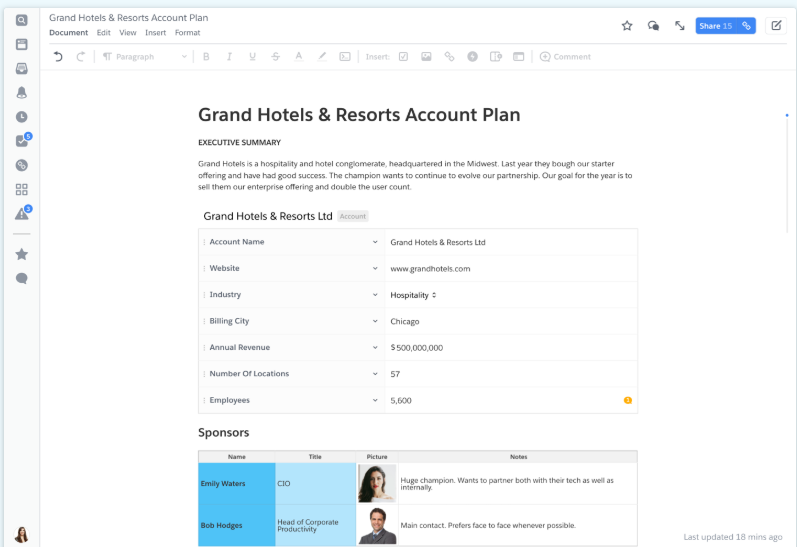 Quip is a business management tool that allows team members to collaborate on document and spreadsheets to make business decisions. Quip notifies users when revisions are made and who made them. The app is designed to help teams work remotely to manage major projects seamlessly by having a real-time collaboration and editing tool. Plus, team members can see all the pertinent details of a business, client or project in an easy-to-digest format without having to refer back to a proposal or a contract.
You can download this app to your IOS and Android device so you can access your documents wherever you are. 
---
2 Apps for Real-Time Collaboration
Being able to work on the same document across multiple devices gives you ultimate flexibility while working from home. For creative teams (like ours), there are times when we'll need to have all hands on deck (everybody working in a client deck). Using Google Docs or Google Slides, we can do that, there's no learning curve, no "saving delays" and you can literally see the changes being made in real-time.
If we're pressed for time (like a client deadline looming), we'll have an editor following a few pages or slides behind to rest of the group to clean up the final text as it's being created. Super handy feature.
The same goes for writing books, editing posts from writers, or even just putting together a piece of content on your own.
Google Docs integrates with a bunch of different apps like word counting apps, citation apps, and even Google search to provide you with some pretty cool automated features. Check out the example below: Google Docs suggests swapping out long URLs with the hyperlinked title of the page you're linking to.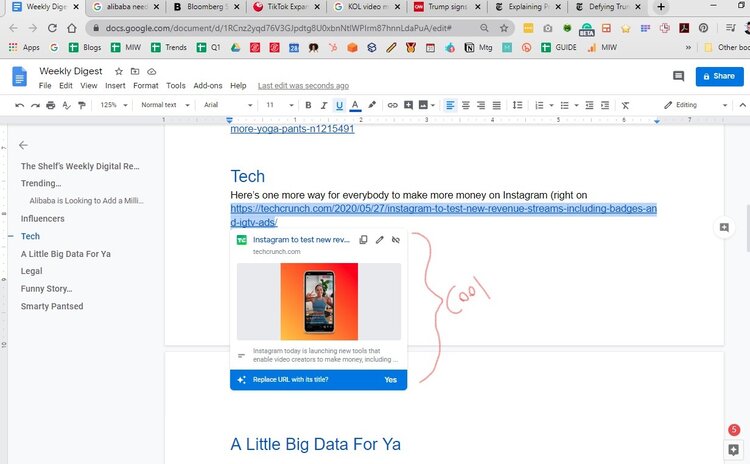 And since it's in the cloud, you can share the documents and see each other's revisions in real-time. You can also leave comments and recommend edits, which will be emailed to offline users.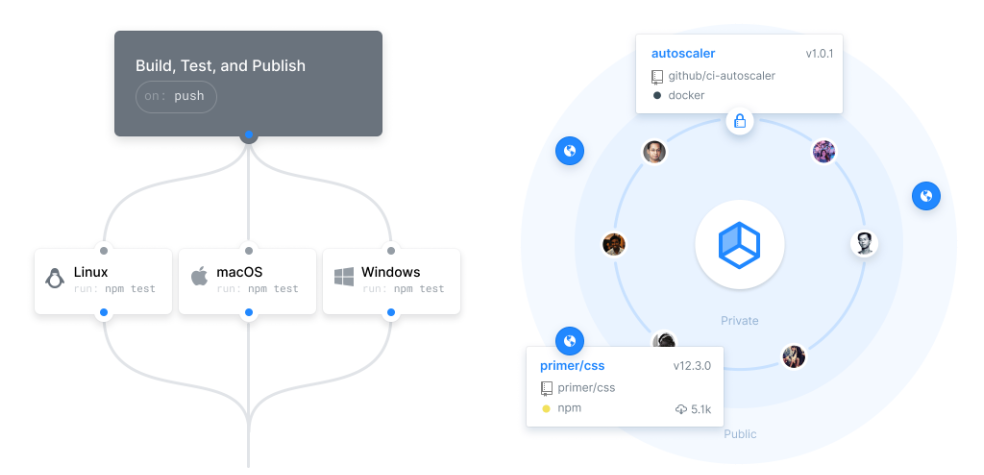 Developers are the backbone of our virtual society. Surely, you're already familiar with GitHub if you work on development projects with teams across the nation (or world). 
GitHub allows you to share large projects, such as for web development, game development, and software development with other members of your team. They can review the code, suggest changes, make tweaks and GitHub tracks the who and the what of the collaboration process to optimize the workflow of building out large- and small-scale development projects.
2 Apps to Track Your Own Productivity
Toggl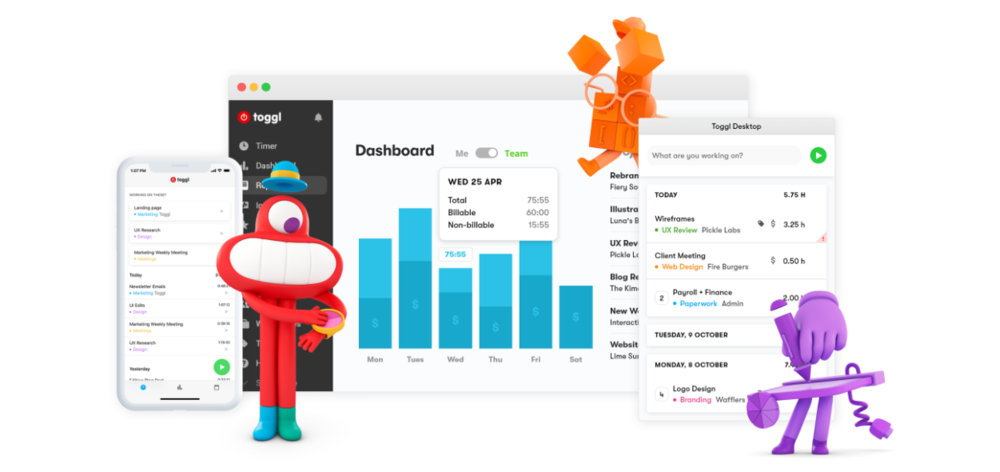 Toggl provides a bird's-eye view of where and how you're spending your time based on your activities on your computer and smartphone using your browser history. Plus, it integrates with Asana to help teams keep track of how much of their resources are being spent on the projects being managed in the Asana app.
At the end of the week, you can print out a report to show which projects you spent time on, how much time you spent on them, and use Asana to measure how quickly the project is progressing.
RescueTime
Another fantastic productivity tracker is RescueTime. The app works by tracking the amount of time spent actively engaging in the pages open in your browser. The first couple of times you use the app, you'll have to carve out time to classify different web pages under one of the existing categories:
Design & Composition
Communication & Scheduling Business
Social Networking
Utilities
You can also set goals/limits on how much time you'd like to spend working in each category. For instance, a writer may have a goal of spending three hours a day doing an activity that falls under the Design and Composition category and limit email activities to 30 minutes a day.
Based on these categories, you can tell RescueTime which tasks you consider very productive, productive, neutral, distracting, or very distracting.
What's cool about RescueTime is once you designate the important stuff, the app will tell you from day to day and week to week what your Productivity Pulse has been AND lets you know what the average Productivity Pulse is for others in your industry, as well as your average.

THIS IS A FANTASTIC APP TO HELP REMOTE TEAMS keep an eye on the clock so they don't overwork.
---
5 Apps to Speed Up Content Creation and Distribution
Planoly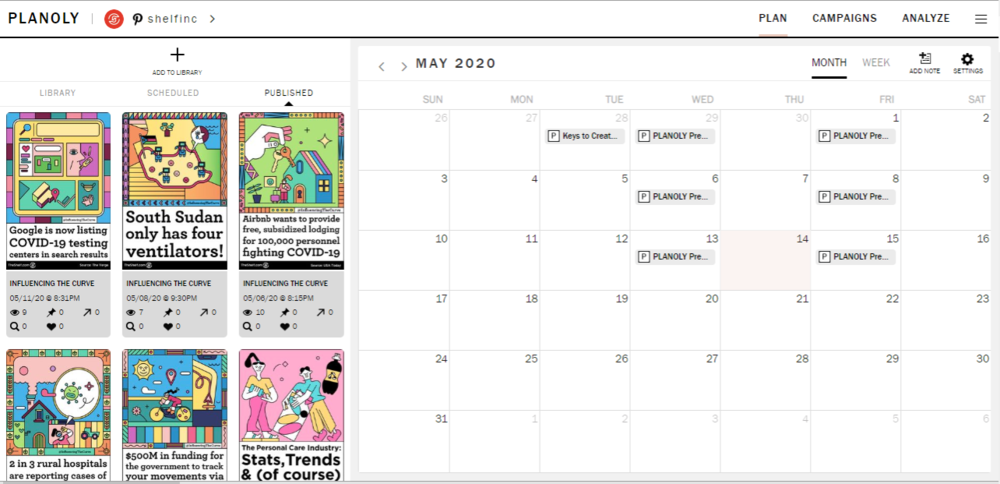 Planoly is one part content scheduler, one part feed curator, one part analytics tool. The platform allows you to upload, organize, and schedule out content for both Instagram and Pinterest – two platforms that usually don't work super-well with our regular link-scheduling platforms that we use to promote new posts and share content on LinkedIn, Facebook and Twitter.
With Planoly, you upload images and graphics, then arrange the content in a way that optimizes the look and feel of your Instagram feed. Yes, you can upload multiple pics at once and designate them as carousels. You can even separate Stories from in-feed pics/videos. You can create your captions and set content to autopost at a certain day and time.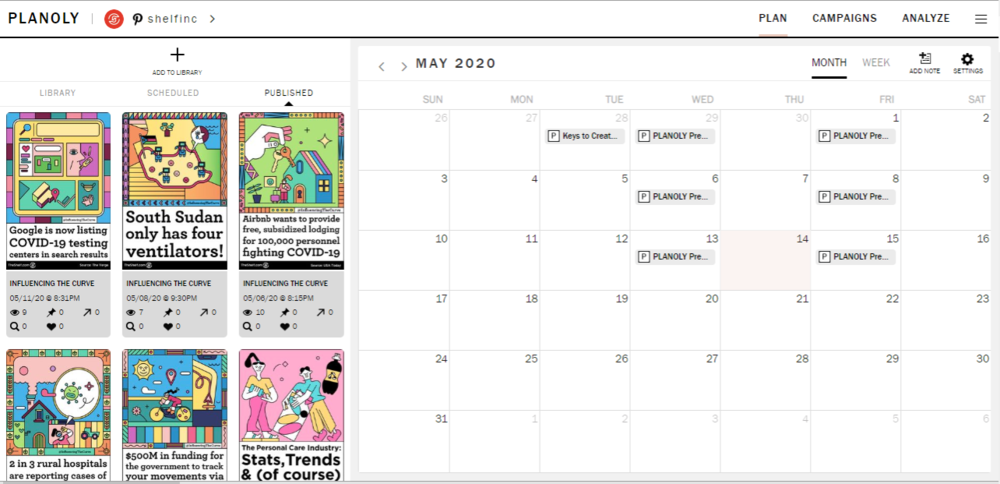 The Pinterest scheduler shows you EVERYTHING that's gone live on your account, whether or not you scheduled it from Planoly. And you can see right away which of your pins have been seen, repinned, and saved.
Grammarly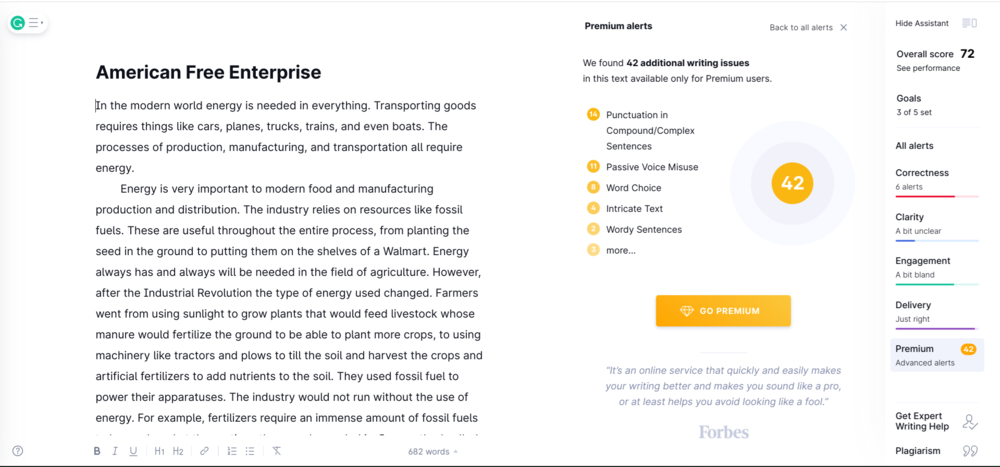 This is one that comes up in interviews and is all over our writer style guide. The Shelf loves Grammarly.
You don't have to be a writer or editor to benefit from Grammarly. It's a tool that helps you to not look like an idiot when typing emails, social media posts, or even text messages. 
It offers suggestions for switching out words and correcting incorrect spellings.
You can install this app on your desktop and mobile device so it can correct and improve your writing on whatever platform you're using. 
HubSpot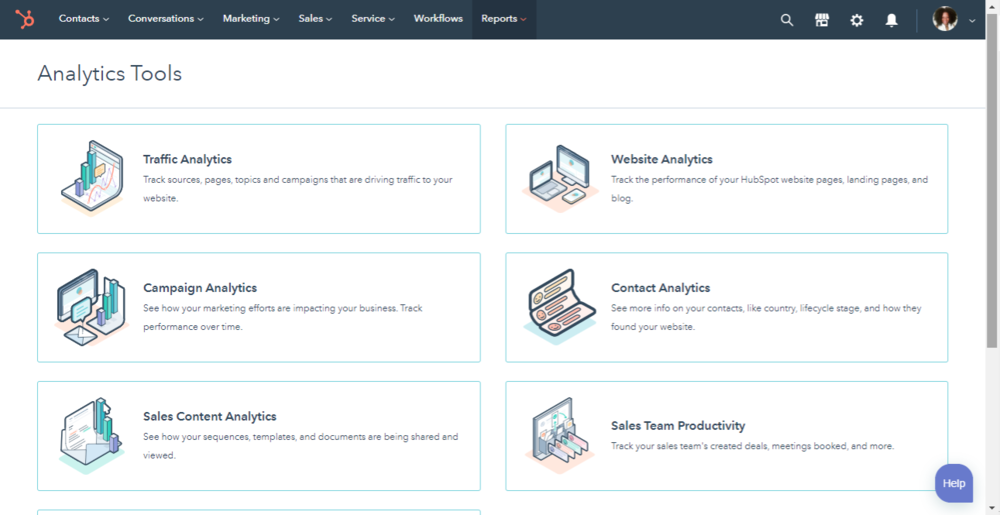 HubSpot is kind of our jam. The ability of this app to provide us with insights on who is flipping through the pages of our website is pretty compelling. Sends the marketing team to their happy place.
HubSpot can be a pricey tool, but the "free forever" tier really has a lot of the most important features you'll need to manage a CRM and handle your marketing messages. Only drawback? But you can't automate at the free level.
HubSpot is essentially a CRM that has a really robust marketing hub attached that allows you to do stuff like build your list with forms, landing pages, and CTA buttons. You can also nurture your contacts with emails and analyze the needs of your subscribers by taking a quick look at the types of content they've engaged with on your site (like posts on the CBD industry, or posts on Baby Boomers or demographics). You can then use that information to tailor your engagement with you via email.
HubSpot also allows you to create UTM codes for more than a dozen platforms and use those codes to schedule out content to your social media account that post automatically. It also has a really cool feature called Topic Clusters that help you figure out which keywords you should target and which you already have content for. Very cool.
Tailwind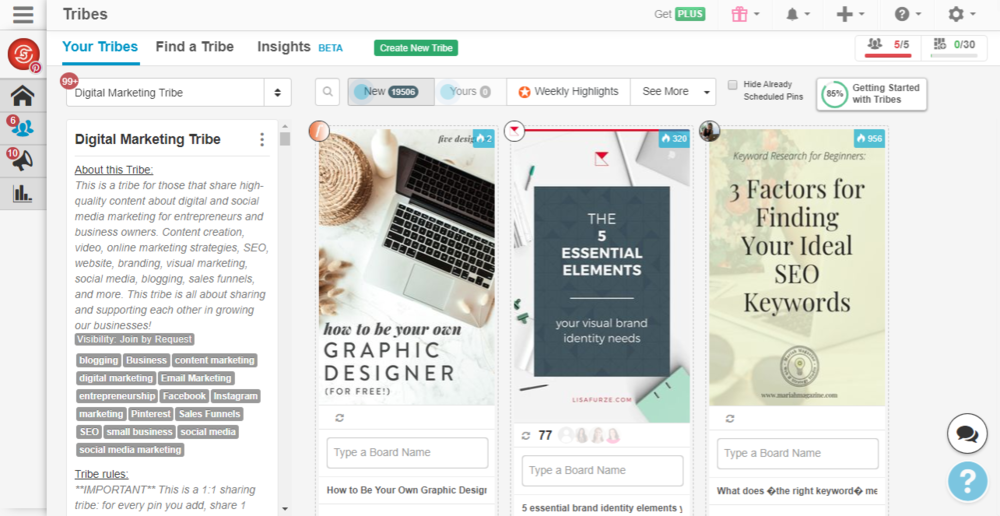 Tailwind is a content scheduler for Pinterest and Instagram that allow users to share content using tribes – groups of social media users who have formed topical groups in which they create and share content. So, for instance, an influencer agency like The Shelf could join a Digital Marketing tribe and share cool content to our boards as well as share our content with the group that they can share to their boards and communities.
So, essentially, you're having topical content delivered to your Tailwind dashboard that you can share to your own boards and communities through a one-click autoschedule feature. And, of course, you can engage directly with other members of your tribe and track the performance of any pins/posts you've shared.
Getting going on Tailwind is a bit of effort in the beginning. There's a learning curve, but… worth it.
SEMRush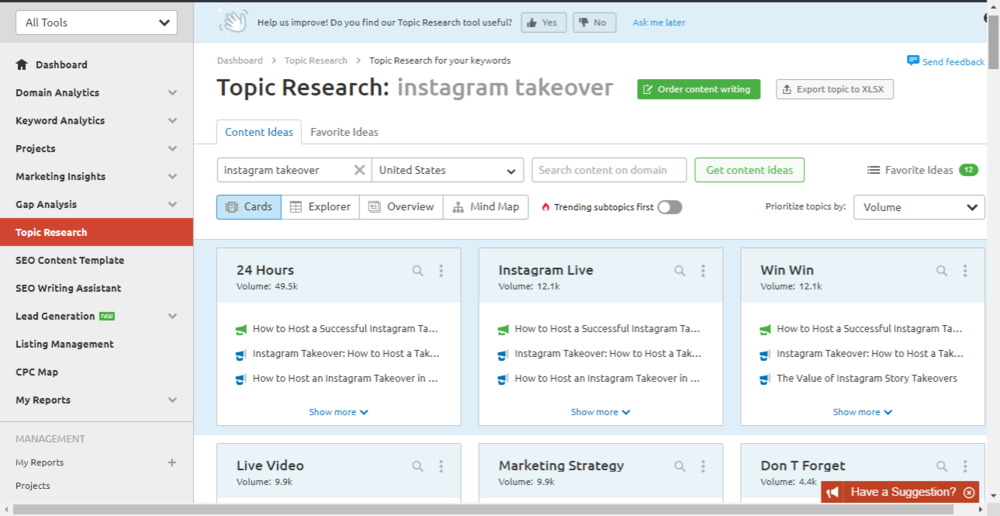 SEMRush is an SEO platform that's all about helping brands get more visibility by leveraging organic and paid content. Super-helpful in guiding content teams on ways to optimize their efforts and align them with whatever push the sales department and account managers are making.
SEMRush provides insights on keywords research, competitor analysis (so you can figure out what they're doing to outrank you), and paid ads. Plus, the platform has a stellar training platform, including the well-known Blogging for Business course (free).
---
Apps to Run the Business
DocuSign
You're stuck in the home due to a shelter-in-place order. How will you manage to sign documents with your team, partners, and customers? 
No need to wait on the postal service to deliver the document. Instead, you can use DocuSign to digitally sign documents. This way, you can have signatures from everyone in a matter of minutes. 
Zapier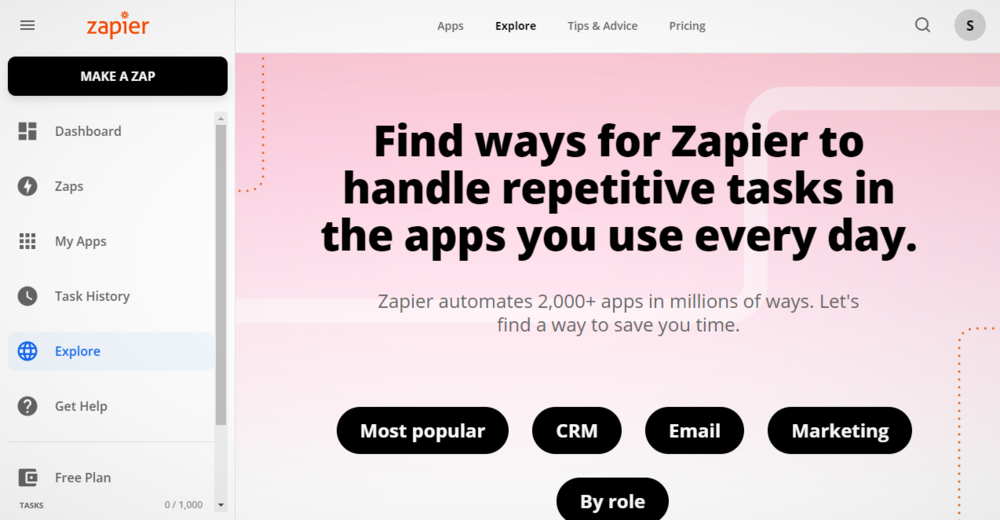 Now, if you're using a variety of apps to manage your workload, then a tool like Zapier will be a Godsend. Back in the Dark Ages of the digital revolution, a lot of cool pieces of software were developed (this is before Apple turned everything into an app). But getting different pieces of software to play nice with other pieces of software was a legitimate nightmare. It was traumatic.
Zapier helps you connect all the different little apps you use that make your life more awesome. This platform streamlines the onboarding process by connecting all the apps you use into a single dashboard. 
This way, you can see everything in one place. Also, you can link website apps, making it easier to share files and data. It's the go-to for team project management and can be synced with Dropbox, Skype, PayPal, Buffer, and various others.
LastPass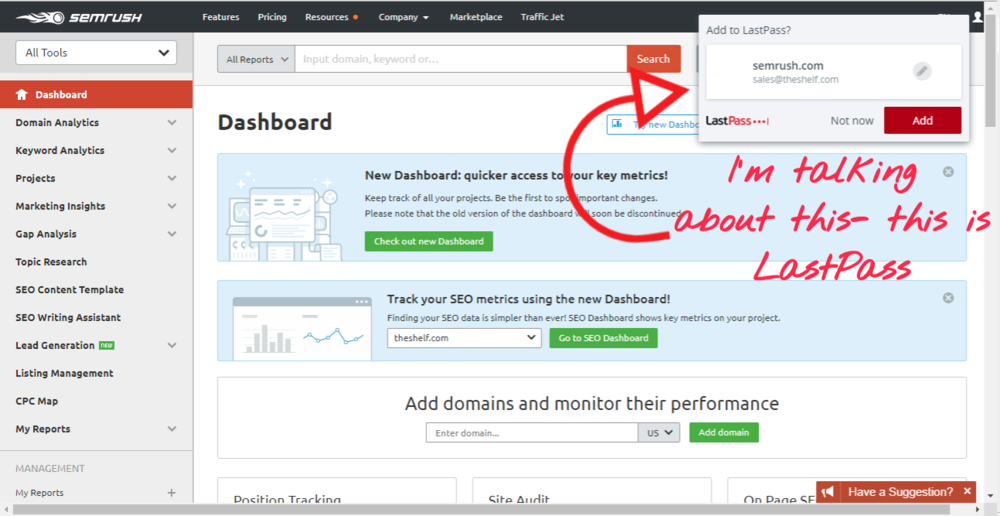 How many accounts do you own? Think about your emails, social media accounts, work platforms, and personal software. Chances are, it's a heck of a lot. 
Keeping track of all your passwords can be a doozy, so why not simplify your life with LastPass? It'll keep track of all your passwords and automatically pre-fill your login details. All you have to remember is your Master Password. 
Notion
Notion is an all-in-one tool for managing notes, ideas, databases, processes, procedures, documents… that whole deal. We've actually put the platform to a variety of uses, including company meetings, project and task management, calendars, infrastructural stuff. It's our big, giant digital file cabinet of info that the entire team can access.
Using Notion as a team workspace, you can add @-mentions to tasks so individual team members know what they're responsible for. As well, Notion keeps a log of update notifications that you can check out when you log in so you don't have to spend time searching for changes.
It's probably the most flexible tool we have in our arsenal and different on our team use it for different reasons than departments, who use it in different ways than the company as a whole…
And there are lots of videos from creators and marketers and different professionals breaking down how they use Notion. These videos are really cool for helping you to figure out how some of the ways to "bend this tool to your will" so to speak, and make it most useful for you.
Streak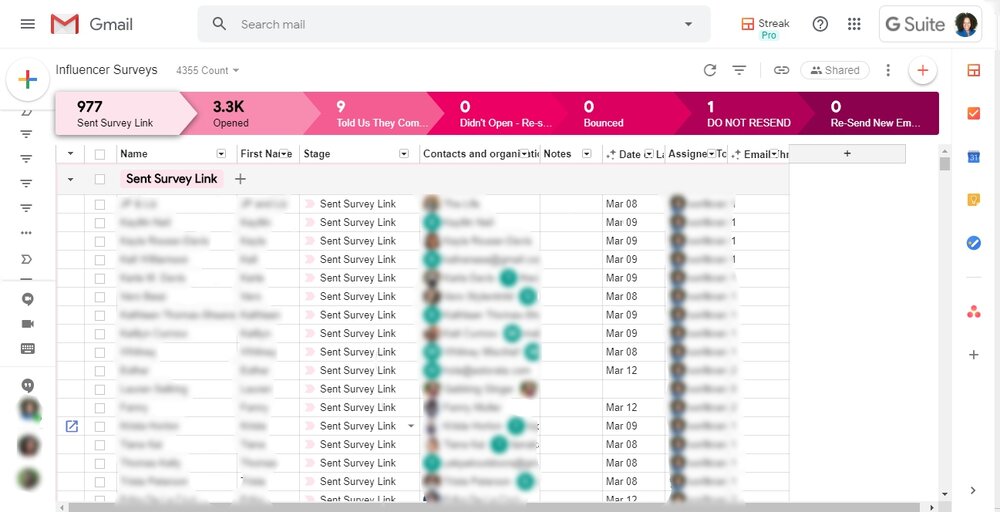 For all the gmail lovers out there, Streak is a CRM that integrates with gmail, so you don't have to have an entirely different CRM that's separate from your Google-hosted branded email… which is cool.
Streak comes with a bunch of cool features, including the ability to segment contacts into list called Pipelines, and the ability to tag and file emails with one click, as well as track email opens and the entire thread of emails between you and your contacts without having to sift through threads within a single email.
You can track just about anything email-related with this tool, and you can build out different fields for different pipelines to monitor. You can use it to do stuff like keep track of employment candidates (conversations, cover letters, resumes, interview notes), organize outreach efforts, and track leads as they move (hopefully) through your pipeline.
Did You Use the Outbreak to Break Out of Hum Drum Working?
You no longer have your work office to rely on for support each day. So now, you have to find other ways to stay connected, productive, and sane.
With these 25 tools, you should have no issue with getting your work done without losing your mind. 
Check them out and let us know how they pan out!